Ohio State Buckeyes:

Tanner McEvoy
April, 10, 2014
Apr 10
12:00
PM ET
How long is too long to wait for free pizza?
December, 24, 2013
12/24/13
4:00
PM ET
Since Christmas is tomorrow, the normal Big Ten Wednesday mailbag comes at you a day early. Consider this your letters to Santa blog:

Matt from Tucson, Ariz., writes:
I'll send my question to you since you chose Nebraska as
your most improved bowl team
. I'm curious why (as a whole) Nebraska is perceived as a bad team that didn't meet expectations? I was watching ESPN's bowl preview show and was disappointed that Mike Belotti called Nebraska "a bad team" while Georgia was declared a team that persevered through injuries. Didn't Nebraska persevere through enough O-Line, WR, and QB injuries to make it to an 8-4 record? The O-line was so beat up that
Vincent Valentine
was needed on the FG team by the end of the season. Why is there no love for the Huskers?
Brian Bennett:
"Bad" is a very subjective word, Matt, and not one I'd use to describe this Nebraska team. It's true that the Cornhuskers did get a whole lot of crummy luck when it came to injuries, including losing senior quarterback
Taylor Martinez
and much of the offensive line. Nebraska did a great job of persevering and pulling out victories in tough games against Northwestern, Penn State and Michigan, the latter two of which came on the road. If there's a difference between Nebraska and Georgia, it's that the Bulldogs have marquee victories over South Carolina and LSU and came within a miracle play of beating Auburn on the road. The Huskers didn't accomplish anything close to that and suffered three blowout losses at home -- to UCLA, Michigan State and Iowa.
Tim from Raleigh, N.C., writes
: Will the Capital One Bowl be the last game
Joel Stave
starts for Wisconsin? I want
Bart Houston
(#BartHouston2014 which I try to get trending on Twitter) to start next year. I've been excited about this kid since he committed. I thought Gary Andersen might not be as thrilled since he is a pocket passer, but I looked at Houston's stats and he had 338 rushing yards and 19 rushing TDs in his senior HS season. He's supposed to have the better arm and can probably run better than Stave. I respect Stave a lot being an in-state walk on, but I don't think he's the answer for the next 2 years. I'm also scared Houston could then transfer. I don't want us to be in a Nebraska type situation where get stuck with a QB that you started as a freshman. Also, Houston has to start, HE'S NAMED AFTER BART STARR!!
Brian Bennett:
Well, he's got a good name and some nice high school stats. There's an airtight case that he should start. Ahem.
There's nothing quite like the love for backup quarterbacks among fans. A player is almost never as popular as he is before he plays a significant down. Hey, Bart Houston might wind up as a great player. We have no idea. I'll tell you who does, though: Andersen, offensive coordinator Andy Ludwig and the rest of the Badgers staff. They've seen Houston practice every day since they've come to Madison. If they thought Houston was better than Stave, he would have played more by now.
Maybe Houston progresses in the offseason and overtakes Stave, who simply missed too many throws in 2013. Or maybe
Tanner McEvoy
makes a move at quarterback, though his future may well lie on defense after he played well at safety. It's no secret that
Andersen likes mobile quarterbacks
. Right now, though, Stave still has a huge experience edge. It will be up to someone else to outplay him in practice.
[+] Enlarge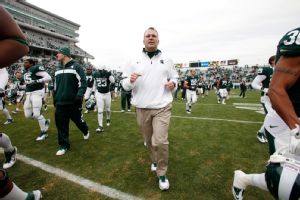 AP Photo/Al GoldisCould Michigan State defensive coordinator Pat Narduzzi get a head coaching job soon?
Matt from SoCal writes:
Do you see Pat Narduzzi as a real option to be the head coach at Texas?
Brian Bennett:
I don't, Matt. It's not that I think Narduzzi couldn't do a good job at Texas. It's just that I don't believe the Longhorns will hire a coordinator. They've got more money than Scrooge McDuck and are going to shoot for the moon with this job. Narduzzi might, however, benefit from a possible coaching carousel resulting from the Texas hire.
Kevin from Rock Island, Ill., writes:
Illinois has really been going after the Juco players. What are your thoughts on the strategy and some of the signees so far? It has worked for Groce and the basketball program, but when there are so many holes, it seems like a short term fix to a bigger problem.
Brian Bennett:
No doubt there are some issues with signing a lot of junior college guys. Not all pan out, and you risk getting in the cycle of needing more and more to fill gaps. But Tim Beckman really needs more depth and experience on the roster, and I think he sees this mostly as a short-term fix. The guys Illinois signed last year weren't exactly superstars, but players like
Zane Petty
and
Martize Barr
contributed, and
Eric Finney
might have done more than that had he stayed healthy. I can't pretend to know how good these incoming 2014 jucos will be, but I do like that the Stone-Davis brothers both fill needs at receiver and defensive backs and have three years left to play.
Connor M. from Lima, Ohio, writes:
Love the work you guys do for the Big Ten! Looking ahead to next year, let's say Braxton and Shazier both play well in the Orange Bowl, raise their stock and turn pro. How much will the offense and defense be affected and who do you see replacing those two in their respective positions, most specifically, the QB spot?
Brian Bennett:
Thanks, Connor. I think
Ryan Shazier
is the more likely of the two to go pro, and Ohio State could more easily absorb that loss, even though it would be a huge one. The defensive line should continue to improve, and there's a ton of young talent at linebacker and in the secondary on the way. Losing
Braxton Miller
, however, would change the whole outlook for the 2014 Buckeyes, especially since most of the offensive line and
Carlos Hyde
also are seniors. The only experience at all on the roster at quarterback is
Cardale Jones
, and he's a freshman who has thrown four passes. Freshman
J.T. Barrett
and incoming recruit
Stephen Collier
would battle Jones for the starting job, but Ohio State would basically be starting from scratch. In a much more difficult division.
BUCKIHATER from Future Home of the BigTen, NYC, writes:
If you look back starting from the modern era of college football (1960's- present), the school who loves to put the word 'THE' in front of its name only has two claimed national titles -- you can even argue they should only have one if it wasn't for a really bad call, while the other happened before Woodstock. If you compare the 'THE' to other traditional football powerhouses like 'Bama, Miami, even Nebraska who all have 5 or more since the 60's, its not even close. Why does 'THE' get so much love on being the savior for the Big Ten? I was shocked to see the lack of championships over the last 50 years and Michigan State just did what every team in the Big Ten wanted to do for 2 years: Beat the bullies from Columbus.
Brian Bennett:
So I take it you're not an Ohio State fan, then? Listen, if you want to start talking about national championships won by the Big Ten since the 1960s, this is not going to turn out well for anyone. Since 1970, we've got Michigan's split national title in 1997, Ohio State's in 2002 and ... hey, look, at that squirrel over there! The Buckeyes have been the only Big Ten team to even play for a national championship in the BCS era as a league member, and they've done it three times. So if you want to hate on Ohio State, that's fine. But that makes the rest of the conference look even worse by comparison.
Doug from KC, MO, writes:
I have a Hawkeye question stemming from some recent conversations I've had with Nebraska fans. They always talk about whether to get another coach or not because they want to be contending for National Titles like the old (90's) days. I tell them for most teams in the country, and especially the BIG, this is pretty unrealistic. CFB is at a point where a lot of the odds/rules/recruiting are stacked against northern teams and outside of programs with lots of tradition (Mich, OSU and even ND) it is going to be very tough for you to have a regular NCG contender. I hope for a BCS game or Rose Bowl for Iowa every 4-5 years but it is just too much of a stretch for me to think Iowa (and other mid-tier BIG teams) will make a NCG appearance. Do you think some BIG teams have expectations that are too high or am I on the Debbie Downer side of the argument?
Brian Bennett:
Doug, can you talk to BUCKIHATER for me? Anyway, I'm not sure enough Big Ten programs are ambitious enough. The Rose Bowl is great, but too many league teams talk like the Big Ten title is the ultimate goal, and I believe that becomes a self-fulfilling prophesy. How many times did you hear Urban Meyer talk about how much the Buckeyes just wanted to get to the Rose Bowl?
Anyway, as I just wrote a moment ago, the Big Ten hasn't exactly been reeling in the national titles. Here's the good news for the league, and for a team like Iowa: the forthcoming Playoff opens things up. Have a great year, win the Big Ten, and there's a chance you'll be in the four-team playoff. From there, who knows? Getting to that playoff, not the Rose Bowl, has to be the goal for every serious league team from 2014 on.
Chris from Northern Michigan writes:
Happy holidays, Brian, and merry bowl season. I would like to get your thoughts on the MSU QB situation. Obviously it looks like
Connor Cook
has the job wrapped up for the next two years, barring injury or a huge year next year leading to NFL early entry. Would you expect
Damion Terry
or
Tyler O'Connor
to transfer? MSU just lost a QB recruit, and while it would be understandable that either current QB would want to play, a Cook injury could be catastrophic if either transfers.
Brian Bennett:
Catastrophic? Well, you'd still have Cook and at least one backup. Not a whole lot of teams had to play three quarterbacks major minutes this season, outside of Nebraska. Cook will be hard to unseat after going 9-0 in the Big Ten and winning a title. I do think there will be some sort of role for Terry, because he's just too talented not to get on the field. Wouldn't surprise me one bit if O'Connor moved on.
And to your first point, Chris, Merry Christmas and happy holidays to all.
December, 2, 2013
12/02/13
11:00
AM ET
There were two huge rivalry games Saturday, with BCS national title implications at stake. What were the odds that both underdog home teams would score a touchdown to get within one point with 32 seconds left in the game?
That was the scenario in both the Ohio State-Michigan and Alabama-Auburn games. You know what happened. Brady Hoke went for the two-point conversion and didn't get it. Auburn chose to kick the extra point for the tie and won on a heaven-sent final play.
[+] Enlarge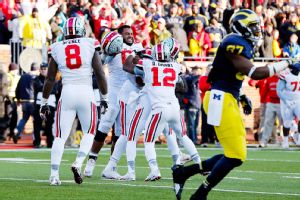 Gregory Shamus/Getty ImagesOhio State survived a scare from Michigan after the Wolverines failed on a two-point conversion to win the game.
Of course, the Tigers and Wolverines were in vastly different situations. Auburn had much more on the line, while Michigan's season would have been made by beating Ohio State. Auburn also knew that Alabama had a dicey kicking situation. Yet Michigan also was at home, where it had lost only once under Hoke, and it already had played in two overtime games this season. The Wolverines could have given themselves a chance to win on a miracle in regulation or in overtime.
Ultimately, I had no problem with Hoke's call, though the two-point play itself was uninspiring. Sometimes it's not the decision but how it unfolds.
Consider that in the biggest play calls for both Penn State and Northwestern on Saturday, both coaches went with a run up the middle on third down. The Nittany Lions' surprise draw play on third-and-9 from their 19 resulted in a 61-yard gain by
Zach Zwinak
that put Wisconsin away. Northwestern went with a basic running play on third-and-6 at Illinois and got 11 yards from
Treyvon Green
, allowing the Wildcats to then run out the clock.
Had those runs been stuffed, both coaches would have been criticized for being too conservative and playing not to lose. It's a tough world, coaching. Unless you are blessed with Guz Malzahn's luck.
Take that and rewind it back ...
Team of the week:
Penn State. Absolutely no one saw the Nittany Lions'
31-24 win
at Wisconsin coming, especially because PSU had played so poorly on the road in Big Ten play. But coach Bill O'Brien led his team to another victory in a season finale, and recording two straight winning seasons under heavy NCAA sanctions is wildly impressive.
Worst hangover:
BCS for Wisconsin? Yes, if that stands for Badgers Caught Sleepwalking. Instead of earning a possible Orange Bowl bid, the Badgers laid a giant egg. A tremendously successful large senior class somehow went out on the worst possible note at Camp Randall Stadium.
Big Men on Campus (offense):
It has been a tough year for Northwestern, but the Wildcats finally got a Big Ten
win at Illinois
. And quarterback
Trevor Siemian
and receiver
Christian Jones
were big reasons why. Siemian threw for 414 yards and four touchdowns, while Jones had two of those scores during a 13-catch, 182-yard career day.
Big Man on Campus (defense):
Iowa linebacker
Christian Kirksey
was named Walter Camp national defensive player of the week after recording 11 tackles, including three for loss, plus a sack and a forced fumble against Nebraska. Really, you could just as easily single out fellow linebackers
James Morris
and
Anthony Hitchens
, who also had great games to cap tremendous seasons by all three. The Hawkeyes will really miss all three seniors next year.
[+] Enlarge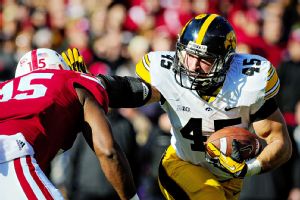 Eric Francis/Getty ImagesIowa's Mark Weisman scored two touchdowns in the win over the Cornhuskers.
Big Man on Campus (special teams):
Chris Davis
. Sure, he plays for Auburn. But his incredible 109-yard kick-six touchdown against Alabama just might allow a Big Ten team to play for the national title for the first time since the 2007 season. Buckeye Nation is a big fan of Davis.
Strangest moment:
Penn State's hurry-up offense clearly confused Wisconsin's defense several times. The most obvious moment came early in the third quarter, when the Badgers had only nine men on defense when the Nittany Lions ran a play. Somehow, Wisconsin got out of that power-play situation when
Tanner McEvoy
broke up an underthrown deep ball.
Pointing the thumb or the finger?
Coaches always talk a good game about accountability, and Bo Pelini usually is one to take blame for a poor performance by his team. But the Nebraska coach looked everywhere but in the mirror on his 15-yard unsportsmanlike conduct penalty against Iowa. Pelini said the call was chicken manure -- I'm paraphrasing -- and even brought Iowa coach Kirk Ferentz's own sideline demeanor into the conversation.
But where was the personal responsibility for Pelini nearly hitting an official in the face with his hat? In what other sport -- or walk of life -- would that be acceptable? Even Prop Joe and Avon Barksdale ("The Wire" nerd alert) knew better than to accost the ref in their annual basketball game. Pelini is lucky to still be employed by Nebraska after Friday's meltdowns.
A Bucket load of offense:
Indiana took out a little offensive frustration on Purdue. After being bottled up on offense by Wisconsin and Ohio State, the Hoosiers unleashed a school record 692 yards and 42 first downs to win the Old Oaken Bucket for the first time in three years.
Tre Roberson
,
D'Angelo Roberts
and
Stephen Houston
all rushed for more than 100 yards for Indiana, the first time in school history the team produced a trio of 100-yard rushers in the same game.
Zero sum game:
Minnesota failed to score an offensive touchdown in its final 10 quarters of the regular season. The lack of an explosive/entertaining offense could hurt the Gophers come bowl selection time. Meanwhile, Michigan State has held six opponents without an offensive TD and pitched shutouts in six of its eight Big Ten games.
Fun with numbers:
Because the debate is about to take over our lives, some key comparisons between Ohio State and Auburn:
Scoring margin: Plus-27.9 per game for Ohio State, plus-16.1 for Auburn

Rushing yardage: 321.3 per game for Ohio State, 318.3 for Auburn

Total yards: 530.5 per game for Ohio State, 491 for Auburn

Team adjusted QBR: 83.8 for Ohio State, 81.0 for Auburn

Yards allowed per game: 355.8 for Ohio State, 414.3 for Auburn

Sagarin strength of schedule rating: 61st for Ohio State, 26th for Auburn

Wins over ranked teams: One for Ohio State (Wisconsin), three for Auburn (Alabama, Georgia, Texas A&M)
November, 17, 2013
11/17/13
10:00
AM ET
Lessons learned from the weekend that was in the Big Ten:
[+] Enlarge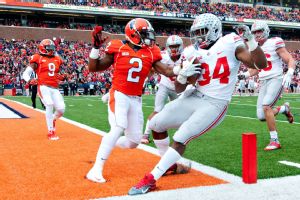 Bradley Leeb/USA TODAY SportsTailback Carlos Hyde rushed for 246 rushing yards and scored five touchdowns in the Buckeyes' win over Illinois.
1. Michigan State vs. Ohio State is happening, so get ready:
The Big Ten championship game is not signed, sealed and delivered yet. But it would take some major chaos for that game not to feature Michigan State and Ohio State. The Spartans clinched at least a tie for the Legends Division title with their
41-28 win at Nebraska
. All they need is to win one of their final two games -- at Northwestern and versus Minnesota -- or have Minnesota lose next week against Wisconsin in order to punch their ticket to Indianapolis. Coach Mark Dantonio's team has come too far to slip up two straight weeks. Ohio State needs one more win to clinch the Leaders spot in the title game because of its head-to-head win over Wisconsin, and the Buckeyes will be favored by multiple scores next week at home against Indiana. This is the matchup that the Big Ten should want -- Michigan State will be in the top 15 and possibly the edge of the top 10 if it wins out, and the Spartans' outstanding defense will test Ohio State's high-scoring offense. It hasn't been the most exciting Big Ten regular season, but things are setting up for a fantastic finish at Lucas Oil Stadium.
2. Wisconsin's defense deserves more notice:
Indiana came into Saturday's game averaging 43.1 points and 527 yards. Whatever you think of the Hoosiers, their offense is legitimately explosive. Wisconsin completely defused that attack in a
51-3 win
, shutting out Indiana in the first half while allowing 224 yards and a lone third-quarter field goal. The Hoosiers had scored in every quarter but three this year and hadn't been blanked in a half since September of last season. The point is that the Badgers' defense is outstanding, yet like the team as a whole, remains underrated. Everyone will notice how Wisconsin ran all over IU for 554 yards, second most in school history, but that pretty much happens every year in the Indiana game. The Badgers D is led by experienced players up front like
Chris Borland
,
Beau Allen
and
Brendan Kelly
and is getting terrific play from less experienced guys like
Sojourn Shelton
and
Tanner McEvoy
on the back end. Don't forget that Ohio State turned in its lowest point total of the season (31) against Dave Aranda's defense. This is a complete team, even if the the voters in the major polls still somehow fail to recognize it.
3. Don't tell Michigan this season is over:
We could have understood if Michigan would have mailed in the end of Saturday's Northwestern game. The Wolverines have been beaten up by opponents and piled on by fans and critics for their lackluster offensive performances. Their Big Ten title hopes are dead, and in coach Brady Hoke's own view, that means the season is a failure already. In the rain in Evanston, they found themselves down 9-6 in the closing moments of an ugly game. But Michigan pulled off a truly incredible effort to set up
Brendan Gibbons
' field goal at the very end of regulation, then ground its way through a
triple-overtime win
. Quarterback
Devin Gardner
, who has been battered and bruised countless times, appropriately scored the winning touchdown and two-point conversion. The Wolverines looked in serious danger of losing out for a 6-6 campaign before Saturday's gritty comeback. While wins at Iowa and against Ohio State the next two weeks won't be easy to come by, Michigan proved that it will not fold up shop. As for Northwestern, you can't fault the effort. But the Wildcats have now lost in just about every terrible way imaginable, including twice in overtime and on a Hail Mary. It's just one of those years for coach Pat Fitzgerald's crew.
[+] Enlarge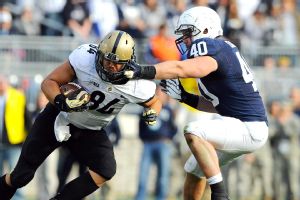 Rich Barnes/USA TODAY SportsLinebacker Glenn Carson and the Nittany Lions gave up just 264 yards to Purdue in the win.
4. It's wait 'til next year -- again -- for Illinois and Indiana:
The best thing you can say about Illinois is that it has shown a lot of fight this year -- even if that sometimes means near fisticuffs between coach Tim Beckman and offensive coordinator Bill Cubit. The Illini did not give up after falling behind Ohio State 28-0 and 35-7 on Saturday, battling back to keep it a two-score game throughout most of the second half. But like the games against Penn State and Indiana, the team simply couldn't finish the job. And so any slight bowl hopes were officially extinguished for Illinois, which now owns the nation's longest conference losing streak -- and second-longest in the long history of the Big Ten -- at 20 games. If Beckman can't lead the team to a win over hapless Purdue next week, he might not get a chance to finish his job, either. Indiana entered the year with high hopes for a bowl. The Hoosiers can still technically get to six wins, but that would require a win next week in Columbus over Ohio State. If you believe that will happen, you are either incredibly optimistic or completely untethered from reality. Coach Kevin Wilson's team has made strides this season on offense and in the running game despite Saturday's showing in Madison, but the defense has failed to grow at all and has some historically inept performances this season. The Hoosiers' status won't change until that side of the ball develops any competency. So it's back to the drawing board for both programs, and they'll have all of December to rethink things.
5. Freshmen making strides at Penn State, Purdue:
If you didn't watch
Penn State's win over Purdue
, we don't blame you. Neither team is going anywhere this season. But the game did provide some hope for the future, thanks to the play of true freshmen on both sides. Purdue quarterback
Danny Etling
took a step forward with the best start of his career, throwing for 223 yards and a touchdown. Both he and Penn State freshman quarterback
Christian Hackenberg
finished with similar stat lines. And their first-year targets fared pretty well, too.
DeAngelo Yancey
was Purdue's leading receiver, with four catches for 83 yards, and Nittany Lions tight end
Adam Breneman
caught the first TD pass of his career. Both teams are looking forward for different reasons, and the play of their youngsters gave them some reasons for hope.
October, 16, 2013
10/16/13
12:00
PM ET
One more win, and it's on to the World Series.
September, 26, 2013
9/26/13
12:00
PM ET
Welcome back, Ron Swanson.
August, 29, 2013
8/29/13
10:18
AM ET
The games are finally here, and every Thursday during the season at this time, we'll bring you 10 items to track around the Big Ten.
Let's get to it …
1. Quarterback mysteries solved:
We might not get all the answers in Week 1 about the Big Ten's many quarterback competitions, but a few clues should emerge. Three Big Ten teams -- Wisconsin, Penn State and Indiana -- have yet to announce starting quarterbacks heading into the openers. Expect sophomore
Joel Stave
to lead the Badgers and freshman
Christian Hackenberg
to take the first snap for Penn State. Indiana's quarterback race has been extremely even, and
coach Kevin Wilson isn't afraid to let the starter decision go down to the wire
.
2. Coaching debuts:
Purdue's Darrell Hazell and Wisconsin's Gary Andersen both have enjoyed honeymoon periods at their respective schools, but they both know the mood can change once the games begin. Hazell faces an uphill climb as Purdue plays the Big Ten's toughest schedule, beginning Saturday on the road against a Cincinnati team that won 10 games last season. Andersen embarks on the unique challenge of blending his philosophy with a veteran team that has won the past three Big Ten championships. Wisconsin will have no trouble with Massachusetts, but keep an eye on how the Badgers' new 3-4 defense performs.
[+] Enlarge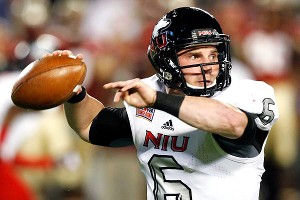 AP Photo/Alan DiazIowa again starts the season facing Northern Illinois and QB Jordan Lynch.
3. Pivotal game at Kinnick:
Iowa's victory in the 2012 opener against a Northern Illinois team that went on to the Orange Bowl proved to be one of few highlights in a highly disappointing season. The Hawkeyes once again kick things off against an NIU squad led by Heisman Trophy candidate
Jordan Lynch
, who wants to avenge last year's setback. It's hard to call a season opener a must-win, but Iowa needs to generate some positive momentum early before a very challenging Big Ten schedule.
4. Speed trap in Berkeley:
Still glowing from a 10-win season in 2012, Northwestern faces several unique challenges in its opener Saturday night at Cal. The Wildcats must contain the "Bear Raid" offense orchestrated by new Cal coach Sonny Dykes. The Bears are a mystery team with a ton of youth led by a freshman quarterback (
Jared Goff
). Northwestern also must contend with a late kickoff and moved its practices this week from the afternoon to the evening. The Wildcats are even
taking naps to prepare
.
5. Dontre's inferno:
Aside from Christian Hackenberg, no Big Ten incoming freshman has generated more buzz in camp than Ohio State's multipurpose speedster
Dontre Wilson
. The onetime Oregon commit could be a transformative player for Urban Meyer's offense, filling the so-called Percy position at wide receiver/running back. Wilson should get some opportunities for explosive plays as Ohio State opens the season Saturday against Buffalo.
6. Juco hello:
The Big Ten doesn't bring in as many junior college transfers as other leagues, but several juco arrivals could be impact players this season. Nebraska fans are anxious to see if
Randy Gregory
can be the pass -rushing force they've been waiting for. Wisconsin's
Tanner McEvoy
fell out of the mix at quarterback but will see time at other positions like wide receiver. Illinois wide receiver
Martize Barr
provides a much-needed weapon in the pass game for
Nathan Scheelhaase
. Minnesota linebackers
Damien Wilson
and
De'Vondre Campbell
could solidify the defensive midsection. It'll also be interesting whether quarterback
Tyler Ferguson
logs some field time for Penn State.
7. Oh, Henry:
Purdue senior
Rob Henry
will make his first start at quarterback since the 2010 season (yes, you read that right) on Saturday against Cincinnati. An ACL injury sustained in late August prevented Henry from starting in 2011, and the versatile Boiler wore several hats for the offense in 2012. After beating out
Danny Etling
and
Austin Appleby
in camp, Henry guides coordinator John Shoop's pro-style offense into Nippert Stadium, where Purdue aims for a win that would provide "instant gratification," according to Hazell.
8. To the Max:
Senior
Andrew Maxwell
emerged from Michigan State's quarterback morass to
claim the starting job
, at least for now. But after struggling for much of his first season as the starter, Maxwell needs a strong start Friday night against Western Michigan. Head coach Mark Dantonio is committed to playing multiple quarterbacks early in the season, so
Connor Cook
should see time against the Broncos. Maxwell must prove he's the top option by showing better command and rhythm with his oft-criticized receiving corps.
9. Let's be Frank:
Few Michigan players not named
Devin Gardner
have generated more positive ink in the offseason than defensive end
Frank Clark
. The 6-foot-2, 273-pound junior had a strong finish to the 2012 season and could be the pass-rusher Michigan needs to turn a corner defensively this fall. Then again, we've seen certain Michigan defenders hyped up (cough, Will Campbell, cough) and never do much. It'll be interesting to see if Clark sets the tone for a big year Saturday against Central Michigan.
10. APB for playmakers:
Other than Penn State and Iowa, the Big Ten actually returns a decent amount of experience at quarterback for the 2013 season. But the league lacks offensive playmakers, especially at wide receiver. Teams like Ohio State, Minnesota, Michigan State and Illinois are hoping to surround their quarterbacks with more options. It will be interesting to see who establishes himself in Week 1 as a go-to option.
August, 28, 2013
8/28/13
12:00
PM ET
August, 22, 2013
8/22/13
4:00
PM ET
We are one week from kickoff, people. One week! Remember to breathe.
And if you're not
following us on Twitter
, get to it. We're going to have a lot of great updates on there throughout the season, especially on game days. More than 86,000 followers can't be wrong.
Now back to the old-school way of communicating -- by email.
---
Ryan W. from West Michigan writes:
With all the talk about the Big Ten's perception, tell me why I should even care? Outside of the new playoff committee starting next year, who cares what other people outside of the B1G think? I mean, if us fans enjoy the product on the field, I couldn't care less what someone in Oregon or Florida thinks about my favorite team and conference.
Brian Bennett:
Ryan, if you want to go all Midwest isolationism, have at it. There's something to be said for just following your favorite team and caring primarily about winning the Big Ten. The success of the Big Ten Network validates this. The flip side is, if you want to take that approach, you can't complain about where your team is ranked in the polls, when it is snubbed for a spot in the four-team playoff or when the media incessantly cover the SEC. Perception can also play a large role in recruiting, as some top prospects want to go where they think they have the best chance for a national championship and national exposure. The nature of college football's postseason and the different schedules each team plays has made perception of conferences important in the big picture. But if you like focusing on the small picture, so be it.
---
Tom from Marion, Iowa, writes:
Help me out, fellow Redbird fan. I just don't get it! Well I do get it... the SEC is King. But, in the BCS era, the Big 12 has been in the BCS title game seven times, won two lost five; ACC, Big East, B1G and Pac-12 three times, all with one title; ND o for 1. All I hear is how much the BIG stinks. Where's the hate for the others? Specifically the Big 12; they've lost five out of seven? That's what I don't get.
Brian Bennett:
Huge stretch coming up for the birds on the bat. Anyway, I think there are a few things at play here in terms of the Big Ten's reputation. One is the power of the what-have-you-done-for-me-lately mentality. The Big Ten hasn't had a team play for the national title since the 2006 season, and that's an eternity in our Instagram society. Also, the last two times the league played on that stage, Ohio State got blown out in consecutive years by SEC teams, beginning the whole SEC-speed-trumps-Big-Ten-narrative. Another problem is that the Buckeyes are the only conference team to play for a title, whereas leagues such as the Big 12 (Texas and Oklahoma) and Pac-12 have (USC and Oregon) have had more than one team in the BCS championship game and others right on the cusp of it (Oklahoma State, Stanford). Finally, the Big Ten has not performed well in the past couple of years against the SEC in bowl games or in its nonconference games in general, and its Rose Bowl record in the past decade-plus is abysmal.
Other conferences, as you mention, have had their own failures, and you could argue that Oklahoma has fared just as poorly, if not worse, on the big stage as Ohio State. Why they have escaped the vitriol seemingly directed at the Big Ten is not entirely clear, but some moves by the league that have been viewed as pompous -- ahem, Legends and Leaders -- surely played a role.
---
Darrin from Reedsburg, Wis., writes:
It appears
Tanner McEvoy
is going to be third on the QB depth chart at best. Any chance of seeing him at wide receiver this year?
Brian Bennett:
Darrin, McEvoy worked out at receiver during practice this week. Though he was rather adamant about not playing receiver when
I asked him about it earlier this month
, it makes sense for both him and the team. McEvoy is an excellent athlete who is 6-foot-6, and he played receiver in high school until his senior year. Wisconsin is also very thin at wideout beyond
Jared Abbrederis
. This could be a situation like
Devin Gardner
at Michigan, where McEvoy sacrifices for the team for a while before eventually working his way back to quarterback.
---
Brian from Portland, Ore., writes:
Hey Brian -- cool name! Ohio State offensive coordinator Tom Herman said that he has the two best tight ends in the nation in
Jeff Heuerman
and
Nick Vannett
. To which, I would respond, "Uh, who?" Who's your pick for the top TE in the B1G this year? My bet is on someone wearing blue and white.
Brian Bennett:
As far as tight end groups go, it's hard to beat Penn State. Bill O'Brien seemingly has about a dozen options there, led by
Kyle Carter
and
Jesse James
. I'm also excited to see true freshman
Adam Breneman
-- the nation's No. 1 tight end recruit last year -- in action this season. The Nittany Lions aren't the only ones blessed with outstanding tight ends, however.
Jacob Pedersen
is a proven weapon for Wisconsin.
Devin Funchess
could have a huge year at Michigan.
Ted Bolser
is a big-time receiving threat for Indiana, and Iowa's's
C.J. Fiedorowicz
has a boatload of ability. I even left out a few really good ones. Tight end should once again be a position of strength in the Big Ten.
---
Mike from Macungie, Pa., writes:
Someone posed a question about
Allen Robinson
(I think) being in the running for a Heisman. My question isn't that we do/don't have a Heisman contender, but do you think the sanctions would put a contender from Penn State at a disadvantage? Let's say (and this is a HUGE hypothetical) Allen Robinson has as good of a year, or a better year, than last season. If he's in the top three for the Heisman, do you think the voters would take into account the sanctions against Penn State in possibly not voting for him? Matt Barkley came close two years ago, and you could argue similar circumstances.
Brian Bennett:
It's an interesting question. I don't think probation necessarily hurts a Penn State player's chances of winning the Heisman. Sure, some voters might hold it against a Nittany Lions star, but think about what a great story it would be if a player had a tremendous year and led the team to a 12-0 regular season. That narrative would carry a lot of weight. And remember, Heisman voting is done before the bowls. A Penn State player would potentially be hurt by the lack of a conference championship game, as his season would end a week earlier than some other candidates. The bigger question is, of course, whether the Lions will have enough depth to go 11-1 or 12-0, which is likely a requirement for one of their players to get in the mix. And no matter how good Robinson is, receivers have almost no chance of winning the Heisman. If
this guy
couldn't do it in 2003, or
this guy in 2007
with those ridiculous numbers, forget about it.
---
Shifty from O'Fallon, Ill., writes:
I've seen plenty of references (to include yours in the mailbag Monday), about what Bill O'Brien can do with
Christian Hackenberg
based on how he transformed Matt McGloin. I think they'll likely be great together, but I think everyone underplays how important McGloin's B1G experience was to his breakout season. It's not like McGloin was a 18-year-old walk-on. Dont you think we need to pump the brakes a little before we decide the only thing between Hack and Todd Blackledge is four weeks with BO'B?
Brian Bennett:
Shifty, huh? Remind me not to enter into a real estate deal with you. Anyway, I agree that they hype is probably getting a little out of control for Hackenberg, since he's only a true freshman. But that's what happens when you're the No. 1 quarterback recruit in the nation. I don't think anyone is suggesting that he will put up McGloin's numbers from last year (3,266 yards, 24 touchdowns) right away. McGloin, as you mentioned, had a lot of experience. But as much as I loved watching McGloin's bust out last year, let's not forget that A) he really struggled at times before O'Brien came along; and B) he never had the biggest arm. Hackenberg simply has better physical tools. Does that mean he'll grasp the system and play with McGloin's moxie this year, or ever during his career? Not necessarily. But when you combine his pure skills, O'Brien's quarterback acumen and an offense loaded with receiving targets, the outlook is pretty bright for Hackenberg.
---
Enrique from Grand Rapids, Mich., writes:
Brian, put yourself in Mark Dantonio's shoes.
Damion Terry
has performed admirably the first two fall scrimmages. Your other quarterbacks have been lackluster, failing to make big plays. Meanwhile, your exciting true freshman is 14 of 21, for 341 yards in the air, 40 on the ground, with four touchdowns and no interceptions, and much of that has come against the first-team defense. If (yay, hypotheticals!) Terry can continue to perform this well in the fall practices, would you, the head coach, go with the young upstart? You might not get a better chance than this year to make it to the Rose Bowl after a prolonged absence. Or do you redshirt him and prep him for next year?
Brian Bennett:
Next question
.
Oh, sorry. I got a little too into my Dantonio role-playing. First all, let's acknowledge that Dantonio and his offensive coaches know a heck of a lot more about who's playing well in practice and who understands the system than you and I can glean from some reports and limited practice viewing. And let's not anoint a true freshman based on one glowing scrimmage performance. But I do believe Michigan State should play Terry this season, especially in the first few games, so he could redshirt if he were to get hurt. I'll be surprised if
Andrew Maxwell
is not the starter vs. Western Michigan next Friday, but I think Dantonio should give Terry snaps in some special packages just to see what the kid can do. He is the future, and the future is now for the Spartans. They have an elite defense and a favorable schedule, so they need to go for it this year. The last thing the team needs is a quarterback who is going to make a bunch of mistakes, and there is a serious risk of that with Terry. But he can likely be very effective in certain situations and in a handful of plays per game, giving Michigan State a much-needed different look on offense.
That's me in Dantonio's shoes, anyway. (
So where's the tread?
).
August, 12, 2013
8/12/13
5:00
PM ET
Can we hop in the DeLorean and travel ahead to Aug. 29? No? OK, then, let's just answer some emails.
Justin from Baltimore writes:
Hi, Brian. Which of the following outcomes would be most beneficial in boosting the BIG's national rep? 1. Win all nine of the top nonconference games (ND at Michigan, UCLA at Nebraska, MSU at ND, Wisconsin at ASU, OSU at Cal, PSU vs. Syracuse, BYU at Wisconsin, NW at Cal, and Iowa at ISU ... I think it would actually be in the BIG's interest for ND to beat Purdue in game No. 10 as to not totally devalue the other victories against the Irish). 2. Win the Rose Bowl. 3. Place a team in the BCS championship game and lose in a close, competitive game that really could have gone either way?
[+] Enlarge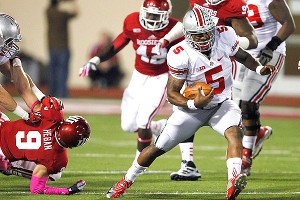 AP Photo/Sam RicheOhio State and Braxton Miller have their eyes on the big prize this season.
Brian Bennett:
I think we can quickly rule out No. 1. The Big Ten just doesn't have many high-profile nonconference games. If Notre Dame loses to both Michigan schools, that probably means the Irish won't have a great season, and beating teams like Cal, UCLA and Arizona State simply doesn't carry that much weight. A Rose Bowl win would be great, but we don't know who the opponent would be. Is it a highly-ranked Pac-12 champion? Even then, I think the No. 3 item in your scenario is the most important. Winning championships is obvious the most beneficial accomplishment for a league's perception. The second-best way to do that might be playing for a championship and coming really close. Especially if a Big Ten team were to take an SEC champ to the wire, that could go a long way toward improving perception.
Nick from Bay Area, Calif., writes:
Suppose the following situation plays out: In the Legends Division, Nebraska finishes 11-1 with its only loss at Michigan. Michigan loses a close one to the Buckeyes and drops another on the road (take your pick, @PSU, @NW, @MSU) to finish 10-2. In the Leaders, Ohio State finishes 12-0 and Wisconsin loses close ones at OSU and Arizona State to finish 10-2. Ohio State destroys Nebraska in the B1G CG. If the Buckeyes go to the NCG, is there a shot that the Badgers could end up in the Rose Bowl again?
Brian Bennett:
I see it's a hypothetical day. Yep, we all need some real football around here to talk about. Anyway, it's an interesting question. Of course, there are scenarios where the Rose Bowl could take a non-Big Ten team if it lost the league champion to the BCS title game, but I doubt the game would want to do that in the final season before the playoff and certainly not in its 100th edition. Let's assume all three Big Ten teams you mentioned finished in the top 14 of the BCS standings but not in the top four. The Rose would be free to take its pick of those teams. I actually think Nebraska or Michigan would be more likely to go to Pasadena, both because they'd have stronger nonconference wins in your scenarios (Notre Dame for the Wolverines, UCLA for the Huskers) than Wisconsin, and because the Rose Bowl might have a bit of Badgers fatigue (and vice versa).
Glenn from Leesburg, Fla., writes:
Brian, why all the hype over OSU? Realistically, what more do they have than teams like UM, PSU, Wisconsin, and Nebraska? They have
Braxton Miller
, but except for PSU, there's some pretty good QBs starting for the other three schools. OSU appears to have a good secondary, so does PSU. OSU lacks depth at LB and DL. They have a good OL, so does PSU and UM. OSU has Urban Meyer, PSU has last season's Coach of the Year, UM has Brady Hoke. OSU has a questionable backfield to support Miller, especially the first few games. OSU had a great recruiting year, so did UM which was ranked ahead of the Bucks in that category. Last fall's undefeated season for OSU has nothing to do with this year's upcoming season. So, why all the hype? You and Adam make it sound like we might as well skip the BIG season and send OSU right to the BCS championship game. Biased much?
Brian Bennett:
Well, let me tackle the "biased much" question first, since it is so ridiculous. Our job here involves giving informed opinions and predictions at times, and we have both said Ohio State is the league favorite. This is not an absurd opinion, since the Buckeyes are ranked No. 2 in the preseason coaches' poll and have been picked to win the Big Ten by just about every major publication, writer, etc. Last year, we both picked Michigan State to win the Big Ten. Did that make us biased toward the Spartans? Come on, Glenn.
Anyway, as a guy from Florida, you should know part of the answer here: Urban Meyer. Yes, he's not the
only
great coach in the league. But he is the only one with national title rings. And in his first season in the conference, he went 12-0. The Buckeyes have had an abundance of talent most years, and they're loaded again in 2013. The offensive line is excellent, Miller finished fifth in the Heisman voting last year, and the skill players are improving, especially with the rave reviews freshman
Dontre Wilson
has garnered thus far. There are questions on defense, but there are also All-America type players on that side like
Ryan Shazier
and
Bradley Roby
, plus stars-in-the-making like
Adolphus Washington
and
Noah Spence
. I've said I think it will be hard for the Buckeyes to go undefeated again, and let's not forget that they had several close calls last season. But if you're going to predict a 2013 Big Ten champ, Ohio State is the obvious pick right now.
Brian M. from Oregon, Ohio, writes:
Brian, I must take exception to your response to Brian from Atlanta. You can't look at it as 25 games in a row. You have to look at it one game at a time. The Buckeyes aren't playing 25 straight games. They're playing one opponent, and then preparing for the next. When you look at it on a game-by-game basis, you're hard pressed to think that Ohio State
won't
finish undefeated. Further, what happened last season is already in the past. It has no bearing on this season. From here, it's 14 games to go, not 25 (or 26 as it were). Additionally, Brian from Atlanta mentioned some of the close games Ohio State had last year. This seems to be a common misapprehension amongst Buckeye doubters. The Buckeye team that beat that school up north in November, was far better than the one that took the field against Miami (OH) (IO) in September. Certainly other teams have improved as well, but consider the giant leap forward Urban Meyer-coached teams traditionally take in Year 2 of his system. Other teams will have improved, but Ohio State has improved more, and they are better to begin with. Once again, it seems far more likely that Ohio State will finish undefeated than not.
Brian Bennett:
While it's true that this season's Ohio State team is different, and it won't have to win 25 games in a row this season, my point was that it's really, really hard to go undefeated in any given year, much less do it two years in a row. You make a good point about Meyer's second-year track record, but also recall that he had only one undefeated season under his belt before last year, and that was at Utah. You also make it sound like Ohio State didn't have close games late in the season, but the Buckeyes won an overtime game in the penultimate game at Wisconsin, as well as that miracle comeback against Purdue on Oct. 20. And remember that they only beat Michigan by five points, at home. Yes, Meyer's team should be favored in at least 11 games this season, but we are saying that based mostly on what those opponents did last year, not the teams that they will become this season. I won't be surprised if the Buckeyes run the table, but I'd give better odds that they slip up somewhere.
Josh from Madison, Wisc., writes:
Who ultimately starts for the Badgers this season,
Joel Stave
or
Tanner McEvoy
?
Brian Bennett:
You're giving short shrift to
Curt Phillips
, who might not have the arm strength of Stave or the athleticism (post injuries) of McEvoy but has a combination of both and serious veteran moxie. It's nearly impossible right now to tell whom Gary Andersen and Andy Ludwig will choose as their starter. McEvoy is at a disadvantage because he didn't arrive on campus until the summer, and his experience at playing quarterback on any level is limited. I'd probably put my money on Stave, just because he has the best chance to help the offense stretch the field with his downfield passing ability, and he played well last season before getting hurt. But I also think McEvoy will play at some point this fall, and I still wouldn't count out Phillips being the last man standing.
February, 6, 2013
2/06/13
7:00
AM ET
ESPN RecruitingNation
has signing day covered. Follow ESPNU's coverage, chat with analysts and get breaking news on our
Signing Day Live
page beginning at 7:30 a.m. ET through 7 p.m. ET. For more on what to expect on signing day, check out the
Big Ten conference breakdown

.
Bold prediction:
Penn State will hang on to a top-25 class, even if just by the slimmest of margins. Bill O'Brien and his staff deserve all the credit in the world for having to originally put together a class after the scandal and then reshaping it after NCAA sanctions were levied in July.
Illinois
Biggest need:
The Illini's offense was arguably the worst in the Big Ten in 2012, and Illinois needs help just about everywhere on offense, especially at the skill positions.
Biggest recruit:
Four-star athlete
Aaron Bailey
is the future at quarterback for Illinois, and the coaches will expect him to be ready to take the reins once
Nathan Scheelhaase
moves on.
Indiana
Biggest need:
To just put up a fence around Indianapolis and the state of Indiana. Kevin Wilson did that, assuaging defensive line concerns in the process by adding Indianapolis linemen
David Kenney III
and
Darius Latham
.
Biggest recruit:
The Hoosiers are not accustomed to landing ESPN 150 prospects, but not only did they get
Rashard Fant
, but they got him all the way out of Georgia.
Iowa
Biggest need:
After having several productive running backs over the past decade, the Hawkeyes are hurting in the backfield due to injuries and off-the-field issues.
Biggest recruit:
The Hawkeyes were after
Berkley Edwards
for a while, but once that fell through they put the screws to former Boston College running back commit
LeShun Daniels
. He flipped shortly after an official visit to Iowa.
Michigan
Biggest need:
Brady Hoke is transitioning to a pro-style offense, and he needed a pocket passer and a running back who makes his living in between the tackles.
Biggest recruit:
ESPN 150 quarterback
Shane Morris
is that pro-style quarterback, but he is also the unquestioned leader of Team 134 and helped put together one of the nation's top classes.
Michigan State
Biggest need:
The Spartans will lose their top two rushers from 2012, including Big Ten rushing leader
Le'Veon Bell
, so running back is a priority. They are bringing in two.
Biggest recruit:
ESPN 300 dual-threat quarterback
Damion Terry
is a capable thrower and runner, and he led his high school to a state title as a senior.
Andrew Maxwell
did not exactly lock down the starting quarterback job with his performance last season.
Minnesota
Biggest need:
Donnell Kirkwood
is a promising player at running back, but he struggled against some of the league's better defenses and wore down late in the season. A complement is sorely needed.
Biggest recruit:
Three-star running back
Berkley Edwards
is the younger brother of former Michigan receiver Braylon Edwards. Berkley is one of the Gophers' highest-rated commitments, and running back is a position that lends itself to an easy transition.
Nebraska
Biggest need:
Nebraska needs to return to its days of the Blackshirts, as the Huskers' defense was gashed on the ground all season. The Huskers need help along the defensive line.
Biggest recruit:
Elite 11 finalist
Johnny Stanton
is a dual-threat quarterback, but he's a much more polished passer than Taylor Martinez, who has taken his share of lumps since his flashy start in Lincoln.
Northwestern
Biggest need:
Now that the Wildcats are a legitimate threat in the Big Ten under Pat Fitzgerald, the next step is to get better athletes to compete with Michigan and Ohio State. Fitzgerald is doing that with
Ifeadi Odenigbo
in 2012 and
Godwin Igwebuike
in 2013.
Biggest recruit:
ESPN 300 dual-threat quarterback
Matt Alviti
had offers from some big programs including Notre Dame, but he chose nearby Northwestern. The Wildcats have an unsettled situation at quarterback, and as a local product Alviti could be called for by the fans if the quarterback play does not improve.
Ohio State
Biggest need:
Linebacker was the biggest need for the Buckeyes, and after a shaky start Urban Meyer wrapped up a nice haul at the position with ESPN 150 products
Trey Johnson
and
Mike Mitchell
.
Biggest recruit:
It's a tie between
Jalin Marshall
and
Dontre Wilson
, who are separated by just a few spots in the ESPN 150. Both have game-breaking ability as a receiver or out of the backfield.
Penn State
Biggest need:
Despite significantly improved play from Matt McGloin in 2012, the Nittany Lions have not been blessed with quarterbacks the past decade, with the exception of a few good seasons from Michael Robinson and Daryll Clark.
Biggest recruit:
While the class did field its share of decommitments, the damage would have been irreparable if No. 1 QB
Christian Hackenberg
bolted. By staying on, he instilled confidence in several other recruits to stay or join him in State College.
Purdue
Biggest need:
The quarterback situation at Purdue has been unsettled the past few seasons, which is not good when it comes to the most important position on the field.
Biggest recruit:
An Elite 11 finalist,
Danny Etling
stuck with the Boilermakers through the coaching change. He will be looked at as the future of the program.
Wisconsin
Biggest need:
While the Badgers always have a strong stable of backs, losing Montee Ball is going to hurt, especially in the red zone. Wisconsin addressed it with top commitment
Corey Clement
.
Biggest recruit:
The loss of Russell Wilson left a major void at quarterback, but the Badgers landed quarterback
Tanner McEvoy
on Monday. McEvoy is ranked No. 44 among juco prospects nationally and the expectation is he will contend for a starting job immediately.
Scene and Heard: Top 10 Predictions
BIG TEN SCOREBOARD
Thursday, 8/28
Saturday, 8/30