Ohio State Buckeyes:

Take Two
June, 26, 2014
6/26/14
1:30
PM ET
Big Ten reporters Adam Rittenberg and Brian Bennett will occasionally give their takes on a burning question facing the league. We'll both have strong opinions, but not necessarily the same view. We'll let you decide which one is right.
Earlier this month, we took a look at potential
double-digit sack artists in the Big Ten in 2014
. Then we
had you vote on
who would lead the league in that category.
Nebraska's
Randy Gregory
was the only player to reach 10 sacks in the Big Ten last year -- or for the last two seasons, for that matter. Yet several talented defensive ends and pass rushers can be found around the league. So
today's Take Two topic
is this: Who will lead the Big Ten in sacks in 2014?
Take 1: Brian Bennett
Gregory is an obvious answer here. You could also easily pick defending Big Ten defensive lineman of the year
Shilique Calhoun
from Michigan State, Maryland's
Andre Monroe
or Minnesota's
Theiren Cockran
. All would be excellent choices.
[+] Enlarge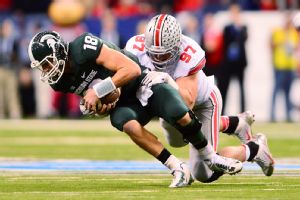 Andrew Weber/USA TODAY SportsOhio State's Joey Bosa has the talent and the drive to be the Big Ten's best pass-rusher as a sophomore.
But I'm going with the guy who might have the highest ceiling of all. That's Ohio State defensive end
Joey Bosa
. He had 7.5 sacks as a true freshman, which is a pretty remarkable achievement. Bosa was good all year, but he really impressed me in the Orange Bowl loss to Clemson when he basically played on one leg because of an ankle injury. He is a freakish athlete with a nonstop motor and a desire to be the best. Those qualities virtually assure we're looking at a future superstar.
I believe the Buckeyes will have one of the best defensive lines in the country this year, especially when
Noah Spence
returns from his suspension after two games. That will prevent offensive lines from keying on Bosa too much, while I think Gregory could be seeing a lot more attention. I predict JBBigBear, as Bosa calls himself
on Twitter
, takes it to the next level as a sophomore and leads the Big Ten with 11.5 sacks.
Take 2: Adam Rittenberg
Really good call on Bosa. I strongly considered selecting him myself, especially because of Ohio State's depth along the defensive line. But I think the sacks will be distributed a little more evenly for the Buckeyes, as Spence,
Michael Bennett
and
Adolphus Washington
all can get into the backfield. Calhoun also could top the Big Ten sacks chart, especially with underrated veteran
Marcus Rush
and promising redshirt freshman
Demetrius Cooper
to distract offensive linemen. Minnesota's Cockran will be overlooked in this conversation, but
he's bulking up
and absolutely could build on his big sophomore season.
[+] Enlarge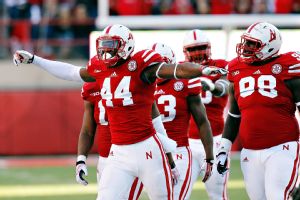 Bruce Thorson/USA TODAY SportsRandy Gregory made an instant impact with Nebraska in 2013.
Ultimately, I'm going with the best player, the guy with the highest ceiling: Nebraska's Gregory. Sure, he's the only truly scary player on the Huskers defense and undoubtedly will see more double-teams that he did in his first FBS season. But I think back to Wisconsin's J.J. Watt and how I thought he would be marginalized in 2010 after the departure of O'Brien Schofield (12 sacks in 2009). Watt simply went out and dominated, racking up seven sacks and 21 tackles for loss, earning All-America honors and becoming a first-round draft pick.
Gregory is the best pure pass rusher in the league. (Bosa is close, and Calhoun affects the game in other ways.) Gregory should be even better in his second season as a Husker. Sure, more teams will know about him and gear their protections toward him. Won't matter. Gregory will top the Big Ten sacks chart again before becoming a top-10, possibly a top-5, draft pick.
March, 5, 2014
3/05/14
9:00
AM ET
Big Ten bloggers Adam Rittenberg and Brian Bennett occasionally will give their takes on a burning question facing the league. We'll both have strong opinions, but not necessarily the same view. We'll let you decide which blogger is right.
As the Big Ten positions itself for a new television contract that should shatter revenue records, the subject of playing more weekday games has surfaced. There's even been some buzz about the
possibility of more Friday night games
, although commissioner
Jim Delany doesn't expect them for a while
. Still, the only major conference that has resisted many regular-season weekday days could head in that direction in the not-so distant future.
Today's Take Two topic is:
Should the Big Ten schedule more weekday games?
[+] Enlarge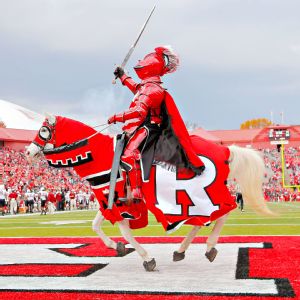 Jim O'Connor/USA TODAY SportsHaving schools such as Rutgers play Thursday or Friday night conference games wouldn't be the worst thing in the world for the Big Ten.
Take 1: Adam Rittenberg
I've been consistent on this issue since the Big Ten blog launched. More weekday games? Yes, please. I appreciate college football Saturdays as much as the next person, but the Big Ten has been missing out on certain exposure opportunities by clumping all of its games on one day, particularly in the noon ET/11 a.m. CT window. We've seen some Thursday night and Friday night games in Week 1, and Nebraska and Iowa are playing the day after Thanksgiving, but the Big Ten has largely steered clear of weekday games. The rationale: We're the Big Ten. We don't need no stinking weekday games.
That's true to an extent. Programs such as Ohio State, Michigan, Nebraska and Penn State receive exposure no matter when they play. Programs such as Michigan State, Iowa and Wisconsin also aren't starved for a separate TV window that can get more eyeballs on their product. But there's another group of Big Ten programs that could benefit greatly from these games, perhaps not in attendance but certainly in exposure. Too many games are overlooked in that Saturday morass, especially when the bigger-name teams are playing. Wouldn't matchups such as Purdue-Illinois, Minnesota-Northwestern or Maryland-Indiana get more attention on Thursday night than Saturday afternoon? I have mixed feelings about Fridays because those are big high school game nights in the Midwest, but a Friday game every once in a while isn't a bad deal.
The Big Ten has made some encouraging scheduling moves in recent months. More Saturday prime-time games are on the way, most likely in the 2014 season. More weekday games would be another good move for certain programs. Big Ten teams don't need to go overboard, but they should be open to the pluses that can come from these events.
Take 2: Brian Bennett
Saturdays are sacred. Let's just get that out of the way at the beginning. The Big Ten is right to preserve the tradition of fall afternoon kickoffs as much as possible. That's what college football is all about.
There are certain programs in the league that should never consider hosting a game on any day but Saturday, apart from opening week and Thanksgiving weekend. As part of our Flip Week series last season, I attended a Thursday night game at Clemson. Because that campus is in a small town and the stadium demands ample parking, Clemson canceled all classes on Thursday afternoon to get ready for the game. Can you imagine many Big Ten schools doing that? And there were a few thousand empty seats for that game against Georgia Tech, a rarity for the Tigers at home. Programs with large stadiums in college towns such as Penn State, Michigan and Iowa would struggle to get all the logistics in place for a weeknight, midseason game.
But it's also hard to argue against the point that college football is dictated by TV, and Thursday night games have provided great exposure. Louisville practically built itself into a power by playing any day of the week, and the ACC has benefited from Thursday games. With the Big Ten expanding to 14 teams, it's hard to squeeze all those games into a Saturday viewing period and not have some get lost in the shuffle. Programs such as Illinois, Indiana, Minnesota and Purdue could really benefit from a Thursday or Friday night spotlight, even if it's just on the Big Ten Network. Rutgers is used to playing on weeknights, and Maryland is no stranger to it from its ACC days.
So why not the occasional Thursday or Friday night game? Friday games would hurt high school football, but as a once-a-year thing, they would hardly be a death knell. Keep the games on Saturdays as often as possible. But a limited dose of weeknight games can be very helpful in the right spots. More TV slots could mean more money when the league negotiates its new broadcast rights package. And these days, TV and money drive everything in college football.
February, 4, 2014
2/04/14
5:00
PM ET
National Signing Day is just hours away. It will be a formality for some Big Ten teams, who simply must wait for written proof of the pledges they've known about for weeks or months. But there's always a bit of drama in the league, whether it's an uncommitted prospect announcing his choice publicly for the first time, a recruit flipping from one team to another at the last minute, or a player sticking with his initial choice despite increased attention.
Today's Take Two topic is:
What will be the biggest announcement/decision in the Big Ten on signing day 2014?
Take 1: Adam Rittenberg
There are several options here, but the
Malik McDowell
situation, which
I wrote about earlier on Tuesday
, will get my attention on Wednesday morning. Here you have a hulking defensive lineman from Southfield, Mich., the top uncommitted prospect in the Midwest according to ESPN Recruiting Nation, choosing among four schools, three of them rival programs in the Big Ten (Michigan State, Michigan and Ohio State). Michigan State appeared to have the edge for McDowell, but his mother doesn't want him to go there, telling the
Detroit Free Press
that she had a "bad experience" in East Lansing. She didn't specify what it was.
McDowell's parents are both concerned about the social life and potential distractions their son could face at MSU, and McDowell's father wants him to leave the state entirely to play his college ball. Parents usually want their kids to be close, but here you have parents who would be fine if their son went more than 800 miles away to play for defending national champion Florida State. Interesting.
Malik himself has said only positive things about the programs, particularly Michigan State, where he likes the coaching staff and the atmosphere both on the team and on the campus. Are we headed for another
Alex Collins
situation
? Probably not, but it will be interesting to see how much pull McDowell's parents have on where he ends up. It would be a blow for the Big Ten to lose such a decorated player to Florida State, and McDowell would be a nice addition for Michigan State, Ohio State or Michigan.
Take 2: Brian Bennett
McDowell's decision might draw better ratings than the Super Bowl in Michigan and Ohio. And
Jamarco Jones
' call between Ohio State and Michigan State, should it come down to Wednesday, also could provide high drama.
But let's face it: Ohio State, Michigan State and Michigan are still going to have plenty of talent regardless of a late commitment or two. That's why I think the biggest decision could involve
Jeff Jones
and Minnesota.
Jones, who plays at Minneapolis Washburn and is ranked the No. 12 running back and No. 137 overall in the ESPN 300, committed to the Gophers over a year ago. He has had many other suitors, including Florida and Michigan. It was a great sign for Minnesota that Jones decided against visiting Gainesville or Ann Arbor, though that doesn't rule out him flipping on signing day.
Jerry Kill and his staff need to keep as many blue-chip prospects home as possible, something that has eluded the program in the recent past. While Minnesota is in good shape at running back with 1,000-yard back
David Cobb
returning in '14, keeping Jones on board is important for keeping the momentum the team gained in last year's eight-win season. Losing Jones would be tough to swallow for the Gophers.
August, 29, 2013
8/29/13
1:00
PM ET
Big Ten bloggers Adam Rittenberg and Brian Bennett will occasionally give their takes on a burning question facing the league. We'll both have strong opinions, but not necessarily the same view. We'll let you decide which blogger is right.
As the 2013 season kicks off this week, we're making our picks for the four major Big Ten individual awards.
Today's Take Two topic:
Who will win Big Ten freshman of the year honors?
Take 1: Brian Bennett
The options are plentiful, as some very talented true freshmen enter the league, and you can't discount redshirt freshmen.
Deion Barnes
was a redshirt freshman last year when he won the award at Penn State, and I say the Thompson-Randle El trophy stays in State College -- this time on the offensive side.
Head coach Bill O'Brien still hasn't named a starting quarterback for Saturday's game against Syracuse, but I continue to believe that
Christian Hackenberg
will pilot the Nittany Lions offense for the majority of this season. And the player who was ranked as the No. 1 pro style quarterback in the Class of 2013 will have an outstanding supporting cast around him, with receiver
Allen Robinson
, a deep group of tight ends, some experienced running backs and a solid offensive line. We shouldn't expect Hackenberg to throw for 3,000 yards like Matt McGloin did last year, but he will put up strong numbers in that offense. Playing such a high-profile position will surely help his candidacy with voters, which is why I see Hackenberg beating out other candidates like Ohio State's
Dontre Wilson
, Michigan State's
Riley Bullough
and Michigan's
Derrick Green
.
Take 2: Adam Rittenberg
Hackenberg is a good call, Brian, and if he can steady the ship on offense for the Lions, he'll have an excellent chance to win the award. I might have picked Michigan's Green before preseason camp, but senior Fitz Toussaint really took control of the running back spot in recent weeks. Ultimately, the race comes down to Hackenberg and Ohio State's Wilson.
There's no doubt Hackenberg plays a more high-profile position, but I'm going with Wilson because of the "SportsCenter" factor. I expect the Buckeyes' H-back to be a transformative type player, not only for Ohio State but in the Big Ten, piling up highlight-reel touchdowns. Wilson will have three or four jaw-dropping touchdowns that get replayed over and over on ESPN and the Big Ten Network. He'll get noticed very early in the season, and it'll help that he plays for a national championship contender. Wilson is a different player than former Illinois standout Arrelious Benn, the last wide receiver named Big Ten freshman of the year (in 2007). But like Benn, Wilson will contribute in different ways and get the attention he needs to win the award.
More major awards picks
October, 30, 2012
10/30/12
9:00
AM ET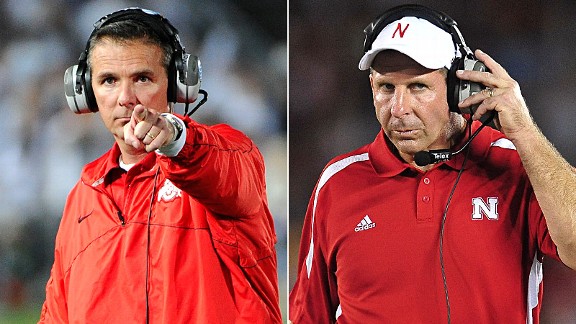 US PresswireWill it be Urban Meyer's squad or Bo Pelini's Huskers to go without a loss in November?
Big Ten bloggers Adam Rittenberg and Brian Bennett will occasionally give their takes on a burning question facing the league. We'll both have strong opinions, but not necessarily the same view. We'll let you decide which blogger is right.
Two teams control the race for division titles: Ohio State, which can win the Leaders crown (and finish 12-0) by winning its final three, and Nebraska, which will go to the Big Ten championship game if it sweeps its four November games. So
today's Take Two topic
is: Which team is more likely to win out?
Take 1: Brian Bennett

Predicting anything in this league is risky business, as my picks record will attest. There's a ton of parity, to put it kindly, and just about anybody (outside of Illinois) can beat anybody. Nebraska ought to be favored in its final four games, and the Huskers match up well with their remaining opponents' styles of play. However, Nebraska has taken too many rollercoaster rides from week to week, and even half to half, to put your complete trust in Bo Pelini's team down the stretch.
On the other hand, I came away from State College convinced that Ohio State will run the table. I really thought the Buckeyes would lose at Penn State, with
Braxton Miller
banged up and a thin linebacking corps going against the red-hot Nittany Lions' offense. That was one of the best and loudest atmospheres I've ever seen. Yet Ohio State won by double digits. Urban Meyer's team has sometimes needed magic to pull out victories, but it just looks like a team of destiny, and it has one of the great closers we've seen in a while in Miller. The Buckeyes should have no trouble at all this week at home against the Illini and then get a much-needed bye week to rest and heal. That should also allow linebacker
Etienne Sabino
to rejoin the lineup, which is huge. The final two games, at Wisconsin and versus Michigan, won't be easy. But the Badgers' now uncertain quarterback situation works heavily in Ohio State's favor, and the Wolverines will need to play a lot better on offense to come into the Horseshoe and win. With 12-0 on the line and no postseason to play for, the Buckeyes will play The Game like it's Armageddon. The way their season is going, I wouldn't bank on anyone beating them.
Take 2: Adam Rittenberg

This is all about matchups, and while I agree Ohio State has a fairly favorable path the rest of the way, the Buckeyes still have to win in Madison, where they've struggled, and beat a Michigan team that moved the ball well against them last year. No one would be shocked if Meyer's squad emerges at 12-0, but it's not a done deal. Nebraska also has some challenges the rest of the way, but when you really look at the matchups, as well as what the Huskers have done lately, you have to like Big Red's chances of finishing the regular season at 10-2. That's why Nebraska is my pick for a perfect November.
The Husker offense has survived most of the season without its best player (running back
Rex Burkhead
) and seen improvement from virtually every position.
Taylor Martinez
had a rough night in Columbus, but the Nebraska quarterback has made considerable improvement this season. The numbers don't lie: Martinez is a better quarterback this season. He also has more weapons around him than any other Big Ten signal caller: from speedy I-back
Ameer Abdullah
to big-play receiver
Kenny Bell
to a host of other pass-catchers. But the biggest reason why I think Nebraska runs the table is a defense that has elevated its play the last two weeks against spread-offense teams, the Huskers' downfall in recent years. Pelini-coached defenses rarely struggle with pro-style offenses, and look what Nebraska has left: Michigan State, Penn State, Minnesota and Iowa. Of those four, only Minnesota features true spread elements offensively. Nebraska is getting much better play from its linebackers than it did earlier this season, and defensive backs like
Ciante Evans
are stepping up, too. I understand Nebraska is a risky pick because of the fumbles and the penalties and the inconsistency the past two seasons, but the Huskers have matured in recent weeks and should be able to get through their remaining scheduled unscathed.
Freshman Quarterbacks A Growing Trend?
BIG TEN SCOREBOARD
Thursday, 9/3
Friday, 9/4
Saturday, 9/5
Sunday, 9/6
Monday, 9/7