OSU Buckeyes:

Steve Miller
May, 16, 2013
May 16
9:55
AM ET
Throughout the next few months, BuckeyeNation will look further into those juniors offered by Ohio State. We'll give as much detail as we can and go behind the scenes to see why these Class of 2014 standouts are so attractive to the Buckeyes. Next on the list is defensive tackle Dylan Thompson, who hails from the same high school as former Buckeyes nose tackle Garrett Goebel.
Vitals:
Dylan Thompson
(Lombard, Ill./Montini Catholic) is 6-foot-5 and 274 pounds.
Status:
He committed to Ohio State on March 23 during an unofficial visit.
To continue reading this article you must be an Insider
May, 2, 2013
May 2
11:00
AM ET
COLUMBUS, Ohio -- With spring practice in the books and Ohio State heading into its offseason conditioning program, BuckeyeNation is looking at the players who boosted their stock with the program the most during those 15 workouts. The offense went first last week, and it's now followed up by a handful of defenders who will be in line for heavy workloads this fall.
[+] Enlarge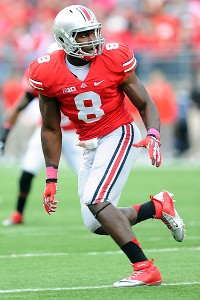 Jim Rinaldi/Icon SMINoah Spence's physical skills, along with the experience he gained as a freshman, make him an intriguing player to watch.
No. 2: Noah Spence
Who: As one of the crown jewels of Urban Meyer's first recruiting class a year ago and also one of the true freshmen who chipped in on the way to perfection last fall, the defensive end isn't coming from nowhere to claim a first-team job. His current trajectory isn't surprising given his impressive physical attributes and the flashes of potential he showed in his limited game action behind Ohio State's veteran line last season. But neither of those factors should diminish the importance of his productive spring or the improvement he showed dominating drills even against respected blockers such as senior Jack Mewhort, as Spence solidified himself as a cornerstone of the rebuilding project on a defensive line that lost all four starters.
Spring progress: The Buckeyes are counting on Spence to take a step forward in all aspects of his game, but his natural tools and his game experience gave him a bit of a head start. Physically, Spence looked stronger in his upper body and hadn't sacrificed any of his trademark burst off the edge. But it was mental improvement that Spence was more focused on during workouts after admitting that he leaned heavily on his motor and energy to make up for his youthful lack of awareness.
Jockeying for position: There wasn't really any doubt heading into March about where Spence's name would be on the depth chart, and if there had been, it was completely gone after the spring game concluded camp. With the Buckeyes settled at end with Adolphus Washington complementing Spence on the other side, they can turn their attention during training camp to which guys are most capable of providing some breaks for the starters -- with Steve Miller, Rashad Frazier and Jamal Marcus leading the group of candidates.
He said it: "I pretty much try to go hard every play like it's my last play. That's probably the biggest thing I have going for me. I don't always know what I'm doing, probably half the time I don't know. I'm going to give 100 percent effort on every play." -- Spence
Closing number: Tackling Braxton Miller is a bit tougher than just slapping a couple hands on him, so the sacks on the Ohio State quarterback in the spring game come with some grains of salt. But no matter the degree of difficulty, Spence racking up three sacks in the exhibition game in Cincinnati only offered more evidence that he's ready for more responsibility -- and the added buzz that comes with it.
April, 10, 2013
Apr 10
10:05
AM ET
John Simon flourished at the LEO position in the Ohio State defense in 2012.
The standup defensive end recorded 44 tackles -- 14½ for loss -- nine sacks and forced a fumble in his nine games for Ohio State.
The next in line for the Buckeyes are players who likely are already familiar to fans as
Noah Spence
,
Jamal Marcus
,
Steve Miller
, Tracy Sprinkle and transfer
Rashad Frazier
have played this spring.
But who comes after that?
Current freshman
Tyquan Lewis
could fill in there as well, but all eyes have turned to 2014 and who might be in the mix.
To continue reading this article you must be an Insider
March, 23, 2013
Mar 23
3:05
PM ET
Sometimes the numbers really do say it all.
In leading Lombard (Ill.) Montini Catholic to its fourth consecutive 5A state championship, defensive end
Dylan Thompson
finished the season with 92 tackles -- 19 for loss -- 7½ sacks and four forced fumbles.
Thompson -- Ohio State's fifth commitment in the 2014 class -- is certainly a disruptive force on the line, and his commitment could be a big key to other players.
To continue reading this article you must be an Insider
March, 22, 2013
Mar 22
11:00
AM ET
Mike Vrabel enters only his third season in coaching following a 14-year NFL playing career, but the Ohio State assistant might never again face a challenge like the one that sits before him.
It's rare when a defensive line coach steps on the practice field and doesn't see a single starter from the previous season. How rare? According to Ohio State's athletics communications staff, the Buckeyes haven't had a complete overhaul of their starting defensive line since the 1985 season, when all three top spots had to be filled. Although Ohio State ended up starting four new linemen in 1998, it had a returning starter from 1997 (end Matt LaVrar) on the roster.
All four starters from the 2012 team -- ends
John Simon
and
Nathan Williams
, and tackles
Johnathan Hankins
and
Garrett Goebel
-- have moved on. The effort to replace them is arguably Ohio State's top offseason story line, as the Buckeyes could be a defensive line away from contending for a national title in 2013.
[+] Enlarge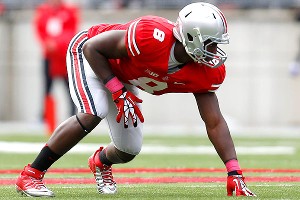 Kirk Irwin/Getty ImagesOhio State is counting on players like Noah Spence to deliver for an inexperienced defensive line.
"We're not going to claim to be experienced," Vrabel told ESPN.com on Thursday, "but we're going to go out and continue to improve. They work, and they're committed to being great."
Vrabel is stressing three areas for the linemen this spring -- attitude, effort and toughness. If all three are achieved, Vrabel thinks the players can "let their God-given ability to take over."
The Buckeyes' linemen boast plenty of ability. Ohio State had arguably the nation's top defensive-line haul in the 2012 recruiting class, signing four ESPN 150 defensive linemen, three of whom --
Noah Spence
,
Adolphus Washington
and
Tommy Schutt
-- saw the field as true freshmen. More help is on the way from the 2013 class with standouts like tackle
Joey Bosa
, an ESPN 150 selection. Two incoming line recruits,
Tyquan Lewis
and
Tracy Sprinkle
, enrolled early and are participating in spring ball.
But the group has only nine combined career starts, five from junior end
J.T. Moore
. Its career tackles leader, junior tackle
Michael Bennett
, has a whopping 28 stops in 21 games.
"The guys we've got have a little bit of experience with Adolphus and Noah and Tommy," Vrabel said. "Michael Bennett and
Joel Hale
,
Steve Miller
, those guys have been here, contributing and giving us some leadership. And Tracy and Tyquan are just trying to figure their way through this thing.
"We're learning every day."
Although Ohio State's defensive line undoubtedly will be younger, Vrabel also thinks it will be faster with players like Spence and Washington, who finished third on the team with three sacks in 2012. Again, talent isn't a problem, but the line needs leadership after losing two-time captain John Simon.
Head coach Urban Meyer challenged several of the older linemen at the start of the spring, saying, "Steve Miller's been here for a while. It's time to go play.
Chris Carter
, how long has he been here? At some point you can't redshirt anymore." At the very least, Ohio State needs the veterans to fill out the line rotation.
Ideally, they can take the reins.
"No one's going to replace what John Simon provided for this program," Vrabel said. "We can only hope that we find guys who are willing to lead, be the same person every day, be competitive, play with some toughness and play with some effort. We'll have guys step up."
Vrabel should get an accurate gauge on his group this spring because of the men they'll be lining up against. What the Buckeyes lack in defensive-line experience, they make up for on their offensive line, which returns four starters with 81 combined career starts.
"If we can compete against them," Vrabel said, "we feel like we're going to be OK."
Spence evidently has been competing well,
impressing Buckeyes offensive line coach Ed Warinner
with his edge-rushing speed.
Vrabel's return to his alma mater in 2011 generated tremendous excitement, and he made an
immediate impact on the recruiting trail
. But his coaching skills will be under the microscope as he works with a group that, for now, is Ohio State's biggest question mark.
"I'm a young coach, I'm new to this, so every day is a challenge," he said. "I enjoy it, I embrace the challenge and try to do my best."
March, 7, 2013
Mar 7
9:00
AM ET
If Urban Meyer had placed a banner with the words "The Chase" in Ohio State's indoor practice facility last spring, he might have been asked, "For what?"
Sure, football players are always chasing something, as Meyer noted Tuesday when asked about the big, bold banner now hanging at the Woody Hayes Athletic Center. That "something" can be localized: a starting job, a bigger role in the offense or defense, a scholarship, a coach's approval.
But Ohio State couldn't chase many tangible team goals last spring. The Buckeyes couldn't chase a Big Ten championship or a national championship because of NCAA sanctions. They
only found out in September
that they could chase a Leaders Division title. Undoubtedly their greatest attribute was an ability to chase the grandest goal they could -- a perfect 12-0 regular season, capped by a win against archrival Michigan -- and achieve it.
The banner makes much more sense now. Ohio State has emerged from the shadow of postseason probation and can chase whatever it wants, including the crystal football that has eluded the Scarlet and Gray -- and the rest of the Big Ten -- for more than a decade.
[+] Enlarge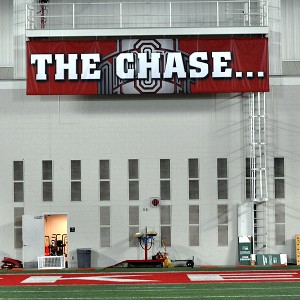 Photo/Ohio State Athletics Communications The above banner is prominently displayed in Ohio State's indoor practice facility.
"Some guys are chasing starting positions," Meyer said, "some guys are chasing a bowl game, some guys an NFL contract. ... It means more, but that's where we're going to stop."
Meyer and his players can stop there for now. They should, as it's only spring practice. But "The Chase" will be a theme throughout Ohio State's offseason as bigger, broader goals are back on the table.
"Everybody's got big dreams," Meyer said, "and we as a football team have some dreams."
Ohio State can dream big primarily because of an offense that transformed in 2012, rising from 81st nationally in scoring to 21st and from 107th in total yards to 47th. Quarterback
Braxton Miller
blossomed in Meyer's system, racking up a team-record 3,310 yards of offense, earning Big Ten Offensive Player of the Year honors and finishing fifth in the Heisman Trophy voting.
Miller, who spent part of his winter break working with noted quarterback instructor George Whitfield in California, leads a unit that returns nine starters, including four linemen. Ohio State also regains the services of versatile running back
Jordan Hall
, who missed most of last season because of injury and turned heads during Tuesday's practice.
After delivering scathing -- and accurate -- critiques of Miller, the receivers and the entire offense last spring, Meyer has a much rosier outlook these days. Tuesday, he called Miller's footwork "outstanding" and praised Hall and several other skill players.
"Last year, who knew what as going to happen," the coach said. "I think the appropriate term was 'clown show' at this time. I don't feel like [it's] a clown show."
If Miller makes strides as a passer, Ohio State should have its most potent offense since the 2006 season, when the Buckeyes played for the national championship (coincidentally against Meyer's
Florida Gators
). The key to the spring -- and to the season, really -- is whether Ohio State produces a typical Ohio State defense. Otherwise, Meyer says, any discussion about "those two words that we don't use very often" is pointless.
The spring spotlight shines brightest on the defensive front seven. Ohio State lost all four starting linemen from 2012, including Big Ten Defensive Player of the Year
John Simon
and massive tackle
Johnathan Hankins
, a possible first-round draft pick. Talented young linemen such as
Adolphus Washington
and
Noah Spence
got a taste last fall, and Meyer's staff has recruited extremely well up front, but others must emerge to fill out the rotation. Meyer on Tuesday challenged players such as
Steve Miller
and
Chris Carter
to do so.
All-Big Ten selection
Ryan Shazier
returns at linebacker, but depth remains a major concern for a group that needed fullback
Zach Boren
to fill a starting role midway through the 2012 season.
"If we put together a good D-line and linebackers, I think we'll have a good team," Meyer said. "If not, we won't. It's pretty simple."
There's also a leadership void to fill this spring. Players such as Simon and Boren made sure the Buckeyes kept up the chase in 2012. Meyer expressed concern last spring at how the team would handle its first brush with failure. Thanks to the seniors, it never happened as Ohio State recorded only the sixth unbeaten, untied season in team history.
The torch has passed to players like Miller, a quiet kid from a quiet family whose voice must be heard more in 2013.
"He needs to be a better leader," offensive coordinator Tom Herman told reporters last month.
Other likely leaders include Shazier and dynamic cornerback
Bradley Roby
, a big talker who almost always backs it up on the field. Their challenge differs from that of their predecessors, who kept the team focused in spite of the bowl ban, yet did so under measured expectations.
The expectations are back to Tressel-era levels, and perhaps even higher because of the perfect season and Meyer's recruiting success. Anything less than a celebration Dec. 7 in Indianapolis -- and perhaps another Jan. 6 in Pasadena -- will be considered disappointing.
"The chase," Meyer said, "is on."
February, 20, 2013
Feb 20
9:00
AM ET
With national signing day in the books, the next big date on the Ohio State calendar as it continues working toward an encore in 2013 of an undefeated season is spring practice. Before those workouts begin, BuckeyeNation will take a look at each position to see where the roster is at -- and where it's going.
DEFENSIVE ENDS
Who's back: The Buckeyes don't exactly have a shortage of talented defenders returning to the fold up front, but it's what they're missing that will dominate the discussion heading into spring and the summer workouts. The storied career of John Simon is over after one more dynamic season on and off the field, and after battling back from injuries to contribute on the other end of the line, Nathan Williams is out of eligibility also. There's never been much doubt about how bright the futures are for Noah Spence and Adolphus Washington, and in limited action as true freshmen last fall, they showed flashes what they can do. But the Buckeyes won't need potential when September rolls around -- they'll need production, and those two and rising junior Steve Miller are at the head of the line and waiting for redshirt freshman Se'Von Pittman to join them.
January, 21, 2013
Jan 21
9:15
AM ET
It all turned around when….
Successful college programs often can point to a specific time when their program got a shot in the arm to get things rolling.
Unquestionably, when Urban Meyer took over the helm for Ohio State it took the Buckeyes in a new direction. But the emergence of
Braxton Miller
can be equally as important.
To continue reading this article you must be an Insider
January, 4, 2013
Jan 4
9:00
AM ET
Heading into the new year and offseason workouts, BuckeyeNation will look at some holes left by the departing Ohio State veterans and potential candidates to fill them.
DEFENSIVE END
Who: Within the Ohio State locker room or around the Big Ten, on the field with prolific production or in the weight room with his fanatical work ethic, John Simon's reputation and legendary status was officially secured during a senior season largely played at less than full strength. Battling various ailments without issuing a single complaint, the defensive end still finished the year on top of the conference in sacks. A two-time captain, Simon willed the Buckeyes through a series of other injuries that tested the defense and ultimately helped them finish unbeaten in the face of NCAA sanctions that prevented them from playing in the league title game or a bowl. Replacing everything Simon provided certainly will be no small task, but he's at least done all he could to provide a blueprint for those players coming behind him.
December, 10, 2012
12/10/12
3:29
PM ET
I believed Johnathan Hankins when he said last summer that he wanted to help Ohio State win a championship.

But some NFL draft decisions are made for you. And when you're a virtual lock in the top 15 of the draft, you make the jump, no questions asked.
Hankins surprised no one Monday in announcing he'll forgo his senior season and enter the 2013 NFL draft. The Ohio State junior defensive tackle boosted his stock this season, eating up space and ball-carriers in the middle of the Buckeyes' defensive line. Many NFL draft prognosticators, including our own Mel Kiper Jr. and Todd McShay, have Hankins as the first Big Ten player off the board in April.
Hankins won't help Ohio State try to win a national title in 2013, but he undoubtedly made the right call.
"I will always be grateful for the family I have gained here at Ohio State," Hankins said in a prepared statement. "I want to thank coach [Urban] Meyer, coach [Mike] Vrabel and strength coach [Mickey] Marotti for bringing the best out of me as a football player and person, and for their constant support. I also want to thank coach [Jim] Tressel and coach [Jim] Heacock for recruiting me and giving me an opportunity to be a part of this great school and great program."
Hankins added that he intends to finish his degree at Ohio State, which is great to hear. He started every game the past two seasons and finishes his career with 138 tackles (58 solo, 80 assists), including 16.5 tackles for loss and five sacks.
Although Ohio State expected Hankins to leave, his departure underscores some potential depth issues the team will have up front in 2013. Defensive end John Simon, the Big Ten Defensive Player of the Year, moves on along with nose tackle Garrett Goebel and defensive end Nathan Williams.
The good news is Urban Meyer has recruited very well at defensive line, securing blue chippers Noah Spence and Adolphus Washington in his first class (both played this fall). Linemen like Michael Bennett, Steve Miller, Tommy Schutt and Joel Hale all should see increased roles in 2013. Ohio State also is bringing in several standout D-line recruits like ESPN 300 selections Joey Bosa and Michael Hill.
Ohio State has a lot of young talent along the defensive line, but the Buckeyes need those players to grow up in a hurry if they want to take another step forward on defense.
August, 8, 2012
8/08/12
3:57
PM ET
The key is finding a spot in the first four.
Michael Bennett
doesn't care which one.
The sophomore defensive lineman is comfortable playing inside at tackle or sliding out to end, along with the ability to pull off a transition like that. And while it might be easier to focus on just one of those positions, specialization doesn't have nearly as much value to Ohio State as it puts together a starting rotation.
"I'm willing to play where the coaches put me," Bennett said after practice on Tuesday. "I know the three-technique and I know the end. Right now they have me at end, but it's the beginning of camp.
"You never know."
That uncertainty isn't an issue for Bennett, whose versatility only strengthens and deepens a unit that's already on the short list for most talented in the nation.
The Buckeyes can use him on the interior along with
Johnathan Hankins
and
Garrett Goebel
without losing much beef with Bennett checking in at 6-foot-3, 277 pounds.
Or he can come off the edge since he's got quickness that doesn't often come in packages that size, allowing him to complement
John Simon
,
Steve Miller
or perhaps
Nathan Williams
once he returns from knee surgery.
Even without factoring in talented newcomers like
Se'Von Pittman
,
Noah Spence
or
Adolphus Washington
, earning a starting gig isn't going to be easy in the Ohio State training camp. Which is exactly why flexibility like Bennett provides will be invaluable.
"Michael was probably running with the first team through most of spring," defensive coordinator Luke Fickell said. "He really showed a lot, he performed well for us as a true freshman (last year), one of those intelligent guys that picks things up pretty quick. He's going to have the ability, probably, to play more than one position for us.
"When you have versatility, we have a chance to use you a lot more."