Ohio State Buckeyes:

Stanford Cardinal
March, 22, 2014
3/22/14
9:15
PM ET
MARIETTA, Ga. -- The Nike SPARQ combines have grown with each passing year, and on Saturday there was a record turnout. If the 1,993 prospects who attended weren't impressive enough, the performances by several top prospects who came to compete certainly left spectators turning heads.
Here is a rundown of some of the event's top performers.
ESPN Junior 300 running back Taj Griffin posted one of the top SPARQ scores of the day. Griffin checked in at 5-foot-10, 174-pounds, ran a 4.41 40-yard dash and a 4.35 shuttle, had a 46-inch vertical leap and a 36-foot power ball toss for a combined score of 124.29. On the recruiting front, Oregon, Clemson, Florida State, Ohio State and Tennessee continue to stand out the most.



2015 RB Taj Griffin @tg__7 with the highest SPARQ score of the day in Atlanta. pic.twitter.com/SaY2QZLPrE

— Gerry Hamilton (@HamiltonESPN) March 22, 2014

No. 3 junior offensive tackle Chuma Edoga posted an impressive score of 94.65. After measuring at 6-4 and weighing 276 pounds, Edoga ripped off a 5.01 40-yard dash, a terrific 4.69 shuttle and had a 33.8-inch vertical jump and 37-foot power ball throw. Following his impressive effort, he said his top four schools in order are Tennessee, Southern California, Georgia and Stanford with a decision likely on May 25, his birthday. The big news might have been that he currently prefers the Volunteers, but his mother is in the corner of the Bulldogs and Cardinal.
No. 252 prospect C.J. Sanders made the trip and did not disappoint. He checked in at 5-9 and 176 pounds, ran a 4.57 40-yard dash, had a blazing 4.09 shuttle run, leaped 36.5 inches and tossed the power ball 41 feet. On the recruiting front, USC, Notre Dame and Georgia are the latest to offer, joining Duke, Northwestern, Stanford, Tennessee, Vanderbilt, Mississippi State and Ole Miss. He visited USC last week, and lists Reggie Bush as his childhood idol. Sanders is the son of former Ohio State and NFL wide receiver Chris Sanders. His mom played basketball at Michigan. He reports his family favors Duke and USC early on with a decision slated for the summer.
Ben Cleveland is already considered one of the top offensive line prospects in the country, and the 6-7, 317-pounder showed why Saturday. He clocked a very impressive 5.22 40-yard dash and 4.87 shuttle, and had a 25.8-inch vertical leap and 41.5-foot power ball throw for a score of 99.78. He has offers from Georgia, Clemson, Florida, South Carolina and Texas with Alabama expected in the near future. He made an unofficial visit to Clemson two weeks ago.
Class of 2016 prospect
Class of 2015 running back Jaylen Burgess posted a 118.44. The 5-10, 214-pounder ran a 4.66 40-yard dash and a 4.38 shuttle, and had a 36.7-inch vertical leap and 42.5 power ball throw. He is receiving interest from Tennessee, Vanderbilt, Clemson, Duke and a number of other ACC schools. Duke and Tennessee are the coaching staffs Burgess talks to the most. He posted more than 1,500 all-purpose yards as a junior.
Class of 2016 linebacker and defensive end Charles Wiley checked in at 6-3, 203 pounds. He clocked a 4.68 40-yard dash and 4.45 shuttle, and also leaped 35 inches and threw the power ball 34.5 feet. He has an early offer from Virginia Tech.
Class of 2015 athlete Jeremiah Mercer is flying completely under the recruiting radar. While he had to sit out the 2013 season due to transfer rules, he made his mark Saturday posting a score of 97.47. The 5-11, 163-pound running back and wide receiver ripped off a 4.48 40-yard dash and 4.18 shuttle, and added a 36.2-vertical leap and 31-foot power ball toss. He is receiving interest from Vanderbilt and Mississippi State and lists Florida State as his dream school.
Class of 2016 inside linebacker Tyler Reed posted a very impressive score of 104.91. After measuring 6-2, 234 pounds, Reed ran a 4.96 40-yard dash and 4.59 shuttle, and had a 35.5-inch vertical leap and 41-foot power ball throw. He recorded 130 tackles as a sophomore.
Class of 2015 running back Eric Montgomery posted a 115.47, one of the day's top scores. The tailback checked in at 5-11, 185 pounds, ran a 4.46 40-yard dash and a 4.19 shuttle, and jumped 36 inches and threw the power ball 38 feet. On the recruiting front, Kentucky, Cincinnati, Ole Miss and Mississippi State, among others, are showing interest.
September, 12, 2012
9/12/12
1:15
PM ET
If you go by what should happen, California is shortly going to be 1-3. The Bears are a substantial underdog at No. 12 Ohio State on Saturday, and they will be a substantial underdog at No. 2 USC on Sept. 22.
A month ago, what was supposed to happen was a 2-2 start. The Bears were expected to open renovated Memorial Stadium with wins against Nevada and Southern Utah before taking on the role of underdog. The dispiriting loss to Nevada in the opener means they are below expectations.
That's never good, but it's particularly worrisome for coach Jeff Tedford, who is trying to regain the faith of a disaffected fan base that surely is aware of the uptick that occurred across the conference last weekend. Three teams, Arizona, UCLA and Oregon State, beat ranked teams and are, at present, exceeding expectations. The same also could be said of Arizona State. Teams that are ahead of expectations make the Bears' present standing more notable. And not in a positive way.
[+] Enlarge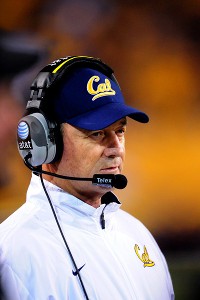 Mark J. Rebilas/US PresswireCal and head coach Jeff Tedford face daunting challenges in the next two games.
Yet momentum swings wildly in college football. Teams that are up topple over. Teams that are down seemingly rally from nowhere. While it doesn't seem as though standing opposite the Buckeyes and uber-coach Urban Meyer in front of 100,000 fans in the Horseshoe is a likely place to turn a frown upside down, you never know.
Tedford, for one, isn't embracing the idea of being the scrappy underdog.
"We're not going to play to that," he said. "We're going there to win a football game. ... We understand the level of competition, but that's not something we're backing down from."
The Bears' history under Tedford crossing time zones in road nonconference games isn't good. In 2006, Cal, ranked ninth in the preseason, was humiliated 35-18 at Tennessee (it was 35-0 late in the third quarter). In 2008, No. 23 Cal fell behind early to a middling Maryland team and lost 35-27.
The problem in both cases was horrid starts, sometimes attributed -- lamely -- to playing in Eastern Standard Time. The good news this go-around, Tedford pointed out, is the Bears have been practicing at 8 a.m. in Berkeley. So what amounts to a 9 a.m. PT kickoff in Columbus shouldn't feel so odd. The Bears' bodies will be used to morning football. Further, Cal will arrive on Thursday, thereby giving itself an extra day to get acclimated to the time change.
Of course, the Bears have started terribly in PT the past two games. They were outscored by Nevada and Southern Utah 17-0 combined in the first quarter. Falling behind in the Horseshoe with a young team is not advisable.
Ohio State stacks up in a predictable way. It runs the ball well (275 yards rushing per game) and stops the run well (51 yards per game). It's banged up at running back, but quarterback
Braxton Miller
is the Buckeyes' most dangerous running threat, both on designed option plays and as a scrambler.
Still, Cal's athletic front seven should like its chances. Last year, the Buckeyes' offensive line was woeful. It gave up 3.54 sacks per game -- 118th in the nation -- despite Miller's mobility and despite throwing just 245 passes. And that line welcomed back just two starters this season.
So, yeah, the idea is to force Miller to throw and get after him. He's completed just 51 percent of his passes last season. He's presently fourth in the nation in rushing with 151 yards per game, and 44th in passing efficiency. His legs are far more dangerous than his arm, though he seems much improved as a passer.
Easier said than done. The Bears' struggles against Nevada's pistol offense bode well for Miller and the Buckeyes' spread-option looks.
On the other side of the ball, Cal quarterback
Zach Maynard
also will need to throw -- a lot and well -- for the Bears to have a chance. They will again be without their best offensive lineman, tackle
Matt Summers-Gavin
, and the Buckeyes boast a stout front seven. Don't count on the Bears hitting the century mark running the ball.
Maynard will need his half-brother, receiver
Keenan Allen
, to make an All-American statement. And he will need his true freshman receiver combo of
Chris Harper
and
Bryce Treggs
to grow up quickly and not be wide-eyed by the atmosophere.
"I think our guys are ready for that test," Tedford said.
The Pac-12 went 3-0 last weekend at home versus the Big Ten, defying expectations. It resonated nationally in terms of perception. Cal now represents the conference as a road underdog. A victory would mean a lot for the conference, but it would mean a great deal more for Tedford.
It could right a listing ship and restore faith. It could transform a season.
July, 1, 2012
7/01/12
5:38
PM ET
BRADENTON, Fla. -- Five-star cornerback prospect
Vernon Hargreaves III
(Tampa, Fla./Wharton) won defensive MVP of the IMG Madden 7-on-7 National Championship tournament on Sunday after Team Tampa beat Max Ex Blue 28-17 to win the tournament.
[+] Enlarge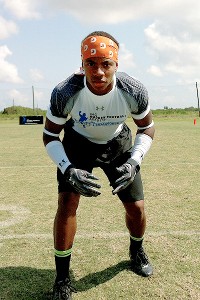 Derek Tyson/ESPN.comVernon Hargreaves is the No. 1 cornerback in the nation and the No. 4 overall player in the ESPN 150.
The 5-foot-11, 185-pound athlete had several interceptions over the course of the two-day tournament, including one against Michigan quarterback commit
Shane Morris
in the championship game.
As for recruiting, the talented corner who has more than 50 scholarship offers said three schools are starting to stand out to him.
Ohio State Quarterback Competition
BIG TEN SCOREBOARD
Thursday, 9/3
Friday, 9/4
Saturday, 9/5
Sunday, 9/6
Monday, 9/7