Ohio State Buckeyes:

Sonny Dykes
September, 15, 2013
9/15/13
12:37
AM ET
BERKELEY, Calif. --
Kenny Guiton
had waited -- and prepared -- for the opportunity to start at quarterback for Ohio State for more than four years.
Boarding the plane to California, he sensed that opportunity was upon him -- he had practiced with the first team all week -- but it wasn't until coach Urban Meyer made it official on game day that he knew for sure.
"When I got the nod and everything, I was ready to go," Guiton said.
[+] Enlarge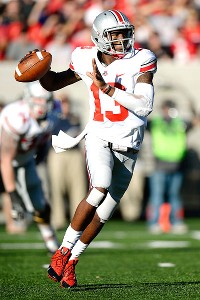 Thearon W. Henderson/Getty ImagesKenny Guiton had a career-best passing day in Ohio State's win over Cal.
Was he ever.
Stepping in for
Braxton Miller
(who remained sidelined with a sprained medial collateral ligament he suffered last week against San Diego State), Guiton turned in a brilliant performance, leading No. 4 Ohio State (3-0) to a 52-34 win over California (1-2).
Buckeyes fans did their part in making it a welcoming atmosphere for Guiton, as nearly half the sold-out crowd of 62,467 at Cal's Memorial Stadium came decked in scarlet and gray.
"That was tremendous," Guiton said. "That's one thing Coach Meyer just told us about. We're blessed. We're all the way on the West Coast, and we have half the stadium filled with scarlet and gray."
It didn't take long for the crowd to sound decidedly pro-Buckeyes.
After Cal opened with a three-and-out, Ohio State needed just two plays to take a 7-0 lead, as Guiton found
Devin Smith
for a 90-yard touchdown -- the longest play from scrimmage in Ohio State history.
Less than a minute of game clock had ticked away before Ohio State got it back, and again, the Buckeyes needed just a pair of snaps to find the end zone, this one capped by a 47-yard pass from Guiton to Smith.
Four offensive plays, 167 yards of offense and a 14-0 lead less than four minutes in.
By the time it was over, Guiton had completed 21 of 32 passes for 276 yards and four touchdowns without an interception. Not bad for a fifth-year senior who had just 317 career passing yards coming in. He also added 92 yards rushing on 14 carries as Ohio State piled up 608 yards of total offense.
Braxton who?
OK, maybe that's a stretch, but Saturday's result couldn't have been much more lopsided for the Buckeyes if their Heisman hopeful had been on the field.
At minimum, Guiton's play Saturday -- and in long relief in the Buckeyes' 42-7 win against San Diego State -- gives Meyer more to consider when putting together his game plans.
"I think [Guiton] will be in the game a little bit [when Miller returns]," Meyer said. "[Guiton] has been throwing the ball better than he has and throwing the ball downfield, so that's something I'll need to think about."
Despite the loss, Cal true freshman quarterback
Jared Goff
continued a torrid pace to the start of his career. The nation's leading passer coming in finished 31-of-53 for 371 yards and three touchdowns with one interception. He became the first Cal quarterback since Aaron Rodgers in 2003 to throw for more than 300 yards in three consecutive games.
Afterward, Meyer made a point to find Goff and convey to the 18-year-old just how impressed he was.
"I'm glad we're not playing them for a while," Meyer said. "That quarterback is a good player, and that tempo and style of offense -- you can see why they led the nation at Louisiana Tech and why they lead the nation right now in throwing."
Three games into the Sonny Dykes era at Cal, and the Golden Bears already have adopted the reputation of Dykes' teams at Louisiana Tech: all offense, no defense.
And that doesn't bode well for Cal's first road game of the season in two weeks at Oregon.
Cal has been torched for 556.3 yards and 42 points a game through three games, and those numbers don't figure to improve after a trip to Autzen Stadium, where Cal plays a Ducks team averaging 672 yards and 61.3 points through its first three games.
"It will be a challenge, but our guys will be excited to play, and when you are playing against a good offense, defense or team, you get excited to play," Dykes said. "Your guys are fired up, and we know we are going to be challenged and get better."
September, 12, 2013
9/12/13
8:00
AM ET
COLUMBUS, Ohio -- The personnel on his own team looks dramatically different from this time a year ago.
The coaching staff on the opposite sideline has undergone its own massive overhaul.

So while Urban Meyer might have watched Ohio State's closer-than-expected win over California a few times for various reasons since the programs met last season, the tape of that game doesn't exactly provide much use in planning for the rematch Saturday in Berkeley.
"I think last year's game will have no impact at all," Meyer said. "Really, defensively, it's a completely different story.
"This right now, I would say with a new staff, they shot their gun against Northwestern -- that was a big game, so there won't be a new defense [this week]."
The changes on offense are even more significant with Sonny Dykes taking over and installing his pass-happy, up-tempo style, forcing the Buckeyes to spend some time breaking down his former teams at Louisiana Tech in addition to the two games he's called so far at Cal.
Given the way Meyer's staff prepares for its nonconference schedule by putting together a "summary report" on each of the first three opponents, much of that work had already been handled before this week. And while Cal defensive coordinator Andy Buh has notably changed the scheme and shifted the Bears into a more traditional 4-3 alignment, the Buckeyes are already familiar with him as well given his stint helping lead the Wisconsin defense last season.
But of those changes, the new philosophy on offense figures to be the more pressing concern. For starters, the Buckeyes are still early in the rebuilding process with all the new faces in the front seven, and they could be without starting defensive end
Adolphus Washington
if an injured groin forces him out of the lineup. And across the line of scrimmage, despite breaking in a new quarterback in true freshman
Jared Goff
, the Bears have thrown for more yards than any team in the country through two games while running an eye-popping 194 plays -- numbers that make looking at Cal's old approach to offense almost completely irrelevant.
"This offense is totally different than last year's offense," co-defensive coordinator Everett Withers said. "I think Coach Dykes is more of the fast-paced, get-the-ball-out, quick-type offense, so we have to have a little bit different plan than last year's plan. Early this summer, this spring, we looked at a lot of Louisiana Tech tape, exclusively [at that point] because there was no [Cal] game tape. As you look at what they're doing now, it's on par with what they did at Louisiana Tech.
"I don't think we even looked at last year's tape [against Cal]."
Other than the result, there probably wasn't ever much the Buckeyes enjoyed about watching it. And they clearly have little use for doing it now.
September, 10, 2013
9/10/13
11:15
AM ET
COLUMBUS, Ohio -- There are a few defensive tricks up Ohio State's sleeve to slow down an offense that is trying to push the pace.
The Buckeyes can tap the brakes before the snap by shifting formations, sliding around to show different looks up front, faking blitzes and trying to cause confusion.
After the play is over, they can take their time pulling off the pile, a bit of gamesmanship designed to keep teams like Cal from sprinting back to the line of scrimmage and firing off another one as quickly as possible.
[+] Enlarge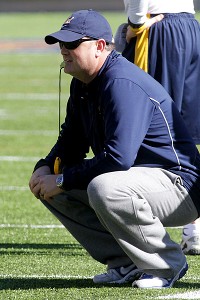 Norbert von der Groeben/GoldenBearSports.comSonny Dykes' Cal offense wants to play at as fast a pace as possible.
There's also plenty of work that can be done on the practice field well before kickoff even arrives on Saturday to make sure the Buckeyes are equipped to handle the tempo. But those reps are about building depth and changing personnel to make sure they can keep up -- not about learning properly how to fake an injury to bring things to a complete stop.
"When they're running that many plays, any advantage you can get, any edge knowing what you're doing going out there is going to help," linebacker
Joshua Perry
said. "It's just going out there and playing the game we play.
"There's going to be none of that faking stuff."
The new-look, fast-breaking Golden Bears didn't waste any time in suggesting an opponent used theatrics to break the stride of an offense that has been averaging 97 plays per game, with first-year coach Sonny Dykes expressing some frustration at Northwestern for what he apparently perceived to be an unusual amount of injuries in a season-opening loss.
And while the Wildcats adamantly denied any acting was involved in knocking off Cal, they wouldn't have been the first team to try that tactic in an effort to disrupt the flow of a system designed to wear out defenses and exploit mismatches.
But there are more honest ways of dealing with a high-volume offense like the Buckeyes will be facing on the road this weekend, and they won't be spending any time on the practice field working on how to sell an injury.
"There's just little stuff like getting off the pile slower, stem around a little bit, make them make checks and stuff," defensive tackle
Michael Bennett
said. ""It's just little stuff. You want to confuse them so maybe they have to call timeout instead of just running it down the field.
"I think in the NFL they would fall down and fake an injury, but we're not really about that."
The Buckeyes might have some more subtle ways to throw down speed bumps for an offense. But they won't be hobbling out of the way to bring it to a complete stop.
August, 19, 2013
8/19/13
5:30
AM ET

The Early Offer is RecruitingNation's latest feature, giving you a daily dose of recruiting in the mornings. Today's offerings: reasons for LSU fans to be patient, Ohio State's start, and Sonny Dykes reloading.


Patience is a virtue for LSU
Did Ohio State Cheap Out On Championship Rings?
BIG TEN SCOREBOARD
Thursday, 9/3
Friday, 9/4
Saturday, 9/5
Sunday, 9/6
Monday, 9/7