Ohio State Buckeyes:

Riley Bullough
December, 18, 2013
12/18/13
5:00
PM ET
One week until Christmas. My early gift to you all: this mailbag.
Grant from San Francisco writes:
I couldn't be happier about the news that Mark Dantonio and Pat Narduzzi
are apparently staying in East Lansing
, and with Dantonio's desire to turn the MSU coaching job into a destination position as Tom Izzo has done with the basketball coaching job. With our dominating defense last year, and some pretty good recruiting wins on that side of the ball moving forward, the perception of stability that this decision gives to the program will be a great motivation tool for the squad heading into the 2014 season.
[+] Enlarge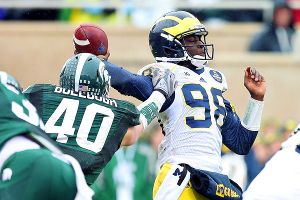 Mike Carter/USA TODAY SportsMichigan State loses several senior defenders in 2014, including linebacker Max Bullough.
My question is regarding the players that will remain on the defensive roster next year after the departure of seniors
Max Bullough
,
Darqueze Dennard
,
Denicos Allen
,
Isaiah Lewis
,
Micajah Reynolds
, and
Tyler Hoover
. That means that almost half of our defensive starters will be replaced by their understudies. Of that group, who do you think will be the toughest to replace, given the future candidates for those positions?
Brian Bennett:
Grant, Michigan State will have the best coaching move of the offseason if Narduzzi stays. I say "if" because the coaching carousel is far from over, and if the dominoes fall he could still be picked to lead another program. But as of right now, it looks as if Narduzzi will come back because there's not a great fit for him out there.
As for the players departing, the Spartans do lose a lot on defense. Defensive end
Shilique Calhoun
says he won't leave early for the NFL, which is a boost. The great thing for Michigan State is that the program has been able to build depth and move forward when players leave. Look at how Calhoun filled in for William Gholston, for instance.
Trae Waynes
has a chance to be the next great cornerback. Young guys like
Ed Davis
,
Joel Heath
and
Lawrence Thomas
show a lot of promise.
This is a special group of seniors, however, so it won't be easy to simply plug in new guys. I think the biggest void will be left by Bullough. Narduzzi will tell you he's the on-field brains of the defense and makes checks and adjustments on his own before the coaching staff does. A guy like that is difficult to find. Maybe
Riley Bullough
, who's moving back to defense, can begin to fill his older brother's shoes.
Rob from New York writes:
After a legendarily humiliating season of nothing but complete failures and disastrous breakdowns in front of bleachers where tickets to the half-full first row cost a mere 40 cents at one point, just about the only thing Purdue fans have to be thankful for is that we didn't have any NCAA violation-related scandals this year, and that we managed to spend an entire year without one player tearing their ACL. Please give us Boilermaker fans some pointedly-lowercase hope: First, name one on-the-field task or position (other than punting, since
Cody Webster
is graduating) where Purdue's football team was at least able to consistently compete at the level that a Big Ten team is expected to do so. Second, if Purdue seems likely to win at least two games next year, name two reasons why this is so. Third, name three reasons why Morgan Burke shouldn't fire Darrell Hazell if he fails to garner a single victory against a Big Ten opponent or against Notre Dame next year.
Brian Bennett:
Thanks for asking a Purdue question, Rob, since we haven't gotten many of those around here lately. I sense you're not exactly optimistic, and understandably so since the Boilermakers were just dreadful this past season.
The area of hope for the Boilers is in the passing game.
Danny Etling
showed a lot of promise as a freshman quarterback despite not having a great offensive line. He threw for 241 yards against Northern Illinois, 223 yards versus Penn State and a whopping 485 yards and four touchdowns vs Indiana. Granted, none of those defenses were actually very good against the pass, but for a 19-year-old to do that in his first collegiate season was still pretty impressive. Purdue also has some decent young receiving targets in
DeAngelo Yancey
,
B.J. Knauf
and
Danny Anthrop
. This program needs to get back to the Joe Tiller days of being able to chuck the ball all over the field.
You should expect some improvement in 2014, though it's probably going to be a slow process. Purdue has Western Michigan, Central Michigan and Southern Illinois on the nonconference schedule, so that's much easier than this year's tough slate. Hazell's team will also compete in the West Division, which looks a little bit easier than the East on paper (though missing Rutgers and Maryland is a bummer).
This was Burke's hire, and much like Mike Thomas at Illinois, he's going to give Hazell every chance to succeed. Two years is too early to bail on any coach unless there's some sort of scandal or gross mismanagement. Hang in there, Rob.
Benny N. from West Palm Beach, Fla., writes:
In regards to the Selection Committee next year, how will the season rankings be determined? Will the committee determine rankings from week 1 on, or similar to the BCS will the committee come in midway through the season and give the "official" rankings? Yes, my Buckeyes still have a game to play but my mind can only think about next season.
Brian Bennett:
At least your Buckeyes are playing close to your home, Benny. I'm excited about going down there and enjoying some warm weather and what looks like a pretty fun Discover Orange Bowl.
Anyway, according to what the committee has said, it will release a collective Top 25 every other week during the second half of the season. I find this wholly unnecessary. Why do we need to know who the committee thinks is ranked No. 25 when the members will only select four teams? Why does the committee need to start forming opinions about how to rank teams in October when it should consider a team's full body of work in December?
We've seen how the pollsters become entrenched on teams they ranked higher than others earlier. The basketball selection committee does not release any kind of poll and picks 68 teams for its tournament. This seems like a bad idea that will only serve to generate controversy and fodder for sports columns and blogs.
Wait. I mean, it's a great idea!
Bob N. from Grand Ledge, Mich., writes:
You don't think the Coach's Poll is valid because "there still would be inherent conflicts of interest involving teams in a coach's own conference, his opponents, friends, etc." That may be true, but I trust coaches' knowledge of football far more than I do sports writers' knowledge. In fact most AP voters vote for teams they have never seen play and, therefore, have zero knowledge of more than a few teams. The writers are also obviously extremely prejudicial also about the conferences they write for,e.g., the SEC and ACC writers are all in for teams below the Mason-Dixon Line, but have disrespected the Big Ten all year, especially MSU. If sports writers knew what they think they do, they would be football coaches.
Brian Bennett:
Bob, I've never pretended to know anywhere near as much about football as the coaches. Nor do I want to be a coach, because I like sleeping for more than three hours per night. If the coaches spent time watching lots of games from around the country, they would do a great job voting in a poll (although there would still be ridiculous conflicts of interest).
But the fact is coaches have insane tunnel vision. They know their team, and they know their opponents, and that's about it. This has happened many times before: A reporter asks a coach about another team
in his own conference
during the season, and if that team either isn't on the schedule or doesn't appear on the schedule for several weeks, the coach will say he hasn't seen that team and knows nothing about it. The only time coaches really ever watch anyone outside of their own schedule is on bye weeks, and it's a known fact that many coaches have their sports information directors or operations guys fill out the ballot for them.
All polls are horribly flawed. The coaches' poll just happens to be the most flawed. And its usefulness has ended.
Dave from Columbus, Ohio, writes:
If you had to a pick a "Freshman Future All American" team right now, who from the B1G would be on it? In other words, which freshmen can you see being All Americans in the next year or so?
Joey Bosa
just turned into a beast this year. Michigan's Butt seems like a really good player, too. Anyone else?
Brian Bennett:
Bosa would be up there. I'm wildly impressed with him, and it's hard to not get a J.J. Watt/Ryan Kerrigan vibe while watching him. The obvious name here is Penn State's
Christian Hackenberg
. He could wind up setting a bunch of career records if he stays four years with Bill O'Brien as his coach. His teammate,
Adam Breneman
, also has all the tools to be one of the nation's best tight ends if he keeps developing.
Watch out for Wisconsin's
Corey Clement
as well. If
Melvin Gordon
goes pro early, Clement would likely have the Badgers' starting tailback job next year, and that usually translates into big numbers. It was a solid year for freshmen in the league, as highlighted on
our all-freshman team
. And that doesn't even count the guys who redshirted this year.
September, 5, 2013
9/05/13
8:00
AM ET
We went a combined 23-1 in our first week of predictions, so let's see if we can keep that robust pace going. And how will our Week 2 guest picker fare?

Let's get to it:
Eastern Michigan at Penn State
Brian Bennett:
Not much to see here, as Eastern Michigan has long been a Big Ten sacrificial lamb. This is a good opportunity for
Christian Hackenberg
to work out some kinks, and the kid throws three TD passes. ...
Penn State 35, Eastern Michigan 9.
Adam Rittenberg:
The Hackenberg-
Allen Robinson
connection will link up for two touchdowns, and Penn State coach Bill O'Brien will keep to his word and call better plays, sparking the run game to 175 yards and two scores. Lions roll.
... Penn State 31, Eastern Michigan 10
Indiana State at Purdue
Adam Rittenberg:
Rob Henry
gets the confidence boost he needs and Purdue fixes its communication issues on offense as running back
Akeem Hunt
goes for 135 yards and two touchdowns. The Boilers come out fast and get a first-quarter forced fumble from big
Bruce Gaston
.
... Purdue 38, Indiana State 14
Brian Bennett:
The FCS just had a great weekend, so maybe we should take the three Big Ten games against FCS opponents seriously on Saturday. Nah. A team that just got done giving up 73 points to Indiana is just what the sputtering Purdue offense needs. ...
Purdue 45, Indiana State 17.
Missouri State at Iowa
Brian Bennett:
Iowa finally snaps its seven-game losing streak, using its superior beef to run for 200 yards, and getting a special-teams score. ...
Iowa 31, Missouri State 13.
Adam Rittenberg:
Yeah, this game has
Mark Weisman
and
Damon Bullock
written all over it. The tandem combines for three rushing touchdowns and
Jake Rudock
adds two more through the air to
C.J. Fiedorowicz
and
Kevonte Martin-Manley
.
... Iowa 38, Missouri State 10
Tennessee Tech at Wisconsin
Adam Rittenberg:
James White
rushing touchdown,
Melvin Gordon
rushing touchdown,
Corey Clement
rushing touchdown. Rinse and repeat.
... Wisconsin 63, Tennessee Tech 3
Brian Bennett:
Yawn. Are we done with the FCS games yet? ...
Wisconsin 56, Tennessee Tech 7.
South Florida at Michigan State
Brian Bennett:
If the Spartans can't move the ball against a Bulls team that gave up 53 points to McNeese State last week, they've got even bigger problems than we realized. Three different QBs play for MSU, and two of them throw for TDs. ...
Michigan State 30, South Florida 10.
Adam Rittenberg:
I agree that Michigan State can't be much worse on offense than it was in the opener and will move the ball better, especially on the ground.
Jeremy Langford
and
Riley Bullough
both reach the end zone, and
Tyler O'Connor
makes the quarterback race a little more interesting.
... Michigan State 34, South Florida 3
Cincinnati at Illinois
Adam Rittenberg:
The Illini start quickly and jump ahead on a
Nathan Scheelhaase
touchdown pass to
Josh Ferguson
. But reality begins to set in as a superior Cincinnati team takes charge behind its athletic defense.
... Cincinnati 28, Illinois 17
Brian Bennett:
Illinois will put up a more respectable showing against the Bearcats than Purdue did. Scheelhaase throws for 300 yards and the game is close until midway through the third quarter. But there's just too much
Munchie Legaux
(I can't help myself). ...
Cincinnati 42, Illinois 27
.
San Diego State at Ohio State
Brian Bennett:
I was interested in this game until San Diego State gagged against Eastern Illinois. The Buckeyes turn in a better overall effort than in Week 1, and
Bradley Roby
has a pick in his first game back. ...
Ohio State 45, San Diego State 20.
Adam Rittenberg:
My concern is Ohio State might be less interested than you are, BB. The Buckeyes overcome a sluggish start as
Braxton Miller
fires two second-quarter touchdown passes. Freshman
Dontre Wilson
scores his first touchdown for the Scarlet and Gray.
... Ohio State 41, San Diego State 13
Southern Miss at Nebraska
Adam Rittenberg:
After a
passionate postgame speech last week
, emerging leader
Ameer Abdullah
takes matters into his own hands. The Huskers running back piles up 200 yards and three touchdowns. The defense has its typical hiccups early before settling down.
... Nebraska 42, Southern Miss 17
Brian Bennett:
I expect -- and would hope -- that the Nebraska offense comes out mad after not finishing key drives last week. The Huskers go for the jugular this week behind
Taylor Martinez
's five total TDs, and the defense makes slight improvements. ...
Nebraska 49, Southern Miss 24.
Navy at Indiana
Brian Bennett:
It's never easy or fun to play Navy, but the Hoosiers got some experience against the option last year. The Midshipmen will shorten the game and frustrate the IU offense some, but
Nate Sudfeld
throws a fourth-quarter TD pass to
Kofi Hughes
to seal it. ...
Indiana 28, Navy 20.

Adam Rittenberg:
Sudfeld and the Hoosiers will finish drives better than they did last year against Navy, as
Tevin Coleman
twice reaches the end zone. IU forces a key third-quarter fumble and pulls away midway through the fourth quarter.
Tre Roberson
sees more field time in this one.
... Indiana 34, Navy 23
Syracuse at Northwestern
Adam Rittenberg:
Northwestern's injury issues are worth monitoring, but the Wildcats have enough weapons on offense to outscore a Syracuse team that didn't impress me much last week against Penn State.
Trevor Siemian
connects with
Dan Vitale
on two touchdowns, and the defense comes up big again with a fourth-quarter takeaway.
... Northwestern 28, Syracuse 20
Brian Bennett:
Hard to know what to expect from Northwestern because of the iffy status of both
Venric Mark
and
Kain Colter
. But Syracuse looked limited offensively last week, and I think Siemian rescues the 'Cats once again. ...
Northwestern 31, Syracuse 24.
Minnesota at New Mexico State
Brian Bennett:
It was a tough call between Ann Arbor and Las Cruces for the "GameDay" crew this week -- seriously, what is Minnesota doing here? Are the Gophers just big "Breaking Bad" fans who are planning a side trip to Albuquerque? Anyway, it's close for a half but the defense comes up with another score to send the Aggies to Belize. ...
Minnesota 37, New Mexico State 20
.
Adam Rittenberg:
Maybe the Gophers can take a side trip to Roswell and check out the UFOs. Minnesota quarterback
Philip Nelson
will provide a few identified flying objects in this one, firing two touchdown passes in the second half. It's not a pretty game, but it's a win as Minnesota improves to 2-0.
... Minnesota 34, New Mexico State 21
Notre Dame at Michigan
Adam Rittenberg:
Can't wait to witness this one under the lights at the Grande Casa. Although Michigan struggles early with Notre Dame's fearsome defensive front, the offense settles down late as
Devin Gardner
and
Jeremy Gallon
connect for two second-half touchdowns, including the game-winner in the final minutes. Tommy Rees' mastery of Michigan ends with two second-half interceptions.
... Michigan 24, Notre Dame 21
Brian Bennett:
I just keep remembering how Michigan mostly outplayed Notre Dame last year except for all those picks, and I don't think Gardner will make the same mistakes. Gardner finds Gallon for a pair of scores, and
Blake Countess
intercepts
Tommy Rees
on Notre Dame's final series to turn the lights out on the Irish. ...
Michigan 27, Notre Dame 24.
Now it's time to hear from our guest picker. As we announced last week, we'll be choosing one fan/loyal blog reader each week to try his or her hand at outsmarting us. There's nothing but pride and some extremely limited fame at stake. If you're interested in participating, contact us
here
and
here
. Include your full name (real names, please) and hometown and a
brief
description why you should be that week's guest picker. Please also include "GUEST PICKS" in all caps somewhere in your email so we can find them easily.
The response so far has been overwhelming. This week's guest picker is
Nick Schmit from West Des Moines, Iowa
. The floor is yours, Nick:
"As a graduate of the University of Iowa, I have been following the conference and teams for as long as I can remember. I have plenty of insight and knowledge to offer. Besides, my wife is due with our first daughter on 10/19 (Iowa vs. OSU). Other than her birth, I need something to be excited about in what looks to be another long, depressing, mediocre (or worse) season for the Hawks."
Nick's picks:
Penn State 28, Eastern Michigan 13
Purdue 28, Indiana State 21
Iowa 34, Missouri State 10
Wisconsin 70, Tennessee Tech 3
Michigan State 35, South Florida 10
Cincinnati 31, Illinois 21
Ohio State 42, San Diego State 6
Nebraska 51, Southern Miss 17
Indiana 41, Navy 31
Northwestern 42, Syracuse 20
Minnesota 33, New Mexico State 21
Notre Dame 27, Michigan 24
SEASON RECORDS
Brian Bennett: 12-0
Adam Rittenberg: 11-1
Guest picker: 9-3
August, 29, 2013
8/29/13
1:00
PM ET
Big Ten bloggers Adam Rittenberg and Brian Bennett will occasionally give their takes on a burning question facing the league. We'll both have strong opinions, but not necessarily the same view. We'll let you decide which blogger is right.
As the 2013 season kicks off this week, we're making our picks for the four major Big Ten individual awards.
Today's Take Two topic:
Who will win Big Ten freshman of the year honors?
Take 1: Brian Bennett
The options are plentiful, as some very talented true freshmen enter the league, and you can't discount redshirt freshmen.
Deion Barnes
was a redshirt freshman last year when he won the award at Penn State, and I say the Thompson-Randle El trophy stays in State College -- this time on the offensive side.
Head coach Bill O'Brien still hasn't named a starting quarterback for Saturday's game against Syracuse, but I continue to believe that
Christian Hackenberg
will pilot the Nittany Lions offense for the majority of this season. And the player who was ranked as the No. 1 pro style quarterback in the Class of 2013 will have an outstanding supporting cast around him, with receiver
Allen Robinson
, a deep group of tight ends, some experienced running backs and a solid offensive line. We shouldn't expect Hackenberg to throw for 3,000 yards like Matt McGloin did last year, but he will put up strong numbers in that offense. Playing such a high-profile position will surely help his candidacy with voters, which is why I see Hackenberg beating out other candidates like Ohio State's
Dontre Wilson
, Michigan State's
Riley Bullough
and Michigan's
Derrick Green
.
Take 2: Adam Rittenberg
Hackenberg is a good call, Brian, and if he can steady the ship on offense for the Lions, he'll have an excellent chance to win the award. I might have picked Michigan's Green before preseason camp, but senior Fitz Toussaint really took control of the running back spot in recent weeks. Ultimately, the race comes down to Hackenberg and Ohio State's Wilson.
There's no doubt Hackenberg plays a more high-profile position, but I'm going with Wilson because of the "SportsCenter" factor. I expect the Buckeyes' H-back to be a transformative type player, not only for Ohio State but in the Big Ten, piling up highlight-reel touchdowns. Wilson will have three or four jaw-dropping touchdowns that get replayed over and over on ESPN and the Big Ten Network. He'll get noticed very early in the season, and it'll help that he plays for a national championship contender. Wilson is a different player than former Illinois standout Arrelious Benn, the last wide receiver named Big Ten freshman of the year (in 2007). But like Benn, Wilson will contribute in different ways and get the attention he needs to win the award.
More major awards picks
August, 20, 2013
8/20/13
12:34
PM ET
Game week is rapidly approaching ...
August, 7, 2013
8/07/13
3:08
PM ET
May, 22, 2013
5/22/13
5:00
PM ET
Every Big Ten team will rely on a handful of freshmen (sometimes more than a handful) to fill key roles when the 2013 season rolls around. Which newcomers will make the biggest impact in the league?

Tom Luginbill, RecruitingNation's senior national recruiting analyst, has identified
five names to remember among incoming freshmen

who will enroll this summer. Luginbill already singled out Ohio State cornerback
Eli Apple
as an
early enrollee who could make a difference this fall

.
Two Big Ten freshmen make Luginbill's new list. Neither needs much of an introduction.
Michigan running back
Derrick Green
is expected to compete right away for a starting job. Ranked by RecruitingNation as the No. 5 running back (No. 38 overall player) in the 2013 class, Green will be Michigan's best option in the backfield as the Wolverines go back to a more traditional pro-set scheme that will emphasize power running. No Michigan back distinguished himself this spring, and Green likely will face the most competition from Fitzgerald Toussaint, who comes off of leg surgery.
Luginbill also likes the impact potential of Ohio State incoming freshman
Dontre Wilson
, who could be fill the
so-called "Percy position"
in Urban Meyer's spread offense in Columbus. Wilson, a speedster from Texas who
picked Ohio State ahead of Oregon and Texas
, brings playmaking ability to an offense that needs more of it other than star quarterback
Braxton Miller
. Although
Jordan Hall
returns to the mix after battling injuries throughout 2012, Wilson could have a significant role in the offensive vision with a strong preseason showing.
What other incoming freshmen (non-early enrollees) could make an impact in the Big Ten this season?
Here are a few:
Penn State QB Christian Hackenberg:
It'll be Hackenberg or junior-college transfer Tyler Ferguson starting for the Lions in their season opener against Syracuse. Unless Ferguson creates significant separation in camp, Hackenberg likely will be a factor this season.
Indiana DT Darius Latham:
The Hoosiers need help along their defensive line, and could turn to Latham right away. A four-star prospect with good size and athleticism (played basketball in high school), Latham should be part of the mix up front at IU.
Michigan State RB Delton Williams:
The Spartans need help in the backfield after no one really emerged this spring, and the coaches moved backup middle linebacker
Riley Bullough
to offense for help. There's a good chance Michigan State turns to an incoming freshman and Williams, the team's highest-rated recruit in the 2014 class according to RecruitingNation, will have a golden opportunity in camp.
Ohio State S Vonn Bell:
Unlike the other freshmen listed here, Bell doesn't play a position where Ohio State has an overly pressing need. But he might be too talented to keep off of the field, especially when the Buckeyes go to their nickel and dime packages.
Did Ohio State Cheap Out On Championship Rings?
BIG TEN SCOREBOARD
Thursday, 9/3
Friday, 9/4
Saturday, 9/5
Sunday, 9/6
Monday, 9/7