Ohio State Buckeyes:

Rashad Lawrence
May, 12, 2014
5/12/14
10:30
AM ET
Thirty Big Ten players heard their names called
during the 2014 NFL draft, but many others received phone calls immediately after the event. The undrafted free-agent carousel is spinning, and players from around the Big Ten are hopping aboard.
Unlike the draft, the UDFA list is somewhat fluid, and other players could get picked up later today or in the coming days. To reiterate:
This is not the final list
.
Here's what we know right now from various announcements and media reports:

ILLINOIS
LB Jonathan Brown, Arizona Cardinals
WR Ryan Lankford, Miami Dolphins
TE Evan Wilson, Dallas Cowboys
WR Steve Hull, New Orleans Saints
WR Spencer Harris, New Orleans Saints
Notes:
Illini OT Corey Lewis, who battled knee injuries throughout his career, told Steve Greenberg that
several teams are interested in him
if he's cleared by doctors.

INDIANA
WR Kofi Hughes, Washington Redskins
RB Stephen Houston, New England Patriots
Notes
: S Greg Heban and K Mitch Ewald have tryouts with the Chicago Bears.

IOWA
LB James Morris, New England Patriots
OT Brett Van Sloten, Baltimore Ravens
G Conor Boffeli, Minnesota Vikings
WR Don Shumpert, Chicago Bears
LS Casey Kreiter, Dallas Cowboys

MARYLAND
LB Marcus Whitfield, Jacksonville Jaguars
CB Isaac Goins, Miami Dolphins

MICHIGAN
LB Cam Gordon, New England Patriots
S Thomas Gordon, New York Giants
Notes:
RB Fitzgerald Toussaint (Baltimore), DT Jibreel Black (Pittsburgh), LS Jareth Glanda (New Orleans) and DT Quinton Washington (Oakland)
will have tryouts
.

MICHIGAN STATE
LB Denicos Allen, Carolina Panthers
S Isaiah Lewis, Cincinnati Bengals
T/G Dan France, Cincinnati Bengals
WR Bennie Fowler, Denver Broncos
LB Max Bullough, Houston Texans
DT Tyler Hoover, Indianapolis Colts
DT Micajah Reynolds, New Orleans Saints
OL Fou Fonoti, San Francisco 49ers
Notes:
LB Kyler Elsworth has a tryout scheduled with Washington.

MINNESOTA
LB Aaron Hill, St. Louis Rams

NEBRASKA
QB Taylor Martinez, Philadelphia Eagles
OT Brent Qvale, New York Jets
CB Mohammed Seisay, Detroit Lions
DE Jason Ankrah, Houston Texans
C Cole Pensick, Kansas City Chiefs
OT Jeremiah Sirles, San Diego Chargers
Notes:
CB Ciante Evans has yet to sign but will do so soon. DB Andrew Green
has a tryout with the Miami Dolphins
.

NORTHWESTERN
WR Kain Colter, Minnesota Vikings
K Jeff Budzien, Jacksonville Jaguars
WR Rashad Lawrence, Washington Redskins
DE Tyler Scott, Minnesota Vikings

OHIO STATE
S C.J. Barnett, New York Giants
K Drew Basil, Atlanta Falcons
WR Corey Brown, Carolina Panthers
G Andrew Norwell, Carolina Panthers
G Marcus Hall, Indianapolis Colts
WR Chris Fields, Washington Redskins

PENN STATE
OT Garry Gilliam, Seattle Seahawks
LB Glenn Carson, Arizona Cardinals
S Malcolm Willis, San Diego Chargers
Notes:
OT Adam Gress will
have a tryout with the Pittsburgh Steelers
.

PURDUE
DE Greg Latta, Denver Broncos
S Rob Henry, Oakland Raiders
G Devin Smith, San Diego Chargers
DT Bruce Gaston Jr., Arizona Cardinals
Notes:
P Cody Webster will have a tryout with Pittsburgh.

RUTGERS
WR Brandon Coleman, New Orleans Saints
WR Quron Pratt, Philadelphia Eagles
LB Jamal Merrell, Tennessee Titans
DE Marcus Thompson, Miami Dolphins
S Jeremy Deering, New England Patriots
Notes:
According to
Dan Duggan
, DE Jamil Merrell (Bears) and G Antwan Lowery (Baltimore) will have tryouts.

WISCONSIN
G/T Ryan Groy, Chicago Bears
TE Jacob Pedersen Atlanta Falcons
TE Brian Wozniak, Atlanta Falcons
DE Ethan Hemer, Pittsburgh Steelers
Quick thoughts:
Martinez's future as an NFL quarterback has been heavily scrutinized, but Chip Kelly's Eagles are a fascinating destination for him. Whether he plays quarterback or another position like safety, Kelly will explore ways to use Martinez's speed. ... The large Michigan State contingent is still a bit startling. The Spartans dominated the Big Ten, beat Stanford in the Rose Bowl, use pro-style systems on both sides of the ball and had just one player drafted. Bullough, Allen and Lewis all were multiple All-Big Ten selections but will have to continue their careers through the UDFA route. ... Colter certainly
looked like a draft pick during Senior Bowl practices
in January, but that was before his ankle surgery and his role in leading the unionization push at Northwestern. I tend to think the injury impacted his status more, but NFL teams have been known to shy away from so-called locker-room lawyers. ... Other Big Ten standouts like Jonathan Brown, Morris and Pedersen were surprisingly not drafted. Morris should be a great fit in New England. ... Coleman's decision to leave Rutgers early looks questionable now that he didn't get drafted.
October, 10, 2013
10/10/13
12:00
PM ET
There's highs, there's lows, the roller coaster is out of control.
October, 3, 2013
10/03/13
11:00
AM ET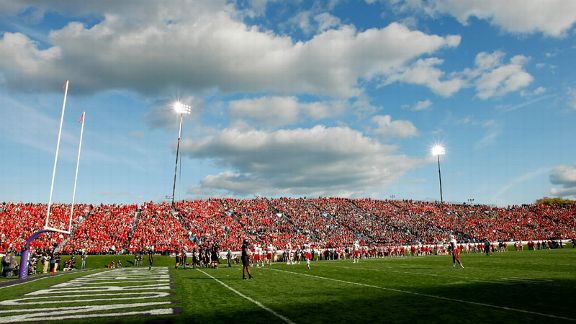 AP Photo/Scott Boehm
Paul Schatz grew up about a mile from Northwestern's football stadium and attended his first game there as an 11-year-old when the Wildcats played Rice.
Schatz remembers two things clearly from that game: out-hustling other kids to catch the ball on an extra point and having plenty of room to roam.
"As a kid, you could just run on the bleachers across sections until you found your area," said Schatz, who's now a data analyst at the school. "Then you could spread out, lean back on the row behind you and put your feet up on the row in front of you. There would be other people maybe 20 feet away with their own similar area."
Alan Goldstein graduated from Northwestern in 1991. During his undergraduate days, he said, students would leave and re-enter games just by showing their IDs. They staged marshmallow fights in the stands to stay entertained. Since one of the parking lots was virtually empty, fraternities would take their grills and coolers out there to tailgate.
"The games were secondary to everything else going on because we had no fans outside of the few kids and alumni who showed up," said Goldstein, who now lives in Los Angeles and is involved in the alumni group there. "There was one team in Chicago back then, and it was in South Bend. Nobody cared about us."
Northwestern has clearly come a long way since those days in the 1980s and early '90s. But the school is still only cautiously optimistic that, when ESPN's "College GameDay" rolls into Evanston for this week's game against No. 4 Ohio State, it can present a bona fide big-time college football atmosphere. The Wildcats have often struggled to create a true home-field advantage like many of their Big Ten peers enjoy.
"I can tell you for a fact that it will be different than any years in the past," said Ryan Chenault, Northwestern's assistant athletic director for marketing. "A large amount of tickets have gone to Northwestern-friendly groups. Hopefully, that will translate to what we want it to be on Saturday night."
Chenault is part of a team of administrators who have worked hard at improving the overall experience at Ryan Field. They have a lot of obstacles to overcome.
As a private school with an undergraduate enrollment of about 8,000, Northwestern has the smallest alumni base in the Big Ten, and those alumni are scattered all over the country. The team competes for attention in the crowded sports market of Chicago, a hub for many other Big Ten schools' fans. Nearly a quarter-century of football irrelevance beginning in the early 1970s meant that few fans who grew up in that era chose to root for the Wildcats.
[+] Enlarge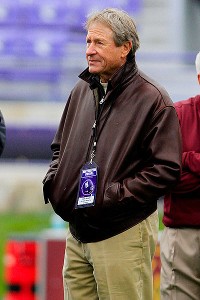 Chuck Rydlewski/Icon SMIGary Barnett was the first coach to stem the tide of Northwestern's Ryan Field being overrun by opposing fans.
It wasn't until Gary Barnett revived the program in the mid-1990s that people started showing up to games. The 1995 Rose Bowl season spurred major renovations to the stadium which debuted in 1997, when the facility's name changed from Dyche Stadium to Ryan Field.
""It went from nothing to at least something," said Schatz, who has had season tickets since 1993.
Still, keeping the stands full or even close to it has remained a challenge. In 2009, Northwestern averaged 24,190 fans per game at Ryan Field, which has a capacity of just over 47,000. The number has climbed, as the team averaged 35,697 last season and through three home games this year, the Wildcats have drawn an average of 34,629. That ranks No. 72 in the FBS.
This summer, an Athlon survey ranked Ryan Field as the worst of 12 home atmospheres in the Big Ten, saying that "much like Duke or Vanderbilt, this venue struggles to match the rabid intensity of bigger more powerful athletic departments."
When Northwestern has attracted large crowds, the visiting fans usually are a big reason why. Nebraska's Sea of Red
took over the stands last year
and was so loud that the Wildcats' offense went to a silent count in the second half -- at home. The team practiced using the silent count this week, just in case Ohio State fans pull off a similar invasion.
"They probably have more alumni in Chicago than we do from a pure numbers standpoint," Northwestern coach Pat Fitzgerald said of Ohio State. "But I'm expecting a very pro- and solid homefield advantage for us."
The school took measures in the offseason to help ensure there's more purple than scarlet and gray in the seats on Saturday. It sent notices to more than 100,000 alumni, offering them the chance to buy tickets to this game, which is homecoming. That was the first time alumni were given the opportunity to buy tickets ahead of the general public.
"The response was huge," Chenault said. "We sold double the amount of tickets than we ever have through the alumni association. We had always worked with them, but never to this magnitude."
Northwestern also placed limits on the amount of extra seats current season-ticket holders could purchase, hoping to curb people from selling those extras to Ohio State fans. While the school does not release sales figures, Chenault said the season-ticket base is at an all-time high and twice what it was in 2009. Only a couple of thousand tickets to this game were made available to the general public.
This follows an aggressive marketing campaign launched in 2010 in which Northwestern branded itself as "Chicago's Big Ten team" and started targeting sales calls to fans in and around the city, even those who went to different league schools.
"Maybe they root for their alma mater, but for the other six games, they slowly become Northwestern fans," Chenault said. "It's kind of hard to stand out in Chicago."
The gameday atmosphere has noticeably improved, and it helps that Fitzgerald has the program on a roll. The Wildcats won 10 games last year and captured their first bowl victory since 1948. Fitzgerald, who starred at linebacker for the school from 1993-96, laughed when I asked him how the crowd support for the team had changed since he was a young player.
"Night and day, my friend, night and day," he said. "It's been terrific, the change in the climate here and our fans, and not only the way they've supported us here but in the bowl experiences we've had. At our opening game in Berkeley (against California), the fan support was amazing. There's a ton of positive momentum, the city has really embraced us and we've just got to continue to do our part."
Saturday will bring one of the most anticipated home games in Northwestern's history. Many tickets on the secondary market are being offered for upwards of $200. "GameDay" makes its first visit to Evanston since 1995, though the show did originate from Wrigley Field for the 2010 game there between Northwestern and Illinois.
"A lot of guys in my class, that was our vision," senior receiver
Rashad Lawrence
said. "Our vision was to come here and basically change the program around."
It's something that would have been hard to envision 20 years ago.
"Evanston is not a big college football town," Schatz said. "To have ESPN's 'GameDay' here for a sold-out national game, it is a little hard to believe. It's good to have the program be rewarded like this."
Did Ohio State Cheap Out On Championship Rings?
BIG TEN SCOREBOARD
Thursday, 9/3
Friday, 9/4
Saturday, 9/5
Sunday, 9/6
Monday, 9/7