Ohio State Buckeyes:

Percy Harvin
October, 17, 2013
10/17/13
8:00
AM ET
COLUMBUS, Ohio -- Pulling back for a long-term look, the upside remains unchanged and the hype is deserved.
Dontre Wilson
clearly has the speed to change a game on the perimeter, his versatility as a rusher and receiver has been as good as advertised and the freshman is certainly a big part of the future for Ohio State moving forward.
[+] Enlarge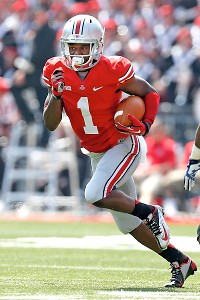 Kirk Irwin/Getty ImagesOhio State freshman Dontre Wilson, who has 15 carries and 11 catches this season, could be a bigger factor down the stretch.
In the short term, compared to the enormous expectations coming out of training camp as the buzz about his skills reached record levels, Wilson's impact on the offense hasn't been nearly as instantaneous as might have been anticipated. But for all those positive attributes that remain easy to see when the ball is in his hands, planning for success with Wilson is going to require more of him than simply flashing his athleticism as teams start to key on what he already does well -- forcing him to expand his arsenal to remove some of the blinking, neon lights that might tip off a defense when he's on the field.
"He's a novelty right now as opposed to a fulltime player," Buckeyes coach Urban Meyer said. "Fulltime players have to go block [strong-side] linebackers and those kind of things. We are not quite ready, but we are working at it.
"There are other ways that we can be creative in getting him involved and not necessarily say, 'By the way, when he's in we're handing the ball on a stretch play or running a wheel route.' That's kind of what he's been doing."
Even with a limited package of plays, Wilson has still proven to be effective at times thanks in large part to his blazing speed and a fearless attitude. And while the freshman has averaged an identical 9.5 yards per touch as both a rusher and a target in the passing game, the Buckeyes have been somewhat cautious incorporating him into the attack and Wilson didn't have a single rushing attempt or reception against Northwestern prior to the bye week.
Part of the reason was the effectiveness of starting tailback
Carlos Hyde
, who was able to wear down and overpower the Wildcats up front and left little motivation for the coaching staff to abandon what was working. With
Braxton Miller
also featured on the ground, that tandem in the backfield didn't leave many more carries to go around. On a rainy night, perhaps Ohio State was also somewhat hesitant to take the football away from the veterans and give it to a first-year player who has had some ball-security issues at times this season.
But those factors have done nothing to change Wilson's potential down the road, and they also don't necessarily mean he won't be involved as the Buckeyes hit the stretch run with the second half kicking off Saturday against Iowa. Wilson didn't magically transform his body with the extra week to prepare for the Hawkeyes to become a guy suddenly capable of blowing up linebackers as a blocker, but Ohio State almost surely found a few new ways to get him involved as more than an outside-sweeping runner or wheel-route receiver.
"Can he run inside zone? Sure," Meyer said. "Is he great at it? Probably not, because he's not big and strong yet. So those are the areas everybody uses that
Percy Harvin
term, but Percy was a 400pound [bench-pressing] guy that when he blocked you, he blocked you.
"So that's where we have to get with him ... and we did work really hard on that last week. It's still in progress."
Regardless of the hype, the Buckeyes were never expecting a finished product in September. But the next step in the development process is starting to increasingly squeeze more out of Wilson in October, November and beyond.
August, 27, 2013
8/27/13
4:00
PM ET
COLUMBUS, Ohio -- Perhaps lost in the hoopla before the arrival of Urban Meyer's spread offense at Ohio State, then overlooked when the scoreboard started lighting up on the way to a perfect record, was a secret about the vaunted attack.
The passing game improved dramatically, but it wasn't a consistent threat vertically or able to generate as many backbreaking plays as planned.
The Buckeyes were one of the most successful rushing teams in the nation, but they really didn't rely much on the kind of read plays Meyer has been known for and could occasionally be slowed by defenses loading up near the line of scrimmage.
[+] Enlarge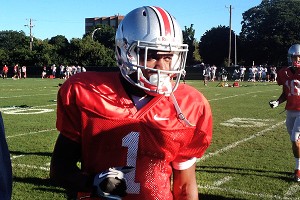 Ohio State AthleticsClass of 2013 ESPN 300 athlete Dontre Wilson could make a big impact for the Buckeyes as a multipurpose playmaker.
Perhaps most important, there wasn't a guy on the roster truly capable of lending a hand in both of those areas and giving Ohio State the explosive, multipurpose weapon the likes of which Meyer famously had at Florida.
And without somebody like Percy Harvin to line up all over the field to drive opposing coordinators crazy or a blindingly fast runner with the hands of a receiver to torment defenders, there was an entire element of the system missing a year ago.
The dirty, little secret? Without being able to feature anybody in the hybrid, H-back position, the spread as Meyer has known it almost didn't exist at all last season.
"If you evaluate last year's offense, we were a pro offense," Meyer said. "There was not a lot of read components. The whole equation where there's one extra guy in the box, read one -- whether it's second level, first level, which is kind of the essence of what spread football is -- really didn't exist for us.
"You'll see a different style of offense this year."
There are any number of factors involved with the evolution of Meyer's offense with the Buckeyes heading into his second season with the program, and likewise simply trusting a player with the various responsibilities of the H-back isn't enough to completely alter the approach by itself.
More development of the receivers and the offensive line, a deeper stable of running backs and the marked improvement as a passer by quarterback
Braxton Miller
all will play a hand in turning Ohio State into a unit that more neatly fits the definition of a spread offense. But there might not be a spot that highlights the difference from a year ago to what the Buckeyes will unveil Saturday against Buffalo better than H-back. There might not be a Harvin, but there are at least a couple of options on hand now capable of filling those shoes.
Jordan Hall
was expected to do it a year ago before a series of injuries forced him to redshirt, and his elusiveness with the football and soft hands again make him an intriguing candidate when he's not starting at running back. But it's freshman
Dontre Wilson
who may actually be the final piece of the spread puzzle with his track-star speed and a set of skills that allow him to be deployed all over the field, potentially giving Meyer and his offensive staff a chance to put a few more chapters back in the playbook after editing them out a year ago.
"It's just playmaker ability [at H-back]," running backs coach Stan Drayton said. "You have to be able to play in space, you have to be able to catch the ball, you have to be able to run the ball.
"It's a unique skill set that is required at that position, and we feel like we've got three or four guys right now that provide that mindset and skill set we're looking for."
The Buckeyes surely would have settled for one last season, though they ultimately didn't need anybody in that role on the way to leading the Big Ten in scoring.
Now with Hall, Wilson and maybe another newcomer like
Jalin Marshall
, Ohio State has quickly stocked up on guys suited for the sideline-to-sideline game and capable of providing the big-play ability as both a rusher and receiver that was largely absent a year ago. And plugging at least one of those options into the rotation could change the entire complexion of the offense around them.
"We led the Big Ten in scoring, but it's not to our standard, that's not what we were expecting," Meyer said. "The theory, what is a spread offense? It has a read component, and you force a defense to defend 53S yards. The
Ohio State Buckeyes
did not do that a year ago. Didn't have to defend it.
"It's all speed. That's creating space and guys in space doing things with the ball, and I'm seeing more of that."
It will all be on public display soon enough. But at this point, it's no secret that the Buckeyes are much closer to what Meyer envisions from his offense than they were a year ago.
They might only need one position to prove it.
October, 15, 2012
10/15/12
1:30
PM ET
Growing up in Naples, Fla.,
Carlos Hyde
didn't need a tutorial on Urban Meyer's offense.
He knew plenty about Meyer and the spread from Meyer's time as Florida's coach. Hyde also knew he wanted no part of it, even though he said Florida offered him a scholarship to play in Gainesville.
"When I saw this offense, it was little running backs," Hyde told ESPN.com. "Little scat backs running around, Percy Harvin-type dudes, Jeff Demps-type people. I wasn't sure I'd be able to fit in."
[+] Enlarge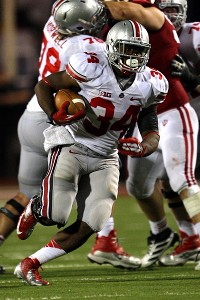 Pat Lovell/US PresswireCarlos Hyde has made the most of his opportunities this season.
At 6-foot and 232 pounds, Hyde can be described as a lot of things. Little isn't one of them. He's a power back in the truest sense, so he chose to go where power backs go: Ohio State.
There was only one problem: Buckeyes coach Jim Tressel, who had featured power backs like Chris Wells and Maurice Clarett in his offense, resigned in the spring after Hyde's freshman season. Although Ohio State kept a similar offense in 2011, the school changed coaches and brought in Meyer.
"I was excited," Hyde said. "I knew Coach Meyer, his track record. He's won big games. He's won some national championships. I knew when he was coming here, I was like, 'I'm going to have a huge chance to get to play in the national championship before I leave college.'"
But his excitement was tempered by the same anxiety about whether he could fit into the spread as a bigger back.
"I never played in a spread offense, so I really didn't have a feel," Hyde said. "I wasn't sure. I never really saw a big back in the spread."
October, 9, 2012
10/09/12
3:13
PM ET
COLUMBUS, Ohio -- Quick hitters from Ohio State coach Urban Meyer's weekly appearance on the Big Ten teleconference on Tuesday.
[+] Enlarge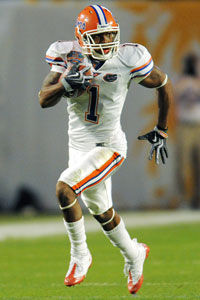 James Lang/US PresswireUrban Meyer said that Braxton Miller's running ability reminds him of Percy Harvin's.
On the run:
The comparisons have already been made to previous quarterbacks in his system.
Now Urban Meyer is expanding the pool of athletes to other positions when he breaks down
Braxton Miller
.
Even before the season the Ohio State coach wouldn't hesitate to give Miller some physical edges against a couple of his old signal-callers such as Utah's Alex Smith or Florida's Tim Tebow. But after his dynamic start as a rushing threat through six games, Meyer is now putting him in the same company as former star Percy Harvin, a game-changing, multipurpose weapon the Gators used all over the field.
"I think [Miller] is one of the top-five runners in America, maybe even higher," Meyer said. "I haven't studied the country, but Percy Harvin and Braxton Miller are the two best runners I've ever had.
"So, when it's time to go make a play and win the game, I think it's rather obvious that you give the ball to Percy Harvin or Braxton Miller."
Miller ran it 16 times in last week's win over Nebraska, producing a career-high 186 yards and a touchdown as he moved up to No. 11 in the nation in rushing at the midway point of the season.
The Buckeyes would like to complement that ability to rack up yards carrying the ball with a few more through the air, particularly after he completed just 7 of his 14 attempts against the Huskers. Both of those numbers were the lowest he's posted all season as a passer, though the easy success Ohio State was having running the ball certainly skewed the data -- and Meyer hasn't lost any confidence in Miller as a thrower either.
Did Ohio State Cheap Out On Championship Rings?
BIG TEN SCOREBOARD
Thursday, 9/3
Friday, 9/4
Saturday, 9/5
Sunday, 9/6
Monday, 9/7