Ohio State Buckeyes:

OSU rankings week
May, 24, 2013
5/24/13
9:00
AM ET
With spring in the books for more than a month, the long march through the offseason and back to football is only beginning. But BuckeyeNation is going to keep doing its part to speed up the journey -- or at least make it more interesting. This week, that means a bunch of countdown lists, wrapping up today with a look at the best offensive players and top defenders Ohio State will be taking on this fall.
RANKING THE TOP OFFENSIVE OPPONENTS
1. Allen Robinson, Penn State:
As a sophomore, Robinson turned in one of the most productive seasons in program history for the Nittany Lions and comfortably led the Big Ten with 1,013 receiving yards. There were only two targets in the league who even finished within 200 yards of Robinson, who also tacked on 11 touchdowns and drew positive reviews for becoming a more polished route-runner during spring practice. The Buckeyes largely held him check last fall in a win at Penn State, limiting Robinson to 68 yards on five catches. And star cornerback
Bradley Roby
certainly will have this matchup circled on his calendar.
[+] Enlarge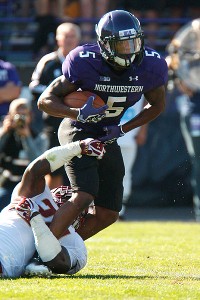 AP Photo/Matt QuinnanOhio State didn't face Northwestern's Venric Mark in 2012. He'll be a challenge to stop on Oct. 5.
2. Venric Mark, Northwestern:
There might not be many stern tests for Ohio State's revamped defense outside of the league, but they'll get a couple quickly when Big Ten play opens. There might not be a better barometer for the fresh faces in the front seven than hitting the road to take on the Wildcats and an attack-minded offense led by a senior tailback coming off a season with 1,371 yards and 13 touchdowns. Mark isn't the only weapon for Northwestern, but shutting down the ground game by wrapping up the leading rusher will be the top priority for the Buckeyes in a critical early conference clash.
3. James White, Wisconsin:
The stage finally belongs to White. And while the senior running back has done plenty of damage in the past while playing behind Montee Ball and enters the season as the NCAA's active rushing leader, the spotlight will finally focus on a dangerous rusher who has made the most of his opportunities in the past with 32 touchdowns to go with those 2,571 yards. The Buckeyes had their hands full with Ball a year ago, giving up 191 yards and a touchdown but countering with one memorable forced fumble at the goal line. Now it's White's turn to take a crack at Ohio State and see if he can come up with a better outcome for the Badgers than the loss they suffered at home last November.
4. Brendan Bigelow, California:
The numbers for last season were underwhelming for the electrifying running back, but Bigelow showed in one afternoon against the Buckeyes how difficult he can make life for opposing defenses. In fact, it was puzzling enough for one day why the Golden Bears didn't give him the ball more often after he turned four carries into 160 yards against Ohio State, and he only had 40 more carries for the rest of the season -- averaging nearly 10 yards per touch out of the backfield. A new coaching staff figures to ramp up the workload. The Buckeyes will have to be more fundamentally sound against him than they were in 2012.
5. Shane Wynn, Indiana:
The pass-happy Hoosiers have a handful of receivers who could make a statistical claim as the top threat the Ohio State secondary will have to contain in November, but the diminutive, elusive junior is the most likely option to explode without warning. Wynn struck from deep against the Buckeyes last year, adding to the fireworks in a high-scoring affair with a 76-yard touchdown, and he finished the season with a team-high 68 receptions for the Hoosiers.
RANKING THE TOP DEFENSIVE OPPONENTS
1. Chris Borland, Wisconsin:
The responsibilities for the senior linebacker might be changing along with a new scheme for the Badgers, but it's safe to assume Borland will be able to handle them, given his track record of success in the Big Ten over the last couple seasons. From the sheer volume of tackles (308) to the variety of ways Borland has produced game-changing plays with turnovers, few players will enter this season having had a more significant impact in the league already in their careers. The Buckeyes will be well aware of where Borland is and what he can do to wreck a plan of attack, and keeping him away from the football will be critical.
2. Tyler Scott, Northwestern:
The pace wasn't quite the same, but the top pass-rusher for the Wildcats in 2012 finished with nine sacks, the same total that Big Ten Defensive Player of the Year John Simon posted for the Buckeyes. Scott will have the full attention of every lineman and blocking schemes will account for him first and foremost as teams prepare for Northwestern, and it will be up to a veteran group of Buckeyes on the offensive line to slow him down in the trenches and ensure that
Braxton Miller
has time to work in the pocket in what figures to be a hostile environment in October.
3. Khalil Mack, Buffalo:
Without a bowl game and without even playing in all 12 games last season, the senior linebacker still finished the season with four forced fumbles, adding to his already impressive reputation for knocking the ball loose before deciding to return for one more season with the Bulls. The program record for forced fumbles (11) belongs to him already, and he's been an absolute wrecking ball in opposing backfields with 56 tackles for a loss in his career. The Buckeyes have no shortage of talent and experience up front, but they could still have their hands full right from the start as they face Mack in the opener.
4. Landon Feichter, Purdue:
The Buckeyes were victimized by the sophomore safety last year in a tighter-than-expected win at home, but Feichter provided them with some company that could sympathize. Feichter's interception at Ohio State was his fourth a season ago, tying him for the most in the Big Ten and complementing his team-leading 80 tackles. The Boilermakers have been a pest for Ohio State in the past, and Feichter is certainly capable of making that the case again when the programs hook up in early November in West Lafayette, Ind.
5. James Morris, Iowa:
The Hawkeyes had two linebackers rack up more than 100 tackles a year ago, and Morris actually finished behind teammate
Anthony Hitchens
and Ohio State's
Ryan Shazier
on the conference leaderboard for takedowns. But the senior more than made up for that by chipping in all over the field, making nine tackles for a loss, intercepting a pass, forcing a fumble and recovering one as well. Iowa has some question marks coming off a rough 2012 season, but linebacker play won't be a concern.
May, 23, 2013
5/23/13
10:25
AM ET
With spring in the books for more than a month, the long march through the offseason and back to football is only beginning. But BuckeyeNation is going to keep doing its part to speed up the journey -- or at least make it more interesting. This week, that means a bunch of countdown lists, continuing today with a look at the most valuable Buckeyes coming out of spring practice and how it compares to the last breakdown of the 2012 season.
Ohio State 10: Post-spring power rankings, 6-10
[+] Enlarge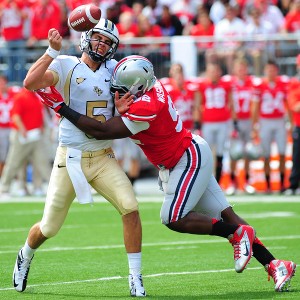 David Dermer/Diamond Images/Getty ImagesBig things are expected of defensive end Adolphus Washington.
No. 6: DE Adolphus Washington
Last ranking: None
Last No. 6: DE John Simon
Spring movement: The sophomore isn't yet a proven commodity on a game-by-basis in the Big Ten, but he's stepping into big shoes and looks more than capable of putting his own footprints all over the league in his first season as a starter. Washington closed his camp with a flourish thanks to four sacks in the exhibition game in Cincinnati, but it was actually his sack and forced fumble in the win over Michigan last fall that really started to build the buzz for the physical, nimble big man on the edge. The Buckeyes are counting on him to deliver on some expectations that are pretty high heading into summer.
Key stat: Washington was largely limited to a supporting role during his first year on campus, but he made the most of his chances by chipping in three sacks off the bench -- turning them into a combined loss of 27 yards for opponents.
No. 7: WR Philly Brown
Last ranking: No. 5
Last No. 7: FB/LB Zach Boren
Spring movement: The Buckeyes have plenty of new faces coming in to lend a hand in the passing game, but Brown will again be the guy Braxton Miller looks for first after the two hooked up 60 times last fall. The big difference for Brown as a senior, though, figures to be how much more he can do with the football once he gets it. Urban Meyer gave the receiver a hard time early last season for his inability to make a defender miss, but that steadily improved throughout the season and doesn't look like it will be a factor again moving forward based on his agility and decisive cuts in camp.
Key stat: He definitely kept the chains moving, but among the Buckeyes who finished with double-digit receptions last fall, Brown ranked last in that group of four in terms of yards per catch at 11.1 yards. As that total goes up, so will the point total for Ohio State.
No. 8: DE Noah Spence
Last ranking: None
Last No. 8: DT Johnathan Hankins
Spring movement: The Buckeyes only had a glimpse at what the freakishly fast Spence could do as a freshman, but that was enough for them to feel good about plugging him in as a starter on the first day of spring camp. By the end of it, the defensive staff had even less reason to worry after the sophomore flashed his athleticism with three sacks in the spring game -- a performance that defensive line coach Mike Vrabel indicated wasn't even his best during camp. Ohio State appears locked and loaded on both edges, and it needs both Spence and Washington to live up to the hype for a completely rebuilt defensive line.
Key stat: The Buckeyes had no shortage of guys contribute at least one sack, but among the linemen, Washington actually finished second in that group with just three quarterback takedowns -- well behind Simon's nine. Spence offered up one as a freshman, but that number should improve dramatically and help the Buckeyes find a tandem capable of balancing the pass rush on both sides.
No. 9: FS Christian Bryant
Last ranking: No. 9
Spring movement: The experience on defense is stockpiled in the secondary, and no voice figures to carry as easily to the front as that of the senior safety. Bryant has made plenty of noise in the past with his vicious hits and a couple notable penalty flags, but there were few players more steady from the start of the undefeated season to the end of it as the ball hawk in the back end. The challenge for Bryant as he takes the next step is turning a few more of his passes defended into interceptions, and off the field he's embracing the fact that the pressure to mold a young defense is partially falling on his shoulders.
Key stat: Bryant did his part to create some turnovers with two forced fumbles, a recovery and an interception. But it's the last number where the Buckeyes see the most room for improvement. He broke up 12 passes in 2012 but only kept his hands on one.
No. 10: DT Michael Bennett
Last ranking: None
Last No. 10: CB Travis Howard
Spring movement: Bennett won't be approaching his position on the interior the same way his predecessor did, for obvious reasons. But what the junior might lack in size compared to big Johnathan Hankins, he can make up for with technique and speed on the interior. The Buckeyes aren't expecting that change in style to be an issue, and after Bennett was able to stay healthy throughout the spring, that potential doubt about him might be erased as well.
Key stat: A nagging groin injury limited Bennett to just eight games, and even when he was on the field, his workload was lighter than expected for somebody who entered the year as a potential starter. The Buckeyes will need a full season from Bennett, and definitely could use more than the 11 tackles he contributed as a sophomore.
May, 23, 2013
5/23/13
9:00
AM ET
With spring in the books for more than a month, the long march through the offseason and back to football is only beginning. But BuckeyeNation is going to keep doing its part to speed up the journey -- or at least make it more interesting. This week, that means a bunch of countdown lists, continuing today with a look at the most valuable Buckeyes coming out of spring practice and how it compares to the last breakdown of the 2012 season.
Ohio State 10: Post-spring power rankings, 1-5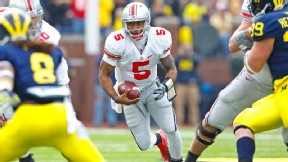 Rick Osentoski/US PRESSWIREBraxton Miller remains the No. 1 player in the Ohio State 10.
No. 1: QB Braxton Miller
Last ranking: No. 1
Spring movement: There was nowhere the junior could go but down in the rankings, but his work in camp only solidified his standing as the most valuable player in the program. Miller's skills are only improving as a passer, and the work he can do with his legs is already well documented. If the Buckeyes are going to win a national championship, it will be their multitalented quarterback doing the heavy lifting.
Key stat: Miller took a significant step forward in his passing accuracy last fall, bumping his completion percentage by more than four full points up to 58.3. He doesn't even need to duplicate that same level of improvement to cross a critical milestone in his development, because simply hitting the 60-percent mark would make the spread offense much more devastating.
No. 2: LB Ryan Shazier
Last ranking: No. 2
Spring movement: The junior was limited throughout camp as he recovered from surgery to repair a sports hernia, but his absence offered a clear reminder of how critical he is for a defense in transition after the loss of six starters in the front seven. The depth at linebacker is certainly not to the level the Buckeyes are used to traditionally, and the margin for error is still slim. But putting a healthy Shazier back on the field with his sideline-t0-sideline athleticism and nose for the football can help mask any growing pains that might be going on around him, and he's in line for more monster numbers this fall.
Key stat: The raw totals were impressive on their own, but the rate at which Shazier made plays in the backfield speaks volumes about his ability to read and react to what he sees at outside linebacker. During his breakout sophomore campaign, one in about every seven tackles for Shazier resulted in a loss for opponents -- which can produce a lot of lost ground when a guy is piling up a total of 115 hits during the season.
No. 3: CB Bradley Roby
Last ranking: No. 4
Last No. 3: RB Carlos Hyde
Spring movement: Roby also missed some action during camp as he took some time to let an ailing shoulder recover, but there's been little doubt about how much the redshirt junior's return to the program for another season will lift the defense. Aside from the physical tools that have him already projected as the top cornerback in the 2014 draft, Roby is tapping into some vocal leadership that he previously hasn't displayed and helping to bring along a group of talented young defensive backs who will ultimately need to replace him when he's gone. That provides both short- and long-term benefits.
Key stat: Opposing quarterbacks aren't likely going to have much desire to test Roby in the passing game, which might make it important for him to fight off complacency and find other ways to make an impact. For starters, Roby is a willing tackler and finished with 63 a year ago, and helping against the run or blitzing off the edge could be ways to keep making a mark.
No. 4: RB Carlos Hyde
Last ranking: N0. 3
Last No. 4: CB Bradley Roby
Spring movement: The bruising, high-scoring tailback was unquestionably the starter going into spring, and he didn't need to do much work to keep that position heading into the summer. And while there has never been more praise for Hyde and his potential to give Urban Meyer a 1,000-yard rusher, there's a chance now that the Buckeyes had a look at their backup options and came away feeling good about them that a few carries might slip away from him and wind up with Rod Smith, Bri'onte Dunn or perhaps Warren Ball in certain situations. What Hyde can offer certainly hasn't changed, but the Buckeyes might now be able to add a bit more variety to their ground attack.
Key stat: When his 242 pounds are moving downhill with the kind of speed that isn't natural for somebody Hyde's size, the urge to just run over people might be tough to turn down. But the Buckeyes need more elusiveness from him when he does break through to the secondary, which could turn attempts such as his longest run of 29 yards a year ago into something much more explosive.
No. 5: LT Jack Mewhort
Last ranking: None
Last No. 5: WR Philly Brown
Spring movement: The torch was ready to be passed with two-time captain John Simon moving on to the NFL, and Mewhort has locked his grip on it and become the type of guy Meyer leans on to get his message across and ensure the troops are all on the same page. Aside from his intangibles, Mewhort is back for another season as a starter after a productive junior campaign in which he emerged as one of the top blockers in the Big Ten. With three other veterans returning along with him, the group up front will set the tone for the Buckeyes all year long.
Key stat: Miller's athleticism can bail out a missed assignment or two from his blockers, and it can occasionally get him in trouble as he tries to extend plays a bit longer than he should. So while the blame can be spread around, either way the Buckeyes will be trying to cut down on the 30 sacks they gave up a year ago as the offense tries to hit a higher gear.
May, 22, 2013
5/22/13
9:00
AM ET
With spring in the books for more than a month, the long march through the offseason and back to football is only beginning. But BuckeyeNation is going to keep doing its part to speed up the journey -- or at least make it more interesting. This week, that means a bunch of countdown lists, picking up today with a look at a handful of incoming freshmen who could contribute right away for Ohio State.
Ranking potential impact freshmen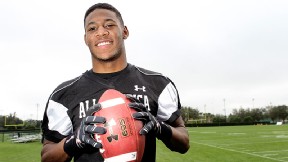 Miller Safrit/ESPNVonn Bell could make an immediate impact in nickel and dime packages.
1. DB Vonn Bell:
The Buckeyes don't exactly need a safety to come in and play extensively right off the bat thanks to the veteran presence of senior starters C.J. Barnett and Christian Bryant, and they even have a senior in Corey "Pittsburgh" Brown with the talent and experience needed to play a valuable role in reserve. But the late addition of Bell, thanks to the tireless recruiting of safeties coach Everett Withers, does give the Buckeyes an elite athlete who could crack the rotation in the nickel and dime packages right away. And with Ohio State likely playing extensively in formations with extra defensive backs, Bell could be seeing a lot of action quickly.
2. ATH Dontre Wilson:
The spread attack operated just fine a year ago even without Urban Meyer having a dynamic skill-position guy capable of playing his vaunted H-back position. Heading into his second year with the program, Meyer worked overtime to find a versatile rusher/receiver to take the offense to another level, and Wilson is at the top of the list because of a combination of speed and ability to make defenders miss in space. The Buckeyes already have enough options on hand to be even more explosive than they were a year ago, but Wilson figures to supply one more element of danger if his transition to the Big Ten matches his fast times on the track.
3. LB Trey Johnson:
His position is among the toughest on the field to play right away, but Johnson is walking into a situation where the Buckeyes are still low on depth and could need him to fill out the rotation after just one training camp. Natural instincts and a seemingly advanced knowledge of the game could give Johnson a head start as he tries to give the Buckeyes another candidate for work at the second level, and he should have plenty of chances to show what he can do on the practice field in August. If Johnson can market himself as an option either in the middle or at strong-side linebacker at 6-foot-2 and 220 pounds, his odds of making a mark will only get better.
4. WR Jalin Marshall:
Another weapon in the open field with a high motor and elusiveness, Marshall will be on the working list of options at H-back along with Wilson. But he could also find some work soon after showing up on campus as a target in the passing game, and the path to the field might be a bit more clear at wide receiver with a relatively thin position group on hand coming out of spring for the Buckeyes. Philly Brown and Devin Smith are the clear starters again after productive seasons a year ago, but there aren't a lot of bodies behind them. If Marshall can absorb his responsibilities on the perimeter and master a handful of routes in a hurry, he could find the ball in his hands with a chance to inflict some pain on defenses.
5. DT Joey Bosa:
The Buckeyes landed the elite pass-rushers they needed in Meyer's first class. The second addressed restocking the cupboard on the interior of the defensive line, and the four-star defensive tackle from Florida should help fill that void after Johnathan Hankins left early for the NFL draft and Garrett Goebel graduated. The Buckeyes have some veterans returning who have solid claims to the starting jobs and rising sophomore Tommy Schutt will be a factor inside as well after shaking off some injuries from spring practice. But they could certainly use some fresh blood to bolster the two-deep. Bosa's aggressiveness and violent first step might vault him into that mix sooner rather than later.
May, 20, 2013
5/20/13
9:00
AM ET
With spring in the books for more than a month, the long march through the offseason and back to football is only beginning. But BuckeyeNation is going to keep doing its part to speed up the journey -- or at least make it more interesting. This week, that means a bunch of countdown lists, starting with the slate of games on tap for a team coming off a perfect record (and not counting any against the Football Championship Subdivision or a team coming off a winless Big Ten season).
Ranking the 2013 schedule

1. Michigan (Nov. 30 in Ann Arbor, Mich.):
As if there could be another place to start this list. The rivalry is as strong as ever with Urban Meyer stoking the flames and making it a top priority to win The Game above just about everything else. If the Buckeyes indeed make another run at perfection this fall, the latest edition in the series could again have huge stakes aside from just bragging rights. The Wolverines slowed down Ohio State's spread offense in a losing effort last year, but they'll likely be needing more firepower of their own to potentially stop a title bid in Meyer's second season.

2. Wisconsin (Sept. 28 in Columbus):
The blood doesn't get quite as hot for the Badgers as it does the Wolverines, obviously, but this is about as close as it gets for the Buckeyes to a backup rivalry. The two programs have also produced some classic games over the last few years, and with an evening kickoff set for the Big Ten opener for both teams, expect a fevered pitch and an entertaining evening in the Horseshoe. Ohio State will be looking to get started on the right foot in the league; Wisconsin will be looking for an early signature victory for a new coach.

3. Northwestern (Oct. 5 in Evanston, Ill.):
The Wildcats normally wouldn't be making an appearance this high on the countdown, but Pat Fitzgerald has pretty much broken the traditional mold for the program at this point and will certainly have the attention of the Buckeyes. Another late kickoff will add a bit of extra hype for what might be one of the highest-profile games Northwestern has ever hosted, and the Buckeyes could have a tough test for their rebuilt front seven on their hands.

4. Penn State (Oct. 26 in Columbus):
The full impact of the NCAA sanctions leveled against the Nittany Lions might not be felt yet this season, but losing the group of seniors who helped them weather the storm so impressively last fall will be a significant challenge for second-year coach Bill O'Brien. Penn State will have had some time to develop younger players by this point in the year, but if the Nittany Lions are going to test Ohio State at home, the freshman coming along the quickest had better be the quarterback. Either way, two tradition-rich programs hooking up is still going to move the needle.

5. California (Sept. 14 in Berkeley, Calif.):
The Golden Bears weren't supposed to put up much of a challenge last year in the Horseshoe, and they ended up forcing Braxton Miller and Devin Smith to conjure up some late-game magic to help the Buckeyes escape. Cal has undergone a significant change in leadership in bringing in new coach Sonny Dykes, but he has some offensive pieces to work with that have had success already against the Buckeyes -- and this time it's the Buckeyes who will be traveling across the country.

6. Indiana (Nov. 23 in Columbus):
Like offense? Probably don't want to miss this one then. The margin of victory might have ended up being somewhat deceiving thanks to a couple fluky plays late in the game last year, but even without those late scores, the Hoosiers and Buckeyes had already produced plenty of fireworks thanks to innovative offensive minds on both sidelines. Indiana clearly has made progress under Kevin Wilson, and it could be capable of producing another track meet if the Buckeyes focus too much on their advantage in personnel.

7. Purdue (Nov. 2 in West Lafayette, Ind.):
The Boilermakers have certainly made things interesting in the series over the last few meetings, and in the end they were the closest to keeping the Buckeyes from going undefeated last season before Kenny Guiton came off the bench to lead a remarkable comeback in regulation on the way to an overtime victory. For whatever reason, from different defensive looks to Ohio State perhaps getting complacent, Purdue has been a nuisance -- and now it has a driven coach with ties to the Buckeyes. The Boilermakers could use the boost a win would provide for Darrell Hazell's program.

8. San Diego State (Sept. 7 in Columbus):
The Buckeyes might be getting more credit for their nonconference schedule if they still had an SEC team on it, though even the improved Vanderbilt squad that canceled a trip to the Horseshoe probably wouldn't have made the slate look all that more appealing. But Ohio State athletic director Gene Smith did go out and find another team coming off a bowl appearance to replace the Commodores, and the Aztecs have been a tough out over the last few years. A season ago they finished 9-4, a mark that featured a seven-game winning streak at one point and included a win on the road over Boise State.

9. Iowa (Oct. 19 in Columbus):
The Hawkeyes might not be the most exciting team around, but their occasionally ugly style of play can at least make things bothersome for opponents. The Buckeyes will be coming off a bye week and starting a two-game stretch at home when Iowa comes back on its schedule, so Meyer figures to have his team locked in for an opponent that only averaged 19.3 points per game last season on the way to a 4-8 record.

10. Buffalo (Aug. 31 in Columbus):
The Bulls probably won't be providing much in the way competition over four quarters against a team expected to be ranked in the top five in the country, particularly on the heels of a 4-8 season last year. But they will provide some fresh bodies for the Buckeyes to test themselves against after nearly a month of playing against each other in training camp. And no matter the opposition, the first week will offer the first glimpse at Ohio State's spread attack in Meyer's second season, give a peek at the new-look defense -- and officially welcome back football.
Did Ohio State Cheap Out On Championship Rings?
BIG TEN SCOREBOARD
Thursday, 9/3
Friday, 9/4
Saturday, 9/5
Sunday, 9/6
Monday, 9/7