Ohio State Buckeyes:

OSU post spring top 10
May, 23, 2013
5/23/13
10:25
AM ET
With spring in the books for more than a month, the long march through the offseason and back to football is only beginning. But BuckeyeNation is going to keep doing its part to speed up the journey -- or at least make it more interesting. This week, that means a bunch of countdown lists, continuing today with a look at the most valuable Buckeyes coming out of spring practice and how it compares to the last breakdown of the 2012 season.
Ohio State 10: Post-spring power rankings, 6-10
[+] Enlarge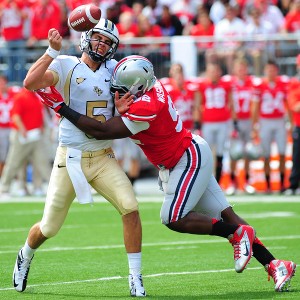 David Dermer/Diamond Images/Getty ImagesBig things are expected of defensive end Adolphus Washington.
No. 6: DE Adolphus Washington
Last ranking: None
Last No. 6: DE John Simon
Spring movement: The sophomore isn't yet a proven commodity on a game-by-basis in the Big Ten, but he's stepping into big shoes and looks more than capable of putting his own footprints all over the league in his first season as a starter. Washington closed his camp with a flourish thanks to four sacks in the exhibition game in Cincinnati, but it was actually his sack and forced fumble in the win over Michigan last fall that really started to build the buzz for the physical, nimble big man on the edge. The Buckeyes are counting on him to deliver on some expectations that are pretty high heading into summer.
Key stat: Washington was largely limited to a supporting role during his first year on campus, but he made the most of his chances by chipping in three sacks off the bench -- turning them into a combined loss of 27 yards for opponents.
No. 7: WR Philly Brown
Last ranking: No. 5
Last No. 7: FB/LB Zach Boren
Spring movement: The Buckeyes have plenty of new faces coming in to lend a hand in the passing game, but Brown will again be the guy Braxton Miller looks for first after the two hooked up 60 times last fall. The big difference for Brown as a senior, though, figures to be how much more he can do with the football once he gets it. Urban Meyer gave the receiver a hard time early last season for his inability to make a defender miss, but that steadily improved throughout the season and doesn't look like it will be a factor again moving forward based on his agility and decisive cuts in camp.
Key stat: He definitely kept the chains moving, but among the Buckeyes who finished with double-digit receptions last fall, Brown ranked last in that group of four in terms of yards per catch at 11.1 yards. As that total goes up, so will the point total for Ohio State.
No. 8: DE Noah Spence
Last ranking: None
Last No. 8: DT Johnathan Hankins
Spring movement: The Buckeyes only had a glimpse at what the freakishly fast Spence could do as a freshman, but that was enough for them to feel good about plugging him in as a starter on the first day of spring camp. By the end of it, the defensive staff had even less reason to worry after the sophomore flashed his athleticism with three sacks in the spring game -- a performance that defensive line coach Mike Vrabel indicated wasn't even his best during camp. Ohio State appears locked and loaded on both edges, and it needs both Spence and Washington to live up to the hype for a completely rebuilt defensive line.
Key stat: The Buckeyes had no shortage of guys contribute at least one sack, but among the linemen, Washington actually finished second in that group with just three quarterback takedowns -- well behind Simon's nine. Spence offered up one as a freshman, but that number should improve dramatically and help the Buckeyes find a tandem capable of balancing the pass rush on both sides.
No. 9: FS Christian Bryant
Last ranking: No. 9
Spring movement: The experience on defense is stockpiled in the secondary, and no voice figures to carry as easily to the front as that of the senior safety. Bryant has made plenty of noise in the past with his vicious hits and a couple notable penalty flags, but there were few players more steady from the start of the undefeated season to the end of it as the ball hawk in the back end. The challenge for Bryant as he takes the next step is turning a few more of his passes defended into interceptions, and off the field he's embracing the fact that the pressure to mold a young defense is partially falling on his shoulders.
Key stat: Bryant did his part to create some turnovers with two forced fumbles, a recovery and an interception. But it's the last number where the Buckeyes see the most room for improvement. He broke up 12 passes in 2012 but only kept his hands on one.
No. 10: DT Michael Bennett
Last ranking: None
Last No. 10: CB Travis Howard
Spring movement: Bennett won't be approaching his position on the interior the same way his predecessor did, for obvious reasons. But what the junior might lack in size compared to big Johnathan Hankins, he can make up for with technique and speed on the interior. The Buckeyes aren't expecting that change in style to be an issue, and after Bennett was able to stay healthy throughout the spring, that potential doubt about him might be erased as well.
Key stat: A nagging groin injury limited Bennett to just eight games, and even when he was on the field, his workload was lighter than expected for somebody who entered the year as a potential starter. The Buckeyes will need a full season from Bennett, and definitely could use more than the 11 tackles he contributed as a sophomore.
May, 23, 2013
5/23/13
9:00
AM ET
With spring in the books for more than a month, the long march through the offseason and back to football is only beginning. But BuckeyeNation is going to keep doing its part to speed up the journey -- or at least make it more interesting. This week, that means a bunch of countdown lists, continuing today with a look at the most valuable Buckeyes coming out of spring practice and how it compares to the last breakdown of the 2012 season.
Ohio State 10: Post-spring power rankings, 1-5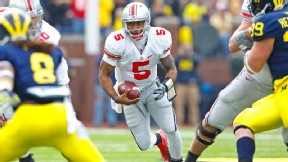 Rick Osentoski/US PRESSWIREBraxton Miller remains the No. 1 player in the Ohio State 10.
No. 1: QB Braxton Miller
Last ranking: No. 1
Spring movement: There was nowhere the junior could go but down in the rankings, but his work in camp only solidified his standing as the most valuable player in the program. Miller's skills are only improving as a passer, and the work he can do with his legs is already well documented. If the Buckeyes are going to win a national championship, it will be their multitalented quarterback doing the heavy lifting.
Key stat: Miller took a significant step forward in his passing accuracy last fall, bumping his completion percentage by more than four full points up to 58.3. He doesn't even need to duplicate that same level of improvement to cross a critical milestone in his development, because simply hitting the 60-percent mark would make the spread offense much more devastating.
No. 2: LB Ryan Shazier
Last ranking: No. 2
Spring movement: The junior was limited throughout camp as he recovered from surgery to repair a sports hernia, but his absence offered a clear reminder of how critical he is for a defense in transition after the loss of six starters in the front seven. The depth at linebacker is certainly not to the level the Buckeyes are used to traditionally, and the margin for error is still slim. But putting a healthy Shazier back on the field with his sideline-t0-sideline athleticism and nose for the football can help mask any growing pains that might be going on around him, and he's in line for more monster numbers this fall.
Key stat: The raw totals were impressive on their own, but the rate at which Shazier made plays in the backfield speaks volumes about his ability to read and react to what he sees at outside linebacker. During his breakout sophomore campaign, one in about every seven tackles for Shazier resulted in a loss for opponents -- which can produce a lot of lost ground when a guy is piling up a total of 115 hits during the season.
No. 3: CB Bradley Roby
Last ranking: No. 4
Last No. 3: RB Carlos Hyde
Spring movement: Roby also missed some action during camp as he took some time to let an ailing shoulder recover, but there's been little doubt about how much the redshirt junior's return to the program for another season will lift the defense. Aside from the physical tools that have him already projected as the top cornerback in the 2014 draft, Roby is tapping into some vocal leadership that he previously hasn't displayed and helping to bring along a group of talented young defensive backs who will ultimately need to replace him when he's gone. That provides both short- and long-term benefits.
Key stat: Opposing quarterbacks aren't likely going to have much desire to test Roby in the passing game, which might make it important for him to fight off complacency and find other ways to make an impact. For starters, Roby is a willing tackler and finished with 63 a year ago, and helping against the run or blitzing off the edge could be ways to keep making a mark.
No. 4: RB Carlos Hyde
Last ranking: N0. 3
Last No. 4: CB Bradley Roby
Spring movement: The bruising, high-scoring tailback was unquestionably the starter going into spring, and he didn't need to do much work to keep that position heading into the summer. And while there has never been more praise for Hyde and his potential to give Urban Meyer a 1,000-yard rusher, there's a chance now that the Buckeyes had a look at their backup options and came away feeling good about them that a few carries might slip away from him and wind up with Rod Smith, Bri'onte Dunn or perhaps Warren Ball in certain situations. What Hyde can offer certainly hasn't changed, but the Buckeyes might now be able to add a bit more variety to their ground attack.
Key stat: When his 242 pounds are moving downhill with the kind of speed that isn't natural for somebody Hyde's size, the urge to just run over people might be tough to turn down. But the Buckeyes need more elusiveness from him when he does break through to the secondary, which could turn attempts such as his longest run of 29 yards a year ago into something much more explosive.
No. 5: LT Jack Mewhort
Last ranking: None
Last No. 5: WR Philly Brown
Spring movement: The torch was ready to be passed with two-time captain John Simon moving on to the NFL, and Mewhort has locked his grip on it and become the type of guy Meyer leans on to get his message across and ensure the troops are all on the same page. Aside from his intangibles, Mewhort is back for another season as a starter after a productive junior campaign in which he emerged as one of the top blockers in the Big Ten. With three other veterans returning along with him, the group up front will set the tone for the Buckeyes all year long.
Key stat: Miller's athleticism can bail out a missed assignment or two from his blockers, and it can occasionally get him in trouble as he tries to extend plays a bit longer than he should. So while the blame can be spread around, either way the Buckeyes will be trying to cut down on the 30 sacks they gave up a year ago as the offense tries to hit a higher gear.
Did Ohio State Cheap Out On Championship Rings?
BIG TEN SCOREBOARD
Thursday, 9/3
Friday, 9/4
Saturday, 9/5
Sunday, 9/6
Monday, 9/7