Ohio State Buckeyes:

Orhian Johnson
September, 6, 2013
9/06/13
2:00
PM ET
COLUMBUS, Ohio --
Tyvis Powell
doesn't have to look hard for an example of a guy who has thrived under similar circumstances.
Last season, in fact, his big brother on the team had already walked the path of redshirting as a freshman defensive back and then made his way into the starting lineup in his first game on the active Ohio State roster.
[+] Enlarge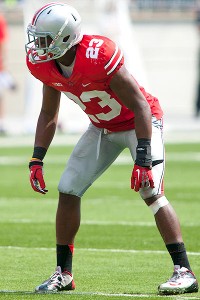 Jason Mowry/Icon SMIThe play of the safeties has been a recent problem for the Buckeyes, so Tyvis Powell will move over from cornerback to safety to help shore up that area.
Certainly there are some differences in the skill sets of Powell, a tall nickelback, and
Bradley Roby
, a physical freak who ranks among the best cornerbacks in the nation. But the last player to sit out a year and then become an instant starter like Powell on Saturday against Buffalo was Roby in 2011. That kind of company can bode well for a player who debuted with five tackles and has room to grow.
There were a few people surprised to see you out there starting on the first day of spring practice. Were you expecting to be thrown into the lineup coming off a redshirt year?
Tyvis Powell
: Honestly I wasn't, I'm not going to lie to you. But in January, coach [Urban] Meyer handed out self-evaluation forms to everybody, and after reading some of the questions that were on it, basically what are you doing to help the team and rating yourself, when I rated myself honestly, I felt like I wasn't really doing anything to help the team. I felt like I was just here, and I didn't want to be like that. When I recap my life later on, I don't want to say I was just here. I want to do something to basically make a statement, make a name for myself. What I did was take the winter offseason and just basically work hard, get extra reps, make sure I constantly drilled and got with the older people who were still here, asked them questions about the game. They all helped me out, and then when it came to spring, the strength coaches were telling them, 'Yeah, Tyvis is coming along.' I went to meet with [defensive coordinator Luke] Fickell, and he said they wanted to see me at the Star position [in nickel]. So I just went out there Day 1 and tried it, and I'm still here.
You get the evaluation in January, but obviously you'd been feeling some of this stuff while sitting out the year. Was it a frustrating experience to be on the shelf? How did you handle it?
TP
: I'm not going to lie to you, at first it was difficult for me to really handle it. Coming out of high school, I was known as a top player. Then to get here and you're not really doing anything to contribute to the team, it really broke my heart, honestly. Back in the day, I used to write these blogs for the fans and tell them how I wanted to work hard for them, and I kind of felt like I was letting the fans down. When they told me I was redshirting, at first I was depressed about it. Now when I look back on it, I don't think I was ready to play last year. [Former Ohio State safety] Orhian [Johnson] asked me, 'Do you really think you're ready to play?' I thought about it, and it was like, no, I don't think I am. Then I talked to Roby, he was my big brother, and he told me every day, you've only got one chance to live this life, you should make the best out of every opportunity you get. What I would do is, I was on scout team, so I approached it like, 'OK, this is my chance.' I was going against the starters every day,
Devin Smith
and
Philly Brown
, and I'm trying to work on my technique and those guys really helped me out. They would point out that I should watch their hips or tell me to pay attention to certain things, help me out to make me a better player. And then, obviously, [cornerbacks coach Kerry] Coombs was staying on me every day. By the end of the year, I started making plays on scout team and the offensive coaches were referencing me to Coach Coombs and telling him I was out there making plays.
Coombs has made it well known how hard he was on you last year. What is your relationship with him like, and was there any adjustment period with that aggressive style?
TP
: Not really, because I would say my high school coach, Sean Williams [at Bedford High School in Ohio] used to talk to me just like that. He was on me, anything I did wrong he'd let me know. He'd tell me, 'Tyvis, this is how they're going to talk to you on the next level.' He basically prepared me for it, so when Coach Coombs did it, I kind of liked it. I need that energy. I'd rather him get on me and try to correct me like that than not say anything at all, that would be like giving up on me. That energy, I appreciate it now, I think it made me better. I got it, the way he talked to me, he brought this inner me out of me, got me mad and [I] started making plays better.
After all that happened in the last year, you get on the field on Saturday as a starter in the win over Buffalo. Take me through the emotions out there.
TP
: Oh man, first I had to get up and thank God about it. Basically, for the first time playing in the Shoe and knowing you're going to play, I couldn't sleep that night. I was in the hotel tossing and turning. I only caught a little bit of sleep, but when it was game time, I was hype, ready to go. Once the ball is kicked off, and you're with your friends, it's just fun. At first it's like, 'Oh, my God, it's fast, it's unbelievable out here.' But as the game went on, I kind of realized to myself it was the same game I've been playing since I was 9 years old -- just a little bit faster. I was able to adjust and be able to make some plays.
Were you happy with the debut and how you played?
TP
: I mean, I wouldn't say I'm satisfied. I'm never satisfied. [I'm] very hard on myself and trying to figure out what things I can do better. So, for my first game in the Shoe, I would say I did decent. I made a couple errors, and they weren't big, but I'd rather eliminate all errors and play a perfect game. But stuff happens, and I've got to get better every week.
February, 27, 2013
2/27/13
9:00
AM ET
With national signing day in the books, the next big date on the Ohio State calendar as it continues working toward an encore for an undefeated season in 2013 is spring practice. Before those workouts begin, BuckeyeNation will take a look at each position to see where the roster is at -- and where it's going.
[+] Enlarge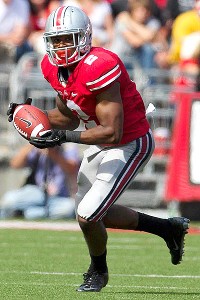 Greg Bartram/US PresswireChristian Bryant will return as a starting safety in 2013.
SAFETIES
Who's back: The Buckeyes will lead from the back, with both experience and leadership expected to provide a trickle-down effect for the defense with Christian Bryant and C.J. Barnett returning for one more season together as the starting tandem at safety. Ohio State even has a veteran waiting in line to come off the bench and potentially help in the nickel package with senior Corey Brown providing yet another old hand as the program reloads in front of the secondary. There will be six new starters in the front seven and one more at cornerback, but the Buckeyes are as stable as they possibly could be at the back of the defense with Bryant and Barnett poised to close their careers on a high note.
New face: The huge target the Buckeyes officially landed on national signing day won't be around to add depth or potentially crack into the rotation until fall practice, though there's already plenty of buzz building about what Vonn Bell could provide in the secondary when he arrives. The athletic, 6-foot-1, 190-pounder should be walking into a situation without the pressure that can come from having to contribute a whole lot right away thanks to the presence of those talented seniors -- though coach Urban Meyer will likely be counting on them to get Bell up to speed as well.
Projected spring depth chart: Bryant and Barnett will be back in their familiar spots, with Brown currently the favorite to be the first man up in the nickel package and a valuable option in reserve. The Buckeyes were bitterly disappointed to watch rising sophomore Devan Bogard's first season with the program end with a knee injury last fall, but he figures to be in the mix for work at some point, and classmates Tyvis Powell and Najee Murray could offer something as well.
Numbers game: Barnett was slowed by a nagging ankle injury for part of the season, but when he and Bryant were on the field together, the production was hard to miss. The two combined for 127 tackles, three takedowns for a loss, three interceptions, 21 passes defended, two forced fumbles and a fumble recovery. Barnett missed three games and took some time to shake the rust off after that as well, but there's plenty of evidence of how effective those two safeties can be in the back end.
One to watch: The clock is ticking for Brown, and there will be more competition for his job heading into fall camp,with Bell leading the charge. The Buckeyes already have some sophomores on campus capable of pushing the veteran for playing time, and Brown will certainly need to make an impression with his existing knowledge of the defense and a higher level of consistency than he's shown in his few opportunities to contribute over the last couple years. Departed senior Orhian Johnson proved how important it was to have a reliable upperclassman ready to complement Bryant and Barnett, and co-defensive coordinator and safeties coach Everett Withers will be watching closely to see if he's got another one he can count on when the season rolls around.
He said it: "I've been doing this a long time, but this group with the young men that are [already] here in [cornerbacks] Eli Apple and Cam Burrows and the guys we just added to that group -- if the development goes as we think it will go, we feel like this is a very talented group which should be able to help Ohio State do special things." -- Withers on signing day
February, 26, 2013
2/26/13
9:00
AM ET
With national signing day in the books, the next big date on the Ohio State calendar as it continues working toward an encore for an undefeated season in 2013 is spring practice. Before those workouts begin, BuckeyeNation will take a look at each position to see where the roster is at -- and where it's going.
CORNERBACKS
[+] Enlarge

Kirk Irwin/Getty ImagesBradley Roby will return as one of the top corners in the nation.

Who's back: Bradley Roby took his time weighing his options, so Ohio State had no choice but to wait and see if it was replacing both members of a talented twosome or just half of it. Eventually it got the good news it had been hoping for and largely expecting, with Roby ultimately deciding to stick around and build on a banner season as a redshirt sophomore. With or without him heading into 2013, the Buckeyes had been loading up on the recruiting trail and signed what appears to be the best crop of defensive backs in the country, and with Travis Howard moving on to the next level, they could see some action opposite Roby pretty quickly. But there is one other returner who could block the path to the starting lineup after Doran Grant impressed when called upon last fall and could be even better heading into his junior campaign.
New faces: The Buckeyes will no shortage of talented cover guys to sort through in the freshman class, and two of them are already on campus to give the coaching staff an advance look at what they can do. Eli Apple was the crown jewel in RecruitingNation's third-rated classl, and he could make himself a factor for playing time right away thanks to the extra reps and head start he'll be afforded in spring practice. The same is true for Cam Burrows, the ninth-ranked cornerback in the nation coming out of high school and another option who could potentially fill a short-term and long-term void for the Buckeyes.
Projected spring depth chart: Roby is locked in at one cornerback spot, and Grant should have the edge when the Buckeyes report to work next week thanks to his experience and knowledge of the defense. But Apple and Burrows have the physical tools to push for first-team reps, and rising sophomore Armani Reeves also caught the eye of the coaching staff last fall with his contributions on special teams.
Numbers game: No secondary in the Big Ten was more opportunistic than Ohio State's, which tied for the conference lead with 14 interceptions and made quarterbacks think twice about testing its defensive backs all year long. But half of those picks belonged to players who won't be back this spring, led by Howard and his conference-leading four interceptions and two more from safety Orhian Johnson. If Roby is able to turn a handful of his head-turning 17 passes broken up into interceptions, though, the Buckeyes could offset those losses somewhat easily.
December, 6, 2012
12/06/12
11:00
AM ET
COLUMBUS, Ohio -- A position-by-position look at a perfect season for Ohio State, continuing today by looking back at the playmakers in the secondary who made a habit of breaking up passes and nabbing interceptions on the way to a perfect season.
[+] Enlarge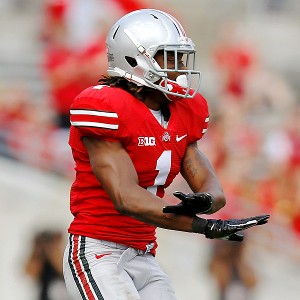 Kirk Irwin/Getty ImagesOhio State redshirt sophomore cornerback Bradley Roby could be a high draft pick if he leaves school early.
DEFENSIVE BACKS
Most valuable player: Christian Bryant might have been underrated for the contributions he made at safety, somewhat quietly going about his business and offering a reliable presence in the backend. Travis Howard played the finest, most consistent football of his career and tied for the Big Ten lead with four interceptions. But it was redshirt sophomore Bradley Roby who was the indispensable member of the secondary, transforming himself from a talented but easily distracted cover guy into an elite competitor over the last 12 months -- and developing into a potential high-round draft pick in the process.
By the numbers: For most of the season, the one game Roby missed with a sore shoulder didn't keep him from maintaining his spot atop the national leaderboard in passes defended. But without getting a hand on the football in the rivalry win over Michigan to close out the year and not getting a chance to play in the Big Ten title game, Roby's impressive total of 19 combined breakups and interceptions over 11 games didn't hold up as No. 1 in the country -- he had to simply settle for second.
September, 30, 2012
9/30/12
9:00
AM ET
EAST LANSING, Mich. -- A few things Ohio State will feel good about and some issues it will need to correct after opening Big Ten play with a 17-16 road win over Michigan State on Saturday.
THREE UP
1. Miller magic:
After a week with a lighter workload, the ball was right back in
Braxton Miller
's hands and the weight was firmly on his shoulders. The sophomore quarterback can clearly still handle it, rushing for 136 yards on 23 carries and throwing for 179 more on 23 passing attempts with the game-winning touchdown toss thrown in for good measure. He was clearly sore when it was over, but Miller answered a stiff test against a hard-hitting defense.
To continue reading this article you must be an Insider
September, 21, 2012
9/21/12
11:10
AM ET
COLUMBUS, Ohio -- Critical areas for the Buckeyes as they gear up for their last non-conference game of the season, Saturday's home date with UAB (TV: BTN, noon).
FIRST DOWN
Middle ground:
The receivers on the perimeter are starting to command more attention in coverage, and defenses are already concerned about
Braxton Miller
's rushing ability.
To continue reading this article you must be an Insider
September, 10, 2012
9/10/12
11:22
AM ET
COLUMBUS, Ohio -- The sample size is still small, so the possibility for wild swings exists early in the season.
But there's only stability at the top of the Ohio State power rankings after two games.
It hasn't taken a rocket scientist to figure out who was the star in the opener and the 31-16 win the Buckeyes picked up on Saturday over UCF. The rest of the top 10, though, continues to offer plenty of room for movement as Ohio State prepares for another nonconference date with Cal at home this weekend.
Who will make a move then? That's a topic for later in the week -- Monday is all about the evidence that is already available for examination in the power rankings.
No. 1: QB Braxton Miller
Last week: No. 1
Against UCF: Running low on tailbacks, the Buckeyes simply turned the ground game over to the sophomore and trusted him to get it done. After 27 carries, 141 yards and three touchdowns, that mission was accomplished. He wasn't bad as a passer, either, completing 18 of 24 attempts for 155 yards with a score.
To continue reading this article you must be an Insider
September, 9, 2012
9/09/12
2:35
PM ET
COLUMBUS, Ohio -- Breaking down the positives along with a few negatives that will have coach Urban Meyer's attention after a 31-16 win over Central Florida on Saturday.
[+] Enlarge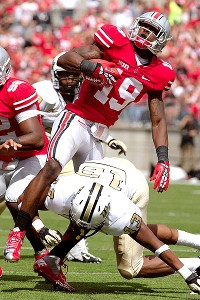 Greg Bartram/US PresswireOrhian Johnson tipped one ball that was intercepted by Travis Howard and also made a red-zone interception himself against UCF.
What worked
Miller (over)time: There are justifiable concerns about just how much work Braxton Miller had to do to help the Buckeyes pull out a win. But that doesn't take anything away from the effort the sophomore quarterback turned in with another dynamic performance that didn't do anything but improve his chances of national attention and contention for awards. Miller was responsible for all four touchdowns, including three of them as a rusher, and his passing numbers were also much better in his second outing in the spread offense as he completed 18 of his 24 attempts. There was an interception and there were bad exchanges in the option game, but the volume of yardage and the points he's putting on the board are invaluable.
Good hands: Orhian Johnson deserves a reprieve on those pushups he and the defensive backs do when they tip a ball but can't intercept it. After all, the attempt the senior safety deflected wound up in the hands of Travis Howard, so the Buckeyes still were able to get the turnover. Ohio State also batted another pass that went for an interception among the three it created on defense, showing both awareness and good concentration to continue a hot start creating plays on that side of the ball.
To continue reading this article you must be an Insider
September, 8, 2012
9/08/12
6:32
PM ET
COLUMBUS, Ohio -- Urban Meyer's specialty is offense. But when he picks up on something on the other side of the football, he's going to let his assistants know what he wants.
After watching
Orhian Johnson
in practice and on special teams, the Ohio State coach made his feelings known about the senior defensive back and his desire to get him on the field. The defensive staff complied, and the results were obvious with Johnson inserted into the nickel package and lending a hand in two turnovers as the Buckeyes knocked off Central Florida 31-16 on Saturday at Ohio Stadium.
[+] Enlarge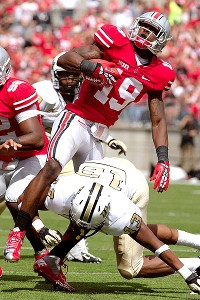 Greg Bartram/US PresswireOrhian Johnson received more playing time against UCF and made two big plays.
"I was very involved in that decision," Meyer said. "I see, he's just so talented, and he's another guy that's been around here for a while. Production hasn't been what it needs to be, but he earned that right in practice, did some really good things on special teams.
"We felt like we needed more production out of that nickel spot."
The Buckeyes got plenty from Johnson, who tipped a second-quarter pass that deflected into the hands of cornerback
Travis Howard
and later snagged his own interception to snuff a late drive into the red zone that could have tightened up the game.
Linebacker
Etienne Sabino
added another pick for the Ohio State defense, which now has five overall after two games and has provided a big lift to the offense by supplying great field position. And while Johnson's own pick didn't do that, his big play might have been the most critical of the bunch so far as he preserved the two-score lead with his grab at the 9-yard line.
"It definitely felt good to get out there and help my teammates win," Johnson said. "Any chance possible, I just want to go out there and help them.
"With our defense, we kind of thrive in those [pressure] situations. ... And it definitely felt good to get my hands on the ball."
Doing it twice obviously felt even better. And it offered a bit of validation for Johnson's coach in the process.
August, 31, 2012
8/31/12
2:18
PM ET
COLUMBUS, Ohio -- The opener has finally arrived. Urban Meyer is slated for his debut at Ohio State, his team is eager to reestablish itself as a national power after a rough year and the Buckeyes can finally put a bow on the offseason after months of brutal workouts. They'll have the talent advantage when the curtain comes up at Ohio Stadium at noon on Saturday, but these four areas will be important and well worth watching.
FIRST DOWN
Hurry up:
There's a reason the offseason program focused so intently on conditioning.
To continue reading this article you must be an Insider
August, 12, 2012
8/12/12
4:59
PM ET
Notes and quotes from Ohio State coach Urban Meyer's press conference on Sunday afternoon during the program's annual Media Day.
STONE TURNED:
The depth at tight end might not qualify as a surplus, but it certainly allowed for some flexibility.
[+] Enlarge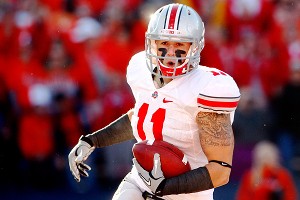 Jerry Lai/US PRESSWIRE"You don't want to go out there and look sloppy and lose a bunch of games and have a lost season," Ohio State senior Jake Stoneburner said.
And with perhaps a more pressing need at wide receiver, Ohio State is planning to lean on the options in reserve and sending its projected started at tight end elsewhere to lend a set of hands.
The Buckeyes had hinted at a different role for senior
Jake Stoneburner
during the first week of camp as he lined up all over the field and turned in some big plays deep down the field. And while he'll still line up at times in his more familiar position, Stoneburner is officially listed at a new one.
"He meets with the receivers," Meyer said. "He'll practice (tight end) at times, because we'll use him as a surface tight end, but we have two very good tight ends in
[Jeff] Heuerman
and
Nick Vannett
, so he's going to be our [Aaron] Hernandez-type guy, the guy that can do some things."
August, 10, 2012
8/10/12
4:41
PM ET
Quick hitters from a media session after Ohio State practiced on Friday morning near the end of the first full week of training camp.
Staying put:
Bradley Roby
might eventually present a two-way option for the Buckeyes.
For now, the sophomore cornerback is going to have to wait until he's proven a little more on one side of the ball before jumping to the other.
"Well, he's one of those guys who thinks he can fly to the moon also," co-defensive coordinator Everett Withers joked. "He's a talented guy, but we want him to be great at being a corner. To me, he's still working to do that.
August, 8, 2012
8/08/12
4:18
PM ET
The "Inside the Game" position preview series concludes with a look at the Michigan and Ohio State secondaries.
Like many of the other position groups discussed by Austin Ward of BuckeyeNation and Michael Rothstein of WolverineNation, a peek into the secondaries of Michigan and Ohio State reveals a lot of similarities between the schools.


Ohio State
Ward:
No infusion of new talent is necessary for Ohio State.
All the Buckeyes need is a deep pool of veteran defensive backs to take another step forward, and throwing the ball against them could be one of the tougher challenges in the Big Ten.
Bradley Roby
is shaping up as an emerging star at cornerback, and while
Travis Howard
and
Doran Grant
could battle for the right to start opposite him, the Buckeyes figure to be fine with either of them or backup
Adam Griffin
on the field.
C.J. Barnett
might be poised to breakout as well at safety, though there's plenty of experienced depth alongside him at the back of the defense. A pair of juniors in
Christian Bryant
and
Corey Brown
and senior
Orhian Johnson
provide plenty of options for defensive backs coach Everett Withers, who brings a proven track record of creating turnovers with him to Ohio State.
The Buckeyes picked off 13 passes last season, with Johnson and Roby tied for the team lead with three apiece. But both of those numbers will have to improve for Withers to be happy at the end of the season, and there is more than enough know-how and ability to make that happen.
Rothstein:
What once was a group of players thought to have little talent and no experience has turned into this: the best unit on Michigan's entire roster.
A few holdovers from the disastrous 2009 and 2010 seasons for the Michigan secondary remain on the roster in key positions, including starting cornerback
J.T. Floyd
and safety
Jordan Kovacs
, both of whom were thrown into unenviable positions as young players in a 3-3-5 defense few inside the Michigan program were familiar with.
But they learned and went from questionable players to two of the more reliable players anywhere on the Michigan roster. Joining them in the likely starting defensive backfield are safety
Thomas Gordon
and sophomore cornerback
Blake Countess
.
All four started at least half of Michigan's games a season ago.
The four are just the front line of an incredibly deep secondary with both experience -- nickel back
Courtney Avery
-- and a youthful push, including highly touted freshman safety
Jarrod Wilson
and sophomore cornerback
Delonte Hollowell
, who stood out on special teams as a freshman.
There could be trouble if Kovacs were to be injured, but otherwise this is Michigan's most dependable position group.
Did Ohio State Cheap Out On Championship Rings?
BIG TEN SCOREBOARD
Thursday, 9/3
Friday, 9/4
Saturday, 9/5
Sunday, 9/6
Monday, 9/7