OSU Buckeyes:

Marcus Hall
April, 3, 2013
Apr 3
11:00
AM ET
COLUMBUS, Ohio -- Several factors usually get mentioned first as reasons for Ohio State's 12-0 season in 2012.
Braxton Miller
's heroics.
Carlos Hyde
's emergence. The play of the defense down the stretch, led by
John Simon
and
Ryan Shazier
.
But one factor probably doesn't get mentioned enough: the performance of the team's offensive line. A major question mark going into last season, the line shaped up as one of the best in the Big Ten last year under the tutelage of Ed Warriner. And with most of the group back and some better depth, the unit provides a strong reason to believe in the Buckeyes again in 2013.
[+] Enlarge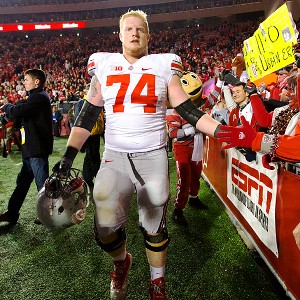 Jeff Hanisch/USA TODAY SportsLeft tackle Jack Mewhort, an all-Big Ten-level talent in 2012, could be the Buckeyes' next great leader.
Warriner turned in one of the better coaching jobs in the league last year, rounding into shape a crew that was previously undistinguished and underwhelming. He turned
Reid Fragel
, a former tight end, into a standout right tackle who should get drafted later this month.
Corey Linsley
went from playing guard to one of the conference's top centers, while
Jack Mewhort
developed into a top-flight left tackle. One of the indelible images of the Buckeyes' season was the line pushing around Michigan State's terrific defense to grind out the victory in East Lansing.
About the only thing Warriner had to worry about last season was health, as there was no experience and precious little depth behind the starters. He doesn't have the same worries this spring.
"It's a nice feeling to know you probably have a backup tackle and a backup guard," he told ESPN.com.
Four starters are back, so the real battle this spring is to replace Fragel at that right-tackle spot. Right now, sophomores
Chase Farris
and
Taylor Decker
are splitting a lot of first-team reps there, with
Darryl Baldwin
also in the mix.
"Those two guys have a lot of ability," Warriner said. "The more comfortable they get and the more confidence they get, one of them could take off -- or maybe both will and we'll play by committee. But they have high-level talent and all the traits of really good linemen."
Head coach Urban Meyer said Tuesday that redshirt freshman
Pat Elflein
has been one of the surprises of the spring, and he could add depth at guard or tackle. Warriner also said
Jacoby Boren
is making strides at center. While the team suffered a setback when reserve
Antonio Underwood
tore his anterior cruciate ligament late last week, the Buckeyes should still be able to rotate more guys on the offensive line this fall.
"If the next man in can play a certain amount but the level doesn't drop off enough to hurt our team, we might do that just to keep the unit fresh and hopefully be smart throughout the season," Warriner said.
But Ohio State will want its veterans on the field as much as possible. Mewhort, whom ESPN.com voted as a first-team All-Big Ten performer, has been hailed as one of the team's best leaders and anointed by Meyer as a possible replacement for Simon in that regard.
"He's what you want in terms of an attitude, of work ethic, of being a competitor," Warriner said. "When you're a first-year starter at a new position with a new coaching staff, sometimes you just worry about your own business, and that was him to some degree last year. But now, he's taking kind of a bigger role with his leadership on offense and even the team as a whole."
Warriner said guards
Andrew Norwell
, a first All-Big Ten team honoree by the media last season, and
Marcus Hall
have made maybe the biggest improvements of anyone on the line this offseason. Along with Linsley, whom Warriner said has "elite-level strength," the Buckeyes have the potential to field four all-conference type linemen.
"We think we possibly could, if they play up to their ability level," he said. "The good thing about the group is, they don't really care about that. If we won the Big Ten and none of them made all-conference, they wouldn't care a bit. That's the kind of unselfish players they are."
Warriner said he has challenged the group to help lead a top-five national offensive attack this season. Ohio State led the Big Ten in scoring last year (37.2 points per game) and finished second in rushing yards per game (242.3). The offensive line led the way, though players like Miller and Hall sure helped.
"We know the quality of our skill guys can erase some things and create some big plays," Warriner said. "If you block it for six, you might get 16. At some places, if you block it for six, that's what they'll get -- six yards."
Everything works in concert. But don't forget the Buckeyes' offensive line when talking about reasons for the team's success.
February, 19, 2013
Feb 19
9:00
AM ET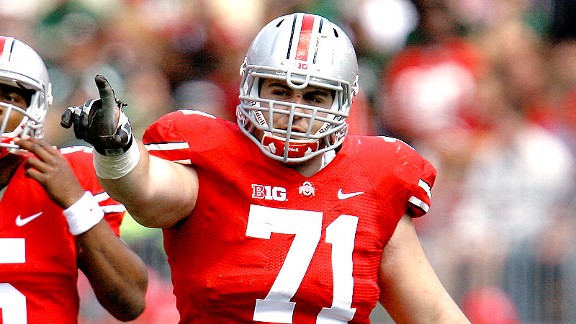 Jim Owens/Icon SMICorey Linsley is expected to continue to add stability on the offensive line.
With national signing day in the books, the next big date on the Ohio State calendar as it continues working toward an encore for an undefeated season in 2013 is spring practice. Before those workouts begin, BuckeyeNation will take a look at each position to see where the roster is at -- and where it's going.
INTERIOR OFFENSIVE LINEMEN
Who's back: The central nervous system of the offense returns completely intact, starting with the anchor who will be looking to build off a banner year in the middle of everything. Corey Linsley's transition to center went perhaps more smoothly than anybody at Ohio State could have expected, and in addition to limiting himself to a handful of errant snaps, his ability to handle the mental load was critical for an attack that wants to push the tempo. With both guards returning on either side of him with Marcus Hall and Andrew Norwell also trying to take their games to a higher level, the Buckeyes are loaded in important spots up front and capable of putting up even more points than they did in Urban Meyer's first year with the program.
February, 10, 2013
Feb 10
3:38
PM ET
Ohio State coach Urban Meyer comes into the 2014 recruiting season knowing he wants to shore up an offensive line he missed out on in 2013.
Check.
As always, he wants more defensive linemen.
Check.
He also wants a speed running back to add to his spread offense.
Check, check and check.
To continue reading this article you must be an Insider
January, 22, 2013
Jan 22
10:00
AM ET
If
Christopher Worley
signs with Ohio State in two weeks and junior pledge
Marcelys Jones
does the same on Feb. 5, 2014, they'll become the 19th and 20th players from Cleveland Glenville to do so since 2002.
It's a talented pipeline that really began to gush with quarterback
Troy Smith
. It includes a few misses, but many hits as
Ted Ginn
Jr. and
Donte Whitner
will represent the city and Ohio State in Super Bowl XLVII on Feb. 3 as members of the
San Francisco 49ers
.
Smith, of course, was the 2006 Heisman Trophy winner. Here's a look at the 18 Glenville Tarblooders who have signed with the Buckeyes since 2002:
To continue reading this article you must be an Insider
December, 12, 2012
12/12/12
2:55
PM ET
COLUMBUS, Ohio -- There's a long way to go and plenty to do before the NFL draft actually arrives.
But based on the early projections,
Johnathan Hankins
won't have to wait long to hear his name called.
ESPN.com's Todd McShay unveiled his first
mock draft
on Wednesday, and the Ohio State defensive tackle figured prominently in it just two days after officially declaring his intentions to forego his senior season. At this point, McShay is forecasting that the massive interior presence up front will come off the board with pick No. 5 overall, a slot that currently would send him to the Carolina Panthers.
Hankins' status with fellow ESPN.com draft expect Mel Kiper dipped a bit late in the season, and his latest rankings have the Ohio State product at No. 17 among all players eligible for selection.
Other notes from Kiper's latest analysis of Buckeyes:
Zach Boren currently rates at No. 2 among senior fullbacks, though his stock is rising after finishing the season at linebacker.
Offensive lineman Marcus Hall is evaluated as the fifth-best junior at guard.
Hankins is currently ranked behind Missouri's Sheldon Richardson, leaving him at No. 2 among juniors at defensive tackle.
December, 12, 2012
12/12/12
11:00
AM ET
BuckeyeNation counts down the five biggest moments on the march to perfection for Ohio State, from the biggest games and plays to the locker room speeches and celebrations -- continuing today with one of the most unforgettable short-yardage plays ever.
No. 3: Braxton Miller calls his own number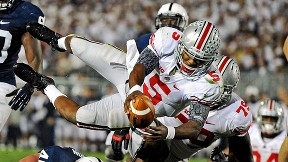 Patrick Smith/Getty ImagesBraxton Miller's deft manuevering on a 1-yard touchdown run in the third quarter gave the Buckeyes the push they needed to topple Penn State on Oct. 27.
The in-play audible.
The other-worldly, step-back juke.
The change of direction in midair to slip between two tackles.
If there was any doubt left about the excitement Braxton Miller can provide from anywhere on the field, he erased it once and for all Oct. 27 with perhaps the most exhilarating 1-yard touchdown anybody could ever produce. And if the sophomore quarterback can turn a gain of three feet into an unforgettable moment and a score that effectively signaled the end of Penn State's chances of handing the Buckeyes their first loss, it's no wonder his highlight reel had so many entries this season.
"You just don't see athletes do that, period, let alone the quarterback," wide receiver
Jake Stoneburner
said after the game. "I don't know how to put that play into words."
The box score certainly doesn't do Miller's artistry justice either, officially marking it down simply: "Miller, Braxton 1 yd run."
He actually retreated as far as the 7-yard line after surprising
Carlos Hyde
by pulling the football out of his stomach on a play that wasn't meant to have an option component to it, an improvisation that saved the running back from lost yardage and set the table for Miller's fireworks after that.
No fewer than four Nittany Lions had a shot to bring Miller down after he decided to call his own number. With the game still tight, stuffing the Buckeyes in that situation and perhaps forcing a field goal would have kept it a one-score contest for the host Nittany Lions.
Instead, the Buckeyes were energized after a lackluster first half. The defense forced a quick three-and-out to give Miller the ball back again -- and he delivered a more routine 1-yard touchdown on the ensuing drive to stretch the lead and keep the dream of an unbeaten season alive.
"He just does amazing stuff," guard
Marcus Hall
said then. "He's like a player you'd create in a video game."
One wild yard at a time, Miller helped send the entire team onto the next level of perfection.
December, 3, 2012
12/03/12
11:00
AM ET
COLUMBUS, Ohio -- A position-by-position look at a perfect season for Ohio State, continuing today by rewinding to look at the big guys up front who opened huge holes for the rushing attack and helped keep
Braxton Miller
upright for the passing game.
OFFENSIVE LINE
Most valuable player: The Buckeyes were blessed with good health across the line all season, which gave all five starters every possible chance to build a case as the standout performer for the unit. It might not even be fair to single out just one, but considering the uncertainty at right tackle dating to spring practice and the way Reid Fragel developed to not only lock down a job but excel at it, the senior gets the edge for providing the final puzzle piece in the trenches. Jack Mewhort was a monster on the other side of the line and Corey Linsley was reliable as the anchor at center, but Fragel's transition from tight end was absolutely critical for the high-powered spread offense.
By the numbers: If Ohio State could find the red zone, odds were good the offensive line was going to clear the way for a touchdown on the ground. The Buckeyes were relentless when getting close to the end zone on the ground, trusting the big guys to combine with either Carlos Hyde as the battering ram or Miller as the burner on the edge to beat defenses down with hard-nosed football. In all, the linemen helped deliver 30 red-zone touchdowns for an offense that scored 88 percent of the time it got inside an opponent's 20-yard line.
To continue reading this article you must be an Insider
October, 1, 2012
10/01/12
5:12
PM ET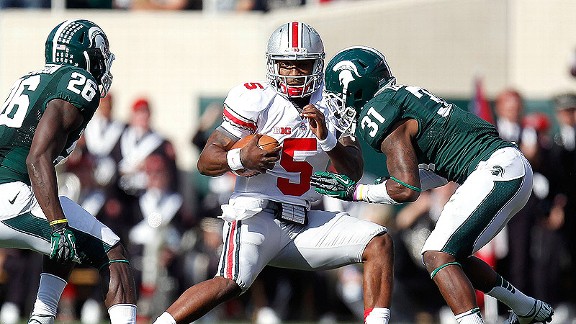 Gregory Shamus/Getty ImagesAfter logging 23 carries and taking several shots from Michigan State defenders on Saturday, Urban Meyer is looking to reduce the wear and tear on sophomore QB Braxton Miller in practice this week.
COLUMBUS, Ohio -- The critical number wasn't how many times
Braxton Miller
got hit.
The Ohio State quarterback was bound to be sore after again being called on so often to rush the ball, and some abuse comes with the territory after 23 attempts.
But there were a few more shots the sophomore could have avoided in the road win on Saturday over Michigan State, and that's the tally Urban Meyer had in mind as the Buckeyes try to keep the centerpiece of their offense healthy ahead of another top-25 test this week against Nebraska.
"Eight times," Meyer said during his Monday press conference. "We went through that, eight times he shouldn't have got hit. He's scrambling around, throw the ball away, find the receiver or give the ball.
"We're going to go try to win a game, and Braxton is our quarterback and our best player, best guy with the ball in his hands. [Health] is always going to be a concern any time you have a quarterback involved. But he's a gifted guy and he's got to help us win."