Ohio State Buckeyes:

Luke Roberts
March, 3, 2014
3/03/14
4:00
PM ET
COLUMBUS, Ohio -- Just as soon as Ohio State took a big step forward in replenishing its depth at linebacker, it once again appears to have followed it up with one in the opposite direction.
The school confirmed on Monday that former four-star and ESPN 300 recruit
Mike Mitchell
is no longer practicing with the team and won't participate in the camp that opens Tuesday, another blow to the depth at the thinnest position on the roster. ElevenWarriors.com, citing sources, reported previously that Mitchell is planning to transfer at the end of the spring semester to be closer to his family and ailing father.
His departure would put more pressure on a group of four new recruits and two returning starters for a unit that has clearly not lived up to coach Urban Meyer's expectations over the last two years and has been plagued by attrition.
The news release from the program doesn't address his future plans, but Mitchell's departure would make him the fifth linebacker to leave the program with eligibility remaining since the end of the 2012 season, ramping up pressure on the incoming freshmen and rising sophomore
Trey Johnson
to fill the void left by all those missing bodies.
"The emphasis is on linebacker," Meyer said last month. "There have been far too many mistakes in either lack of development or whatever, and it's just not where we need to be."
Mitchell was supposed to help address that when he chose to leave his home state of Texas last year and join the Buckeyes, but he ended up redshirting last season despite the lack of many options at the position.
The need to find more contributors in the middle of the defense only increased when star outside linebacker
Ryan Shazier
elected to skip his senior season and enter the NFL draft. And while veterans
Joshua Perry
and
Curtis Grant
will return for the Buckeyes, at a minimum they'll need to identify one new starter and could wind up counting on the newcomers to fill out the two-deep given the accumulating losses concentrated at linebacker.
Mitchell would join
David Perkins
, Luke Roberts and Conner Crowell (injury) as potential candidates for playing time who have left the program since the end of the 2012 campaign, stretching Ohio State thin and contributing to the uneven play of a defense that struggled at the end of last season during consecutive losses to Michigan State and Clemson.
"There's four linebackers that have been recruited,
Raekwon McMillan
,
Sam Hubbard
,
Kyle Berger
and
Dante Booker
, four guys I'm putting pressure on," Meyer said. "[Co-defensive coordinator Luke] Fickell and myself have to get them ready for next year. They have to play for us, in addition to the players we have on our roster already.
"So just so everybody knows, there's no redshirt plans for those players at all. We thought about that during the recruiting process."
It's now more clear than ever that Ohio State won't have much time to wait for those young guys to develop.
July, 15, 2013
7/15/13
10:15
AM ET
As the recruiting class rounds the halfway point in its cycle, Ohio State certainly has done its part in strengthening weaknesses and shoring up depth issues in the Class of 2014.
With four starters gone after this season on the offensive line, the trenches were a priority as were the linebackers. That became even more a factor after linebackers
Luke Roberts
and
David Perkins
transferred.
Under NCAA guidelines, the Buckeyes essentially have two remaining scholarships to fill, but they aren't recruiting that way. Through transfers, medical scholarships and the like it appears Ohio State's class will be a decent size once again and will far exceed the 16 spots it currently is allowed to have.
Remember, the Buckeyes will have until August of 2014 to get to the allotted 82 scholarships. With that in mind, here's an idea of who might be left to grab:
Offensive line
July, 8, 2013
7/08/13
10:00
AM ET
A week after Ohio State increased its 2014 recruiting class by four the Buckeyes took a little time off from the commitment game. But that didn't mean pledges and recruits didn't have a lot to say in what -- as always -- was a busy week as Ohio State continues to mold itself into a solid team.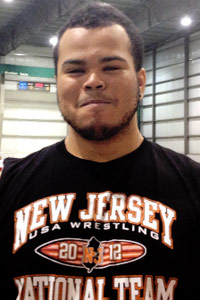 Josh Moyer/ESPNJermaine Eluemunor delayed his decision between Ohio State, UCLA and Arkansas, which was scheduled for this past Friday.
Just two days after the exit of
Luke Roberts
, who transferred to Harvard, Ohio State had to look into
replacing yet another linebacker
. Some of the names we looked at on Friday were familiar, while some were new. Some are incredible long shots. On another front,
Jermaine Eluemunor
, who was rumored in wanting to finalize a decision on Friday, decided to
hold off
. The UCLA pledge plans to make a trip later this month to Arkansas before making a final commitment.
On Wednesday, news turned to the hardwood as top 10 recruit
Myles Turner
gave Ohio State some
good news
. The ESPN 100 power forward/center broke down a top 10 and the Buckeyes are in it. Wednesday also saw big receiving target
Austin Roberts
find himself in the
who's who
from The Opening after another strong performance.
ESPN 300 defensive end
Solomon Thomas
spoke about his recent
Ohio State visit
on Tuesday, while ESPN 300 offensive tackle
Demetrius Knox
heard about the Buckeyes from
virtually every commit
while he was in Oregon. Some great news in the wide receiving front came when ESPN 300 standout
Johnnie Dixon
put Ohio State in his
top two
along with Miami (Fla.) after a recent visit to Columbus, Ohio.
On Monday, wide receiver
Christian Kirk
said he'd probably schedule
a visit
to the Buckeyes in the next few weeks. Could that mean an appearance at the Friday Night Lights camp on July 26? Stay tuned. Star pledge
Damon Webb
looked to
join fronts
with other Buckeyes at The Opening, while ESPN 300 safety
Jamal Adams
broke down a
top six
that included Ohio State. Speaking of the Opening, big news came out on Monday when new pledge
Terry McLaurin
finished
second
in the SPARQ national championship. Nothing much
has changed
with ESPN 300 linebacker
Raekwon McMillan
. He's still got Ohio State at the top and is coming to Friday Night Lights at the
end of the month
.
July, 5, 2013
7/05/13
2:39
PM ET
With
Luke Roberts
following
David Perkins
out the door as a transfer, the linebacker depth chart at Ohio State became even thinner.
It also opened up another scholarship for Ohio State in the Class of 2014, should the Buckeyes choose to use it that way.
To continue reading this article you must be an Insider
July, 2, 2013
7/02/13
9:32
PM ET
COLUMBUS, Ohio -- The depth was already dwindling.
Now the group of linebackers signed in Urban Meyer's first class to help restock Ohio State's cupboard is starting to look a bit empty as well.
To continue reading this article you must be an Insider
March, 4, 2013
3/04/13
7:15
PM ET
It wasn't your typical unofficial visit. Then again, it wasn't supposed to be.
Outside linebacker
Kyle Berger
(Cleveland/St. Ignatius), who has blown up on the recruiting scene of late, took a trip to Columbus, Ohio on Saturday to see the other side of Ohio State.
To continue reading this article you must be an Insider
August, 8, 2012
8/08/12
10:06
AM ET
Ultimately the goal is to find a rotation of six guys.
For now, Luke Fickell is just making sure he's got half of that.
The Ohio State defensive coordinator has a depth chart to work with and seemingly enough bodies to fill it out at linebacker. But at least after three practices in training camp, Fickell clearly isn't ready to lock the Buckeyes into positions quite yet.
"You know what, we don't know that we truly have three starters yet, let alone have depth," Fickell said after practice on Tuesday. "That's my biggest concern.
"Yes, we've got to develop depth and I'm looking for those six guys that you can lay your head on the pillow at night and say, 'They're going to give everything they've got. Football is that important to them, they're going to figure out a way to be successful.'"
The line and secondary probably aren't going to keep Fickell up too often this month, but the middle of the defense figures to give him plenty to think about ahead of the opener against Miami (Ohio) on Sept. 1.
Fickell has a veteran presence at one outside spot in veteran
Etienne Sabino
. The Buckeyes have an emerging sophomore in
Ryan Shazier
on the other side who comes into this season perhaps still riding the momentum he built at the end of last year. And
Curtis Grant
offers the kind of dedication to the game that Fickell indicated wouldn't cause him to lose sleep.
But after that, there might be some questions that need answering and possibly some openings for playing time that could keep the Buckeyes busy.
"It definitely leaves the door open for young guys," Fickell said. "I think that's what those guys that came in are excited about, and it creates some excitement. The key is trying to keep them motivated, and it also pushes those guys that might have that opportunity to be in that position, too."
At least during the third workout of camp in the late-afternoon heat, those second-team chances seemed to be going to players who had at least been through a spring practice with the program. During one team period in particular, redshirt freshman Conner Crowell was flanked by true freshmen
Joshua Perry
and
Luke Roberts
-- a pair of early enrollees.
But there's at least one challenger that is consistently drawing praise in the early stages of camp, with true freshman
Jamal Marcus
again getting singled out as a potential early factor at linebacker thanks to his raw ability.
"There's a guy that when you ask what's very important, what coach (Urban) Meyer says is a core value, it's going from Point A to Point B very, very, very fast," Fickell said. "Jamal Marcus does that. At times you have to try to control yourself as you go from Point A to Point B.
"But I can assure you I'd rather have to teach a guy how to control himself rather than teach him how to go really hard."
That problem, at least, probably wouldn't contribute to many restless evenings for Fickell. For now, it seems he's still got some things on his mind.
Double down:
On the scale between 1 and 10, the Buckeyes still have plenty of room for improvement.
After spring practice, offensive coordinator Tom Herman would have rated Ohio State's ability to throw the ball as a 2.
Starting camp after a productive offseason, he doubled it on Tuesday to a 4.
And while that surely isn't where Herman might like his attack to be and definitely isn't where he's planning on it ending up, that doesn't mean he's not pleased with what he's seeing early in camp.
"Lightyears, lightyears, lightyears, lightyears better," Herman said. "We actually can throw and catch a football.
"We're still not real good, but we're a lot better than we were at the end of the spring. It's a testament to our guys and how much they worked in the offseason."
The credit apparently goes to both the guys throwing and those catching, though the former has impressed quickly this month with improved footwork from
Braxton Miller
.
The sophomore quarterback flashed a strong arm again on Tuesday, along with an ability to fit the ball in tight spots and nice accuracy while throwing on the move. But it's not just the technical issues Miller has worked on that has helped him bump up that rating Herman gave the passing game so far.
"I think he's a lot more mentally confident and you can see a little bounce in his step," Herman said. "He's certainly still got a long ways to go, but you can tell he studied in the offseason and he's worked with his wideouts in the offseason and that's paid dividends here as we've started camp."
On the move:
Corey "Philly" Brown
might be the leading available candidate to fill the hybrid pivot position in Meyer's version of the spread offense.
But if the junior receiver is going to do it in the absence of
Jordan Hall
, apparently nobody has told Brown about it yet.
"Hopefully, I would love to do that," Brown said. "You know, obviously having Jordan out is bad, but hopefully I can step in and fill in for him.
"I did play running back in high school, but if the coaches want me to do it, I'll do it. It doesn't really matter to me."
The position requires versatility as both a rusher and a receiver, skills that Brown could bring to the table for the Buckeyes until Hall returns from the cut tendon in his right foot that is expected to keep him out for at least two games.
Brown flashed his speed and elusiveness while lined up at receiver on Tuesday, taking one short crossing pattern and turning it up field for a decent gain before being touched. He's also been working to establish himself as a reliable target for Miller by hanging on to the football, and where he lines up doesn't really make any difference there.
"I'm just trying to learn everything," Brown said. "Coach Meyer wants me to learn all the wideout spots, there's no set position right now. Everybody is just working to become a starter, and it's pretty much even for everybody."
Ohio State Quarterback Competition
BIG TEN SCOREBOARD
Thursday, 9/3
Friday, 9/4
Saturday, 9/5
Sunday, 9/6
Monday, 9/7