Ohio State Buckeyes:

Kyle Dodson
August, 7, 2013
Aug 7
4:10
PM ET
COLUMBUS, Ohio -- Notes, quotes and observations from Wednesday's rare open practice at Ohio State's training camp.
FRESHMAN FLASH
Even while stoking the hype machine one day earlier by talking about his chances to play right away, coach Urban Meyer called
Dontre Wilson
"not really a receiver."
The true freshman did a pretty good impression with the assembled media watching on Wednesday, putting on a show as a target in the passing game and making it quite clear why the Buckeyes are clearing room for him in the playbook.
Wilson's speed on the track was well documented when he signed with the program in February, and he is certainly a blur in shoulder pads and a helmet. But it was his willingness to make quick, decisive cuts up field and then pull away from defenders that was perhaps the most impressive part of the practice performance, though his reliable hands certainly stood out, too. Whether beating defenders deep on double-move routes or simply jetting through the secondary after a relatively simple out pattern, Wilson was an absolute handful throughout the morning and finished it by lining up in the slot with the first-team offense in a scrimmage setting.
"Dontre, he's a special player," senior safety
Christian Bryant
said. "Right now I feel like he has a lot of attributes he can bring to the team, one of those things being one of those elusive guys out there."
QUARTERBACK CHECK
The progress made as a leader has generated the most attention early in camp, but the technical strides as a passer and the pinpoint accuracy
Braxton Miller
showed in another solid workout are much easier to gauge.
The junior quarterback was sharp from start to finish, fitting throws into tight windows, getting the ball out quickly thanks to improved recognition of the defense and delivering it to receivers with plenty of velocity to spare as the aerial attack continues to show signs of becoming as dangerous as Meyer would like it to be.
Miller's ability to communicate with the rest of the offense and his willingness to correct teammates' mistakes shouldn't be overlooked, either. But adding to his repertoire in the throwing game could really send his statistics to another level and produce one of the most explosive offenses in Ohio State history.
"Just his whole demeanor, his relationship with the receivers, I don't want to say nonexistent, but I just didn't see that," Meyer said. "He really didn't know what he was doing, and it's hard to lead -- part of being the leader is setting the standard and leading by example. He wasn't leading by example, because he really didn't know what he was doing.
"I just see a much better presence about him."
ADOLPHUS AMBUSH
The matchup hardly seemed fair even before the snap, and it only took a couple seconds for
Adolphus Washington
to prove it once the play finally started.
The sophomore defensive end was easily the most disruptive force lining up on the line Wednesday morning, and when second-team tackle
Kyle Dodson
faced off with him in the red zone, Washington made quick work of him and a running back who tried to chip him as he bulled around the left edge for an easy sack.
Washington, too, showed a willingness despite his young age to raise his voice to teammates and offer tips to the freshmen during drills early in the workout, and he appears to be well ahead of pace in both his development as a pass-rusher and potential leader for the linemen -- a group that is replacing all four starters from a year ago.
HEALTH NUTS
The rigors of camp make it unusual to escape without injury, and the Buckeyes didn't even make it through four days without some issues popping up.
True freshman defensive back
Jayme Thompson
left practice to have his ankle examined, and the Toledo Blade confirmed through the his father that the bone was broken and he'll be out for three months.
Devan Bogard
's return from a season-ending injury last year has apparently been slowed by a knee strain, and the Buckeyes still don't have
Corey Linsley
back to full speed at center following his foot surgery in the offseason.
But the biggest scare for Ohio State might have been the apparent ankle injury for senior left guard
Andrew Norwell
, an issue that kept him off the field for the latter stages of the workout and pressed redshirt freshman
Pat Elflein
into the rotation to replace the veteran. Norwell didn't look to be seriously harmed, but at one of the two positions along with linebacker that Meyer is most worried about the lack of depth, the Buckeyes will obviously err on the side of caution to make sure he's fully ready to go before putting him back on the field again.
June, 11, 2013
Jun 11
10:00
AM ET
Some coaches come out in flurry. Some like to wait and close the door behind everyone else.
While Michigan and Ohio State go at the recruiting process differently -- or more to the point, Brady Hoke and Urban Meyer -- both strategies work.
Hoke
has the No. 1 2014 recruiting class
right now. Michigan held the same distinction at this point last year before falling to No. 6. And no one closes quite like Meyer.
To continue reading this article you must be an Insider
March, 1, 2013
Mar 1
10:00
AM ET
It's time to dip into the BuckeyeNation recruiting mailbag and answer some of your questions.
We'll try to keep to five questions a week to give everyone a chance to get their answers.
We encourage you to send your questions by Twitter at @bbournival, e-mail at brad.bournival.espn@gmail.com or by posting a question in
the Horseshoe Pit forum
.
Here's the latest installment.
To continue reading this article you must be an Insider
February, 18, 2013
Feb 18
9:00
AM ET
With national signing day in the books, the next big date on the Ohio State calendar as it continues working toward an encore for an undefeated season in 2013 is spring practice. Before those workouts begin, BuckeyeNation will take a look at each position to see where the roster is at -- and where it's going.
[+] Enlarge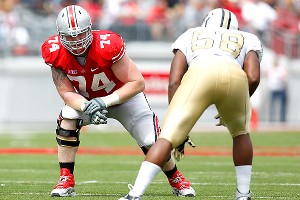 Kirk Irwin/Getty ImagesLeft tackle Jack Mewhort is part of a unit Urban Meyer says is much improved.
OFFENSIVE TACKLES
Who's back: The line as a whole returns almost entirely in one piece, but there is one huge cog missing heading into the second season of the spread offense at Ohio State. Jack Mewhort blossomed into one of the nastiest, stoutest blockers in the Big Ten last year, and the Buckeyes are expecting even more from him both on the field and off as a senior. They'll need that production and stability from him on the left side with Reid Fragel out of eligibility and heading to the NFL after his banner campaign at right tackle, transforming himself from a reserve tight end into one of the most reliable members of the offensive front. After dueling with Fragel nearly all the way through training camp in August, Taylor Decker is primed to take over the starting duties opposite Mewhort as the Buckeyes try to take the offense to an even higher level.

New face: Despite finishing with the No.3 recruiting class in the country, the Buckeyes didn't land as many signatures from linemen as they wanted, which clearly seemed to bother Urban Meyer as he looks toward the future and sees four seniors who will be gone after next season. That experience is obviously a huge blessing for Ohio State at the moment, but neither Evan Lisle nor Tim Gardner have enrolled yet and won't be able to get a jump on their development in the trenches until the fall.

Projected depth chart: Mewhort will anchor the line at left tackle again, with Daryl Baldwin likely hanging on to the backup job he held last season. Decker is poised to take over the starting gig at right tackle, with competition for the second-team spot open for guys like Kyle Dodson, Chase Farris or Antonio Underwood as they try to crack the rotation.

Numbers game: There might not have been enough depth to ever let the coaching staff exhale, but the Buckeyes never had to find out what would happen if one of the starters went down with a significant injury. The first-team line was the most stable group on the team during the perfect season, combining to make every start and provide invaluable continuity for a dominant rushing attack and the highest-scoring offense in the Big Ten.

One to watch: The flipping of Dodson from Wisconsin was cause for a huge celebration for the Buckeyes on signing day a year ago, but a shoulder injury kept him on the shelf during his first year with the team and ended up forcing him to redshirt. Given time to fully recover and dig into the conditioning program, the 6-foot-5, 315-pound athlete should be able to start showing what all the fuss was about. Decker has the edge going into camp after battling Fragel for playing time a year ago, but now it's Dodson's turn to dial up the pressure and fight for work.

He said it: "Jack Mewhort is already there, he's already a leader. We're asking him to take over a position that maybe a [John] Simon took, the overall heart. I love him, he's a tough guy." -- Meyer in January
February, 1, 2013
Feb 1
10:00
AM ET
Ohio State heads into the weekend still wanting a wide receiver, craving an offensive lineman and praying
Vonn Bell
(Rossville, Ga./Ridgeland) falls into its lap.
While the Buckeyes could get all three or strike out and be done with the class as it sits now, that remains to be seen.
That said a late-day snare -- even as late as national signing day -- isn't out of the question.
Last year, Ohio State was able to score three commitments at the last second to shore up what became the sixth-ranked class in the nation.
To continue reading this article you must be an Insider
January, 14, 2013
Jan 14
10:05
AM ET
Ohio State's linebacker situation regarding the class of 2013 is no longer an issue. The defensive backfield received a nice pickup as well from the class of 2014.
When outside linebacker
Christopher Worley
gave his yes
to the school on Friday during an official visit, and cornerback
Damon Webb
did the same
Sunday on an unofficial one, many questions were answered.
Vonn Bell
didn't walk away with a commitment, but the
news coming out of Columbus, Ohio
wasn't bad as the ESPN 150 safety really liked his visit and has the Buckeyes still in the mix.
To continue reading this article you must be an Insider
January, 13, 2013
Jan 13
7:51
PM ET
Sunday's official visit to Ohio State ended without a commitment from
Shelton Gibson
(Cleveland Heights, Ohio/Cleveland Heights).
Are the Buckeyes still in the mix?
To continue reading this article you must be an Insider
January, 9, 2013
Jan 9
10:00
AM ET
Mariano Rivera, save the split-finger fastball. The same goes for you Rollie Fingers, with your almost unhittable slider. The best closer in the recruiting business might indeed be Ohio State coach Urban Meyer.
On the job 13 1/2 months with the Buckeyes, the two-time national champion's early returns show just how strong he is at slamming the door shut on a class.
To continue reading this article you must be an Insider
December, 28, 2012
12/28/12
10:50
AM ET
Heading into the new year and offseason workouts, BuckeyeNation will look at some holes left by the departing Ohio State veterans and potential candidates to fill them.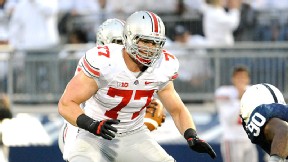 AP Photo/Chris BernacchiConverting from tight end to right tackle, Reid Fragel was a big key to the Buckeyes' running game.
RIGHT TACKLE
Who: Ohio State was unsettled even midway through training camp as it looked to fill the last available spot on the offensive line, but it clearly found a winner after Reid Fragel nudged ahead in the position battle and never looked back. The converted tight end bulked up his body and soaked up the technique at right tackle, and his nasty blocking in the run game and reliable work in protection provided an invaluable boost for the spread offense in Urban Meyer's first season. It stands to reason that Fragel could have been even more special as a lineman if he'd been able to spend more than one year there, but that development will now come after a likely selection in the NFL draft this spring.

By the numbers: The Buckeyes featured a power rushing attack before Meyer arrived, but he took it to an even higher level with his spread offense thanks to the physical blocking he got from all five spots up front -- including the somewhat surprising work done by Fragel sealing the edge or pancaking linebackers at the second level. Ohio State averaged 191 yards per game on the ground the season before Meyer arrived, and despite his spread reputation, he backed up his repeated claims that a rushing attack really makes it hum by bumping that number up to 242 behind Fragel and his big buddies.

Job description: The Buckeyes will be returning four experienced starters on the line, so the new member is going to have plenty of assistance as he breaks into the rotation. With Corey Linsley and Jack Mewhort back, for example, Ohio State certainly isn't going to need somebody to come in and try to be a leader. What it will need is an athletic player capable of keeping Braxton Miller clean in the pocket and displaying enough mobility and strength to keep up with a rushing attack that will essentially return completely intact. The only thing missing is a right tackle, and the spotlight will be on the guy filling Fragel's big shoes.

Top candidates: The job was nearly Taylor Decker's in training camp, though the true freshman ultimately came up short in his tight battle with the veteran, physically-developed Fragel. The edge Decker did have back in August was that he's a natural lineman who was more technically sound as a blocker, and with another offseason to build his body, the future is bright for the rising sophomore heading into spring practice and a training camp where he's likely to be the clear favorite to join the first unit.

One to watch: The Buckeyes kept Kyle Dodson stashed away on the bench for a season after his high-profile recruitment and decision to sign with Meyer a year ago, but he'll have a chance to show he's ready to put his considerable athleticism and talent on display after being slowed by a shoulder surgery that set back his growth initially. Decker has a head start, of course, but a healthy and energized Dodson should at least be able to provide some depth up front.
November, 25, 2012
11/25/12
11:00
AM ET
Shelton Gibson
(Cleveland Heights, Ohio/Cleveland Heights) indicated that he will probably wait until signing day to commit to a school.
The ESPN 300 wide receiver also made it clear Ohio State is way out in the lead of his list of suitors after taking an unofficial visit on Saturday.
The fact he was the first Buckeyes target to jump the fence and storm the field following Ohio State's 26-21 win over Michigan was a telling sign about just how much the 5-foot-11, 173-pound senior likes OSU. He ran on the artificial turf to be part of the celebration as Ohio State finished its undefeated season under first-year coach Urban Meyer.
To continue reading this article you must be an Insider
November, 21, 2012
11/21/12
11:00
AM ET
COLUMBUS, Ohio -- One of Urban Meyer's keys to victory isn't that difficult to figure out. While he is having almost unprecedented success as a first-year coach at Ohio State -- there have only been two other coaches to start with 11 consecutive wins at the school -- it all begins in the recruiting world.
To continue reading this article you must be an Insider
November, 15, 2012
11/15/12
9:00
AM ET
In the recruiting world, they call it flipping when one school has a recruit under its wing but by signing day that athlete commits to a different university.
As the days dwindle until national signing day, attention has turned to which players Urban Meyer and Co. might roll their way in an all-important 2013 recruiting class for Ohio State.
Some look at
Tony Stevens
(Orlando, Fla./Evans) or
Trey Johnson
(Lawrenceville, Ga./Central Gwinnett). However, if odds were set, the most likely candidate is one most fans already know about.
Gareon Conley
(Massillon, Ohio/Washington) has made it no secret that he wants to take visits -- whether official or unofficial -- before giving Michigan his signature.
A longtime Wolverine pledge, the cornerback has said he chose Michigan because no other big-name schools were really after him.
The Wolverines were the only visit Conley took, but now that he has interest from schools including Oregon and Ohio State he wants to see what they're all about, even if that means he is no longer committed to Michigan.
The Ducks have shown strong interest, while Ohio State has extended an offer.
September, 16, 2012
9/16/12
2:30
PM ET
Shelton Gibson
(Cleveland Heights, Ohio/Cleveland Heights) isn't hiding his love for Ohio State.
After saying the Buckeyes were his top school at the beginning of the month, the ESPN 300 wide receiver showed he's serious with his itinerary for the upcoming months.
Gibson didn't catch Ohio State's 35-28 win over Cal on Saturday, but was in Columbus shortly afterward and spent time with former teammate
Kyle Dodson
.
To continue reading this article you must be an Insider
August, 7, 2012
8/07/12
4:51
PM ET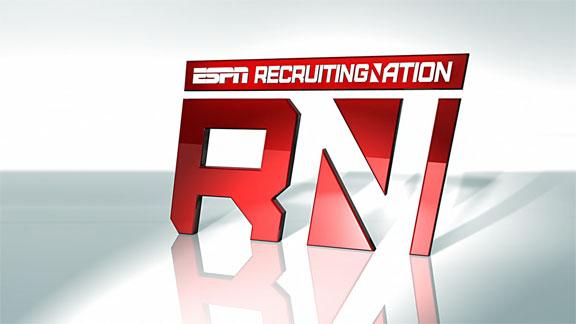 It's a big name and maybe an even bigger long shot, but Ohio State will take the chance anyway when
Daniel McMillian
(Jacksonville, Fla./First Coast) makes an official visit this fall.
While the exact date hasn't been set and McMillian says he's still committed to Florida, he hasn't shied away from coming to watch the coach that won two national championships in his home state.
To continue reading this article you must be an Insider
Ohio State Class Moves Into Top 5
BIG TEN SCOREBOARD
Saturday, 12/21
Monday, 12/23
Tuesday, 12/24
Thursday, 12/26
Friday, 12/27
Saturday, 12/28
Monday, 12/30
Tuesday, 12/31
Wednesday, 1/1
Thursday, 1/2
Friday, 1/3
Saturday, 1/4
Sunday, 1/5
Monday, 1/6