Ohio State Buckeyes:

Josh Harris
November, 27, 2013
11/27/13
8:00
AM ET
COLUMBUS, Ohio -- The improvements were already obvious, but Urban Meyer had stopped just short of giving the highest praise he could to his quarterback.
Braxton Miller
had spent hours in the offseason working on his footwork. Based on the dramatic increase in his completion percentage, that time has clearly paid off for the Ohio State junior. An extra year with the playbook has provided much more familiarity with the scheme and where to deliver the football, and missteps have been fewer and further between with his reads in the passing game. And while he might never be the most vocal leader, there's been little to question about his impact in the huddle and on the field for the highest-scoring offense in the Big Ten and a team that hasn't lost a game in two years.
[+] Enlarge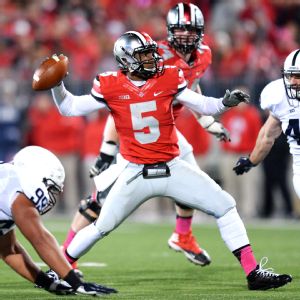 Jamie Sabau/Getty ImagesBraxton Miller's development and improved mechanics as a passer have grown this season.
But for all the statistical proof that was mounting to validate that Ohio State's plan for building Miller into a truly successful quarterback had worked, Meyer was still waiting for something more to make it official. He saw what he was waiting for last week as the Buckeyes cruised against Indiana, finally allowing Meyer to pay the ultimate compliment to the most important player on the field.
"I don't know that he played one of his best games, but he made a throw on third-and-17 -- it was his best play at quarterback since we've been here," Meyer said. "That is his best, and he knows it, I know it, [offensive coordinator] Tom Herman knows it. So his best play as a quarterback, I'm not saying the athlete that jumps around and lands on his head, those are just gifted, very gifted young men. But his best play at college football quarterback was third-and-17 on the right hash in snowy conditions where he completed a bender to
Jeff Heuerman
with pressure bearing down on him.
"He didn't panic out of the pocket. He stepped up, delivered the ball, and that's worth going back to watch. It was a fantastic play."
Miller has no shortage of those on his personal highlight reel, including some truly jaw-dropping passes into tight windows, clutch throws with the game on the line and certainly plenty of attempts that have turned into touchdowns.
And while Meyer has certainly pointed out some of those previous plays as part of the steps forward Miller has taken in his third season as a starter, many of them have come in much more ideal situations.
He still needs proper footwork and arm angles when the blocking is perfect, and he still must break down the defense and know the playbook to make the right decision with the football even when he has plenty of time to do it. But making the leap to meet Meyer's standard at the position requires using those fundamentals and that knowledge to deliver under pressure when not everything is set up perfectly for him.
And he's seen Miller do exactly that now, which puts him in an exclusive club.
"Josh Harris is a great quarterback we had at Bowling Green, we had the moment where he became a quarterback," Meyer said. "Alex Smith had a couple moments where it was like, 'We've got one.' Then same with Chris Leak and Tim Tebow and this guy. He's had a couple moments, but this is the best play I think he's had as a quarterback.
"That was his moment."
Miller had been building to it for a while now. All he needed was one more play to finally reach Meyer's loftiest standard.
October, 4, 2013
10/04/13
9:00
AM ET
COLUMBUS, Ohio -- The motivational techniques were working even then, regardless of how well they were nationally known.
The spread offense was putting up crazy numbers, despite the fact Bowling Green didn't settle on one starting quarterback until near the end of the season.
[+] Enlarge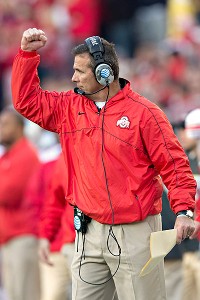 AP Photo/Cal Sport MediaUrban Meyer remembers clearly and fondly a win at Northwestern while at Bowling Green
And Urban Meyer was already coaching aggressively and unafraid to get a little creative with the game on the line, though that reputation was only just being established as he took his Falcons to Northwestern in mid-November 2001.
But the Meyer trademark was all over his first team, and in hindsight it's plain to see.
In spite of the conference affiliations and a late comeback, his quarterback didn't consider Bowling Green an underdog then and doesn't remember the win as an upset now. In just his second start in the spread offense, Josh Harris set a school record for total offense and the Falcons scored 43 points on the road. And perhaps most important of all, those last 2 points not only came after a gutsy decision to play for the win, Bowling Green scored them on a reverse to a converted wide receiver who had the option to throw and the outcome in his hands.
"Not only was it a huge game, but it was also an opponent that we, quote unquote, weren't supposed to beat," Harris said. "Even if they weren't a super name-brand [program], they were in the Big Ten and we were the little guys from the MAC.
"We went and put it down on them. It was definitely one of those defining moments of my career."
The dramatic victory also set the stage for Meyer's career, giving him the first of what would become many shining moments on the sideline and offering an early glimpse at his potential leading a program.
Now 12 years later, he's leading a different team to Northwestern under far different circumstances as the No. 4 Buckeyes hit the road as clear favorites in the Big Ten and a potential threat to win the national title. But even three programs and more than a decade removed from Bowling Green, the memories of his debut season and a signature win still come back easily.
"Coaches are weird ducks, man," Meyer said. "I don't know my address but I can tell you every play in that game.
"We had a sixhour bus ride, and we refused to leave the locker room for about two and a half hours. Those kids wouldn't leave, and I wouldn't leave with them. We were just crying and enjoying it."
There was a real possibility the tears of joy could have been for disappointment after trailing for nearly the entire game and facing long odds down 14 points in the final four minutes.
But Harris operated a pair of flawless hurry-up drives sandwiched around a Northwestern fumble, capping an outing with 402 yards passing with a short touchdown pass to pull within a point with 36 seconds to go. Meyer kept the offense on the field after that, dialed up a bit of trickery and trusted Cole Magner to make the right decision with the football as the outcome -- and Northwestern's chances to earn a bowl bid -- hung in the balance.
"What was unique about it was the guy whose hands he put the ball in," Harris said. "I mean, you're talking about a true freshman from Alaska, quarterback-turned-wide receiver. At the time he was probably 150 pounds, and we called a little reverse pass with an option to run, and I don't think he ever even thought about throwing the ball. He caught the pitch and just booked it for the pylon.
"It didn't end up being unique [for Meyer], but at the time it was still pretty unprecedented."
That first visit to Northwestern, though, did wind up helping set the standard for Meyer and his teams. Now he's returning to the scene of the crime, looking to add to his memory bank.
October, 22, 2012
10/22/12
2:21
PM ET
Ohio State coach Urban Meyer made it clear Monday: he's not going to change
Braxton Miller
.
"You let him be him," Meyer said.
It could result in more moments like the one late in the third quarter Saturday against Purdue, when Miller writhed in pain on the turf after being slammed on his neck. While no one hopes it results in another trip to the hospital, the quarterback's style of play as a runner keeps the ambulance team on alert.
Miller has taken fans' breath away with his dynamic running skills in Meyer's spread offense this season. He also has had Buckeye Nation holding its breath a few times.
It's hard to have one without the other, especially as Ohio State tries to develop more reliable offensive weapons around its best player. Meyer noted Monday that if other offensive players step up, Miller will have to do less, thereby reducing his injury risk. Interestingly enough, Ohio State got several out-of-nowhere contributions -- notably from wide receiver
Chris Fields
-- after Miller left Ohio Stadium in an ambulance.
[+] Enlarge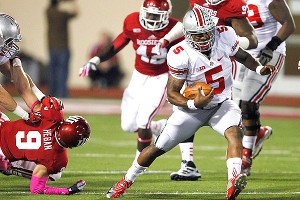 AP Photo/Sam RicheWhile Ohio State coach Urban Meyer is concerned with Braxton Miller taking heavy hits, he said he won't change the QB's aggressive running style.
Fortunately,
Miller is OK
. Meyer said the sophomore quarterback has a "very, very sore neck," and had a whiplash-like feeling at the time. But after all the tests came back negative, Miller will return to the practice field Tuesday. He's expected to start Saturday night against Penn State.
"We are trying to balance it," Meyer said. "We don't go crazy with him running the ball. At some point, though, you have to try to move the ball a little bit. We're very cognizant of that."
Meyer is still "very concerned" about Miller taking big shots, as the quarterback has in games against Michigan State, Nebraska and Purdue to name a few. Asked if the trend is symptomatic for quarterbacks in his offense, Meyer noted that former Florida star Tim Tebow took some shots, while Chris Leak, Alex Smith and Josh Harris did a better job of staying out of harm's way.
"He doesn't go down very easily, and he's a competitive guy," Meyer said of Miller. "The good thing is, he usually bounces right back up. This one was a tough one. … He just is a dynamic athlete. He's more difficult to bring down."
The Ohio State coaches can tell Miller to keep his well-being in mind -- to run out of bounds after getting a first down, maybe even to slide once in a while. They can limit him to 12-15 carries rather than 18-20. But it's not in Miller's nature to go down easily. Miller's natural ability to break tackles and find running room when none seems to be available also leads to fewer safe plays.
Asked if Miller's injury issues will have any impact on his play calling against Penn State, offensive coordinator Tom Herman said, "None. We've got to win the game. ... That won't factor into any of our decisions."
This is Ohio State's reality in 2012 as it tries to build scoring threats around Miller. For long stretches, he has been the Buckeyes' offense.
If that's the case going forward, there will be more breathtaking runs -- and more breath-holding hits. Bring your oxygen.
Ohio State Quarterback Competition
BIG TEN SCOREBOARD
Thursday, 9/3
Friday, 9/4
Saturday, 9/5
Sunday, 9/6
Monday, 9/7