Ohio State Buckeyes:

Johnny Manziel
November, 29, 2013
11/29/13
10:00
AM ET
You already know who's going to land in the Big Ten title game -- but I bet you don't know most of these crazy Big Ten facts and figures:
It should be a good battle in the trenches for The Game. No, seriously -- the Ohio State rush offense vs. Michigan rush defense should be a good matchup. The Wolverines have allowed just five rushes that have gained 20 or more yards this season, tied for the fifth fewest allowed among FBS teams. Ohio State's offense has had 32 such rushes -- which is tied for fifth most in the FBS.
Braxton Miller might be better in the pocket this season, but that doesn't mean he can't run anymore. In his first seven games this year, he attempted 25 zone-read rushes and gained 87 yards from them. In the last two contests, Miller has shown he can still get it done by rushing 15 times on such plays for 216 yards.
Wondering just how much Devin Gardner's performance has dropped off since last season? Well, besides the obvious stats, take a look at his performance on third downs. Last season, he had a QBR of 98.3 on third downs, which ranked second behind only Johnny Manizel among players with at least 50 third down plays. This season? His QBR has fallen to 49.8 on third downs this year and Gardner has taken 15 sacks and committed seven turnovers. He's thrown nine TDs to seven interceptions on third downs this season, compared to 11 touchdowns and two picks last year.
Minnesota's run-heavy offense could be in trouble against Michigan State. The Gophers have run on 68 percent of their plays this season -- the seventh-highest ratio in the FBS -- and Michigan State has not been kind to those run-first teams. The Spartans have allowed just 15 rushes of 10 or more yards this season, six fewer than the No. 2 team in that category. Also, Michigan State has not allowed a drive of 80 yards or longer this season. The last team to do that? Alabama in 2008.
Michigan State's Jeremy Langford has rushed for at least 100 yards in six straight games -- and those yards have been well-earned. During that span, he has the third-most yards after contact (453) of any BCS player. He's behind only Boston College's Andre Williams (608) and Arizona's Ka'Deem Carey (512).
The ability of Wisconsin to run the ball has been well-documented this season, so let's look at the affect those runs have had on the passing game. On play-action passes, Joel Stave is averaging 12.1 yards per attempt. Without play-action, he's averaging 6.5 yards through the air. Also, the touchdown-to-interception ratio is pretty noticeable. With the play-action, he has nine touchdown strikes and two interceptions. Without? Eight TDs, seven interceptions.
In the Penn State passing attack, there's basically Allen Robinson and ... well ... OK, that's pretty much it. Just look at the numbers. When Christian Hackenberg throws Robinson's way, he's completing 63.6 percent of his passes, averages 9.2 yards per attempt and has thrown five TDs to one pick. When he targets anyone not named Robinson, he's completing 50.4 percent of his passes, averages 5.1 yards per attempt and has thrown four touchdowns to four picks.
The Hawkeyes' defense might not get as much love because of the Spartans, but their run defense is pretty darn good. Iowa has held 10 of its 11 opponents under their rushing average this season. Iowa has allowed just four rushing touchdowns this year -- tied for lowest total in the nation -- and it's allowing an average of just 3.6 yards per rush.
Ameer Abdullah didn't get much love from voters for the Doak Walker Award, but he's still having quite the season. Here are a few Nebraska numbers to chew on: His rushing total right now (1,483 yards) is the most by a Husker since Ahman Green's 1,877 in 1997. He's rushed for 100 yards in eight straight games, which ties him for the fourth-longest streak in Nebraska history. And he also has 10 100-yard games this season, which is also good for fourth on the Cornhuskers' record lists. He needs just one more game to tie the record of 11 held by Mike Rozier (1983), Lawrence Phillips (1994) and Green (1997).
November has been a pretty good month for Illinois' Nathan Scheelhaase. He's gone 128-for-189 (67.7 percent) for 1,316 yards -- which is the second-most passing yards this month behind only Fresno State's Derek Carr (1,374). He's also the only active player in the nation with more than 8,000 passing yards and 2,000 rushing yards ... but, of course, that's for his career -- not just November.
November, 22, 2013
11/22/13
10:00
AM ET
Because knowledge is power!
Ohio State coach Urban Meyer has praised Braxton Miller for being a complete quarterback this season, and the numbers certainly bear that out. He's attempting 84 percent of his passes inside the pocket -- an increase of 18 percentage points compared to last season -- and he's completing 71.3 percent of those passes, which is the best in the Big Ten.
Both Indiana and Ohio State are tied for second in the FBS with 18 touchdowns on drives lasting 1 minute or less. But the Hoosiers haven't been able to piece together sustained drives. The Buckeyes have eight touchdown drives lasting five minutes or longer. Indiana? Zero.
Michigan State's defense is arguably the best in the nation. And here are some numbers to chew on that might just back that up: The Spartans have allowed 13 runs of 10 yards or longer, which is seven fewer than any other FBS team. They lead the BCS with 122 total pressures (hurries, knockdowns, sacks). And they've allowed a BCS conference-low 29.1 yards-before-contact per game on designed runs.

[+] Enlarge

AP Photo/Al GoldisConnor Cook is among the best in the country on third down.

Just how good has MSU quarterback Connor Cook been in the clutch? On third downs, he's statistically the best quarterback in the conference. In Big Ten games, he has a QBR of 93.2 on third downs. He's converting 49 percent of those downs, completing 64.7 percent of his passes and averaging nine yards every pass attempt.
Northwestern's penchant for snatching defeat from the jaws of victory has been pretty well documented this season, and no other team has really experienced as much heartbreak. The Wildcats have an FBS-high six losses when it has a lead in the fourth quarter in the last two seasons. And they've lost four games this year when tied or leading in the fourth quarter, which is tied for the most such losses in the country along with Temple, South Alabama and Utah.
In some respects, Wisconsin's rushing attack has been the most dominant in the nation. The Badgers average 4.3 yards per rush before first contact, the most in the BCS. It's averaging a BCS-best 9.4 yards per rush outside the tackles. And it leads the nation in rushes of 30 yards or longer (20) and 50 yards or longer (9).
Minnesota quarterback Philip Nelson obviously has made some long strides since the beginning of the season, but he's really been on top during Minnesota's four-game winning streak. His 90.5 opponent-adjusted QBR ranks second-best in the FBS since Week 8, behind only Florida State's Jameis Winston (94.3). (He's a full point above Texas A&M's Johnny Manziel.)
Nebraska has shown, again and again, its ability to win the close games. As a matter of fact, Nebraska has won seven games in a row that were decided by seven or fewer points. That's the second-longest streak in the country, behind only Arkansas State's eight wins. And the Cornhuskers also have won six Big Ten games in the past two seasons after trailing in the fourth quarter.
Iowa's defense doesn't get as much credit as the Spartans, but it's still a top-10 unit -- and it's especially good in the red zone. The Hawkeyes have allowed just nine red-zone touchdowns, which is tied for the lowest total in the nation. And they haven't allowed a first-quarter touchdown since Week 1.
Illinois sophomore tailback Josh Ferguson is quite the balanced player. He leads the Illini in rushing yards (554), but he's also a big part of the passing game. He has 498 receiving yards on 43 receptions, which puts him at second in the nation in terms of receiving yards by a running back. And he needs just six yards to break Kameno Bell's single-season school record for receiving yards by a running back.
November, 5, 2013
11/05/13
9:00
AM ET
COLUMBUS, Ohio -- The Heisman Trophy campaign was effectively over before it could even really start.
With the starter and a preseason awards favorite on the sideline, the backup made his own push for some hardware and was seemingly well on his way to making a case as the next-best quarterback in the Big Ten when given the stage.
Like Braxton Miller's bid for the biggest prize in college football, Kenny Guiton's run for individual glory was short-lived as well when the centerpiece of Ohio State's spread offense returned from a nearly three-week absence due to a knee sprain. But imagine voting committees having the option to put them together, and there might not be a bronze statue safe from the one-two punch the Buckeyes have unleashed this season.
Certainly the contributions of both have been integral in the 21-game unbeaten streak Ohio State has put together, and the two friends have gone out of their way to praise each other and stress that team goals come first. And while Guiton's recent cameos in the same formation as Miller and increased playing time in blowouts may have improved his chances of sneaking onto an All-Big Ten team in some capacity, if it were possible to put the production of the two together, a combined resume with nearly 2,800 yards of offense and 36 touchdowns would stack up with just about any quarterback in the country.
"We've not seen all the teams yet," Buckeyes coach Urban Meyer said. "But I've got the two that I like.
"I have a lot of respect for the other quarterbacks in the league, but if we're drafting, I've got the two that I like."
Meyer would almost certainly need two pretty high picks if he was going to keep his tandem together in a hypothetical Big Ten draft, with Guiton again receiving some chances to show how valuable he is to the Buckeyes and how useful he might have been to a large handful of teams around the league as a full-time option.
After more than a year of kicking around the idea, Ohio State has also finally found a way to put Guiton and Miller on the field at the same time, with the former taking the snap and the latter lining up as a receiver. That package has already produced a pair of touchdowns in the last two games, with Guiton scoring on a designed rush against Penn State and then throwing a jump pass for a score in the blowout last weekend of Purdue.
But with Miller sitting out the entire second half of the laugher against the Boilermakers, Guiton also had a chance to pad his stats outside of the red zone, rushing for 98 yards, throwing for 59 more and picking up right where he left off during his unforgettable September. Both the absence due to injury and the recent lopsided scores have impacted Miller's personal numbers, leaving him on the outside of the Heisman conversation despite clearly playing the best football of his career.
But assuming Miller would have been able to match the statistics Guiton has put up when he was on the sideline, imagine an awards contender who has completed more than 71 percent of his passes for 2,065 yards with 29 touchdowns and just 5 interceptions, rushed for 717 yards and 7 more scores and also guided a team to a perfect record and a No. 4 ranking.
Those stats would match up quite well with current Heisman front-runners
Johnny Manziel
of Texas A&M, Oregon's
Marcus Mariota
and Florida State's
Jameis Winston
, even if they don't really mean much and there's no such thing as splitting an individual honor like the Heisman among two players at the same position. But they can at least offer another reminder of just how prolific the Buckeyes have been at quarterback, regardless of which one is actually on the field.
"I haven't watched enough of the other [Big Ten] guys, so it would be too hard for me to say," offensive coordinator Tom Herman said. "I like our No. 1 guy, and I'd put our No. 2 guy up against anybody.
"Now, whether he's better than them or not, I'm sure there are other guys that may do certain things better than him, but when it comes to managing the game and being a leader and all that, you'd have to do a lot of convincing, a lot of lobbying for me to say there's a better one out there in this conference."
Put the two together, though, and that lobbying might have to go to the national level.
August, 15, 2013
8/15/13
3:30
PM ET
COLUMBUS, Ohio -- The top individual goal on
Braxton Miller
's list for this season was already within reach a year ago, at least relative to the rest of college football.
Only four people stood between the Ohio State quarterback and a bronze statue at the end of last season, and the list is even shorter according to the
preseason poll of ESPN experts
.
[+] Enlarge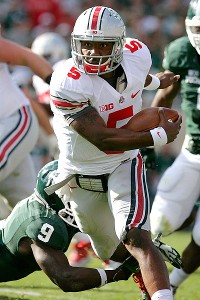 AP Photo/Al GoldisHow will Ohio State signal-caller Braxton Miller follow his stellar sophomore season?
The first
Heisman Watch
of the season was unveiled Thursday, and after finishing fifth in the final, official voting as a sophomore, the expectations are even higher now with Miller earning four first-place votes and sliding in at No. 2 behind South Carolina's
Jadeveon Clowney
-- and just ahead of last year's winner, Texas A&M's
Johnny Manziel
.
Miller admitted just before training camp opened that claiming the Heisman was on his to-do list this year, and he's also aware of the conversations about his candidacy. But if he's going to rise up a spot and take his team from its own No. 2 ranking in the coaches' poll to the top of the chart along with him, the trick will be managing all the hype and attention around him.
"I see it, I hear it," Miller said. "But I really don't pay too much attention to it, because if you pay too much attention to it, you lose focus about what's important for your team and yourself.
"I see it on ESPN sometimes, I'll hear it and I'm like, 'Wow.' I just have to get better to achieve that goal."
Based on the early reviews during training camp, the Buckeyes have a much improved Miller on their hands, one much better equipped to put up better numbers in the passing game and make a legitimate run at the Heisman.
The praise has come from all corners, with teammates lauding his communication and leadership, assistants raving about the steps he's taken mechanically and coach Urban Meyer going out of his way to compare how far Miller has come since the end of last season.
Given Miller's otherworldly speed and acceleration as a rushing threat, stacking all those other components on top of it and playing in Meyer's spread system suited to his strengths could produce both the statistics and the record needed to make a Heisman dream a reality.
"I don't want to give him an 'A' yet, but he's doing 'A' work," Meyer said. "The offense really struggled early in a scrimmage [Saturday], and he just kind of started managing it. It wasn't always a coach managing it.
"He's really building in that respect. And if he does, that's a special player."
There's a trophy for players of that caliber, obviously. Heading into the season, the pollsters only one see one guy standing in the way of hoisting it.
July, 17, 2013
7/17/13
11:45
AM ET
COLUMBUS, Ohio -- The wait is almost over. The season is finally creeping closer again, and the annual release of preseason watch lists for the biggest awards in college football confirms it -- and helps provide a useful distraction during the final month leading up to the start of training camp.
BuckeyeNation will be tracking all the Ohio State players being tracked by the various committees and handicapping their odds of bringing trophies back to campus.
[+] Enlarge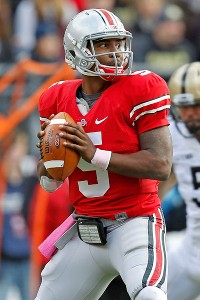 Kirk Irwin/Getty ImagesJunior quarterback Braxton Miller is front and center in Ohio State's spread-option attack.
DAVEY O'BRIEN AWARD
What: The nation's top quarterback
On the list: Ohio State junior Braxton Miller
Credentials: The impact Miller has on a game is as obvious as it is diverse, and the undefeated record he helped drag the Buckeyes to last fall reinforces just how valuable he is in Urban Meyer's spread offense. But now that he's got a full season operating it under his belt, Miller might really start tapping into his enormous potential as the triggerman for the Buckeyes. The key will be improved mechanics and fundamentals as a passer, starting with his footwork and then moving on to his familiarity with the system and where to place the football. Spring statistics might not mean all that much, but Miller showed marked improvement with the basics throughout camp before impressing with his accuracy in the exhibition game that provided a bit more momentum heading into the summer months, completing 16 of his 25 attempts -- with a couple of incompletions coming on smart decisions to throw the ball away. Already among the best in the country last year, Miller has more weapons around him, more comfort with the attack and an even greater chance to win more individual hardware.
Head to head: Showcase opportunity against the only other candidate currently being watched for the honor -- taking on Michigan's Devin Gardner on Nov. 30.
Odds: The national acclaim and attention at the end of last season was piled on Johnny Manziel, and he is back for another season at Texas A&M. But Miller is on the short list of favorites for every award he's eligible for, and if he can lead another unbeaten campaign like he did a year ago while improving his passing numbers and continuing to rack up rushing yardage, he could easily move to the top of the charts with so many eyes on the Buckeyes now that the postseason sanctions are in the past.
June, 5, 2013
6/05/13
1:00
PM ET
Is it preseason All-America team season already? You bet it is.
Phil Steele has issued his
2013 preseason All-America teams
, and a total of 15 players from the Big Ten made the four squads.

Let's take a look:
First team
Second team
Third team
Fourth team
Some notes and thoughts:
June, 3, 2013
6/03/13
4:15
PM ET
Quarterback
Kyle Allen
(Scottsdale, Ariz./Desert Mountain) knew he wanted to work quickly through the recruiting process. ESPN's No. 128 overall player and No. 5 pocket-passer began doing his homework on various schools throughout the country very early, and when it came time to narrow things to a final destination, he didn't take long at all.
Last Tuesday, Allen announced his final five schools: Notre Dame, Ohio State, Oklahoma State, Texas A&M and UCLA. Less than a week later, the 6-foot-3, 197-pound quarterback took to Twitter to announce he was ready to put an end to the process.
"I will be playing my college football for Coach Sumlin at TEXAS A&M UNIVERSITY!! GIG EM!!," Allen posted.
April, 10, 2013
4/10/13
11:00
AM ET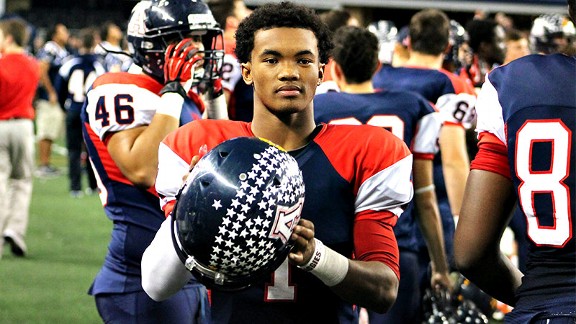 Max Olson/ESPN.comClass of 2015 signal-caller Kyler Murray said receiving an offer from Ohio State was 'big.'
ALLEN, Texas -- The recruiting process has been good to
Kyler Murray
so far.
The 5-foot-11, 170-pound quarterback has seen several a handful of power conference programs not only show interest, but step forward with scholarship offers for the 2015 prospect.
Arizona State, Clemson, Ohio State and Texas Tech are the programs that have already thrown their hats into the ring.
To continue reading this article you must be an Insider
February, 19, 2013
2/19/13
6:55
PM ET
INDIANAPOLIS -- Turnabout is fair play, and
Lonnie Johnson
(Gary, Ind./West Side) is starting to play the recruiting game.
A longtime Ohio State lean who wanted to commit to the Buckeyes a few months ago, Johnson stopped himself short of naming Ohio State his leader Monday.
Asked if Ohio State was still his top school, Johnson said: "Yeah, Ohio State," then paused before he said "... really I got a three-headed dragon: It's Illinois, Nebraska and Ohio State. They're all at the top of my list. I don't know where I'm going to go at this point."
To continue reading this article you must be an Insider
October, 21, 2012
10/21/12
7:38
PM ET
Texas A&M's clash with LSU brought with it a host of high-profile visitors on the recruiting front, including some of the Aggies' top remaining targets in the 2013 class.
Among those that fit in that category that were in attendance on Saturday was Plano (Texas) Prestonwood outside linebacker and ESPN 150 member
Mike Mitchell
.
[+] Enlarge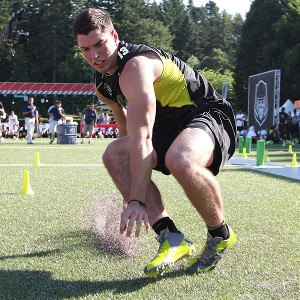 Tom Hauck for ESPN.comESPN 150 linebacker Mike Mitchell likely won't commit to a school until after his senior season.
According to his father, Ken, Mike enjoyed the trip.
To continue reading this article you must be an Insider
Ohio State Quarterback Competition
BIG TEN SCOREBOARD
Thursday, 9/3
Friday, 9/4
Saturday, 9/5
Sunday, 9/6
Monday, 9/7