May, 2, 2013
May 2
3:30
PM ET
My hometown is already packed full of visitors and C-list celebrities in anticipation of the Kentucky Derby on Saturday. If you've never been, well come on down and enjoy the party. I've got a spare guest room.

When you live in Louisville, horse racing and handicapping are about all you can think of this time of year, in between bites of Derby Pie. So, like
last year
, I've imagined what the Big Ten 2013 program would look like if the championship chase were more like a horse race. I think the odds would go a little something like this (like the Churchill Downs toteboard, our odds only go up to 99-to-1),:
Ohio State: Even
Despite being scratched from last year's race by NCAA probation, the Buckeyes are the odds-on favorites this time around. They've got big-time winners both at trainer (Urban Meyer) and on the reins (
Braxton Miller
), and their schedule looks like they should get a clean trip.
Michigan: 5-to-1
The Wolverines are switching running styles this year, ditching the spread for a more traditional passing offense led by
Devin Gardner
. No need for blinders, as
Taylor Lewan
has the blind side locked down. Still, this entry hasn't had enough first-place finishes in its recent past performances.
Nebraska 6-to-1
The Huskers have been like one of those tantalizing horses in the program with a huge Beyer speed figure that always disappoints when you put the big money on them. Expect them to be a major pace-setter because of their early schedule, but that defense will determine whether they can make a long-awaited trip to the winners' circle.
Wisconsin: 10-to-1
Pretty good value here for a three-time defending champion of the Run for the Rose Bowl. Still, the Badgers are operating under new connections this time around (new coach Gary Andersen) and will have to prove they can track down Ohio State in the Leaders Division.
Northwestern 12-to-1
Another good option for those seeking value, as the Wildcats might be the wise-guy pick after last year's 10-win season. The problem is the potential of a very bumpy trip with that schedule (Ohio State and Wisconsin as crossover opponents). And there will be a lot of jostling in that Legends Division.
Michigan State: 20-to-1
Some bettors like to look for the bounce factor, meaning they seek out otherwise successful horses who are coming off one bad outing. The Spartans look like the best bounce candidate following last year's 6-6 season, which came after two straight double-digit win seasons. They have a more favorable post position (er, schedule) this time, but their early works suggest some lingering questions about the offense.
Minnesota: 50-to-1
We've reached the real long shots now. Jerry Kill has shown that his charges take off in their third year of training, and the Gophers have turned in some encouraging works. Still, they'll need to run a perfect race to factor in the money.
Indiana:
65-to-1
This would be a Giacomo-level upset. An exotic pick, at best. But with the Hoosiers' ability to score points, they could pull off a shocker if everyone else falters.
Purdue: 75-to-1
Handicappers got burned by picking Purdue as their sleeper last year. The Boilermakers might be even more of a mystery horse this year with a new trainer in Darrell Hazell. Still looks like an also-ran, but don't forget that they seem to run neck-and-neck with Ohio State lately, for whatever reason.
Iowa: 80-to-1
Failed to fire last year, and the speed figures aren't pretty. If you're betting the Hawkeyes, you're basing it on the pedigree of Kirk Ferentz. Should show more fight this time, but might be too much of a plodder to hit the board.
Illinois: 99-to-1

Stumbled out of the gate, no rally, didn't factor in 2012. Equipment changes on offense (new coordinator Bill Cubit's spread system) should help. But Tim Beckman has a lot of work to do to show he's not saddling another nag.
Penn State: Scratched
DQ'd by the NCAA. (Now accepting future wagering on 2016).
So there's how I'd write the program. What kind of odds would you give to each team, and who would you put money on in 2013?
January, 8, 2013
Jan 8
10:08
AM ET
Alabama and Notre Dame put a bow on the 2012 college football season Monday night. Most of the Big Ten would just as soon douse it with gasoline and light a match.
But before a largely forgettable 2012 Big Ten season goes up in flames, let's take one final look at the power rankings following the bowls. Ohio State not surprisingly remains on top, and the bottom three teams stay the same as well. There's a bit of shuffling among the seven bowl teams after varying performances. As has been the case most of the season, very little separates Nos. 2-6.
Here's a look at the
pre-bowl power rankings
.
Let's get to it ...
1. Ohio State (12-0; previously: 1):
The Buckeyes will occupy this spot until they lose a game, which might be a while under coach Urban Meyer. After recording just the sixth unbeaten, untied season in team history, Ohio State sets its sights on even bigger goals as it emerges from NCAA sanctions. The Buckeyes showed major strides on offense behind sophomore quarterback
Braxton Miller
and improved on both lines as the season went on. Meyer exceeded most expectations in Year 1, but they'll be much higher in 2013.
2. Northwestern (10-3; previously: 5):
Pat Fitzgerald's team moves up three spots after claiming its first bowl victory in 64 years. There was surprisingly little drama as Northwestern capitalized on Mississippi State's errors and won the TaxSlayer.com Gator Bowl by two touchdowns. The Wildcats recorded just the third 10-win season in team history and easily could have won another game or two despite a young roster. Things are headed in the right direction in Evanston.
3. Michigan (8-5; previously: 2):
The Wolverines were one defensive stop away from recording the most impressive win in the Big Ten's bowl season and in the Brady Hoke era. They paced a very talented South Carolina team in the Outback Bowl and received big performances from wideout
Jeremy Gallon
, running back
Denard Robinson
and quarterback
Devin Gardner
. Unfortunately for Michigan, an elite pass defense couldn't get it done in the end. Four of Michigan's five losses came against top-10 teams, but an 8-5 record isn't what Hoke or his players had in mind this fall.
4. Penn State (8-4; previously: 3):
Penn State and Michigan are similar in that both teams have "good" losses on their résumés (Michigan a few more than Penn State). Both teams rallied to beat Northwestern at home, while Penn State has another quality win against Wisconsin. The Lions and Wolverines didn't play one another, and we'll never know how Penn State would have fared against a team like South Carolina. Michigan gets the slight edge here, but Penn State had a terrific season behind a dramatically improved offense and a defense led by senior stars
Michael Mauti
,
Jordan Hill
and
Gerald Hodges
.
5. Nebraska (10-4; previously: 4):
The Huskers beat the three teams ahead of them in the rankings, but the power rankings place more weight on recent results, and Nebraska finished the season with a thud. Bo Pelini's team surrendered 105 points in its last two games -- losses to Wisconsin in the Big Ten championship game and to Georgia in the Capital One Bowl. Nebraska showed it could move the ball and score against anyone, despite being turnover-prone. But the defense was abysmal in the four losses and raises serious concerns for Pelini's program going forward.
6. Wisconsin (8-6; previously: 6):
The Barry Alvarez-led Badgers showed they could hang with Stanford, but they couldn't take advantage of the unique opportunity to play in the Rose Bowl Presented by Vizio despite finishing third in the Leaders Division. The inconsistent offensive execution that plagued Wisconsin throughout the season surfaced once again against a tough and talented Stanford defense. Wisconsin just didn't have enough firepower to get over the hump, which was really the story of its season.
7. Michigan State (7-6; previously: 7):
A come-from-behind win against TCU in the Buffalo Wild Wings Bowl takes the sting off of a season that didn't go according to plan for Michigan State. The Spartans leaned on their defense and received just enough offense from backup quarterback
Connor Cook
and Co. to get past a young Horned Frogs team in Tempe, Ariz. Michigan State posted its second straight bowl win under coach Mark Dantonio and said goodbye to three juniors -- running back
Le'Veon Bell
, tight end
Dion Sims
and defensive end
William Gholston
-- in the days following the game.
8. Minnesota (6-7; previously: 9):
Minnesota appeared poised to give the Big Ten a surprising 1-0 start to the bowl season. The Gophers made strides on offense between the end of the regular season and the Meineke Car Care Bowl of Texas, as young quarterback
Philip Nelson
and the offensive line looked a lot better against Texas Tech. But Minnesota still doesn't know how to finish and suffered breakdowns down the stretch in a tough loss to the Red Raiders. The team still doubled its win total in Jerry Kill's second season and could make some noise in a tough Legends Division next fall.
9. Purdue (6-7; previously: 8):
The Boilermakers and Minnesota swap places after Minnesota performed much better in its bowl game than Purdue did. A mismatch on paper turned into a total whitewash on the field as Oklahoma State, which had no business being in the Heart of Dallas Bowl, outclassed Purdue from the get-go. Purdue's once-promising season ended with a thud as a veteran-laden Boilers team that kept pace with both Notre Dame and Ohio State struggled mightily against most of the good-to-great teams it faced this season.
10. Indiana (4-8; previously: 10):
After going 1-11 in Kevin Wilson's first year, Indiana could only get better, and took some important steps this season. The Hoosiers showed they can score points on just about every defense in the Big Ten, and their group of skill players is among the league's best. IU's defense still isn't at a Big Ten level, and improving the talent and depth on that side of the ball is the chief challenge for Wilson and his staff entering the 2013 season.
11. Iowa (4-8; previously: 11):
A bowl appearance looked like a guarantee before the season as the schedule set up favorably for eight or more wins. But the offense took a giant step backward, and injuries hurt the unit throughout the season. Iowa's defense kept it in quite a few games but also let down against better offenses like Northwestern and Michigan. The Hawkeyes will look for more cohesion on offense and more playmakers to emerge. The Legends Division seems to be getting only tougher.
12. Illinois (2-10; previously: 12):
No team and no coach wants to turn the page on 2012 more than Illinois and Tim Beckman. Almost nothing went right in Beckman's first season, as the offense stalled and the defense struggled against spread offenses. The Illini dropped all eight of their Big Ten contests and lost by fewer than 14 points just once. Perhaps new offensive coordinator Bill Cubit can get the offense on track. The defense, meanwhile, must fill holes up front and in the secondary. At least Illinois gets a fresh start in 2013.
November, 19, 2012
11/19/12
1:00
PM ET
It's the last week before the Big Ten championship game, which means this is the last game before bowl season for some teams and the last game until next year for others. Let's look at the story lines for Week 13:
Friday
No. 14 Nebraska (9-2, 6-1 Big Ten) at Iowa (4-7, 2-5)
, Noon, ABC: In the second installment of the Heroes Game, Iowa will need a heroic effort to pull off the upset, even at home. The Hawkeyes have lost five straight, while Nebraska comes in riding a five-game winning streak and just needing to take care of business here to win the Legends Division. It's hard to imagine the Huskers slipping up now, but as we saw this past weekend, sometimes crazy stuff happens.
Saturday
No. 19 Michigan (8-3, 6-1) at Ohio State (11-0, 7-0)
, Noon, ABC: Perhaps you've heard that these two schools have a little bit of a rivalry going on. The Game is always a big deal, and this year's edition looks like the biggest one since 2006. The Buckeyes are looking to finish off a perfect season, while the Wolverines would not only love to ruin that but need it to stay alive for a division title and for an outside shot at a BCS at-large bid. The
Devin Gardner
/
Denard Robinson
combo gives Michigan some crazy explosiveness, while
Braxton Miller
will try to rebound from his first subpar game of the season at Wisconsin. And it's Urban Meyer's first entry into this rivalry as head coach. Is it Saturday yet?
Wisconsin (7-4, 4-3) at Penn State (7-4, 5-2)
, 3:30 p.m., ESPN2: This game is meaningless in the big picture, but it won't feel that way for the Nittany Lions' seniors who have created a unique legacy. The Badgers no longer have a division title to play for and are going to Indianapolis regardless. Still, Wisconsin can help its bowl placement with a win and doesn't want to go into the Big Ten title game on a two-game losing streak.
Montee Ball
needs one more touchdown to break a tie with Travis Prentice for the NCAA career record.
Michigan State (5-6, 2-5) at Minnesota (6-5, 2-5)
, 3:30 p.m., Big Ten Network: It's still a little hard to believe that the Spartans have to win their finale just to go bowling, but that's the predicament they put themselves in. At least they're on the road and not at home, where they went winless in Big Ten play. Will any Michigan State fan even want to travel to watch this team play another game? Minnesota could make that a moot point by winning on senior day and getting to seven wins, which would be a great achievement in Jerry Kill's second year. The Gophers' home finale could be overshadowed by the
A.J. Barker
controversy this week, however.
Indiana (4-7, 2-5) at Purdue (5-6, 2-5)
, Noon, BTN: The Old Oaken Bucket game takes on real meaning as Purdue needs to win to reach its second straight bowl. Indiana saw its bowl hopes end last week, but the Hoosiers will be fired up for this rivalry and would love to keep the Boilermakers home. Danny Hope could be coaching for his job. Purdue has won eight of the last 10 meetings between these two, but Indiana came out on top the last time they met in West Lafayette in 2010.
Illinois (2-9, 0-7) at Northwestern (8-3, 4-3)
, Noon, BTN: Northwestern can wrap up a pretty impressive nine-win season and extend the misery of its top rival. The health of
Kain Colter
and
Venric Mark
will be the main angle to watch this week. Illinois coach Tim Beckman hasn't done much if anything to endear himself to Illini fans this season, but a win here could be a small step in that direction. His team is really thin, though, after enduring several more injuries last week. What are the chances Daniel Day-Lewis can show up in character to present the Land of Lincoln Trophy?
October, 15, 2012
10/15/12
1:00
PM ET
The regular season is halfway over. Where did the time go? It's getting late early in the Big Ten race for some teams, which makes this a big week. Here's a quick preview of the Week 8 storylines:
Michigan State (4-3, 1-2 Big Ten) at No. 23 Michigan (4-2, 2-0), 3:30 p.m., Big Ten Network: Where's the threat? Or maybe we should say, are the Spartans still a legitimate threat to Michigan's Big Ten ambitions? This game has lost a lot of luster thanks to Michigan State's stumbles, but there's still plenty on the line. The Wolverines need to break a four-game losing streak in this rivalry, while MSU would be in danger of a losing season with a defeat here and Wisconsin, Nebraska and Northwestern up next. All eyes will be on Denard Robinson and a Spartans defense that has shut him down the last two years.
Penn State (4-2, 2-0) at Iowa (4-2, 2-0), 8 p.m., BTN: Raise your hand if you had these two teams atop their respective divisions midway through October. They're both doing it with defense, as Penn State is No. 2 and Iowa No. 3 in the Big Ten in points allowed, and some surprising contributors on offense (Mark Weisman for the Hawkeyes, a surging Matt McGloin and Allen Robinson for the Nittany Lions). Expect a slugfest, but hopefully one with more points than last year's 13-3 Penn State win.
Nebraska (4-2, 1-1) at Northwestern (6-1, 2-1), 3:30 p.m., ABC/ESPN2: The Cornhuskers will have had two weeks to try and figure out their defensive problems against spread teams and on the road. They will need to have answers versus a Wildcats team that beat them in Lincoln last season. Kain Colter had a great game at Nebraska last year and is the kind of mobile quarterback that has given Bo Pelini's defense fits. The loser of this one could find themselves two games back in the Legends standings.
Minnesota (4-2, 0-2) at Wisconsin (5-2, 2-1), Noon, ESPNU: It's Axe season. But can the Gophers accrue better dividends in this ancient rivalry? Wisconsin has won eight straight in the series, including the last two by a combined 47 points. The Badgers' offense also looked rejuvenated on Saturday against Purdue, which could mean this is bad timing for Minnesota. Questions about the status of head coach Jerry Kill and quarterback MarQueis Gray could linger this week for the Gophers.
Purdue (3-3, 0-2) at No. 8 Ohio State (7-0, 3-0), Noon, ABC/ESPN2: At what point do we really start to worry about the Buckeyes' defense? Probably not this week against a Purdue team that is a mess on both sides of the ball right now. The Boilermakers did beat Ohio State last year in West Lafayette, but their own defense has major issues after surrendering an average of 41 points and 385 rushing yards in their first two Big Ten contests. And now comes Braxton Miller and Co., who have scored 115 points the past two weeks. The Boilers are staring down the barrel of an 0-3 conference start, while the Buckeyes look to get to 8-0 before a showdown at Penn State.
Indiana (2-4, 0-3) at Navy (3-3), 3:30 p.m., CBS College Sports: The Hoosiers are doing a lot of things well -- especially on offense -- and have been right in every game. Yet all they have to show for it is a four-game losing streak. Maybe stepping out of conference will help, especially against a not-so-classic Midshipmen squad. Defending the option on the road presents its challenges, but Navy was shut out at home by San Jose State a few weeks ago.
Bye: Illinois
September, 24, 2012
9/24/12
1:00
PM ET
So long, Idaho State, South Dakota and Charleson Southern. See you next year, directional Michigans.
No offense to those schools, some of whom gave Big Ten teams all they could handle. But we've seen enough of that nonconference stuff. This week brings what we've all been waiting for: conference play. It's going to be a wild ride, and here's how it starts:
No. 14 Ohio State (4-0) at No. 20 Michigan State (3-1), 3:30 p.m., ABC: The "College GameDay" gang is coming to East Lansing, which says as much about the national slate of games as it does this one. Not that we're not excited about this matchup. Braxton Miller running the Urban Meyer offense against Michigan State's No. 6 defense? Yes, please. But it's also true that these teams have been scuffling the past couple of weeks and have some major issues -- the passing game for the Spartans, tackling and finding other options besides Miller for the Buckeyes. Still, it'll be a big game in the Big Ten race and an emotional one for Michigan State, which has a ton of Ohio kids on its roster.
Wisconsin (3-1) at No. 22 Nebraska (3-1), 8 p.m., ABC: Last year, the Huskers made their Big Ten debut in Madison and left with their tails between their legs after getting thumped. This time, it's Wisconsin who comes limping into Lincoln after a very shaky nonconference schedule. The Badgers put together their best overall offensive performance against UTEP but also lost running back Montee Ball in the process. Meanwhile, Nebraska has been a scoring machine, ranking eighth nationally at 48.5 points per game. Wisconsin might have a hard time keeping up with Taylor Martinez and his pals, who are eager for redemption.
Minnesota (4-0) at Iowa (2-2), Noon, ESPN2: Oink, oink. It's Floyd of Rosedale time, and Minnesota is looking to bring home the bacon for a third straight year. But whereas the last two Gophers wins would be upsets, this time it wouldn't shock anybody to see Iowa lose. The Hawkeyes are struggling right now and need to win this game to avoid what would be a long two weeks heading into next week's bye. Jerry Kill has his defense playing at a high level, especially against the pass, and James Vandenberg will have to pick his spots carefully.
Penn State (2-2) at Illinois (2-2), Noon, ESPN: Penn State will see some familiar faces on the sideline, as eight of the Illini assistants lurked around State College seeking some transfers this summer. The Nittany Lions were not happy about that and now get a chance to do something about it. Probation and all, Penn State is actually feeling better about its season right now than Illinois, which has lost its last two games against FBS opponents by a combined score of 97-38.
Indiana (2-1) at Northwestern (4-0), Noon, Big Ten Network: Northwestern looks to move to 5-0 and will be heavily favored against the Hoosiers, who had last week off. The Wildcats have held their past three opponents to 11 points per game, but an improved Indiana offense should offer some challenges. Cameron Coffman is expected back at quarterback for IU, and former Northwestern assistant Kevin Wilson returns to Evanston.
Marshall (2-2) at Purdue (2-1), 3:15 p.m., BTN: Sorry, Boilers. We know you're playing well and all, but we just can't muster any excitement for this nonconference game when there are five league contests the same day. But Marshall should test Purdue's defense, as the Thundering Herd lead the nation in passing yards (383.5 per game) and are averaging 41 points. Of course, they're also allowing 42.8 points, so there's that.
Bye: Michigan
September, 12, 2012
9/12/12
3:45
PM ET
Investor confidence in the Big Ten neared an all-time low in Week 2. But past performance does not necessarily indicate future results. Let's check the stock market:
Stock up
Chi Chi Ariguzo:
The Northwestern linebacker moved into a starting role for the first time this season, and the move has gone very well for the redshirt sophomore. Ariguzo -- whose actual first name is Ikechi -- was named the Big Ten defensive player of the week after collecting 10 tackles, including three for loss, against Vanderbilt. In Week 1 at at Syracuse, he had an interception and returned a botched lateral for a touchdown. He currently leads the Big Ten with 4.5 tackles for loss.
Devin Funchess:
The Michigan true freshman tight end was outstanding against Air Force, hauling in four catches for 106 yards and a touchdown. The athletic 6-foot-5, 229-pounder showed receiving skills, and could provide a much needed target for
Denard Robinson
. He has future star written all over him.
[+] Enlarge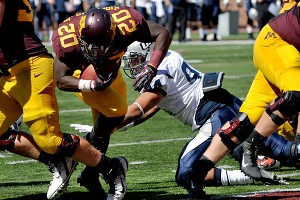 AP Photo/Tom OlmscheidRunning back Donnell Kirkwood has sparked an improved rushing attack for Minnesota.
Minnesota's running game:
The Gophers currently rank fourth in the Big Ten at 224.5 rushing yards per game, a marked improvement over last season's 160 yards per game. It hasn't just been quarterback
MarQueis Gray
, either, as sophomore
Donnell Kirkwood
has rushed for at least 70 yards in the first two games. Head coach Jerry Kill says better play out of the receivers is opening some things up for the running game. Minnesota must prove it against better defenses than UNLV and New Hampshire, but is off to a good start in building a more complete offense.
Iowa's linebackers:
Not much has gone right for the Hawkeyes' offense, but the linebackers have done their part. Head coach Kirk Ferentz said
James Morris
, who had 12 tackles and a key interception late against Iowa State, played tremendously last week.
Christian Kirksey
has been doing his part as well, which Ferentz said has opened opportunities for
Anthony Hitchens
. A first-year starter, Hitchens tallied an eye-popping 19 tackles last week. Now, if the defense could just get some help ...
Purdue in the red zone:
Boiler up inside the 20. Purdue is currently tied for the national lead in red-zone offense, scoring on all nine drives inside the opponent's 20-yard line. That includes eight touchdowns. The Boilermakers also rank 13th nationally in red-zone defense, having surrendered just four scores -- and only two touchdowns -- during their opponents' seven trips inside their 20.
Stock down
Iowa in the red zone:
The Hawkeyes, of course, have scored only one touchdown all season, and that came from outside the red zone on a 23-yard run by
Damon Bullock
against Northern Illinois. Iowa has been in the red zone on offense six times in two games -- and come away with only five field goals.
Wisconsin's running game:
You knew the Badgers' offensive output was atrocious, which led to offensive line coach Mike Markuson being dumped this week. Wisconsin has only 203 rushing yards as a team after two games, an average of 101.5 yards per game. To put that in perspective,
Montee Ball
alone only had three games all of last season when he failed to gain at least 115 yards, and he exceeded 203 yards against both Purdue (223) and Illinois (224).
Quarterback fears vs. Spartans, Buckeyes:
There was near universal agreement this preseason that Michigan State and Ohio State would field the best defensive lines in the Big Ten this season. While they haven't been bad, it's somewhat shocking to see that the Spartans and Buckeyes have combined for only four total sacks this season. Urban Meyer has stressed the need for a better pass rush from his team. Michigan State has gotten decent pressure, but has only sack to show for it, and defensive coordinator Pat Narduzzi says he's not happy with the play of the defense overall. Sack numbers can be overrated, but it's also true that both lines can do a better job bringing down quarterbacks.
Illinois' defense:
The Illini defense looked terrific in the opener against Western Michigan, continuing a string of great performances dating to last season. Which is why it was so shocking to see Arizona State move the ball at will against Illinois in last week's 45-14 shellacking. Players said this week that they had mix-ups in communication and were caught off guard by the Sun Devils' tempo. The latter doesn't make much sense since Todd Graham's teams have always played up-tempo, and the Illini defenders practiced against their own spread offense all preseason. We'll see if this was just one bad showing or an alarm bell.
Big Ten expansion candidates:
With Notre Dame off the chessboard and the ACC going to a $50 million exit fee, who's left if the Big Ten ever decides to expand again? Rutgers? UConn? Louisville? None of those are very appealing, and it means that the league will be better off staying at 12 for the foreseeable future -- or at least until the next big seismic conference shift.
August, 27, 2012
8/27/12
1:00
PM ET
Week 1 of the 2012 season is finally, gloriously upon us. Here is your preview of what to expect as Big Ten football makes its most welcome return into our lives this week (all times ET):
Thursday
Minnesota at UNLV
(11 p.m., CBS Sports Network): Grab an extra cup of coffee Thursday afternoon and get ready to watch the Gophers kick off the season for the Big Ten. Minnesota should be improved in Year Two under Jerry Kill. If so, they should be able to beat a struggling UNLV program, even on the road.
Friday
No. 24 Boise State at No. 13 Michigan State
(8 p.m., ESPN): We waited nearly nine months for college football to return, and this is a reward for our patience. Two new quarterbacks are the big story here, as both get tossed into the fire against stout defenses. Should be great.
Saturday
Northwestern at Syracuse
(Noon, ESPN2): The journalism bowl helps get the first Saturday of the season started.
Kain Colter
and the Wildcats' skill players should have some fun running on the Carrier Dome turf.
Ohio at Penn State
(Noon, ESPN): The Bill O'Brien era kicks off, and there are sure to be plenty of stories focusing on the atmosphere around Beaver Stadium. But don't overlook the Bobcats, who won 10 games last year for Frank Solich.
Western Michigan at Illinois
(Noon, ESPNU): The Tim Beckman era begins against a Broncos team that played the Illini tough last year in Champaign. Beckman coached Toledo to a 66-63 victory over Western Michigan last year. There will probably be less scoring this weekend.
Miami (Ohio) at No. 18 Ohio State
(Noon, Big Ten Network): Urban Meyer coaches his first game for the Buckeyes, who figure to be heavy favorites over the RedHawks. The spread offense will take over the 'Shoe.
Iowa vs. Northern Illinois
(3;30 p.m., ESPNU): Hawkeyes fans are sure to flock to Chicago's Soldier Field to watch their team take on the Huskies, who went 11-3 last season. It could be a tough early test for Iowa's rebuilt defensive line.
Eastern Kentucky at Purdue
(3:30 p.m., BTN): Boilermakers coach Danny Hope faces his alma mater, but the FCS Colonels shouldn't be much of a match for what appears to be an improved Purdue squad. If they are, that's a bad sign.
Southern Miss at No. 17 Nebraska
(3:30 p.m., ABC regional): The Huskers don't have a gimme in their opener against the Golden Eagles, who went 12-2 in 2011. But Southern Miss has a new coach and several new starters, so
Taylor Martinez
and Co. should take care of business.
Northern Iowa at No. 12 Wisconsin
(3:30 p.m., BTN): Northern Iowa is a good FCS program that won 10 games last season. But the Badgers, who debut new starting quarterback
Danny O'Brien
, usually make quick work of outmanned opponents at Camp Randall Stadium.
No. 8 Michigan vs. No. 2 Alabama
(8 p.m., ABC): You might have heard a little something about this game at Cowboys Stadium in Arlington, Texas. The Wolverines could plant a big flag for the Big Ten and themselves if they can pull this one off.
Indiana State at Indiana
(8 p.m., BTN): You'll probably be watching Michigan-Alabama, but if you switch to this game you'll like see the Hoosiers win their first game since Sept. 17 of last year.
August, 27, 2012
8/27/12
11:00
AM ET
»
Power Rankings
:
ACC
|
Big 12
|
Big East
|
Big Ten
|
Pac-10
|
SEC
|
Non-AQ
Game week is here, and not a moment too soon.

Preseason camps have wrapped up around the Big Ten, and teams are now locking in for their openers this coming weekend. The power rankings will appear each Monday throughout the season, and we're getting things kicked off today.
There aren't many changes from our last version, although some offseason news has affected the rundown. The top five teams certainly have separated themselves in our eyes, while there's not much separating the next five on the list.
Here we go ...
1. Michigan State:
We understand why Michigan is the highest-rated Big Ten team in the polls, but Michigan State gets the top spot in our power rankings because of its defense. A top-10 unit in 2011 could easily become a top-five unit this season, as the Spartans are strong at just about every position. While the concerns at quarterback and receiver are warranted, the offense will be effective enough with the run as
Le'Veon Bell
and a more seasoned line return.
2. Michigan:
The Wolverines endured some injuries and off-field issues this summer and in camp, but they still enter the season with justifiably high hopes. Senior quarterback
Denard Robinson
has matured during his career and could make a serious push for national awards this fall. Michigan must shore up its lines and hope some young players grow up in a hurry. A relentless schedule is the biggest challenge for Brady Hoke's squad.
3. Wisconsin:
The offense might not be as electric as it was the past two seasons and the defense has some question marks (secondary, pass rush), but Wisconsin knows how to win and boasts enough to claim another Big Ten title.
Montee Ball
is extremely motivated after a rough summer, and while
Danny O'Brien
isn't Russell Wilson, he gives the offense some stability. A favorable schedule with both Michigan State and Ohio State at home helps the Badgers.
4. Ohio State:
It's a close call for the No. 4 spot, but the Buckeyes get the edge based on a defense with the potential to be one of the nation's best.
John Simon
anchors arguably the league's top defensive line, and almost everyone returns in the secondary. While there will be growing pains on offense, the unit can't possibly be worse than last year's, and
Braxton Miller
has a chance to make significant strides this season.
5. Nebraska:
Fifteen starters return to a Huskers team that should be much more comfortable with the Big Ten in Year 2. But questions remain surrounding quarterback
Taylor Martinez
, replacing star power on defense and getting over the hump on the road. A signature road victory would go a long way for Bo Pelini's program, which returns 15 starters and has a great chance to climb this list and challenge for the Legends division.
6. Purdue:
Danny Hope repeatedly called this his best Boilers team during the offseason, and we can see why. Purdue boasts a formidable defensive front and two bona-fide stars on defense in tackle
Kawann Short
and cornerback
Ricardo Allen
. The Boilers also return most of their key weapons on offense. What we still need to see is a team that can avoid the major mistakes and mental lapses that have plagued Purdue throughout Hope's tenure. A challenging start to Big Ten play will tell a lot about the Boilers.
7. Penn State:
The Lions will ride emotion and a stout defensive front seven this fall, and they could go further than most think after a brutal offseason. Still, it's hard to figure out how Penn State will score points, and the turmoil is bound to catch up with Bill O'Brien's crew at some point. If O'Brien bolsters an offense featuring mostly unproven personnel, Penn State could make a strong push. The schedule is favorable as the Lions get both Ohio State and Wisconsin at Beaver Stadium.
8. Iowa:
Youth will be served this fall in Iowa City as the Hawkeyes turn to unproven players at several spots, namely defensive line and running back. The good news is that Iowa boasts a veteran in senior quarterback
James Vandenberg
, who could thrive under new coordinator Greg Davis. Iowa must ride Vandenberg's right arm and a talented back seven on defense headlined by cornerback
Micah Hyde
and linebacker
James Morris
. Iowa also should benefit from its schedule.
9. Illinois:
The Illini and Penn State are nearly mirror images, as both teams have first-year coaches, talented defensive front sevens and question marks on offense. Defense could carry Illinois a long way this fall, as end
Michael Buchanan
and linebacker
Jonathan Brown
anchor the unit. A new offensive scheme could spark third-year starting quarterback
Nathan Scheelhaase
, although he'll need unproven weapons to emerge. Illinois could be a sleeper team this fall, although its Big Ten road schedule is flat-out brutal (Wisconsin, Michigan, Ohio State, Northwestern).
10. Northwestern:
After a drop in wins the past three seasons, can Northwestern get things turned around? The Wildcats once again should be strong on offense as
Kain Colter
takes over at quarterback, although there are some questions up front. The defense can't be much worse than it was in 2011, and while there will be more youth throughout the unit, there also should be more talent. Northwestern must capitalize on the first chunk of the schedule, which features several toss-up games but isn't overly taxing.
11. Minnesota:
The Gophers will be an improved team in Year 2 under Jerry Kill. The problem is they play in a loaded division and face a tricky schedule with no gimme games. Quarterback
MarQueis Gray
has a chance to do big things as a senior, although his supporting cast remains a mystery.
Troy Stoudermire
's return should spark the defense, which played better down the stretch in 2011. Like Northwestern, Minnesota needs to get off to a good start and build confidence.
12. Indiana:
The Hoosiers won't go 1-11 again, and they could be dangerous on the offensive side as sophomore quarterback
Tre Roberson
matures and the passing game becomes a bigger part of the plan. Question marks remain throughout the defense, and Indiana hopes an influx of junior-college players helps the situation immediately. Indiana will be older and better than it was in 2011, and the Hoosiers should be more competitive in Big Ten games. But until they prove otherwise, they're at the bottom.