Ohio State Buckeyes:

Jacoby Boren
September, 11, 2013
Sep 11
10:00
AM ET
COLUMBUS, Ohio -- Another shortened outing was in the books, and
Corey Linsley
climbed the stairs up to Ohio State's post-game media room and walked through a short hallway.

Once again, the senior center wasn't needed for an entire game, though he at least got to work more than the single quarter he was allotted in the season opener the week before.
As he opened the door and headed out for one of his first interview sessions since undergoing foot surgery after spring practice, somebody from behind him asked when he'd finally get a chance to go the distance on a Saturday afternoon again.
"That's up to the doctors," a smiling Linsley said. "Thanks for asking."
If it were up to the veteran lineman, or if it were necessary, there would be no need for the question, and he would already be turning in complete shifts in the heart of the Ohio State offense.
The stinging pain in his foot is gone by now, repaired by the insertion of a screw to address a bone issue that was described as similar to a Lisfranc injury. And while the injury wasn't quite that serious and Linsley had played through discomfort at the end of last season, the Buckeyes made a decision and a plan months ago that would require some patience both from the coaching staff and the player not to rush him back too quickly to open the season.
Linsley has started both nonconference games, and the Buckeyes have clearly been more productive with him in the lineup than on the sideline. Over 17 plays against Buffalo, Ohio State scored 23 points -- and put up just 17 more over the final three quarters. Last week against San Diego State, the attack rolled up 35 points in the first half before again sticking to its cautious approach down the stretch in a 42-7 win.
Had the score been closer, the rehab plan apparently allowed for Linsley to play as much as needed against the Aztecs. And assuming the doctors agree with his own assessment, the chance to once again finish what Linsley has still been starting is coming on Saturday against Cal.
"The problem is fixed," Linsley said. "Before it was a sharp pain, like I couldn't really push off of it and I didn't really have a lot of strength in my foot. Now it's just a soreness. I've got the strength, I've got the stability, and it doesn't feel like it's going to break.
"They say it's kind of hard to get back in the swing of things, but the most difficult part is you see guys working out there and you want to be a part of that. You see guys getting better, you want to be a part of that. ... I trust the plan they've got. But you do want to be out there, too."
The blueprint was designed to have Linsley back to full strength by the time the schedule really started heating up in Big Ten play, and from that perspective Linsley is right on pace.
He was slowed throughout training camp and had to focus largely on mental reps, and there's always the threat of rust after a long layoff due to injury. But Linsley has still been afforded the chance to chip away in meaningful action through two weeks, the nagging issue in his foot is effectively in the rearview mirror -- and Ohio State has also been able to develop some depth with
Jacoby Boren
benefitting from the playing time in place of the starter.
"Yeah, [Linsley] wanted to play more in the opener," offensive line coach Ed Warinner said. "He wanted to play more in the last game, but circumstances were such that we were in a good situation where we didn't have to do that.
"Everything has progressed there fine, and he's 100 percent. ... But we also had kind of pitch count for him -- when he got to that number, we got him out of the game. Had we needed to play him more than that in the first two games, we could have."
Now heading into the third, Linsley and the doctors might finally be ready to ditch the pitch count and turn him loose.
September, 6, 2013
Sep 6
10:00
AM ET
COLUMBUS, Ohio -- Players and positions to watch as Ohio State goes back to work on Saturday against San Diego State at Ohio Stadium (TV: ABC, 3:30 p.m.).
Offensive line


The reviews were just average for the big guys up front in the season opener, and that's not nearly good enough for a program that expects its offensive line to be the best in the conference. A so-so performance also puts prized quarterback
Braxton Miller
directly in the line of fire, and after giving up four sacks to Buffalo, the Buckeyes are obviously looking for a significant improvement there. Part of the issue is health, and with center
Corey Linsley
in the game during the first quarter, the Buckeyes were close to unstoppable with the football. When coach Urban Meyer decided to pull him and rest his surgically-repaired foot, adding another new player in sophomore
Jacoby Boren
to the mix along with right tackle
Taylor Decker
certainly appeared to knock things out of whack. That unit will be in the crosshairs of Meyer this week.
Bradley Roby
The dynamic junior cornerback had to wait an extra week to get back on the field thanks to his one-game suspension, delaying his chance to start improving his NFL draft stock and also forcing the Buckeyes to tap the brakes a bit on their plans for a more aggressive defensive approach. Ohio State has continually stressed that it won't build its program around one guy, but with Roby out, the amount of press coverage was clearly lower than anticipated and the blitz packages appeared to be scaled back some. Not having safety
C.J. Barnett
on the field was also a factor with less depth overall in the secondary, but Roby is the centerpiece in the backend, and he'll no doubt be energized to prove he's better than ever before.
Running backs
The job continues to belong to
Jordan Hall
, but the first true threat to unseat him early in the season is returning to the fold.
Rod Smith
was yet another expected contributor forced to watch the opener due to suspension, and the projected backup missed out on what could have been a golden opportunity to prove he could be an every-down back while
Carlos Hyde
serves his own punishment over the first three weeks. Instead Hall turned in the most prolific rushing performance of his career and raised the bar for Smith, who will have to prove himself quickly on special teams before he can get a crack at showing off his physical rushing style -- and what Ohio State hopes will be improved ball security.
Philly Brown
The receiving version of Philly Brown was barely a factor in the opener, and Meyer was quick to shoulder the blame for the senior's lack of touches during a two-catch outing against Buffalo. The special teams version showed some flashes of productivity with 44 yards on 4 returns, but he was also shaky fielding the football and, according to assistant Kerry Coombs, had issues with a "high sky and a bright sun." The Buckeyes need Brown to be a factor both in the passing game, like he was last year as the team's most targeted receiver. And they can also use the dynamic returner he proved he could be last season while taking a pair of punts back for touchdowns. Ohio State will be looking for improvement in both areas heading into Week Two.
August, 15, 2013
Aug 15
10:00
AM ET
Breaking down the Ohio State roster as training camp heats us and the program turns its attention to the opener on Aug. 31 against Buffalo.
OFFENSIVE LINE
[+] Enlarge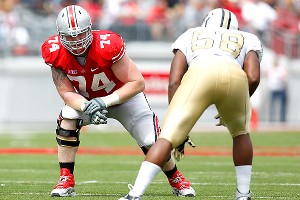 Kirk Irwin/Getty ImagesAn Ohio State offensive line that returns four starters is anchored by Jack Mewhort.
Top of the depth chart:
From left to right,
Jack Mewhort
,
Andrew Norwell
,
Corey Linsley
,
Marcus Hall
and
Taylor Decker
Next in line:
The backup spots don't have to be quite as precise given the flexibility of some reserves capable of playing multiple spots, with
Chase Farris
likely the first man up if injuries strike at either guard or tackle.
Darryl Baldwin
has impressed during training camp and provides depth on the edge, and
Pat Elflein
has emerged as a viable option on the interior.
Jacoby Boren
spent time filling in for Linsley when he was injured during spring practice and early this month, and the sophomore's work ethic and family history with the program is well documented.
New faces:
The Buckeyes didn't do much to restock the cupboards with the most recent signing class, and a class of blockers that only included two names dropped to one this season when Tim Gardner was sent home following an off-the-field incident. That leaves just
Evan Lisle
, who has shown some potential but would likely benefit from a year to develop on the sideline before getting thrown in the mix.
Recruiting trail:
With four seniors set to move on from the program after this season, coach Urban Meyer made it clear since signing day in February that he has to bring in a strong class of linemen to pave the way for the future. He would have liked to have done that in 2012, obviously, but he's off to a strong start with the next group after getting pledges from ESPN300 picks
Jamarco Jones
(Chicago/De La Salle) and
Demetrius Knox
(Fort Worth, Texas/All Saints Episcopal). The Buckeyes also have commitments from tackles
Kyle Trout
(Lancaster, Ohio/Lancaster) and
Marcelys Jones
(Cleveland/Glenville), reinforcing the importance of targeting the line in the 2013 class.
Flexibility:
Returning four senior starters doesn't leave much room for movement on the first unit, and the strong start to camp for sophomore Taylor Decker erased the only real question mark heading into the opener. Farris and Baldwin have each been able to push for work at times at right tackle, but Decker's brute strength and knowledge of the game has given him a leg up and given line coach Ed Warinner little to worry about with his starting unit.
Notable numbers:
• The work hasn't all come at one spot, but one way or another, the Buckeyes have been able to count on inking Mewhort's name in the starting lineup for quite some time now. The season opener against Buffalo will mark his 26th consecutive start, a string that has included appearances at left guard, right guard and the position he locked down for all of last fall, left tackle.
• For all the hype about the spread offense and what it would do for the passing attack in 2012, the Buckeyes ultimately relied much more on power and a smash-mouth ground game thanks to the nasty attitude and physical approach up front in Meyer's first season. Ohio State rushed twice as often as it passed, turning those 559 total carries into an average of 242 yards per game and finishing the season as one of the top running teams in the nation.
• The offensive line wasn't necessarily on the hook for all the sacks on
Braxton Miller
last season, but given the quarterback's mobility and the experience returning, they should be able to cut down dramatically on the 30 takedowns they allowed in 2012. Miller is a better decision-maker moving into his junior season and that should get the ball out quicker and provide some help for the line. But the big guys also appear capable of establishing a more comfortable pocket.
Big question:
Is Taylor Decker ready?
The Buckeyes weren't ready to pronounce the sophomore a starter leaving spring practice, and Decker himself admitted that he hadn't earned the right after 15 workouts in March and April. The coaching staff has already seen enough in August to trust him with that responsibility, though, and it comes with expectations that could hardly be higher. From a broad perspective, the Buckeyes are planning to contend for a national title. From a position-specific angle, Meyer has made it well known that everything starts in the trenches, and he wants nothing less than the best offensive line in the Big Ten -- for starters. With four proven commodities from an unbeaten team returning, the focus will be on the new guy to meet the standard.
April, 3, 2013
Apr 3
11:00
AM ET
COLUMBUS, Ohio -- Several factors usually get mentioned first as reasons for Ohio State's 12-0 season in 2012.
Braxton Miller
's heroics.
Carlos Hyde
's emergence. The play of the defense down the stretch, led by
John Simon
and
Ryan Shazier
.
But one factor probably doesn't get mentioned enough: the performance of the team's offensive line. A major question mark going into last season, the line shaped up as one of the best in the Big Ten last year under the tutelage of Ed Warriner. And with most of the group back and some better depth, the unit provides a strong reason to believe in the Buckeyes again in 2013.
[+] Enlarge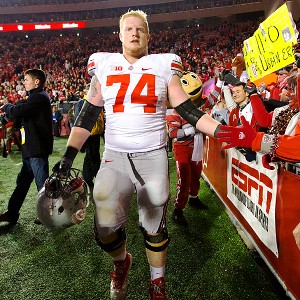 Jeff Hanisch/USA TODAY SportsLeft tackle Jack Mewhort, an all-Big Ten-level talent in 2012, could be the Buckeyes' next great leader.
Warriner turned in one of the better coaching jobs in the league last year, rounding into shape a crew that was previously undistinguished and underwhelming. He turned
Reid Fragel
, a former tight end, into a standout right tackle who should get drafted later this month.
Corey Linsley
went from playing guard to one of the conference's top centers, while
Jack Mewhort
developed into a top-flight left tackle. One of the indelible images of the Buckeyes' season was the line pushing around Michigan State's terrific defense to grind out the victory in East Lansing.
About the only thing Warriner had to worry about last season was health, as there was no experience and precious little depth behind the starters. He doesn't have the same worries this spring.
"It's a nice feeling to know you probably have a backup tackle and a backup guard," he told ESPN.com.
Four starters are back, so the real battle this spring is to replace Fragel at that right-tackle spot. Right now, sophomores
Chase Farris
and
Taylor Decker
are splitting a lot of first-team reps there, with
Darryl Baldwin
also in the mix.
"Those two guys have a lot of ability," Warriner said. "The more comfortable they get and the more confidence they get, one of them could take off -- or maybe both will and we'll play by committee. But they have high-level talent and all the traits of really good linemen."
Head coach Urban Meyer said Tuesday that redshirt freshman
Pat Elflein
has been one of the surprises of the spring, and he could add depth at guard or tackle. Warriner also said
Jacoby Boren
is making strides at center. While the team suffered a setback when reserve
Antonio Underwood
tore his anterior cruciate ligament late last week, the Buckeyes should still be able to rotate more guys on the offensive line this fall.
"If the next man in can play a certain amount but the level doesn't drop off enough to hurt our team, we might do that just to keep the unit fresh and hopefully be smart throughout the season," Warriner said.
But Ohio State will want its veterans on the field as much as possible. Mewhort, whom ESPN.com voted as a first-team All-Big Ten performer, has been hailed as one of the team's best leaders and anointed by Meyer as a possible replacement for Simon in that regard.
"He's what you want in terms of an attitude, of work ethic, of being a competitor," Warriner said. "When you're a first-year starter at a new position with a new coaching staff, sometimes you just worry about your own business, and that was him to some degree last year. But now, he's taking kind of a bigger role with his leadership on offense and even the team as a whole."
Warriner said guards
Andrew Norwell
, a first All-Big Ten team honoree by the media last season, and
Marcus Hall
have made maybe the biggest improvements of anyone on the line this offseason. Along with Linsley, whom Warriner said has "elite-level strength," the Buckeyes have the potential to field four all-conference type linemen.
"We think we possibly could, if they play up to their ability level," he said. "The good thing about the group is, they don't really care about that. If we won the Big Ten and none of them made all-conference, they wouldn't care a bit. That's the kind of unselfish players they are."
Warriner said he has challenged the group to help lead a top-five national offensive attack this season. Ohio State led the Big Ten in scoring last year (37.2 points per game) and finished second in rushing yards per game (242.3). The offensive line led the way, though players like Miller and Hall sure helped.
"We know the quality of our skill guys can erase some things and create some big plays," Warriner said. "If you block it for six, you might get 16. At some places, if you block it for six, that's what they'll get -- six yards."
Everything works in concert. But don't forget the Buckeyes' offensive line when talking about reasons for the team's success.
February, 19, 2013
Feb 19
9:00
AM ET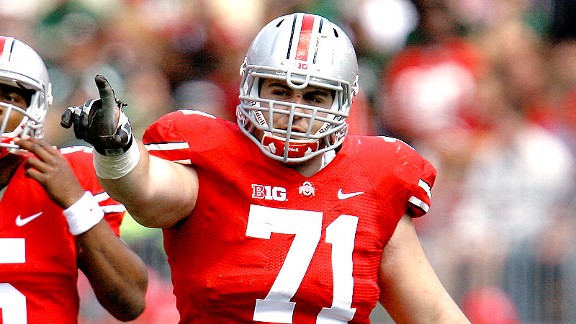 Jim Owens/Icon SMICorey Linsley is expected to continue to add stability on the offensive line.
With national signing day in the books, the next big date on the Ohio State calendar as it continues working toward an encore for an undefeated season in 2013 is spring practice. Before those workouts begin, BuckeyeNation will take a look at each position to see where the roster is at -- and where it's going.
INTERIOR OFFENSIVE LINEMEN
Who's back: The central nervous system of the offense returns completely intact, starting with the anchor who will be looking to build off a banner year in the middle of everything. Corey Linsley's transition to center went perhaps more smoothly than anybody at Ohio State could have expected, and in addition to limiting himself to a handful of errant snaps, his ability to handle the mental load was critical for an attack that wants to push the tempo. With both guards returning on either side of him with Marcus Hall and Andrew Norwell also trying to take their games to a higher level, the Buckeyes are loaded in important spots up front and capable of putting up even more points than they did in Urban Meyer's first year with the program.
February, 10, 2013
Feb 10
3:38
PM ET
Ohio State coach Urban Meyer comes into the 2014 recruiting season knowing he wants to shore up an offensive line he missed out on in 2013.
Check.
As always, he wants more defensive linemen.
Check.
He also wants a speed running back to add to his spread offense.
Check, check and check.
To continue reading this article you must be an Insider
August, 29, 2012
8/29/12
7:56
PM ET
COLUMBUS, Ohio -- A full year later,
Nathan Williams
is ready to return.
The Ohio State defensive lineman received his medical clearance to play earlier in the week as he attempts to come back from microfracture surgery. As he ran off the practice field on Wednesday evening, he looked ready for action.
How much action Williams might see still hasn't been exactly determined by the coaching staff. But Buckeyes coach Urban Meyer is planning on using the senior in some capacity on Saturday against Miami (Ohio), the first live action Williams will have seen since leaving the season opener last season with pain in his knee.
August, 6, 2012
8/06/12
10:50
PM ET
The entire team was together for the first time in training camp, and Urban Meyer called them all into an early huddle to deliver a message.

In a calm, clear voice, the new Ohio State coach expressed his expectation from the squad in what was the second workout for all of them but first as an entire unit.

There is going to be a bar to clear or a request to be filled for every snap, every drill, every period. And then it's up to the Buckeyes to exceed the minimum -- with "Plus Two" serving as the theme on a scorching Monday afternoon on the practice fields.

"Our whole thing is if we ask you to go 10, go 12," Meyer said after the workout. "If we ask go six, go eight. You hear the whistle blow, you don't anticipate. A lot of times you see teams play slow because they anticipate a whistle. We want to run through the whistle for two steps.

"It's all two steps. Keep going two steps. I've had some teams play like that, and this team right now doesn't play like that."

Now two practices in, the Buckeyes are going to get that mandate hammered into their heads in what promises to be a demanding training camp.

The pads aren't even on yet, but there didn't seem to be a shortage of intensity as Meyer and his staff led a session that lasted about 2 hours and 20 minutes outside before wrapping up. But evidently it's still not at the level where Meyer wants it -- and he's got plenty more practices to see if Plus Two sinks in for the Buckeyes.

BUMPS AND BRUISES: Nathan Williams didn't seem to be favoring his surgically-repaired knee much, and the senior defensive end continues to push for more action.

But the doctors haven't cleared him for full contact yet, so as much as Meyer wants to turn him loose, Williams was forced to do the majority of his work on an adjacent field without any teammates around.

"Your heart bleeds for Nathan Williams," Meyer said. "I'm starting to really know that guy, and to take football away from him, that kid lives for it. It's been hard, it's not been an easy road with not playing, not practicing, even out there we're still being very cautious. We can't have a setback.

"I keep asking, on Friday, why didn't he do this individual drill? Our doctors are doing a good job keeping him governored because he would do it all. Then all of a sudden you have a setback, and they told me it's 10 days backwards. We can't have a backwards."

Jordan Hall continues to move forward as well as he recovers from surgery to repair a tendon he cut in his right foot in June.

The senior running back was wearing a walking boot as he put in some work on the side as well, and like Williams, he is considered to still be on schedule for a return early in the season.

Meyer declined to put an exact timetable on when either of them would return to game action.

Freshman offensive lineman Jacoby Boren also was limited as he works his way back from shoulder surgery. He's expected to return to practice in the next couple weeks.

EYE CATCHING: The streak pattern turned in by Devin Smith clearly stood out as a highlight in Meyer's mind after practice was over.

Defensively, Meyer relied on something that would have been much harder to break down on film as he named another standout from the second workout.

Smith's play was praised as "ridiculous" and the look C.J. Barnett wore on his face inside his helmet helped impress Meyer as he searches for playmakers to set the tone on both sides of the ball early in August.

"Out of the blue I just started watching guys faces and how easy it is to be average," Meyer said. "It's just so easy.

"I don't know why, I was just looking in their helmets and I saw the guys. C.J. Barnett is a guy that just does not accept being average. Then I looked at a couple guys next to him, they do accept it. So what's our job as a motivator and a coach, to not allow that."

NOD AND WINK: Braxton Miller was productive at quarterback, and Meyer wasn't going to take anything away from the effort.

It included a couple deep strikes to Jake Stoneburner during a team period, pretty consistent accuracy and a few dazzling throws on the move early in the workout. But that doesn't mean the work is close to over, and Meyer was at least going to make that clear to the sophomore.

"Still too early, but I'm pleased so far," Meyer said. "To give him [a thumbs up], it's still too early.

"Braxton had a really good day, and he feels good about it. He made the comment to me that he knows what he's doing. He doesn't know yet, there's still a lot more to go. I winked at him and said, 'Yeah right, pal.'"
Dr. Lou's Picks