OSU Buckeyes:

Jacoby Boren
April, 3, 2013
Apr 3
11:00
AM ET
COLUMBUS, Ohio -- Several factors usually get mentioned first as reasons for Ohio State's 12-0 season in 2012.
Braxton Miller
's heroics.
Carlos Hyde
's emergence. The play of the defense down the stretch, led by
John Simon
and
Ryan Shazier
.
But one factor probably doesn't get mentioned enough: the performance of the team's offensive line. A major question mark going into last season, the line shaped up as one of the best in the Big Ten last year under the tutelage of Ed Warriner. And with most of the group back and some better depth, the unit provides a strong reason to believe in the Buckeyes again in 2013.
[+] Enlarge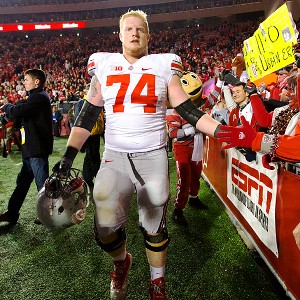 Jeff Hanisch/USA TODAY SportsLeft tackle Jack Mewhort, an all-Big Ten-level talent in 2012, could be the Buckeyes' next great leader.
Warriner turned in one of the better coaching jobs in the league last year, rounding into shape a crew that was previously undistinguished and underwhelming. He turned
Reid Fragel
, a former tight end, into a standout right tackle who should get drafted later this month.
Corey Linsley
went from playing guard to one of the conference's top centers, while
Jack Mewhort
developed into a top-flight left tackle. One of the indelible images of the Buckeyes' season was the line pushing around Michigan State's terrific defense to grind out the victory in East Lansing.
About the only thing Warriner had to worry about last season was health, as there was no experience and precious little depth behind the starters. He doesn't have the same worries this spring.
"It's a nice feeling to know you probably have a backup tackle and a backup guard," he told ESPN.com.
Four starters are back, so the real battle this spring is to replace Fragel at that right-tackle spot. Right now, sophomores
Chase Farris
and
Taylor Decker
are splitting a lot of first-team reps there, with
Darryl Baldwin
also in the mix.
"Those two guys have a lot of ability," Warriner said. "The more comfortable they get and the more confidence they get, one of them could take off -- or maybe both will and we'll play by committee. But they have high-level talent and all the traits of really good linemen."
Head coach Urban Meyer said Tuesday that redshirt freshman
Pat Elflein
has been one of the surprises of the spring, and he could add depth at guard or tackle. Warriner also said
Jacoby Boren
is making strides at center. While the team suffered a setback when reserve
Antonio Underwood
tore his anterior cruciate ligament late last week, the Buckeyes should still be able to rotate more guys on the offensive line this fall.
"If the next man in can play a certain amount but the level doesn't drop off enough to hurt our team, we might do that just to keep the unit fresh and hopefully be smart throughout the season," Warriner said.
But Ohio State will want its veterans on the field as much as possible. Mewhort, whom ESPN.com voted as a first-team All-Big Ten performer, has been hailed as one of the team's best leaders and anointed by Meyer as a possible replacement for Simon in that regard.
"He's what you want in terms of an attitude, of work ethic, of being a competitor," Warriner said. "When you're a first-year starter at a new position with a new coaching staff, sometimes you just worry about your own business, and that was him to some degree last year. But now, he's taking kind of a bigger role with his leadership on offense and even the team as a whole."
Warriner said guards
Andrew Norwell
, a first All-Big Ten team honoree by the media last season, and
Marcus Hall
have made maybe the biggest improvements of anyone on the line this offseason. Along with Linsley, whom Warriner said has "elite-level strength," the Buckeyes have the potential to field four all-conference type linemen.
"We think we possibly could, if they play up to their ability level," he said. "The good thing about the group is, they don't really care about that. If we won the Big Ten and none of them made all-conference, they wouldn't care a bit. That's the kind of unselfish players they are."
Warriner said he has challenged the group to help lead a top-five national offensive attack this season. Ohio State led the Big Ten in scoring last year (37.2 points per game) and finished second in rushing yards per game (242.3). The offensive line led the way, though players like Miller and Hall sure helped.
"We know the quality of our skill guys can erase some things and create some big plays," Warriner said. "If you block it for six, you might get 16. At some places, if you block it for six, that's what they'll get -- six yards."
Everything works in concert. But don't forget the Buckeyes' offensive line when talking about reasons for the team's success.
February, 19, 2013
Feb 19
9:00
AM ET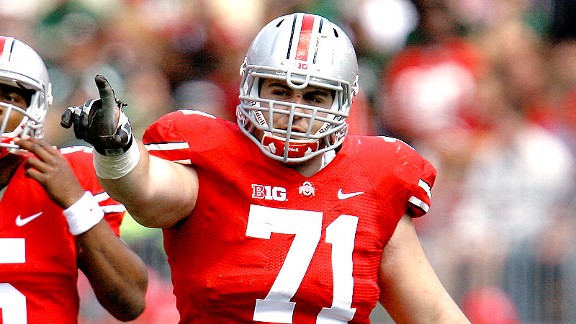 Jim Owens/Icon SMICorey Linsley is expected to continue to add stability on the offensive line.
With national signing day in the books, the next big date on the Ohio State calendar as it continues working toward an encore for an undefeated season in 2013 is spring practice. Before those workouts begin, BuckeyeNation will take a look at each position to see where the roster is at -- and where it's going.
INTERIOR OFFENSIVE LINEMEN
Who's back: The central nervous system of the offense returns completely intact, starting with the anchor who will be looking to build off a banner year in the middle of everything. Corey Linsley's transition to center went perhaps more smoothly than anybody at Ohio State could have expected, and in addition to limiting himself to a handful of errant snaps, his ability to handle the mental load was critical for an attack that wants to push the tempo. With both guards returning on either side of him with Marcus Hall and Andrew Norwell also trying to take their games to a higher level, the Buckeyes are loaded in important spots up front and capable of putting up even more points than they did in Urban Meyer's first year with the program.
February, 10, 2013
Feb 10
3:38
PM ET
Ohio State coach Urban Meyer comes into the 2014 recruiting season knowing he wants to shore up an offensive line he missed out on in 2013.
Check.
As always, he wants more defensive linemen.
Check.
He also wants a speed running back to add to his spread offense.
Check, check and check.
To continue reading this article you must be an Insider
August, 29, 2012
8/29/12
7:56
PM ET
COLUMBUS, Ohio -- A full year later,
Nathan Williams
is ready to return.
The Ohio State defensive lineman received his medical clearance to play earlier in the week as he attempts to come back from microfracture surgery. As he ran off the practice field on Wednesday evening, he looked ready for action.
How much action Williams might see still hasn't been exactly determined by the coaching staff. But Buckeyes coach Urban Meyer is planning on using the senior in some capacity on Saturday against Miami (Ohio), the first live action Williams will have seen since leaving the season opener last season with pain in his knee.
August, 6, 2012
8/06/12
10:50
PM ET
The entire team was together for the first time in training camp, and Urban Meyer called them all into an early huddle to deliver a message.

In a calm, clear voice, the new Ohio State coach expressed his expectation from the squad in what was the second workout for all of them but first as an entire unit.

There is going to be a bar to clear or a request to be filled for every snap, every drill, every period. And then it's up to the Buckeyes to exceed the minimum -- with "Plus Two" serving as the theme on a scorching Monday afternoon on the practice fields.

"Our whole thing is if we ask you to go 10, go 12," Meyer said after the workout. "If we ask go six, go eight. You hear the whistle blow, you don't anticipate. A lot of times you see teams play slow because they anticipate a whistle. We want to run through the whistle for two steps.

"It's all two steps. Keep going two steps. I've had some teams play like that, and this team right now doesn't play like that."

Now two practices in, the Buckeyes are going to get that mandate hammered into their heads in what promises to be a demanding training camp.

The pads aren't even on yet, but there didn't seem to be a shortage of intensity as Meyer and his staff led a session that lasted about 2 hours and 20 minutes outside before wrapping up. But evidently it's still not at the level where Meyer wants it -- and he's got plenty more practices to see if Plus Two sinks in for the Buckeyes.

BUMPS AND BRUISES: Nathan Williams didn't seem to be favoring his surgically-repaired knee much, and the senior defensive end continues to push for more action.

But the doctors haven't cleared him for full contact yet, so as much as Meyer wants to turn him loose, Williams was forced to do the majority of his work on an adjacent field without any teammates around.

"Your heart bleeds for Nathan Williams," Meyer said. "I'm starting to really know that guy, and to take football away from him, that kid lives for it. It's been hard, it's not been an easy road with not playing, not practicing, even out there we're still being very cautious. We can't have a setback.

"I keep asking, on Friday, why didn't he do this individual drill? Our doctors are doing a good job keeping him governored because he would do it all. Then all of a sudden you have a setback, and they told me it's 10 days backwards. We can't have a backwards."

Jordan Hall continues to move forward as well as he recovers from surgery to repair a tendon he cut in his right foot in June.

The senior running back was wearing a walking boot as he put in some work on the side as well, and like Williams, he is considered to still be on schedule for a return early in the season.

Meyer declined to put an exact timetable on when either of them would return to game action.

Freshman offensive lineman Jacoby Boren also was limited as he works his way back from shoulder surgery. He's expected to return to practice in the next couple weeks.

EYE CATCHING: The streak pattern turned in by Devin Smith clearly stood out as a highlight in Meyer's mind after practice was over.

Defensively, Meyer relied on something that would have been much harder to break down on film as he named another standout from the second workout.

Smith's play was praised as "ridiculous" and the look C.J. Barnett wore on his face inside his helmet helped impress Meyer as he searches for playmakers to set the tone on both sides of the ball early in August.

"Out of the blue I just started watching guys faces and how easy it is to be average," Meyer said. "It's just so easy.

"I don't know why, I was just looking in their helmets and I saw the guys. C.J. Barnett is a guy that just does not accept being average. Then I looked at a couple guys next to him, they do accept it. So what's our job as a motivator and a coach, to not allow that."

NOD AND WINK: Braxton Miller was productive at quarterback, and Meyer wasn't going to take anything away from the effort.

It included a couple deep strikes to Jake Stoneburner during a team period, pretty consistent accuracy and a few dazzling throws on the move early in the workout. But that doesn't mean the work is close to over, and Meyer was at least going to make that clear to the sophomore.

"Still too early, but I'm pleased so far," Meyer said. "To give him [a thumbs up], it's still too early.

"Braxton had a really good day, and he feels good about it. He made the comment to me that he knows what he's doing. He doesn't know yet, there's still a lot more to go. I winked at him and said, 'Yeah right, pal.'"