Ohio State Buckeyes:

Jack Allen
October, 1, 2012
10/01/12
5:12
PM ET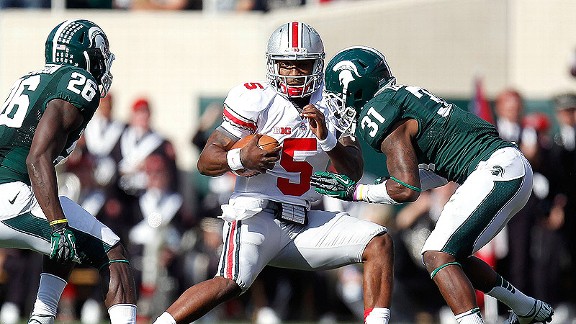 Gregory Shamus/Getty ImagesAfter logging 23 carries and taking several shots from Michigan State defenders on Saturday, Urban Meyer is looking to reduce the wear and tear on sophomore QB Braxton Miller in practice this week.
COLUMBUS, Ohio -- The critical number wasn't how many times
Braxton Miller
got hit.
The Ohio State quarterback was bound to be sore after again being called on so often to rush the ball, and some abuse comes with the territory after 23 attempts.
But there were a few more shots the sophomore could have avoided in the road win on Saturday over Michigan State, and that's the tally Urban Meyer had in mind as the Buckeyes try to keep the centerpiece of their offense healthy ahead of another top-25 test this week against Nebraska.
"Eight times," Meyer said during his Monday press conference. "We went through that, eight times he shouldn't have got hit. He's scrambling around, throw the ball away, find the receiver or give the ball.
"We're going to go try to win a game, and Braxton is our quarterback and our best player, best guy with the ball in his hands. [Health] is always going to be a concern any time you have a quarterback involved. But he's a gifted guy and he's got to help us win."
Tags:
Ohio State Buckeyes, Michigan State Spartans, Ohio State football, John Simon, Johnathan Hankins, Braxton Miller, Etienne Sabino, Zach Boren, C.J. Barnett, Jack Mewhort, Bradley Roby, Ryan Shazier, Travis Howard, Reid Fragel, Jeff Heuerman, Tyrone Williams, Andrew Norwell, Corey Linsley, Marcus Hall, Jack Allen
Building the Big Ten championship teams
RecruitingNation's Tom VanHaaren looks at how the rosters for Michigan State and Ohio State were put together.
Building the Big Ten championship teams
VIDEO PLAYLIST
BUCKEYENATION RECRUITING NEWS
OSU FB RECRUITING SCORECARD
KyleRowland

Kyle Rowland


Preview: No. 2 Ohio State vs. No. 10 Michigan State http://t.co/N5rkNbikBy
about a minute ago

joe11w

joe11w


New 11W... Preview: No. 2 Ohio State vs. No. 10 Michigan State: #2 Ohio State 12-0, 8-0 Big Ten Roster... http://t.co/tccZWDUSPq
3 minutes ago

Brutus_Buckeye

Brutus Buckeye


MSU enters B1G Champ. w/ No. 1 total D & rush D. Something's gotta give tomo night in O-H-Indy!#GoBucks #BeatSparty http://t.co/yuya5gn98J
5 minutes ago

11W

Eleven Warriors


Prolific offense. Impenetrable defense. Roses and crystal. Our preview of the Big Ten Championship Game. http://t.co/mU2RloR7MI
9 minutes ago

bigtenconf

Big Ten Conference


Wake up w/ @CollegeGameDay tomorrow & get their take on the #B1GFCG live from Indianapolis. #GetUp4GameDay #OSUvsMSU http://t.co/5dK4xmrQv0
16 minutes ago

ESPN_BigTen

ESPN BigTen


Big Ten rooting interests: Week 15 http://t.co/2ZzhIrtXrd
23 minutes ago

ESPNOhioState

ESPN Ohio State


Recruits watching: Big Ten title game http://t.co/KwWGzjjiaY
24 minutes ago

ESPNOhioState

ESPN Ohio State


Big Ten rooting interests: Week 15 http://t.co/f78TZT56Zo
24 minutes ago

11W

Eleven Warriors


Today's poll: How many points will it take for Ohio State to top Michigan State? http://t.co/FuBO6FDMC9
37 minutes ago

chris_spielman

Chris Spielman


RT @Godly_Life: Faith does not mean trusting God to stop the storm, but trusting him to strengthen us as we walk through the storm.
47 minutes ago

chris_spielman

Chris Spielman


RT @DavidRoads: As a dog goes back to its vomit, so a fool repeats his stupidity. -Proverbs 26:11
51 minutes ago

ESPN_BigTen

ESPN BigTen


Pac-12 hires get better and better RT @SportsCenter: BREAKING: Chris Petersen is expected to be named next head coach at Washington.
about an hour ago

11W

Eleven Warriors


A schematic preview of the Michigan State and how Ohio State might attack the Spartan offense and defense. http://t.co/2hD3zsKjcL
about an hour ago

Brutus_Buckeye

Brutus Buckeye


Brutus Bling ... the perfect thing for the holidays! #GoBucks http://t.co/s14i5OUrik
about an hour ago

joe11w

joe11w


New 11W... Friday Skull Session: Whatever time you're reading this, know this: Jim Delany is already up. Th... http://t.co/75vsGnceb4
about 3 hours ago

11W

Eleven Warriors


Skull Session: B1G championship thoughts, E. Gordon Gee Mounts Up, and Butch Jones has found a recruiting wormhole. http://t.co/SVHTUFEKcL
about 3 hours ago

bucksinsider

Ohio State News


Big Ten title game looks like classic matchup: INDIANAPOLIS (AP) -- The Big Ten champions... http://t.co/RKcSVXVeMB #buckeyes #ohiostate
about 4 hours ago

bucksinsider

Ohio State News


Ohio State Football: Buckeyes Gearing Up for Tough Michigan State Defense: With a victory... http://t.co/hBvKF41CxU #buckeyes #ohiostate
about 6 hours ago

11W

Eleven Warriors


Made it to Indy alive, which is saying something because this state doesn't seem to own any plows. http://t.co/R8YSL3zVyt
about 7 hours ago

KyleRowland

Kyle Rowland


I spy @DBriggsBlade http://t.co/bw7QdLroAH
about 8 hours ago

Brutus_Buckeye

Brutus Buckeye


RT @zooboo76: In Indianapolis already & got our signs ready for the game @CollegeGameDay @brutus_buckeye http://t.co/3aVDxwO7Hb
about 10 hours ago

Brutus_Buckeye

Brutus Buckeye


Same State. Same Mission. #GoBucks #BeatSparty Get up for @CollegeGameDay Pan Am Plaza in O-H-Indy! http://t.co/nMv0VGn443
about 10 hours ago

KyleRowland

Kyle Rowland


Pouring snow in Indy. Glad we came tonight. Will be an adventure tomorrow. http://t.co/wcb8FFS7tQ
about 10 hours ago

ESPN_BigTen

ESPN BigTen


Teddy Bridgewater -- what a throw.
about 11 hours ago

rustymillerap

Rusty Miller


SVSM repeats as Ohio Division 3 football champion (from @AP) http://t.co/KIfTT0Jkl1
about 11 hours ago

bigtenconf

Big Ten Conference


RT @B1Gfootball: The #B1GFCG is less than 2 days away & the stage is set for #OSUvsMSU: http://t.co/QRha1g8X8R
about 11 hours ago

bbournival

Brad Bournival


RT @stephkuzy: A state title and an Ohio Mr. Football award in two days. Yeah @D_Book47 is loving it http://t.co/WFHrlBwQSB
about 11 hours ago

Buckeye_Nation

Buckeye Nation


The #Buckeyes are the most successful team of the #BCS era: http://t.co/Hp4HKcEyuu
about 12 hours ago

Buckeye_Nation

Buckeye Nation


RT @davekswingle: My one-year-old channeling her inner Shazier. #GoBucks #BeatSparty @Buckeye_Nation http://t.co/ykvoB7fzld
about 12 hours ago

bbournival

Brad Bournival


Newman Williams in on successful fake punt. Same play he scored on last year in state finals. He loves him some state finals games.
about 12 hours ago

bbournival

Brad Bournival


Another #Akron #Zips pledge. This one Travonte Junius with the pick. St. V inside the 10. Guess who scores? Newman Williams!
about 12 hours ago

ESPN_BigTen

ESPN BigTen


Steady snow falling in Indy right now. Safe travels to all the B1G fans heading here for game. Glad it's indoors.
about 12 hours ago

bbournival

Brad Bournival


Newman Williams folks. #Akron got him. He's INCREDIBLE. Don't believe it? Watch this: http://t.co/7Rx8SHSlHH
about 12 hours ago

joe11w

joe11w


New 11W... Ohio State v. Michigan State: A Schematic Preview: The only thing now standing between Ohio Stat... http://t.co/c335urSIii
about 12 hours ago

bbournival

Brad Bournival


Oh, the game's in Stark County? Alert Newman Williams. Having another great game in finals. So far has TD, forced fumble and fumble recovery
about 12 hours ago

KyleRowland

Kyle Rowland


Gee is clearly an outstanding university president. Led West Virginia once before. They'd be wise to hire him full-time.
about 13 hours ago

KyleRowland

Kyle Rowland


Report: Gee to be Named Interim President at WVU http://t.co/IeHmKrZxi8
about 13 hours ago

Brutus_Buckeye

Brutus Buckeye


RT @OhioStateAlumni: The B1G Buckeye Bash (12/7) is officially at the Indianapolis Convention Ctr., Lev. 1, Hall E at 100 S. Capital Ave. h…
about 13 hours ago

Brutus_Buckeye

Brutus Buckeye


.@OhioStateAlumni No worries! That's why they call it the Circle City. No one gets lost in Indy! Except green enveloped by Scarlet & Gray!
about 13 hours ago

bbournival

Brad Bournival


RT @JackBeneventi13: I have committed to the University of Iowa!! I want to thank everyone for their support. GO HAWKS #Hawkeyes #Iowa http…
about 13 hours ago

bbournival

Brad Bournival


didn't know Urban Meyer was at his state final game last year. YES he did Meyer was there to watch Booker and so were other coaches #Cmonman
about 13 hours ago

bbournival

Brad Bournival


First TV says Messiah Deweaver burst on the scene this season - he led the team to the finals LAST YEAR. Now they say Parris Campbell (2of2)
about 13 hours ago

chris_spielman

Chris Spielman


RT @Inspire_Us: I'd rather have a life of 'OH WELLS' than a life of 'WHAT IFS.'
about 13 hours ago

KyleRowland

Kyle Rowland


View from the hotel room. This will work. http://t.co/I1GJR7Ww1I
about 13 hours ago

BraxtonMiller5

Braxton Miller


http://t.co/3IP9BypiIY
about 14 hours ago

bbournival

Brad Bournival


Someone who led his team to a state runner-up appearance in 2012 is not bursting on the scene this year.
about 14 hours ago

bucksinsider

Ohio State News


Only Duke can keep Heisman from Winston: NEW YORK (AP) -- The only thing standing in the ... http://t.co/ZslpzzOqyL #buckeyes #ohiostate
about 14 hours ago

joe11w

joe11w


New 11W... 2014 Big Ten Basketball Recruiting Rankings: Post-Early Signing Period: Matta and Groce have sign... http://t.co/b0LJLiphP3
about 15 hours ago

bigtenconf

Big Ten Conference


#Badgers beat #Spartans 42-39 in the inaugural #B1GFCG & earned a trip to the @rosebowlgame. #tbt http://t.co/c468Alr3Ve
about 15 hours ago

rustymillerap

Rusty Miller


Northern Illinois tries to focus on only MAC title (from @AP) http://t.co/nL8xLUJbEi
about 15 hours ago

rustymillerap

Rusty Miller


Mich St's Lewis gets another chance at title (from @AP) http://t.co/kAl54KSz31
about 15 hours ago

rustymillerap

Rusty Miller


Mid-American Conference championship capsule (from @AP) http://t.co/sW3H3mcEoF
about 15 hours ago

bbournival

Brad Bournival


RT @WSAZnews: REPORT: WVU names E. Gordon Gee as interim president. University expected to make announcement Friday. http://t.co/GrVTcihKq8
about 15 hours ago

bbournival

Brad Bournival


RT @dinocleveland: "Courage is not the absence of fear it is inspiring others to move beyond it." - Nelson Mandela
about 15 hours ago

Brutus_Buckeye

Brutus Buckeye


MAIL CALL!!!!#GoBucks#BeatSparty @BraxtonMiller5 http://t.co/1y1x13DT2E
about 16 hours ago

bucksinsider

Ohio State News


Best value tickets for the Big Ten Championship are in 100's Corner; from $223. See all options from $132 here: http://t.co/8Dy8ytS4HP
about 16 hours ago

ESPN_BigTen

ESPN BigTen


RT @OWHbigred: More jail time for former #Huskers DB Alfonzo Dennard. Judge: "I'll let you know: This is your last chance." http://t.co/Q7l…
about 16 hours ago

Brutus_Buckeye

Brutus Buckeye


RT @MSU_Football: "No Way!" @Brutus_Buckeye @OhioStAthletics @usnikefootball #GoGreen http://t.co/gEGbEPQ7Iy
about 16 hours ago

11W

Eleven Warriors


Report: Gordon Gee to be named interim president at West Virginia University. http://t.co/hX7ovILrn0
about 16 hours ago

Brutus_Buckeye

Brutus Buckeye


"I got you!" #GoBucks #BeatSparty @MSU_Football @TheRealSparty @usnikefootball http://t.co/qwEJMfDLYR
about 16 hours ago

ESPN_BigTen

ESPN BigTen


B1G's lone bowl debate: Wings, Gator http://t.co/HRHYU0p14C
about 16 hours ago

bbournival

Brad Bournival


RT @newschannelnine: BREAKING: @ABC news now in a special report on the death of Nelson Mandela. Watch here: http://t.co/iLN58dasQv
about 16 hours ago

Brutus_Buckeye

Brutus Buckeye


RT @OhioStAthletics: Bellaire, OH product Joey Galloway scored 3 TDs in a 28-21 win over MSU on Oct. 16, 1993. #DefiningMoments #GoBucks ht…
about 16 hours ago

bbournival

Brad Bournival


#OhioState #Buckeyes pledges Dante Booker, Parris Campbell playing in Division III state finals tonight on SportsTimeOhio at 7.
about 17 hours ago

Brutus_Buckeye

Brutus Buckeye


The @CFBONFOX Saturday tour is heading to the B1G Championship! More info: http://t.co/B23QSKMugN #GoBucks http://t.co/AaTqrgRRnW
about 17 hours ago

BuckeyesBeat

Austin Ward


RT @ESPN_BigTen: ICYMI, @mitchsherman and I talked w/ opposing coaches for scouting reports on MSU (http://t.co/EJIf8MgdHC) and OSU (http:/…
about 17 hours ago

ESPN_BigTen

ESPN BigTen


ICYMI, @mitchsherman and I talked w/ opposing coaches for scouting reports on MSU (http://t.co/EJIf8MgdHC) and OSU (http://t.co/e0lfLolSSR)
about 17 hours ago

bbournival

Brad Bournival


IMO: The timing of Urban Meyer's in-house visit with Raekwon McMillan and his announcement date looks real good for the #OhioState #Buckeyes
about 17 hours ago

BuckeyesBeat

Austin Ward


Does film from Spartans-Buckeyes last year help? "Numbers on the jersey might be the same ... but we're better." http://t.co/fxGCI1xoVK
about 17 hours ago

ESPN_BigTen

ESPN BigTen


Wrapping up our Big Ten fantasy league http://t.co/flUIk87ezM
about 17 hours ago

Brutus_Buckeye

Brutus Buckeye


RT @JimLachey64: . @OSUCoachMeyer w/ a big HT to @Buckeye_Nation (AUDIO)>> http://t.co/9en6VA5Mit. #TheChase #B1GFCG @Brutus_Buckeye @OhioS…
about 17 hours ago

Brutus_Buckeye

Brutus Buckeye


.@cheeeeeeeeseman @scorinorin @brutusbeefcake_ My bow tie looks a little tight! #GoBucks
about 17 hours ago

Brutus_Buckeye

Brutus Buckeye


Sources tell me I have a message to send your way @TheRealSparty ... Here's a warmup! #GoBucks #BeatSparty http://t.co/5wZa6KAVXB
about 17 hours ago

chris_spielman

Chris Spielman


RT @RobStoneONFOX: Whenever I travel I play the 'how long till I see @OhioStAthletics gear'..LAX to Indy, and #OSU spotting at 5 minute mar…
about 17 hours ago

chris_spielman

Chris Spielman


RT @Scripture_Truth: Honesty can keep you safe, but if you can't be trusted, you trap yourself. -Proverbs 11:6
about 17 hours ago

bigtenconf

Big Ten Conference


Tickets to the #B1GFCG are sold out, but there is still time to score the seats you want w/ #StubHub: http://t.co/O4CetNClSN
about 17 hours ago

11W

Eleven Warriors


It's Championship Weekend. Here's your TV guide for games that aren't taking place in Indianapolis. http://t.co/EABx4xC5jZ
about 17 hours ago

rustymillerap

Rusty Miller


RT @AP_Top25: Attorney for Jameis Winston says star QB relieved no charges will be filed http://t.co/ou5KgWYHlx
about 17 hours ago

rustymillerap

Rusty Miller


RT @AP_Top25: AP VIDEO: No charges in Jameis Winston sex assault case: http://t.co/ZLposoKvYU #FSU #acc
about 17 hours ago

rustymillerap

Rusty Miller


RT @AP: AP VIDEO: Fla. prosecutor Willie Meggs says no charges will be filed in Jameis Winston sex assault investigation: http://t.co/rEcVW…
about 17 hours ago

Brutus_Buckeye

Brutus Buckeye


RT @OhioStAthletics: .@RobStoneONFOX You get to tic, but never toc! We're everywhere! #GoBucks #BeatSparty
about 18 hours ago

11W

Eleven Warriors


#SOON http://t.co/9uTduVfnfS
about 18 hours ago

ESPNOhioState

ESPN Ohio State


Video: Big Ten Game of the Week http://t.co/0AZwHdAZuX
about 18 hours ago

KyleRowland

Kyle Rowland


RT @JeffSvoboda: Big Ten Leads All Conferences with Eight Football Academic All-Americans. None from Ohio State, though. Two from MSU: LB B…
about 18 hours ago

ESPN_BigTen

ESPN BigTen


Video: Big Ten Game of the Week http://t.co/GlhYtMxrAy
about 18 hours ago

11W

Eleven Warriors


Preemptive shot: If Ohio State meets FSU in the BCSCG, don't be that Buckeye fan in a clever Jameis shirt. You'll be anything but clever.
about 18 hours ago

11W

Eleven Warriors


RT @DanWetzel: FSU fans with Jameis spelled on their chests. "He's a great guy" Free Jameis" http://t.co/SVaW0PyyxA
about 18 hours ago

KyleRowland

Kyle Rowland


Today is one of those days where fandom knows no bounds, gets a bad rap.
about 18 hours ago

ESPN_BigTen

ESPN BigTen


… PSU's J Urschel, Iowa's J Morris, Nebraska's S Long, MSU's M Bullough and M Sadler. Second teamers are Nebraska's J Long, C.J. Zimmerer
about 18 hours ago

ESPN_BigTen

ESPN BigTen


Correction to last tweet: B1G has eight total academic All-Americans, six first team, two second team. First team are Indiana's M Murphy …
about 18 hours ago

joe11w

joe11w


New 11W... Your College Football TV Guide for Week 15: Week 15 is basically the beginning of the end of the... http://t.co/NOwnz0u9W8
about 18 hours ago

11W

Eleven Warriors


Meggs said they enlisted the help of a prosecutor in Ohio to find a witness in the Winston case.
about 19 hours ago

KyleRowland

Kyle Rowland


RT @11W: Impressed with this presser from Willie Meggs. Very professional.
about 19 hours ago

11W

Eleven Warriors


Impressed with this presser from Willie Meggs. Very professional.
about 19 hours ago

ESPN_BigTen

ESPN BigTen


Under Armour game storylines: Big Ten http://t.co/77A9jooses
about 19 hours ago

ESPNOhioState

ESPN Ohio State


Under Armour game storylines: Big Ten http://t.co/4jCDT1s1bn
about 19 hours ago

Brutus_Buckeye

Brutus Buckeye


ATTN STUDENTS: @espn wants to see you! Send Buckeye spirit videos to http://t.co/cjcqO7g11bVideo could play on @SportsCenter Fri. #GoBucks
about 19 hours ago

KyleRowland

Kyle Rowland


Peter Warrick and Laveranues Coles were arrested for shoplifting during Florida State's 1999 national championship season.
about 19 hours ago

KyleRowland

Kyle Rowland


Willie Meggs, the longtime DA in Tallahassee, has never shied away from prosecuting Florida State players. Stop the conspiracy theories.
about 19 hours ago

KyleRowland

Kyle Rowland


Willie Meggs, the longtime DA in Tallahassee, has ever shied away from prosecuting Florida State players. Stop the conspiracy theories.
about 19 hours ago
BLOG ARCHIVE:
CATEGORIES: