Ohio State Buckeyes:

Huskers-Buckeyes-100612
October, 7, 2012
10/07/12
9:00
AM ET
COLUMBUS, Ohio --
Cardale Jones
had seemingly already learned a hard lesson about how to handle social networks on Friday.
The freshman third-string Ohio State quarterback apparently received one extra reminder a day later about how to handle himself publicly following his post about "pointless" classes on Twitter.
Jones deleted his account after his comment made national headlines, but the program seemingly went one step further to make the expectations for its players clear by not dressing the freshman for Saturday's 63-38 win over Nebraska at Ohio Stadium. A school spokesman stopped short of calling the absence of Jones from the active roster against the Huskers a suspension, but he did confirm that it wasn't due to injury.
"Why should we have to go to class if we came here to play FOOTBALL," Jones posted on Twitter on Friday. "We ain't come to play SCHOOL, classes are POINTLESS."
Jones hasn't appeared in a game yet for the Buckeyes.
October, 7, 2012
10/07/12
9:00
AM ET
COLUMBUS, Ohio -- Looking for some kind of spark on special teams, it was no secret who Urban Meyer was challenging to deliver.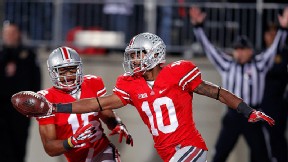 AP Photo/Tony DejakCorey "Philly" Brown celebrates after returning a punt for a touchdown against Nebraska.
Corey "Philly" Brown
is one of the leading options back there waiting for punts, so when his coach is harping on the lack of explosive plays in the third phase, the implication was obviously pretty clear for the Ohio State junior.
After breaking through with an electrifying return for a touchdown in a 63-38 throttling of Nebraska on Saturday at Ohio Stadium, this week Brown finally won't have to worry about hearing about how badly the Buckeyes need one from him.
"He's been talking about this for weeks now," Brown said. "We've not had as many punt return opportunities as we would like, but he's been talking about how we've not had a good returner on kick or punt, and I kind of take that personal -- especially since I'm back there.
"When I got my chance. I just wanted to make it happen."
Brown didn't do it by himself, but his athleticism was on full display as he dashed through the Nebraska coverage unit for a 76-yard touchdown that gave the Buckeyes plenty of breathing room in the third quarter.
The blocking ahead of him was almost perfect, though Brown still had to make a couple Huskers miss as he cut up the field and dealt them a big blow on special teams to complement a huge offensive performance and an earlier score on defense as well for Ohio State. Brown wasn't quite as productive at receiver as he has been through most of the first half of the season, but he found at least one way beyond his three catches for 35 yards to contribute to a complete team effort.
"I just saw green," Brown said. "Green grass, our guys blocking, their guys on the ground, me and the punter.
"I knew I just had to make one guy miss."
He did, and that surely made one guy on the sideline really happy as well.
October, 7, 2012
10/07/12
9:00
AM ET
COLUMBUS, Ohio -- Still in full pads,
Braxton Miller
wrapped up his news conference and headed for the door.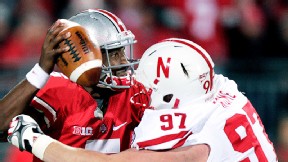 AP Photo/Jay LaPreteBraxton Miller is taking hits and showing toughness.
Before the Ohio State quarterback could slide through it and finally peel off his uniform, a reporter asked how he was holding up physically.
"Yeah," Miller said. "I'm good."
There wasn't much reason for the sophomore not to be in better shape after a 63-38 win over Nebraska on Saturday night at Ohio Stadium than he was a week ago in a much more physical affair at Michigan State. Miller still rushed 16 times for 186 yards and a touchdown against the Huskers, but he had plenty of help in the backfield thanks to a 28-carry performance from
Carlos Hyde
.
Hyde's health was also up for debate this week after he returned from a knee sprain against the Spartans, but he showed no signs of being slowed while tacking on 140 more rushing yards for the Buckeyes and forming a dangerous combination with Miller on the ground with
Jordan Hall
ailing with a partially torn knee ligament.
Other Buckeyes dealing with injuries:
Etienne Sabino: The senior linebacker left the game with an apparent leg injury. No immediate update on his status moving forward was available.
C.J. Barnett: The safety dressed for the game after missing the previous two weeks with a high ankle sprain, but he didn't play.
Michael Bennett: In his second game of the season, the defensive lineman continued to chip off some rust due to an injured groin. Bennett made two tackles and recovered a fumble.
October, 7, 2012
10/07/12
9:00
AM ET
COLUMBUS, Ohio -- A few things Ohio State will feel good about and some issues it will need to correct after staying unbeaten with a 63-38 win over Nebraska on Saturday at Ohio Stadium:
THREE UP
1. Ground and pound:
The approach wasn't all that complicated, and it didn't have to be. The Buckeyes have some tricks up their sleeve with the spread offense, but simply lining up and running straight at Nebraska worked just fine, so they didn't tinker much with that formula.
Braxton Miller
was once again too much for a defense to handle, and it clearly helped him to have a sidekick capable of taking on a full workload and absorbing some punishment, as
Carlos Hyde
rushed for 140 yards on 28 carries with four touchdowns.
October, 7, 2012
10/07/12
2:50
AM ET
COLUMBUS, Ohio -- When Urban Meyer met his new team, he talked about goals without restraint.
It's the kind of confident approach a coach can take when he already owns two national championships. At Ohio State, Meyer told his players, anything was possible.
"He told us when he first got here, 'It will happen. We can score 100 points,'" Buckeyes offensive lineman
Jack Mewhort
said. "He loves it. He's crazy. He would score 100 every game if he could."
Ohio State didn't score 100 on Saturday night. It settled for 63 despite enduring a first quarter Meyer accurately described as a "train wreck" -- zero first downs, 13 plays, 17 total yards.
The Buckeyes' first act was a dud against No. 21 Nebraska. And then they treated a record crowd of 106,102 at Ohio State to a show they won't soon forget. Sparked by do-it-all quarterback
Braxton Miller
and a surging offensive line, Ohio State scored its first offensive touchdown with 10:49 left in the first half and didn't stop for five more possessions.
Six consecutive touchdowns turned into a
63-38 win
, keeping Ohio State perfect under Meyer and leaving no doubt as to who is the Big Ten's top team in 2012. Even with the outcome long sealed, Meyer kept his starters in the game in the end for a final touchdown with 48 seconds left.
"It's cool," Mewhort said. "He's always hungry for more."
The Big Ten will do all it can to market its championship game Dec. 1 in Indianapolis. But it'll be like Bert Parks singing "There she is, Miss America" about the first- and second-runners-up in the pageant. Ohio State is by far the prettiest girl in a league filled with teams that shouldn't see the light of day.
The title game might be the Big Ten's big showcase, but it won't feature the league's main event, which will be watching from home because of NCAA sanctions. Although the division races should provide plenty of entertainment, if you're interested purely in quality and the story lines that go along with it, watch Ohio State chase a perfect season and, who knows, maybe an AP national championship. Watch Miller push for the Heisman Trophy. Watch the Buckeyes offense take aim on Meyer's stated goal of triple digits in points.
"We're just getting better and better," said Buckeyes cornerback
Bradley Roby
, who got the scoring started with 41-yard interception return, the first of his two picks on the night. "We're young, we're talented, and I can't see us losing a game this year. We're taking it one game at a time, but seriously, we're really trying to take it to everybody we play.
"I feel like this is going to be a good year, and next year will be even crazier."
[+] Enlarge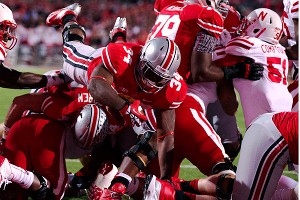 Greg Bartram/US PresswireCarlos Hyde bulls through the Nebraska defense for one of his four touchdowns.
Ah, next year. Ohio State will have no bowl ban, another full offseason under Meyer and more Meyer recruits in key roles. Are the Buckeyes on the national championship radar? Time will tell, but look where they are six games into Meyer's tenure.
Ohio State eviscerated a Nebraska team led by a head coach (Bo Pelini) respected for designing and developing defenses. The Buckeyes racked up 56 points, 481 yards and 19 first downs in the final three quarters Saturday night. They completed just seven passes to only four receivers, led by a sophomore tight end (
Jeff Heuerman
) who made one catch in 2011. They generated 326 rush yards and five touchdowns from two players -- Miller and running back
Carlos Hyde
, filling in for injured starter
Jordan Hall
-- plus a 33-yard scoring run from
Rod Smith
.
Keep in mind, this isn't a Buckeyes team stocked with proven weapons. Ohio State finished 107th nationally in total yards in 2011.
But does anyone want to face Ohio State's offense after what it did to Nebraska?
After some early speed bumps, Ohio State's offense is progressing ahead of schedule.
"You're playing a tight end [
Reid Fragel
] at right tackle," Meyer said, "playing a bunch of guys who haven't played a lot of football, and, being as honest as I can, they weren't very good. They didn't look the way we wanted them to look in January. ... They're the ones that have really developed. I mean, like really developed. Even early in the season, I didn't feel it.
"I'm starting to feel us change the line of scrimmage."
Although the spread offense is often described as a finesse system, Meyer always has talked about being a power team first. The past two weeks, Ohio State has turned the corner.
The big numbers didn't come against Michigan State, but the line's performance set the table for Saturday night's show.
"The O-line," Miller said, "they stepped it up real big."
Miller did his part, too. The sophomore broke his own team single-game quarterback rushing record with 186 yards despite finishing the first quarter with minus-9. He sparked the unit with a 72-yard dash on Ohio State's first play of the second quarter and continued to fill up his Heisman highlight reel.
With four 100-yard rushing performances in the first six games, Miller ranks second in the Big Ten in rush yards (763) and third in rushing average (127.2 ypg).
"We have a quarterback, obviously, that's kind of ridiculous running the ball," Meyer said.
Hyde wasn't too shabby, either, using his frame to bulldoze the Huskers, particularly near the goal line. He recorded Ohio State's first four-touchdown rushing performance since Eddie George had four against Iowa in 1995.
When Meyer arrived, Hyde envisioned big things for the offense.
"When he was at Florida, those guys would put up crazy numbers," Hyde said. "I know if we could get going like how they were getting going down there, we can do the same."
After the game, Meyer was cautious to get carried away, noting, "We're not there. We have a long way to go." But the talk of an undefeated season will escalate, as Ohio State continues its path through a weak league. The Heisman talk around Miller will escalate. The talk of next year and what the Buckeyes can do also will escalate.
The spotlight will shift to Indianapolis on Dec. 1. Until then, it'll be on the Scarlet and Gray.
October, 6, 2012
10/06/12
11:57
PM ET
Think the Big Ten is nothing but defense and plodders? Then you should have seen the track meet that No. 12 Ohio State and No. 21 Nebraska put on in Columbus, Ohio.


The Huskers looked ready to run early while building a 17-7 lead. But they ended up with cleat marks on their backs as the Buckeyes sprinted to a breathtaking
63-38 victory
. NCAA sanctions might be the only way to prevent Ohio State from winning the Big Ten this year. Another superstar performance by
Braxton Miller
and another shaky Nebraska performance on the road -- especially on defense -- made the difference.
Here's how it went down:
It was over when:
Corey "Philly" Brown
returned a Nebraska punt 76 yards for a touchdown with 5:50 left in the third quarter. That put Ohio State up 49-31, and the Huskers never got any closer. Ohio State scored on special teams and on defense, as
Bradley Roby
had a 41-yard pick-six in the first quarter.
Game ball goes to:
Ohio State quarterback Miller. Who else? The clear Big Ten MVP through six weeks, Miller was fantastic once again after a slow first quarter. He set a Buckeyes record for rushing yards by a quarterback with 185 yards on just 16 carries. He also threw for 127 yards and accounted for two touchdowns.
Carlos Hyde
also deserves recognition after rushing for 138 yards and four touchdowns.
Stat of the game:
From early in the second quarter until Brown's punt return, Ohio State scored touchdowns on all six times it gained possession. The Buckeyes outscored Nebraska 42-17 during those two quarters.
Best call:
Facing fourth-and-2 from the Nebraska 31 in the final minute of the first half, Ohio State coach Urban Meyer decided to go for it. And why not, when you have the best player on the field? Miller pulled off a beautiful quarterback counter run and sprinted all the way to the end zone for a 35-24 Buckeyes advantage.
What Nebraska learned:
Some big home wins had Huskers fans hoping their team had turned the corner and were ready to win a conference championship this season. But old problems like playing defense on the road and hanging onto the ball reared their ugly heads yet again. In Nebraska's three biggest conference road games since joining the Big Ten (Michigan and Wisconsin last year, Ohio State on Saturday) it has been gashed for a combined 156 points, an unfathomable number for a program Bo Pelini supposedly has built on defense. And while
Taylor Martinez
made some huge plays for his team, the quarterback threw three interceptions, lost a fumble and reverted to some bad form at times. The Huskers simply can't be taken seriously as a Big Ten power until they plug the leaks on defense, eliminate turnovers and beat a league titan on the road.
What Ohio State learned:
The Urban renewal looks ahead of schedule. Ohio State is clearly the best team in the Big Ten right now, and the scary part is, the Buckeyes are getting better. At 6-0 with a force of nature like Miller, Meyer's club should be ranked in the top 10 this week with a chance to climb higher. The Buckeyes likely will be 8-0 before heading to Penn State on Oct. 27. If their offense is as powerful as it looked against Nebraska, they're a real threat to run the table.
October, 6, 2012
10/06/12
10:14
PM ET
COLUMBUS, Ohio -- Urban Meyer won his Big Ten debut with a hard-nosed defense.


If the Ohio State coach is going to stay unbeaten in the league, it will be up to his spread offense.
The Buckeyes exploded after a sloppy start with four touchdowns in the second quarter, turning around an early deficit and taking a 35-24 lead into the locker room at halftime at Ohio Stadium.
Stat of the half:
The Buckeyes didn't even pick up a first down until the second quarter, but the offense kicked into gear thanks to Braxton Miller's legs. The Ohio State quarterback brought the Ohio Stadium crowd to life with a 72-yard dash on the way to 137 overall on the ground in the opening half.
Player of the half:
Bradley Roby
called his shot earlier in the week, but just getting his first interception of the season wasn't enough for the Ohio State cornerback. The sophomore doubled down after taking his first pick of the season back for a touchdown, nabbing another errant throw from
Taylor Martinez
in the second quarter to set the Buckeyes up for another score.
What's working for Ohio State:
The Buckeyes are continuing to trust their secondary to make plays as they dial up pressure with the defensive front, and while that helped contribute to a couple of big gains for the Huskers, it also produced two interceptions.
John Simon
has been a nuisance for Nebraska in the backfield, and the shots Martinez has taken could take a toll on him as the game wears on.
What's working for Nebraska:
The abundance of options in the backfield was bound to make it difficult for Ohio State to pin its ears back defensively, and a couple minor injuries have increased the difficulty of containing Martinez,
Rex Burkhead
and
Ameer Abdullah
. The Huskers have 146 yards rushing and have been most effective when using all their options on plays to the perimeter, but they likely aren't going to have much success testing the Buckeyes in the middle after intermission.
October, 6, 2012
10/06/12
6:00
PM ET
COLUMBUS, Ohio -- Nebraska visits Ohio State searching for its first signature road win as a member of the Big Ten. Ohio State wants to keep its perfect record alive in a year when the regular season is all that matters.


Saturday night's game between the 21st-ranked Huskers (4-1, 1-0 Big Ten) and 12th-ranked Buckeyes (5-0, 1-0) might come as close to a Big Ten showcase opportunity as we'll get in 2012. Both teams come off of hard-fought wins to open league play, as Nebraska rallied to beat Wisconsin in Lincoln, while Ohio State held off Michigan State at Spartan Stadium.
As I noticed on my flight from Chicago late last night -- and into this morning, flight from hell, I tell ya -- there will be a lot of red in the building tonight. Not surprisingly, Nebraska fans have traveled in large numbers, and Ohio State is encouraging its fans to wear scarlet for homecoming. The Shoe will resemble an inferno, one Nebraska quarterback
Taylor Martinez
must handle after struggling in his recent games away from Lincoln. Martinez was masterful last year against Ohio State, leading the largest comeback in Nebraska history, as the Huskers erased a 27-6 deficit and won 34-27. Most of the comeback took place after Ohio State quarterback
Braxton Miller
suffered an ankle injury and didn't return. Miller had some success against the Huskers last year, and he's obviously a lot better in 2012. So is Martinez, who led last week's comeback against the Badgers.
Ohio State will be without top running back
Jordan Hall
(knee), as
Carlos Hyde
will get the start. Safety
C.J. Barnett
(ankle) should return after missing the past two games. Nebraska enters the game healthy for the most part.
Tonight is a significant moment for Bo Pelini and the Huskers program, which hopes to turn a corner in its new league. A win would validate Nebraska as the Big Ten's top team and give the Huskers confidence for tough division road games against Northwestern, Michigan State and Iowa. After embarrassing losses at both Wisconsin and Michigan last year, the Huskers can show they can beat a good team in a very tough setting. It would be extra special for Pelini, who played at Ohio State and grew up in Youngstown, Ohio.
The weather should be nice tonight: temperatures in the high 40s, cloudy but no rain and calm winds.
Should be a great one. Follow us
on Twitter
and check the blog for updates throughout the night.
Did Ohio State Cheap Out On Championship Rings?
BIG TEN SCOREBOARD
Thursday, 9/3
Friday, 9/4
Saturday, 9/5
Sunday, 9/6
Monday, 9/7