Ohio State Buckeyes:

Heisman Trophy
August, 15, 2013
8/15/13
3:30
PM ET
COLUMBUS, Ohio -- The top individual goal on
Braxton Miller
's list for this season was already within reach a year ago, at least relative to the rest of college football.
Only four people stood between the Ohio State quarterback and a bronze statue at the end of last season, and the list is even shorter according to the
preseason poll of ESPN experts
.
[+] Enlarge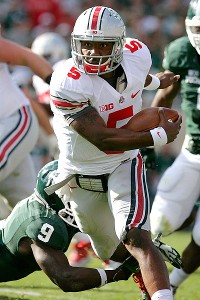 AP Photo/Al GoldisHow will Ohio State signal-caller Braxton Miller follow his stellar sophomore season?
The first
Heisman Watch
of the season was unveiled Thursday, and after finishing fifth in the final, official voting as a sophomore, the expectations are even higher now with Miller earning four first-place votes and sliding in at No. 2 behind South Carolina's
Jadeveon Clowney
-- and just ahead of last year's winner, Texas A&M's
Johnny Manziel
.
Miller admitted just before training camp opened that claiming the Heisman was on his to-do list this year, and he's also aware of the conversations about his candidacy. But if he's going to rise up a spot and take his team from its own No. 2 ranking in the coaches' poll to the top of the chart along with him, the trick will be managing all the hype and attention around him.
"I see it, I hear it," Miller said. "But I really don't pay too much attention to it, because if you pay too much attention to it, you lose focus about what's important for your team and yourself.
"I see it on ESPN sometimes, I'll hear it and I'm like, 'Wow.' I just have to get better to achieve that goal."
Based on the early reviews during training camp, the Buckeyes have a much improved Miller on their hands, one much better equipped to put up better numbers in the passing game and make a legitimate run at the Heisman.
The praise has come from all corners, with teammates lauding his communication and leadership, assistants raving about the steps he's taken mechanically and coach Urban Meyer going out of his way to compare how far Miller has come since the end of last season.
Given Miller's otherworldly speed and acceleration as a rushing threat, stacking all those other components on top of it and playing in Meyer's spread system suited to his strengths could produce both the statistics and the record needed to make a Heisman dream a reality.
"I don't want to give him an 'A' yet, but he's doing 'A' work," Meyer said. "The offense really struggled early in a scrimmage [Saturday], and he just kind of started managing it. It wasn't always a coach managing it.
"He's really building in that respect. And if he does, that's a special player."
There's a trophy for players of that caliber, obviously. Heading into the season, the pollsters only one see one guy standing in the way of hoisting it.
July, 25, 2013
7/25/13
1:20
PM ET
CHICAGO -- For a day, maybe two, something like the Silver Football trophy can stay with
Braxton Miller
.
But that's as long as the Ohio State quarterback will allow any hardware for his various individual accomplishments to sit around his place before shipping them off to his parents.
Rather than dwell on what he's already done and the possibility of getting wrapped up in his own glory with things like the shiny ball that he was given last season as the Big Ten's best player, Miller is intent on keeping his focus on the future -- and maybe a much more recognizable statue.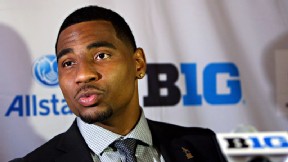 Jerry Lai/USA TODAY SportsBraxton Miller can't help but be aware of being a candidate for major awards, but he says he's keeping his focus on improving.
"I see [Heisman Trophy polls], I hear it, but I really don't pay too much attention to it," Miller said Thursday at Big Ten media days. "If you pay too much attention to it, you lose focus about what's important for your team and yourself.
"I see it on ESPN sometimes. I'll hear it and I'm like, 'Wow.' But I just have to get better to achieve that goal."
Miller didn't actually mention the Heisman by name, but a year after finishing fifth in the voting, even acknowledging the race for the most famous award in college football marks a noted change from a year ago.
The team remains the top priority for the junior, and his humility is still mentioned by his teammates and his coach as often as his dynamic athleticism. But Miller has clearly set his sights on claiming an award that has turned a handful of Buckeyes into legends already, and he's certainly aware of what that would mean for his own legacy.
"It was just a blessing to be there, to be in the same type of talk as Archie [Griffin] and Eddie [George] and Troy [Smith]," Miller said. "It's unbelievable where I was, where I was in high school, where I am now.
"I'm just blessed to be where I'm at now and to get better."
And for all the attention, awards and gaudy statistics he piled up as a sophomore, there is still undoubtedly room for that improvement Miller is chasing.
Almost from the moment Ohio State clinched an undefeated record in Miller's first full season as the starter, he has been working to clean up footwork that has been spotty in the past, trying to develop his communication skills in an effort to become a better leader, and working to improve his knowledge of Urban Meyer's spread offense going into his second season leading it.
The benefits are most likely to show up in the passing game for the Buckeyes, an area where Miller has been effective at times in the past but wasn't anywhere near as dangerous as Meyer would like. And until the evidence starts showing on the field in a meaningful setting, Miller is right back where he was for most of last season in Meyer's eyes -- not yet a Heisman candidate with an endorsement from his coach.
"At the time I was asked about Braxton Miller, he wasn't playing like a Heisman Trophy winner," Meyer said Thursday. "I love Braxton, and if it was all about like and feel-good and all that, I would have said, 'Yeah, give him the Heisman.'
"If I had to do it again, I would probably kind of stay away from that answer, but I just get asked things and I'm honest. If it's time, this year I will say Braxton Miller is a Heisman candidate. At this time, I can't say that."
That won't stop the rest of the country from putting him on the short list of favorites going into the season, and the crush of attention on the face of Ohio State's program isn't likely to slow down anytime soon.
How Miller handles the spotlight will be crucial for the Buckeyes, given just how large a role he plays in the spread attack. And if things go according to plan, his parents might need to clear out a new space in the trophy case.
"There's a lot of Little League stuff in there," Miller said. "Growing up with basketball, there's AAU, middle school, high school, now college [trophies]. There's a lot of stuff.
"Lot of room for more."
December, 3, 2012
12/03/12
7:30
PM ET
Ohio State's
Braxton Miller
will not be going to New York City as a Heisman Trophy finalist.

The Heisman committee decided to invite only three finalists to the ceremony this year: Kansas State's
Collin Klein
, Texas A&M's
Johnny Manziel
and Notre Dame's
Manti Te'o
. That means the voting between the No. 3 and No. 4 finisher was not particularly close. It could very well be that Miller finished fourth or fifth in the balloting, which we'll find out about on Saturday night.
Realistically, Miller was not going to win the award this year as the other top contenders did a little bit more. But he had a chance at getting to New York as a finalist, which would have been a great experience for the sophomore quarterback. It would have also been a nice reward for Ohio State's 12-0 season.
The fact that he did not get selected as a finalist should not take away from Miller's outstanding season, where he passed for 2,039 yards, ran for 1,271 yards and accounted for 28 touchdowns on an undefeated team. He was named the Big Ten offensive player and quarterback of the year.
New York will have to wait, but Miller has two more years to try and get there. He should enter the 2013 season as one of the Heisman Trophy favorites.
Weirdest Recruiting Violations
BIG TEN SCOREBOARD
Thursday, 9/3
Friday, 9/4
Saturday, 9/5
Sunday, 9/6
Monday, 9/7