May, 20, 2013
May 20
9:00
AM ET
Ohio State already had started paying more competitive salaries for assistant coaches before Urban Meyer arrived in November 2011.
But when Meyer and athletic director Gene Smith sat down to discuss staff pay, Smith soon realized he needed to do more.
"I think Michigan had stepped up with their coordinators," Smith recalled last week during Big Ten spring meetings in Chicago. "So we were already going to that before Urban Meyer came, but we bumped it up a little more. Any time there's change, you have that opportunity."
[+] Enlarge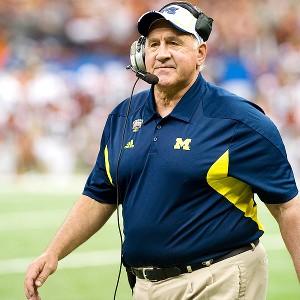 Lon Horwedel/Icon SMIMichigan DC Greg Mattison ranks as the highest-paid assistant coach in the Big Ten for the 2013 season.
"Everyone's always focused on head coaches' salaries," Smith continued. "That's always the thing. But really when you look at the changes, it's really been assistants' salaries across the country -- not just in the SEC, but the Big 12, Pac-12, all across the country."
The Big Ten is part of the change, too, as the league is allocating more money toward football assistants than ever before. The Detroit Free Press has an
excellent look at Big Ten assistants' salaries
, complete with a
database
that includes 10 of the 12 current members (Northwestern doesn't submit salaries as a private institution, and Penn State doesn't have to because of state laws).
The Free Press found that eight of the 10 schools are paying more for assistants in 2013 than they did in 2012 (only Indiana and Illinois are not). There are some significant total increases, such as Wisconsin (up $558,000), Nebraska (up $518,500), Purdue ($400,000) and Minnesota ($355,000). Staff pay had been an issue at Wisconsin, which lost six assistant coaches following the 2012 Rose Bowl, and at Purdue, which paid less for its staff during the Danny Hope era than any Big Ten school.
The total trend among the 10 schools is an increase of $1,720,852.24 for 2013.
Ohio State and Michigan remain No. 1 and No. 2 in Big Ten staff salary, as the Buckeyes allocate $3.416 million and the Wolverines allocate $2.805 million. Nebraska and Wisconsin make the biggest moves in the league for 2013, as the Huskers rise from sixth to third and the Badgers rise from seventh to fourth.
Illinois, which replaced five assistants from the 2012 team, including co-offensive coordinators Chris Beatty and Billy Gonzales, dropped from third in staff pay ($2.314 million) to eighth ($2.065 million).
The database shows that nearly every Big Ten assistant with "coordinator" in his title -- whether he's the sole coordinator or a co-coordinator -- will earn north of $300,000 for 2013. Only 18 assistants listed will make less than $200,000 in 2013 -- 15 work for Minnesota, Illinois, Purdue and Indiana.
Some notes:
Although Wisconsin paid former offensive coordinator Paul Chryst good coin, the school has increased its commitment for Gary Andersen's staff, not only with the coordinators but with some coveted position coaches like running backs coach Thomas Hammock ($300,000).
All of Nebraska's assistants are earning $200,000 or more for 2013, but there's a huge drop-off between Beck and the next highest-paid assistant (defensive coordinator John Papuchis at $310,000).
Michigan State has a similar drop off between Narduzzi and co-offensive coordinators Dave Warner ($270,000) and Jim Bollman ($260,000). Warner will be the primary offensive play-caller and has been on Mark Dantonio's staff since 2006, while Bollman is a newcomer.
Although Michigan is paying top dollar for its coordinators, the school gets its assistants for a relative bargain. Receivers coach/recruiting coordinator Jeff Hecklinski will earn $225,000 in 2013, while the others all will earn $205,000. Ohio State, meanwhile, pays all but one of its assistants $286,000 or more.
The Big Ten's three lowest-paid assistants all are in their first years: Illinois wide receivers coach Mike Bellamy ($125,000) and Purdue linebackers coach Marcus Freeman and running backs coach Jafar Williams (both at $120,000).
Although schools like Illinois, Wisconsin and Iowa ($325,000) pay their coordinators the exact same amount, others have slight differences in salary. Purdue's Shoop makes $5,000 more than defensive coordinator Greg Hudson. Minnesota defensive coordinator Tracy Claeys ($340,000) makes $5,000 more than offensive coordinator Matt Limegrover. Wonder if that leads to any underlying jealousy?
Most Big Ten schools have assistant salaries in round numbers, but there are some interesting totals from Indiana, which pays co-offensive coordinators Seth Littrell and Kevin Johns $255,500.04 and new recruiting coordinator/assistant defensive line coach James Patton $173,740.08. Never know when that change can come in handy.
The Big Ten still lacks some of the OMG totals seen in the SEC -- LSU is
paying new offensive coordinator Cam Cameron $3.4 million
in the next three years -- but the overall trend puts the league more on par with what we're seeing nationally.
April, 29, 2013
Apr 29
3:31
PM ET
You've waited for it, and the Big Ten prime-time schedule for the 2013 season is finally here. Well, at least the first part of it.
ESPN/ABC has made its six prime-time picks for the upcoming season. One game already had been announced: Notre Dame at Michigan on Sept. 7.
Here's the full Big Ten prime-time schedule on ESPN/ABC:
Sept. 7:
Notre Dame at Michigan, 8 p.m. ET, ABC or ESPN or ESPN2
Sept. 14:
Notre Dame at Purdue, 8 p.m. ET, ABC or ESPN or ESPN2
Sept. 28:
Wisconsin at Ohio State, 8 p.m. ET, ABC or ESPN or ESPN2
Oct. 5:
Ohio State at Northwestern, 8 p.m. ET, ABC or ESPN or ESPN2
Oct. 12:
Michigan at Penn State, 5 p.m. ET, ESPN or ESPN2
Oct. 26:
Penn State at Ohio State, 8 p.m. ET, ABC or ESPN or ESPN2
[+] Enlarge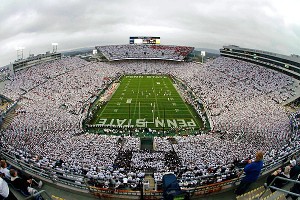 AP Photo/Gene J. PuskarPenn State will host Michigan in another prime-time matchup on Oct. 12.
Final TV designations will be made in the fall.
The Big Ten Network soon will announce its prime-time schedule for the fall, most likely next Monday. The
Big Ten had 14 prime-time games
last season, and you can expect about the same total this year.
Some thoughts on the list:
Although the Big Ten is now open to night games in November, none appear on this list. ESPN/ABC was able to fill its six-game allotment before the end of October, featuring two games involving Notre Dame and four Big Ten matchups. An ESPN platform will televise a Big Ten matchup in prime time five of six straight Saturdays from Sept. 7 to Oct. 12. There are certainly some appealing games in November that could be played at night, but the networks chose to pass this time around. So if you're upset, blame TV.
Ohio State athletic director Gene Smith has been vocal about the fact the Buckeyes typically play two road games at night and just one at home. Smith wants more night games at The Shoe -- so does coach Urban Meyer -- and he gets his wish as Leaders Division foes Wisconsin and Penn State both visit Ohio Stadium at night. Not surprisingly, the Buckeyes make more ABC/ESPN prime-time appearances (3) than any other Big Ten team, as they also visit Northwestern.
Speaking of Northwestern, the Wildcats have to be thrilled with an ABC/ESPN prime-time game at Ryan Field. Pat Fitzgerald's crew could/should be 4-0 and coming off of a open week when Ohio State comes to town for Northwestern's Big Ten opener. It will be the most anticipated Northwestern home game in recent memory.
I really liked the late-afternoon/early evening kickoff for Ohio State-Penn State last year at Beaver Stadium. Penn State gets another of these as Michigan comes to town on Oct. 12. Could a whiteout be on tap? Let's hope so.
The ABC/ESPN prime-time slate features most of the Big Ten teams projected to contend for a championship -- except one. Nebraska has to be a little disappointed to be left out, although the Huskers' schedule in September and October -- when Big Ten prime-time games are typically played -- is very dull. A Week 3 matchup against UCLA likely will be a late-afternoon kickoff.
Love 'em or hate 'em, Notre Dame remains a major national TV draw. The Irish will play a night game at a Big Ten stadium for the fifth consecutive season and two road night games against the Big Ten for the second time in three years.
What do you think of the ABC/ESPN prime-time schedule?
February, 12, 2013
Feb 12
10:30
AM ET
The sting from the
collapse of the short-lived Big Ten/Pac-12 scheduling alliance
isn't totally gone for Big Ten commissioner Jim Delany, but his desire to form partnerships with other conferences hasn't wavered.

Delany told ESPN.com on Monday that the Big Ten continues to explore possible affiliations with other leagues, both for bowl games and non-league scheduling. The Big Ten will be
increasing its conference schedules to nine or 10 games
, reducing the number of nonconference games by one or two per season.
"We would like to discuss [partnerships]," Delany said. "We were disappointed that the [Pac-12] collaboration didn't work. Whether we're at nine or 10, there will be fewer nonconference games, but we hope the fewer are better improved in quality. We would be very energized to sit down with others who were interested in also upgrading their schedules to see how we could do that."
Delany points out that different Big Ten programs have different goals, whether it's competing for national championships or making bowl games on a regular basis. But the message from the league office to its members is to push themselves more in non-league scheduling.
"What we've got to do is upgrade," Delany said. "It doesn't make any sense to be playing people from different divisions with fewer scholarships [FCS]. It doesn't make sense for everyone to be playing Southern Cal and Texas, but there's comparability there that we could seek out. We're trying to find out ways that we can create fair schedules, good schedules, healthy schedules for our teams, our players, our coaches and our fans."
Creating healthier bowl matchups also is an objective for the Big Ten. One idea gaining steam is to increase the flexibility of the selection process by sharing tie-ins with other conferences.
The Big Ten continues to have conversations with other leagues and bowl games as it prepares for its next lineup -- beginning in 2014 -- one built around " keeping things fresh for the fans and for the players and for the bowls," Delany said.
"If you have someone who goes to the same bowl three years in a row, that's problematic," Ohio State athletic director Gene Smith said. "Even two years in a row is problematic. So how do we change that model?"
The Big Ten has valued its alliances with the Rose Bowl in football and with the
ACC in basketball
. Other leagues
like the Big 12
also are motivated to form similar partnerships.
"The problem with partnerships beyond two or three or four is everybody has different objectives," Delany said. "Simple partnerships are easier than multilateral partnerships, but we'll explore both."
February, 1, 2013
Feb 1
9:00
AM ET
As we've written for the past several days, Big Ten athletic directors have a whole host of decisions to make over the next few months, including
how many league games
they should play,
how to align the divisions
,
the next bowl lineup
and even
what to call the divisions
.

"We've got some heavy lifting to do here for the next few months," Purdue athletic director Morgan Burke said.
But what if all that huffing and puffing turns out to be a Sisyphean task? There's one thing that could send conference leaders scrambling back to the drawing board: more expansion.
The decisions the athletic directors will make for the 2014 season and beyond will be based on the new 14-team format with Maryland and Rutgers joining. Many people suspect the Big Ten is not done adding members and could soon grow to 16 or even to 20 members. Ohio State president E. Gordon Gee recently informed us that conference
expansion talks are "ongoing."
The athletic directors are well aware of the possibility that more teams could be coming at just about any time.
"Based on the last three years I've been in this business, you'd be crazy not to think about it," Michigan athletic director Dave Brandon said. "But it's hard to model anything because you don't know what to model. The minute you get yourself convinced that you're going to go from 14 to 16, for all you know you're going to 18, and a lot of people think the ultimate landing place is 20. Who knows?"
For now, all the decisions they make will be based on a 14-team model only.
"You make your decision based on today," Iowa's Gary Barta said. "And today, we have that many teams. We can't worry about something that's not established yet. I don't know if and when there will be more teams. Right now, we're going to make decisions based on the additions of Rutgers and Maryland, and we're going to make them with the information we have, consistent with our principles."
"It's hard to predict the future," added Northwestern's Jim Phillips. "No one would have predicted we'd be at this place we're at right now. I don't think you can get polarized by the what-ifs or the potential of what might be and lose sight of where you're at."
The league's ADs will do their best to come up with the best framework for a 14-team league. If future expansion arrives in time for the 2014 season or shortly after it, at least the conference has gained lots of recent experience in how to deal with it.
"When you get into the discussion of things like 10 [conference games], you say, 'Wow, if we had a couple more teams, it would be easier,'" Ohio State athletic director Gene Smith said. "That's a natural. But it's not something that motivates you to say, 'We've got to position this in case we have another team, or two more teams.' We don't do that."
"What I've liked about our league is, when we added Nebraska, we felt like we needed to settle and watch the landscape. We thought the East Coast was important, and we got two good pickups relative to that principal. So I think we deal with what we have now, sit, monitor the landscape, and if something emerges down the road, we're positioned to be able to absorb."
January, 25, 2013
Jan 25
9:00
AM ET
The Big Ten's bowl lineup will change in 2014, and the changes likely won't be limited to games and dates.
The entire bowl business could soon have a dramatically different look.
Several conference commissioners, including the Big Ten's Jim Delany, publicly discussed the
need to change the bowl business model
earlier this month during the week of the national title game. Declining bowl attendance is a concern, as are issues such as ticket distribution and the selection of teams. The Big Ten's athletic directors will discuss the future of the bowls when they meet next month at league headquarters in Park Ridge, Ill. -- they'll tackle not just the who, what, where and when, but the how and the why.
[+] Enlarge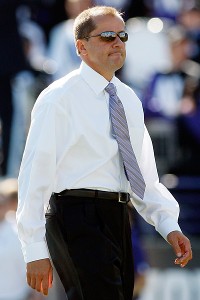 Jerry Lai/USA TODAY SportsNorthwestern's Jim Phillips and other Big Ten athletic directors anticipate changes to the bowl business model and selection process, possibly as soon as 2014.
"There are going to be some changes," Iowa athletic director Gary Barta told ESPN.com. "What I worry about is the watering-down of college football. College football's been on a meteoric rise since the creation of the BCS, both in stadium attendance and TV ratings. I think we're starting to see that saturation, and that's what I worry about going forward in the next 10 or 20 years. As we go into introducing the 2014 playoff, it is a chance for us to re-look at all of our bowls."
Several Big Ten athletic directors we contacted talked about having a more "national" bowl lineup beginning in 2014. They might as well have substituted the word "flexible."
Right now, the Big Ten's bowl lineup contains heavy doses of SEC, Big 12, Florida, Texas and Jan. 1. The selection order is fairly rigid. As a result, we've seen teams go to the same bowl in consecutive seasons (i.e. Nebraska at the Capital One in 2012 and 2013) or to the same state for a number of years. Wisconsin played in six consecutive bowls in Florida from 2004-2009, including back-to-back appearances in both the Capital One and Champs Sports Bowls.
The repetition problem exists even outside conference bowl tie-ins. Ohio State went to Arizona four times in a five-year stretch, three times for Fiesta Bowls (one of which was the national championship) and once for the BCS title game.
"I used the term bowl fatigue," Ohio State AD Gene Smith told ESPN.com. "When you go back to the same place multiple times … the novelty is lost."
The key to preventing bowl fatigue, several ADs say, is eliminating the rigidity of selections.
"We're going to try to get toward more looking at how do you put together a slate where you get good matchups, but at the same time avoid repeats … the bowls don't want that either," Purdue's Morgan Burke said. "I don't know that we can unteach what people have learned over the years -- 'We have the next pick, and the next pick.' Maybe you don't do that this round. Maybe we say, 'You're going to get a Big Ten team, and it will be part of a selection process.'"
Delany has mentioned the possibility of collaborating with other leagues on bowl tie-ins, essentially sharing the spots depending on the year and the attractiveness of the matchup.
"This is about the fans and the fans' experience and us really listening to what they're saying," Northwestern athletic director Jim Phillips said. "It's been documented that repeat institutions and repeat bowls and repeat matchups is not a recipe for success. People want fresh and new and exciting matchups. Any way we can do that with those bowl tie-ins, I would be in complete favor of that."
The Big Ten
hosted officials from 10-12 bowls last fall
and will discuss possible tie-ins with the athletic directors throughout the spring. It's likely the Big Ten adds at least one new bowl on the East Coast -- the New Era Pinstripe Bowl at New York's Yankee Stadium certainly is in the mix -- and possibly another in California, where it currently makes only one postseason appearance (Rose Bowl).
Another huge component is ticket distribution. Many
Big Ten schools struggled to sell their ticket allotments
from the bowls this past year, as fans could spend much less for tickets -- often better seats -- in the secondary market.
"What we have to do is work with the bowls to take that impact off of the institutions but work closely together on a sales strategy," Smith said. "Let's forget about the institution being responsible for X, and the bowl being responsible for X and the local organizing committee being responsible for X. Look at your aggregator sales plan, then come up with a cooperative strategy to make sure we're selling the bowl out. We've just got to think differently than we have in the past, and think about pricing, and [tiers] of pricing and the venues and things of that nature."
The ADs are mindful of the upcoming playoff. Although they'll be tackling several important items in the coming months, the Big Ten's bowl lineup and the bowl system as a whole will merit close attention.
"The landscape is shifting with the 2014 playoff introduction," Barta said. "I want to make sure we keep the bowls relevant."
December, 21, 2012
12/21/12
3:10
PM ET
Ohio State confirmed today what it had been
talking about doing
this summer: The Buckeyes will play their 2013 spring game at Paul Brown Stadium in Cincinnati.

The move was prompted by some renovation work to the concrete at Ohio Stadium that will be going on in the spring. The school worked closely with the Cincinnati Bengals to make the spring game, which will be held April 13, happen on the NFL team's home field.
"We are very appreciative to be able to bring the Buckeyes into Cincinnati and closer to our fans in the southern Ohio region," athletic director Gene Smith said in a statement.
Ticket prices haven't gone on sale yet but will be $18 for club seats, $12 for general public and $5 for ages 2 through 6. There should be a high demand for tickets after the Buckeyes went 12-0 this season. Last spring, Ohio State had the nation's largest spring crowd as 81,112 came out to The Shoe in poor weather conditions to see Urban Meyer kick off his tenure. Paul Brown Stadium seats a little more than 65,500.
It will be sort of a homecoming for Meyer, who played college football at Cincinnati. And, of course, it won't hurt to get the Buckeyes some visibility in a part of the state that is rich with high school talent.
October, 14, 2012
10/14/12
8:45
PM ET
Oh, Gene Smith. If only Ohio State had self-imposed a bowl ban in 2011 before the NCAA did (for 2012), there's a good chance the unbeaten Buckeyes would be headed to some BCS game, perhaps the big one Jan. 7 in Miami.
As it stands, Ohio State is out of the mix (along with Penn State), and Michigan, despite two losses to top-10 teams, looks like the Big Ten's best bet to reach the Rose Bowl. The Wolverines have been dominant in their first two Big Ten games, and enter a crucial Legends stretch against Michigan State and Nebraska. Right now, Brady Hoke's squad clearly is the team to beat.
Wisconsin makes a nice move in the projections after dismantling Purdue at Ross-Ade Stadium. Following back-to-back trips to Pasadena, the Badgers are pegged for a familiar bowl site -- Orlando, Fla. -- in the Capital One Bowl. Nebraska drops a spot in the projections, partly because of its struggles and partly because it visited the Capital One Bowl last season. Iowa, meanwhile, moves up after its road upset of Michigan State. Although Iowa and Northwestern could finish with similar records, Iowa's larger fan base gets it the nod to the Gator Bowl.
Michigan State, our preseason Rose Bowl pick, tumbles to the Meineke Car Care Bowl of Texas following its third home loss of the season. The Spartans could be looking at more defeats, as their upcoming schedule (Michigan, Wisconsin, Nebraska) only gets tougher.
We're keeping both Minnesota and Purdue in the bowl projections for now, but both teams have some work to do. The Gophers certainly could get to six wins with MarQueis Gray, but the senior quarterback's health remains a question mark. Purdue is an absolute mess and could have a tough time winning three more times. Indiana isn't in the projections just yet but has shown impressive fight in Big Ten play and has some winnable games left.
Here's our latest way-too-early stab at projecting the postseason:
Rose Bowl, Jan. 1: Michigan

Capital One Bowl, Jan. 1: Wisconsin

Outback Bowl, Jan. 1: Nebraska

Gator Bowl, Jan. 1: Iowa

Buffalo Wild Wings Bowl, Dec. 29: Northwestern

Meineke Car Care Bowl of Texas, Dec. 28: Michigan State

Heart of Dallas Bowl, Jan. 1: Minnesota

Little Caesars Pizza Bowl, Dec. 26: Purdue
September, 29, 2012
9/29/12
9:49
PM ET
Ohio State coach Urban Meyer has been accused of bringing SEC-style recruiting tactics to the Big Ten.


Now Meyer's approach to video-tape exchange with opponents is under the microscope.
According to
the Detroit Free Press
, Michigan State's coaches had an issue about the game film Ohio State sent to them in advance of Saturday's game in East Lansing, Mich. The newspaper initially reported that Michigan State filed a complaint to the Big Ten, and later reported that athletic directors Mark Hollis (MSU) and Gene Smith (OSU) had settled the issue without Big Ten involvement.