Ohio State Buckeyes:

Frank Epitropoulos
March, 4, 2013
3/04/13
10:05
AM ET
Spring practice begins Tuesday at Ohio State, but the Buckeyes never stop recruiting.

On Feb. 6, Urban Meyer and Co. landed the third-ranked team in the nation after a 2012 recruiting campaign that put Ohio State sixth.

There are certain things we know about the Buckeyes as they fine-tune their lineup, and other things that need to be addressed.

Here are five questions facing the school as they turn the calendar completely to 2014:

1. What to do with the offensive line?


March, 1, 2013
3/01/13
10:00
AM ET
It's time to dip into the BuckeyeNation recruiting mailbag and answer some of your questions.
We'll try to keep to five questions a week to give everyone a chance to get their answers.
We encourage you to send your questions by Twitter at @bbournival, e-mail at brad.bournival.espn@gmail.com or by posting a question in
the Horseshoe Pit forum
.
Here's the latest installment.
To continue reading this article you must be an Insider
February, 28, 2013
2/28/13
9:00
AM ET
With national signing day in the books, the next big date on the Ohio State calendar as it continues working toward an encore for an undefeated season in 2013 is spring practice. Before those workouts begin, BuckeyeNation will take a look at each position to see where the roster is at -- and where it's going.
[+] Enlarge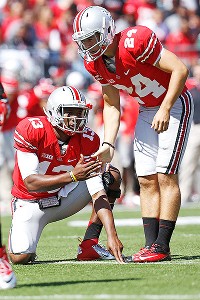 Kirk Irwin/Getty ImagesDrew Basil is the incumbent kicker and is likely to take on punting duties in 2013 as well.
KICKER/PUNTER
Who's back: With all the firepower the Buckeyes have returning and an aggressive coach who would clearly prefer never to need anybody to boot the football, the loss of punter Ben Buchanan may not be that big of a deal. But no offense is going to be perfect on every possession no matter how much Ohio State might score this fall, which makes filling the void the senior left a high priority this spring -- and could give kicker Drew Basil plenty to do. The Buckeyes recruited and received a commitment from a punter before Johnny Townsend ultimately elected to stay closer to home and sign with Florida, which has created something of a dilemma for Meyer and newly promoted special teams coordinator Kerry Coombs. But Basil does have one more year left to contribute with the program, and he will be the leading candidate at both positions heading into camp next week.
New face: Frank Epitropoulos isn't new to the program, but he could wind up being a fresh option to fill the hole at punter. The graduate of nearby Upper Arlington was recruited as a wide receiver and was listed at the position last fall during his first year with the Buckeyes, but the big leg he showed off as a three-way player in high school when averaged more than 42 yards per punt will make him a candidate as a specialist and could help take some of the burden off Basil.
Projected spring depth chart: Basil should enter spring practice as the starter at both positions, with Kyle Clinton backing him up at kicker and Epitropoulos potentially pushing for work at punter.
Numbers game: Meyer's fearless approach paid off in pressure situations as the Buckeyes led the country in fourth-down conversion percentage last fall, but it doesn't leave much of a sample size to judge Basil's accuracy as a kicker. Heading into the final week of the regular season, the rising senior had attempted just six field goals, making four of them. The Buckeyes needed him to deliver against rival Michigan to close out the undefeated campaign, though, and he doubled his total by making four of his five tries in the victory.
One to watch: There aren't many candidates, leaving Epitropoulos as the most intriguing option for the Buckeyes among the specialists. His numbers in high school suggest he has the strength and ability to potentially be productive at the next level, and with Ohio State loading up with dangerous weapons at wide receiver and creating stiff competition for playing time at the skill positions, handling the punting duties could provide a clearer path for Epitropoulos to contribute.
He said it: "Kerry Coombs is an excellent coach who has a great deal of experience and expertise with special teams. He is an outstanding teacher, an excellent motivator and he has a true passion for special teams." -- Meyer earlier this month
February, 14, 2013
2/14/13
10:00
AM ET
It's time to camp.
With the signing period over, the need for the Class of 2014 to get noticed becomes paramount. This weekend, three big combines take place.
To continue reading this article you must be an Insider
August, 21, 2012
8/21/12
4:31
PM ET
COLUMBUS, Ohio -- The training staff knows better than to give
John Simon
an option.
If it were up to the Ohio State defensive end, he'd never be forced to the sideline to spend a practice as an observer.
Even when they slapped a brace on his left ankle on Monday and kept the senior out of action for precautionary reasons, Simon apparently still snuck into a few drills before the workout was over. Then he made clear he'd be right back in action again on Tuesday.
[+] Enlarge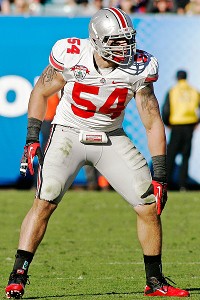 Phil Sears/US PresswireThe Ohio State coaching staff is finding it's hard to keep John Simon off the practice field.
"I'm perfectly fine," Simon said. "I'd be out there today if it was my call. I'm good. ... It's just precautionary stuff right now, just a little rehab here and there.
"I kind of got out there towards the end. I found a way to get out there, so I might annoy the people inside a little bit, but they're just trying to help and doing a great job."
Trying to rein in the tireless Simon might be the toughest job of all for the Buckeyes as August begins to wind down and the attention shifts to the season opener on Sept. 1.
The priority, of course, is to make sure Simon is healthy and ready to go against Miami (Ohio), which occasionally means the trainers telling him to relax or coaches having to pull him out of drills -- whether he likes it or not. After all, the Buckeyes already know what the captain is capable of, so if they can spare some wear and tear on Simon and give some other guys a few extra first-team reps, now is a perfect time to do it.
"It's a great thing to have, believe me, to have to pull a guy back instead of pushing him forward," defensive coordinator Luke Fickell said. "But it gives us an opportunity to get guys reps. If you want to ask who has competitive excellence and who's ready to play, John Simon is ready to play. He has plenty of reps out there in the stadium and we know how he's going to react and respond at noon on Sept. 1.
"Some of those other guys, you don't know, so the more reps you can get, the better opportunities you have."
Simon can't get enough of them for himself though, and he's going right back out looking for them after just one day off.
Air it out:
The eye-popping numbers strongly suggested improvement in
Braxton Miller
and the passing game.
But that wasn't how offensive coordinator Tom Herman was evaluating his quarterback on Saturday.
Certainly he'll be glad to take outings like Miller delivered in the scrimmage that wrapped up training camp, one which included 27 completions in 39 attempts for 358 yards with a pair of touchdowns in work that came mostly against the second-team defense. But it was something more intangible that convinced Herman the progress was real for the Buckeyes.
"It was the first time, really, that I felt like he looked comfortable with what we were doing and wasn't thinking, but rather playing," Herman said. "With him, the biggest thing is repetition, repetition, repetition. Coach Meyer uses a phrase with our team about competitive excellence and doing something so many times, over and over and over again, against all the different looks a defense can present to you, that eventually the game slows down and becomes second nature to you.
"I felt like Saturday he looked that way a lot of the time in the scrimmage."
Progress report:
The talented freshmen have shown the physical ability to contribute right away on the defensive line.
Now Fickell has to check back to see how much they've learned mentally before figuring out how much they can offer when the season opens.
For starters,
Noah Spence
and
Adolphus Washington
have certainly presented themselves as viable options for early playing time thanks to the speed of the former and the size and strength of the latter. But as Fickell and the coaching staff begin to install a game plan for Miami, it's important first to find out how much of the playbook the newcomers have absorbed.
"We know we're going to play those guys," Fickell said. "At some point in time, we've got to figure out how much. I think they've shown they have the opportunity to get out there, how much they retain is what we have to see.
"That's where this week, we start to hone in on what we do and do it against the offense we're going to see, we'll see how they react and respond. You know, we like to play eight guys up front, and in order to play eight guys we're going to have to have some freshmen play."
Bumps and bruises:
Corey "Philly" Brown was limited during the open portion of practice on Tuesday morning, at one point jogging off the field to have his ankles taped by a team trainer. The junior wide receiver didn't appear to be dealing with any sort of significant injury and was warming up on the side when the viewing period ended.
Freshman linebacker
Joshua Perry
was working out with the injured players on the sideline as well with an undisclosed ailment, joining
Jordan Hall
,
Nathan Williams
and
Frank Epitropoulos
.
August, 20, 2012
8/20/12
8:26
PM ET
COLUMBUS, Ohio -- The true answer won't come for more than a month.
The data Urban Meyer relies on year after year to gauge how successful a training camp was isn't available until four games are in the books, so the grades are still incomplete from the Ohio State coach for now.
But he wanted physical practices, and Meyer seemed pleased with the intensity the Buckeyes delivered. He also wanted a team that survived that style of play with its health intact, and after knocking on wood, Meyer appears to have got what he wanted there as well.
"Unbelievable," Meyer said after a workout on Monday evening. "I mean, the way we practiced and I don't think we've lost a guy, have we?"
The only potential losses from the lineup for the opener on Sept. 1 already existed before camp, with
Jordan Hall
's foot injury and the surgically repaired knee of defensive end
Nathan Williams
currently looming as the only possible absences of significance.
The Buckeyes have dealt with a few minor health issues through camp, with contributors such as tight end
Jeff Heuerman
missing time with a tight hamstring and starting linebacker
Ryan Shazier
briefly on the shelf with an undisclosed ailment as well.
But aside from season-ending surgery for true freshman offensive lineman Joey O'Conner, a knee scope for reserve safety
Zach Domicone
and a hamstring injury for freshman wide receiver
Frank Epitropoulos
, the Buckeyes appear to have a full deck heading into the season.
And four weeks after it begins, Meyer will know if he should have pushed the Buckeyes even harder or dialed it back.
"The only thing I worry about is the health in the heat, you know, I'm scared to death of the heat," Meyer said. "We've been fortunate. We try to push them as hard as we possibly can, and how you evaluate that is just over the last 10 years how we do in the first four games. We've gone, I think we're 39-1 or something like that in our first four games and we have really hard camps.
"Sometimes you play teams you're better than, and sometimes you don't. That's how I try to evaluate every year if we're going too hard, but we're fine."
PASSING GRADE:
Walking off the field, Meyer admitted he wasn't really aware of what the offense had just done.
But once he popped in the film of Saturday's closed scrimmage, there was clear evidence of the improvement he's been emphasizing in the Ohio State passing game. And while statistics have not been released publicly, Meyer tallied one up for
Braxton Miller
that surely validated his progress leading the attack at quarterback.
"He threw for 350 yards in the scrimmage, so he had a good day," Meyer said. "Really good day. I didn't realize it until after the scrimmage.
"The area where we're much improved is throwing and catching, much improved. We couldn't have gone much the other way, but they are much improved. The receivers have stepped up."
They were clearly making the most of a lot of balls thrown their way from Miller in a session that Meyer indicated was largely the first-team offense against the second-team defense.
Corey "Philly" Brown was likely the biggest beneficiary after being designated as Ohio State's "No. 1 receiver right now" by Meyer, with
Devin Smith
apparently not far behind. But
Jake Stoneburner
,
Michael Thomas
and
Nick Vannett
also drew praise for their recent work by Meyer, who hasn't been shy in the past about criticizing his targets.
"I feel right now the offense will be fairly competent," Meyer said. "I can't say great because I don't see that yet. But I see competency, I see the ball being snapped correctly, I see an offensive line protecting and doing the right things and the skill [players] are starting to improve.
"It didn't look that way for the first two weeks in the spring."
UP FOR GRABS:
The Buckeyes didn't leave the scrimmage with a resolution at right tackle.
Their workout on Monday certainly didn't provide an answer either.
The other four spots on the offensive line are seemingly locked in for the opener against Miami (Ohio), but converted tight end
Reid Fragel
and freshman
Taylor Decker
are still jockeying for the fifth one -- and it appears neither did anything to win it during the latest practice session.
"We can't name a starter right now," Meyer said. "... Right tackle has got to be a little better. They're trying, but one at times looks like a freshman because he is and one looks like a guy that just moved from tight end.
"It's fresh in my mind because they got slapped around a little bit today."
KLEIN TRIAL PUSHED BACK:
Former Ohio State linebacker Storm Klein's trial date, originally scheduled for Monday, has been pushed back to Sept. 24, according to Franklin County Municipal Court documents.
The senior was dismissed from the team in July after being charged with domestic violence and assault for an alleged incident with the mother of his child.
Ohio State Quarterback Competition
BIG TEN SCOREBOARD
Thursday, 9/3
Friday, 9/4
Saturday, 9/5
Sunday, 9/6
Monday, 9/7