OSU Buckeyes:

Everett Withers
May, 20, 2013
May 20
9:00
AM ET
Ohio State already had started paying more competitive salaries for assistant coaches before Urban Meyer arrived in November 2011.
But when Meyer and athletic director Gene Smith sat down to discuss staff pay, Smith soon realized he needed to do more.
"I think Michigan had stepped up with their coordinators," Smith recalled last week during Big Ten spring meetings in Chicago. "So we were already going to that before Urban Meyer came, but we bumped it up a little more. Any time there's change, you have that opportunity."
[+] Enlarge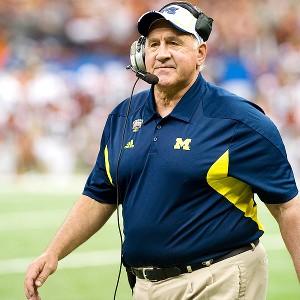 Lon Horwedel/Icon SMIMichigan DC Greg Mattison ranks as the highest-paid assistant coach in the Big Ten for the 2013 season.
"Everyone's always focused on head coaches' salaries," Smith continued. "That's always the thing. But really when you look at the changes, it's really been assistants' salaries across the country -- not just in the SEC, but the Big 12, Pac-12, all across the country."
The Big Ten is part of the change, too, as the league is allocating more money toward football assistants than ever before. The Detroit Free Press has an
excellent look at Big Ten assistants' salaries
, complete with a
database
that includes 10 of the 12 current members (Northwestern doesn't submit salaries as a private institution, and Penn State doesn't have to because of state laws).
The Free Press found that eight of the 10 schools are paying more for assistants in 2013 than they did in 2012 (only Indiana and Illinois are not). There are some significant total increases, such as Wisconsin (up $558,000), Nebraska (up $518,500), Purdue ($400,000) and Minnesota ($355,000). Staff pay had been an issue at Wisconsin, which lost six assistant coaches following the 2012 Rose Bowl, and at Purdue, which paid less for its staff during the Danny Hope era than any Big Ten school.
The total trend among the 10 schools is an increase of $1,720,852.24 for 2013.
Ohio State and Michigan remain No. 1 and No. 2 in Big Ten staff salary, as the Buckeyes allocate $3.416 million and the Wolverines allocate $2.805 million. Nebraska and Wisconsin make the biggest moves in the league for 2013, as the Huskers rise from sixth to third and the Badgers rise from seventh to fourth.
Illinois, which replaced five assistants from the 2012 team, including co-offensive coordinators Chris Beatty and Billy Gonzales, dropped from third in staff pay ($2.314 million) to eighth ($2.065 million).
The database shows that nearly every Big Ten assistant with "coordinator" in his title -- whether he's the sole coordinator or a co-coordinator -- will earn north of $300,000 for 2013. Only 18 assistants listed will make less than $200,000 in 2013 -- 15 work for Minnesota, Illinois, Purdue and Indiana.
Some notes:
Although Wisconsin paid former offensive coordinator Paul Chryst good coin, the school has increased its commitment for Gary Andersen's staff, not only with the coordinators but with some coveted position coaches like running backs coach Thomas Hammock ($300,000).
All of Nebraska's assistants are earning $200,000 or more for 2013, but there's a huge drop-off between Beck and the next highest-paid assistant (defensive coordinator John Papuchis at $310,000).
Michigan State has a similar drop off between Narduzzi and co-offensive coordinators Dave Warner ($270,000) and Jim Bollman ($260,000). Warner will be the primary offensive play-caller and has been on Mark Dantonio's staff since 2006, while Bollman is a newcomer.
Although Michigan is paying top dollar for its coordinators, the school gets its assistants for a relative bargain. Receivers coach/recruiting coordinator Jeff Hecklinski will earn $225,000 in 2013, while the others all will earn $205,000. Ohio State, meanwhile, pays all but one of its assistants $286,000 or more.
The Big Ten's three lowest-paid assistants all are in their first years: Illinois wide receivers coach Mike Bellamy ($125,000) and Purdue linebackers coach Marcus Freeman and running backs coach Jafar Williams (both at $120,000).
Although schools like Illinois, Wisconsin and Iowa ($325,000) pay their coordinators the exact same amount, others have slight differences in salary. Purdue's Shoop makes $5,000 more than defensive coordinator Greg Hudson. Minnesota defensive coordinator Tracy Claeys ($340,000) makes $5,000 more than offensive coordinator Matt Limegrover. Wonder if that leads to any underlying jealousy?
Most Big Ten schools have assistant salaries in round numbers, but there are some interesting totals from Indiana, which pays co-offensive coordinators Seth Littrell and Kevin Johns $255,500.04 and new recruiting coordinator/assistant defensive line coach James Patton $173,740.08. Never know when that change can come in handy.
The Big Ten still lacks some of the OMG totals seen in the SEC -- LSU is
paying new offensive coordinator Cam Cameron $3.4 million
in the next three years -- but the overall trend puts the league more on par with what we're seeing nationally.
May, 2, 2013
May 2
9:00
AM ET
COLUMBUS, Ohio -- Just about every preseason story on Ohio State will mention the youth of the defense. Head coach Urban Meyer has said on more than one occasion that the Buckeyes have "a leadership void" they must fill.
Well, it makes sense to look first to the back end of the defense for those answers. One place where Ohio State has plenty of experience is at safety, where seniors
Christian Bryant
and
C.J. Barnett
are both third-year starters. The secondary also boasts an All-American in
Bradley Roby
, who's never been afraid to speak his mind.
[+] Enlarge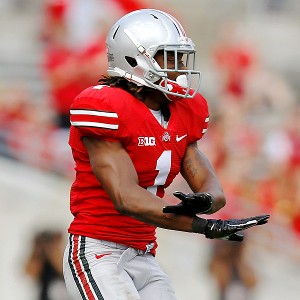 Kirk Irwin/Getty ImagesBradley Roby admits he was a selfish player last season, but now he's embracing more of a leadership role.
"I think it's important that me, Christian and Roby take ownership of the defense," Barnett told ESPN.com. "We've got a lot of young guys who look up to us."
Defensive leaders more often are found closer to the line of scrimmage, as those guys are involved in more plays and gain respect for their physicality. But Ohio State is replacing all four defensive linemen from last year and has only one holdover starter --
Ryan Shazier
-- at linebacker.
"It's probably a little harder to lead at that [safety] position," said Everett Withers, who coaches the Buckeyes' safeties in addition to serving as assistant head coach and co-defensive coordinator. "But C.J. and Christian have played a lot of snaps, and the front guys and the linebackers all respect those guys for what they've done here. When you have respect from your peers, that makes it a little bit easier."
That's not to say that Bryant and Barnett are satisfied with their accomplishments.
Though they've both played a lot for the Buckeyes -- and Bryant was a second-team All-Big Ten performer last year -- Barnett said the safeties have "underachieved" thus far during their careers. That's a message that seems filtered down from their coaches, who are demanding more.
"He's right on point; I think they have underachieved," Withers said. "No disrespect to what's been done in the past, but when you play safety at a place like Ohio State, you've got a great tradition of safety play. And when guys don't have a ton of production going into their senior year you wonder why. And I've wondered why since I've gotten here. So there's been a big push for us to see how we can be more productive on the field, and in turn, that will allow us to be better leaders off the field."
Though Bryant finished second on the team with 70 tackles, he has only one career interception. Barnett has four career picks in 32 games. Ohio State led the Big Ten last year in interceptions with 14 in 12 games, but Withers called that "a low number" and said the Buckeyes dropped another 14 potential interceptions.
That's why, during spring practice, every Buckeyes defensive back had to drop and do pushups if a ball hit their hands and they didn't make the interception, no matter how tough the catch would have been.
"Myself, I had about six or seven drops last year," Barnett said. "That's unacceptable. Coach said that PBU's [pass break-ups] are not acceptable here. We need interceptions.
"That's huge for field position, and when you've got an offense like we do and you can get the ball back in Braxton [Miller]'s hands, that's leading to points for us. Missing those opportunities are huge and could possibly cost us a game."
Production wasn't really an issue in 2012 for Roby, although he'd like to grab more than two interceptions this season. But Roby didn't view himself as a leader last season. This year, Meyer said, "he's got to be" one.
"I was kind of a selfish player last year, only worrying about me," Roby said. "At cornerback, you really are out there on an island, and so you start thinking the game is only you and the receiver. I was taking that viewpoint. But I'm opening it up now, and I know I've got to talk to the D-linemen, the linebackers and everybody and make sure they know what they're doing, because they might not be as far advanced as I am."
The best players often make the best leaders. And with their experience and talent, the Buckeyes' secondary has a chance to be both of those things.
"It's just a matter of us going out there and making the plays we need to make," Barnett said. "If we handle our business, we'll definitely be in the conversation of being the best secondary in the nation."
February, 27, 2013
Feb 27
9:00
AM ET
With national signing day in the books, the next big date on the Ohio State calendar as it continues working toward an encore for an undefeated season in 2013 is spring practice. Before those workouts begin, BuckeyeNation will take a look at each position to see where the roster is at -- and where it's going.
[+] Enlarge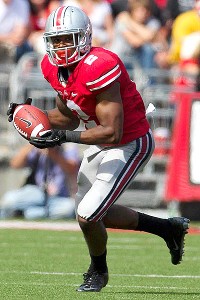 Greg Bartram/US PresswireChristian Bryant will return as a starting safety in 2013.
SAFETIES
Who's back: The Buckeyes will lead from the back, with both experience and leadership expected to provide a trickle-down effect for the defense with Christian Bryant and C.J. Barnett returning for one more season together as the starting tandem at safety. Ohio State even has a veteran waiting in line to come off the bench and potentially help in the nickel package with senior Corey Brown providing yet another old hand as the program reloads in front of the secondary. There will be six new starters in the front seven and one more at cornerback, but the Buckeyes are as stable as they possibly could be at the back of the defense with Bryant and Barnett poised to close their careers on a high note.
New face: The huge target the Buckeyes officially landed on national signing day won't be around to add depth or potentially crack into the rotation until fall practice, though there's already plenty of buzz building about what Vonn Bell could provide in the secondary when he arrives. The athletic, 6-foot-1, 190-pounder should be walking into a situation without the pressure that can come from having to contribute a whole lot right away thanks to the presence of those talented seniors -- though coach Urban Meyer will likely be counting on them to get Bell up to speed as well.
Projected spring depth chart: Bryant and Barnett will be back in their familiar spots, with Brown currently the favorite to be the first man up in the nickel package and a valuable option in reserve. The Buckeyes were bitterly disappointed to watch rising sophomore Devan Bogard's first season with the program end with a knee injury last fall, but he figures to be in the mix for work at some point, and classmates Tyvis Powell and Najee Murray could offer something as well.
Numbers game: Barnett was slowed by a nagging ankle injury for part of the season, but when he and Bryant were on the field together, the production was hard to miss. The two combined for 127 tackles, three takedowns for a loss, three interceptions, 21 passes defended, two forced fumbles and a fumble recovery. Barnett missed three games and took some time to shake the rust off after that as well, but there's plenty of evidence of how effective those two safeties can be in the back end.
One to watch: The clock is ticking for Brown, and there will be more competition for his job heading into fall camp,with Bell leading the charge. The Buckeyes already have some sophomores on campus capable of pushing the veteran for playing time, and Brown will certainly need to make an impression with his existing knowledge of the defense and a higher level of consistency than he's shown in his few opportunities to contribute over the last couple years. Departed senior Orhian Johnson proved how important it was to have a reliable upperclassman ready to complement Bryant and Barnett, and co-defensive coordinator and safeties coach Everett Withers will be watching closely to see if he's got another one he can count on when the season rolls around.
He said it: "I've been doing this a long time, but this group with the young men that are [already] here in [cornerbacks] Eli Apple and Cam Burrows and the guys we just added to that group -- if the development goes as we think it will go, we feel like this is a very talented group which should be able to help Ohio State do special things." -- Withers on signing day
February, 8, 2013
Feb 8
9:00
AM ET
The Big Ten classes are
signed and sealed
. You can see ESPN's
final class rankings
as well as
grades for all the Big Ten teams

.
As we put a bow on national signing day 2013, let's take a look at some superlatives ...
Biggest winner:
Ohio State. The Buckeyes took a great class and made it even better with the additions of elite safety prospect
Vonn Bell
and four-star receiver prospect
James Clark
. They also held onto running back recruit
Ezekiel Elliott
. Plucking Bell out of SEC country made a significant statement, as Ohio State secured the
nation's No. 3 class
and the best in the Big Ten. Although other Big Ten programs secured strong classes -- Michigan, Nebraska, Penn State, Wisconsin, Michigan State -- Ohio State made the most headlines Wednesday.
Best closer:
Ohio State co-defensive coordinator/safeties coach Everett Withers. Although Buckeyes head coach Urban Meyer is unquestionably one of the nation's top closers, Withers merits a mention here after steering Bell to sign with the Scarlet and Gray. "I've seen some really good efforts," Meyer said Wednesday. "Everett Withers from start to finish, his effort on Vonn Bell, as good as I've ever seen." Bell's
high school coach called Withers
the "most proficient and professional recruiter we've ever dealt with," according to The (Cleveland) Plain Dealer. Withers played a major role in Ohio State securing five defensive backs
ranked in the top 50
by ESPN Recruiting.
Biggest surprise:
Indiana and Penn State. The Hoosiers have reached only one bowl game since the 1993 season and boast just five wins the past two seasons, but things are looking up in Bloomington. Kevin Wilson and his staff signed what appears to be a very solid recruiting class, especially on the defensive side, where IU has struggled for years. The Hoosiers signed two four-star defensive linemen from within the state --
Darius Latham
and
David Kenney III
-- and bolstered the secondary with
Rashard Fant
and others. Penn State overcame NCAA scholarship sanctions and a multiyear bowl ban to sign the nation's No. 24 class, headlined by quarterback
Christian Hackenberg
, rated by ESPN Recruiting as the nation's top pocket passer.
Who flipped/biggest loss:
The only notable intra-league flip on signing day -- and it wasn't a major surprise -- saw linebacker
Reggie Spearman
, a one-time Illinois commit, signing with Iowa. Ohio State (
Taivon Jacobs
) and Wisconsin (
Marcus Ball
) lost commits to Maryland and Arizona State, respectively, while Minnesota made a late flip with junior college linebacker
De'Vondre Campbell
, who was expected to sign with Kansas State. But for the most part, Big Ten teams played good defense on signing day.
February, 6, 2013
Feb 6
6:50
PM ET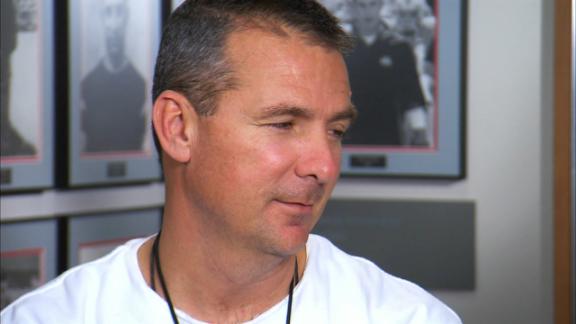 COLUMBUS, Ohio -- The baseball mentality popped back in the mind of Urban Meyer as he went to bed.
With the work all done after his first full recruiting cycle with Ohio State and only one night's sleep left before the fruits of that labor would be revealed, Meyer boiled his evaluation of the work down to what amounted to three at-bats.
Delivering one hit?
"That would be all right," Meyer said during his Wednesday afternoon news conference.
Connecting twice?
"That would be a good day."
Instead Meyer and the Buckeyes had a perfect morning and a hugely successful national signing day, landing all three late signatures they coveted to close out the No. 3 class in the country with home runs on every trip to the plate.
"Three out of three was going to be knocking it out of the park," Meyer said. "[Safety]
Vonn Bell
called me two minutes before he walked on the stage or whatever he was doing and said, 'You know I'm in, right?' I said, 'No, I didn't know you were in, congratulations.'
"We hit 3-out-of-3, and I'm very pleased. ... I'm very impressed with our coaching staff."
Meyer tried not to single out too many of them after wrapping up the collective effort, but it was no secret that how the Buckeyes closed during the homestretch with Bell, dynamic athlete
Dontre Wilson
and wide receiver
James Clark
would ultimately decide how he evaluated his second official class with the program.
Wilson's flip from Oregon gave him a player who could fill the hybrid, Pivot role in Meyer's version of the spread that was effectively left vacant last season.
Clark added much needed depth to a position that improved significantly a year ago, but still left something to be desired for Ohio State in the passing game.
The real tipping point, though, was the phone call that came just before 10 a.m. with Meyer on the treadmill in the practice facility, a conversation that conveniently started just as the lead recruiter on Bell was getting ready to sneak out of an adjacent office and watch the announcement live on television.
"I had talked to Vonn's coach last night, and I said if it's going to be a good phone call, make sure Coach Meyer gets it," co-defensive coordinator Everett Withers said. "If it's going to be a bad phone call, just call me. We kind of worked it out that way.
"It was a pretty exciting time, pretty exciting day, and I think we all felt confident last night that we were going to have an opportunity to get him. ... That meant a lot to Coach, and I think all we did was chest bump, fist bump and say, 'Let's go.'"
The wheels were already in motion for the Buckeyes after Meyer opened his tenure with an unbeaten record, something that certainly helped open a few more doors on the road and made the program even more appealing to the top players in the country.
They loaded up in the secondary, adding three ESPN150 cornerbacks to complement Bell and give the Buckeyes one of the best hauls in the secondary in the country. They addressed depth concerns at linebacker by getting signatures from four-star linebackers
Trey Johnson
and
Mike Mitchell
, and they added more pieces to work with on a rebuilt defensive line by landing four ESPN300 tackles.
And while the work is now only truly beginning with every member of the class that officially signed up to continue the chase for a national championship, Meyer ultimately appeared to have really set the foundation for following up a perfect season by going perfect on his last three swings on the recruiting trail.
"Obviously I've done this long enough to know that it's on to the developmental phase once you get the letter of intent back, and we're going to develop them as hard as we ever have," Meyer said. "But it was a great day.
"I thought it was going to be a very good day, but I'd put it in the great category."
January, 25, 2013
Jan 25
9:00
AM ET
The work for the 2013 season is already underway for Ohio State with the strength program in full swing, but the first moves that started shaping the potential encore effort from a perfect campaign began almost two months ago. BuckeyeNation is counting down the five biggest early developments for the team since last season ended and how they will impact the Buckeyes moving forward.

No. 1:
Urban Meyer keeps his staff in one piece
Development: Jobs of all kinds were open all over the country during a busy offseason in the coaching ranks, and on the heels of an undefeated season, the Buckeyes had plenty of guys in demand to fill them. There were apparently four of them, in fact, who had opportunities to move on and lead their own programs elsewhere. But there apparently wasn't anything tempting enough to prompt anybody on Urban Meyer's first staff to walk away from what Ohio State has going now, and every member of that group will be back to honor the two-year commitment the boss asked for when he took over -- and potentially make a run at a championship it couldn't compete for last season.
What it means: There is no shortage of benefits for Meyer in keeping his collection of assistants intact for a second season, starting with the continuity it provides for the players already on campus and extending to the class of recruits that the coaches built relationships with while representing the Buckeyes. In the short term, keeping offensive coordinator Tom Herman and giving him another season to help install the uptempo spread offense should help take it to a higher level as the players get more familiar with the playbook and the pace of play. On defense, the Buckeyes won't have as many experienced players returning as the other side of the ball will have, but there's plenty of young talent and they won't have to learn a different way of doing things with Luke Fickell, Everett Withers, Mike Vrabel and Kerry Coombs all back for another season trying to restore the proud tradition of the Silver Bullets. And while maintaining the same sort of communication that had been expected by recruits from the staff is invaluable as well, there also figures to be a stronger bond and more understanding between all the members of the staff just within the meeting rooms at Ohio State. Chemistry doesn't typically happen instantly, and the coaches should be plenty comfortable with each other now.
He said it: "The fact that our coaching staff remains intact is important. We had four guys that had some people trying to discuss head coaching opportunities for them, and I hope that happens for some of them, kind of glad it doesn't happen after just one year. After two years -- I always ask for just a two-year commitment -- I think that's fair." -- Meyer
September, 27, 2012
9/27/12
1:57
PM ET
COLUMBUS, Ohio --
A look at three Ohio State players who will be critical in the Big Ten opener on Saturday against Michigan State and how they might be able to impact the outcome.
BRAXTON MILLER
The basics: At times it seemed as if the Buckeyes were saving the sophomore quarterback for the start of Big Ten play with Miller not even rushing for the first time until midway through the second quarter against UAB. That ultimately didn't keep Ohio State from keeping its record perfect, but if it's going to stay that way, Miller's multi-purpose skills will almost certainly have to be on display early and often.
By the numbers: So far, the sophomore's scoring has been perfectly balanced. Miller has racked up 14 touchdowns for Ohio State through four games, just six shy of the total he posted during his true freshman campaign. Half of them have come through the air, and his seven rushing touchdowns have already matched his total on the ground from last season -- getting there on 92 fewer carries.
Opportunity for impact: Miller will have both of his top sidekicks at running back healthy for the first time, which should help as he runs the spread-option rushing attack. But what the Buckeyes will really need is for their passer to show off his improved accuracy and poise throwing the football, because the Spartans are going to dare Miller to beat them deep. And when Devin Smith or Corey "Philly" Brown get behind the defense like they did on occasion last week, Miller can't miss them.
He said it: "(The difference) is pretty dramatic. I was told that was his first (Big Ten) start as a Buckeye as a true freshman, really a guy who signed at Ohio State expecting to play behind a veteran quarterback and then was thrust into it, did not have the greatest training camp a year ago. He's a lot different now than he was." -- Buckeyes coach Urban Meyer on the progression for Miller from the Michigan State game a year ago
JOHNATHAN HANKINS
The basics: The junior is clearly getting more comfortable as the season progresses, and he has been stacking improved performances on top of each other heading into Big Ten play. The potentially scary thing for the big man in the middle is that he's been having an impact against teams trying to spread the field, and with league play ready to kick off, there should be even more chances to make a mark against more traditional offenses.
By the numbers: After a sluggish statistical start to the season, Hankins has exploded in the middle of the line with double-digit tackling performances in each of the last two games to move into a tie for third on the team with 25 takedowns. He also has chipped in at least half of tackle for loss in each of the last three games thanks to the impressive penetration he has been getting in the backfield.
Opportunity for impact: There's not much of a secret what the Spartans want to do offensively with bulldozing tailback Le'Veon Bell, but an old-school, power rushing attack could play right into Ohio State's hands with Hankins patrolling the line of scrimmage. Michigan State has had a few lapses and also hasn't quite lived up to expectations on the offensive line, which could open up some cracks for Hankins on the interior and defensive end John Simon on the edge.
He said it: "With him, because he's such a quality person and a smart guy, I think the sky is the limit. I don't think we've touched where he can be. I think (defensive line coach) Mike Vrabel is doing a nice job fundamentally, but he's still got some development to do -- and when he does it, I think he'll be one of the best players in the country." -- Meyer
CHRISTIAN BRYANT
The basics: By his own admission, Bryant battled through an inconsistent season a year ago. But he has become a steady presence in the backend and made contributions all over the field. As long as Bryant is keeping his emotions in check and avoiding penalties like the taunting call he drew against UAB, he's becoming a much more reliable playmaker.
By the numbers: The junior has built himself into much more than a feared hitter in the secondary, though that skill does still come in handy. Bryant forced his first fumble of the season last week against UAB to help swing field position and set up a score in a tight game before halftime, and the Buckeyes could use a few more loose footballs on the ground after forcing a total of just three fumbles through four games -- recovering two of them.
Opportunity for impact: Fellow starting safety C.J. Barnett was downgraded by Meyer to questionable on Thursday, which will put more pressure on Bryant to deliver in the secondary for the second consecutive week. Whether it's arriving to help against the run and bring down Bell, helping in coverage against athletic Michigan State tight end Dion Sims or reading where an inexperienced quarterback like Andrew Maxwell is going with the football, Bryant will have to be active with the secondary planning on taking a more aggressive approach collectively this week.
He said it: "I just see a different guy coming into the building. He was just in here (Monday) laughing and giggling, 'Where's the game plan?' You know, that's what you want. You want your starting free safety to be here at 12:30 wanting the damn first- and second-down game plan. That's what I love, and I'm loving that about him." -- co-defensive coordinator Everett Withers
September, 22, 2012
9/22/12
6:09
PM ET
COLUMBUS, Ohio -- The missed tackles still bothered Ohio State.
The yardage total was higher than it would have liked to allow.
There were big third-down conversions given up that the coaching staff won't let the Buckeyes forget about.
[+] Enlarge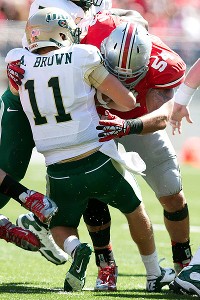 Greg Bartram/US PresswireJohn Simon and the Buckeyes gave up 403 yards against UAB, but they didn't allow a touchdown in a 29-15 victory.
But even with all those potential things to point out after a 29-15 win over UAB on Saturday at Ohio Stadium, there was one stat that clearly won't trouble Everett Withers.
"I think we gave up 15 points," a smiling Withers said. "That's all I give a s--- about."
The co-defensive coordinator's unit wasn't even responsible for all those points thanks to a blocked punt that produced UAB's only touchdown. And while the Buckeyes had some occasional issues getting off the field defensively and allowed 403 yards to the Blazers, the wall it put up in front of the end zone certainly helped make up for those other issues.
That doesn't mean a bend-don't-break philosophy will be embraced by Withers or the Buckeyes, but it was effective in keeping the team's record perfect after the nonconference finale.
"It's not as good as we wanted," defensive end
John Simon
said. "We want to go out and have a shutout, three-and-out every time. If we give up more than zero yards, that's not our expectation.
"Our expectations are high here at Ohio State, and that's what we're going to keep striving for."
The Buckeyes clearly have work to do to meet them, even if pitching a perfect game in terms of both yardage and points allowed is a bit of a stretch.
For starters, simply keeping the UAB offense out of the end zone was enough to get the only statistic that truly matters.
"When they spread you from sideline to sideline and dink and dunk, eventually you have to say that's not going to beat you," Withers said. "And it didn't."
August, 28, 2012
8/28/12
9:00
AM ET
COLUMBUS, Ohio -- Training camp is over and game preparations have begun. The torture of the offseason is nearly over, and Ohio State's first game under Urban Meyer is closing in. Leading up to the opener against Miami (Ohio), BuckeyeNation will count down the 10 players who figure to have the biggest impact on Meyer's first campaign, continuing with a cornerback who is aiming to shut down one side of the field this season.
No. 4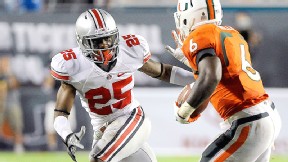 Richard C. Lewis/Icon SMIBradley Roby is the fastest player on the Buckeyes' roster.
BRADLEY ROBY
POSITION: Cornerback
BASICS: The sophomore apparently locked down his status as the fastest man on the roster by turning in a pair of 40-yard sprints clocked at 4.31 seconds. There shouldn't be anybody on the perimeter the 5-foot-11, 190-pounder can't keep up with in coverage.
BY THE NUMBERS: Coming off a redshirt season in 2010, Roby tied for the team lead with three interceptions in his first season to make an instant impact in the secondary. He also had 47 tackles, including 3.5 for a loss.
OPPORTUNITY FOR IMPACT: The confident cornerback clearly wants the ball in his hands, and he's helpfully offered his services as a wide receiver if the coaching staff needs some help there. The Buckeyes surely appreciate the gesture, but at this point they're trying to get Roby to focus on nabbing as many passes as possible on defense by fine-tuning his technique and becoming a more consistent cover guy. The early reviews have been positive in training camp, and opponents might have to think twice before throwing his way this fall.
HE SAID IT: "He's one of those guys who thinks he can fly to the moon also. He's a talented guy, but we want him to be great at being a corner. To me, he's still working to do that. Let's keep him on defense so we can see if we can make him better as a corner. It's always consistency. He's a talented guy, but the really good ones and great ones I've been around are consistent. I mean, they work and you don't have to watch them work. They're always getting better at their craft." -- co-defensive coordinator Everett Withers on Roby's development
August, 10, 2012
8/10/12
4:41
PM ET
Quick hitters from a media session after Ohio State practiced on Friday morning near the end of the first full week of training camp.
Staying put:
Bradley Roby
might eventually present a two-way option for the Buckeyes.
For now, the sophomore cornerback is going to have to wait until he's proven a little more on one side of the ball before jumping to the other.
"Well, he's one of those guys who thinks he can fly to the moon also," co-defensive coordinator Everett Withers joked. "He's a talented guy, but we want him to be great at being a corner. To me, he's still working to do that.