Ohio State Buckeyes:

Eddie George
October, 29, 2013
10/29/13
2:00
PM ET
Former Ohio State guard LeShun Daniels reclined on his oversized couch, next to two of his sons, while they sipped lemonade Saturday night and watched the Penn State-Ohio State game on the big-screen TV.
[+] Enlarge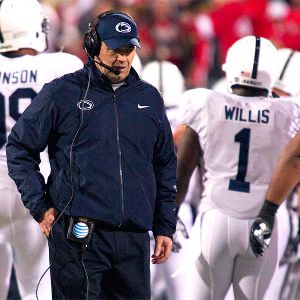 Trevor Ruszkowksi/USA TODAY SportsBill O'Brien and Penn State will need their leadership to help them get over the lopsided loss to Ohio State.
They'd laugh and joke during the game, and Daniels would flip on channels to the Oregon and Missouri games -- only when -- a commercial break interrupted the action.
But Daniels, who started for the Buckeyes from 1994 to 1996, couldn't take his eyes off the TV. These were his Buckeyes after all, a team still close to his native Ohioan heart. And he smiled to himself before midnight when that final score stuck. It was all too familiar.
Ohio State won, 63-14, Saturday night -- the identical score from Oct. 29, 1994, when he played Penn State. But, this time, the numbers were reversed. Daniels had stood on the Beaver Stadium grass -- and still remembers listening to the Lion roar over the loudspeaker -- when his beloved Buckeyes dropped a 63-14 contest to PSU. Now, the Buckeyes were celebrating as the victors.
"It just clicked, watching the game the other night," Daniels said with a laugh. "The Bucks did play a good game, so it was good to see that. But also seeing that score, even 19 years later, that was really good to see. I remember hearing about that game like 1,000 times while we were playing Penn State. So it was good."
Former OSU linebacker Lorenzo Styles remembers the Penn State game all too well. He can still remember watching one completion after another from Kerry Collins -- who went 19-of-23 for 265 yards and two TDs -- and chasing down a speedy Ki-Jana Carter (19 carries, 137 yards, four TDs). But, more than anything, he remembers the frustration his defense felt lining up against PSU's mammoth offensive line.
"It sticks with you, kind of even today," former defensive end Matt Finkes said. "People will still bring that up; even before this week there were people talking about that loss. They'll be like, 'Oh it was 56-7.' And I'll be like, 'No, it's 63-14.' It's etched in my memory. That's something you don't forget."
Bill O'Brien's squad of 61 scholarship players probably hopes to forget about the scarlet and gray this week -- but they could learn a lesson from those 1994 Buckeyes and that 63-14 landslide. After suffering its worst loss in nearly a half-century, the 1994 Ohio State squad rebounded with three straight wins, including a 24-3 victory over a good Wisconsin team the very next weekend.
The Buckeyes were young and inexperienced that year -- not unlike PSU this season. Finkes moped on the sideline late in the third quarter and just wanted the game to be over; a sense of relief washed over the team once the refs blew the final whistle.
"The coaching staff just sat us down and said we still have a lot of goals to accomplish -- and let's not lose this whole season just because of one game," Finkes said "And then that's the year we beat Michigan."
Added Styles: "You don't forget about it, but you understand you have to come out ready with what you're supposed to do the next week. We knew we had the rest of the season left."
They had played terribly and lost to the far-superior team, one that finished the season undefeated and boasted five offensive All-Americans. They wouldn't see another team like that one and, they vowed, they wouldn't perform like that again either.
"You get another win under your belt," former OSU DT Matt Bonhaus said, "and that feeling, that loss, goes away."
The Nittany Lions are a 10-point favorite against Illinois on Saturday. Whether they insist they've moved on or not, that loss to Ohio State will still be on their minds.
But the OSU quartet's advice for PSU was simple: Focus on the new opponent, don't lower expectations and don't dwell. Be resilient, and put more time in the film room to correct mistakes.
"They're resilient," Styles said of Penn State, explaining how the team stuck together through the sanctions. "The leadership on this team is like the leadership we had; they'll move forward."
But they won't forget. And the former Buckeyes say that's the way it should be.
"I'm happy we went out and played that good game Saturday night," Finkes said. "But nothing's going to make that 1994 game go away -- even if we would've beaten them 100-7. No matter what, it was still me losing 63-14 back in 1994."
August, 15, 2013
8/15/13
4:00
PM ET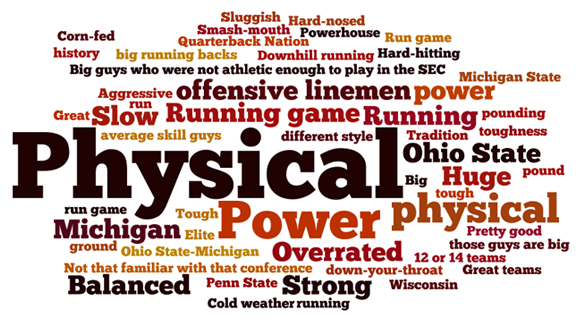 ESPN.comPhysical and sluggish. Overrated and strong. Its a mixed bag of insults and compliments when it comes to the national perception of Big Ten football.
Physical and sluggish. Overrated and strong. It's a mixed bag of insults and compliments when it comes to the national perception of Big Ten football.
During various media days, ESPN.com spoke with players from each conference to get their perceptions of the ACC, Big 12, Big Ten, Pac 12, and SEC from other BCS conferences. And those mixed feelings were quite clear.
Here are a few words that jumped out or, noticeably, didn't:
July, 25, 2013
7/25/13
1:20
PM ET
CHICAGO -- For a day, maybe two, something like the Silver Football trophy can stay with
Braxton Miller
.
But that's as long as the Ohio State quarterback will allow any hardware for his various individual accomplishments to sit around his place before shipping them off to his parents.
Rather than dwell on what he's already done and the possibility of getting wrapped up in his own glory with things like the shiny ball that he was given last season as the Big Ten's best player, Miller is intent on keeping his focus on the future -- and maybe a much more recognizable statue.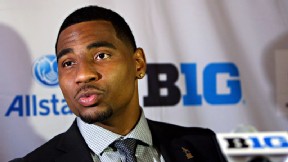 Jerry Lai/USA TODAY SportsBraxton Miller can't help but be aware of being a candidate for major awards, but he says he's keeping his focus on improving.
"I see [Heisman Trophy polls], I hear it, but I really don't pay too much attention to it," Miller said Thursday at Big Ten media days. "If you pay too much attention to it, you lose focus about what's important for your team and yourself.
"I see it on ESPN sometimes. I'll hear it and I'm like, 'Wow.' But I just have to get better to achieve that goal."
Miller didn't actually mention the Heisman by name, but a year after finishing fifth in the voting, even acknowledging the race for the most famous award in college football marks a noted change from a year ago.
The team remains the top priority for the junior, and his humility is still mentioned by his teammates and his coach as often as his dynamic athleticism. But Miller has clearly set his sights on claiming an award that has turned a handful of Buckeyes into legends already, and he's certainly aware of what that would mean for his own legacy.
"It was just a blessing to be there, to be in the same type of talk as Archie [Griffin] and Eddie [George] and Troy [Smith]," Miller said. "It's unbelievable where I was, where I was in high school, where I am now.
"I'm just blessed to be where I'm at now and to get better."
And for all the attention, awards and gaudy statistics he piled up as a sophomore, there is still undoubtedly room for that improvement Miller is chasing.
Almost from the moment Ohio State clinched an undefeated record in Miller's first full season as the starter, he has been working to clean up footwork that has been spotty in the past, trying to develop his communication skills in an effort to become a better leader, and working to improve his knowledge of Urban Meyer's spread offense going into his second season leading it.
The benefits are most likely to show up in the passing game for the Buckeyes, an area where Miller has been effective at times in the past but wasn't anywhere near as dangerous as Meyer would like. And until the evidence starts showing on the field in a meaningful setting, Miller is right back where he was for most of last season in Meyer's eyes -- not yet a Heisman candidate with an endorsement from his coach.
"At the time I was asked about Braxton Miller, he wasn't playing like a Heisman Trophy winner," Meyer said Thursday. "I love Braxton, and if it was all about like and feel-good and all that, I would have said, 'Yeah, give him the Heisman.'
"If I had to do it again, I would probably kind of stay away from that answer, but I just get asked things and I'm honest. If it's time, this year I will say Braxton Miller is a Heisman candidate. At this time, I can't say that."
That won't stop the rest of the country from putting him on the short list of favorites going into the season, and the crush of attention on the face of Ohio State's program isn't likely to slow down anytime soon.
How Miller handles the spotlight will be crucial for the Buckeyes, given just how large a role he plays in the spread attack. And if things go according to plan, his parents might need to clear out a new space in the trophy case.
"There's a lot of Little League stuff in there," Miller said. "Growing up with basketball, there's AAU, middle school, high school, now college [trophies]. There's a lot of stuff.
"Lot of room for more."
July, 10, 2013
7/10/13
10:45
AM ET
COLUMBUS, Ohio -- Forget about the blasphemy.
Also disregard for a moment that there are no trades in college football.
But as the all-time draft festivities start winding down this week, a proposal was sent to the various general managers in charge of filling out the rosters for two programs at the heart of The Game and its passionate rivalry. What if one player selected for a Michigan squad could be added to an Ohio State team, or vice versa?
[+] Enlarge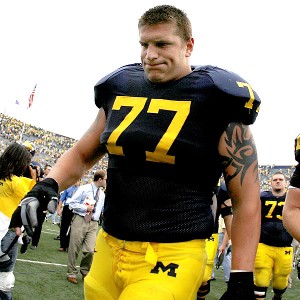 Gregory Shamus/Getty ImagesTackle Jake Long never beat Ohio State during his Michigan career, which makes adding him to an all-time Buckeyes roster a bit easier to take.
For Team Ward, that answer was pretty simple.
After missing out on a number of high-profile Buckeyes on the offensive line, the clear choice to provide a boost for my defensively-loaded, skill-position-heavy roster would be a physical, nasty blocker to provide some protection and rushing lanes from the tackle spot. So if I could poach from That Draft Up North, I'd be stealing from my beat-writing colleague Michael Rothstein and taking his first-round pick, Jake Long.
No offense to Chris Ward or Jim Daniell, but Long is a former No. 1 overall pick in the NFL draft and undoubtedly would provide a lift with his strength and athleticism up front, keeping Braxton Miller clean in the pocket and helping clear the way for Eddie George and Pete Johnson out of the backfield.
Plus, if this squad was forced to have a representative from the Wolverines, who better than somebody who did so much to help the Buckeyes during his career?
He couldn't beat the Buckeyes. If a trade was absolutely necessary, Long would be welcome to join them on Team Ward.
July, 8, 2013
7/08/13
11:00
AM ET
COLUMBUS, Ohio -- Picking
one
all-time team for a program as rich in history as Ohio State is no small feat on its own. A simple glimpse at the Heisman trophies on display in the Woody Hayes Athletic Center instantly makes it clear that no shortage of talent has walked through those doors.

But those squads have been selected for years and the degree of difficulty is still too low for BuckeyeNation. So along with a handful of other sites across ESPN.com, we (with the help of a former Ohio State standout) are drafting four of them to see who can come up with the best roster once the stiff-arm winners and repeat All-Americans start coming off the board.
The full lineups will be unveiled Tuesday, the result of a snake draft with beat writer Austin Ward, recruiting writer Brad Bournival, editor Scott Kendrick and former Ohio State wide receiver Bam Childress.
There will be plenty of room for debate along the way, both among the "coaches" recruiting their dream teams and during the feedback from fans weighing in after the final selection, offering up their top picks, biggest omissions and, most important, helping choose the best overall team.
Before we get started this week, a couple key questions to think about prior to the clock starting.
[+] Enlarge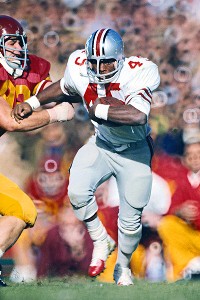 George Long/Getty ImagesArchie Griffin was a three-time All-America selection for the Buckeyes.
Alone at the top?
There's still just one man with a pair of Heismans on his résumé, and Archie Griffin's career continues to stand up as one of the best in the history of college football. By default, that would put him at the top of the list for the Buckeyes as well -- but does that mean the seemingly unstoppable running back will actually go No. 1 in the four-team draft? The Buckeyes boast plenty of historical depth in the backfield, and a guy like Eddie George or Keith Byars would obviously provide a nice consolation prize at running back for any team that misses out on Griffin. This could be where strategy in composing a team first shows up, because the talent disparity at a position like defensive tackle behind Dan Wilkinson could conceivably be wider than Griffin's edge over George. On the other hand, though, two Heismans.
Picking a style
All four rosters are going to feature at least one workhorse running back, and depending on how the flex position is used, a team might end up with two of them. Drafters will have the option of taking a fullback, a second tight end, a third wide receiver or a second tailback with that wildcard spot on offense. How that's used will certainly help determine what kind of system suits the personnel. But the choice at quarterback will go even further to sort that out, with a nice mix of multi-purpose, athletic quarterbacks on the table along with more traditional, pocket-passing options. A team that doesn't mind turning its signal-caller loose as a rushing option might even be tempted to snag Braxton Miller after just two seasons with the Buckeyes, maybe setting itself up to look even better with two years of hindsight assuming he continues his steady improvement as a passer.
Rush or cover?
There's less flexibility in putting together the defensive unit, which will be locked into a 4-3 alignment for every team. But the preference in style of play should still be evident based on which talented position group is targeted first. The Buckeyes have a long, proud tradition at linebacker, and it's pretty likely some productive, All-Big Ten performers will wind up looking for a free agent deal when the draft is over. Ohio State isn't hurting on the line or the secondary, either, but the choice between chasing a pass-rushing superstar like Mike Vrabel or a dynamic defensive back like Antoine Winfield will be significant in shaping the unit, and it will have a trickle-down effect on the rest of the selections.
October, 15, 2012
10/15/12
1:30
PM ET
Growing up in Naples, Fla.,
Carlos Hyde
didn't need a tutorial on Urban Meyer's offense.
He knew plenty about Meyer and the spread from Meyer's time as Florida's coach. Hyde also knew he wanted no part of it, even though he said Florida offered him a scholarship to play in Gainesville.
"When I saw this offense, it was little running backs," Hyde told ESPN.com. "Little scat backs running around, Percy Harvin-type dudes, Jeff Demps-type people. I wasn't sure I'd be able to fit in."
[+] Enlarge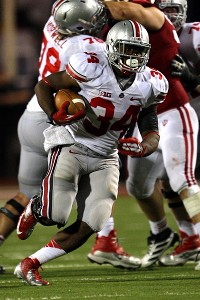 Pat Lovell/US PresswireCarlos Hyde has made the most of his opportunities this season.
At 6-foot and 232 pounds, Hyde can be described as a lot of things. Little isn't one of them. He's a power back in the truest sense, so he chose to go where power backs go: Ohio State.
There was only one problem: Buckeyes coach Jim Tressel, who had featured power backs like Chris Wells and Maurice Clarett in his offense, resigned in the spring after Hyde's freshman season. Although Ohio State kept a similar offense in 2011, the school changed coaches and brought in Meyer.
"I was excited," Hyde said. "I knew Coach Meyer, his track record. He's won big games. He's won some national championships. I knew when he was coming here, I was like, 'I'm going to have a huge chance to get to play in the national championship before I leave college.'"
But his excitement was tempered by the same anxiety about whether he could fit into the spread as a bigger back.
"I never played in a spread offense, so I really didn't have a feel," Hyde said. "I wasn't sure. I never really saw a big back in the spread."
October, 7, 2012
10/07/12
2:50
AM ET
COLUMBUS, Ohio -- When Urban Meyer met his new team, he talked about goals without restraint.
It's the kind of confident approach a coach can take when he already owns two national championships. At Ohio State, Meyer told his players, anything was possible.
"He told us when he first got here, 'It will happen. We can score 100 points,'" Buckeyes offensive lineman
Jack Mewhort
said. "He loves it. He's crazy. He would score 100 every game if he could."
Ohio State didn't score 100 on Saturday night. It settled for 63 despite enduring a first quarter Meyer accurately described as a "train wreck" -- zero first downs, 13 plays, 17 total yards.
The Buckeyes' first act was a dud against No. 21 Nebraska. And then they treated a record crowd of 106,102 at Ohio State to a show they won't soon forget. Sparked by do-it-all quarterback
Braxton Miller
and a surging offensive line, Ohio State scored its first offensive touchdown with 10:49 left in the first half and didn't stop for five more possessions.
Six consecutive touchdowns turned into a
63-38 win
, keeping Ohio State perfect under Meyer and leaving no doubt as to who is the Big Ten's top team in 2012. Even with the outcome long sealed, Meyer kept his starters in the game in the end for a final touchdown with 48 seconds left.
"It's cool," Mewhort said. "He's always hungry for more."
The Big Ten will do all it can to market its championship game Dec. 1 in Indianapolis. But it'll be like Bert Parks singing "There she is, Miss America" about the first- and second-runners-up in the pageant. Ohio State is by far the prettiest girl in a league filled with teams that shouldn't see the light of day.
The title game might be the Big Ten's big showcase, but it won't feature the league's main event, which will be watching from home because of NCAA sanctions. Although the division races should provide plenty of entertainment, if you're interested purely in quality and the story lines that go along with it, watch Ohio State chase a perfect season and, who knows, maybe an AP national championship. Watch Miller push for the Heisman Trophy. Watch the Buckeyes offense take aim on Meyer's stated goal of triple digits in points.
"We're just getting better and better," said Buckeyes cornerback
Bradley Roby
, who got the scoring started with 41-yard interception return, the first of his two picks on the night. "We're young, we're talented, and I can't see us losing a game this year. We're taking it one game at a time, but seriously, we're really trying to take it to everybody we play.
"I feel like this is going to be a good year, and next year will be even crazier."
[+] Enlarge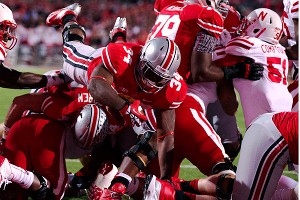 Greg Bartram/US PresswireCarlos Hyde bulls through the Nebraska defense for one of his four touchdowns.
Ah, next year. Ohio State will have no bowl ban, another full offseason under Meyer and more Meyer recruits in key roles. Are the Buckeyes on the national championship radar? Time will tell, but look where they are six games into Meyer's tenure.
Ohio State eviscerated a Nebraska team led by a head coach (Bo Pelini) respected for designing and developing defenses. The Buckeyes racked up 56 points, 481 yards and 19 first downs in the final three quarters Saturday night. They completed just seven passes to only four receivers, led by a sophomore tight end (
Jeff Heuerman
) who made one catch in 2011. They generated 326 rush yards and five touchdowns from two players -- Miller and running back
Carlos Hyde
, filling in for injured starter
Jordan Hall
-- plus a 33-yard scoring run from
Rod Smith
.
Keep in mind, this isn't a Buckeyes team stocked with proven weapons. Ohio State finished 107th nationally in total yards in 2011.
But does anyone want to face Ohio State's offense after what it did to Nebraska?
After some early speed bumps, Ohio State's offense is progressing ahead of schedule.
"You're playing a tight end [
Reid Fragel
] at right tackle," Meyer said, "playing a bunch of guys who haven't played a lot of football, and, being as honest as I can, they weren't very good. They didn't look the way we wanted them to look in January. ... They're the ones that have really developed. I mean, like really developed. Even early in the season, I didn't feel it.
"I'm starting to feel us change the line of scrimmage."
Although the spread offense is often described as a finesse system, Meyer always has talked about being a power team first. The past two weeks, Ohio State has turned the corner.
The big numbers didn't come against Michigan State, but the line's performance set the table for Saturday night's show.
"The O-line," Miller said, "they stepped it up real big."
Miller did his part, too. The sophomore broke his own team single-game quarterback rushing record with 186 yards despite finishing the first quarter with minus-9. He sparked the unit with a 72-yard dash on Ohio State's first play of the second quarter and continued to fill up his Heisman highlight reel.
With four 100-yard rushing performances in the first six games, Miller ranks second in the Big Ten in rush yards (763) and third in rushing average (127.2 ypg).
"We have a quarterback, obviously, that's kind of ridiculous running the ball," Meyer said.
Hyde wasn't too shabby, either, using his frame to bulldoze the Huskers, particularly near the goal line. He recorded Ohio State's first four-touchdown rushing performance since Eddie George had four against Iowa in 1995.
When Meyer arrived, Hyde envisioned big things for the offense.
"When he was at Florida, those guys would put up crazy numbers," Hyde said. "I know if we could get going like how they were getting going down there, we can do the same."
After the game, Meyer was cautious to get carried away, noting, "We're not there. We have a long way to go." But the talk of an undefeated season will escalate, as Ohio State continues its path through a weak league. The Heisman talk around Miller will escalate. The talk of next year and what the Buckeyes can do also will escalate.
The spotlight will shift to Indianapolis on Dec. 1. Until then, it'll be on the Scarlet and Gray.
Did Ohio State Cheap Out On Championship Rings?
BIG TEN SCOREBOARD
Thursday, 9/3
Friday, 9/4
Saturday, 9/5
Sunday, 9/6
Monday, 9/7