Ohio State Buckeyes:

E. Gordon Gee
June, 3, 2014
6/03/14
12:00
PM ET
June, 4, 2013
6/04/13
5:00
PM ET
COLUMBUS, Ohio -- If a visit to the school president was needed to impress a recruit, Gordon Gee was there.
Endless support, boundless enthusiasm for athletics? No problem.
Fundraising skills, entertaining personality and trademark fashion? Sure, the Ohio State president had that as well.
[+] Enlarge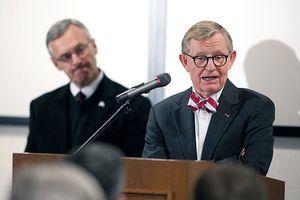 Greg Bartram/US PresswireOhio State president Gordon Gee, like former football coach Jim Tressel, is out. But Ohio State's athletic department isn't likely to feel much of an impact.
He also had a penchant for stirring up some trouble with his mouth, and ultimately that helped nudge him into the retirement he announced on Tuesday that will take effect July 1. But even for all those positives that earned him rave reviews from coaches and endeared him to some players before they were even enrolled, it's safe to assume the Buckeyes and their athletic department will be just fine without him calling the shots.
The leadership is already in place when it comes to the most visible parts of the university. And while that's not to diminish Ohio State's reputation as an academic institution, football and men's basketball will always generate more attention and keep alumni engaged better than anything else on campus. And when it comes to those two sports and the boss those coaches report to, it's hard at this point to envision a change in president shaking the foundations already firmly in place.
Gene Smith has faced his share of criticism as athletic director, but particularly with the NCAA sanctions and scandal from the end of Jim Tressel's tenure in his rearview mirror, it's difficult to imagine his job as anything less than secure.
And the résumés of Urban Meyer and Thad Matta speak for themselves.
That stability in leadership alone should keep the athletic department from having any difficulty navigating the water while the waves rock in the president's office, but that's certainly not the only reason the Buckeyes are likely to continue with business as usual on the field and the hardwood.
The money is pouring in for the Big Ten, and Ohio State isn't suddenly going to turn its back on one of the proudest, largest athletic departments in the nation. Regardless of how skilled Gee was at raising funds, donors aren't likely to slow down their giving when the high-profile teams are winning at such an elite level, particularly if a segment of that population was starting to tire of the stream of apologies that Gee had to issue after offending rival coaches or entire religious denominations.
And perhaps most important, the entire saga with Tressel, and even Gee's jokes about his job status then, helped establish a basic principle for the school that is more applicable now than ever. Nobody is bigger than Ohio State, and it is more than willing to move on and more than capable of finding somebody else to continue its traditions.
June, 4, 2013
6/04/13
3:59
PM ET
Well, we won't have E. Gordon Gee to kick around anymore.
The Ohio State president -- he of the famous inability to keep his foot away from his mouth, particularly when it comes to talking about football topics --
will retire from the university on July 1
. Gee's recent high-profile controversy,
involving jabs he made
at the SEC, Notre Dame, Bret Bielema and others last December, clearly hastened the departure for the 69-year-old Gee. He spent much of the past week apologizing to various parties for the remarks, which first came to light last Thursday.
The
Columbus Dispatch reports
that Ohio State trustees "met in private on Jan. 31 and March 8 to discuss a remediation plan that directs Gee to scale back on his public speeches." Trustees expressed embarrassment over Gee's most recent public gaffes, in which he offended Catholics, joked that SEC partisans were illiterate and called Bielema a "thug."
Gee has been Ohio State's president since 2007 and also served in that role from 1990 to 1997. Former OSU provost Joseph A. Alutto will be interim president until a successor can be found, according to the Dispatch.
Gee became an easy punchline with his penchant for poorly-timed jokes and omnipresent bow tie. But it's also true that he has been a fantastic fundraiser, bringing millions and millions of dollars into the school. He was also an influential member of the Big Ten's Council of Presidents and Chancellors as the leader of arguably the league's most powerful athletic program.
But Gee had a hard time just keeping his mouth shut, or at least going the diplomatic route, when it came to sports. While his comments were almost always made in jest, the president of one of the nation's top universities shouldn't be making cracks about how the disgraced former football coach could fire him, or making derogatory comments about "those damn Catholics" or even trying to insert himself into a BCS debate. It did nothing but shine a bad light on him and Ohio State.
Personally, we'll miss the Bow Tie, who was always good source material for easy blog posts. We'll always have the Little Sisters of the Poor to remember. Ohio State will move on, and the football program shouldn't be affected in any noticeable way.
And finally, we had to share this tweet, which just speaks for itself:
@jimtressel5 for OSU President??

— Maurice Clarett (@ReeseClarett13) June 4, 2013
Ohio State Quarterback Competition
BIG TEN SCOREBOARD
Thursday, 9/3
Friday, 9/4
Saturday, 9/5
Sunday, 9/6
Monday, 9/7