Ohio State Buckeyes:

David Boston
July, 15, 2013
7/15/13
9:30
AM ET
The rivalry never sleeps, even in the middle of summer as the final days tick away until camp opens in August.
But just in case a little offseason kick was needed to get the juices flowing for the next edition of "The Game," BuckeyeNation and WolverineNation are teaming up for a week of content looking at some moments from the past and forecasting what will happen a few short months into the future.
Today, we peek back into series history and identify some of the top heroes and villains from the blood feud. Here are Ohio State's villains for the Wolverines:
1. Jim Tressel, coach:
From the moment he was introduced and grabbed a microphone to address the Ohio State faithful, Tressel's mission was clear -- get the program back on top in The Game. The Buckeyes backed up their new coach with a road upset in 2001, and the next decade was completely dominated by The Vest, who posted a 9-1 record before scandal ended his run on the sideline. Even his exit might have twisted the knife in the Wolverines since it helped Ohio State land Urban Meyer, who knocked off Michigan in his first Game to finish an unbeaten season in 2012.
2. Troy Smith, quarterback:
At the height of that dominant run under Tressel, it was the prolific signal-caller inflicting the majority of the damage on the Wolverines. Smith became just the second Ohio State quarterback to beat Michigan three times, with the last couple coming in unforgettable fashion. There was the late comeback in 2005 keyed that included 386 passing yards from Smith, and another virtuoso performance in the epic showdown in 2006 that individually clinched a Heisman and sent the Buckeyes to the national title game.
[+] Enlarge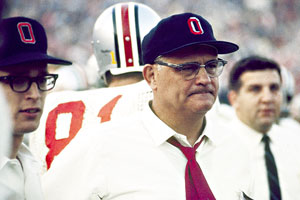 George Long/Getty ImagesIt was during Woody Hayes' 27 years as Ohio State head coach that the blood feud with Michigan truly took shape.
3. Woody Hayes, coach:
The rivalry became firmly entrenched among the most passionate, competitive series in the country when Hayes was at the top of his coaching game and matching wits -- and trading barbs -- with Bo Schembechler. Tressel's gaudy record might have diminished some of hatred for Hayes, however slightly, but his 16 wins in The Game, an infamous decision to go for a 2-point conversion "because he couldn't go for 3" and his place in Ohio State history will always get some Michigan blood boiling.
4. Mike Doss, safety:
Working on a 14-year drought in Ann Arbor and trying to live up to the goal Tressel established when he took over, Doss was instrumental in snapping the skid and setting the tone under Ohio State's new coach in 2001. A pair of interceptions helped set up scoring drives, and an unranked group of Buckeyes snatched a 26-20 win over the No. 11 Wolverines to start building the momentum that would last for pretty much the entire decade.
5. David Boston, wide receiver:
After coming up short in 1997 and hearing all about it from Charles Woodson, Boston exacted some revenge a year later with a massive individual performance as the Buckeyes knocked off the Wolverines 31-16 for one of John Cooper's two wins in the series. Boston was already an enemy for his brash comments before his final season with the Buckeyes, but he could be easily dismissed without ever winning a game. He changed that with 10 catches for 217 yards and two touchdowns, finally backing up his mouth and getting the best of Michigan where it counted -- on the field.
Bonus pick -- Bob Ferguson, fullback:
The message apparently hadn't been delivered emphatically enough, despite Ferguson already having scored three times. He would finish the game with 151 yards. The fourth touchdown by the All-American rusher, though, set the table for the Buckeyes to rub a 50-20 win and a national championship in Michigan's face in 1961 by going for a 2-point conversion with the outcome well in hand.
June, 26, 2013
6/26/13
11:00
AM ET
COLUMBUS, Ohio -- The final chapter hasn't been written yet for Ohio State's senior class, and a handful of Buckeyes have a chance to author something pretty memorable. This week, we'll be looking at five players with a chance to leave a legacy with the program with one more productive season, what kind of impact they might have this fall and how they might be viewed down the road.
Philly Brown
[+] Enlarge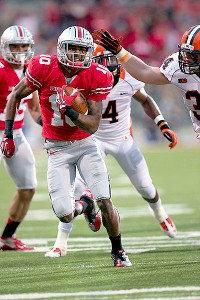 Greg Bartram/US PresswireThe Buckeyes want to see more yards out of leading receiver Philly Brown in his senior season.
So far: The veteran wideout already has led Ohio State in receiving twice in his career, though it only took 14 catches to do it as a sophomore. Even his breakout campaign a year ago came with some occasional criticism from the coaching staff, since his yardage didn't explode at quite the same rate as his reception total on the way to 60 grabs. But by the end of his junior year, Brown was showing the kind of speed and elusiveness that Urban Meyer values so highly on the perimeter, and that once again should provide no shortage of opportunities for the Buckeyes to put the ball in the senior's hands. Despite those modest numbers from the 2011 season, Brown is already on the brink of the top 20 in program history for receptions. He likely will be climbing the all-time yardage list steadily this fall, given his prominent role in the spread offense -- if he stays healthy -- putting him in prime position to stake his claim among the most productive targets in school history.

Numbers to date: 82 catches for 979 yards and 5 touchdowns; 13 carries for 123 yards and a touchdown; 24 punt returns for 281 yards and 2 touchdowns

Record chasing: Brown would need only to maintain the pace he established during his much-improved junior campaign to crack the top five in Ohio State history in receptions, with a projected 70 catches spread over a potential 14 games. He actually only needs to snag 58 passes to pass Santonio Holmes at No. 5 on the career list, and from there it's pretty elite company with the likes of David Boston, Chris Carter, Michael Jenkins and Gary Williams.

What's next: There is more help on the way for a thin group of receivers that was at least partially responsible for the heavy workload for Brown last fall, and the Buckeyes still have some experienced options on hand for quarterback Braxton Miller in Devin Smith, Chris Fields and Evan Spencer. Along with sophomore Michael Thomas and a talented group of newcomers, a bit of the weight should be coming off Brown's shoulders this fall. But he also deserves credit for his reliability and progress as a threat to extend plays after the catch, which was also a significant factor in how much he was used during the unbeaten season a year ago. Brown has good chemistry with Miller, he's a sold route-runner -- and is certainly still at the top of the priority list heading into his final year with the program.

Crystal ball: The feat wasn't exactly accomplished the same way the first two times, but finishing his career by leading the Buckeyes in receiving for a third year in a row would definitely give Brown a somewhat unique entry in the record books. It's no secret the Buckeyes want him to pile up more yardage as a senior, and if he can bring some of the game-breaking speed and moves he showed on his two punt-return touchdowns last year, they should get what they're looking for this fall. And in the process, Brown might find himself posting one of the most prolific statistical careers the Buckeyes have ever had at wide receiver.
Easiest Path To The 2015 College Football Playoff
BIG TEN SCOREBOARD
Thursday, 9/3
Friday, 9/4
Saturday, 9/5
Sunday, 9/6
Monday, 9/7