Ohio State Buckeyes:

Dave Joyner
June, 23, 2014
6/23/14
12:00
PM ET
Back from vacation. Nice to link up again.
June, 19, 2014
6/19/14
12:00
PM ET
A devastating World Cup showing for Spain. On the plus side, they get to go back to Spain.
June, 18, 2014
6/18/14
12:00
PM ET
Friday is Take Your Dog to Work Day. Which won't be anything different for my pooch.
May, 20, 2014
5/20/14
9:00
AM ET
After taking a look at the most recent
database of revenues and expenses in college sports
, we're putting the Big Ten under the microscope. Our four-part series continues today with a look at the money Big Ten teams have paid to opponents over the years.
[+] Enlarge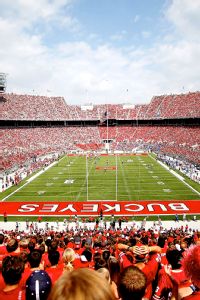 Kirk Irwin/Getty Images Ohio State is the league's largest athletic program with 36 varsity sports and a massive, often sold-out football stadium.
Michigan State athletic director Mark Hollis was scheduled to meet with reporters during the lunch break of Wednesday's Big Ten administrators' meetings, but he showed up earlier than expected.
He jokingly offered a possible reason for his escape.
"It seems like every vote we take," Hollis said, "costs us $100,000."
Expenses are rising for major-conference schools, especially with the welfare of college athletes in the national spotlight. One area that continues to get more expensive is the cost of home games, and the prices will continue to rise.
While Big Ten schools make millions from football games in their campus stadiums, they also are paying large guarantees for opponents to show up and play. According to recent analysis from "Outside the Lines," Big Ten teams paid nearly $42 million to visiting teams in all sports during the 2012-13 season (this includes Rutgers and Maryland, but not Northwestern, a private institution that doesn't report figures). The Big Ten, with its big football stadiums and broad-based athletic programs, paid more to opponents than any other conference. It's not a surprise considering many Big Ten teams make more than $3 million per football home game.
In 2012-13, Ohio State led the nation in money paid to opponents ($7,999,881), followed by Minnesota ($4,799,383) and Wisconsin ($3,987,864). Two other Big Ten teams -- Michigan State ($3,650,864) and Indiana ($3,375,562) -- finished in the top 10, and 10 schools finished in the top 25.
Ohio State has spent more on visiting teams in each of the past six years, averaging $7.4 million per year. Its total spent since 2007-08 ($44,418,002) is more than double that of the next Big Ten school, Indiana ($21,576,798). The simple explanation for the disparity: Ohio State is the league's largest athletic program with 36 varsity sports, and with a massive, often sold-out football stadium, it spends because it can.
"We'll net north of about $7 million off of each [home football] game," Ohio State athletic director Gene Smith told ESPN.com. "That's why we can afford to pay that guarantee. If you're over 100,000 seats -- you look at Michigan, us, Penn State, Tennessee -- you have to look at their average ticket price, which is typically north of $75. Then, you're probably looking at $5-7 million that those stadiums are netting individually.
"So when you take out a $1-million, $1.2-million, $1.3-million guarantee, you can handle it."
According to the Associated Press,
Ohio State will pay more than $2 million
in guarantee money to its three home nonconference opponents this season (Virginia Tech, Cincinnati and Kent State). The Buckeyes also will receive an $850,000 guarantee for playing Navy in Baltimore.
These fees aren't new to college football. Many major-conference schools with big stadiums have been
spending $800,000 or more on guarantees
since the latter part of the last decade. In 2008, both Ohio State and Michigan State paid more than $5.5 million to road teams, finishing first and second nationally, respectively.
"We're in the market, we're part of that market because we're a large stadium," Smith said. "It's just what you have to do today to get the mix."
The problem going forward is inventory, a word used by several Big Ten athletic directors at last week's meetings. Although the Big Ten moves to a nine-game league schedule in 2016, which reduces the number of nonconference games to schedule, the demand for nonleague home games remains high, if not higher. Big Ten teams will have five conference road games every other year, so to get the seven home games most need to meet budgets, all three nonleague games must be at home.
The Big Ten also has placed a moratorium on scheduling FCS opponents, a route many Big Ten teams have taken because FCS schools don't require return games and have relatively lower guarantee fees. So Big Ten teams in many cases must find FBS teams willing to play on the road without requiring a return.
"The issue with nine is inventory," Wisconsin athletic director Barry Alvarez said. "You're trying to schedule all [FBS] schools. The inventory becomes questionable. People don't want to go home-and-home. You try to stay at seven games at home, it's very difficult to do that in the year that you have four Big Ten games at home. So there are some issues."
One of them is cost.
"As the supply shrinks," Hollis said, "those that are in the window of who you want to play have the ability to ask for more."
Like many college football observers, Smith had hoped both the SEC and ACC would join the Pac-12, Big 12 and, soon, the Big Ten in adopting nine-game league schedules. But he didn't see it as a competitive balance issue.
The problem: inventory.
"If they'd gone to nine, obviously there's a lot more inventory out there because they would only schedule three [nonleague games]," Smith said. "Everyone is trying to schedule the same types of nonconference games in the same window of time, September. It's challenging."
Big Ten commissioner Jim Delany, while reiterating the need to avoid scheduling FCS opponents, says he will assist member schools with the scheduling dilemma. Some schools are exploring neutral-site games, which are lucrative and have gained greater popularity in recent years. Penn State AD Dave Joyner, who will watch the Nittany Lions open the 2014 season in Ireland, said, "It's almost like having a home game."
But Big Ten ADs also have been resistant to move games -- and the money they generate -- away from local markets.
"I don't know about the neutral-site thing," Minnesota AD Norwood Teague said. "We just built a stadium on campus, a beautiful new 50,000-seat facility. That was built for a purpose, and $150 million of that stadium was paid for by taxpayer dollars."
Hollis also has stiff-armed the neutral-site trend, but he acknowledged last week that MSU and longtime rival Notre Dame are discussing a neutral-site contest, possibly in Chicago.
"Some of us aren't traditional thinkers," he said. "You can come up with some creative ways that make sense for student-athletes, fans and … that you can meet your financial challenges."
February, 24, 2014
2/24/14
9:00
AM ET
The Big Ten likes to consider itself a leader on many fronts in college sports. Several Big Ten schools were among the first to integrate their football programs, and the first two African-American head football coaches in a major conference called the league home.
But for much of this century, when it came to football coaching diversity, the Big Ten lagged behind the rest of the nation.
[+] Enlarge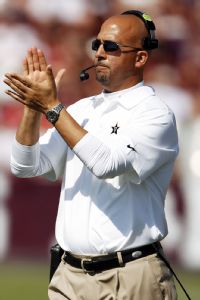 AP Photo/Eric Christian SmithPenn State's decision to hire James Franklin as its first African-American head football coach can't be underestimated.
After the third African-American head coach in league history -- Michigan State's Bobby Williams -- was fired late in the 2002 season, the conference went a decade without another black head football coach. The Big Ten was the only one of the six BCS AQ conferences that did not have at least one African-American head coach during that span; the SEC, by contrast, had four in the same time frame.
Thankfully, things have begun to improve. Two of the last three head coaches hired in the Big Ten -- Purdue's Darrell Hazell and Penn State's James Franklin -- are African-American.
"That's great news, to have that diversity," Ohio State athletic director Gene Smith said. "Now we just need to give them time and let them be successful where they are and develop their programs. I'm glad there is progress, and we need to continue to do more across the country."
There weren't a lot of opportunities, period, for head coaching jobs in the Big Ten during the recent diversity drought, as schools like Iowa, Northwestern, Penn State and Ohio State remained mostly stable at the top. But coaching turnover has increased in the league in the past few years; Penn State, for instance, just hired its second coach in three years after going nearly a half-century without a transition.
Was improving diversity a league-wide priority? Conference officials say no.
"What our schools try to do is hire the best coaches in their pool," Big Ten commissioner Jim Delany said. "We've had plenty of African-American basketball coaches.
"It's more about a commitment to opportunity and a fair process, and as long as our people are hiring the best people in processes that are open, you would hope and think that it would be sort of a broad representation of people. Whether you hire James Franklin or a new coach at any place, I'm not sure race should be the factor. Certainly people wouldn't want it to be a factor. It's really an outcome."
Still, it's hard not to note the importance of Penn State hiring its first African-American head football coach. More so than Dennis Green or Francis Peay at Northwestern or even Williams at Michigan State, Franklin is leading a flagship, blue-blood program. The timing was fortuitous, as the Pennsylvania native was ready for a new challenge after proving himself at Vanderbilt and the Nittany Lions needed a dynamic new leader.
"It's a lot of significance," Penn State athletic director Dave Joyner said. "We hired James because of the kind of person and coach he is. The fact he's African American is great. It's a great testimony to opportunity. A hundred years ago, that wouldn't have happened in this country."
[+] Enlarge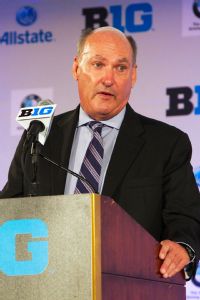 AP Photo/Ting Shen/Triple Play New MediaBig Ten commissioner Jim Delany said the hiring process should be fair and a commitment to opportunity for all coaches.
The Institute for Diversity and Ethics in Sports hasn't yet released its annual hiring report card for college football. But Richard Lapchick, the center's director, said the Big Ten's recent moves are "definitely a sign of progress." While there are only 11 FBS black head coaches heading into the 2014 season, it's noteworthy that minorities have gotten opportunities to lead storied programs like Penn State and Texas (Charlie Strong), Lapchick said.
"That's critically important," he said. "Historically, the opportunities in general that have gone to African-American coaches have been at programs that have been really down, and the opportunities to turn them around have been very problematic. Let's hope [Hazell and Franklin] are successful, because they will help create more opportunities for other African-American and Latino coaches in FBS conferences."
The next step for the Big Ten is to continue to develop and identify the next wave of minority head coaching candidates. Both Franklin and Hazell, who led Kent State for two seasons before Purdue hired him, had already established themselves as winning head coaches elsewhere, though Hazell was also a well-regarded assistant at Ohio State. The Big Ten sent several African-American assistant coaches to the annual minority coaches' forum between 2006 and 2010, and some athletic directors see it as their job to mentor young black coaches.
Smith saw Everett Withers leave the Buckeyes staff this winter to land the James Madison head coaching job and said he is spending time this offseason with running backs coach Stan Drayton to get Drayton accustomed to non-football issues like university budgets and policies.
"We want to have guys who are trained to hopefully win in the interview process," Smith said. "Sometimes, those are beauty contests. You've got to be able to answer the questions the right way and demonstrate an ability to lead."
That's the ultimate goal, to have more minority candidates who are ready when those opportunities do arise. Michigan athletic director Dave Brandon said that wasn't the case a few years ago, but the pool of potential coaches is increasing.
"We're starting to see more and more diversity among the coaching staffs and up-and-coming diverse candidates in all various positions in the sport," Brandon said. "Now, we're seeing more representation at the head coaching level. That was bound to happen and important to have happen, and I'm glad to see that trend evolve."
January, 27, 2014
1/27/14
9:00
AM ET
As the coach hiring season nears an end, we're examining the Big Ten coaching landscape and some recent trends. First, a closer look at the increased investments Big Ten schools are making in their football staffs to keep up with the national market.
Two days before Michigan State ended its best season in nearly a half-century with a Rose Bowl victory, Mark Hollis stood outside a Los Angeles conference room and described the dilemma he and other athletic directors face with football coaches' salaries.
"I get concerned sometimes about where we're going with coaches' salaries as an industry," Hollis said, "but at the same time, you need to ensure that continuity is in place."
[+] Enlarge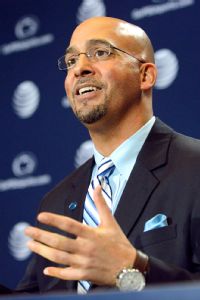 AP Photo/ John BealeNew Penn State coach James Franklin will make about $1 million more than his predecessor Bill O'Brien.
Michigan State ensured continuity by making major financial commitments for coach Mark Dantonio and his assistants. Penn State, meanwhile, is paying new coach James Franklin about $1 million more than a coach (Bill O'Brien) it lost to the NFL. Michigan used its financial resources to attract an offensive coordinator (Doug Nussmeier) from national power Alabama.
The recent moves underscore a greater willingness throughout the deep-pocketed Big Ten to invest more in the men charged to coach its flagship sport, one that has struggled for the past decade. The Big Ten didn't set the market for soaring coaches' salaries, but after some initial reluctance, the league seems more willing to join it.
"When you see an institution like Penn State and Franklin, it says we're going to attract the best talent that we can and in order to do that, we have to step up financially to procure that person's services," Ohio State athletic director Gene Smith told ESPN.com. "I think that's great for our league. ... We need to have the best coaches, we need to retain the best coaches."
Ohio State in 2011 hired Urban Meyer for a salary of $4 million per year. At the time, the Big Ten had no coaches earning more than $4 million and
only two making more than $3 million
. Purdue was one of the few major-conference programs paying its coach (Danny Hope) less than $1 million. Bret Bielema cited the difficulty of retaining top assistants at Wisconsin as one reason he left for the Arkansas job in 2012.
The landscape has changed.
Last year, both Meyer and Michigan's Brady Hoke made more than $4 million, while Iowa's Kirk Ferentz made just less ($3.985 million),
according to USA Today
. Franklin's deal at Penn State
includes an annual salary of $4.25 million
. Terms of Dantonio's new contract at Michigan State have yet to be announced, but it will put Dantonio, previously among the lowest-paid Big Ten coaches ($1.9 million),
in the top salary tier
. His staff also will receive nice pay bumps.
"I don't think we've been woefully behind," Smith said of the Big Ten. "We were not the first ones to drive the salaries up, but we weren't far behind in responding. Whenever we can attract someone who is really talented, we pay them."
They also must pay top assistants, many of whom command salaries well above those of head coaches from smaller leagues. The Big Ten, after
lagging behind nationally
in assistant coach pay, is
catching up
.
"The offensive and defensive coordinators, those decisions become critically important," Michigan AD Dave Brandon said. "You can have the greatest head coach in the world, but if you're not providing him with those leaders who can manage those smaller staffs ... it's hard to believe that the head coach is going to be successful."
There has been no Big Ten mandate to increase salaries, and athletic directors don't discuss financial specifics when they meet. These are institutional decisions, and Hollis, upon realizing Dantonio and his aides deserved an increase, first looked at what MSU could provide before surveying the Big Ten, the national college scene and the NFL.
Part of his challenge is verifying data, as some numbers, even those available through records requests, aren't always accurate.
"Every school pays individuals in different ways," Hollis said. "There can be longevity payments put in there, different bonuses."
Penn State athletic director Dave Joyner expected to make a strong financial push for O'Brien's successor but didn't know exactly where the numbers would fall. Among the metrics Joyner used was the potential attendance increase a new coach could bring.
Despite PSU's on-field success the past two years, average attendance at Beaver Stadium has
dropped by about 5,000
. An increase of 1,000 fans during the season, including parking and concessions, adds about $500,000 in revenue, Joyner said.
[+] Enlarge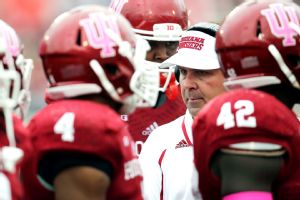 AJ Mast/Icon SMIIndiana has put more resources than ever before into coach Kevin Wilson and his staff.
"If you believe [the coach is] going to have a very positive effect on your fan base and on your program and on your ability to put bodies in the seats," he said, "it doesn't take a lot of seats to cause a return on that investment."
Indiana AD Fred Glass also wants to fill seats, but he's in a different financial ballpark from schools with massive stadiums like Penn State, despite competing in the same conference. Glass notes that while Michigan made $147.5 million in football revenue last year, Indiana made only about $4.5 million.
But it didn't stop IU from doubling its salary pool for assistant coaches when Kevin Wilson arrived, or awarding Wilson a seven-year contract worth $1.2 million annually, or increasing the number of full-time strength coaches devoted to football from two to five, the NCAA maximum.
"There's a reason IU traditionally hasn't been where we want to be in football," Glass said. "We haven't really made the investments in it. We haven't stuck with continuity. We haven't stayed with a staff over a long period of time. That's what we need.
"Kevin understands we're making resources available, but it's not a bottomless pit."
Glass' last point resonates in the Big Ten, which
generates record revenues
but also sponsors more sports, on average, than any other major conference. The league believes in broad-based programs, which makes it harder to sink money into football, despite the superior return.
"We are a college program versus just a football franchise, and I think our football coaches not only understand that but really embrace it," Hollis said. "I believe in the Big Ten, maybe more so than others -- I've had the opportunity to see East and West -- [coaches] feel that the athletic department is part of their family."
But they also have to take care of their own families, and their assistants. They know salaries are rising everywhere.
Big Ten athletic directors know this, too. To keep up, you have to pay up.
January, 9, 2014
1/09/14
12:00
PM ET
Penn State must be cramming a century's worth of silly seasons into one. Welcome to the party.
August, 20, 2013
8/20/13
12:34
PM ET
Game week is rapidly approaching ...
Did Ohio State Cheap Out On Championship Rings?
BIG TEN SCOREBOARD
Thursday, 9/3
Friday, 9/4
Saturday, 9/5
Sunday, 9/6
Monday, 9/7