Ohio State Buckeyes:

Dave Brandon
May, 21, 2014
May 21
9:00
AM ET
After taking a look at the most recent
database of revenues and expenses in college sports
, we're putting the Big Ten under the microscope. Our four-part series continues today with a look at the revenue generated through branding initiatives like licensing and sponsorships.
It's fitting that the University of Michigan's athletic director has the word "brand" in his last name. In the Big Ten, there's no bigger brand than Michigan.
Ticket sales, donations and television dollars are the biggest revenue-drivers for college programs. But one of the more revealing categories in the recent "Outside the Lines" database encompasses revenue from licensing, sponsorships, advertising and royalties. It all adds up to branding, and in the Big Ten, Michigan is king.
Only Texas generates more money from licensing, sponsorships, advertising and royalties than Michigan, which has ranked second among public schools in the category for the past five fiscal years (2008-09 through 2012-13). Michigan's reported intake spiked from $11,087,101 in fiscal year 2007-08 to $22,473,192 in 2012-13. Although there's a substantial gap between Texas ($33,421518) and Michigan, there's also a financial canyon between Michigan and third-place Oklahoma ($12,805,600), Ohio State ($12,714,758) and Nebraska ($11,895,378).
"We really think of ourselves as a global brand," Michigan athletic director Dave Brandon told ESPN.com. "In my previous life, I ran a company [Domino's Pizza] that at the time was doing business in about 65 countries. I never visited a country where I didn't see at least one symbol of the University of Michigan. There was at least one kid wearing a jersey, some guy wearing a hat, some Michigan shirt, some 'Go Blue' thing.
"It's remarkable how our brand is way beyond a domestic brand. I'm not sure if other programs necessarily enjoy that recognition."
Many Big Ten schools have massive alumni bases. But Michigan's alumni distribution, combined with the school's academic reputation and athletic tradition, has created a branding giant.
Brandon attributes the revenue differential mainly to the makeup of Michigan's alumni. Another driver is the way Michigan markets its athletes.
"You could even trace it back to the early '90s and the
Fab Five
, you could trace it to Desmond Howard and Charles Woodson," said Manish Tripathy, a marketing professor at Emory University who helps manage the
Emory Sports Marketing Analytics project
. "Some of these large figures and personalities have contributed to people who are not alumni still identifying with the Michigan brand."
The revenue from licensing, sponsorships, advertising and royalties accounts for a small percentage of Michigan's overall athletic revenue, which Brandon pegs at about $150 million for the 2013-14 fiscal year. It's the same for other Big Ten schools.
But Brandon sees potential in these areas, especially licensing, which he thinks can grow "much faster" than the rate of inflation.
"I'd like to build that more," Minnesota athletic director Norwood Teague said of licensing. "I know we're going to do an aggressive job. Part of that also is winning at a higher level in football and basketball. When I was at [North] Carolina, we were No. 1 [in licensing] my whole entire six years working there, and I was the liaison, so I saw how we built it. But it wasn't built overnight."
Minnesota has excelled in revenue through licensing/sponsorships/advertising/royalties, ranking fourth among Big Ten schools for the past six fiscal years and in the top 15 nationally each year. Minnesota associate athletic director Chris Werle said the school's long-term agreements with Coca-Cola, Dairy Queen and Learfield Sports, its media rights holder, bring in escalating revenues.
Like Minnesota, Iowa has been in the top 20 in licensing/sponsorships/advertising/royalties since 2007-08. Associate athletic director Rick Klatt said Iowa has tremendous local support and national brand recognition with its
Tiger Hawk logo
, but must push to broaden its reach.
"It's gaining shelf space in nontraditional markets," Klatt said. "When we can gain some kind of marketing presence in a sports store in San Antonio when you're down there for the Alamo Bowl, if we can find a little niche for the Iowa Hawkeyes to be next to Michigan, Texas and USC, we'e making some headway. That's a victory."
Klatt knows Iowa can't become Michigan overnight, but with the right success on the field and strategies off of it, the brand can expand.
"It's a quantity thing, a history thing, a tradition thing," Klatt said. "Michigan, Penn State -- they have some numbers that work in their favor. But that doesn't mean we can't compete."
Most Big Ten schools have seen gradual revenue increases in licensing/sponsorships/advertising/royalties, and most have been fairly steady in the national rankings. But there are some exceptions: Ohio State went from 24th in 2007-08 to fourth in 2012-13. Illinois' revenue has flat-lined, and the school has gone from 25th in 2007-08 to 36th in 2012-13.
Penn State saw a significant drop from fiscal year 2010-11 ($5,984,967) to 2011-12 ($4,444,416) -- the year of the Jerry Sandusky child sex abuse scandal -- before rebounding in 2012-13 ($5,086,773).
"Locally, the support is still there; people are still paying to go watch the team," Tripathi said, "but on a national level, there has been a bit of a hit on the brand. That's manifesting in the decline in sales of merchandise."
[+] Enlarge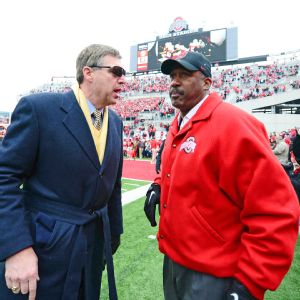 Andrew Weber/USA TODAY SportsMichigan athletic director Dave Brandon and Ohio State athletic director Gene Smith preside over marquee brands in the national scope.
Schools approach licensing and sponsorships in different ways, but consolidation is a common trait. All but four Big Ten members use the
Collegiate Licensing Company
, a division of IMG, to represent them in licensing agreements.
About a decade ago, Michigan significantly reduced the number of licenses it awarded to produce products. Kristen Ablauf, the school's director of trademark licensing, said Michigan used to have about 70 licensees for headwear, some of which weren't producing merchandise. Now there are only five national licensees -- LIDS and Dick's Sporting Goods among them -- as well as 12 local licensees.
"That has really helped increase revenues because we're targeting specific categories and channels as opposed to just licensing anybody," Ablauf said. "Along with our licensing agency, we work to put specific retailer programs together to make sure Michigan does maintain its status as a national school."
The Big Ten wants to become a more national conference as it expands to the East Coast with Rutgers and Maryland. The move should help Rutgers, which has generated the lowest revenues in licensing/sponsorships/advertising/royalties.
It also creates new branding opportunities for existing league members.
"The retail industry will take a look at and say, 'We need to have a presence in our store to satisfy the Big Ten consumer,'" Klatt said. "Our challenge will be, when they start choosing which schools to give presence to, they're clearly going to give some to Michigan, Ohio State, Penn State. But that next tier, we have to make sure we're in that."
May, 16, 2014
May 16
12:00
PM ET
Who else is ready to head to Natal?
April, 24, 2014
Apr 24
12:00
PM ET
Spring games on the horizon at Michigan State, Rutgers and Iowa. Read all about it:
April, 18, 2014
Apr 18
4:30
PM ET
Wishing you a great spring weekend (right, Mother Nature?). Join the
Twitter train
.
Sup?
Kevin from Pittsburgh writes:
This might sound like a weird question but do you think Penn State's recruiting success this offseason will have any impact on the NCAA potentially lifting the bowl ban? There was some optimism it could be lifted for this season, if not next. But with James Franklin seemingly overcoming the other intended punishments, would the NCAA be worried about a perception of letting PSU off the hook? Stop me if I'm overthinking here but this certainly wouldn't be the first time the NCAA has made a decision based on it's own perception.
Adam Rittenberg:
No, it certainly would not, Kevin. Trying to get inside the mind of the NCAA is a dangerous and often futile endeavor. My hope is any decision made about the sanctions would have nothing to do with how Franklin is recruiting. Penn State is being assessed for how it conducts itself as a program from a compliance and integrity standpoint, and the success in games or in recruiting really shouldn't matter with potentially reduced penalties. Also, the 2015 recruiting class won't impact the 2014 team, which has some depth problems stemming from the NCAA sanctions.
---
Jim from Albany, N.Y., writes:
As a season-ticket holder who doesn't mind the 200+ mile trip for every home game, I'm wondering what Rutgers (and/or Maryland too) do to be accepted by the average B1G fan? Reading everything from "meh" to "I'm never going to attend a Rutgers/Maryland game in my team's stadium" is tough when the average Rutgers fan is thrilled about being able to take a step up. I've not read this in any of the other realignment moves in any of the conferences (except perhaps WVU in the Big 12 or Mizzou in the SEC), but not so vitriolic as the B1G boards. Comments?

Adam Rittenberg:
Jim, there are a few factors involved here. Many Big Ten fans didn't want the league to expand again. Those who did wanted additions with stronger athletic traditions than Rutgers. Although Scarlet Knights football had a breakthrough under Greg Schiano, Rutgers doesn't match the historic accomplishments of Nebraska and Penn State, the Big Ten's most recent expansion additions. There's just not an obvious reason to get excited. Also, the demographic argument the Big Ten used with adding Rutgers and Maryland, while making sense on several levels, doesn't resonate with the average fan. There are also geographic and cultural differences between the traditional Big Ten footprint and the East Coast. Penn State deals with a similar divide.
---
B1G fan from the Midwest writes:
I know I'm about to ask something blasphemous to some longtime B1G fans, but is there a name change in the conference's future? Myself included, most members of the B1G are proud of tradition and are reluctant to change. I can understand sweeping it under the rug at 11 teams or maybe even 12, but when it's at 14 shouldn't it be considered? Maybe something non number related like the SEC and ACC have.
Adam Rittenberg:
It's not happening, B1G fan. Commissioner Jim Delany actually was open to a change when the Big Ten added Penn State in 1989, but the league presidents and other power players wanted the name to remain. Same thing happened when the league added Nebraska. There's too much meaning and history in that name, and while it's quite mathematically inaccurate, most Big Ten folks can live with it.
Delany and Michigan athletic director Dave Brandon addressed the league name
this week at an event in Detroit. Brandon said, "If you look at the Big Ten Conference, you've got brand equity that's been built over decades and decades. The Big Ten means something." So there you have it.
---
John from Kansas City, Mo., writes:
The B1G has 6 members (Iowa, Nebraska, Indiana, Minnesota, Wisconsin and Purdue) located in what are considered "talent poor" states. That is half of the conference (MD and Rutgers excluded) that has to actively recruit outside of their backyard. Not to mention they all border states that have more than one FBS school. The SEC on the other hand, has 10 schools in the top 15 "talent rich" states, so it seems the recruiting soil is a bit more fertile in the South. Meyer and Franklin are obviously great recruiters but they are also located squarely in the middle of two very saturated regions and are pulling huge numbers from their immediate footprint(s). Location and population are just as big of factors in recruiting as to which coach is running the show. It seems unfair to assume the B1G coaches aren't working hard enough.
Adam Rittenberg:
Some good points here, John. The population deck is undoubtedly stacked in the SEC's favor, no matter which set of recruiting rankings you trust. And you're right that Ohio State and Penn State can recruit locally and regionally more than programs like Iowa, Wisconsin and Nebraska. I wonder if there's an extra gear that both Meyer and Franklin --as well as their assistants -- reach on the recruiting trail. I know a lot of Big Ten coaches that label their programs "developmental" and take pride in that distinction. I wonder if that approach limits how much they can push for the upper-tier recruits.
---
Bruce from Los Angeles writes:
Simple question: If Michigan fails to win 8 games next year, Brady Hoke is fired? Yes or No?
Adam Rittenberg:
A simple question, Bruce, but a not-so simple answer. If Michigan endures a wave of injuries, loses several close games in the final minute and beats one of its rivals on the road -- Michigan State, Ohio State or Notre Dame -- I think Hoke stays. Dave Brandon is firmly in Hoke's corner and doesn't want to make a change. But if Michigan remains relatively healthy, endures the same problems it did in 2013 and gets blown out in rivalry games, the pressure on Brandon could be too great and Hoke would need to go.
April, 14, 2014
Apr 14
5:00
PM ET
Sorry for the lack of a mailbag last Wednesday, but I was busy catching up with folks at Ohio State. Never fear: the Monday mailbag is back.
D.J. from Minneapolis writes:
What happens to the union story if the Northwestern players vote no?
Brian Bennett:
A great question, and based on media comments from several players -- most notably quarterback
Trevor Siemian
-- it sure seems like the Wildcats players are against the union and will vote no on April 25. But there might be a stronger undercurrent of support from players who are not as vocal in public. Given that the leader of the movement,
Kain Colter
, has already graduated and won't be eligible to vote, you wonder who on the team will take the baton and push for the union. All it takes, remember, is a simple majority.
So does a no vote mean this is the end of the story? I don't think it's that basic. Northwestern players would be able to try to unionize again next year. The regional National Labor Relations Board ruling has also set a precedent, at least for football players at private schools, and those who believe in the cause, such as CAPA president Ramogi Huma, would likely try to persuade players at other programs to follow Northwestern's lead. The school will continue to try to fight the original ruling, as well.
If the Wildcats' players vote no next week, we might not see any tangible results from the union movement for a while. If nothing else, however, it was another shot across the bow at the NCAA and another huge warning to the leaders of college sports that they had better make some changes before a judge or a legislature does it for them.
---
Kelly from Wilmington, N.C., writes:
Brian, I know you said in
your article
that you don't think "The Game" would ever be a prime-time game, but do you think Michigan will gauge this year's game vs. Penn State to consider using Penn State and Ohio State every other year for a night game? They went from "never" to yes with Notre Dame and are now using Penn State. Yes, they get a great spot every year on ABC, but could you imagine if they moved to it a night game? Is it possible that they have realized that at least one night game a year is great in so many ways, not just for Michigan, but the Big Ten as a whole?
Brian Bennett:
I shouldn't have written "never" to the idea of an Ohio State-Michigan night game, because so many things have changed in college football that anything is possible. I never thought we'd actually see a playoff, for instance. But both schools have said they're not in favor of moving "The Game" away from the afternoon and under the lights. Michigan athletic director Dave Brandon doesn't even want to play Michigan State at night and so I doubt he will budge on the idea of playing Ohio State in prime time. And I don't think this game needs any more attention, as evidenced by all the signs and reminders of the rivalry that I saw while visiting both Michigan and Ohio State earlier this month. So I wouldn't expect it to happen anytime soon, though never say never.
---
Rob NitLion from Morristown, N.J., writes:
Can any conclusions be drawn about the benefit of spring games based on some of the attendance numbers you guys have mentioned in your recaps? I'm not going to pull a
Braxton Miller
and brag about PSU's "domination" of spring game attendance in the B1G, but ... some schools can really use the spring game as a springboard for recruiting, while other schools ... under 10,000 at Maryland, Indiana, Illinois, Wisconsin and more might only be hurting their own image? Weather wasn't much of a factor this weekend, so what is the reasoning for the rather paltry attendance numbers, or is the annual spring game at other schools not nearly the weekend long "festival" that the Blue-White game is in State College every year?
Brian Bennett:
I've come to the conclusion that spring games just aren't as big a deal at some places as they are others. And that's OK. I don't have much of a tolerance for spring games and don't like watching them, because you learn less from those than you would from watching just about any other practice. Sure, it's a fun day for fans to see their teams and sit in the stadium and maybe get some autographs, and all that is great. But I also have no problem with people who feel like they have better things to do than watch football that often isn't really representative of the finished product, with many star players usually being held out.
I don't know if spring game attendance factors much into recruiting. It certainly can't hurt to sell that to recruits as evidence of intense interest and appreciation of your program. But Michigan hasn't gotten many big spring game crowds over the years and that doesn't seem to affect the Wolverines' recruiting very much. I doubt many prospects are basing their decisions on anything that occurs at a spring game, and if they are, that is misguided on their part.
---
Dalton from Cincinnati writes:
I've had some different debates with some of my friends on why Michigan hasn't been able to rebound and compete for a Big Ten championship since 2006. To clear things up, do you think it is because Michigan State is no longer "the little brother" in this rivalry, or because Ohio State has won all but two meetings against them since 2001? Or is it the fact MSU hasn't had as much coaching turnover, has had better coaching and better development of their recruits and has had more winning seasons? I think MSU becoming more constant under Mark Dantonio has led to this occurring than anything else. What is your take on this?

Brian Bennett:
I thought Michigan State clearly benefited during Rich Rodriguez's tenure in Ann Arbor, as the Wolverines' downturn and different approach to recruiting helped the Spartans begin to establish themselves. Certainly, the success of Michigan State and Ohio State hasn't done anything to help Michigan, and butting heads against both those programs now in the East won't be easy.
Still, in my view, the biggest thing holding back Michigan is not any external force but Michigan itself. The two coaching changes, and especially veering between very contrasting styles, caused some problems that current Wolverines coaches will tell you are still being felt today. More than anything, though, Michigan simply hasn't capitalized on its own enormous resources and fulfilled its potential. As noted a minute ago, recruiting has been strong under Brady Hoke, at least if you believe the scouting services. The Maize and Blue have never had much trouble attracting talent. Development of that skill has been an issue, though many of those players are still young.
Perhaps we overrate Michigan's history and tradition, since the program claims only one national title since 1948. But with the school's money, stadium size, fan support and access to players, the Wolverines have no one to blame but themselves for not winning a Big Ten title in what is fast approaching a decade's time.
February, 24, 2014
Feb 24
9:00
AM ET
The Big Ten likes to consider itself a leader on many fronts in college sports. Several Big Ten schools were among the first to integrate their football programs, and the first two African-American head football coaches in a major conference called the league home.
But for much of this century, when it came to football coaching diversity, the Big Ten lagged behind the rest of the nation.
[+] Enlarge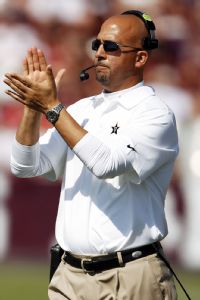 AP Photo/Eric Christian SmithPenn State's decision to hire James Franklin as its first African-American head football coach can't be underestimated.
After the third African-American head coach in league history -- Michigan State's Bobby Williams -- was fired late in the 2002 season, the conference went a decade without another black head football coach. The Big Ten was the only one of the six BCS AQ conferences that did not have at least one African-American head coach during that span; the SEC, by contrast, had four in the same time frame.
Thankfully, things have begun to improve. Two of the last three head coaches hired in the Big Ten -- Purdue's Darrell Hazell and Penn State's James Franklin -- are African-American.
"That's great news, to have that diversity," Ohio State athletic director Gene Smith said. "Now we just need to give them time and let them be successful where they are and develop their programs. I'm glad there is progress, and we need to continue to do more across the country."
There weren't a lot of opportunities, period, for head coaching jobs in the Big Ten during the recent diversity drought, as schools like Iowa, Northwestern, Penn State and Ohio State remained mostly stable at the top. But coaching turnover has increased in the league in the past few years; Penn State, for instance, just hired its second coach in three years after going nearly a half-century without a transition.
Was improving diversity a league-wide priority? Conference officials say no.
"What our schools try to do is hire the best coaches in their pool," Big Ten commissioner Jim Delany said. "We've had plenty of African-American basketball coaches.
"It's more about a commitment to opportunity and a fair process, and as long as our people are hiring the best people in processes that are open, you would hope and think that it would be sort of a broad representation of people. Whether you hire James Franklin or a new coach at any place, I'm not sure race should be the factor. Certainly people wouldn't want it to be a factor. It's really an outcome."
Still, it's hard not to note the importance of Penn State hiring its first African-American head football coach. More so than Dennis Green or Francis Peay at Northwestern or even Williams at Michigan State, Franklin is leading a flagship, blue-blood program. The timing was fortuitous, as the Pennsylvania native was ready for a new challenge after proving himself at Vanderbilt and the Nittany Lions needed a dynamic new leader.
"It's a lot of significance," Penn State athletic director Dave Joyner said. "We hired James because of the kind of person and coach he is. The fact he's African American is great. It's a great testimony to opportunity. A hundred years ago, that wouldn't have happened in this country."
[+] Enlarge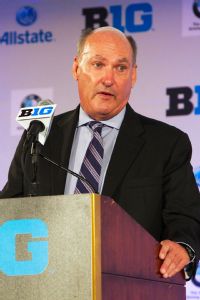 AP Photo/Ting Shen/Triple Play New MediaBig Ten commissioner Jim Delany said the hiring process should be fair and a commitment to opportunity for all coaches.
The Institute for Diversity and Ethics in Sports hasn't yet released its annual hiring report card for college football. But Richard Lapchick, the center's director, said the Big Ten's recent moves are "definitely a sign of progress." While there are only 11 FBS black head coaches heading into the 2014 season, it's noteworthy that minorities have gotten opportunities to lead storied programs like Penn State and Texas (Charlie Strong), Lapchick said.
"That's critically important," he said. "Historically, the opportunities in general that have gone to African-American coaches have been at programs that have been really down, and the opportunities to turn them around have been very problematic. Let's hope [Hazell and Franklin] are successful, because they will help create more opportunities for other African-American and Latino coaches in FBS conferences."
The next step for the Big Ten is to continue to develop and identify the next wave of minority head coaching candidates. Both Franklin and Hazell, who led Kent State for two seasons before Purdue hired him, had already established themselves as winning head coaches elsewhere, though Hazell was also a well-regarded assistant at Ohio State. The Big Ten sent several African-American assistant coaches to the annual minority coaches' forum between 2006 and 2010, and some athletic directors see it as their job to mentor young black coaches.
Smith saw Everett Withers leave the Buckeyes staff this winter to land the James Madison head coaching job and said he is spending time this offseason with running backs coach Stan Drayton to get Drayton accustomed to non-football issues like university budgets and policies.
"We want to have guys who are trained to hopefully win in the interview process," Smith said. "Sometimes, those are beauty contests. You've got to be able to answer the questions the right way and demonstrate an ability to lead."
That's the ultimate goal, to have more minority candidates who are ready when those opportunities do arise. Michigan athletic director Dave Brandon said that wasn't the case a few years ago, but the pool of potential coaches is increasing.
"We're starting to see more and more diversity among the coaching staffs and up-and-coming diverse candidates in all various positions in the sport," Brandon said. "Now, we're seeing more representation at the head coaching level. That was bound to happen and important to have happen, and I'm glad to see that trend evolve."
February, 10, 2014
Feb 10
12:00
PM ET
Pitchers and catchers report this week. Wish I could join them.
January, 29, 2014
Jan 29
9:00
AM ET
As the coach hiring season nears an end, we're examining the Big Ten coaching landscape and some recent trends. Today, we take a look at how recent coaching hires in the league have reversed the SEC brain drain.
When Bret Bielema left Wisconsin for Arkansas in December 2012, it sent shock waves throughout the Big Ten.
Why would a guy who had led his program to three straight Rose Bowls and Big Ten titles, one who was a Midwesterner through and through, decide to bolt for a mid-level SEC program? And if the Big Ten couldn't keep a guy like that from heading south, did it have any hope of keeping its best coaches around?
Bielema's exit wasn't the only example of coaching talent bred in the Midwest flocking to the SEC, after all. Nick Saban famously left Michigan State for LSU back in the day. Michigan man Les Miles coaches LSU. Texas A&M head coach Kevin Sumlin is a Purdue grad. Tennessee's Butch Jones is a Michigan native, while Georgia's Mark Richt was born in Omaha, Neb.
But offseason hires in the Big Ten this winter should alleviate fears that the league will always suffer from an SEC brain drain. Conference teams looked south to fill several high-profile openings:
[+] Enlarge

Matthew O'Haren/USA TODAY SportsLuring "Pennsylvania boy" James Franklin from the SEC to Penn State could be the start of a trend to get coaches with Midwestern roots back home.

Penn State hired James Franklin (and just about all of his staff) away from Vanderbilt. Sure, Vandy is no powerhouse program, but the Commodores reportedly offered him a 10-year, $50 million contract to stay in Nashville.

Michigan lured Doug Nussmeier away from Saban and Alabama and hired him as the Wolverines' new offensive coordinator. While there were some rumblings that Saban wasn't exactly sorry to see Nussmeier go, the Tide did average 38.2 points per game last season.

In a bit of sweet irony, Ohio State swiped Bielema's Arkansas defensive coordinator, Chris Ash, naming him the Buckeyes' new co-defensive coordinator and safeties coach.
It makes sense that Big Ten schools with important vacancies would turn their attention to the SEC. If you can't beat 'em, become 'em, after all. But those in charge of the hiring say that poaching the SEC wasn't really at the forefront of their minds.
"We were trying to get the very best person who fit within how Penn State is and what we do who was available," Penn State athletic director Dave Joyner said. "It just so happens that this great coach had a great experience in the SEC. If you just look at the football piece of it, having the success that he had in the SEC -- obviously the most successful conference over the past eight or nine years perhaps if you look at national championships -- that was a very strong positive."
Michigan athletic director Dave Brandon noted that Nussmeier was born in Oregon and has coached at Washington and Michigan State, while only spending the past two years in the SEC with Saban.
"To me, it's more coincidental than anything that's more strategic," Brandon said of the recent Big Ten hires. "You're going to see Big Ten coaches moving around and the same for coaches from other conferences. I don't think where they're from is as relevant as how we view their talent and experience and how well prepared they are to come in and help us at Michigan."
Still, it's good for the league and its image that high-profile coaches are willing to leave the bright lights of the SEC and take their talents to the Midwest for essentially the same positions. Ash accepted a small pay cut to abandon Bielema's ship, going from a sole coordinator's role to a job where he is officially, at least, sharing coordinator duties. Ash, tellingly, was born in Iowa and spent most of his career coaching in that state and Wisconsin before going to Dixie.
"He's kind of a Midwest guy," Ohio State athletic director Gene Smith said. "He has Midwest values. He's coming home, in my opinion."
And maybe that's the best selling point and best hope for the future of the Big Ten. With so many coaches having deep ties to the region, perhaps the league can bring some of them back home. It sure worked for Ohio State when native son Urban Meyer became available. Penn State scooped up self-described "Pennsylvania boy" Franklin. Both were considered stars in the SEC.
"If you're not competing for great coaching talent, it's going to be very hard to win the Big Ten title, it's going to be very hard to appear in Rose Bowls, and it's going to be very hard to compete for national championships," Brandon said.
Big Ten teams can do all of those things by first making sure they clot the Midwest brain drain.
January, 28, 2014
Jan 28
9:00
AM ET
As the coach hiring season nears an end, we're examining the Big Ten coaching landscape and some recent trends. Today we take a look at the rising salaries for assistants and whether a $1 million coordinator is on the horizon in the league.
In the days leading up to the Discover Orange Bowl earlier this month, Clemson offensive coordinator Chad Morris received nearly as much attention as the head coaches in the game.
That was because of Morris' ties to Ohio State head coach Urban Meyer and the high-powered Tigers offense he engineered. Plus, Morris was already being paid like a head coach.
In part because of Meyer's reported interest in hiring Morris in December 2011, Morris is the nation's highest-paid assistant coach at $1.3 million annually. But he's not alone in the $1 million coordinator club. LSU's John Chavis and Alabama's Kirby Smart also made more than seven figures as assistants in 2013, and Louisville recently lured defensive coordinator Todd Grantham away from Georgia with a five-year contract worth $1 million annually.
[+] Enlarge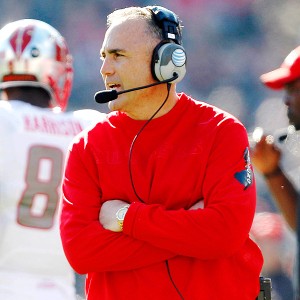 Frank Victores/USA TODAY SportsAt incoming Big Ten program Rutgers, head coach Kyle Flood barely makes more than at least one Big Ten coordinator.
The Big Ten has yet to take the plunge and cross the $1 million mark for an assistant coach. But there's little doubt that the pay for top coordinators is on the rise, and so is the league's investment in them.
"I think it's imminent," Ohio State athletic director Gene Smith told ESPN.com. "I don't know when, but I think it's imminent. Whether that's two years from now or four years from now, it's highly possible you'll see that in our league."
Some are not that far away now. Michigan defensive coordinator Greg Mattison is the Big Ten's highest-paid assistant at $851,000 per year. The Wolverines recently hired Doug Nussmeier away from Alabama as their offensive coordinator, and while his salary hasn't been disclosed yet, athletic director Dave Brandon has said it won't exceed Mattison's. Nussmeier was making $681,500 at Alabama.
Those numbers are compiled through open records requests and public information. But Brandon told ESPN.com that because contracts often include things like performance and longevity bonuses and deferred payments, "under certain scenarios, we've got coordinators now who could make over $1 million [in 2014]."
The $1 million mark is an arbitrary one in many ways. Brandon does not see an issue with surpassing it.
"Coordinator positions are very important, and when you look at what they are being paid in the pro ranks and in other conferences, the market has taken those positions up," he said. "If you're going to make a big investment in your head coach, you've got to back that investment up with the people around him to really bring it all together."
The arms race in college sports used to center on facilities. But now that just about every campus has upgraded every building imaginable and the construction crews are running out of projects, pay for assistant coaches seems to be the new frontier.
Consider that in 2010, the highest-paid Big Ten assistant coach was Illinois offensive coordinator Paul Petrino, at just more than $475,000. The increased commitment can really be seen at Ohio State, where in 2008, the Buckeyes did not pay a single Jim Tressel assistant more than $275,000. Now, Ohio State co-defensive coordinator Luke Fickell makes $610,000 and offensive coordinator Tom Herman earns $555,000. The Buckeyes just hired Chris Ash away from Arkansas as their co-defensive coordinator and safeties coach at a salary of $520,000, and they're paying new defensive line coach Larry Johnson $400,000.
"It's crazy," Smith said. "Stakes are higher. The revenue's gotten bigger. So you see those assistant coaches who are extremely talented being compensated consistent with their skills. It's blown up. And I'm not so sure it's going to slow down.
"It's just market-driven. It's really not unlike any other industry. Any industry or large corporation is going to pay whatever the market is for their top CFO or top COO or whatever the top positions are that they're trying to fill on their executive team. A head football coach is a CEO. And his executive team is his assistants."
That's fine for rich programs such as Ohio State and Michigan. Or Nebraska, which paid offensive coordinator Tim Beck $700,000 last year. But can every Big Ten school afford to reward its assistants like captains of industry? Consider that Clemson's Morris made more in base pay in 2013 than two Big Ten head coaches (Minnesota's Jerry Kill and Indiana's Kevin Wilson). Incoming Rutgers head coach Kyle Flood makes only $9,000 more per year than Mattison.
"It's challenging, especially for a program like Indiana, where we have a smaller stadium, we don't fill it," Indiana athletic director Fred Glass told ESPN.com. "So it's tough to compete."
"I guess one of the questions is, where does it level off?," Penn State athletic director Dave Joyner told ESPN.com. "It depends on the revenue structure. If the revenue goes up and the investment causes a return that's worthwhile, maybe things do continue to escalate, and particularly at schools that are able to financially support their programs so that it's not a burden on the general funds."
Then again, few investments can have a more direct impact on the actual football product than paying top dollar for a truly elite coordinator. Michigan State surely doesn't regret the $558,000 it paid to defensive coordinator Pat Narduzzi last year; one could argue he would be underpaid even at $1 million.
It won't be long until a Big Ten assistant gets there.
"We're going to see it," Smith said. "Especially at places like Ohio State, Michigan, Penn State -- the big stadiums, so to speak. It's going to end up being here at some point. "
January, 27, 2014
Jan 27
9:00
AM ET
As the coach hiring season nears an end, we're examining the Big Ten coaching landscape and some recent trends. First, a closer look at the increased investments Big Ten schools are making in their football staffs to keep up with the national market.
Two days before Michigan State ended its best season in nearly a half-century with a Rose Bowl victory, Mark Hollis stood outside a Los Angeles conference room and described the dilemma he and other athletic directors face with football coaches' salaries.
"I get concerned sometimes about where we're going with coaches' salaries as an industry," Hollis said, "but at the same time, you need to ensure that continuity is in place."
[+] Enlarge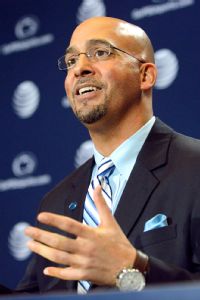 AP Photo/ John BealeNew Penn State coach James Franklin will make about $1 million more than his predecessor Bill O'Brien.
Michigan State ensured continuity by making major financial commitments for coach Mark Dantonio and his assistants. Penn State, meanwhile, is paying new coach James Franklin about $1 million more than a coach (Bill O'Brien) it lost to the NFL. Michigan used its financial resources to attract an offensive coordinator (Doug Nussmeier) from national power Alabama.
The recent moves underscore a greater willingness throughout the deep-pocketed Big Ten to invest more in the men charged to coach its flagship sport, one that has struggled for the past decade. The Big Ten didn't set the market for soaring coaches' salaries, but after some initial reluctance, the league seems more willing to join it.
"When you see an institution like Penn State and Franklin, it says we're going to attract the best talent that we can and in order to do that, we have to step up financially to procure that person's services," Ohio State athletic director Gene Smith told ESPN.com. "I think that's great for our league. ... We need to have the best coaches, we need to retain the best coaches."
Ohio State in 2011 hired Urban Meyer for a salary of $4 million per year. At the time, the Big Ten had no coaches earning more than $4 million and
only two making more than $3 million
. Purdue was one of the few major-conference programs paying its coach (Danny Hope) less than $1 million. Bret Bielema cited the difficulty of retaining top assistants at Wisconsin as one reason he left for the Arkansas job in 2012.
The landscape has changed.
Last year, both Meyer and Michigan's Brady Hoke made more than $4 million, while Iowa's Kirk Ferentz made just less ($3.985 million),
according to USA Today
. Franklin's deal at Penn State
includes an annual salary of $4.25 million
. Terms of Dantonio's new contract at Michigan State have yet to be announced, but it will put Dantonio, previously among the lowest-paid Big Ten coaches ($1.9 million),
in the top salary tier
. His staff also will receive nice pay bumps.
"I don't think we've been woefully behind," Smith said of the Big Ten. "We were not the first ones to drive the salaries up, but we weren't far behind in responding. Whenever we can attract someone who is really talented, we pay them."
They also must pay top assistants, many of whom command salaries well above those of head coaches from smaller leagues. The Big Ten, after
lagging behind nationally
in assistant coach pay, is
catching up
.
"The offensive and defensive coordinators, those decisions become critically important," Michigan AD Dave Brandon said. "You can have the greatest head coach in the world, but if you're not providing him with those leaders who can manage those smaller staffs ... it's hard to believe that the head coach is going to be successful."
There has been no Big Ten mandate to increase salaries, and athletic directors don't discuss financial specifics when they meet. These are institutional decisions, and Hollis, upon realizing Dantonio and his aides deserved an increase, first looked at what MSU could provide before surveying the Big Ten, the national college scene and the NFL.
Part of his challenge is verifying data, as some numbers, even those available through records requests, aren't always accurate.
"Every school pays individuals in different ways," Hollis said. "There can be longevity payments put in there, different bonuses."
Penn State athletic director Dave Joyner expected to make a strong financial push for O'Brien's successor but didn't know exactly where the numbers would fall. Among the metrics Joyner used was the potential attendance increase a new coach could bring.
Despite PSU's on-field success the past two years, average attendance at Beaver Stadium has
dropped by about 5,000
. An increase of 1,000 fans during the season, including parking and concessions, adds about $500,000 in revenue, Joyner said.
[+] Enlarge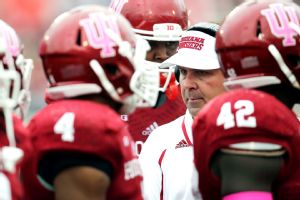 AJ Mast/Icon SMIIndiana has put more resources than ever before into coach Kevin Wilson and his staff.
"If you believe [the coach is] going to have a very positive effect on your fan base and on your program and on your ability to put bodies in the seats," he said, "it doesn't take a lot of seats to cause a return on that investment."
Indiana AD Fred Glass also wants to fill seats, but he's in a different financial ballpark from schools with massive stadiums like Penn State, despite competing in the same conference. Glass notes that while Michigan made $147.5 million in football revenue last year, Indiana made only about $4.5 million.
But it didn't stop IU from doubling its salary pool for assistant coaches when Kevin Wilson arrived, or awarding Wilson a seven-year contract worth $1.2 million annually, or increasing the number of full-time strength coaches devoted to football from two to five, the NCAA maximum.
"There's a reason IU traditionally hasn't been where we want to be in football," Glass said. "We haven't really made the investments in it. We haven't stuck with continuity. We haven't stayed with a staff over a long period of time. That's what we need.
"Kevin understands we're making resources available, but it's not a bottomless pit."
Glass' last point resonates in the Big Ten, which
generates record revenues
but also sponsors more sports, on average, than any other major conference. The league believes in broad-based programs, which makes it harder to sink money into football, despite the superior return.
"We are a college program versus just a football franchise, and I think our football coaches not only understand that but really embrace it," Hollis said. "I believe in the Big Ten, maybe more so than others -- I've had the opportunity to see East and West -- [coaches] feel that the athletic department is part of their family."
But they also have to take care of their own families, and their assistants. They know salaries are rising everywhere.
Big Ten athletic directors know this, too. To keep up, you have to pay up.
January, 23, 2014
Jan 23
12:00
PM ET
What you know about roses, bro?

January, 22, 2014
Jan 22
12:00
PM ET
Sure, it's cold now. But pitchers and catchers report in just three weeks.
January, 13, 2014
Jan 13
12:00
PM ET
Alright, alright, alright ...
February, 1, 2013
2/01/13
9:00
AM ET
As we've written for the past several days, Big Ten athletic directors have a whole host of decisions to make over the next few months, including
how many league games
they should play,
how to align the divisions
,
the next bowl lineup
and even
what to call the divisions
.

"We've got some heavy lifting to do here for the next few months," Purdue athletic director Morgan Burke said.
But what if all that huffing and puffing turns out to be a Sisyphean task? There's one thing that could send conference leaders scrambling back to the drawing board: more expansion.
The decisions the athletic directors will make for the 2014 season and beyond will be based on the new 14-team format with Maryland and Rutgers joining. Many people suspect the Big Ten is not done adding members and could soon grow to 16 or even to 20 members. Ohio State president E. Gordon Gee recently informed us that conference
expansion talks are "ongoing."
The athletic directors are well aware of the possibility that more teams could be coming at just about any time.
"Based on the last three years I've been in this business, you'd be crazy not to think about it," Michigan athletic director Dave Brandon said. "But it's hard to model anything because you don't know what to model. The minute you get yourself convinced that you're going to go from 14 to 16, for all you know you're going to 18, and a lot of people think the ultimate landing place is 20. Who knows?"
For now, all the decisions they make will be based on a 14-team model only.
"You make your decision based on today," Iowa's Gary Barta said. "And today, we have that many teams. We can't worry about something that's not established yet. I don't know if and when there will be more teams. Right now, we're going to make decisions based on the additions of Rutgers and Maryland, and we're going to make them with the information we have, consistent with our principles."
"It's hard to predict the future," added Northwestern's Jim Phillips. "No one would have predicted we'd be at this place we're at right now. I don't think you can get polarized by the what-ifs or the potential of what might be and lose sight of where you're at."
The league's ADs will do their best to come up with the best framework for a 14-team league. If future expansion arrives in time for the 2014 season or shortly after it, at least the conference has gained lots of recent experience in how to deal with it.
"When you get into the discussion of things like 10 [conference games], you say, 'Wow, if we had a couple more teams, it would be easier,'" Ohio State athletic director Gene Smith said. "That's a natural. But it's not something that motivates you to say, 'We've got to position this in case we have another team, or two more teams.' We don't do that."
"What I've liked about our league is, when we added Nebraska, we felt like we needed to settle and watch the landscape. We thought the East Coast was important, and we got two good pickups relative to that principal. So I think we deal with what we have now, sit, monitor the landscape, and if something emerges down the road, we're positioned to be able to absorb."
College Football Minute
BIG TEN SCOREBOARD
Thursday, 8/28
Friday, 8/29
Saturday, 8/30