Ohio State Buckeyes:

Dameon Willis Jr
October, 4, 2013
10/04/13
11:00
AM ET
It's time to dip into the Big Ten recruiting mailbag and answer some of your questions. We'll try to give everyone a chance to get their questions answered. We encourage you to send your questions by Twitter to
@bbournival
or
@TomVH
.
@HoosierHolmes: What positions are Indiana most focused on to finish up its class?
Brad Bournival:
A look at who the Hoosiers are targeting shows it's still very much on defense -- at linebacker and in the secondary more specifically. Indiana picked up a tremendous hybrid outside linebacker/safety in
Dameon Willis Jr.
(Cleveland/St. Ignatius) on Wednesday. With defensive backs
Micquell Cotton
(O'Fallon, Ill./O'Fallon) and
Craig James
(Edwardsville, Ill./Edwardsville) out there, as well as linebackers
Tegray Scales
(Cincinnati/Summit Country Day) and
Nile Sykes
(Lombard, Ill./Montini Catholic), expect the Hoosiers to turn up the heat defensively on the recruiting front.
---
@GabeJasinski: What big time recruit do you think Michigan State has a chance at getting?
Tom VanHaaren:
The Spartans are in on some big prospects still and have put themselves in the top group of a few ESPN 300 targets. Defensive backs
Montae Nicholson
(Monroeville, Pa./Gateway) and
Parrker Westphal
(Bolingbrook, Ill./Bolingbrook) both have Michigan State in their top group.
I think it might be difficult to pull both, but it seems as though there is a shot.
Nicholson took an unofficial visit to East Lansing, and there is a chance that Westphal will take a visit soon, as well. It's probably a long shot, as Virginia and Pitt appear to be the leader, but wide receiver
Jamil Kamara
(Virginia Beach, Va./Bishop Sullivan) might be an option, as well.
Kamara visits Michigan State on Nov. 3, so who knows what can happen once he's on campus.
---
@buckeyefan686: After Raekwon McMillan and Marshon Lattimore, which uncommitted recruit do you think is the most important for Ohio State to land?
Bournival:
It's not one specific player as much it is a position. Ohio State swung and missed last year along the line and needs to fix that this year. Now, they're doing fantastic with four already in the fold. That said, it is imperative for the Buckeyes to land either
Damian Prince
(Forestville, Md./Bishop McNamara),
Alex Bookser
(Pittsburgh/Mt. Lebanon) or top junior college tackle
Chad Mavety
(Garden City, N.J./Nassau Community College).
---
PSUlions1121: Any chance Penn State could get back in on Dravon Henry now that the sanctions are reduced?
Bournival:
Henry's father Roland was reached the day the sanctions were reduced, but his son's stance didn't change. "It's more the postseason ban than the scholarship restrictions," Roland told ESPN.com recruiting writer Jared Shanker. Some have said that Henry just didn't get the feeling at Happy Valley like he did at West Virginia. While Henry remains uncommitted, the favorite seems to be the Mountaineers, but Pitt looks like it will be in it until the end, as well.
---
@pinkelman9876: Where do you think Nebraska will end up in Big Ten recruiting rankings? Is the perception of Nebraska hurting their chances at projected top talent?
VanHaaren:
Nebraska currently has the No. 37 overall recruiting class in the country, which is good for No. 6 in the conference. The problem for the Cornhuskers is that there aren't many big name targets still on the board that would move the dial too much.
Michigan, Ohio State, Northwestern, Michigan State, Wisconsin and Penn State are all currently ahead of Nebraska and have targets still on the board that would keep them ahead of the Cornhuskers.
Something that I see as a problem has to do with the location relative to the rest of the Big Ten. Once Nebraska joined the Big Ten, they left their footprint in the Big 12 behind. Trying to land Midwest prospects from 12 hours away is very difficult, and it has proven to be hard for this coaching staff. The coaches try to recruit nationally, but there isn't one area where they have a home base to secure top prospects year in and year out.
---
@kholmes147: Regarding 2015 Michigan quarterback recruiting ... since it's clear [Josh] Rosen has no interest, who do you think is most likely to get the second offer?
VanHaaren:
Rosen is currently the only 2015 quarterback with a Michigan offer, and as you mentioned likely will stay on the West Coast.
The coaching staff has been in contact with plenty of other prospects, though, including
Kyle Kearns
(Pleasanton, Calif./Foothill),
Kevin Dillman
(LaMirada, Calif./LaMirada),
Alex Malzone
(Birmingham, Mich./Brother Rice),
Sheriron Jones
(Moreno Valley, Calif./Rancho Verde),
Riley Neal
(Yorktown, Ind./Yorktown).
It's tough to say who will get the first offer, but much like the 2014 class, the coaches can stand to be a little picky for now. They can take some time to evaluate the right prospect, gauge interest levels and see who is the right fit.
October, 3, 2013
10/03/13
2:00
PM ET

Indiana takes center stage in these week's Big Ten storylines, but that doesn't mean other schools aren't getting involved.

Here's a look at the week that was and what's ahead:

September, 11, 2013
9/11/13
10:00
AM ET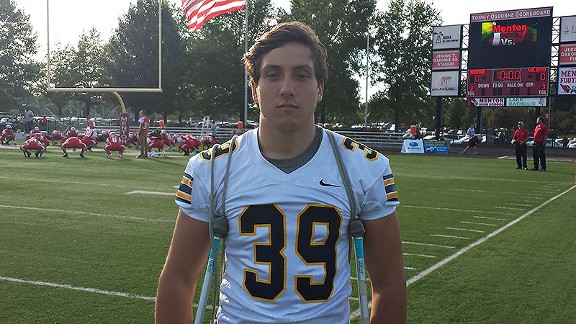 Brad Bournival/ESPN.comOhio State linebacker commit Kyle Berger's senior season ended before the regular season even began because of a knee injury.
On Thursday, ESPN 300 linebacker
Kyle Berger
will sew up what remains of his senior season at Cleveland St. Ignatius when he has surgery to repair a badly damaged left knee.
And the Ohio State commitment considers himself lucky. Lucky because things could have been much worse, lucky because he sees the light at the end of the tunnel and lucky because he's got a tremendous support system behind him.
Things didn't look that way three-and-a-half weeks ago when he was taken off the field after assisting on a tackle.
To continue reading this article you must be an Insider
September, 9, 2013
9/09/13
11:00
AM ET
Big Ten commits and targets were all over the field making plays this weekend for their teams. Here is a look at some of the top high school performances from Big Ten prospects.

Illinois
Mike Dudek:
The Neuqua Valley (Ill.) receiver had 12 receptions for 244 yards and a touchdown and rushed for 49 yards and a touchdown touchdown in a 58-35 loss to Naperville Central.
To continue reading this article you must be an Insider
November, 4, 2012
11/04/12
12:00
PM ET
Dameon Willis
(Cleveland/St. Ignatius) wanted to make his choice between Michigan and Michigan State after the two played each other Oct. 20 in a 12-10 win by the Wolverines.
It didn't happen.
That's mainly because the 6-foot, 208-pound junior has refocused his thoughts on what is going on this season with his high school team. A 20-13 loss to St. Edward in Week 10 pushed the Wildcats into the second spot in Division I, Region 1, in the postseason and opened the eyes of the safety.
To continue reading this article you must be an Insider
November, 1, 2012
11/01/12
10:00
AM ET
One ESPN Watch List tight end will wait until the Michigan game to see Ohio State play, while another is taking in this weekend's contest against Illinois.
Ethan Wolf
(Minster, Ohio/Minster) plans to see the Buckeyes play the Wolverines on Nov. 24, but
Jeb Blazevich
(Charlotte, N.C./Charlotte Christian) is slated to see Ohio State take on the Illini.
That Blazevich should be here this weekend is a big deal, as he already has 19 Division I offers on his plate. The list includes Alabama, Clemson, Florida, Georgia, LSU, Michigan, Ohio State, Notre Dame, South Carolina, Vanderbilt and Virginia Tech.
To continue reading this article you must be an Insider
September, 27, 2012
9/27/12
10:00
AM ET
Ohio State is on the road, but that doesn't mean the Buckeyes don't have a chance to impress this weekend.
Inside linebacker
Clifton Garrett
(Plainfield, Ill./Plainfield South) is planning an unofficial trip to East Lansing, Mich. to see the Buckeyes play Michigan State on Saturday.
Garrett confirmed his trip Wednesday and is very much on the radar of Ohio State.
To continue reading this article you must be an Insider
September, 6, 2012
9/06/12
10:00
AM ET
Ohio State's game with Central Florida has the eye of the junior class.
Keeping an eye extra close on the game will be wide receiver
Thaddeus Snodgrass
(Springfield, Ohio/Springfield), quarterback
Joey Duckworth
(Louisville, Ohio/Louisville), offensive guard
Nathaniel Devers
(Massillon, Ohio/Washington), safety
Darius West
(Lima, Ohio/Central Catholic), offensive tackle
Kyle Trout
(Lancaster, Ohio/Lancaster) and wide receiver
Marcus Whitfield
(Massillon, Ohio/Washington), as they have scheduled unofficial visits.
To continue reading this article you must be an Insider
September, 3, 2012
9/03/12
10:00
AM ET
Ohio State might want to grab the film of Saturday's 49-13 win by Cleveland St. Ignatius over De La Salle (Mich.) and key in on 2014 safety
Dameon Willis Jr
.
Faced with the daunting task of playing against the No. 26 player in the ESPN 150, Willis and the Wildcats made
Shane Morris
look ordinary in a 9-of-22, 104-yard, two-interception performance.
The Buckeyes have interest as well as Michigan, Michigan State, Notre Dame and now Pittsburgh.
To continue reading this article you must be an Insider
August, 30, 2012
8/30/12
10:00
AM ET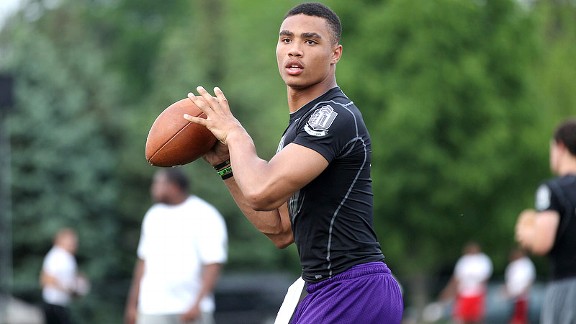 Tom Hauck/ESPNHSBuckeyes commit Jalin Marshall leads Middletown against Sprinfield on Friday night.
How does a team stop a player who ran for 312 yards and scored three touchdowns against St. Xavier (Ohio)?
How does a defense contain the No. 4-ranked pocket passer in the nation and 26th-ranked player in the ESPN 150?
The first of those questions will be answered when big-time recruit
Thaddeus Snodgrass
goes toe-to-toe with Ohio State commit
Jalin Marshall
on Friday, as Middletown travels to Springfield for a Friday night game slated for a 7:30 kickoff on Snodgrass' home field.
To continue reading this article you must be an Insider
August, 18, 2012
8/18/12
2:00
PM ET
Life is good for
Dameon Willis Jr.
(Cleveland, Ohio/St. Ignatius) right now. The 6-foot, 208-pound safety is back after leading the Wildcats to a Division I state title.
He's got schools like Ohio State, Michigan, Michigan State and Notre Dame looking at him, and the junior is hoping to add more.
"I'm definitely ready, more so for the season," Willis said. "I'm ready to go onto the field with my teammates and get it done. It's a very important year, academically and football-wise. You have to give it your all out here."
To continue reading this article you must be an Insider
Did Ohio State Cheap Out On Championship Rings?
BIG TEN SCOREBOARD
Thursday, 9/3
Friday, 9/4
Saturday, 9/5
Sunday, 9/6
Monday, 9/7