OSU Buckeyes:

Chris Carter
May, 3, 2013
May 3
11:00
AM ET
With spring practice in the books and Ohio State heading into its offseason conditioning program, BuckeyeNation is looking at the players who boosted their stock with the program during spring workouts. Last week it was the offense, and now we'll look at a handful of defenders who will be in line for heavy workloads this fall.
No. 1: Adolphus Washington
Who: Early in camp, the practice-field highlights of fellow sophomore defensive end Noah Spence overshadowed Washington. Even midway through camp, Buckeyes coach Urban Meyer wasn't quite seeing the consistent dominance he was hoping for from a well-built pass-rusher with so much potential. But down the stretch Washington consistently put everything together, stamping himself as a potential worthy heir to John Simon and a developing force with whom the Big Ten will have to contend for at least the next season. With his strength and a frame that tips the scales at nearly 300 pounds, Washington already has seen time on both the inside and the outside of the line. The sack and forced fumble from the edge last year against Michigan provided some evidence that position suits him best, though, and with Washington figuring out how to play with that urgency more regularly, he's clearly got some momentum at that spot moving forward.
Spring progress: Washington essentially showed up on campus last year physically ready for the game at this level, and he's only going to get stronger as he spends more time in Ohio State's rigorous offseason conditioning program. So that's not an area that will force position coach Mike Vrabel to worry much. Instead he can emphasize fine-tuning technical issues with Washington and motivating him to tap further into his vast potential. The Buckeyes might not have seen instant results, but by the 15th and final workout of camp there might not have been another player on the roster who had done more to win over the coaching staff.
Jockeying for position: With speed that is almost frightening given his stature, Washington is more than capable of getting to the quarterback off the edge while providing plenty of support against the run, thanks to his 292 pounds. That package will continue to give the Buckeyes flexibility, as he can easily transition from tackle to end, and vice versa. At this point, Washington appears best suited to playing outside, particularly with Michael Bennett, Joel Hale, Chris Carter and Tommy Schutt available to fill out the rotation on the interior. But depending on the situation and the formation, Washington's set of skills could be put to use in a variety of ways.
He said it: "Adolphus Washington has really raised his level of play, he's a legitimate player, he's a starter at Ohio State. You saw him today just have his way with our offensive line at times, and he could be a very good player." -- Meyer, after the spring game
Closing number: The sacks were easier to come by with quarterback Braxton Miller in a black, non-contact jersey, and his offensive line was also missing a couple starters. But regardless of the degree of difficulty or who was blocking, racking up four sacks in the spring game while making it look routine to get in the backfield offered some public evidence of how destructive Washington could become for the Buckeyes -- validating Meyer's claim a few days before the exhibition that the sophomore's stock was worth buying.
March, 7, 2013
Mar 7
9:00
AM ET
If Urban Meyer had placed a banner with the words "The Chase" in Ohio State's indoor practice facility last spring, he might have been asked, "For what?"
Sure, football players are always chasing something, as Meyer noted Tuesday when asked about the big, bold banner now hanging at the Woody Hayes Athletic Center. That "something" can be localized: a starting job, a bigger role in the offense or defense, a scholarship, a coach's approval.
But Ohio State couldn't chase many tangible team goals last spring. The Buckeyes couldn't chase a Big Ten championship or a national championship because of NCAA sanctions. They
only found out in September
that they could chase a Leaders Division title. Undoubtedly their greatest attribute was an ability to chase the grandest goal they could -- a perfect 12-0 regular season, capped by a win against archrival Michigan -- and achieve it.
The banner makes much more sense now. Ohio State has emerged from the shadow of postseason probation and can chase whatever it wants, including the crystal football that has eluded the Scarlet and Gray -- and the rest of the Big Ten -- for more than a decade.
[+] Enlarge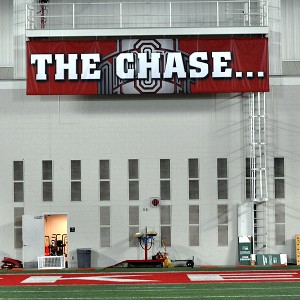 Photo/Ohio State Athletics Communications The above banner is prominently displayed in Ohio State's indoor practice facility.
"Some guys are chasing starting positions," Meyer said, "some guys are chasing a bowl game, some guys an NFL contract. ... It means more, but that's where we're going to stop."
Meyer and his players can stop there for now. They should, as it's only spring practice. But "The Chase" will be a theme throughout Ohio State's offseason as bigger, broader goals are back on the table.
"Everybody's got big dreams," Meyer said, "and we as a football team have some dreams."
Ohio State can dream big primarily because of an offense that transformed in 2012, rising from 81st nationally in scoring to 21st and from 107th in total yards to 47th. Quarterback
Braxton Miller
blossomed in Meyer's system, racking up a team-record 3,310 yards of offense, earning Big Ten Offensive Player of the Year honors and finishing fifth in the Heisman Trophy voting.
Miller, who spent part of his winter break working with noted quarterback instructor George Whitfield in California, leads a unit that returns nine starters, including four linemen. Ohio State also regains the services of versatile running back
Jordan Hall
, who missed most of last season because of injury and turned heads during Tuesday's practice.
After delivering scathing -- and accurate -- critiques of Miller, the receivers and the entire offense last spring, Meyer has a much rosier outlook these days. Tuesday, he called Miller's footwork "outstanding" and praised Hall and several other skill players.
"Last year, who knew what as going to happen," the coach said. "I think the appropriate term was 'clown show' at this time. I don't feel like [it's] a clown show."
If Miller makes strides as a passer, Ohio State should have its most potent offense since the 2006 season, when the Buckeyes played for the national championship (coincidentally against Meyer's
Florida Gators
). The key to the spring -- and to the season, really -- is whether Ohio State produces a typical Ohio State defense. Otherwise, Meyer says, any discussion about "those two words that we don't use very often" is pointless.
The spring spotlight shines brightest on the defensive front seven. Ohio State lost all four starting linemen from 2012, including Big Ten Defensive Player of the Year
John Simon
and massive tackle
Johnathan Hankins
, a possible first-round draft pick. Talented young linemen such as
Adolphus Washington
and
Noah Spence
got a taste last fall, and Meyer's staff has recruited extremely well up front, but others must emerge to fill out the rotation. Meyer on Tuesday challenged players such as
Steve Miller
and
Chris Carter
to do so.
All-Big Ten selection
Ryan Shazier
returns at linebacker, but depth remains a major concern for a group that needed fullback
Zach Boren
to fill a starting role midway through the 2012 season.
"If we put together a good D-line and linebackers, I think we'll have a good team," Meyer said. "If not, we won't. It's pretty simple."
There's also a leadership void to fill this spring. Players such as Simon and Boren made sure the Buckeyes kept up the chase in 2012. Meyer expressed concern last spring at how the team would handle its first brush with failure. Thanks to the seniors, it never happened as Ohio State recorded only the sixth unbeaten, untied season in team history.
The torch has passed to players like Miller, a quiet kid from a quiet family whose voice must be heard more in 2013.
"He needs to be a better leader," offensive coordinator Tom Herman told reporters last month.
Other likely leaders include Shazier and dynamic cornerback
Bradley Roby
, a big talker who almost always backs it up on the field. Their challenge differs from that of their predecessors, who kept the team focused in spite of the bowl ban, yet did so under measured expectations.
The expectations are back to Tressel-era levels, and perhaps even higher because of the perfect season and Meyer's recruiting success. Anything less than a celebration Dec. 7 in Indianapolis -- and perhaps another Jan. 6 in Pasadena -- will be considered disappointing.
"The chase," Meyer said, "is on."
February, 21, 2013
Feb 21
9:00
AM ET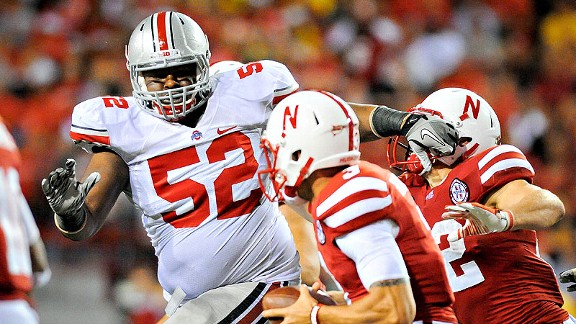 Eric Francis/Getty ImagesOhio State will have to find a way to replace Johnathan Hankins.
With national signing day in the books, the next big date on the Ohio State calendar as it continues working toward an encore for an undefeated season in 2013 is spring practice. Before those workouts begin, BuckeyeNation will take a look at each position to see where the roster is at -- and where it's going.
DEFENSIVE TACKLES
Who's back: The void in the middle of the defensive line is substantial, but that doesn't mean it's likely to become a black hole for Ohio State as it transitions to life without Johnathan Hankins and Garrett Goebel. Losing a talent like Hankins early to the NFL draft was a major blow to the defense even if it was expected, and Goebel's senior season was quietly productive and steady even if it wasn't flashy as the combination of the two big guys plugged gaps and often made rushing up the middle a fruitless proposition for opponents. But there are talented guys in reserve up front, even if there doesn't appear to be all that much depth heading into spring practice. Michael Bennett and his versatile set of skills will be put to use on the interior, and junior Joel Hale and sophomore Tommy Schutt both have the ability to handle the first-team load after filling in off the bench a year ago. Those three guys will be the focal point, charged with picking up where Hankins and Goebel left off.
New face: The Buckeyes have two recent signees already on campus and ready to go to work in the spring, though both are listed as defensive ends and don't appear to have the size needed to battle at the interior spots. But either way, Tracy Sprinkle (6-foot-2, 241 pounds) and Tyquan Lewis (6-foot-3, 223) could potentially allow line coach Mike Vrabel to tinker with his rotation a bit, particularly with somebody like inside-outside guy Adolphus Washington who is capable of playing multiple positions. Natural tackles Michael Hill, Joey Bosa, Billy Price and Donovan Munger will bulk up the group in August.