Ohio State Buckeyes:

Chase Farris
September, 26, 2013
9/26/13
11:00
AM ET
COLUMBUS, Ohio -- The clues started popping up in the form of ferocious pass-rushing ends who were dominating spring practice.
By the time training camp and the start of the season rolled around, a couple new bodies were added into the rotation, and Ohio State was starting to show signs that what was thought to be a potential problem was about to be solved.
[+] Enlarge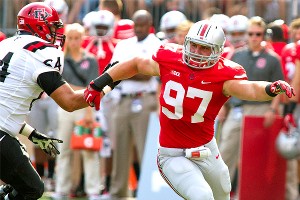 Jason Mowry/Icon SMITrue freshman Joey Bosa has been pressed into action and has performed admirably.
Now with four games under their belt, the Buckeyes are reasonably certain that an entirely rebuilt defensive line has gone from possible weakness to legitimate strength.
But even with all the information they've compiled -- dating to the end of last season and through an impressive start outside of Big Ten play -- all No. 4 Ohio State really has at this point is a hypothesis. The true test is coming Saturday, with No. 23 Wisconsin and its powerful rushing game visiting Ohio Stadium to provide a more concrete answer about just how good the Buckeyes are up front.
"They have not received the challenge yet like this one," Ohio State coach Urban Meyer said. "This will be the biggest challenge to this point, maybe the rest of the year, for our defensive front seven.
"I know we've had conversations about this outfit before, because the run game is real. You can get embarrassed real fast if you're not gap-sound and handling your business."
The Buckeyes went about their nonconference business with ruthless efficiency and relative ease, relaxing some of the concerns about filling the void left by three graduated seniors and a junior who left early for the NFL draft. But given the level of competition a largely inexperienced unit has faced compared to what it will encounter in the trenches against the Badgers, it's difficult to reach much of a conclusion until after this weekend's prime-time matchup.
Ohio State hasn't been at full strength on the line yet either, with
Adolphus Washington
missing two games due to a groin injury that has kept him from forming what appears to be a terrific tandem with fellow sophomore
Noah Spence
. Defensive tackle
Michael Bennett
was held out of last week's blowout over Florida A&M, and Ohio State has yet to get a snap out of
Tommy Schutt
at the position this season due to a preseason foot injury. Those issues have pressed a true freshman into an expanded role at end, where
Joey Bosa
has shined, and it also forced Meyer to move offensive lineman
Chase Farris
back over to defense to provide more depth and talent on the interior alongside veteran
Joel Hale
.
But even with those limitations, the way the Buckeyes have played might give them a bit of extra credit, considering they still rank No. 9 in the nation against the rush and No. 13 in total defense, which also represents marked improvement from some early struggles a year ago in Meyer's first season with the program. But those numbers haven't come against teams that can block as physically or run as dangerously as the Badgers, and the nation's third-ranked rushing attack is the measuring stick that counts for a defense looking to live up to the proud tradition of the Silver Bullets.
"I know people are going to say that it's going to come down to making tackles and stopping big plays and things like that," defensive coordinator Luke Fickell said. "But if we do a great job up front, we'll be in good shape. If we don't do a great job up front, we'll have a tough time.
"That doesn't mean the back seven don't have to play well. The linebackers and [secondary] are every bit a part of stopping and fitting that run and being a part of that effort as the front seven. But those guys up front are where the game is won and lost."
Testing a hypothesis doesn't get much easier than that.
September, 22, 2013
9/22/13
10:00
AM ET
COLUMBUS, Ohio -- New developments for Ohio State coming out of an easy, tune-up win over Florida A&M,
a 76-0 rout
on Saturday afternoon at Ohio Stadium.

Man on fire:
Braxton Miller
is eventually going to come back and reclaim his starting job, but
Kenny Guiton
has more than kept the seat warm. The redshirt senior has been a record-setting inferno, throwing the football in the last two victories while Miller has rested his sprained knee. Guiton etched his name in Ohio State lore again with six touchdown passes -- the most in school history for a single game, a record that only took him two quarters to accomplish. The Buckeyes were already confident in their backup before the last two weeks, but their depth at quarterback has proven to be a luxury few teams in the country can match.
The defensive line is only getting better:
Even with two starters out with injury, the Buckeyes still were able to deliver consistent pressure. The defensive line continues to silence any doubts about a rebuilt unit up front.
Adolphus Washington
(groin) and
Michael Bennett
(stinger) were held out to get them ready for next week's physical test against Wisconsin, and backups
Steve Miller
and
Chase Farris
each chipped in sacks to offer some evidence there is improving depth to go along with the top-end talent in the normal first-team lineup.
The offense has weapons to spare:
The Rattlers were hopelessly overmatched from the start, so much of Ohio State's frighteningly efficient offensive outing must be taken with a grain of salt. But the Buckeyes have more than just a capable backup at quarterback -- they've got dynamic, young playmakers waiting for touches at running back and wide receiver as well.
Ezekiel Elliott
came off the bench in the second half to rush for 162 yards and two touchdowns,
Warren Ball
added 49 more rushing yards and Guiton completed passes to 10 receivers. Ohio State is putting up points in bunches now, and the future looks just as bright.
August, 29, 2013
8/29/13
9:00
AM ET
COLUMBUS, Ohio -- Breaking down the positions and players who have the most to prove as No. 2 Ohio State opens the season on Saturday against Buffalo (TV: ESPN2, noon).
FIRST DOWN: Defensive tackles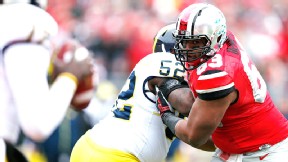 Joe Robbins/Getty ImagesThe Buckeyes feel good about their DEs, but Michael Bennett and the rest of the Ohio State DTs have something to prove.
The broken bone in
Tommy Schutt
's foot has thrown another wrench in the rebuilding project for the Buckeyes up front, and they reacted to it swiftly by shuffling
Chase Farris
back over to defense from the offensive line.
Schutt wasn't listed as a starter on the depth chart for the opener, but the sophomore impressed in limited action last season and had turned in a productive training camp before the injury bug bit him again on Monday. The Buckeyes know what life is like without Schutt after ankle issues limited him throughout spring, but for a unit that is replacing all four starters, having everybody healthy and ready to contribute was obviously important.
Ohio State has no shortage of confidence in
Noah Spence
and
Adolphus Washington
at end, but in some respects
Joel Hale
and
Michael Bennett
are still unknown quantities despite having been in the program for a couple years. Now with Schutt out and Farris moving to fill the void, the pressure is ramped up for a newcomer such as
Michael Hill
or sophomore
Chris Carter
.
SECOND DOWN: Freshmen skill players
The Buckeyes have no shortage of pieces returning from the Big Ten's best offense a season ago, but it's the fresh additions that figure to allow Urban Meyer to truly unleash his spread attack this fall.
They still have to prove themselves in a game though, and
Dontre Wilson
,
Ezekiel Elliott
and
Jalin Marshall
are all likely to touch the ball a few times as the Buckeyes evaluate what they have in what is shaping up to be an offensive class capable of making an early impact.
Wilson, in particular, could get his hands on the football right away with Ohio State trotting him out to return kickoffs. His electric speed could be put on display early, but the Buckeyes will really be watching him closely in the H-back role as they try to add more diversity to the playbook.
THIRD DOWN: Cornerbacks
The starting job
Armani Reeves
is filling this week is only temporary, and the sophomore is well aware of that. But he's got a huge opportunity to impress with
Bradley Roby
sitting out his one-game suspension, and potentially down the road it might help him make a push for the other first-team job at cornerback.
Doran Grant
has something to prove himself after playing minimally in reserve of Roby and Travis Howard a year ago, so the junior bears monitoring as well as he transitions into the starting lineup. There hasn't been any question about the pecking order since spring -- with Roby and Grant leading the way for a talented, deep secondary -- but only one career start separates Grant from Reeves. Both would benefit from making a strong first impression against the Bulls.
FOURTH DOWN: Braxton Miller's arm
The reviews have been overwhelmingly positive for the junior's development as a passer, and he publicly lobbied after practice to air the ball out at least 25 times -- then joked that he would call his own plays to get to 30.
If Miller is eager to show off the improvements he's made mechanically both in terms of accuracy and his footwork, the Buckeyes would certainly like to get a gauge of how far he's come in a meaningful setting as well.
There's been little doubt since a productive spring game that Miller is sharper and more confident delivering the football, and he's only had more time to fine tune his arm since then. The Buckeyes were far from a balanced offense last season, rushing twice as often as they passed, with Miller's skills as a runner helping drive up the margin.
But if his arm has managed to make up some ground with his feet, the offense could be unpredictable with what it could do on any down, making it a nightmare to try to defend.
August, 15, 2013
8/15/13
10:00
AM ET
Breaking down the Ohio State roster as training camp heats us and the program turns its attention to the opener on Aug. 31 against Buffalo.
OFFENSIVE LINE
[+] Enlarge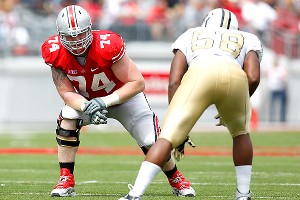 Kirk Irwin/Getty ImagesAn Ohio State offensive line that returns four starters is anchored by Jack Mewhort.
Top of the depth chart:
From left to right,
Jack Mewhort
,
Andrew Norwell
,
Corey Linsley
,
Marcus Hall
and
Taylor Decker
Next in line:
The backup spots don't have to be quite as precise given the flexibility of some reserves capable of playing multiple spots, with
Chase Farris
likely the first man up if injuries strike at either guard or tackle.
Darryl Baldwin
has impressed during training camp and provides depth on the edge, and
Pat Elflein
has emerged as a viable option on the interior.
Jacoby Boren
spent time filling in for Linsley when he was injured during spring practice and early this month, and the sophomore's work ethic and family history with the program is well documented.
New faces:
The Buckeyes didn't do much to restock the cupboards with the most recent signing class, and a class of blockers that only included two names dropped to one this season when Tim Gardner was sent home following an off-the-field incident. That leaves just
Evan Lisle
, who has shown some potential but would likely benefit from a year to develop on the sideline before getting thrown in the mix.
Recruiting trail:
With four seniors set to move on from the program after this season, coach Urban Meyer made it clear since signing day in February that he has to bring in a strong class of linemen to pave the way for the future. He would have liked to have done that in 2012, obviously, but he's off to a strong start with the next group after getting pledges from ESPN300 picks
Jamarco Jones
(Chicago/De La Salle) and
Demetrius Knox
(Fort Worth, Texas/All Saints Episcopal). The Buckeyes also have commitments from tackles
Kyle Trout
(Lancaster, Ohio/Lancaster) and
Marcelys Jones
(Cleveland/Glenville), reinforcing the importance of targeting the line in the 2013 class.
Flexibility:
Returning four senior starters doesn't leave much room for movement on the first unit, and the strong start to camp for sophomore Taylor Decker erased the only real question mark heading into the opener. Farris and Baldwin have each been able to push for work at times at right tackle, but Decker's brute strength and knowledge of the game has given him a leg up and given line coach Ed Warinner little to worry about with his starting unit.
Notable numbers:
• The work hasn't all come at one spot, but one way or another, the Buckeyes have been able to count on inking Mewhort's name in the starting lineup for quite some time now. The season opener against Buffalo will mark his 26th consecutive start, a string that has included appearances at left guard, right guard and the position he locked down for all of last fall, left tackle.
• For all the hype about the spread offense and what it would do for the passing attack in 2012, the Buckeyes ultimately relied much more on power and a smash-mouth ground game thanks to the nasty attitude and physical approach up front in Meyer's first season. Ohio State rushed twice as often as it passed, turning those 559 total carries into an average of 242 yards per game and finishing the season as one of the top running teams in the nation.
• The offensive line wasn't necessarily on the hook for all the sacks on
Braxton Miller
last season, but given the quarterback's mobility and the experience returning, they should be able to cut down dramatically on the 30 takedowns they allowed in 2012. Miller is a better decision-maker moving into his junior season and that should get the ball out quicker and provide some help for the line. But the big guys also appear capable of establishing a more comfortable pocket.
Big question:
Is Taylor Decker ready?
The Buckeyes weren't ready to pronounce the sophomore a starter leaving spring practice, and Decker himself admitted that he hadn't earned the right after 15 workouts in March and April. The coaching staff has already seen enough in August to trust him with that responsibility, though, and it comes with expectations that could hardly be higher. From a broad perspective, the Buckeyes are planning to contend for a national title. From a position-specific angle, Meyer has made it well known that everything starts in the trenches, and he wants nothing less than the best offensive line in the Big Ten -- for starters. With four proven commodities from an unbeaten team returning, the focus will be on the new guy to meet the standard.
August, 2, 2013
8/02/13
10:00
AM ET
COLUMBUS, Ohio -- The wait is over. The season might not be here yet, but football is officially returning with the start of training camp on Sunday.
So after an offseason filled with questions about issues away from the field, the focus is once again back on the game itself. And these five topics will be worth monitoring as Ohio State reports for practice with the great expectations that come with being
ranked No. 2 in the preseason poll
.
Who is ready to lead?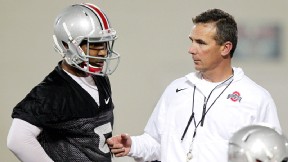 AP Photo/Jay LaPreteUrban Meyer would love to see more vocal leadership from quarterback Braxton Miller this fall.
The Buckeyes don't take the captaincy lightly, and the value coach Urban Meyer has put on leadership has never been in doubt, particularly given how much credit the senior class received for the unbeaten season a year ago.
That makes identifying the right group of veterans to take that torch incredibly important for Meyer as he tries to light a path to the national championship, and while a couple of clear choices have emerged to be the face of the program, August will be critical in finding a few more veterans to set the tone.
Left tackle
Jack Mewhort
and safety
Christian Bryant
both have emerged as respected voices in the locker room, and
Braxton Miller
is also starting to find his footing as a more vocal presence. But a couple of other guys who had high hopes of being in that mix are currently or will be facing discipline for issues last month, which will make it pretty unlikely cornerback
Bradley Roby
or running back
Carlos Hyde
will be tabbed for a captaincy. Seniors like
Philly Brown
,
Corey Linsley
and
C.J. Barnett
could fill that void, and junior linebacker
Ryan Shazier
will need to set an example on defense as well.
What's the state of the passing attack?
Miller will always go under the microscope first, and the quarterback is usually the safest place to start in breaking down a passing game. But he certainly wasn't the only one responsible for some numbers through the air that weren't up to Meyer's standards last season.
Miller has worked hard on his footwork and should be much more at ease with the playbook entering his second year in the spread, but he could also use some better route-running, fewer drops and a bit more depth at wide receiver as Meyer looks for more diversity in his attack. Brown should provide some reliability after a productive junior season, and if he builds on the end of it where he consistently looked like a threat to explode after the catch, that alone will make the Buckeyes more dangerous. But he needs some help from freakishly athletic counterpart
Devin Smith
, rising sophomore
Michael Thomas
, veterans
Chris Fields
and
Evan Spencer
and a handful of newcomers to help keep the coverage honest.
Are the youngsters ready up front?
[+] Enlarge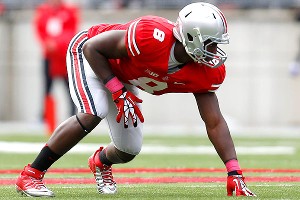 Kirk Irwin/Getty ImagesAfter an eye-popping spring game, defensive end Noah Spence is eager to prove himself in games that count.
The spring game only dumped more gasoline on what was already a bonfire of hype, with
Noah Spence
and
Adolphus Washington
stealing the show by combining for seven sacks. But that was only an exhibition, and the Buckeyes are counting on production from those sophomores when it matters.
All four starters are gone from the defensive line a year ago, and while the interior spots are obviously more unsettled than the starting jobs at end, the pressure to perform and the attention will weigh more heavily on Spence and Washington. Both showed flashes of what they could do when given a chance as true freshmen a year ago, but they'll be expected to play like seniors now that
John Simon
and
Nathan Williams
are gone.
Can Taylor Decker keep the offensive line at the top of the Big Ten?
Ohio State has fewer concerns about its offensive line than just about any program in the country, and a unit with four returning starters who are all seniors might be more than any other staff would even think to wish for. But that didn't stop Meyer from doing a bit of hand-wringing in the spring about filling the fifth spot at right tackle, and he didn't leave practice in April officially settled on who that guy would be.
It's clear now that Decker will get the nod, and the oversized sophomore will have eyes on him throughout camp to ensure that he's capable of seamlessly replacing
Reid Fragel
for a unit that was a significant factor in the perfect season last year.
Chase Farris
shared some of the reps with Decker in the spring and his potential continues to excite the coaching staff, but for now Decker has the advantage. But he'll have to prove over and over in August that the edge is real, and if he does, the Buckeyes could pick up right where they left off.
July, 29, 2013
7/29/13
10:05
AM ET
A look at five things that might have been missed at Ohio State's Friday Night Lights camp this past weekend:
Cocoa beware
The headline storylines were
Eric Glover-Williams
(Canton, Ohio/McKinley) squaring off with
Damon Webb
(Detroit/Cass Tech) and perhaps the emergence of
Tyree Kinnel
(Huber Heights, Ohio/Wayne). But two other prospects who really stood out at the event were Cocoa (Fla.). defensive backs
Jamel Dean
and
James Folston Jr
. Dean is a 6-foot-1, 180-pound junior safety with an Ohio State offer, and Folston is a 6-2, 190-pound senior cornerback who doesn't have any offers yet. Folston's brother Tarean plays running back for Notre Dame and his father James played in the NFL for the Oakland Raiders and Arizona Cardinals.
Keeping up with business
July, 17, 2013
7/17/13
9:38
AM ET
Trades aren't happening in college football any time soon. Even if they were legalized, the thought of two hated rivals doing anything to potentially help each other out would make Woody and Bo start spinning in their graves.
But pretend for a second those laws were relaxed and the Buckeyes and Wolverines each had a need so pressing that the programs at least kicked around some ideas. As part of our ongoing look this week at "The Game," a couple ESPN.com beat writers took a shot to see just what they could get from each other that might spur on a championship run for the current roster. Thanks to the Freedom of Information Act, here's a look at how a (fictional) deal might have gone down.
From:
OSU_GM
To:
UM_PersonnelDept
Subject:
Don't tell anybody
Mr. Rothstein:
We probably shouldn't even be talking, and if word gets out that we even considered making a deal, we might need to consider looking for new jobs. But since the rules against trades in college football magically vanished and we were hired for some reason to become general managers for Ohio State and Michigan, respectively, I think we at least owe it to ourselves to pursue all options. As I'm sure you're aware, the Buckeyes were hit pretty hard by graduation in the front seven after knocking off the Wolverines to cap a perfect season last fall (in case you forgot about the celebration in the 'Shoe). And recently the program has seen a group of linebackers that was already thin lose a couple more bodies that could have offered some help off the bench this fall. Additionally, while the future looks pretty bright at tackle for
Taylor Decker
or
Chase Farris
, right now there is one spot without much experience that tends to stand out when there are four seniors starting elsewhere on the line. So, I don't know what position is troubling you most as training camp sneaks up on college football, but if there's a potential swap or two that might help us both out, I am all ears. But you didn't hear that from me.
Sincerely,
Austin Ward
Interim Ohio State personnel director
---
[+] Enlarge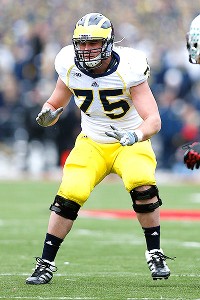 Joe Robbins/Getty ImagesThe Buckeyes wanted Michael Schofield for experience at tackle, but Michigan's demands in return were too rich for OSU's blood.
From:
UM_PersonnelDept
To:
OSU_GM
Subject:
Too late
Mr. Ward:
Unfortunately for you, I'm mouthy. And I've already started rumors you are trying to trade
Braxton Miller
for the remnants of Rich Rodriguez's offense. Apologies in advance. Not going to lie, looking over my roster I have concerns at wide receiver, running back and I could use some experience on the interior of the offensive line. Also, while there's some depth at cornerback, wouldn't mind grabbing one or two from you. Oh, and since you're interested in giving up Miller, that would solidify some of the depth issues there. I see you're fishing for a tackle. Sorry,
Taylor Lewan
is not available. While I like
Michael Schofield
a lot, he is more available at the right price. So too are some of the linebackers. What interests you on the Michigan squad? I'm willing to listen for anyone except for Lewan and quarterback
Devin Gardner
.
Sincerely,
Michael Rothstein
Fake Michigan personnel director
---
From:
OSU_GM
To:
UM_PersonnelDept
Subject:
Re: BRAXTON
Hey bud, these talks just about ended instantly with any mention of the franchise quarterback being available. Newsflash -- Miller won't be on the market heading into his senior season either, so get used to trying to defend him. At any rate, Schofield would be an intriguing option for the Buckeyes because he could provide another veteran presence with ample experience in the Big Ten, potentially giving Decker or Farris another year to develop physically before moving into the starting lineup in 2014. After getting a glimpse at what
Desmond Morgan
could do last fall when he made 11 tackles (in a losing effort) against Ohio State, he might look good in Scarlet and Gray, especially if the spring gave him flexibility to play in the middle. I probably don't need to mention that
Bradley Roby
is untouchable in the secondary, but there is no shortage of talent alongside him in the backend. Might want to take a look at the stable of running backs the Buckeyes have in the fold as well -- but feel free to skip over
Carlos Hyde
.
AW
---
From:
UM_PersonnelDept
To:
OSU_GM
Subject:
No subject
April, 15, 2013
4/15/13
9:00
AM ET
COLUMBUS, Ohio -- The book is closed on Urban Meyer's second spring camp with Ohio State, and the final pages weren't short on entertainment.
The Buckeyes hit the road for their annual exhibition on Saturday, heading down to Cincinnati for a 31-14 game won by the Scarlet that featured some familiar sights for the reigning Big Ten Leaders Division champs -- and a few developments that should be encouraging for Meyer heading into the summer.

1. Braxton Miller is still developing
The coaching staff has openly wondered what it might have been able to do with an extra year molding Miller before he was thrust into action as a true freshman, and the way the junior continues to show improvement offered another reminder why that would have been so valuable.
Miller's mechanics aren't immune to breakdowns, but his footwork, accuracy and decision-making all looked noticeably better on Saturday. Granted, it was an exhibition setting and there wasn't all that much pressure on him to perform. Miller didn't have the benefit of really using his legs to make plays, though, forcing him to rely on his arm in the pass-heavy scrimmage. He passed the test with 16 completions in 25 attempts, throwing for 217 yards and a pair of touchdowns without a turnover.
2. Anticipation grows for sophomore defensive ends
The brief glimpses of what
Noah Spence
and
Adolphus Washington
could do as freshmen last fall already raised expectations for the guys tasked with replacing
John Simon
and
Nathan Williams
as the bookends up front defensively. But the talented sophomores might have sent the bar into another stratosphere as they dominated pretty much everybody who tried to get in their path on the way to the quarterback.
April, 5, 2013
4/05/13
11:30
AM ET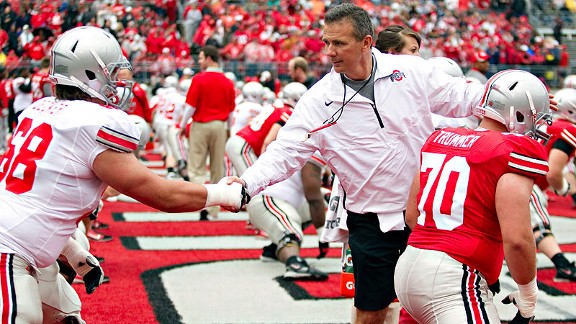 Greg Bartram/US PresswireTaylor Decker (68) was making strides last spring but was held off by senior Reid Fragel.
COLUMBUS, Ohio -- Ed Warinner barely even needed a second to flash back through nearly three decades in the profession.
If the Ohio State offensive line coach had ever coached four returning starters, all of them seniors, he wouldn't have had much trouble remembering that unit.
And now that he finally does have one brimming with experience and talent, it's apparently just as easy for Warinner to climb out of bed these days now that the chance to work with it has arrived. All those veterans also might come in handy for him when he reports to work looking for one more guy to join them as they try to fill the hole at right tackle.
"Makes it easy to get up at 5:30 in the morning to come in here, I can tell you that," Warinner said.
April, 3, 2013
4/03/13
11:00
AM ET
COLUMBUS, Ohio -- Several factors usually get mentioned first as reasons for Ohio State's 12-0 season in 2012.
Braxton Miller
's heroics.
Carlos Hyde
's emergence. The play of the defense down the stretch, led by
John Simon
and
Ryan Shazier
.
But one factor probably doesn't get mentioned enough: the performance of the team's offensive line. A major question mark going into last season, the line shaped up as one of the best in the Big Ten last year under the tutelage of Ed Warriner. And with most of the group back and some better depth, the unit provides a strong reason to believe in the Buckeyes again in 2013.
[+] Enlarge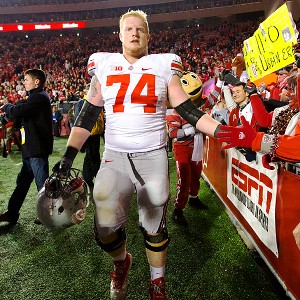 Jeff Hanisch/USA TODAY SportsLeft tackle Jack Mewhort, an all-Big Ten-level talent in 2012, could be the Buckeyes' next great leader.
Warriner turned in one of the better coaching jobs in the league last year, rounding into shape a crew that was previously undistinguished and underwhelming. He turned
Reid Fragel
, a former tight end, into a standout right tackle who should get drafted later this month.
Corey Linsley
went from playing guard to one of the conference's top centers, while
Jack Mewhort
developed into a top-flight left tackle. One of the indelible images of the Buckeyes' season was the line pushing around Michigan State's terrific defense to grind out the victory in East Lansing.
About the only thing Warriner had to worry about last season was health, as there was no experience and precious little depth behind the starters. He doesn't have the same worries this spring.
"It's a nice feeling to know you probably have a backup tackle and a backup guard," he told ESPN.com.
Four starters are back, so the real battle this spring is to replace Fragel at that right-tackle spot. Right now, sophomores
Chase Farris
and
Taylor Decker
are splitting a lot of first-team reps there, with
Darryl Baldwin
also in the mix.
"Those two guys have a lot of ability," Warriner said. "The more comfortable they get and the more confidence they get, one of them could take off -- or maybe both will and we'll play by committee. But they have high-level talent and all the traits of really good linemen."
Head coach Urban Meyer said Tuesday that redshirt freshman
Pat Elflein
has been one of the surprises of the spring, and he could add depth at guard or tackle. Warriner also said
Jacoby Boren
is making strides at center. While the team suffered a setback when reserve
Antonio Underwood
tore his anterior cruciate ligament late last week, the Buckeyes should still be able to rotate more guys on the offensive line this fall.
"If the next man in can play a certain amount but the level doesn't drop off enough to hurt our team, we might do that just to keep the unit fresh and hopefully be smart throughout the season," Warriner said.
But Ohio State will want its veterans on the field as much as possible. Mewhort, whom ESPN.com voted as a first-team All-Big Ten performer, has been hailed as one of the team's best leaders and anointed by Meyer as a possible replacement for Simon in that regard.
"He's what you want in terms of an attitude, of work ethic, of being a competitor," Warriner said. "When you're a first-year starter at a new position with a new coaching staff, sometimes you just worry about your own business, and that was him to some degree last year. But now, he's taking kind of a bigger role with his leadership on offense and even the team as a whole."
Warriner said guards
Andrew Norwell
, a first All-Big Ten team honoree by the media last season, and
Marcus Hall
have made maybe the biggest improvements of anyone on the line this offseason. Along with Linsley, whom Warriner said has "elite-level strength," the Buckeyes have the potential to field four all-conference type linemen.
"We think we possibly could, if they play up to their ability level," he said. "The good thing about the group is, they don't really care about that. If we won the Big Ten and none of them made all-conference, they wouldn't care a bit. That's the kind of unselfish players they are."
Warriner said he has challenged the group to help lead a top-five national offensive attack this season. Ohio State led the Big Ten in scoring last year (37.2 points per game) and finished second in rushing yards per game (242.3). The offensive line led the way, though players like Miller and Hall sure helped.
"We know the quality of our skill guys can erase some things and create some big plays," Warriner said. "If you block it for six, you might get 16. At some places, if you block it for six, that's what they'll get -- six yards."
Everything works in concert. But don't forget the Buckeyes' offensive line when talking about reasons for the team's success.
February, 19, 2013
2/19/13
9:00
AM ET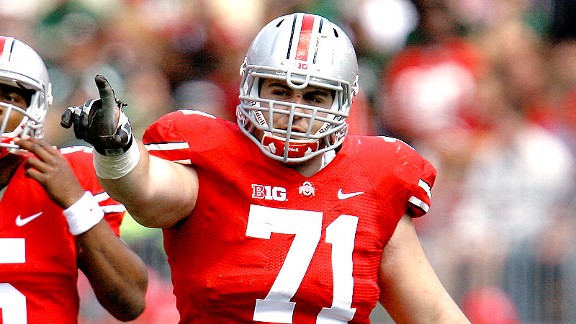 Jim Owens/Icon SMICorey Linsley is expected to continue to add stability on the offensive line.
With national signing day in the books, the next big date on the Ohio State calendar as it continues working toward an encore for an undefeated season in 2013 is spring practice. Before those workouts begin, BuckeyeNation will take a look at each position to see where the roster is at -- and where it's going.
INTERIOR OFFENSIVE LINEMEN
Who's back: The central nervous system of the offense returns completely intact, starting with the anchor who will be looking to build off a banner year in the middle of everything. Corey Linsley's transition to center went perhaps more smoothly than anybody at Ohio State could have expected, and in addition to limiting himself to a handful of errant snaps, his ability to handle the mental load was critical for an attack that wants to push the tempo. With both guards returning on either side of him with Marcus Hall and Andrew Norwell also trying to take their games to a higher level, the Buckeyes are loaded in important spots up front and capable of putting up even more points than they did in Urban Meyer's first year with the program.
February, 18, 2013
2/18/13
9:00
AM ET
With national signing day in the books, the next big date on the Ohio State calendar as it continues working toward an encore for an undefeated season in 2013 is spring practice. Before those workouts begin, BuckeyeNation will take a look at each position to see where the roster is at -- and where it's going.
[+] Enlarge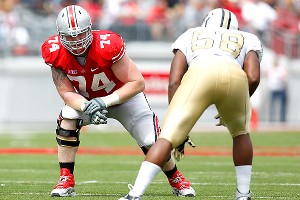 Kirk Irwin/Getty ImagesLeft tackle Jack Mewhort is part of a unit Urban Meyer says is much improved.
OFFENSIVE TACKLES
Who's back: The line as a whole returns almost entirely in one piece, but there is one huge cog missing heading into the second season of the spread offense at Ohio State. Jack Mewhort blossomed into one of the nastiest, stoutest blockers in the Big Ten last year, and the Buckeyes are expecting even more from him both on the field and off as a senior. They'll need that production and stability from him on the left side with Reid Fragel out of eligibility and heading to the NFL after his banner campaign at right tackle, transforming himself from a reserve tight end into one of the most reliable members of the offensive front. After dueling with Fragel nearly all the way through training camp in August, Taylor Decker is primed to take over the starting duties opposite Mewhort as the Buckeyes try to take the offense to an even higher level.
New face: Despite finishing with the No.3 recruiting class in the country, the Buckeyes didn't land as many signatures from linemen as they wanted, which clearly seemed to bother Urban Meyer as he looks toward the future and sees four seniors who will be gone after next season. That experience is obviously a huge blessing for Ohio State at the moment, but neither Evan Lisle nor Tim Gardner have enrolled yet and won't be able to get a jump on their development in the trenches until the fall.
Projected depth chart: Mewhort will anchor the line at left tackle again, with Daryl Baldwin likely hanging on to the backup job he held last season. Decker is poised to take over the starting gig at right tackle, with competition for the second-team spot open for guys like Kyle Dodson, Chase Farris or Antonio Underwood as they try to crack the rotation.
Numbers game: There might not have been enough depth to ever let the coaching staff exhale, but the Buckeyes never had to find out what would happen if one of the starters went down with a significant injury. The first-team line was the most stable group on the team during the perfect season, combining to make every start and provide invaluable continuity for a dominant rushing attack and the highest-scoring offense in the Big Ten.
One to watch: The flipping of Dodson from Wisconsin was cause for a huge celebration for the Buckeyes on signing day a year ago, but a shoulder injury kept him on the shelf during his first year with the team and ended up forcing him to redshirt. Given time to fully recover and dig into the conditioning program, the 6-foot-5, 315-pound athlete should be able to start showing what all the fuss was about. Decker has the edge going into camp after battling Fragel for playing time a year ago, but now it's Dodson's turn to dial up the pressure and fight for work.
He said it: "Jack Mewhort is already there, he's already a leader. We're asking him to take over a position that maybe a [John] Simon took, the overall heart. I love him, he's a tough guy." -- Meyer in January
February, 10, 2013
2/10/13
3:38
PM ET
Ohio State coach Urban Meyer comes into the 2014 recruiting season knowing he wants to shore up an offensive line he missed out on in 2013.
Check.
As always, he wants more defensive linemen.
Check.
He also wants a speed running back to add to his spread offense.
Check, check and check.
To continue reading this article you must be an Insider
Did Ohio State Cheap Out On Championship Rings?
BIG TEN SCOREBOARD
Thursday, 9/3
Friday, 9/4
Saturday, 9/5
Sunday, 9/6
Monday, 9/7