Ohio State Buckeyes:

Cameron Johnston
December, 5, 2013
Dec 5
10:15
AM ET
There's only one game on tap this week, but it's a very big one. Let's take a look at five things to watch in Saturday night's Big Ten championship game between No. 2 Ohio State and No. 10 Michigan State:
1. Something's gotta give:
The nation's No. 1 defense in Michigan State goes up against the nation's No. 3 scoring offense in Ohio State. But has either unit really been tested? The Spartan Dawgs have been pretty special, but they've yet to face an offense ranked in the top 50 in yards. Ohio State's attack also looks the part, and the Buckeyes have faced two top-10 defenses (Wisconsin, Iowa), but no others in the top 35. Behind running back
Carlos Hyde
and quarterback
Braxton Miller
, the Buckeyes lead the nation in yards per rush (7.1) and runs of 10 yards or longer (130). Michigan State leads the nation in fewest rush yards allowed (64.4 per game), fewest yards per rush (2.2) and fewest rushes of 10 or more yards (19). Who will gain the edge at the line of scrimmage?
[+] Enlarge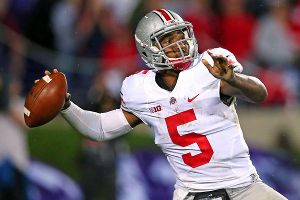 Jonathan Daniel/Getty ImagesCan Braxton Miller and Ohio State's high-powered offense move the ball against Michigan State's stingy defense?
2. Buckeyes back on the big stage:
It has been a while since Ohio State played a game of this significance on a stage as big as Lucas Oil Stadium. Miller has been brilliant the past two seasons, but he has yet to play in the postseason with a spot in the national championship on the line. Nebraska came into last year's title game tight and it showed in a disastrous performance against Wisconsin, which played loose and ran the Huskers up and down the field. Although no one expects Ohio State to lay an egg, Michigan State has been here before, and the Spartans are likely heading to the Rose Bowl no matter what happens in the game. MSU is the first top-15 team Ohio State will play since its win streak began under Meyer. Are Miller and the Buckeyes ready for the challenge?
3. Shutdown showcase:
The title game features
two of the nation's elite cornerbacks
in Michigan State's
Darqueze Dennard
and Ohio State's
Bradley Roby
. Both have the ability to shut down a side of the field and make game-changing plays if quarterbacks dare to throw their way. Dennard, a likely first-round draft pick, will press Ohio State's receivers and try to eliminate the deep passing game. Roby is playing his best football and can be a difference-maker not only on defense but on special teams. Dennard has four interceptions and a forced fumble in an All-American-caliber senior season, while Roby has a pick-six, a fumble return for a touchdown, and a blocked punt and recovery for a touchdown.
4. Cook's big moment:
Asked to make a brief opening statement on a media teleconference earlier this week, Michigan State quarterback
Connor Cook
said, "Hello, I'm Connor Cook." The Spartans sophomore will introduce himself to the nation Saturday night and can make a strong statement about himself and the MSU offense. No one pegged Cook to be in this position before the season, but he has taken control in Big Ten play, passing for 1,708 yards with 12 touchdowns and four interceptions in eight league contests. Cook said that after Ohio State's defensive struggles, "you're licking your chops" about Saturday's game. He hasn't played in a game this big, but he doesn't lack confidence. It will be interesting to see how he fares.
5. Special attention:
Michigan State's first appearance in the Big Ten title game came down to a special-teams play, and it didn't end well for the Spartans as
Isaiah Lewis
was flagged for running into Wisconsin punter Brad Nortman. Don't be surprised if the kicking game once again plays a big role in determining Saturday's winner. Both teams have excellent punters (MSU's
Mike Sadler
, OSU's
Cameron Johnston
), and Roby has been a special-teams star with three blocked punts and two recoveries for touchdowns. Kickers
Michael Geiger
(MSU) and
Drew Basil
(OSU) both have shown good accuracy on field goals with limited opportunities.
Lewis' performance as he returns home to Indianapolis
also is worth monitoring.
December, 2, 2013
Dec 2
6:15
PM ET
You've had a chance to check out the 2013 All-Big Ten teams and individual award winners. The four major award winners -- Offensive Player of the Year, Defensive Player of the Year, Coach of the Year and Freshman of the Year -- will be unveiled Tuesday.

Let's dive into today's selections ...
INDIVIDUAL AWARDS
The overall list isn't bad, although some of the selections certainly are debatable.
ALL-BIG TEN TEAMS
Overall, these looked a little
better than the 2012 version
, which contained several glaring problems in our view. The coaches' team continues to surprise us (not in a good way) with six defensive backs and two punters because of ties in the voting, and no Mewhort on the first team is hard to believe. But this was a slight step up.
(By the way, the Big Ten still doesn't have either of us vote for the media team, so direct your blame elsewhere).
Lewan, Mewhort and Iowa's Brandon Scherff all are terrific tackles, but we would have gone with Mewhort and Lewan on the first team, which the coaches did not.
Although Michigan's Devin Funchess claimed Kwalick-Clark Tight End of the Year honors, the coaches went with Iowa's C.J. Fiedorowicz as their first-team tight end. We can debate whether Funchess actually is a tight end or not, but his receiving numbers (47 catches, 727 yards, six touchdowns) are way better than Fiedorowicz's (26 catches, 253 yards, six TDs).
The coaches had six first-team defensive backs but didn't find room for Michigan's Blake Countess, who tied for the league lead in interceptions, or Nebraska's Stanley Jean-Baptiste, who had four picks and 11 pass breakups. Maybe only one Michigan State safety (our pick would be Kurtis Drummond) should be there.
Michigan wide receiver Jeremy Gallon had some huge performances, but he probably belongs on the second team behind Penn State's Robinson and Wisconsin's Jared Abbrederis, who were more consistent as the season went along. The coaches went with Ohio State's Corey Brown as their other second-team wideout, while the media went with Indiana's Cody Latimer. We like Latimer there.
One player the coaches and media differed on is Minnesota safety Brock Vereen, a first-team selection by the coaches but just an honorable mention selection by the media. He probably belongs right in between, on the second team, after leading a stout Gophers defense.

Another big difference between the coaches and media involved Iowa's B.J. Lowery. The media voted him as a first-team defensive back, while the coaches did not have Lowery among their eight choices on the first and second teams. Lowery is a nice player, but we're scratching our heads a bit as to why he was a first-team pick by the media.
Both Wisconsin back, Melvin Gordon and James White, made the second team. It says a lot about the depth at running back this year that Michigan State's Jeremy Langford, who ran for 1,200 yards and 16 touchdowns, couldn't crack the first or second teams.

We sure wish the league had a process for breaking ties on the coaches' team. Six defensive backs and two punters? That's just strange, though we'd like to see that two-punter formation in real life.
Connor Cook or Nathan Scheelhaase as the second-team quarterback? The coaches and media split on that. Scheelhaase has the better numbers, but Cook won all eight Big Ten starts. No wonder that latter fact probably impressed the coaches more.
The major awards -- offensive and defensive players of the year, freshman of the year and coach of the year -- will be announced on Tuesday.
November, 14, 2013
Nov 14
8:00
AM ET
COLUMBUS, Ohio -- A strong leg is only a start.
Cameron Johnston
's ability to launch the football down the field or place it in a precise location is invaluable, and Ohio State's late recruiting strike to even find him in Australia has been critical given the pressing need it had at punter.
But getting off a booming punt is merely the beginning of a successful play on special teams for the Buckeyes. And while Johnston, a freshman, has earned the attention he has received as a Ray Guy Award semifinalist, it's the collective work of the coverage unit around him which has made Ohio State so dangerous in the third phase as it executes its plan every week to win the battle for field position.
[+] Enlarge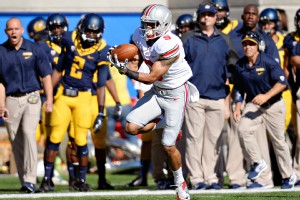 Thearon W. Henderson/Getty ImagesReceiver Devin Smith is also a big part of the Buckeyes' punt coverage team.
"That is much more a function of
Devin Smith
," special teams coordinator Kerry Coombs said. "It's the way they run down the field and cover and eliminate returns and kill the ball inside the 5-yard line and all that stuff. Not that Cam hasn't had a good year, he has -- Cam has had a great year.
"But that punt team, that group of guys and the way they cover and the way they get down the field to eliminate the opportunity for the other team to return the ball is special. We are all the beneficiaries of that."
The Buckeyes, like any other team, would obviously prefer never to call on that unit in the first place. And for the most part, their high-powered offense has lightened the load for Johnston and the guys flying down the field since the Buckeyes have only punted 26 times.
But when Ohio State does get stopped and has to flip the field position around, its been among the most effective teams in the country at maximizing the yardage Johnston provides with his right foot. Through nine games, Johnston has averaged 40.9 yards per attempt, and thanks to Smith and his buddies, the Buckeyes are netting an even 40 yards on those punts while allowing a grand total of 3 return yards.
"When you watch Devin Smith, I'm telling you, put the clips of the film on," Coombs said. "You're talking about your starting wide receiver getting down the field to cover a punt and keeping the other guy [trapped], making him fair catch again and again and again.
"It's extraordinary."
Johnston has been no slouch either, and he's certainly holding up his end of the bargain by generating enough hang-time to let Smith and the gunners beat double teams on the perimeter or by putting backspin on his kicks to allow them to down the ball in the red zone.
Few teams in the country have been better in those two areas than the Buckeyes, who have forced 15 fair catches and pinned opponents inside the 10-yard line on 27 percent of their punts. And there is plenty of credit to go around.
"Special teams, we're much better this year," coach Urban Meyer said. "If you look at our punt team, our punt team has had the same players on it every week. Last year, we didn't know the guys. Guys were getting hurt, guys weren't good enough.
"We're just performing at a much higher level."
From start to finish.
October, 7, 2013
Oct 7
3:30
PM ET
COLUMBUS, Ohio -- The cupboard is fully stocked, and Ohio State could put together a recipe with as many ingredients as it wants and shoot for something exotic.
But when it comes time to actually prepare the meal that gets the job done, simplicity and proven success has a way of looking more appealing. And the Buckeyes are in no hurry to mess with what works.
[+] Enlarge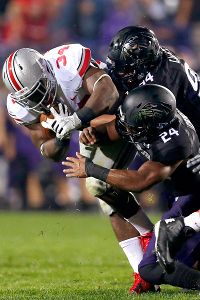 AP Photo/Charles Rex ArbogastCarlos Hyde has picked up right where he left off from last season.
Sprinkling in some
Jordan Hall
when he's healthy might provide the potential for danger on the perimeter in the option game and he can be a threat as a receiver out of the backfield. A pinch of
Dontre Wilson
's explosive speed can go a long way in a hurry, and his bright future certainly makes Ohio State want to start getting him involved.
But the meat and potatoes for the Buckeyes remain the same as they were a year ago, and there hasn't been any reason for them to try anything different when
Carlos Hyde
and
Braxton Miller
are both on hand to shoulder the load for the rushing game. And as hungry as No. 4 Ohio State is for a national title, it's becoming increasingly clear that feeding those two as much as it possibly can remains the most fulfilling option heading into the second half of the season.
"[Hyde] is the horse right now, and I think he's a great player," Urban Meyer said after his 18th consecutive victory as the Buckeyes' coach on Saturday night. "It shows you how much I trust the kid to be able to do that. It was kind of him and Braxton Miller just trying to run that clock out."
The Buckeyes are obviously using the terrific running tandem to do more than kill off games down the stretch, and their workload in the 40-30 victory over Northwestern on Saturday made quite clear how integral the partnership between the bruising tailback and the versatile quarterback still is despite the extra talent around them this season.
Hyde was given the ball 26 times on the ground against the Wildcats, getting a steady diet of power rushes on the interior on the way to 168 yards and three touchdowns in a performance that gradually wore down a defense that tired of trying to bring down the 235-pound bruiser. Miller complemented that with 17 rushing attempts of his own, perhaps failing to deliver the kind of game-breaking runs he's known for, but providing 4 yards per carry anyway to keep the chains moving and the defense from keying on Hyde.
Excluding a rush for punter
Cameron Johnston
on a botched fake, that combination accounted for every carry but four for the Buckeyes a week after Miller and Hyde combined for all but three carries in a victory over Wisconsin. So while the offense has shown clear signs of improvement in the passing game, spreading around touches to receivers and tight ends a bit more often since Hyde's suspension ended and Miller's knee sprain healed, the basic formula on the ground remains almost identical to the one that produced an undefeated record last year.
And with it working just the same way against consecutive ranked opponents over the last two weeks, there doesn't appear to be any reason to make things more complicated.
"Coach [Meyer] told me [at halftime] that we were going to start riding me," Hyde said. "I get excited when they tell me that.
"I wanted it bad, and I like when games come down to the fourth quarter and coach will put the ball in my hands. He started off in the beginning of the game putting the ball in my hands. I was just trying to catch a rhythm, and I caught a rhythm."
Collectively the Buckeyes are back in an familiar pattern with their ground game, putting the football in the hands of their two best offensive players and keeping it there as much as possible.
A little variety might spice things up every now and then. But the Buckeyes obviously haven't grown tired of tasting success.
October, 2, 2013
Oct 2
12:00
PM ET
We're driving Cadillacs in our dreams.
September, 30, 2013
Sep 30
11:00
AM ET
How much heartburn can one team and one fan base take?
That's one of the lingering questions from Week 5 for Wisconsin, which dropped another close game Saturday in a 31-24 loss to Ohio State. That's 10 defeats by seven points or less since the start of 2011 for the Badgers, who have done this so much that we're starting to see reruns.
Prime example: Ohio State quarterback
Braxton Miller
's 40-yard touchdown pass to
Corey Brown
with one second to go in the first half covered the same distance as Miller's game-winning heave in the last half Wisconsin played in the Horseshoe, back in 2011. This time, safety
Dezmen Southward
was late in providing help after cornerback Peniel Jean peeled off, making an inexcusable mistake by letting a receiver get free in the end zone on the half's final snap.
"It's basically a play that shouldn't ever happen," Southward said afterward.
[+] Enlarge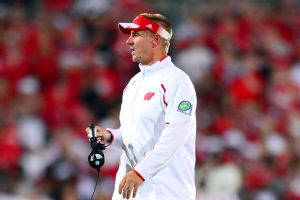 Andrew Weber/USA TODAY SportsGary Andersen couldn't pull out a win for Wisconsin against Ohio State.
The Badgers also had two potential Ohio State turnovers negated by penalties, one on a face-mask call that didn't look like a face-mask violation on replay and the other on an illegal punt formation. Kicker
Kyle French
also missed a 32-yard field goal -- the same distance he was being set up for at Arizona State.
The late-game problems can't really be blamed on the head coach's late-game management. Gary Andersen had his team in position to win at Arizona State until the officials botched the final seconds. On Saturday, he elected to have his team punt on fourth-and-1 from its own 17 with under seven minutes left, while trailing by 14 points. At the time, that looked like a potential mistake. But Wisconsin got the ball right back and scored a touchdown with 2:05 left.
The Badgers then tried a pooch onside kick that
Bradley Roby
had to knock out of bounds. In retrospect, with all three timeouts remaining, Andersen could have just kicked off and potentially gotten better field position after his defense held for a three-and-out. But it was a totally understandable call to try to get the ball back on the road.
Meanwhile, every decision seems to continue working out for Urban Meyer in his 17-game winning streak. I thought Meyer was a little more conservative than normal on Saturday night. It was very surprising, for instance, to see him not go for it on fourth and 2 from the Wisconsin 45 in the first half, instead trying the lame "Let's-try-to-draw-them-offside" technique before punting. Ohio State also played it safe in the fourth quarter instead of going for the kill shot. Miller's wounded duck pass before the touchdown at the end of the half should have been picked off.
But the Buckeyes -- who scored only seven points in the second half -- again came away unscathed. They have become the anti-Wisconsin, having won six games by seven or fewer points since the start of last season.
Badgers fans have to wonder when their heartburn will finally be soothed.
Take that and rewind it back …
Team of the week:
Ohio State. The Buckeyes got their first major challenge of the season and pulled through in a tough game against Wisconsin. The environment in the Horseshoe was electric from start to finish and included a visit from LeBron James and
this amazing halftime show
by TBDBITL (try not to be impressed by the formation around the 4:30 mark). Seventeen in a row and counting.
Worst hangover:
Minnesota. The Gophers thought they had made progress in getting ready for the rigors of Big Ten play and that this year's 4-0 start meant more than last year's. Instead, they got manhandled by Iowa in game No. 5 just like last season, leading to questions about what really has changed for this program.
Big Man on Campus (offense):
We usually don't single out players from teams who lost for this honor, but the best effort we saw this past weekend came from Wisconsin receiver
Jared Abbrederis
. Ohio State thought it could slow down the Badgers' only notable receiving threat by putting All-America cornerback Roby on him. Not close. Abbrederis finished with 10 catches for 207 yards and a touchdown. His Twitter handle is @abbrecadabra, and how he keeps getting so open might just be magic.
Big Man on Campus (defense):
Iowa linebacker
James Morris
had an outstanding game against Minnesota, recording eight tackles, a sack and an interception and leading the defensive effort that limited the Gophers to just 165 total yards. "He plays the way I expect him to," Iowa coach Kirk Ferentz said. "He's a complete football player. Nobody prepares any harder, works any harder. He does things you would hope anybody would do. And he backs it up every Saturday." Ohio State's
Ryan Shazier
and Wisconsin's
Chris Borland
also had standout games, but what else is new in this star-studded linebacker league?
Big Man on Campus (special teams)
: Ohio State punter
Cameron Johnston
placed all six of his punts inside the Wisconsin 20-yard line and five of those inside the 10, helping the Buckeyes maintain great field position most of the night. The Badgers managed just three return yards on punts. "Our punt team is solid, and that's probably the star of our special teams," Meyer said.
Fun with numbers (via ESPN Stats & Info):
Ohio State's Miller was 9-for-11 for 107 yards and had three of his four passing touchdowns off play-action Saturday. He has completed more passes off run fakes against Wisconsin (17) in his career than any other opponent. … Meanwhile, Badgers QB
Joel Stave
threw the ball 25 times without using play-action and completed just 13. It was only the third game in the last four seasons that a Wisconsin quarterback attempted at least 25 passes without a run fake; the Badgers have lost all three of them. … Illinois'
Nathan Scheelhaase
has completed 21 passes that have gone for at least 20 yards. That's tops in the Big Ten and tied for eighth in the nation. … Remember how frustrating it was to watch Iowa continually come up short of the sticks on third down last season? That's not the case this year for the improved Hawkeyes. They're converting on 52.5 percent of their third-down tries, good for 13th best in the country. … Northwestern has scored 83 points off turnovers in four games, the most in the nation. … Purdue's opponents have committed just 12 penalties in five games, second fewest of any team in the FBS. The Boilers' penalty margin is the worst in the country, as they have committed 30 themselves for a minus-18 margin.
August, 5, 2013
Aug 5
9:00
AM ET
COLUMBUS, Ohio -- Observations and notes from a brief glimpse at the Ohio State freshmen during a split-squad practice that opened training camp on Sunday morning:
Meyer locked in
The Buckeyes coach made clear he was ready to turn the page from all the offseason chatter and get back to focusing on football, and he obviously enjoyed being on the field and working with his players.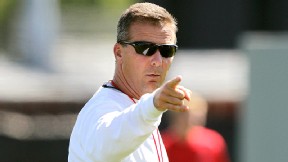 AP Photo/Jay LaPreteUrban Meyer was energetic in working with the Ohio State newcomers in the first practice of training camp.
From the start, Meyer was energetic and engaged frequently with the young players he was finally getting to coach for the first time. And if for some reason the newcomers weren't aware of the high expectations and the standards for a program that will enter the season ranked second in the nation, Meyer called a pair of huddles in the first 20 minutes of the workout to impress upon them what he's looking for and expects in the buildup to the opener on Aug. 31 against Buffalo.
The message was hard to ignore, and Meyer certainly had been impatiently waiting to deliver it.
Speed it up
The periods open for media viewing didn't provide much of a look at the talented freshmen actually playing football, and because they were limited to just helmets and no pads as well, there's only so much that could be gleaned from their first morning on the practice fields at Ohio State.
But when they had a chance to dial it up and stretch their legs, the emphasis on acquiring more speed on signing day in February does appear to have paid off for the Buckeyes.
Dontre Wilson
seems to glide around and makes everything look smooth, and touted newcomers such as
Vonn Bell
,
James Clark
,
Corey Smith
and
Gareon Conley
all looked the part of burners capable of providing that upgrade Meyer and his staff were looking for on the recruiting trail.
They all still need to put pads on and compete against the veterans to show what they can truly do, but lack of speed shouldn't be an issue.
Special deliveries
Running backs coach Stan Drayton repeated himself over and over to drive home the point. Anybody looking to make an impact right away had better be ready to lend a hand in the kicking game.
"Fastest way you get on the field," Drayton said. "Special teams."
The Buckeyes give those units top priority and treat it as a responsibility earned instead of scraps for players not contributing on offense and defense. Drayton stressed that numerous times for anybody within earshot as the youngsters started practice. Ohio State appears to have already tabbed three guys as potential options to help out by getting their hands on the football, with Wilson, Clark and
Jalin Marshall
all taking turns simulating punt returns.
Missing in action
Donovan Munger
wasn't on the field Sunday morning, and he might not be for a few more weeks as he apparently deals with an academic issue before he can report to the team. The Buckeyes still expect the 6-foot-3, 290-pound defensive lineman to be part of the squad this season and he was listed on the latest roster, but he'll likely have some ground to make up and will be missing valuable reps that could have potentially helped him push for a spot in the rotation.
New punter
Cameron Johnston
also didn't practice with the morning bunch, with Ohio State instead opting to have him work with the veterans in the afternoon. The Australian is expected to slide into the starting spot right away after his signing this summer, and working later would give him a opportunity to build a rapport with the returning long-snappers.
30 for 30 Youngstown Boys -Clarett's First Game