Ohio State Buckeyes:

Brendan Gibbons
March, 24, 2014
3/24/14
5:00
PM ET
Hope you all have caught your breath after a thrilling weekend of basketball action. Three Big Ten teams are still dancing, and my home state is about to go up in flames.
But enough about hoops. It's always football time around here, and this is a time when I answer your burning Big Ten questions.
3-2-1, shoot:
Adam from Houston, Texas, writes:
Hey, Brian, two questions: 1) What are the "must-do's" for
Braxton Miller
to hoist the Heisman Trophy this year? I think in some fashion, watching tape on the former OSU Heisman winner Troy Smith can help. Smith was a much better passer than Miller, but was a threat running when he had to. I think he also has to show up mentally for big games. It was obvious even through the TV against Northwestern and Michigan State (read: away from home) he was rattled. Does growth as a "field general" increase his chances at all, or will it only come down to performance? 2) What is your preseason Heisman list?
Brian Bennett:
Heisman talk in late March. I love it!
This is going to sound overly simplistic, but more than anything, Miller needs numbers and wins to get into serious Heisman contention. In the past two seasons, he has thrown for just more than 2,000 yards, with a 1,000-yard rushing season in each. He had 28 total touchdowns in 2012, 36 last season. Those are good, but not eye-popping, stats. Consider that last year's winner,
Jameis Winston
, threw for more than 4,000 yards and had 44 total touchdowns. Given the way offenses are heading, big-numbers guys such as Winston and
Johnny Manziel
are going to stand out.
To do that, Miller needs to continue to make strides as a passer, and his receiving corps -- especially with favorite target
Philly Brown
gone -- needs to step up and help him out. He also needs to stay healthy and upright behind a rebuilt offensive line.
And, of course, spotlight victories are tremendously important. Winston played for the national champs. Manziel beat Alabama. Miller was in the discussion the past two years because Ohio State won 24 consecutive games. For the first time this year, he'll have some tough early tests against Virginia Tech, Navy and Cincinnati. Big performances and wins in those games could give Miller a head of steam.
Finally, my preseason list would naturally include Winston -- even though it's virtually impossible to win the Heisman twice -- along with Oregon's
Marcus Mariota
, Baylor's
Bryce Petty
, UCLA's
Brett Hundley
and Miller. Winston and Manziel came out of virtually nowhere to win, however, so next year's Heisman could go to somebody we're not even discussing right now.
---

Rich from Des Moines writes:
Brian, I'm sure whenever you do a post like
the coaches tournament
, you get crushed by people for leaving out their favorite coach/player/whatever. That's not my intention. Rather, I just want to ask why a few coaches that seem obvious for inclusion to me were not only left out of the bracket but not even mentioned in the closing paragraph as notable but not quite worthy of making the cut: 1. Biggie Munn, MSU: I understand he only coached one season in the Big Ten. But Tom Osborne coached zero seasons in the Big Ten; 2. Lloyd Carr, Michigan: While I am a committed UM hater, not mentioning him seems like a pretty big omission; 3. John Cooper: I know he is ridiculed in many quarters. I ridicule him for failing to understand the importance of the Michigan game, calling it just another game. But the guy won a lot.
Brian Bennett:
Thanks for the (very-long-and-since-edited question), Rich. Going through this exercise proved one thing: there is a tremendous and rich history of outstanding coaches in the Big Ten. I know going in that we couldn't make everyone happy. We like to keep these types of fields short so they don't overwhelm the blog, but I probably could have expanded it to a 64-team field. As it was, we went to a 12-team tournament instead of the eight-entry bracket we used for the players' and championship teams' tournamaent.
To address your specific questions, longevity made a difference in our choices. So while Munn did great things at Michigan State, he only coached there for seven seasons, including one in the Big Ten. We also wanted to diversify our field as much as possible, so while Carr also accomplished a whole lot, Bo Schembechler and Fielding Yost seemed like better choices for Michigan. Cooper has some outstanding seasons, particularly 1993, 1996 and 1998, but he's not exactly beloved by Ohio State fans and we already had Woody Hayes and Jim Tressel. You can't please everybody. Just look at some of the controversial seeding in the men's basketball tournament.
---
Franklin from Norman, Okla., writes:
What's with all the negative Michigan reporting these days? It seems like you guys are getting a kick out of it. It is quite clear that Adam does not like Michigan but I thought you were different. You guys are acting like Michigan is about to get hit with Penn State sanctions. Also, while you guys are all high on Michigan State and Ohio State (rightfully so), the upcoming season Michigan has will shock both of you. You are underestimating the impact coach [Doug] Nussmeier will have and the reorganizing that Brady Hoke did.
Brian Bennett:
What you call "negative reporting," Franklin, I just call reporting. When a player as well known as
Taylor Lewan
gets charged with assault
for an incident after the Ohio State game, that's news. When a starting
offensive lineman gets suspended
for the spring and the opener, that's news. No matter how much you love the Maize and Blue, I can't imagine you feel good about how the
Brendan Gibbons
saga has unfolded. I promise you that Adam and I derive no pleasure from reporting about off-the-field incidents and in fact would much, much rather just stick to writing about games and more pleasant stories. But stuff happens, and there's no way to deny that it hasn't been a great few months for the Wolverines this offseason. The best way to get past all that is to win, and the team certainly has the talent to do so, though many questions remain at several positions. I'm heading up to Ann Arbor this weekend and am eager to see how things are going this spring.
---
Jeff from between Omaha and Lincoln writes:
Some of the coaches would like to be able to make scholarship offers earlier to help eliminate the flipping toward the end. This makes perfect sense to me. Teams need to make plans and have backup plans in place. However, doesn't this also work in reverse? A three-star athlete might want to go to a top-level program, but can't receive that offer because a commitment from a four- or five-star kid who said he wanted to go to that school. Isn't there a degree of discrimination happening here? If an athlete makes a commitment, he should be held to it. If he's not ready, the school can move on. The only exception should be if a coaching change is made. I'd like to see a few athlete-based lawsuits pop up against the rule-makers and see what happens.
Brian Bennett:
Discrimination isn't really the word, but there are some complicating factors with coaches being allowed to offer earlier and an early signing period. Some players simply develop later while guys who are stars as juniors stagnate, especially once they get a big-time offer. Head coaches, assistants and roster plans change all the time. If big changes are made to the recruiting calender, I'd like to see some protections and restrictions in place. Limit the number of kids who could sign early to, say, no more than half the class. Allow anyone who signed early to get out of his letter if the head coach leaves afterward. These are some of the issues that need to be debated, in my opinion.
---

Drew from Detroit writes:
Two quick questions... which B1G schools would you say have the best and worst football/basketball combo? Also, what's the difference between a "mailbag" and a "mailblog?"
Brian Bennett:
Michigan State gets the nod from me for best combo, especially after just winning the Rose Bowl and for all its basketball success under Tom Izzo. But Ohio State, Michigan and Wisconsin are not far behind at all. As for the worst combo, right now it has to be Purdue, which finished last in the Big Ten in both sports. Historically, it's probably Northwestern, which is dragged down by a basketball program that still has never made the tournament.
As for the 'bag/'blog thing, I've always called it a mailbag, while Adam prefers mailblog, for whatever reason. That's not a piece of wordplay I particularly enjoy, but I've been known to make many groan-inducing puns. So to each his own.
January, 30, 2014
1/30/14
12:00
PM ET
Anybody up for a little fish fry?
January, 29, 2014
1/29/14
12:00
PM ET
The links have decided to unionize.
November, 18, 2013
11/18/13
11:00
AM ET
Twelve seconds.
That's how much time remained in regulation at Northwestern after Michigan quarterback
Devin Gardner
hit
Jeremy Gallon
on a 16-yard pass. The clock was running. What happened next was what Wolverines coach Brady Hoke said "might be the best single play I've ever seen."
The Michigan field goal unit sprinted onto the field. Holder
Drew Dileo
, who had run a pattern as a wide receiver, ran in from the other side of the field and slid into position. The snap came with one second to go, and kicker
Brendan Gibbons
made a 44-yarder to send the game into overtime, where the Wolverines eventually won.
Northwestern coach Pat Fitzgerald was upset that his team didn't get a chance to substitute its block team in. The Wildcats were in disarray as the field goal try went up. Referee Bill LeMonnier
explained to a pool reporter afterward
that on the final play of the half, teams aren't automatically given the right to substitute on field goal defense.
That play goes down as the second-craziest finish to regulation of a Big Ten game this year. In the Wisconsin-Arizona State game, there were 18 seconds left when
Joel Stave
downed the ball. The Badgers never got to run another play.
Take that and rewind it back ...
[+] Enlarge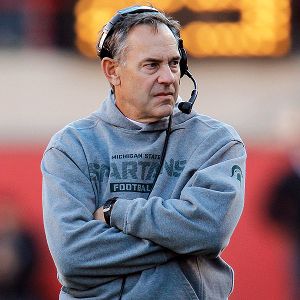 Bruce Thorson/USA TODAY SportsMark Dantonio and the Spartans control their own destiny to reach the Big Ten title game.
Team of the week:
Michigan State. It was not a vintage defensive performance for the Spartans, who allowed 28 points to a Nebraska offense that turned the ball over five times and played with a stitched-together line. But Mark Dantonio's team still won by double digits on the road in Lincoln for its first win over the Huskers while clinching at least a share of the Legends Division title. Then there's this: Through 10 games, the Spartans are averaging 30.9 points per contest.
Worst hangover:
Northwestern finds more ways to lose than anybody. The Wildcats had a dominant defensive effort against Michigan in allowing no touchdowns in regulation. But they had a 7-yard shank punt that set up a Michigan first-and-goal,
Ibraheim Campbell
dropped an easy interception on the Wolverines' final drive, and they couldn't pounce on a fumble in overtime. Northwestern has lost twice in overtime, once on a Hail Mary and in games that went down to the final drives against Minnesota and Ohio State. Sheesh.
Best call:
Nebraska had to be ready for some Michigan State tomfoolery, right? We've seen it so many times from Dantonio in a big game.
And it worked again on Saturday. The Spartans lined up for a field goal on fourth-and-1 from the Nebraska 27, leading 27-21 in the fourth quarter. Punter
Mike Sadler
, who serves as the holder on field goals, took the snap and pushed his way forward for 3 yards. The play was called "Charlie Brown," evoking memories of Lucy snatching the ball away in "Peanuts." But Sadler was actually supposed to check out of the play because of the way Nebraska was set up, and the play was never designed to go up the middle where he ran.
"That was the last thing going through my mind," said Sadler, who went up the middle on a successful punt fake at Iowa last month. "I was just trying to think of my touchdown dance."
He didn't score, but
Connor Cook
delivered a touchdown pass three plays later to all but seal the victory.
Big Man on Campus (Offense):
Ohio State running back
Carlos Hyde
piled up five total touchdowns while rushing for 246 yards on just 24 carries versus Illinois. He had touchdown runs of 51 and 55 yards in the final four minutes to put the game on ice.
Big Man on Campus (Defense):
In a game that didn't feature a whole lot of defense, Ohio State's
Ryan Shazier
still managed an impressive stat line at Illinois: 16 tackles, 3.5 tackles for loss, 1.5 sacks and a forced fumble. He had the safety on
Reilly O'Toole
that gave the Buckeyes some breathing room. And while he had a chance to turn that into a touchdown had he not celebrated a bit too soon, Shazier still had an outstanding performance considering Ohio State's other two starting linebackers were out with injuries.
[+] Enlarge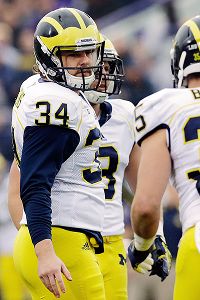 AP Photo/Nam Y. HuhBrendan Gibbons hit a 44-yard field goal as time expired to put Michigan into overtime at Northwestern.
Big Men on Campus (Special teams):
This goes to the entire Michigan field goal unit, including Gibbons, Dileo, snapper
Jareth Glanda
, special-teams coordinator Dan Ferrigno and everyone else involved in that unbelievable play at the end of regulation at Northwestern. That was a team effort, and if one guy was a half-second late, the Wolverines lose. (Tips of the cap also go out to Purdue's
Raheem Mostert
and Illinois'
V'Angelo Bentley
, who both scored on returns).
Sideline interference:
Illinois coach Tim Beckman
had to be separated
from offensive coordinator Bill Cubit on the sidelines after quarterback Reilly O'Toole was sacked in the end zone. Both coaches later said it was just a heat-of-the-moment thing, and Cubit added, "You'd be shocked at how many times" that happens during games. But it's still not a good look for Beckman, whose sideline mishaps the past two years include getting called for interference penalties and getting caught using chewing tobacco.
Who needs tickets?:
Want to see a Big Ten game, but you don't have more than 50 cents in your pocket? Then this week's Illinois-Purdue Basement Bowl is for you. On
StubHub this morning
, several tickets to Saturday's game at Ross-Ade Stadium could be had for as little as 39 cents. Get 'em while they're hot!
Fun with numbers (via ESPN Stats & Info):
Wisconsin ran for 554 yards Saturday versus Indiana. It was the second most in school history, behind the 564 the Badgers compiled against the Hoosiers last year. So in the past two games against IU, Wisconsin has rushed for 1,118 yards and 13 touchdowns; on Saturday the Badgers had three 100-yard rushers (James White, Melvin Gordon and Corey Clement) and an 86-yard rusher (Jared Abbrederis, on reverses). The Badgers' running game added 35.8 expected points to their net scoring margin; two of the top 10 rushing EPA games in the FBS the past 10 years were posted by Wisconsin against Indiana. The Badgers still fell far short of the Big Ten rushing record of 832 yards, set by Minnesota in 1905. But they do get Indiana again next year, so you never know.
ESPN's strength of schedule rankings (out of 126 FBS teams):
Alabama: 48th
Florida State: 60th
Ohio State: 88th
Baylor: 95th
November, 17, 2013
11/17/13
10:00
AM ET
Lessons learned from the weekend that was in the Big Ten:
[+] Enlarge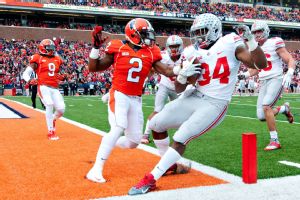 Bradley Leeb/USA TODAY SportsTailback Carlos Hyde rushed for 246 rushing yards and scored five touchdowns in the Buckeyes' win over Illinois.
1. Michigan State vs. Ohio State is happening, so get ready:
The Big Ten championship game is not signed, sealed and delivered yet. But it would take some major chaos for that game not to feature Michigan State and Ohio State. The Spartans clinched at least a tie for the Legends Division title with their
41-28 win at Nebraska
. All they need is to win one of their final two games -- at Northwestern and versus Minnesota -- or have Minnesota lose next week against Wisconsin in order to punch their ticket to Indianapolis. Coach Mark Dantonio's team has come too far to slip up two straight weeks. Ohio State needs one more win to clinch the Leaders spot in the title game because of its head-to-head win over Wisconsin, and the Buckeyes will be favored by multiple scores next week at home against Indiana. This is the matchup that the Big Ten should want -- Michigan State will be in the top 15 and possibly the edge of the top 10 if it wins out, and the Spartans' outstanding defense will test Ohio State's high-scoring offense. It hasn't been the most exciting Big Ten regular season, but things are setting up for a fantastic finish at Lucas Oil Stadium.
2. Wisconsin's defense deserves more notice:
Indiana came into Saturday's game averaging 43.1 points and 527 yards. Whatever you think of the Hoosiers, their offense is legitimately explosive. Wisconsin completely defused that attack in a
51-3 win
, shutting out Indiana in the first half while allowing 224 yards and a lone third-quarter field goal. The Hoosiers had scored in every quarter but three this year and hadn't been blanked in a half since September of last season. The point is that the Badgers' defense is outstanding, yet like the team as a whole, remains underrated. Everyone will notice how Wisconsin ran all over IU for 554 yards, second most in school history, but that pretty much happens every year in the Indiana game. The Badgers D is led by experienced players up front like
Chris Borland
,
Beau Allen
and
Brendan Kelly
and is getting terrific play from less experienced guys like
Sojourn Shelton
and
Tanner McEvoy
on the back end. Don't forget that Ohio State turned in its lowest point total of the season (31) against Dave Aranda's defense. This is a complete team, even if the the voters in the major polls still somehow fail to recognize it.
3. Don't tell Michigan this season is over:
We could have understood if Michigan would have mailed in the end of Saturday's Northwestern game. The Wolverines have been beaten up by opponents and piled on by fans and critics for their lackluster offensive performances. Their Big Ten title hopes are dead, and in coach Brady Hoke's own view, that means the season is a failure already. In the rain in Evanston, they found themselves down 9-6 in the closing moments of an ugly game. But Michigan pulled off a truly incredible effort to set up
Brendan Gibbons
' field goal at the very end of regulation, then ground its way through a
triple-overtime win
. Quarterback
Devin Gardner
, who has been battered and bruised countless times, appropriately scored the winning touchdown and two-point conversion. The Wolverines looked in serious danger of losing out for a 6-6 campaign before Saturday's gritty comeback. While wins at Iowa and against Ohio State the next two weeks won't be easy to come by, Michigan proved that it will not fold up shop. As for Northwestern, you can't fault the effort. But the Wildcats have now lost in just about every terrible way imaginable, including twice in overtime and on a Hail Mary. It's just one of those years for coach Pat Fitzgerald's crew.
[+] Enlarge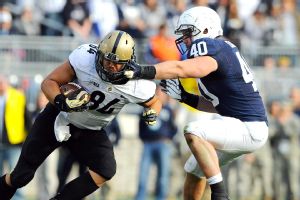 Rich Barnes/USA TODAY SportsLinebacker Glenn Carson and the Nittany Lions gave up just 264 yards to Purdue in the win.
4. It's wait 'til next year -- again -- for Illinois and Indiana:
The best thing you can say about Illinois is that it has shown a lot of fight this year -- even if that sometimes means near fisticuffs between coach Tim Beckman and offensive coordinator Bill Cubit. The Illini did not give up after falling behind Ohio State 28-0 and 35-7 on Saturday, battling back to keep it a two-score game throughout most of the second half. But like the games against Penn State and Indiana, the team simply couldn't finish the job. And so any slight bowl hopes were officially extinguished for Illinois, which now owns the nation's longest conference losing streak -- and second-longest in the long history of the Big Ten -- at 20 games. If Beckman can't lead the team to a win over hapless Purdue next week, he might not get a chance to finish his job, either. Indiana entered the year with high hopes for a bowl. The Hoosiers can still technically get to six wins, but that would require a win next week in Columbus over Ohio State. If you believe that will happen, you are either incredibly optimistic or completely untethered from reality. Coach Kevin Wilson's team has made strides this season on offense and in the running game despite Saturday's showing in Madison, but the defense has failed to grow at all and has some historically inept performances this season. The Hoosiers' status won't change until that side of the ball develops any competency. So it's back to the drawing board for both programs, and they'll have all of December to rethink things.
5. Freshmen making strides at Penn State, Purdue:
If you didn't watch
Penn State's win over Purdue
, we don't blame you. Neither team is going anywhere this season. But the game did provide some hope for the future, thanks to the play of true freshmen on both sides. Purdue quarterback
Danny Etling
took a step forward with the best start of his career, throwing for 223 yards and a touchdown. Both he and Penn State freshman quarterback
Christian Hackenberg
finished with similar stat lines. And their first-year targets fared pretty well, too.
DeAngelo Yancey
was Purdue's leading receiver, with four catches for 83 yards, and Nittany Lions tight end
Adam Breneman
caught the first TD pass of his career. Both teams are looking forward for different reasons, and the play of their youngsters gave them some reasons for hope.
November, 17, 2013
11/17/13
9:00
AM ET
Recognizing the best and the brightest around the Big Ten in week 12 …

Ohio State RB Carlos Hyde.
Ohio State coach Urban Meyer said that Hyde made the difference for the Buckeyes in a 60-35 win. The senior rushed for four touchdowns and 246 yards on 24 carries and tallied another receiving touchdown (he had two catches totaling 26 yards). It was Hyde's first 200-yard game of the season and more than double his previous season average of 117 yards per game.
Michigan kicker Brendan Gibbons and holder Drew Dileo.
Down three points with under 10 seconds remaining in regulation, the Michigan offense was sprinting off the field, the kicking team sprinting on the field and Dileo was sliding in to this holding position for Gibbons (yes, literally, sliding). Gibbons nailed a 44-yard field goal to send the game in to overtime, which the Wolverines eventually won after triple OT.
Wisconsin running backs.
The Badgers accounted for 554 rushing yards against Indiana.
James White
(205 yards, 1 touchdown),
Melvin Gordon
(146 yards, 1 touchdown) and
Corey Clement
(108 yards, 2 touchdowns) became Wisconsin's third 100-yard rushing trio this season. Wisconsin tallied seven runs of 30 yards or more and White recorded a 93-yard touchdown run which set a program record for the longest run. The Badgers' 554 rush yards are the most by an FBS team this season.
Nebraska RB Ameer Abdullah.
The Big Ten's leading rusher had his seventh 100-yard game of the season (bringing his rushing total this season to 1,213) and he became the first running back to rush for more than 100 yards against the Spartans defense. He accounted for 123 yards on 22 carries and his one TD of the day was a 12-yard receiving touchdown (his only catch of the day). MSU came into the match up giving up just 43 rushing yards per game -- which Abdullah tripled.
Illinois DB V'Angelo Bentley.
Coming into this weekend the Buckeyes had allowed just 1.5 yards per punt return and haven't allowed any kind of a return on 92 percent of their punts. But with the Illini down 28-0 on Saturday Bentley managed to get past more than half of Ohio State's punt coverage team and go 67 yards to the end zone. Not only did he become the first player to have success against this group, he also gave Illinois its first sign of life against the Buckeyes.
Honorable mention: Michigan State kicker Mike Sadler.
With a six-point lead in the fourth quarter and the Spartans faced with a fourth-and-1 on the Cornhuskers 27 yard line, Mark Dantonio called for a fake field goal play. Sadler was supposed to go right, but the formation wasn't quite what MSU expected, so instead of checking out of it and going for a field goal he rushed for three yards up the middle and a first down, setting up an MSU score.
October, 17, 2013
10/17/13
5:00
PM ET
The One Who Knocks is knocking on the door of a fantasy championship.
My team made it two in a row and four of the last five over Adam's Trombone Shorties with a decisive 119-79 victory last week. For that, I can thank quarterbacks
Christian Hackenberg
(30) and
Devin Gardner
(33) for putting up big point totals in their four-overtime game, as well as my timely pickup of the Nebraska defense, which registered 20 points in a near shutout of Purdue. Those three alone would have been enough to beat Adam's team, which got 23 points from
Melvin Gordon
and 18 from
Ameer Abdullah
but not enough anywhere else.
That gives me a 5-2 season edge, and I'm just three more wins from claiming the season championship. But once again, the double bye is making things interesting, so this thing is far from over. On to our Week 8 pickups …
Adam adds Ohio State QB Braxton Miller and drops Northwestern QB Trevor Siemian
Rationale:
I need a second-half boost, and so does Miller, who had a big fourth quarter against Northwestern and faces an Iowa defense that still could be vulnerable to a dual-threat quarterback.
Brian adds Ohio State RB Carlos Hyde and drops Penn State RB Zach Zwinak
Rationale:
Zwinak wasn't doing much for me and now is on a bye. Hyde will face a tough Iowa defense that hasn't allowed a rushing touchdown, but I'll take my chances with the Buckeyes' workhorse.
Adam adds Michigan State RB Jeremy Langford and drops Nebraska RB Ameer Abdullah
Rationale:
Abdullah is off this week, and Lankford faces a Purdue defense that has allowed a league-worst 16 rush touchdowns (four more than any other team). This might not be a long-term move, but Langford has elevated his game for an improving Spartans offense.
Brian adds Wisconsin RB James White and drops Northwestern RB Venric Mark
Rationale:
Mark just can't stay healthy, while White could join teammate Gordon in having a big day at Illinois this week.
Adam adds Michigan TE/WR Devin Funchess and drops Northwestern WR Tony Jones
Rationale:
Although Jones should improve on his 1-point total from last week against Minnesota, Funchess' production has surged in recent weeks. I like him going against a vulnerable Indiana defense.
Brian adds Michigan State QB Connor Cook and drops Penn State QB Christian Hackenberg
Rationale:
Strictly a bye week move here. Going to gamble on Cook against a struggling Purdue defense.
Brian adds Ohio State defense and drops Nebraska's defense
Rationale:
The Huskers served me well last week but go back on another bye. I'll take the Buckeyes at home against Iowa and hope for some big plays.
Brian add Michigan's kickers and drops Penn State's kickers
Rationale:
Yet another bye week move. I'll bet on a bounce-back from
Brendan Gibbons
. Should be lots of scoring chances against Indiana.
Our complete rosters for Week 8:
The Trombone Shorties (Adam)
Ohio State QB Braxton Miller
Indiana QB
Nate Sudfeld
Wisconsin RB Melvin Gordon
Michigan State RB Jeremy Langford
Michigan WR
Jeremy Gallon
Michigan WR/TE Devin Funchess
Michigan State kickers
Michigan State defense
The One Who Knocks (Brian)
Michigan QB Devin Gardner
Michigan State QB Connor Cook
Wisconsin RB James White
Ohio State RB Carlos Hyde
Wisconsin WR
Jared Abbrederis
Penn State WR
Allen Robinson
Michigan kickers
Ohio State defense
October, 16, 2013
10/16/13
5:00
PM ET
It's mail time. I'll warn you in advance, it's going to get weird at the end.
Jason from Columbus writes:
Brian, Iowa is the only FBS team in the country that has not allowed a rushing touchdown in the country this season. Ohio State is 12th in the country with 17 rushing touchdowns in only 6 games. Who comes out on top this weekend, Iowa's rush defense or
Carlos Hyde
,
Dontre Wilson
,
Jordan Hall
, and the rest of the Buckeyes who can run through a defense?
Brian Bennett:
Good question. Urban Meyer is so impressed with Iowa's front seven that he mentioned them in the same sentence as Alabama this week. Not sure I'd go that far, but the improvement of the Hawkeyes' defense up front has been one of the pleasant surprises this season. However, as you mentioned, Ohio State has a great running game. And that all starts with what has been the best offensive line in the Big Ten for the past two years. The Buckeyes' blockers are big, physical and smart, and they pave the way for the speed of Hall, Wilson and
Braxton Miller
as well as the power of Hyde. That's going to be tough for any defense to stop, including one playing as well against the run as Iowa.
The bigger concern I'd have if I were Kirk Ferentz and Phil Parker is Miller taking shots down the field. Ohio State is not a consistently good passing team but does connect at times on the deep ball, and the Hawkeyes are more vulnerable on the back end.
David K. from Oxnard, Calif., writes:
First off, I'm biased: I've been a Badger football fan since November 1962, when I attended the UW-Minnesota game, which the Badgers won with a great comeback, led by Ron Vanderkelen and Pat Richter. And I attended the UW, off and on, from 1966 to 1974. Biases admitted, why the heck isn't
Melvin Gordon
even being mentioned in the discussions regarding the 2013 Heisman Trophy? He's the 3rd-leading rusher in the BCS division with a 9.7 YPC average. Every time he touches the football, everybody holds their breath. I mean, c'mon, guys, what does he have to do? Leap tall buildings in a single bound?
Brian Bennett:
I love watching Gordon, and we named him our midseason offensive player of the year as well as an ESPN.com first half All-American. So he's on the radar for the Heisman, but there are a few things really working against him. One is that Wisconsin has two losses. For better or worse, the Heisman usually goes to players on national title contenders, although Robert Griffin III and Tim Tebow both won it on teams with multiple losses. Another problem is that in the Badgers' signature game, at Ohio State in primetime, Gordon has his lowest output of the season and got injured to boot. Wisconsin simply doesn't have any marquee games left on the schedule, so he won't get the opportunity to make up for it. Gordon would have to put up insane numbers to get back in the conversation. He is, of course, capable of doing just that.
Alex H. from Bloomington, Ill., writes:
Watching that Michigan-PSU game was a bummer, I will not lie. Can we not act like the sky is falling for a moment? The defense played opportunistic despite that last-minute 4th quarter drive, and even on those throws coverage wasn't bad. I was impressed with Gardner's 2nd half. The biggest concern is Lewan out, the run game stalling. This loss doesn't hinder there Big Ten championship goals as they still play Neb, NU, MSU in November. I'd still put them near the top of the Legends, am I being too optimistic in thinking Indy?
Brian Bennett:
Michigan certainly can still win the Legends Division. But the Wolverines are going to have to fix some major problems first. You mentioned the running game, and it is abysmal. It's going to be hard to win those big games in November if Michigan cannot effectively run the ball. The turnovers by Gardner are of course another massive problem. The defense, meanwhile, has been decent but not overpowering, though
Jake Ryan
's return should help. As I've written and asked, what exactly is the strength of this Michigan team? I can't seem to find one. And so it's hard to envision a team like putting together a long winning streak, especially once the schedule toughens up in November.
John K. from Austin, Texas, writes:
You and Adam noted that Brady Hoke "played for the safe field goal instead of going for the touchdown in overtime" as if that is a bad thing. Now, I can understand if he was just going for the tie, but each time it was for the win. He has a good kick (or at least at that point no reason not to believe that). With a good kicker and 42 yards for the win... I'm taking that every day of the week!
Brian Bennett:
To be clear, I'm not saying Hoke should have been going for it on fourth down when all he needed was a field goal to win. I have a major problem with the playcalling on first and second down, when Michigan gained two total yards after
Sam Ficken
missed a field goal in the first overtime. I know
Brendan Gibbons
has been a very good kicker, but a 40-yard field goal on the road in overtime is by no means a sure bet for most college kickers. And then you run the risk of having it blocked, which is exactly what happened.
It's only fair to also point out that Michigan did throw a pass in the third overtime after
Allen Robinson
's fumble, and it gained nine yards. But then on third and one, I hated the call to have
Fitzgerald Toussaint
run it when Michigan's running game had been terrible all game.
We saw the same thing late in the fourth quarter, when Michigan had the ball at Penn State's 28-yard line with 3:10 left, leading by seven. The next three plays were Toussaint runs, which ended up losing two yards, plus a delay of game penalty, to take the Wolverines out of field-goal range.
I understand playing it safe with the lead on the road, but Toussaint had 27 rushes for 27 yards in last week's game. Why would you go to that well 27 times when it clearly isn't working, especially when the game is on the line? You might as well just kneel. And how many times over the years have we seen teams stop being aggressive and then lose?
Sam from East Lansing writes:
First time, long time. Brian, as we progress through the season and my Spartan offense has appeared to return to average (very, very average), I have a scenario question for you. If a Legend' team plays an undefeated Ohio State team in the B1G Championship and loses, possibly putting the Buckeyes in the National Championship, does that mean the loser of B1G Championship game is put in the Rose Bowl automatically or would the bowl committee go back and look at win-loss records, including the B1G Championship lose? Should Legends contender teams who miss Ohio State on the schedule (ie. Michigan State, Nebraska) be rooting for Ohio State to go undefeated? Thoughts of Michigan 2012 Sugar Bowl mishap are dancing in my head. Please calm them.
Brian Bennett:
Not sure you'll like my answer, Sam. If Ohio State goes to the BCS title game, then the Rose Bowl is free to choose any team that qualifies in the BCS standings as its replacement pick. That means the Rose could go outside the Big Ten for its choice, but with this being the 100th edition of the game and the last one before the playoff could disrupt things, I think the Rose Bowl will make every attempt to stage a classic Big Ten-Pac-12 matchup.
The problem is that, historically, losers of conference championship games don't get selected for at-large spots. Bowls prefer teams who are riding winning streaks rather than ones coming off a loss. And Michigan State's issue could be a lack of signature wins. A team like Wisconsin, should it go 10-2, or a Legends runner-up like Nebraska or Michigan could leapfrog the Big Ten runner-up in such a scenario.
As an aside, I know Michigan State is dying to get back to the Rose Bowl. If the Spartans lost to Ohio State in the championship game but still got picked for the Rose, would it feel ... earned? Or does just getting to the Rose Bowl any way possible enough?
Glenn from Florida writes:
Brian, aside from your's, Adam's, and all of ESPN's love for OSU, how can you justify the PSU-Michigan game as not the best and biggest game?
Brian Bennett:
I guess you're talking about our choice of Ohio State-Northwestern as the top game of the first half. You know, just because games go to multiple overtimes does not mean they're great. Michigan-Penn State was very sloppy, and some of the continued failures in overtime was ugly to watch. Northwestern-Ohio State was a far better game aesthetically, in my opinion.
Barry M. from Sheboygan, Wis., writes:
I'm guessing we will not see any Purdue players on [your fantasy teams] this season. You could make it interesting and add a rule that you must take a player from each team for at least one week during the season.
Brian Bennett:
It's nothing personal, Barry, it's just that I want to beat Adam much more than I want to have every school represented on my fantasy team. This isn't the baseball all-star game. Purdue does not have a player in the top 10 in rushing or passing and is starting a true freshman quarterback. There's just not much to choose from. But I'll make you this promise, Barry. If I have either wrapped up the championship or am out of it in the final week, I will pick up a Boilermaker for my team. Even if it's just the kickers.
Bart from Waverly, Neb., writes:
I see how you and Adam both voted Wisconsin in the 17-18 spot. My question is, how do you justify ranking them that high when they have two losses? Granted, one was to OSU, but the other was to a (currently) unranked ASU. I am just curious as the Huskers have had their defensive troubles, but our single loss was to a top-10 team in UCLA, and only Adam was generous enough to include Big Red in his rankings.
Brian Bennett:
I've heard from a few Huskers fans who are miffed that I didn't rank Nebraska, and many of them try to use the loss to UCLA as some sort of justification. Sorry, but you don't get credit just for playing a highly-ranked team, especially if you lose to said team by 20 points at home while looking terrible in the second half. Nebraska just hasn't beaten anyone with a pulse. I won't rank the Huskers until they do, and if that happens, they'll climb up my ballot quickly.
It's a much different story for Wisconsin, whose two losses were on the road to very good teams, and one of those defeats was a direct result of some of the worst officiating incompetency I've ever seen. The Badgers played Ohio State, clearly the best team in the league, to within a touchdown on the road and smashed what was a Top 20 Northwestern team. There's no doubt in my mind that Wisconsin deserves a Top 20 ranking.
Tim P. from Port Washington, Wis., writes:
It is maddening to me to keep hearing about Michigan's "winged" helmets. The markings on a wolverine are the alleged "wings" on its head and stripes down the rest of its body. The Michigan helmet is thus simply a representation of the markings on the wolverine animal. Of course, the Michigan athletic department gets away with calling these helmets "winged" because few, if any, Michiganders have ever actually seen a wolverine. Wolverines are not indigenous to Michigan as their habitat is prmarily alpine tundra and mountain forests; environments which are found only in North America in Canada and the Western U.S. It is estimated there are only 250 to 300 wolverines still living and they are found in Western Montana, Idaho and Eastern Washington and Oregon. So I don't know who started this myth that the Michigan helmets are "winged" but I am sick and tired of hearing about it.
Brian Bennett:
OK, then. It appears we've reached the bizarre part of the mailbag. Proceed with caution...
SSG Smith, Justin from Ft Campbell Ky writes:
Hey Brian, I am not by any means the most knowledgeable NCAA Football fan out there. I say this to humble my self before I ask this question. Were you bullied by a Nebraska fan as a child (or young adult)? ... How do you give so many teams the advantage over Nebraska. Your Biased is unprofessional and your over all hate for the Huskers is blinding. Why do you blog for the Big Ten without being biased?
Brian Bennett:
Ho, boy. Yep, I hate Nebraska so much that I picked the Huskers to win the Legends Division in the preseason. And I picked them to win the Big Ten title game last year. What a hater! Justin also included in his email the records of the teams Nebraska has beaten this year, as if that somehow helped his case. But he did admit right up front that he wasn't knowledgeable, so I can forgive.
John F. from Mansfield, Ohio, writes:
IF you represent the BIG, you should parlay this into BIG votes, I constantly watch "How You VOTED" and ALL I see is YOUR votes for the SEC not the BIG ... YOU cannot say you are BIG representatives, and continue to give other conferences your votes....... this makes you 2-faced and opinionated as well, that's great for people who choose to pencil whip a conference for being the best in the nation... It is press writers who have a vote that are destroying the BIG .......... NOT THE PLAYERS
Brian Bennett:
I only included about half of John's email, which if there were any justice would have been cobbled together by random letters from magazines. I guess the ESPN.com power rankings ballots that Adam and I submit each week are what's holding the Big Ten back. Sure, makes sense. Also, covering a league as a reporter and "representing" a conference are two very different things. Until the Big Ten starts signing my checks, I'll report, write and vote with my conscience, thanks.
October, 14, 2013
10/14/13
9:00
AM ET
Ohio State still sits atop the Power Rankings, but there has been a significant shake-up after the Buckeyes.

Wisconsin's impressive victory against lifeless Northwestern vaults the Badgers to No. 2, as we consider Gary Andersen's team the closest to Ohio State at this point in the season. Northwestern takes a significant tumble, and Michigan also falls after failing to pull off another escape against Penn State. Nebraska and Michigan State are taking care of business against weak competition, which helps both teams now but won't mean much when the schedule gets tougher in November.
Penn State makes a move in a positive direction following its dramatic win against Michigan in four overtimes. The bottom of the rankings holds steady as most teams were off.
Here's one last look at the
Week 6 rankings
.
Week 7 rankings in three, two, one …
1. Ohio State (6-0, 2-0 Big Ten; last week: 1):
After two hard-fought victories to open Big Ten play, the unbeaten Buckeyes had a well-deserved week off. Their young defensive front seven is starting to blossom, which should help against Iowa's power run game on Saturday at The Shoe. Running back
Carlos Hyde
takes aim at an Iowa defense that has yet to allow a rushing touchdown. Ohio State is halfway to another perfect regular season.
2. Wisconsin (4-2, 2-1; last week: 3):
The Badgers looked refreshed, recharged and exceptionally prepared for Northwestern following their open week. Wisconsin's defense completely flustered Northwestern, particularly on third down, where the Wildcats typically excel.
Melvin Gordon
did his thing and Wisconsin moved the ball despite playing without top receiver
Jared Abbrederis
for most of the game. The schedule is favorable the rest of the way and a 10-2 mark is hardly out of the question. Wisconsin visits Illinois this week.
3. Nebraska (5-1, 2-0; last week: 5):
Credit Nebraska for handling its business against inferior competition and not even flirting with a loss for the second consecutive Big Ten game. The defense once again took a step forward as one-time Purdue recruit
Randy Gregory
had two tackles for loss and a fumble recovery. Backup quarterback
Tommy Armstrong Jr
. struggled, but he had plenty of help from the run game, led by
Ameer Abdullah
(126 rush yards, 1 TD). The Huskers once again are off this week, which should allow top signal-caller
Taylor Martinez
to heal from his toe injury.
4. Michigan State (5-1, 2-0; last week: 6):
Defense always will be the Spartans' bread and butter, but Michigan State is capable of winning games with its offense. Sure, Indiana's defense isn't a great barometer, but Spartans fans have to be encouraged by quarterback
Connor Cook
, running back
Jeremy Langford
and a unit that seems to be gaining more confidence by the week. Like Nebraska, Michigan State is handling its business during a favorable stretch of the schedule, which continues this week against flailing Purdue.
5. Michigan (5-1, 1-1; last week: 2):
The Wolverines twice had flirted with losing in their first five games, only to find a way to pull through. They nearly pulled off another escape at Penn State after a strong second half, but breakdowns in all three phases led to a crushing loss in four overtimes. The defense broke down at the end of regulation, the offense couldn't find the end zone in overtime and the normally reliable
Brendan Gibbons
missed three attempts (one was blocked). Michigan will need to grow up in a hurry to challenge for the Legends Division title.
6. Northwestern (4-2, 0-2; last week: 2):
It's a four-spot drop for the Wildcats, and that might be kind after the egg they laid Saturday in Madison. Northwestern clearly had a hangover from the Ohio State game, although there are some troubling trends on offense, namely the inability to covert manageable third downs, which has been a hallmark of past Wildcats teams. The injuries are piling up for Pat Fitzgerald's crew, as
Venric Mark
(ankle) barely played and
Kain Colter
(ankle) didn't do much at quarterback. Northwestern really needs to get well this week against Minnesota.
7. Penn State (4-2, 1-1; last week: 9):
What do we make of Bill O'Brien's Lions? A week after Penn State's first loss to Indiana -- by 20 points, no less -- the Lions rebounded to outlast Michigan 43-40 in a four-overtime thriller. O'Brien played to win while Michigan's coaches went conservative, and freshman quarterback
Christian Hackenberg
rebounded from some mistakes to lead the game-tying touchdown drive at the end of regulation. This Penn State team isn't as good as its predecessor, but it exhibits the same type of resilience and toughness. Penn State gets a well-deserved week off before heading to Ohio State.
8. Iowa (4-2, 1-1; last week: 7):
The open week arrived at a good time for Iowa, which came out of the Michigan State loss with several injuries, although none of the long-term variety. The Hawkeyes need to reboot
Mark Weisman
and the run game after being shut down by the Spartans. Iowa's defense faces its first major test of the season in Ohio State, which will try to stretch the field. The Hawkeyes last won in Columbus in 1991.
9. Indiana (3-3, 1-1; last week: 8):
The inconsistency that has plagued Indiana through the first half of the season showed up Saturday against Michigan State. The offense had more success against Michigan State's venerated defense than most opponents but still left points on the field. Indiana's defense, meanwhile, took a step back as the Spartans had success both on the ground and through the air. The Hoosiers' quarterback situation took another turn as
Tre Roberson
outperformed
Nate Sudfeld
. IU heads back to the Mitten State this week to face Michigan.
10. Illinois (3-2, 0-1; last week: 10):
The Illini didn't play for the second time in four weeks after struggling on both sides of the ball at Nebraska. If Tim Beckman's squad intends to go bowling, it might need a home upset victory in the next two weeks as it hosts Wisconsin and then Michigan State. Illinois hopes to get defensive lineman
Teko Powell
back from injury before facing the dominant Wisconsin rush attack. Quarterback
Nathan Scheelhaase
must rebound after completing only 50 percent of his passes against Nebraska.
11. Minnesota (4-2, 0-2; last week: 11):
Adversity continues for the Gophers as head coach Jerry Kill has taken a leave of absence as he tries to get his epilepsy under control. Although Minnesota assistants and players know how to adjust without Kill, it doesn't make the situation much easier. The big on-field concern for the Gophers is the schedule, which doesn't get any easier this week against Northwestern. The Gophers are still looking for more explosiveness on offense.
12. Purdue (1-5, 0-2; last week: 12):
There will be better days ahead for
Danny Etling
and the Boilers, but it's very ugly right now. Purdue never challenged Nebraska at Ross-Ade Stadium, and the Boilers' problems on offense clearly go beyond the quarterback position as Etling couldn't get much going. Purdue didn't cross midfield until the fourth quarter. The defense had no answers for Nebraska, which piled up 435 yards. This is a really bad football team, folks, and things don't get easier with Michigan State and Ohio State to follow.
October, 9, 2013
10/09/13
1:00
PM ET
Conference play is in full swing, so it's time once again to gauge where players stand in the individual Big Ten awards races. Remember, there's still plenty of time left, and these will fluctuate quite a bit until we get deep into the season:
Graham–George Offensive Player of the Year
1. Wisconsin RB Melvin Gordon (LW: 2):
Gordon was off last week but moves back into the top spot after
Mark Weisman
was shut down by Michigan State. Gordon still leads the Big Ten in rushing but will have to prove he's healthy against Northwestern this week.
2. Nebraska RB Ameer Abdullah (LW: Not ranked):
Abdullah makes a big jump after his huge game against Illinois. He's second in the league in rushing behind Gordon and leads the Big Ten in all-purpose yards.
[+] Enlarge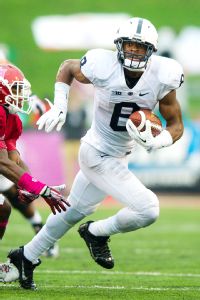 AP Photo/Doug McSchoolerPenn State receiver Allen Robinson caught a career-best 12 passes against Indiana.
3. Penn State WR Allen Robinson (LW: NR):
The Nittany Lions lost to Indiana last week, but Robinson was spectacular in grabbing a career-best 12 passes for 173 yards and two touchdowns. He's on pace to gain close to 1,500 yards receiving.
4. Wisconsin WR Jared Abbrederis
(LW: 5):
Abbrederis was also off last week but is right there with Robinson in the race for the league's Richter–Howard Receiver of the Year award.
5. Indiana QB Nate Sudfeld (LW: NR):
Sudfeld helms the league's best passing attack and tops the Big Ten with 1,467 passing yards, to go along with 13 touchdowns. That puts him on pace for a 3,500-yard season.
Dropped out:
Iowa RB Mark Weisman, Ohio State QB
Braxton Miller
, Illinois QB
Nathan Scheelhaase
Waiting room:
Ohio State RB
Carlos Hyde
Nagurski–Woodson Defensive Player of the Year
1. Wisconsin LB Chris Borland (LW: 1):
He was off last week, but Borland still holds the belt for how he played the first five weeks. He's got a big challenge this week with Northwestern's versatile offense.
2. Ohio State LB Ryan Shazier (LW: 2):
Although the Buckeyes were shaky defensively at Northwestern last week, Shazier came up with another 10 tackles and was right there on the punt block that
Bradley Roby
grabbed for a touchdown. He leads the Big Ten with eight tackles for loss.
3. Michigan State CB Darqueze Dennard (LW: NR):
Dennard showed what he could do when he's not being called for ticky-tack pass interference penalties, grabbing two interceptions against Iowa. He's our representative this week from the the ridiculous Spartan Dawgs, who lead the nation in total defense, rushing defense and pass efficiency defense.
4. Nebraska CB Stanley Jean-Baptiste (LW: NR):
It's hard to imagine any Cornhuskers player winning defensive player of the year honors because of the perception/performance of that overall unit. But Jean-Baptiste is having quite the year. He -- along with Michigan's
Blake Countess
-- is tied for the national lead in interceptions (four). He's also second in the Big Ten in passes defended (10).
5. Northwestern DE Tyler Scott (LW: NR):
Though Northwestern lost the game, it didn't surrender an offensive touchdown in the first half to Ohio State. Scott forced and recovered a fumble, and he leads the Big Ten in sacks with four.
Dropped out:
Michigan State DE
Shilique Calhoun
, Penn State DT
DaQuan Jones
, Iowa LB
James Morris
Bakken–Andersen Kicker of the Year
1. Northwestern's Jeff Budzien:
Last year's co-winner of this award, Budzien is 9-for-11 on field goals this year and nailed all three of his attempts versus Ohio State. He's perfect inside 40 yards in 2013.
2, Penn State's Sam Ficken:
He continues to author a tremendous comeback story. Ficken is 8-of-10 this year, which includes a 54-yarder. One of his two misses was a Hail Mary attempt from 57 yards. He has become a reliable weapon for Bill O'Brien.
Waiting room:
Iowa's
Mike Meyer
, Michigan's
Brendan Gibbons
, Michigan State's
Michael Geiger
October, 22, 2012
10/22/12
2:22
PM ET
Take that and rewind it back.
Team of the week:
Penn State. Plenty of candidates this week, as Michigan ended Michigan State's four-game winning streak in the rivalry, Nebraska got a much-needed road victory and Wisconsin kept chopping in the Axe series. But no team was as impressive as the Nittany Lions, who went on the road in a hostile atmosphere and simply dismantled Iowa from start to finish in a 38-14 win. That was as complete a performance as you're going to see in this league, and as Adam wrote on Saturday, Bill O'Brien's team is no longer
just a nice little story
.
[+] Enlarge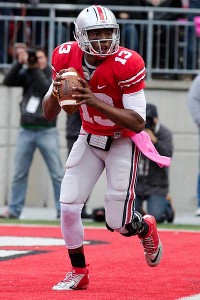 Greg Bartram/US PresswireBackup quarterback Kenny Guiton led the Buckeyes to an overtime win against Purdue on Saturday.
Game of the week:
Lots of good ones, including Michigan's nailbiter over Michigan State, Nebraska's comeback over Northwestern and even Indiana's loss at Navy. But for pure drama, it's hard to beat the Ohio State-Purdue game and how it ended. To review: the Buckeyes trailed by eight points and took possession at their 39-yard line with less than a minute to go.
Braxton Miller
was in the hospital and backup
Kenny Guiton
was at quarterback. Somehow, Ohio State made it work, driving for a touchdown and then the tying two-point conversion on a beautifully designed play. There seemed to be little doubt who would win in overtime after that, though Urban Meyer seemed stunned after the 29-22 decision. "I'm still trying to figure this bad boy out," he said. "We won, right?"
Biggest play:
The first play of that Ohio State tying drive was a 39-yard completion from Guiton to
Devin Smith
that made everything else possible. It was a slow-developing play that the Buckeyes were a little hesitant to call because it demands such good protection by the O-line. Maybe too good, as Purdue coach Danny Hope complained that his defense "probably would have [gotten to Guiton] if we didn't have quite so many hooks and so many hands on our jerseys." Regardless, it was still a play that will go down in Ohio State lore.
Ohio State Quarterback Competition
BIG TEN SCOREBOARD
Thursday, 9/3
Friday, 9/4
Saturday, 9/5
Sunday, 9/6
Monday, 9/7