Ohio State Buckeyes:

blazers-buckeyes-092212
September, 22, 2012
9/22/12
6:38
PM ET
COLUMBUS, Ohio -- Ohio State wasn't the most penalized team on the field.
But what the Buckeyes may have lacked in total calls against them or yardage stepped off, they made up for with bad timing.
Urban Meyer's irritation with the flags his team has drawn this season won't vanish after the
29-15 win
over UAB on Saturday, particularly because four of the infractions directly led to first downs that extended drives.
"I didn't see -- was the one for taunting?" Meyer said. "Which is more stressful [passive defense or penalties]? They're both awful, and we've got to get them fixed."
The lack of aggression on defense that Meyer was bemoaning might not have been as troubling without the penalties that kept the unit on the field, including one that came on special teams for running into the punter early in the game.
But it was a pair of personal fouls that were particularly bothersome, mostly
Christian Bryant
's taunting penalty on a late third down with the outcome still up for grabs. The Blazers ultimately missed a field goal after getting the second chance, though that won't make it any more palatable for Meyer moving forward.
"There's too many [concerns]," Meyer said. "We have to be better in all three phases."
September, 22, 2012
9/22/12
6:25
PM ET
COLUMBUS, Ohio -- The leading tackler was on the ground in pain, and suddenly every level of the defense was facing the possibility of dipping into the reserves.
Ryan Shazier
returned relatively quickly from his injury scare to restore the linebackers to full strength, but his brief absence offered a reminder of how stretched Ohio State already is after four games.
[+] Enlarge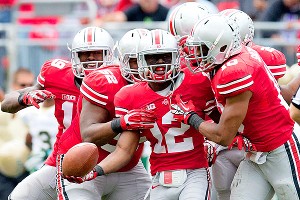 Greg Bartram/US PresswireDoran Grant started in place of injured cornerback Bradley Roby and had a fumble recovery and an interception against UAB.
A starter was missing at defensive end again. Two more were absent in the secondary and didn't play at all, and both Shazier and defensive tackle
Johnathan Hankins
had moments of uncertainty with their health in
a 29-15
victory over UAB on Saturday at Ohio Stadium -- and the Buckeyes need them all with so little experience behind the first unit.
"That's an excuse for being passive," coach Urban Meyer said. "Obviously you want your starters in there, but there are some capable backups. We're just seeing some guys thrust into action. When Shazier went down, you have
[Bradley] Roby
, you have
C.J. Barnett
,
[Michael] Bennett
, four starters out.
"The quality of personnel behind them, they just have to play better. It's not lack of talent, it's maybe lack of some experience, but we've got to play better."
A quick glance at the notable injuries heading into preparations for Michigan State:
Bennett: The lineman could make his return from a groin injury next week against the Spartans after missing all four games so far.
Roby: The playmaking cornerback was limited in practice this week with a shoulder injury. Doran Grant filled in and supplied an interception, a fumble recovery and a sack.
Barnett: The safety had a sprained ankle that kept him out of practice this week and he didn't dress against the Blazers.
Carlos Hyde: A knee strain has kept the junior running back on the sidelines for the last two games, but he is likely to return for the visit to Michigan State.
September, 22, 2012
9/22/12
6:09
PM ET
COLUMBUS, Ohio -- The missed tackles still bothered Ohio State.
The yardage total was higher than it would have liked to allow.
There were big third-down conversions given up that the coaching staff won't let the Buckeyes forget about.
[+] Enlarge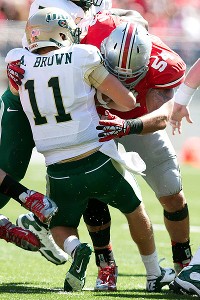 Greg Bartram/US PresswireJohn Simon and the Buckeyes gave up 403 yards against UAB, but they didn't allow a touchdown in a 29-15 victory.
But even with all those potential things to point out after a 29-15 win over UAB on Saturday at Ohio Stadium, there was one stat that clearly won't trouble Everett Withers.
"I think we gave up 15 points," a smiling Withers said. "That's all I give a s--- about."
The co-defensive coordinator's unit wasn't even responsible for all those points thanks to a blocked punt that produced UAB's only touchdown. And while the Buckeyes had some occasional issues getting off the field defensively and allowed 403 yards to the Blazers, the wall it put up in front of the end zone certainly helped make up for those other issues.
That doesn't mean a bend-don't-break philosophy will be embraced by Withers or the Buckeyes, but it was effective in keeping the team's record perfect after the nonconference finale.
"It's not as good as we wanted," defensive end
John Simon
said. "We want to go out and have a shutout, three-and-out every time. If we give up more than zero yards, that's not our expectation.
"Our expectations are high here at Ohio State, and that's what we're going to keep striving for."
The Buckeyes clearly have work to do to meet them, even if pitching a perfect game in terms of both yardage and points allowed is a bit of a stretch.
For starters, simply keeping the UAB offense out of the end zone was enough to get the only statistic that truly matters.
"When they spread you from sideline to sideline and dink and dunk, eventually you have to say that's not going to beat you," Withers said. "And it didn't."
September, 22, 2012
9/22/12
5:51
PM ET
COLUMBUS, Ohio -- The statistics sheet was on the table in front of him, and the rushing totals were helpfully pointed out to
Jordan Hall
.
In his second game from injury, the senior tailback established a career high, continued taking the load off quarterback
Braxton Miller
's shoulders and added a couple receptions to boot.
But even just an hour after Ohio State's 29-15 win over UAB was official and Hall's personal record book had been updated with his 105-yard game, he was already moving on to the next one.
"It's 100 yards for the night, then go back to work tomorrow," Hall said. "I mean, I'm happy about it. But Michigan State, that's really what my focus is."
The Buckeyes should have even more support to offer Miller on the ground by then with
Carlos Hyde
expected to return from a knee sprain, but Hall had no problems picking up the slack for the second consecutive week without him.
The projected starter coming out of spring practice was derailed in the summer by a torn tendon in his foot, and he appeared a bit unsure of himself in his return last week against California. But just one game later, Hall was more decisive, made sharper cuts and fought through a few tackles to finish with 126 total yards in another winning effort.
"I was definitely more comfortable this week than last week," Hall said. "Full week of practice this week, I felt good.
"As a team, of course, we know we should have played better, done better. But winning is really what matters. We know we have to play better against Michigan State."
Regardless of what else might have been put in front of him after the game on Saturday, the Spartans were all that had Hall's attention.
September, 22, 2012
9/22/12
3:37
PM ET
COLUMBUS, Ohio -- There were certainly no style points for Ohio State on Saturday.
But, no matter how the Buckeyes did it, they wrapped up their nonconference schedule with another win to stay unbeaten.
The offense was explosive for brief periods only; the defense missed more tackles; and Ohio State gave up a touchdown on special teams by having a punt blocked. But
OSU escaped with a 29-15 win over UAB
on Saturday at Ohio Stadium, and that is ultimately the only thing that will matter to coach Urban Meyer -- at least until he watches film to prepare for Michigan State next week.


It was over when:
Braxton Miller
pushed his way into the end zone midway through the fourth quarter for a short touchdown that finally gave the Buckeyes some breathing room, a score he followed up by waltzing in for two more points on the 2-point conversion that effectively put the game away.
Game ball goes to
: The sophomore quarterback didn't have nearly as much yardage and didn't supply as many points as he had early in the season, but Miller was again the difference-maker for Ohio State. He had help in the rushing game from
Jordan Hall
, and defensively
Doran Grant
emerged to lend a significant hand, but Miller's efficient passing and dynamic rushing saved the Buckeyes again.
Stat of the game:
Hall rushed for 105 yards in his second game of the season after returning from foot surgery in June, and the coaching staff showed no hesitation to get him involved and take the pressure off Miller by giving him 17 carries and throwing to him twice.
How the game was won:
All it took was one offensive spurt just before halftime and a defense that wouldn't allow UAB anywhere near the end zone. The Buckeyes gave up plenty of yardage and missed more tackles -- a bad habit they tried to kick in practice this week, but all the Blazers could really manage offensively were field goals. That was never going to be enough against Ohio State's attack -- regardless of how sporadic it might have been.
What it means:
Meyer's team is far from a finished product, but the Buckeyes can't complain about their record as they enter Big Ten play. There are issues to correct in every phase of the game, but odds are Meyer and his staff won't be quite so conservative against better competition.
September, 22, 2012
9/22/12
1:53
PM ET
COLUMBUS, Ohio -- After stumbling again out of the blocks, Ohio State found its top gear just before halftime.
The stagnant offense sprinted into the locker room with three consecutive touchdowns after a scoreless first quarter.
A defense that again gave up yards in bunches tightened up with its back to the wall and forced a critical turnover.
Urban Meyer would surely prefer his team to flip the switch earlier, but the Buckeyes coach is still taking a 21-12 lead over UAB with him into intermission at Ohio Stadium.


Stat of the half:
There was a drop and a couple overthrows early, but
Braxton Miller
corrected his sloppy start by completing his last six attempts after going 1-for-5 in the first quarter. The sophomore finished the half with 88 yards through the air to go with 45 on the ground with a touchdown.
Player of the half:
The biggest hit of the half for
Johnathan Hankins
won't show up in his personal statistics, but his demolition of a would-be blocker as he collapsed the pocket and forced an incompletion perfectly summed up his productive work in the first half. In all, the junior defensive tackle had six tackles and chipped in half of a tackle for a loss as his hot streak rolls along up front.
What's working for Ohio State:
After sleepwalking through much of the first half, the running game snapped to life with tough running by
Jordan Hall
and backup
Rod Smith
. After the latter punched in a short touchdown, Braxton Miller went to work and turned in yet another highlight-reel scoring rush to get the Buckeyes in control.
The blocking has largely been sound, the ball carriers are making defenders miss and UAB doesn't appear to have a physical answer for the Ohio State offense when it gets a head of steam.
What's not working for Ohio State:
The extra work on tackling in practice hasn't quite yielded the results the Buckeyes wanted just yet. UAB slipped through defenders, extended plays in the pocket and was out-gaining Ohio State for much of the first 30 minutes. But the Blazers only had two field goals to show for it on offense, continuing Ohio State's bend-don't-break tendency early in the season. The Buckeyes did deliver a critical turnover with a fumble recovery just before halftime that led to a score, but they'll need more plays like it moving forward.
Did Ohio State Cheap Out On Championship Rings?
BIG TEN SCOREBOARD
Thursday, 9/3
Friday, 9/4
Saturday, 9/5
Sunday, 9/6
Monday, 9/7