May, 20, 2013
May 20
9:00
AM ET
Ohio State already had started paying more competitive salaries for assistant coaches before Urban Meyer arrived in November 2011.
But when Meyer and athletic director Gene Smith sat down to discuss staff pay, Smith soon realized he needed to do more.
"I think Michigan had stepped up with their coordinators," Smith recalled last week during Big Ten spring meetings in Chicago. "So we were already going to that before Urban Meyer came, but we bumped it up a little more. Any time there's change, you have that opportunity."
[+] Enlarge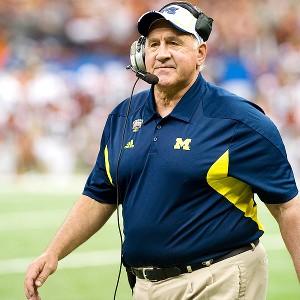 Lon Horwedel/Icon SMIMichigan DC Greg Mattison ranks as the highest-paid assistant coach in the Big Ten for the 2013 season.
"Everyone's always focused on head coaches' salaries," Smith continued. "That's always the thing. But really when you look at the changes, it's really been assistants' salaries across the country -- not just in the SEC, but the Big 12, Pac-12, all across the country."
The Big Ten is part of the change, too, as the league is allocating more money toward football assistants than ever before. The Detroit Free Press has an
excellent look at Big Ten assistants' salaries
, complete with a
database
that includes 10 of the 12 current members (Northwestern doesn't submit salaries as a private institution, and Penn State doesn't have to because of state laws).
The Free Press found that eight of the 10 schools are paying more for assistants in 2013 than they did in 2012 (only Indiana and Illinois are not). There are some significant total increases, such as Wisconsin (up $558,000), Nebraska (up $518,500), Purdue ($400,000) and Minnesota ($355,000). Staff pay had been an issue at Wisconsin, which lost six assistant coaches following the 2012 Rose Bowl, and at Purdue, which paid less for its staff during the Danny Hope era than any Big Ten school.
The total trend among the 10 schools is an increase of $1,720,852.24 for 2013.
Ohio State and Michigan remain No. 1 and No. 2 in Big Ten staff salary, as the Buckeyes allocate $3.416 million and the Wolverines allocate $2.805 million. Nebraska and Wisconsin make the biggest moves in the league for 2013, as the Huskers rise from sixth to third and the Badgers rise from seventh to fourth.
Illinois, which replaced five assistants from the 2012 team, including co-offensive coordinators Chris Beatty and Billy Gonzales, dropped from third in staff pay ($2.314 million) to eighth ($2.065 million).
The database shows that nearly every Big Ten assistant with "coordinator" in his title -- whether he's the sole coordinator or a co-coordinator -- will earn north of $300,000 for 2013. Only 18 assistants listed will make less than $200,000 in 2013 -- 15 work for Minnesota, Illinois, Purdue and Indiana.
Some notes:
Although Wisconsin paid former offensive coordinator Paul Chryst good coin, the school has increased its commitment for Gary Andersen's staff, not only with the coordinators but with some coveted position coaches like running backs coach Thomas Hammock ($300,000).
All of Nebraska's assistants are earning $200,000 or more for 2013, but there's a huge drop-off between Beck and the next highest-paid assistant (defensive coordinator John Papuchis at $310,000).
Michigan State has a similar drop off between Narduzzi and co-offensive coordinators Dave Warner ($270,000) and Jim Bollman ($260,000). Warner will be the primary offensive play-caller and has been on Mark Dantonio's staff since 2006, while Bollman is a newcomer.
Although Michigan is paying top dollar for its coordinators, the school gets its assistants for a relative bargain. Receivers coach/recruiting coordinator Jeff Hecklinski will earn $225,000 in 2013, while the others all will earn $205,000. Ohio State, meanwhile, pays all but one of its assistants $286,000 or more.
The Big Ten's three lowest-paid assistants all are in their first years: Illinois wide receivers coach Mike Bellamy ($125,000) and Purdue linebackers coach Marcus Freeman and running backs coach Jafar Williams (both at $120,000).
Although schools like Illinois, Wisconsin and Iowa ($325,000) pay their coordinators the exact same amount, others have slight differences in salary. Purdue's Shoop makes $5,000 more than defensive coordinator Greg Hudson. Minnesota defensive coordinator Tracy Claeys ($340,000) makes $5,000 more than offensive coordinator Matt Limegrover. Wonder if that leads to any underlying jealousy?
Most Big Ten schools have assistant salaries in round numbers, but there are some interesting totals from Indiana, which pays co-offensive coordinators Seth Littrell and Kevin Johns $255,500.04 and new recruiting coordinator/assistant defensive line coach James Patton $173,740.08. Never know when that change can come in handy.
The Big Ten still lacks some of the OMG totals seen in the SEC -- LSU is
paying new offensive coordinator Cam Cameron $3.4 million
in the next three years -- but the overall trend puts the league more on par with what we're seeing nationally.
May, 2, 2013
May 2
3:30
PM ET
My hometown is already packed full of visitors and C-list celebrities in anticipation of the Kentucky Derby on Saturday. If you've never been, well come on down and enjoy the party. I've got a spare guest room.

When you live in Louisville, horse racing and handicapping are about all you can think of this time of year, in between bites of Derby Pie. So, like
last year
, I've imagined what the Big Ten 2013 program would look like if the championship chase were more like a horse race. I think the odds would go a little something like this (like the Churchill Downs toteboard, our odds only go up to 99-to-1),:
Ohio State: Even
Despite being scratched from last year's race by NCAA probation, the Buckeyes are the odds-on favorites this time around. They've got big-time winners both at trainer (Urban Meyer) and on the reins (
Braxton Miller
), and their schedule looks like they should get a clean trip.
Michigan: 5-to-1
The Wolverines are switching running styles this year, ditching the spread for a more traditional passing offense led by
Devin Gardner
. No need for blinders, as
Taylor Lewan
has the blind side locked down. Still, this entry hasn't had enough first-place finishes in its recent past performances.
Nebraska 6-to-1
The Huskers have been like one of those tantalizing horses in the program with a huge Beyer speed figure that always disappoints when you put the big money on them. Expect them to be a major pace-setter because of their early schedule, but that defense will determine whether they can make a long-awaited trip to the winners' circle.
Wisconsin: 10-to-1
Pretty good value here for a three-time defending champion of the Run for the Rose Bowl. Still, the Badgers are operating under new connections this time around (new coach Gary Andersen) and will have to prove they can track down Ohio State in the Leaders Division.
Northwestern 12-to-1
Another good option for those seeking value, as the Wildcats might be the wise-guy pick after last year's 10-win season. The problem is the potential of a very bumpy trip with that schedule (Ohio State and Wisconsin as crossover opponents). And there will be a lot of jostling in that Legends Division.
Michigan State: 20-to-1
Some bettors like to look for the bounce factor, meaning they seek out otherwise successful horses who are coming off one bad outing. The Spartans look like the best bounce candidate following last year's 6-6 season, which came after two straight double-digit win seasons. They have a more favorable post position (er, schedule) this time, but their early works suggest some lingering questions about the offense.
Minnesota: 50-to-1
We've reached the real long shots now. Jerry Kill has shown that his charges take off in their third year of training, and the Gophers have turned in some encouraging works. Still, they'll need to run a perfect race to factor in the money.
Indiana:
65-to-1
This would be a Giacomo-level upset. An exotic pick, at best. But with the Hoosiers' ability to score points, they could pull off a shocker if everyone else falters.
Purdue: 75-to-1
Handicappers got burned by picking Purdue as their sleeper last year. The Boilermakers might be even more of a mystery horse this year with a new trainer in Darrell Hazell. Still looks like an also-ran, but don't forget that they seem to run neck-and-neck with Ohio State lately, for whatever reason.
Iowa: 80-to-1
Failed to fire last year, and the speed figures aren't pretty. If you're betting the Hawkeyes, you're basing it on the pedigree of Kirk Ferentz. Should show more fight this time, but might be too much of a plodder to hit the board.
Illinois: 99-to-1

Stumbled out of the gate, no rally, didn't factor in 2012. Equipment changes on offense (new coordinator Bill Cubit's spread system) should help. But Tim Beckman has a lot of work to do to show he's not saddling another nag.
Penn State: Scratched
DQ'd by the NCAA. (Now accepting future wagering on 2016).
So there's how I'd write the program. What kind of odds would you give to each team, and who would you put money on in 2013?
January, 25, 2013
Jan 25
2:30
PM ET
When sizing up prospects for a new season, most people usually point first to one stat: the number of returning starters.

That doesn't always equate to success, but it's a pretty good gauge of experience and talent. Last season, Indiana had the most returning starters in the Big Ten with 19, and improved its win total from one to four. Ohio State was second with 18 returning starters and went 12-0. On the flip side, Purdue was tied for third with the most returning starters (16) and went 6-7, while Northwestern won 10 games despite returning just 12 starters from the previous season.
With all that in mind, football prognosticator extraordinaire Phil Steele has come out with his
list of returning starters
for every FBS team. Let's take a look at how the Big Ten stacks up:
1. Indiana (19 total returning starters)
Offense: 10 (QB included)
Defense: 9
National rank: T-1st
2. Minnesota (16)
Offense: 10 (QB included)
Defense: 6
National rank: T-17th
T-3. Michigan State (15)
Offense: 8 (QB included)
Defense: 7
National rank: T-24th
T-3. Northwestern (15)
Offense: 8 (QB included)
Defense: 7
National rank: T-24th
T-3. Wisconsin (15)
Offense: 8 (QB included)
Defense: 7
National rank: T-24th
6. Iowa (14)
Offense: 7
Defense: 7
National rank: T-41st
T-7. Nebraska (13)
Offense: 9 (QB included)
Defense: 4
National rank: T-58th
T-7. Ohio State (13)
Offense: 9 (QB included)
Defense: 4
National rank: T-58th
T-7. Penn State (13)
Offense: 8
Defense: 5
National rank: T-58th
T-7. Purdue (13)
Offense: 5
Defense: 8
National rank: T-58th
11. Illinois (12)
Offense: 9 (QB included)
Defense: 3
National rank: T-88th
12. Michigan (12)
Offense: 6 (QB included)
Defense: 6
National rank: T-88th
Some quick takeaways:
You can see why there's hope for a bounceback season for the Big Ten. Ten of the 12 teams rank in the upper half of the FBS in number of returning starters, including five in the top 24. And nine of the teams return their starting quarterbacks.
Indiana once again tops the league in returning starters, a testament to Kevin Wilson's severe youth movement in 2011. The Hoosiers also get back Tre Roberson at quarterback from his broken leg. But they might be breaking in new, young starters on defense as they continue to search for talent. Still, the experience could help IU get to a bowl game.
Minnesota has a lot of starters back, but also a lot of questions, as they lose key defensive players like D.L. Wilhite, Michael Carter, Troy Stoudermire, Keanon Cooper and Mike Rallis. The Gophers also need more playmakers on offense, though they showed they could be a physical run team in the bowl with a healthy offensive line.
Of the three teams tied for third, Michigan State has the most question marks. The Spartans have a returning starting quarterback, but there's no guarantee that Andrew Maxwell starts in 2013. And they lost their two best playmakers in Le'Veon Bell and Dion Sims to the draft. Northwestern brings back almost all of its top players, while Wisconsin had a very small senior class in 2012.
Last year's two division winners, Ohio State and Nebraska, each return nine starters on offense, but only four on defense. Both should be among the highest-scoring teams in the league and the country. But their seasons will likely depend on how well they integrate young players in key spots on defense.
Illinois can't even finish high in these rankings. Though after an abysmal season, it might be time to break in some new faces. At least new offensive coordinator Bill Cubit has some experience to work with, if not an abundance of dynamic athletes. Michigan also ranks low with only 12 returning starters. We know this will be a young Wolverines team in many spots, including the offensive line. But with Devin Gardner back and some excellent recent recruiting, Michigan has a chance to avoid a drop-off if those young players perform well.
January, 8, 2013
Jan 8
10:08
AM ET
Alabama and Notre Dame put a bow on the 2012 college football season Monday night. Most of the Big Ten would just as soon douse it with gasoline and light a match.
But before a largely forgettable 2012 Big Ten season goes up in flames, let's take one final look at the power rankings following the bowls. Ohio State not surprisingly remains on top, and the bottom three teams stay the same as well. There's a bit of shuffling among the seven bowl teams after varying performances. As has been the case most of the season, very little separates Nos. 2-6.
Here's a look at the
pre-bowl power rankings
.
Let's get to it ...
1. Ohio State (12-0; previously: 1):
The Buckeyes will occupy this spot until they lose a game, which might be a while under coach Urban Meyer. After recording just the sixth unbeaten, untied season in team history, Ohio State sets its sights on even bigger goals as it emerges from NCAA sanctions. The Buckeyes showed major strides on offense behind sophomore quarterback
Braxton Miller
and improved on both lines as the season went on. Meyer exceeded most expectations in Year 1, but they'll be much higher in 2013.
2. Northwestern (10-3; previously: 5):
Pat Fitzgerald's team moves up three spots after claiming its first bowl victory in 64 years. There was surprisingly little drama as Northwestern capitalized on Mississippi State's errors and won the TaxSlayer.com Gator Bowl by two touchdowns. The Wildcats recorded just the third 10-win season in team history and easily could have won another game or two despite a young roster. Things are headed in the right direction in Evanston.
3. Michigan (8-5; previously: 2):
The Wolverines were one defensive stop away from recording the most impressive win in the Big Ten's bowl season and in the Brady Hoke era. They paced a very talented South Carolina team in the Outback Bowl and received big performances from wideout
Jeremy Gallon
, running back
Denard Robinson
and quarterback
Devin Gardner
. Unfortunately for Michigan, an elite pass defense couldn't get it done in the end. Four of Michigan's five losses came against top-10 teams, but an 8-5 record isn't what Hoke or his players had in mind this fall.
4. Penn State (8-4; previously: 3):
Penn State and Michigan are similar in that both teams have "good" losses on their résumés (Michigan a few more than Penn State). Both teams rallied to beat Northwestern at home, while Penn State has another quality win against Wisconsin. The Lions and Wolverines didn't play one another, and we'll never know how Penn State would have fared against a team like South Carolina. Michigan gets the slight edge here, but Penn State had a terrific season behind a dramatically improved offense and a defense led by senior stars
Michael Mauti
,
Jordan Hill
and
Gerald Hodges
.
5. Nebraska (10-4; previously: 4):
The Huskers beat the three teams ahead of them in the rankings, but the power rankings place more weight on recent results, and Nebraska finished the season with a thud. Bo Pelini's team surrendered 105 points in its last two games -- losses to Wisconsin in the Big Ten championship game and to Georgia in the Capital One Bowl. Nebraska showed it could move the ball and score against anyone, despite being turnover-prone. But the defense was abysmal in the four losses and raises serious concerns for Pelini's program going forward.
6. Wisconsin (8-6; previously: 6):
The Barry Alvarez-led Badgers showed they could hang with Stanford, but they couldn't take advantage of the unique opportunity to play in the Rose Bowl Presented by Vizio despite finishing third in the Leaders Division. The inconsistent offensive execution that plagued Wisconsin throughout the season surfaced once again against a tough and talented Stanford defense. Wisconsin just didn't have enough firepower to get over the hump, which was really the story of its season.
7. Michigan State (7-6; previously: 7):
A come-from-behind win against TCU in the Buffalo Wild Wings Bowl takes the sting off of a season that didn't go according to plan for Michigan State. The Spartans leaned on their defense and received just enough offense from backup quarterback
Connor Cook
and Co. to get past a young Horned Frogs team in Tempe, Ariz. Michigan State posted its second straight bowl win under coach Mark Dantonio and said goodbye to three juniors -- running back
Le'Veon Bell
, tight end
Dion Sims
and defensive end
William Gholston
-- in the days following the game.
8. Minnesota (6-7; previously: 9):
Minnesota appeared poised to give the Big Ten a surprising 1-0 start to the bowl season. The Gophers made strides on offense between the end of the regular season and the Meineke Car Care Bowl of Texas, as young quarterback
Philip Nelson
and the offensive line looked a lot better against Texas Tech. But Minnesota still doesn't know how to finish and suffered breakdowns down the stretch in a tough loss to the Red Raiders. The team still doubled its win total in Jerry Kill's second season and could make some noise in a tough Legends Division next fall.
9. Purdue (6-7; previously: 8):
The Boilermakers and Minnesota swap places after Minnesota performed much better in its bowl game than Purdue did. A mismatch on paper turned into a total whitewash on the field as Oklahoma State, which had no business being in the Heart of Dallas Bowl, outclassed Purdue from the get-go. Purdue's once-promising season ended with a thud as a veteran-laden Boilers team that kept pace with both Notre Dame and Ohio State struggled mightily against most of the good-to-great teams it faced this season.
10. Indiana (4-8; previously: 10):
After going 1-11 in Kevin Wilson's first year, Indiana could only get better, and took some important steps this season. The Hoosiers showed they can score points on just about every defense in the Big Ten, and their group of skill players is among the league's best. IU's defense still isn't at a Big Ten level, and improving the talent and depth on that side of the ball is the chief challenge for Wilson and his staff entering the 2013 season.
11. Iowa (4-8; previously: 11):
A bowl appearance looked like a guarantee before the season as the schedule set up favorably for eight or more wins. But the offense took a giant step backward, and injuries hurt the unit throughout the season. Iowa's defense kept it in quite a few games but also let down against better offenses like Northwestern and Michigan. The Hawkeyes will look for more cohesion on offense and more playmakers to emerge. The Legends Division seems to be getting only tougher.
12. Illinois (2-10; previously: 12):
No team and no coach wants to turn the page on 2012 more than Illinois and Tim Beckman. Almost nothing went right in Beckman's first season, as the offense stalled and the defense struggled against spread offenses. The Illini dropped all eight of their Big Ten contests and lost by fewer than 14 points just once. Perhaps new offensive coordinator Bill Cubit can get the offense on track. The defense, meanwhile, must fill holes up front and in the secondary. At least Illinois gets a fresh start in 2013.