Ohio State Buckeyes:

Bennie Fowler
May, 12, 2014
5/12/14
10:30
AM ET
Thirty Big Ten players heard their names called
during the 2014 NFL draft, but many others received phone calls immediately after the event. The undrafted free-agent carousel is spinning, and players from around the Big Ten are hopping aboard.
Unlike the draft, the UDFA list is somewhat fluid, and other players could get picked up later today or in the coming days. To reiterate:
This is not the final list
.
Here's what we know right now from various announcements and media reports:

ILLINOIS
LB Jonathan Brown, Arizona Cardinals
WR Ryan Lankford, Miami Dolphins
TE Evan Wilson, Dallas Cowboys
WR Steve Hull, New Orleans Saints
WR Spencer Harris, New Orleans Saints
Notes:
Illini OT Corey Lewis, who battled knee injuries throughout his career, told Steve Greenberg that
several teams are interested in him
if he's cleared by doctors.

INDIANA
WR Kofi Hughes, Washington Redskins
RB Stephen Houston, New England Patriots
Notes
: S Greg Heban and K Mitch Ewald have tryouts with the Chicago Bears.

IOWA
LB James Morris, New England Patriots
OT Brett Van Sloten, Baltimore Ravens
G Conor Boffeli, Minnesota Vikings
WR Don Shumpert, Chicago Bears
LS Casey Kreiter, Dallas Cowboys

MARYLAND
LB Marcus Whitfield, Jacksonville Jaguars
CB Isaac Goins, Miami Dolphins

MICHIGAN
LB Cam Gordon, New England Patriots
S Thomas Gordon, New York Giants
Notes:
RB Fitzgerald Toussaint (Baltimore), DT Jibreel Black (Pittsburgh), LS Jareth Glanda (New Orleans) and DT Quinton Washington (Oakland)
will have tryouts
.

MICHIGAN STATE
LB Denicos Allen, Carolina Panthers
S Isaiah Lewis, Cincinnati Bengals
T/G Dan France, Cincinnati Bengals
WR Bennie Fowler, Denver Broncos
LB Max Bullough, Houston Texans
DT Tyler Hoover, Indianapolis Colts
DT Micajah Reynolds, New Orleans Saints
OL Fou Fonoti, San Francisco 49ers
Notes:
LB Kyler Elsworth has a tryout scheduled with Washington.

MINNESOTA
LB Aaron Hill, St. Louis Rams

NEBRASKA
QB Taylor Martinez, Philadelphia Eagles
OT Brent Qvale, New York Jets
CB Mohammed Seisay, Detroit Lions
DE Jason Ankrah, Houston Texans
C Cole Pensick, Kansas City Chiefs
OT Jeremiah Sirles, San Diego Chargers
Notes:
CB Ciante Evans has yet to sign but will do so soon. DB Andrew Green
has a tryout with the Miami Dolphins
.

NORTHWESTERN
WR Kain Colter, Minnesota Vikings
K Jeff Budzien, Jacksonville Jaguars
WR Rashad Lawrence, Washington Redskins
DE Tyler Scott, Minnesota Vikings

OHIO STATE
S C.J. Barnett, New York Giants
K Drew Basil, Atlanta Falcons
WR Corey Brown, Carolina Panthers
G Andrew Norwell, Carolina Panthers
G Marcus Hall, Indianapolis Colts
WR Chris Fields, Washington Redskins

PENN STATE
OT Garry Gilliam, Seattle Seahawks
LB Glenn Carson, Arizona Cardinals
S Malcolm Willis, San Diego Chargers
Notes:
OT Adam Gress will
have a tryout with the Pittsburgh Steelers
.

PURDUE
DE Greg Latta, Denver Broncos
S Rob Henry, Oakland Raiders
G Devin Smith, San Diego Chargers
DT Bruce Gaston Jr., Arizona Cardinals
Notes:
P Cody Webster will have a tryout with Pittsburgh.

RUTGERS
WR Brandon Coleman, New Orleans Saints
WR Quron Pratt, Philadelphia Eagles
LB Jamal Merrell, Tennessee Titans
DE Marcus Thompson, Miami Dolphins
S Jeremy Deering, New England Patriots
Notes:
According to
Dan Duggan
, DE Jamil Merrell (Bears) and G Antwan Lowery (Baltimore) will have tryouts.

WISCONSIN
G/T Ryan Groy, Chicago Bears
TE Jacob Pedersen Atlanta Falcons
TE Brian Wozniak, Atlanta Falcons
DE Ethan Hemer, Pittsburgh Steelers
Quick thoughts:
Martinez's future as an NFL quarterback has been heavily scrutinized, but Chip Kelly's Eagles are a fascinating destination for him. Whether he plays quarterback or another position like safety, Kelly will explore ways to use Martinez's speed. ... The large Michigan State contingent is still a bit startling. The Spartans dominated the Big Ten, beat Stanford in the Rose Bowl, use pro-style systems on both sides of the ball and had just one player drafted. Bullough, Allen and Lewis all were multiple All-Big Ten selections but will have to continue their careers through the UDFA route. ... Colter certainly
looked like a draft pick during Senior Bowl practices
in January, but that was before his ankle surgery and his role in leading the unionization push at Northwestern. I tend to think the injury impacted his status more, but NFL teams have been known to shy away from so-called locker-room lawyers. ... Other Big Ten standouts like Jonathan Brown, Morris and Pedersen were surprisingly not drafted. Morris should be a great fit in New England. ... Coleman's decision to leave Rutgers early looks questionable now that he didn't get drafted.
February, 24, 2014
2/24/14
10:30
AM ET
The 2014 NFL scouting combine in Indianapolis is more than halfway over, and
testing results
have been recorded for quarterbacks, running backs, tight ends, wide receivers, offensive linemen and specialists. As we do every year around this time, let's check in on how the Big Ten contingent is performing at the site of the Big Ten championship game (Lucas Oil Stadium).
Note: These are results through Sunday.
[+] Enlarge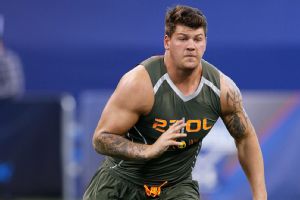 Joe Robbins/Getty ImagesMichigan offensive tackle Taylor Lewan was one of several Big Ten players who increased their stock at the NFL combine over the weekend.
TOP PERFORMERS
Overall
By position
Running backs:
Wisconsin's
James White
is tied for fourth in bench-press reps with 23; Ohio State's
Carlos Hyde
is tied for 13th with 19.
Wide receivers:
Enunwa is tied for 11th in 40-yard dash and seventh in bench-press reps with 19; Indiana's
Cody Latimer
is first in bench-press reps with 23; Rutgers'
Brandon Coleman
is tied for second in bench-press reps with 21; Michigan's
Jeremy Gallon
is tied for 13th in bench-press reps with 15; Robinson is sixth in vertical jump, tied for third in broad jump, seventh in 20-yard shuttle and sixth in 60-yard shuttle; Fowler is tied for fifth in broad jump, 15th in 20-yard shuttle and 12th in 60-yard shuttle; Abbrederis is 12th in 3-cone drill at 6.8 seconds, 11th in 20-yard shuttle and seventh in 60-yard shuttle.
Tight ends:
Iowa's
C.J. Fiedorowicz
is sixth in the 40-yard dash (4.76 seconds), fifth in bench-press reps (25), tied for 11th in vertical jump (31.5 inches), tied for sixth in broad jump (9 feet, 8 inches), first in 3-cone drill (7.1 seconds) and 20-yard shuttle (4.26 seconds); Wisconsin's
Jacob Pedersen
is tied for 13th in the 40-yard dash (4.89 seconds), 11th in 3-cone drill (7.55 seconds), seventh in 20-yard shuttle (4.4 seconds) and tied for second in 60-yard shuttle (12.19 seconds).
Offensive linemen:
Michigan's
Taylor Lewan
is first in 40-yard dash (4.87 seconds) and broad jump (9 feet, 9 inches), tied for 11th in bench-press reps (29), tied for third in vertical jump (30.5 inches), fourth in 3-cone drill (7.39 seconds), ninth in 20-yard shuttle (4.49 seconds); Michigan's
Michael Schofield
is sixth in 40-yard dash (5.01 seconds), 13th in 3-cone drill (7.62 seconds) and 11th in 20-yard shuttle (4.57 seconds); Linsley is tied for second in bench-press reps; Penn State's
John Urschel
is tied for eighth in bench-press reps (30), tied for fifth in vertical jump (29 inches), ninth in 3-cone drill (7.55 seconds) and tied for sixth in 20-yard shuttle (4.47 seconds); Ohio State's
Jack Mewhort
is tied for 14th in bench-press reps (28); Wisconsin's
Ryan Groy
is tied for seventh in broad jump (9 feet), eighth in 3-cone drill (7.49 seconds) and tied for sixth in 20-yard shuttle (4.47 seconds); Iowa's
Conor Boffeli
is seventh in 3-cone drill (7.44 seconds) and 13th in 20-yard shuttle (4.61 seconds).
Defensive linemen (bench-press only):
Hageman is tied for third with 32 repetitions.
Workouts and testing for defensive linemen and linebackers takes place Monday, followed by the defensive backs on Tuesday. We'll have more updates as the results come in, but you should check out ESPN.com's full
combine coverage here
.
February, 7, 2014
2/07/14
9:00
AM ET
The official
invite list for the 2014 NFL combine
is out, and 36 Big Ten players will try to impress pro scouts during workouts in Indianapolis from Feb. 22-25. In case you were wondering, that's fourth most among conferences behind the SEC (71 invitees), the ACC (48) and the Pac-12 (45).
Here are the Big Ten players who were invited, broken down by position:
Quarterbacks (0)

Running backs (2)

Wide receivers (8)

Tight ends (2)

Offensive linemen (8)

Defensive linemen (2)

Linebackers (7)

Defensive backs (7)

Specialists (0)
Breakdown
It's a strong list of players, but were there any snubs. Nebraska quarterback
Taylor Martinez
, Michigan State linebacker
Denicos Allen
and Iowa cornerback
B.J. Lowery
jump out right away as missing, though Martinez has injury (and position) concerns, while Allen's small frame means he'll have to prove to scouts he can play at the next level.
I'm also a bit surprised not to see Indiana's
Ted Bolser
on this list; he's not a traditional blocking tight end, but his receiving skills would seem to translate to the NFL. Only nine kickers and punters were invited to Indy, yet it's a little disappointing that Purdue's
Cody Webster
and Northwestern's
Jeff Budzien
weren't included in the specialists.
Others who could have gotten an invite include Purdue defensive tackle
Bruce Gaston
, Ohio State guard
Andrew Norwell
and Nebraska defensive back
Ciante Evans
.
That doesn't mean those guys won't play in the NFL. But their path to the league might be a little more winding.
January, 6, 2014
1/06/14
12:00
PM ET
Sure, it'd be fun to actually cover a national title game, but it's not every year you get a day like this in Chicago. Yeah, I know you're jealous.
To the links ...
December, 10, 2013
12/10/13
9:00
AM ET
Brian won the regular-season predictions contest and made me a poorer man Friday night at Harry and Izzy's in Indianapolis (at least he ordered pork chops, not steak). But when it came to the title game forecast, just call me Nostra-Rittenberg, as I correctly pegged Michigan State to upset Ohio State in the Big Ten championship.
Here's a look at our
predictions from last week
and those of former players Dan "Boom" Herron (Ohio State) and Jason Strayhorn (Michigan State).
Let's rewind …
Ohio State vs. Michigan State
Bennett's pick:
Ohio State 27, Michigan State 24
Rittenberg's pick:
Michigan State 30, Ohio State 28
Actual score:
Michigan State 34, Ohio State 24
20-20 hindsight:
Both of us were in the ballpark with the score predictions, and I would have nailed Michigan State's if the Spartans had settled for a field goal rather than a touchdown in the closing minutes (darn you,
Jeremy Langford
). Brian correctly predicted that Ohio State would have its lowest points total of the season and struggle against Michigan State's "No Fly Zone" secondary. He also had Michigan State starting fast behind quarterback
Connor Cook
, who turned out to be the game's MVP. But his forecast of a big fourth quarter for Ohio State fell short, as Michigan State held
Braxton Miller
in check and surrendered only 25 yards in the final 15 minutes.
I expressed some concern that Ohio State, making its Big Ten title game debut and facing its toughest opponent in years, could be a bit shaky, which turned out to be true as Michigan State jumped ahead 17-0. Then again, I predicted Ohio State would take an early lead and Michigan State would force two turnovers, neither of which turned out to be true. I correctly pegged Spartans wideout
Keith Mumphery
for a touchdown catch, but his teammate
Bennie Fowler
didn't get one. Miller's go-ahead touchdown run came in the third quarter, not the fourth, and Michigan State didn't need a game-winning field goal in the end.
Now for our guest forecasters …
While "Boom" Herron's prediction of a 31-17 Ohio State win went bust, Strayhorn correctly picked his Spartans to prevail and came just 34 yards shy of nailing Cook's career-high passing total. Michigan State's perceived weakness, the pass game, turned out to be stronger than Ohio State's (pass defense).
The next set of predictions will come your way before bowl season kicks off.
December, 7, 2013
12/07/13
6:28
PM ET
INDIANAPOLIS -- Greetings from Lucas Oil Stadium, where No. 10 Michigan State and No. 2 Ohio State will soon square off for the Big Ten championship.
I'm no weatherman, but I can safely predict it will be about 72 degrees at kickoff. Or about 50 degrees, at least, warmer than it is outside. By the way, temperatures are in the teens in Chicago right now.


From walking around Indy the past couple of days, it seems like Buckeyes fans outnumber Michigan State fans, and I'd expect there to be more scarlet and gray in the stands. But as one Spartans fan told us last night, "We're Michigan State. We always show up late."
One thing we know is lots of people are showing up for this one. No more jokes about seat fillers, like we had last year with Nebraska and Wisconsin. The game is sold out and tickets were tough to come by. There's a definite buzz around the event because of the national title implications; reporters from New York Times, Sports Illustrated, Yahoo! Sports, CBSSports.com and virtually every major national outlet you can imagine are here. There is so much interest, in fact, that the Big Ten is using an auxiliary media area in one of the end zones.
Let's hope the game lives up to the pregame hype, and I think it will. The Big Ten needs a good show after some image-busting results in the past few years. Ohio State needs to impress if it wants to stay ahead of the SEC champ. Of course, Michigan State didn't come here to lose, but even if the Spartans do fall, they're in great shape for the Rose Bowl -- unless it's a lopsided defeat.
But I don't think that will happen. This Michigan State team is by far the best team Ohio State will have played during its two-year unbeaten streak under Urban Meyer. A worthy champion will be crowned tonight.
We've broken down countless angles in this game. A few more areas to watch:
Michigan State's offensive line:
This group hasn't gotten a lot of attention all year, but it has been very good. Meyer called the Spartans "rugged" up front on Friday. They have to have a great game tonight and keep guys like
Noah Spence
,
Joey Bosa
and
Ryan Shazier
from crashing into the backfield and getting to
Connor Cook
.
Ohio State's linebackers not named Shazier:
Curtis Grant
is still a bit gimpy. Meyer says
Joshua Perry
is coming on. But there's little doubt that linebacker has been a sore spot outside of Shazier. No matter who you are, losing your starting middle linebacker to injury -- as the Buckeyes did with Grant -- is going to hurt the defense. The Spartans want to be physical in the run game with
Jeremy Langford
. The Buckeyes' linebackers have to be ready.
Michigan State's receivers:
The Spartans wideouts have made a major improvement from a year ago, particularly guys like
Bennie Fowler
and
Tony Lippett
. But they still suffer from the occasional drops. That can't happen tonight. Ohio State is still vulnerable in the back end, and there will be plays for the receivers to make. They need to make them, because you don't beat the Buckeyes by missing opportunities.
Those are a few more story lines for the game. Much, much more to come …
December, 5, 2013
12/05/13
9:00
AM ET
Dinner is on Adam in Indianapolis on Friday night, thanks to Brian's nailbiter of a win in the regular-season picks contest. But we all know the main course arrives Saturday night at Lucas Oil Stadium.
We've got a bona fide heavyweight tilt in the Big Ten championship game, with national title implications at stake. It's time to crown a champion, and we need to be in championship form with these predictions ...


No. 10 MICHIGAN STATE (11-1, 8-0) versus No. 2 OHIO STATE (12-0, 8-0)
Brian Bennett:
What a matchup this is, with the unstoppable force that is the Buckeyes' offense colliding with the immovable object of the Spartans' defense. I expect Ohio State to put up its lowest point total of the season as the "No-Fly Zone" led by
Darqueze Dennard
keeps the Buckeyes' air attack mostly grounded. And I expect the Spartans to make some plays on offense with
Connor Cook
and
Jeremy Langford
as they exploit some of the weaknesses of Urban Meyer's defense.
To me, this game comes down to one guy:
Braxton Miller
. He always seems to rise to the occasion in big spots, and this is the biggest game of his career. As good as Michigan State's defense is, it will have a hard time containing Miller and
Carlos Hyde
for 60 minutes, and Miller can flummox the best of defenses with his open-field running ability.
The Spartans take the lead into halftime as Cook is sharp early on, but Miller gets loose for a 60-yard touchdown run in the third quarter to give Ohio State the lead. Then he and Hyde grind out first downs in the fourth quarter to protect it. Still, both teams can bite down on some roses, because they're both headed to Pasadena.
... Ohio State 27, Michigan State 24
Adam Rittenberg:
This is the matchup we've been waiting to see, and I can't wait for kickoff Saturday night. As I often do, I've changed my mind several times during the week. Michigan State should handle Ohio State's offense better than any defense has all season. Then again, Big Ten championship games are high scoring since teams no longer have to deal with the weather. Cook has never been on a stage like this and could show his inexperience. Then again, he has answered every challenge to date. And Miller hasn't played in a game of this magnitude, either.
I keep thinking back to last year's title game, where Nebraska came in as a favorite but clearly looked intimidated by the setting and the stakes. Wisconsin was the much looser team, played like it and spanked the Huskers. These are two different teams -- I think Michigan State will be the looser one, as the Spartans are likely headed to the Rose Bowl either way. Ohio State finally has the national title game in its sights. How will the Buckeyes hold up against the best team they've faced since 2011?
Ohio State jumps ahead early, as it almost always does, but the Spartans settle down and force two turnovers midway through the game. Cook attacks the secondary with the play-action and fires touchdown passes to
Bennie Fowler
and
Keith Mumphery
. Miller puts Ohio State in front midway through the fourth quarter with a touchdown run, but the Spartans answer behind Cook and Jeremy Langford, who finds some running room late. Michigan State ends this title game on the right side of a special-teams play, as
Michael Geiger
kicks his third field goal for the win. And the SEC rejoices.
... Michigan State 30, Ohio State 28
As you probably know, we've selected a guest picker each week this season to compete with us. For a game this big, we thought we needed to do something special. So we reached out to a couple of celebrity guest pickers from each side who have ties to Indianapolis as well.
First up is former Ohio State running back
Daniel "Boom" Herron
, who's now with the Indianapolis Colts. Herron picks the Buckeyes to win 31-17, saying, "I have confidence in my team and coaching staff. I haven't really watched [Michigan State], but I don't think they can stop our offense, and our defense will get the job done."
Our second guest picker is former Michigan State center
Jason Strayhorn
, an Indianapolis native who's now an analyst for the Spartans' radio network. Strayhorn says, "I think the game will come down to not only red zone defense, but also whose weakness is stronger: Michigan State's passing game versus Ohio State's pass defense. I say Connor Cook throws for 270 yards and Michigan State wins 28-24. I say that because that was the score we had when we went to Columbus and beat the No. 1 ranked Buckeyes in 1998."
Thanks to Boom and Jason for their picks. We'll find out who's right Saturday night.
SEASON RECORDS
Brian Bennett:
80-16
Adam Rittenberg:
79-17
Guest pickers:
75-21
October, 20, 2013
10/20/13
10:00
AM ET
Five lessons from Big Ten play in Week 8:
1. Separation not wide in the Big Ten:
Given the schedule, we expected Saturday to be filled with blowouts. Just about every game featured double-digit favorites. But with the exception of the Wisconsin-Illinois game, every contest was in doubt late in the second half. Iowa was tied with Ohio State in Columbus going into the fourth quarter. Michigan State struggled to put away Purdue. Minnesota upset Northwestern on the road. Michigan needed some school-record offensive performances to finally get by Indiana. Even Illinois scored 32 points on a Wisconsin defense that had been very stingy. This tells us that the final six weeks of the season could be a wild ride, especially in November, when many of the top contenders play each other. Ohio State is the Big Ten's best team but hasn't dominated any of its first three league opponents -- in fact, the Buckeyes have trailed at halftime in their past two outings. Indiana plays almost no defense but will make every opponent beat it in a crazy shootout. Teams like Michigan, Michigan State and Nebraska have enough flaws that you're not quite sure what to expect from week to week. Call it parity or call it mediocrity. Either way, the rest of the Big Ten race should be a whole lot of fun.
[+] Enlarge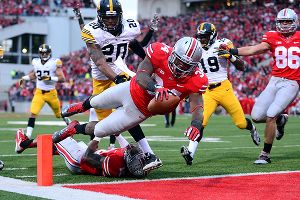 Andrew Weber/USA TODAY SportsOhio State tailback Carlos Hyde rushed for 149 yards and two scores in the win over Iowa.
2. Ohio State is becoming a second-half team:
Coach Urban Meyer's Buckeyes had their first few victories sewn up at the end of the first half, if not the first quarter. In Ohio State's first five games, it outscored its opponents 121-21 in the first quarter and 175-47 in the first half. But after going conservative in the second half of a Sept. 28 win against Wisconsin, the Buckeyes are starting to play their best football in the final 30 minutes of games, mostly because of necessity. Much like they did against Northwestern, the Buckeyes struggled early Saturday against Iowa, which had a terrific offensive game plan and limited Ohio State to 25 first-half plays. But the Buckeyes' offense put on a clinic in the second half, scoring three touchdowns and a field goal on its first four possessions. Ohio State ran 30 plays in the third quarter alone.
Braxton Miller
, nearly benched against Northwestern because of turnovers, showed why he's the reigning Big Ten offensive player of the year, completing 22 of 27 passes for 222 yards and two touchdowns with no interceptions. He added 102 rush yards, including a cross-field 9-yard scamper on third-and-7 that set up an even better run by
Carlos Hyde
, who leaped into the end zone for a 19-yard score. Hyde again proved too much down the stretch, bulldozing his way to 149 rush yards and two touchdowns on 24 carries. Ohio State isn't getting rattled by shaky starts, and its knack for strong finishes should come in handy in November.
3. Northwestern has come unglued:
A little more than a fortnight ago, Northwestern was a top-20 team that held a fourth-quarter lead on Ohio State. Pretty much nothing has gone right since then. The Wildcats got manhandled 35-6 in Week 7 at Wisconsin, a performance that one could easily chalk up to an Ohio State hangover. But after a 20-17 home loss to Minnesota, it now seems Northwestern is suffering from a serious illness. Losing quarterback
Kain Colter
and running back
Venric Mark
-- both of whom were injured again at Wisconsin and didn't play versus the Gophers -- has robbed the Wildcats of explosiveness on offense, although coach Pat Fitzgerald's team should still have enough talent to get by Minnesota at home. You wonder whether the injuries have taken a mental toll, and quarterback
Trevor Siemian
has struggled in a full-time role. Northwestern was once 4-0 and looking like one of the best teams in the Big Ten. Today it is 0-3 in the league, out of Legends Division contention and in need of some answers fast.
4. Don't get too excited about that Michigan State offensive renaissance:
Two straight solid offensive performances -- including a 42-point outburst in Week 7 versus Indiana -- made it appear that Michigan State had solved its long-running problems on that side of the ball. Saturday's 14-0 win over Purdue will slow down some of that talk. The Spartans managed just one offensive touchdown and only 294 total yards against the Boilermakers, who entered the game last in the Big Ten in scoring defense (37.8 points per game allowed in the first six weeks). Quarterback
Connor Cook
, who had come on strong the previous two weeks, went just 13-of-25 for 107 yards. Wide receiver
Tony Lippett
threw for the lone offensive score on a trick play. At least running back
Jeremy Langford
had another big day, rushing for 131 yards. Yeah, the weather wasn't great. But the Spartans missed injured receiver
Bennie Fowler
(hamstring) more than we expected, and given the opponent, their performance raises questions again about whether this is a championship-level offense.
5.
Quarterbacks shuffle again at Minnesota and Indiana:
If you can figure out the quarterback situations for either the Gophers or the Hoosiers, please let us know. After going back and forth between
Mitch Leidner
and
Philip Nelson
-- who appear to share similar skills -- Minnesota seemed to settle on Leidner as its starter. But then Nelson came in and played much better in relief while leading the team to a big victory at Northwestern. Is Nelson back to being the guy? Or is this just a ride-the-hot-hand situation? Similarly, we were confused as to why Kevin Wilson had been reluctant to anoint
Nate Sudfeld
as the Hoosiers' main signal-caller despite Sudfeld's gaudy numbers this season. Wilson insisted that
Tre Roberson
still had a role, and Roberson gave the team a huge spark at Michigan with 288 passing yards. Sudfeld threw a costly interception late after Roberson got dinged. Perhaps both teams can juggle two quarterbacks as effectively as Northwestern has done for the past year and a half.
October, 10, 2013
10/10/13
10:15
AM ET
Ten things to keep your eyes on in the four Big Ten games on Saturday:
1. Strength vs. strength for the Spittoon:
The Indiana-Michigan State game might not be the most-hyped matchup of the weekend, but if you like irresistible force/immovable object conflicts, this one's for you. The Spartans lead the FBS in total defense, rush defense and passing efficiency defense. The Hoosiers, meanwhile, are ninth nationally in total offense, 10th in passing yards and 11th in scoring. Indiana scored the first 17 points of the game last year in Bloomington before falling 31-27. This year's Old Brass Spittoon winner will go to the team that better parlays its strengths and its corresponding weaknesses (Michigan State's defense, Indiana's offense).
2. Inexperienced travelers:
Both Indiana and Nebraska have had comfortable early-season schedules, as each has played its first five games at home. Both teams go on the road for the first time this week, with the Hoosiers in East Lansing and Nebraska visiting Purdue. Bo Pelini said the schedule worked out well for his young defense to gain some less stressful experience, but he still will be leaning on youthful players both on defense and at quarterback with redshirt freshman
Tommy Armstrong Jr
. Indiana coach Kevin Wilson said his team uses a lot of hand signals on offense, so he's not too worried about crowd noise. Michigan also gets easily its toughest road test at Penn State, which should be a much more intimidating atmosphere than UConn's Rentschler Field.
3. Heartbreak Hotel, aka Camp Randall Stadium:
No team has suffered more gut-wrenching close losses in the past 2½ years than Wisconsin. But at least Northwestern can relate. Both teams might be playing for national titles if the NCAA shortened games to 55 minutes. On Saturday, Team 5:03 travels to the team that has yielded more Hail Marys than the pope's rosary beads. Both the Wildcats and Badgers are also coming off tough losses to Ohio State, with Wisconsin having two weeks to lick its wounds. The winner can still dream about a BCS bowl. The loser will be in serious catch-up mode. Is there any way it can end except on a key play in the final minute?
4. Northwestern's run defense vs. Wisconsin's rushing attack:
The Wildcats had trouble stopping Ohio State's offensive line and bulldozing back
Carlos Hyde
as the Buckeyes racked up 248 rushing yards in last week's 40-30 win. Northwestern players and coaches say it was more a matter of tackling and execution than a size and strength issue. They will have to do a much better job this week against Wisconsin, which is averaging 300 rushing yards per game. By all accounts, star tailback
Melvin Gordon
's left knee is fine after he injured it against Ohio State two weeks ago, and
James White
ran for 134 yards the last time these two teams played, in 2010 (yes, he's been around a long time). The Badgers ran for 329 yards in that last meeting three years ago. The teams have changed, but Wisconsin's approach hasn't. Northwestern had better hope its run defense has improved.
[+] Enlarge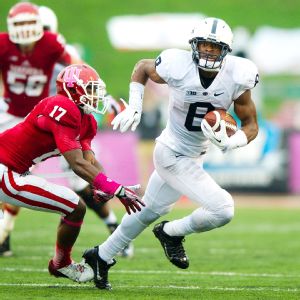 AP Photo/Doug McSchoolerPenn State wideout Allen Robinson has 38 catches for 621 yards this season, with five touchdowns.
5. Penn State's response:
Bill O'Brien has been jovial in many of his news conferences this year, but he was clearly not a happy man on Tuesday.
O'Brien was terse in his answers
with the media and basically refused to address anything regarding the Indiana loss or the team's scholarship situation. It's understandable why he wouldn't want to relive the program's first-ever loss to the Hoosiers or dwell on problems, because he needs his team focused on 5-0 Michigan, which comes to Beaver Stadium for a 5 p.m. game. The game is sold out and will be a White Out, though the enthusiasm from the fans might be a little less than before last week's loss. It remains to be seen whether the team will match O'Brien's feistiness and come out with a much better effort this Saturday.
6. Allen Robinson vs. Blake Countess:
Penn State's Robinson is the reigning Big Ten receiver of the year and is gunning for another trophy after his 12-catch, 173-yard day against Indiana last week. Michigan's top job on defense is to find a way to stop him, and that's where cornerback Countess should come in. Countess has four interceptions this year, tying him for the national lead. The Wolverines likely will need more than just Countess to slow down Robinson, and Penn State continues to search for a complementary weapon in the passing game for quarterback
Christian Hackenberg
.
7.
Ryan's return?
Michigan linebacker
Jake Ryan
has been itching to return from the torn ACL he suffered in the spring, and he has been medically cleared to play on Saturday in State College. Coach Brady Hoke appears hesitant to put his star back in there, fearing the risk of further injury. Hoke said Wednesday that Ryan has practiced as a backup. The Wolverines' defense has been light on big-play ability, which Ryan brings to the table in spades. Getting him back would provide a physical and emotional boost for Michigan.
8.
Etling's big day:
In what has been a sorry season so far for Purdue, at least quarterback
Danny Etling
provides reason for optimism. After making his college debut two weeks ago against Northern Illinois, the freshman gets his first start Saturday vs. Nebraska. Head coach Darrell Hazell says Etling's strong arm opens the whole field for the Boilermakers' passing game, and he hinted at offensive changes made during the bye week to suit Etling's skills. Nebraska's defense did a good job slowing down Illinois' passing attack last week but still has vulnerabilities. Etling had better watch out for cornerback
Stanley Jean-Baptiste
, who -- like Countess -- has four interceptions this season.
9. Two steps forward for Spartans' passing game?
Michigan State had its most encouraging offensive performance of the season in last week's 26-14 win at Iowa. Quarterback
Connor Cook
made good decisions en route to a 277-yard day, and even better for the offense, receivers
Bennie Fowler
and
Macgarrett Kings Jr
. showed off excellent playmaking ability. While not exactly an Oregon-esque outburst, last week's offensive showing was the kind the Spartans and their fans had been waiting to see for more than a year. The key will be whether that is a repeatable performance, especially this week against a below-average Indiana defense.
10. Well, hello again (and for the first time):
One of the most aggravating byproducts of conference expansion is the gap between games for some high-profile programs. Michigan hasn't played Penn State since 2010, while Northwestern and Wisconsin also haven't met in three years despite the short distance between the two schools. That's why it's good to see those two games on the schedule this weekend. With the new division alignment starting in 2014, the Wolverines and Nittany Lions will be paired in the East, while the Wildcats and Badgers will be in the West. Perhaps this will be the start of some renewed rivalry tensions in both series. Meanwhile, Nebraska plays Purdue for the first time as a Big Ten member. The schools have only played twice before and not since 1958 in West Lafayette. Scouting takes on added importance in all three of those games, as these teams have few players and coaches who have ever faced one another on the field.
October, 6, 2013
10/06/13
10:00
AM ET
Five lessons learned from a full week of conference play on Saturday:
[+] Enlarge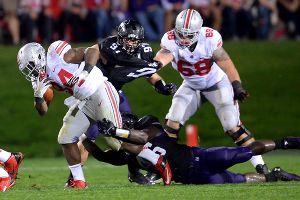 Allen Kee/ESPN ImagesCarlos Hyde carried 26 times for 168 yards and scored three second-half touchdowns Saturday.
1. Ohio State can handle adversity; will it be enough?
Ohio State hadn't trailed all season before finding itself in a dogfight at Northwestern in which it had to come from behind in the fourth quarter on the road. In the end,
Carlos Hyde
and the Big Ten's best offensive line proved too much for the Wildcats. The Buckeyes are now 6-0, halfway to another undefeated regular season heading into a bye week and riding an 18-game winning streak under Urban Meyer. Yet Ohio State has shown some weaknesses, particularly with a pass defense that Northwestern exploited for 343 yards the week after safety
Christian Bryant
was lost for the season. A win is a win, and 18-0 is 18-0, but Meyer's team hasn't produced a lot of style points that would distinguish it in what looks like -- for now, anyway -- a very crowded BCS title chase. The good news is that the Buckeyes have cleared two of their biggest hurdles of the season with back-to-back wins over Wisconsin and the Wildcats, and they might not be challenged again until the season finale at Michigan, if even then. We wouldn't mind seeing a Northwestern-Ohio State rematch in Indianapolis, as Pat Fitzgerald's team looks like the best in a muddled Legends Division scrum, but the remaining schedule is tough. Someone from the Big Ten is probably going to have to play a near-perfect game to beat the Buckeyes; it remains to be seen whether perfection will be enough for Ohio State to get into the national title game.
2. Nebraska's defense and Michigan State's offense provide hope:
The Huskers' defensive struggles and the Spartans' offensive woes were the top storylines for each team through the first month of the season. Nebraska entered the open week needing to repair a defense that hadn't stopped anyone consistently, from nationally ranked UCLA to FCS foe South Dakota State. But the Blackshirts responded against an Illinois offense that had made a bunch of big plays through the first four games. Young defenders like
Jared Afalava
,
Randy Gregory
and
Michael Rose
all had big games, as did veteran nickelback
Ciante Evans
, as Nebraska held Illinois out of the end zone for two and a half quarters. Nebraska's offense did its thing behind running back
Ameer Abdullah
, but the defense's progress is encouraging for the future. Michigan State also saw an encouraging performance from its offense, as quarterback
Connor Cook
bounced back from his struggles at Notre Dame and got some help from not one, but two receivers in
Macgarrett Kings Jr.
(five catches, 94 yards, TD) and
Bennie Fowler
(nine catches, 92 yards, TD). Michigan State dominated possession time (37 minutes, 13 seconds) and scored the game's final 16 points. Nebraska will continue to lean on its offense, while Michigan State will rely on the Spartan Dawg D, but both teams looked more balanced Saturday, which is a great sign for their chances in the wide-open Legends division.
[+] Enlarge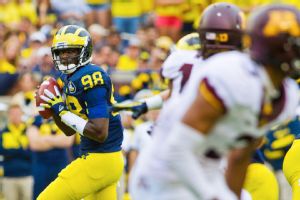 AP Photo/Tony DingAfter a week off, Devin Gardner accounted for 252 yards and two touchdowns, with no turnovers.
3. Bye weeks can be helpful:
Data doesn't support the notion that bye weeks are beneficial to a team's win-loss record. But when a team is struggling in a certain area and has a week to work on it, that can be very helpful. As mentioned above, Michigan State and Nebraska both showed much improvement on their underwhelming sides of the ball after being idle in Week 5. Michigan worked in two new starters on the offensive line and came out determined to run the ball versus Minnesota. While the yards per carry average (3.2) still wasn't great, the push was better and the Wolverines ran for four touchdowns. More importantly, quarterback
Devin Gardner
finally played a turnover-free game. Indiana, meanwhile, simplified things for its young defense, as coach Kevin Wilson said there "was less on their plate" against Penn State. That worked, as the Hoosiers were able to attack and play loose in a 44-24 win over the Nittany Lions, coming up with several key stops. Northwestern obviously used its bye to get
Venric Mark
healthy and to work on more plays with
Kain Colter
at receiver, both of which proved helpful, indeed. The only team that didn't show some improvement after a Week 5 holiday was Penn State, although that might be due because of depth and injury issues than anything else.
4. Pump the brakes on Iowa and Illinois:
The Hawkeyes and Illini had been undoubtedly the league's two big surprises through September and had chances to keep the good vibes going on Saturday. But Iowa took a step back against Michigan State, unable to run the ball or prevent a typically pedestrian Spartans passing attack from stretching the field. Iowa didn't look like a Legends Division contender and paid a price on the injury front. Things don't get any easier after an open week, as Iowa visits Ohio State (Oct. 19). Illinois needed its high-powered offense to strike against a seemingly vulnerable Nebraska defense, but it never happened, as
Nathan Scheelhaase
struggled with his accuracy. The Illini defense had all sorts of trouble against Nebraska's backup quarterback and running back Ameer Abdullah. Illinois has another week off before home tests against Wisconsin (Oct. 19) and Michigan State (Oct. 26). Both Iowa and Illinois could make bowls, but neither looks like a serious division contender.
5. Magic might be gone for Penn State:
There were few better stories in the Big Ten last year than the way Penn State played under the cloud of NCAA sanctions, especially as the Nittany Lions won eight of their last 10 games. But Michael Mauti, Gerald Hodges and Jordan Hill aren't walking through that door. Not only does Penn State lack the incredible senior leadership of last year's group -- which is less a knock on the current players than a tip of the cap to last year's veterans -- but it is struggling to find speed and playmakers on a defense that looks like one of the weakest in years in State College. The only two decent passing attacks on the Lions' schedule -- UCF and Indiana -- shredded Penn State defensive coordinator John Butler's crew. Meanwhile, the offense is becoming too reliant on the individual greatness of receiver
Allen Robinson
and failed to dominate an Indiana rush defense that has been the Big Ten's worst for multiple years in a row. A 20-point loss to the Hoosiers, in a game in which his team trailed 42-17, is easily the worst defeat of the Bill O'Brien era. The team is down to 61 scholarship players, and not all of them are healthy. "I don't think in any stretch of anybody's imagination that this is a normal Penn State team," O'Brien said. Unfortunately, this might be the new normal for Penn State as the sanctions take their toll, and another 8-4 season might well require some magic at this point.
Did Ohio State Cheap Out On Championship Rings?
BIG TEN SCOREBOARD
Thursday, 9/3
Friday, 9/4
Saturday, 9/5
Sunday, 9/6
Monday, 9/7