Ohio State Buckeyes:

Bears-Buckeyes-091512
September, 15, 2012
9/15/12
8:01
PM ET

Brian Bennett interviews Ohio State running back Jordan Hall, who made his season debut in a win against Cal.
September, 15, 2012
9/15/12
7:00
PM ET
COLUMBUS, Ohio -- A defensive line that was already banged up was close to another significant absence.
John Simon
wasn't going to allow that to happen if he could help it.
The Ohio State senior was apparently close to missing Saturday's 35-28 win over California with a shoulder injury that hadn't previously been disclosed -- an issue that surprised even coach Urban Meyer with its severity after assuming all throughout practice this week that Simon would be ready to go.
"He almost didn't play, and I didn't know that because they told me all week he should be fine," Meyer said. "He didn't practice much because of a sore shoulder -- no ligament damage or anything like that.
"When you say sore, for most human beings they're probably up in the Ohio State Medical Center, but that's how tough he is."
Simon might have shown a softer side, though, after he battled his way though the game and picked up his first sack of the season.
The two-time captain offered an impassioned speech to the Buckeyes when it was all over in the locker room, only adding to his reputation as a leader respected by his teammates -- and his new coach.
"Mark that down, you can put a jersey up there or something that says John Simon because that's a grown-a-- man," Meyer said. "If we have another child, I want to name him Urban John Simon Meyer or something like that.
"That's how much I love the guy. I'm not ashamed to say I love him -- love that guy."
Other notable injuries:
As expected, running back Carlos Hyde missed the game with a knee sprain. The junior might be out next week against UAB as well, though he is expected to be cleared in time for the Michigan State game Sept. 29.
Defensive end Michael Bennett missed the game with a groin injury.
September, 15, 2012
9/15/12
6:43
PM ET
COLUMBUS, Ohio -- The case might have already been made.
[+] Enlarge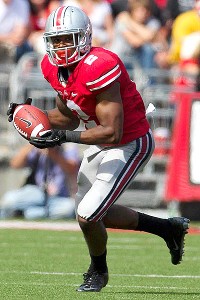 Greg Bartram/US PresswireChristian Bryant's first career interception sealed the Buckeyes' 35-28 win over California.
Flying around the field to make tackles, arriving at just the right time to break up passes and finding ways to influence the game at safety,
Christian Bryant
was well on his way to perhaps the best performance of his career.
After sealing a 35-28 win over California with a fourth-quarter interception, there wasn't much left to argue about for the Ohio State junior.
"I feel like it was my best game so far," Bryant said. "Just finally getting my hands on the ball, finally see how it feels so hopefully there's many more to come.
"I've still got a lot of progress to make, and I'm just going into the next week trying to get better."
There is room for improvement all over a defense that was gashed for 512 yards, but Bryant helped stop the bleeding with his meaningful plays in the secondary.
Before icing the victory with the first interception of his career, Bryant turned in two of the most pivotal defensive plays of the game in the third quarter with the Golden Bears driving just outside the red zone. On consecutive snaps, Bryant delivered huge hits to break up a couple passes and force a Cal field goal -- which was missed from 42 yards and kept Ohio State in the lead.
"I just try to make big plays, come up big for our team," Bryant said. "I know just coming back as one of the leaders of the defense this year, it's about that time that I make big plays each and every week."
The time officially arrived against Cal, right when the Buckeyes needed him most.
September, 15, 2012
9/15/12
6:38
PM ET
COLUMBUS, Ohio -- The projected starter was healthy enough to play, and Ohio State gave him his job right back.
The coaching staff never even turned to a backup after that first snap, either, rolling with
Jordan Hall
in his first game back from start to finish.
The senior wasn't perfect in his return from surgery to repair a torn tendon in his foot in June, and at times he looked unsure of where to go with the football in his hands. But he was effective enough in a 35-28 win over California that the Buckeyes gave him every rushing attempt that went to a tailback after a week of uncertainty at the position.
"There was certainly, I don't want to say rust, but some issues with Jordan seeing where plays should go," offensive coordinator Tom Herman said. "But at the same time, he hadn't played a whole lot of football since spring practice. That's to be expected, and I'm sure he'll come out and play better."
At a minimum, Hall was able to help ease the burden on quarterback
Braxton Miller
by taking the ball 17 times and chipping in when needed in pass protection. He also was productive by averaging more than 5 yards per carry on the way to 87 against the Golden Bears, a total that looked like it could be improved as he gets comfortable again in the offense thanks to a potentially dynamic combination with Miller in the option game on the perimeter.
The Buckeyes didn't even try tinkering with other pairings against California, leaving both
Bri'onte Dunn
and
Rod Smith
without carries despite being listed as the top two running backs on the depth chart all week until Hall officially reclaimed his position.
"It felt great, felt good being back out there at practice with the guys, my brothers," Hall said. "I just want to get back to work. I had a little rust, and I just want to get back to work and get better."
September, 15, 2012
9/15/12
4:32
PM ET
The Horseshoe is a difficult venue for any team to play in, even a team that didn't have a true home game last season, like Cal. And the Golden Bears learned that lesson as well as anyone as they dropped a close game to Ohio State
35-28
in Columbus.


The win moved No. 12 Ohio State to 3-0, with all three wins having come at home. And with one more nonconference game (also at home) before the Buckeyes start Big Ten play, they are setting themselves up to have quite the home win streak going.
It was over when
: Cal quarterback
Zach Maynard
threw an interception with a minute remaining in the game. The senior threw his only interception of the game on a first-and-10 even though his target downfield was faced with triple coverage. With the overthrow, Ohio State returned the ball, then took a knee for the win on its ensuing possession.
Game ball goes to
:
Christian Bryant
. The junior defensive back returned Maynard's interception for 38 yards and extinguished any kind of comeback Cal was plotting.
Stat of the game
: Ohio State recorded six sacks by six different players.
The defense wasn't suffocating by any means. It allowed 520 yards of Cal offense and was a big part of Ohio State's 11 penalties. But Buckeyes kept Maynard aware and rushed the QB well. Because of the blitzes and sacks, Maynard finished the day with minus-46 rushing yards.
What we learned about Ohio State
: The Buckeyes can beat good teams even when quarterback
Braxton Miller
is hot and cold.
We seemed to see the best and worst out of the sophomore signal-caller against Cal. On one possession in the fourth quarter, he led Ohio State down the field, rushing for 17 yards and completing four of his five passes for 43 yards. The drive ended in a touchdown, and Miller accounted for the two-point conversion. On the ensuing possession, he threw an interception. He finished the day with a completion rate a little better than 50 percent, but the Buckeyes got the win and they'll move on to the next one.
What we learned about Cal
: The Bears can stay with top teams in the country when they have a balanced attack on offense. Against the Buckeyes, they put 224 yards on the ground and 288 in the air. Because of that, Ohio State had to play them honestly, and Cal kept it close until the end (though, normally, playing catch up). In an earlier loss to Nevada, Cal rushed for a little more than 100 yards and relied too much on the air attack. The Bears are best when they're multidimensional. That's the team we saw against Ohio State.
September, 15, 2012
9/15/12
1:49
PM ET
COLUMBUS, Ohio -- The offensive backfield picked up a boost with the return of running back
Jordan Hall
.


The pressure from the defensive line also made a comeback with four sacks in the first half.
And
Braxton Miller
is still rolling right along and piling up touchdowns.
In all, it added up to a relatively pain-free first half for Ohio State as it jumped out to a 20-7 lead at halftime over California on Saturday at Ohio Stadium.
Stat of the half:
Miller limited his carries, but that didn't really slow down his production. The sophomore quarterback turned in another electrifying touchdown run from 55 yards, eluding a couple tacklers at the line of scrimmage with an incredible juke and pulling away by shifting into his top gear down the left sideline. He accounted for two more touchdowns through the air to stake the Buckeyes to a lead.
Player of the half:
The Golden Bears have challenged Ohio State's receivers with one-on-one coverage down the field, but they might need another body to help stop
Devin Smith
. The sophomore receiver adjusted his body in the air to haul in a 25-yard touchdown and later added an athletic reception that covered 35 yards in a productive half of work with Miller.
What's working for Ohio State:
Cal made its choice to try to limit Miller's effectiveness as a rusher. That plan wasn't always successful, and it really didn't make any difference to the Buckeyes with Miller hitting on 10 of his 14 attempts for 129 yards and two touchdowns through the air. The only problem so far offensively has been a couple bad drops that have ended drives.
What's not working for Ohio State:
The flags are still flying all over the field, and they haven't been for minor infractions. The Buckeyes were hit for two unsportsmanlike penalties in a span of five plays in the second quarter, and they later had two significant calls made against them on a single snap with a late hit on the quarterback and a personal foul for grabbing a facemask. They'll need to clean those issues up when games get tighter.
September, 15, 2012
9/15/12
10:45
AM ET
COLUMBUS, Ohio -- Hello from the Horseshoe.
It's a lovely day for football here, with fall-like temperatures in the 60s at kickoff. Doesn't get much better than this.


Unless you're the California Bears, who probably would like a little more sleep. Remember, today's kickoff is at 9 a.m. on the Bears' body clocks. But that's not their biggest concern. Jeff Tedford's program has been slipping of late and hasn't been really impressive this season, losing to Nevada at home and giving up 31 points to Southern Utah last week in a win.
Still, this should be a good test for Ohio State. Cal's defense will load the box, often with eight defenders near the line of scrimmage. The Bears will do everything they can to keep quarterback
Braxton Miller
, the Big Ten's leading rusher, from beating them with his feet. The Buckeyes likely will have to make some things happen in the downfield passing game, an area that's still a bit of a work in progress for them. But it's something they will need down the road, for sure.
The running game outside of Miller remains a question mark.
Carlos Hyde
(knee) is out.
Jordan Hall
(foot) is dressed and should make his season debut. Urban Meyer has said Hall's foot is healed, but he's rusty and the team doesn't want to push him too hard and risk further injury. So we likely will see Hall in a very limited basis today. Freshman
Bri'onte Dunn
is likely to get the start at tailback.
Meyer also wants to see more pressure from his defense today, and Cal's passing attack should give OSU opportunities. The Buckeyes don't want to get too aggressive, though, and allow big plays by star receiver
Keenan Allen
. He is also dangerous in the return game, as he scored on a 69-yard punt return last year.
If Ohio State is as good as its No. 12 ranking, it should take care of business today. Stay tuned for much more coverage.
Easiest Path To The 2015 College Football Playoff
BIG TEN SCOREBOARD
Thursday, 9/3
Friday, 9/4
Saturday, 9/5
Sunday, 9/6
Monday, 9/7