Brian Bennett interviews Ohio State running back Jordan Hall, who made his season debut in a win against Cal.
COLUMBUS, Ohio -- A defensive line that was already banged up was close to another significant absence.John Simon wasn't going to allow that to happen if he could help it.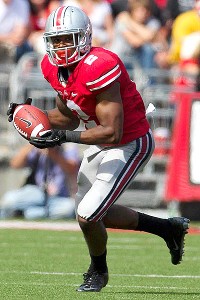 COLUMBUS, Ohio -- The case might have already been made.Flying around the field to make tackles, arriving at just the right time to break up passes and finding ways to influence the game at safety, Christian Bryant was well on his way to perhaps the best performance of his career.
COLUMBUS, Ohio -- The projected starter was healthy enough to play, and Ohio State gave him his job right back.The coaching staff never even turned to a backup after that first snap, either, rolling with Jordan Hall in his first game back from start to finish.
The Horseshoe is a difficult venue for any team to play in, even a team that didn't have a true home game last season, like Cal. And the Golden Bears learned that lesson as well as anyone as they dropped a close game to Ohio State 35-28 in Columbus.
COLUMBUS, Ohio -- The offensive backfield picked up a boost with the return of running back Jordan Hall.The pressure from the defensive line also made a comeback with four sacks in the first half.
COLUMBUS, Ohio -- Hello from the Horseshoe.It's a lovely day for football here, with fall-like temperatures in the 60s at kickoff. Doesn't get much better than this.