Ohio State Buckeyes:

Barry Alvarez
June, 25, 2014
6/25/14
12:00
PM ET
It's OK, these links don't bite.
June, 18, 2014
6/18/14
5:00
PM ET
Welcome to the hump day edition of the Big Ten mailbag. I'll have another one on Friday in Adam's usual time slot since he's on vacation, but I need questions. So send them
here
or hit us up on
Twitter
.

@JeffHurdaCow via Twitter writes:
After thinking about all of the big games in Badgers history, is the LSU game the biggest? Program-changing game?
Brian Bennett:
There's no doubt that the opener against LSU looms large for Wisconsin. Win that and the Badgers would gain immediate respect and -- with their very manageable schedule -- could put themselves in position to make the College Football Playoff. But biggest ever? I don't think so. For starters, it's just an opener, and we're not even sure how good LSU -- which finished No. 14 in the major polls last season -- will even be. I don't see how that's bigger than, say, Wisconsin's first Rose Bowl victory over UCLA under Barry Alvarez on New Year's Day 1994. Or even beating then-No. 1 Ohio State at home in 2010. To say nothing of the 1940s and '50s.
---

@joe_lloyd11 via Twitter writes:
What would you consider Penn State's biggest trap game to be in 2014?
Brian Bennett:
Fun question, and hopefully we'll be looking at trap games for every team later on this summer. For Penn State, I would say it's Week 2 against Akron. Sure, it's at home and the Zips haven't been very good in recent years. But the game also comes on the heels of the opener in Ireland against UCF, and if you've ever flown back home from overseas, you know it takes your body a couple of days to readjust. Akron went 5-7 last season, nearly beat Michigan and returns a lot of experience for Terry Bowden. So the Nittany Lions had better avoid any Irish hangover.
---


RC Marsh from Medina, Ohio, writes:
OSU,
best defensive ends in the Big Ten
? Have you forgotten about four-year starter
Marcus Rush
and maybe the best DE in the nation, 2013 Big Ten D-Line player of the year
Shilique Calhoun
? MSU may have back up DEs better than most starting DEs in in the Big Ten this year. OSU and UM continue to get an exceptional amount of space in the Blog, but both lost to MSU last year and will likely again this year. Like Alabama, MSU substitutes 30 plus players during their games, even big games. That gives them an advantage against teams that don't, aka OSU & UM.Your comments?
Brian Bennett:
Well, what I actually wrote in Monday's mailbag was that
Joey Bosa
and
Noah Spence
are "two of the top returning defensive ends in the league." That's indisputable. But you're right in that Rush often gets overlooked for Michigan State. He doesn't often put up huge numbers, as he set a career high last season with five sacks, to go along with 7.5 tackles for loss. But he gives Pat Narduzzi exactly what he's looking for from that position in the Spartans' defensive scheme. Rush has been an excellent player for a long time. Bosa and Spence form, in my opinion, the best pure pass-rushing defensive end duo in the Big Ten this year. But Michigan State might have the best two overall ends. Either way, just another reason to get excited for that Nov. 8 game in East Lansing.
---

Greg M. from Bel Air, Md., writes:
Two weeks, Brian ... that's right two weeks and the
Rutgers Scarlet Knights
will officially join the B1G. B1G fans may not be high on it, but Rutgers fans are all excited and looking foward to it. Rutgers athletics will do the B1G right. I am here to say RU's fans will root hard for RU vs. other B1G schools when we play them but be sure, RU fans we will also be first in line to root for every B1G team against the other conferences. After all on July 1, the Scarlet Knights are B1G. GO RU.
Brian Bennett:
Didn't really see a question in there, but I know Rutgers fans are as pumped up to join the Big Ten as any fan base has ever been about entering a new league. Glad to hear Scarlet Knights fans are going to support everyone else in the conference. It remains to be seen if the rest of the league will feel as much connection toward Rutgers in the early going.
---
Greg from Springfield writes:
Brian, with all this talk of paying players, why haven't we heard more about them being allowed to sign autographs for pay? Let ALL college athletes do this. This will remove the problem of having schools pay scholarship players in non-revenue sports. Let them make money -- with some restrictions on when and where they sign, of course. This way the best players -- the ones that make the schools the most money -- will likely get the most for their autographs, which seems fair. What say you?
Brian Bennett:
Johnny Football agrees with you, Greg. I have to say that I've never understood the whole autograph thing or why people -- especially adults -- would want a college kid's autograph. But I digress. One way around all these thorny issues about more money for athletes and the value of their image and likeness -- currently front and center in the O'Bannon trial -- is to let players get paid for endorsements, autographs and other marketing ideas during their college days. In other words, much like Olympic athletes do. You would, of course, have the issue of some schools' boosters throwing around all kinds of money for endorsements or giving a wad of cash to a backup lineman for his signature. But at least things would be more in the open and players could capitalize on their own achievements, rather than watch their school sell their jerseys in the bookstore for $200. All ideas are worth exploring at this point, and this one has some serious merit.
May, 20, 2014
5/20/14
9:00
AM ET
After taking a look at the most recent
database of revenues and expenses in college sports
, we're putting the Big Ten under the microscope. Our four-part series continues today with a look at the money Big Ten teams have paid to opponents over the years.
[+] Enlarge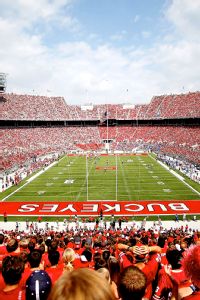 Kirk Irwin/Getty Images Ohio State is the league's largest athletic program with 36 varsity sports and a massive, often sold-out football stadium.
Michigan State athletic director Mark Hollis was scheduled to meet with reporters during the lunch break of Wednesday's Big Ten administrators' meetings, but he showed up earlier than expected.
He jokingly offered a possible reason for his escape.
"It seems like every vote we take," Hollis said, "costs us $100,000."
Expenses are rising for major-conference schools, especially with the welfare of college athletes in the national spotlight. One area that continues to get more expensive is the cost of home games, and the prices will continue to rise.
While Big Ten schools make millions from football games in their campus stadiums, they also are paying large guarantees for opponents to show up and play. According to recent analysis from "Outside the Lines," Big Ten teams paid nearly $42 million to visiting teams in all sports during the 2012-13 season (this includes Rutgers and Maryland, but not Northwestern, a private institution that doesn't report figures). The Big Ten, with its big football stadiums and broad-based athletic programs, paid more to opponents than any other conference. It's not a surprise considering many Big Ten teams make more than $3 million per football home game.
In 2012-13, Ohio State led the nation in money paid to opponents ($7,999,881), followed by Minnesota ($4,799,383) and Wisconsin ($3,987,864). Two other Big Ten teams -- Michigan State ($3,650,864) and Indiana ($3,375,562) -- finished in the top 10, and 10 schools finished in the top 25.
Ohio State has spent more on visiting teams in each of the past six years, averaging $7.4 million per year. Its total spent since 2007-08 ($44,418,002) is more than double that of the next Big Ten school, Indiana ($21,576,798). The simple explanation for the disparity: Ohio State is the league's largest athletic program with 36 varsity sports, and with a massive, often sold-out football stadium, it spends because it can.
"We'll net north of about $7 million off of each [home football] game," Ohio State athletic director Gene Smith told ESPN.com. "That's why we can afford to pay that guarantee. If you're over 100,000 seats -- you look at Michigan, us, Penn State, Tennessee -- you have to look at their average ticket price, which is typically north of $75. Then, you're probably looking at $5-7 million that those stadiums are netting individually.
"So when you take out a $1-million, $1.2-million, $1.3-million guarantee, you can handle it."
According to the Associated Press,
Ohio State will pay more than $2 million
in guarantee money to its three home nonconference opponents this season (Virginia Tech, Cincinnati and Kent State). The Buckeyes also will receive an $850,000 guarantee for playing Navy in Baltimore.
These fees aren't new to college football. Many major-conference schools with big stadiums have been
spending $800,000 or more on guarantees
since the latter part of the last decade. In 2008, both Ohio State and Michigan State paid more than $5.5 million to road teams, finishing first and second nationally, respectively.
"We're in the market, we're part of that market because we're a large stadium," Smith said. "It's just what you have to do today to get the mix."
The problem going forward is inventory, a word used by several Big Ten athletic directors at last week's meetings. Although the Big Ten moves to a nine-game league schedule in 2016, which reduces the number of nonconference games to schedule, the demand for nonleague home games remains high, if not higher. Big Ten teams will have five conference road games every other year, so to get the seven home games most need to meet budgets, all three nonleague games must be at home.
The Big Ten also has placed a moratorium on scheduling FCS opponents, a route many Big Ten teams have taken because FCS schools don't require return games and have relatively lower guarantee fees. So Big Ten teams in many cases must find FBS teams willing to play on the road without requiring a return.
"The issue with nine is inventory," Wisconsin athletic director Barry Alvarez said. "You're trying to schedule all [FBS] schools. The inventory becomes questionable. People don't want to go home-and-home. You try to stay at seven games at home, it's very difficult to do that in the year that you have four Big Ten games at home. So there are some issues."
One of them is cost.
"As the supply shrinks," Hollis said, "those that are in the window of who you want to play have the ability to ask for more."
Like many college football observers, Smith had hoped both the SEC and ACC would join the Pac-12, Big 12 and, soon, the Big Ten in adopting nine-game league schedules. But he didn't see it as a competitive balance issue.
The problem: inventory.
"If they'd gone to nine, obviously there's a lot more inventory out there because they would only schedule three [nonleague games]," Smith said. "Everyone is trying to schedule the same types of nonconference games in the same window of time, September. It's challenging."
Big Ten commissioner Jim Delany, while reiterating the need to avoid scheduling FCS opponents, says he will assist member schools with the scheduling dilemma. Some schools are exploring neutral-site games, which are lucrative and have gained greater popularity in recent years. Penn State AD Dave Joyner, who will watch the Nittany Lions open the 2014 season in Ireland, said, "It's almost like having a home game."
But Big Ten ADs also have been resistant to move games -- and the money they generate -- away from local markets.
"I don't know about the neutral-site thing," Minnesota AD Norwood Teague said. "We just built a stadium on campus, a beautiful new 50,000-seat facility. That was built for a purpose, and $150 million of that stadium was paid for by taxpayer dollars."
Hollis also has stiff-armed the neutral-site trend, but he acknowledged last week that MSU and longtime rival Notre Dame are discussing a neutral-site contest, possibly in Chicago.
"Some of us aren't traditional thinkers," he said. "You can come up with some creative ways that make sense for student-athletes, fans and … that you can meet your financial challenges."
April, 29, 2014
4/29/14
12:00
PM ET
The links are slimming up for the summer.
April, 1, 2014
4/01/14
1:00
PM ET
The Final Four of our
all-time Big Ten coaches tournament
is all set.
On Monday, we announced that Penn State's Joe Paterno and Nebraska's Tom Osborne both advanced to the semifinals. Now it's time to find out the rest of our field.
Our seventh game pitted No. 2 seed Michigan's Bo Schembechler against No. 10 seed Barry Alvarez of Wisconsin. Alvarez made this closer than expected for a while, but Schembechler finished as the victor, earning 61 percent of your vote to 39 percent for the Badgers' Hall of Famer.
Game 8 was an all-Buckeyes affair between No. 1 overall seed Woody Hayes and No. 9 seed Jim Tressel. Hayes won that one going away, by a count of 82 percent to 18.
So our Final Four matchups will look like this:
No. 4 Joe Paterno vs. No. 1 Woody Hayes
No. 3 Tom Osborne vs. No. 2 Bo Schembechler
We'll open up the voting for these semifinals on Thursday. This should be a lot of fun.
Curiously, we didn't really get a lot of responses on the Alvarez-Schembechler match. Don't forget to
send in your comments
(especially you Bo backers). Here are a couple of your thoughts on the Hayes-Tressel showdown:
Matt from Cape Coral, Fla.: I grew up a huge Tress fan and the 2002 national title game is what finally sold me on football as a kid, but when it comes down to it, Woody is Ohio State football and you cannot argue with five national championships. I voted for Woody.

Robert B. from Logan, Ohio: Brian, in 1964, I was 14. We were in Canton for the North-South game. Woody was recruiting the son of my parents' best friends and we were at a local restaurant for lunch. My father had died less than a month before. Now I don't know if Stein, the boy's father, asked him to, or not, but Woody came over to the table and sat down and talked to me for about 15 minutes. There are hundreds, maybe thousands of stories just like mine that prove that Woody Hayes was more of a hero off the field than on. His record speaks for itself, but I am one speaking to his compassion. To me, he was a soft-spoken, kind man. I bleed scarlet and gray, as my father did, my children do, and my grandchildren do. Woody Hayes was a complete person and that's why I vote for him, even over Tressel.
February, 27, 2014
2/27/14
12:00
PM ET
January, 3, 2014
1/03/14
12:00
PM ET
The Big Ten season wraps up tonight at the Discover Orange Bowl. Ohio State's result goes a long way toward determining the success of this bowl season.
To the links ...
December, 30, 2013
12/30/13
12:00
PM ET
Including last season, the Big Ten is 1-6 in bowl games in 2013. Maybe 2014 will be better?
October, 23, 2013
10/23/13
5:00
PM ET
November can't get here soon enough, so we don't have to keep getting questions about why one team is ranked and another isn't or who's ranked above whom. Pretty soon, they'll all play each other and it won't matter. But until then, let's go …
Tom from El Paso, Texas, writes:
I understand the view that Wisconsin is underrated, and that Michigan shouldn't be ranked (they are on the verge of a huge win or a huge loss each weekend), but what gives about ranking Michigan State at No. 22 in your rankings? Let's be honest, if Michigan shouldn't be ranked, neither should Sparty ... looking beyond MSU's style points (or lack of), State has six wins against the bottom half of the Big Ten and three against lousy nonconference opponents. They also have a loss is to a "meh" Notre Dame team. At this point in the season Michigan may even have a better "résumé" due to a win over the "meh" Irish, and a 5-2 Golpher team. I agree with the pollsters here, what has MSU done to be considered a top 25 team?
Hunter from East Lansing writes
Brian, can you please try to explain to me how Michigan once again has made its way back into the top 25, and even landed at 22 in the first BCS poll? Their only quality win is against Notre Dame, and really how good are the Irish this year? With narrow wins against Akron and Uconn, who may be two of the worst teams in the FBS this year (2-12 combined record), a loss to an ailing Penn State team, and a defensive meltdown against Indiana, one would assume that Michigan isn't a team who have proven themselves worthy of a number next to their name. Please enlighten me on why the voters continue to think Michigan is one of the top 25 teams in the land! GO GREEN!
---
Brian Bennett:
You see what I mean?
[+] Enlarge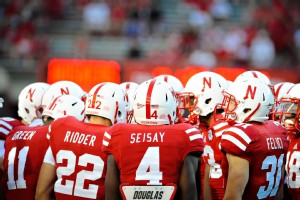 Eric Francis/Getty ImagesIs Nebraska better than Michigan or Michigan State? We can argue all we want know, but it will be settled on the field soon enough.
Look, if anyone claims they truly know where Michigan, Michigan State and Nebraska ought to be ranked not only in the Top 25 but in relation to each other right now, they're lying. All three teams have major flaws, and all have gaping holes in their résumés. Michigan looked terrible in barely beating Akron and UConn, and it lost to Penn State. Michigan State lost to Notre Dame and has offensive issues. Nebraska got blown out at home by UCLA and has defensive issues.
So who's the best out of these three teams? It's really impossible to say. I have Michigan State ranked highest on my ballot right now because I know the Spartans have an elite defense. I know what I'm getting out of that team every week, and if the offense can play even decently -- which looked like a real possibility before last week's backslide versus Purdue -- then I'm favoring Michigan State against Michigan and Nebraska in a head-to-head matchup. I have Nebraska second of the three on my ballot because I love the offensive potential of the Huskers and am cautiously optimistic that the defense has improved. But Nebraska doesn't have any wins that are as good as Michigan State's road victory at Iowa. As for Michigan, I'm still puzzled as to what exactly that team is, though the Wolverines can be explosive offensively when things are going right.
When it comes to these three teams, rankings at this point are all just opinion. But Michigan plays at Michigan State on Nov. 2, Nebraska goes to Michigan on Nov. 9 and Michigan State plays at Nebraska on Nov. 16. This will be settled on the field soon enough.
---
Matt from Callaway, Minn., writes:
Looking back on the weekend, and how topsy turvy it turned out, do you think my Huskers probably had the best week in the league just by having a bye?
Bennett:
I think Minnesota had a pretty good week, getting a Big Ten win and moving one victory closer to bowl eligibility by beating Northwestern. Nebraska did benefit in the polls and I ranked the Huskers after I said I wasn't going to do so in large part based on there being no one else to rank. I also think Michigan State's result against Purdue and Michigan's defensive problems signal that Nebraska can definitely win the Legends Division. Would have been nice if UCLA had beaten Stanford, though.
---
Mac from Ohio writes:
People are constantly criticizing Ohio State's schedule and since the Big Ten is weak, they should have scheduled stronger nonconference opponents. I feel like people do not bother to check what the circumstances were 2-3 years ago when the schedules were made. In 2010, the final BCS rankings, the Big Ten had 3 teams in the top 10 and 4 in the top 25. In 2011, the final BCS standings had 5 Big Ten teams in the top 25. When their schedule was made, they probably did not have to worry about facing multiple top 15 or 20 teams each year. So would you blame Ohio State for being the odd man out in the National Championship picture or would you blame the rest of the Big Ten?
Bennett:
No doubt, the perceived weakness of the Big Ten is hurting Ohio State. The Buckeyes' current best win is over Wisconsin, which is not even in the Top 25 of the BCS standings. But when you get down to comparing national title contenders, nonconference schedules are always going to factor in. Just look at Auburn in 2004, which went undefeated as the SEC champion but still didn't play for the title because it scheduled The Citadel, Louisiana-Monroe and Louisiana Tech. Ohio State's schedule isn't that egregious, and the Buckeyes couldn't have known Cal would so drastically fall off when it made the schedule. Vanderbilt also backed out of a scheduled game, though I don't think beating the Commodores would have done much for the Buckeyes' case.
All that has been discussed to death. But Ohio State could be an interesting case study going forward. There's been a lot of talk about strength-of-schedule being very important for the four-team playoff, which is great. But if the playoff were in place now and these Buckeyes finish undefeated, they'd almost surely get into the field. So should the model be to schedule tough nonconference teams, or to follow this Ohio State's path and try to go undefeated? The Big Ten has chosen the former path, but this season may prove that the latter strategy works.
---
SSG Grant from Germany writes:
I am a Huge Wisconsin fan, but for the 1st time in my life I actually am cheering for Ohio State. I am so Sick of the SEC. But what is better for the B1G perception wise. I would think having Ohio State to the Rose Bowl and crush the 2nd-tier team like a Stanford or an at-large team. That would put my Badgers unfortunately out of a BCS but an easier matchup at the Capital One bowl, and would have a trickle down of matchups, Giving the B1G a lot of marquee out of conference wins! As opposed to say OSU losing the National Championship, My Badgers getting a bad Matchup and losing the Rose, Nebraska losing the Capital One, etc. What do you think?
Bennett:
I think you make an interesting point, though I don't view Stanford as a "second-tier" team and am not sure Ohio State -- or anyone -- could crush them. Still, after watching Ohio State closely, I have my doubts as to whether the Buckeyes are truly as good as Alabama, Oregon and even Florida State. Even Urban Meyer admits this team has some flaws, and it has yet to dominate Big Ten competition. If Ohio State were to go to the BCS title game and get beaten soundly, I'm not sure that would do anybody any good.
It's also a fact that the Big Ten has played "up" in many of its bowl matchups, especially when it has two BCS teams. If the league could get optimal matchups where its best teams are on equal footing, that could result in a better record and bigger wins. Of course, I still think you base your reputation ultimately on national titles, and it's been too long since the Big Ten even played in one. But barring that, your scenario might deliver the second-best option.
---
JD from Washington, DC, writes:
Brian, I'm dismayed by the "parity based scheduling." Not only do I not get to see my Huskers in Maryland for years, but I worry it might lead to a recruiting disparity. As Pat Forde, recently pointed out, Nebraska has a dramatic recruiting disparity based on its geography. Do you think parity based scheduling puts us at an even greater disparity because it limits our exposure to the east coast markets (Rutgers and Maryland), where as Ohio State, Michigan, Michigan State and Penn State get access every year?
Bennett:
My concern is not so much with the parity-based scheduling as it is with the geographic setup. Teams in the East Division are by design always going to have more exposure in the new East Coast recruiting areas. I think it's very important for the Big Ten to remain aware of this and try to get the West teams out there as much as possible. I wonder if that will end up becoming a disadvantage for teams in the West. At the same time, I wonder how much Nebraska truly plans on recruiting those areas, which are very far away from Lincoln and haven't historically been any kind of pipeline for the program. The Huskers have reached into Ohio more under Bo Pelini, and they have to recruit nationally because of their location, but for the most part the current staff has focused on a 500-mile radius. I'm just not sure realistically how many kids from the D.C. or New Jersey areas would be going to Nebraska anyway. But the school needs to also benefit from the Eastern exposure, because the Huskers didn't sign on to join the Big Ten with the thought that they'd be playing in the same league as Rutgers and Maryland.
---
Lone Wolf McCaw from Syberia, USSR, writes:
I wrote to you once about the idea of having a point system instead of a selection committee, which you scoffed at. I still think that would be the better choice, but I do think the committee favors the B1G, by a lot. Now, if you break down the committee there are more people with ties to the SEC than any other conference. But who in the committee has better résumés than the two men representing the B1G? Think about it, let's say they were selecting the teams this year. And Dr. Tom Osborne thinks Ohio State should be part of the four teams, and let's say Condoleezza Rice (let's use her, since her name struck the most controversy) thinks it should be Baylor. Now, I know Rice did all these things, but is she or anyone else in that room going to argue football with Dr. Osborne? A man that was part of five national titles, with 255 wins as a head coach, played both college football and in the NFL? Not even Archie can do that. And then the second strongest resume is Barry Alvarez (a Husker I might add). Add that both men did their share of recruiting, they know how to sell ideas. The idea of arguing football with any of them is the equivalent of arguing how to throw a 12-to-6 curveball with Adam Wainwright (see what I did there? now you have to use my email.) Not saying they will be biased to the B1G, but I am sure both would know that the B1G is actually a great conference with great teams that don't get their just due.
Bennett:
Darn it, he reeled me in with that Wainwright reference! Resistance is futile.
Anyway, I see what you're getting at, and as Jim Delany recently put it, people always stop and listen whenever Osborne speaks. He's that respected. Alvarez has the same amount of respect and is never shy about voicing his opinion. There's no doubt that both are perfect additions to the committee, and they will represent not only the Big Ten, but all of college football, in the best possible manner. Will they be able to lobby a bit on behalf of the Big Ten? I'm sure that will happen, but I also hope the committee does not devolve into regional cliques all supporting their own conferences. I think Osborne and Alvarez have too much integrity to vote for a team simply because it's in their own league (Osborne would have to recuse himself from the room if Nebraska came up, while Alvarez would have to do so for both Nebraska and Wisconsin). But it sure wouldn't hurt to have two such highly-admired men argue the merits of Big Ten football, should they feel inclined to do so.
---
Andrew B. from Laingsburg, Mich., writes:
You asked last week if the Spartans lost to Ohio State in the championship game but still got picked for the Rose, would it feel ... earned?? Back in 1999, MSU beat Michigan head-to-head and the two finished tied in the standings, but Michigan got the BCS at-large spot. When the B1G allowed OSU to postpone their discipline and accept the 2011 Sugar Bowl invitation, 11-1 MSU got shafted again. Then in the 2011 season, MSU won the Legends but UM (whom MSU had again beaten) backed into another at-large BCS invitation. So yes, it already feels like the Spartans have earned a Rose Bowl plus at least one additional BCS bowl.
Bennett:
Fair enough. I honestly didn't know the answer when I asked the question but you make great points. As always, we should remember that most of the time, when it comes to bowl games, deserve's got nothing to do with it.
---
Adam from Lincoln, Neb., writes:
I can't understand why you would include one deranged fan's letter in
your mailbag
just to cut it down in front of the entire readership, especially when question real estate is at a premium. You get crazy letters each week I'm sure. Seems like irresponsible journalism to lay out one letter from a fan you know doesn't represent the fanbase as a whole. I've been a loyal reader for years now and I lost a lot of respect for you and the Big Ten blog today.
Bennett:
Adam, didn't you read the whole mailbag? I included letters from three deranged fans. Give me a little credit here.
October, 11, 2013
10/11/13
4:00
PM ET
Thanks for all your questions and answers. Enjoy the games this weekend.
Don't forget:
Twitter
is the best way to follow us on game days.
Phil from Vancouver, Wash., writes:
Lets assume Ohio State runs the table and goes undefeated. If Wisconsin can win out and end up 10-1-0-1 (W-L-T-Screwed), where do you see them ending up for a bowl? With the BIG No. 5 in AQ leagues, I don't see them in the BCS.
Adam Rittenberg:
It depends on so many factors, Phil. If Ohio State doesn't make the national title game and goes to the Rose Bowl, the chances of the Big Ten receiving an at-large BCS berth go down. If the Rose Bowl loses a Big Ten team to the national title game, it likely would look for a Big Ten replacement, as long as one is eligible. Would the Rose want Wisconsin for a fourth consecutive year? Tough to tell. There are also other conferences in play, and right now you'd have to expect the SEC and Pac-12 to each send two teams to BCS bowls. And as long as Clemson and Florida State don't both fall apart, both teams are likely BCS bowl bound as well. The advantage Wisconsin would have is a long win streak to end the season, as opposed to a possible loss in the league title game, which often is the kiss of death when it comes to at-large berths.
---
Ian from Tacoma, Wash., writes:
Adam, I know there has been some talk from you and Brian recently in regard to conference perception and how it shapes top-25 rankings and the national championship picture, but I think this is becoming more of an issue than most folks realize. Why does Georgia scraping by a pretty lousy Tennessee team (that got slaughtered by Oregon) constitute a "tough road win" by the so-called experts, yet Ohio State's road win against top-15 Northwestern gets ignored? Even further, why does Ohio State get lambasted every week for their schedule, while Oregon gets constant media praise, despite having played a MISERABLE slate of games so far? Oregon is getting credit for games they haven't played yet, while Ohio State gets punished for games it hasn't played yet. I'm getting pretty frustrated with the inconsistency and hypocrisy in how teams are portrayed, simply because of the conference in which they compete.
Adam Rittenberg:
Ian, I hear ya, and Ohio State should be getting more credit for finding ways to win against good teams despite making some mistakes along the way. Georgia's win at Tennessee was vastly overvalued because the Bulldogs had so many injuries. Tennessee is mediocre at best. The Oregon example is interesting, because while Virginia and Tennessee aren't any good, it looks like the Ducks at least tried to schedule major-conference teams. Those quick to criticize Ohio State for living in cupcake city probably don't realize Vanderbilt canceled this year's game in Columbus. Vandy is no Alabama, but the Commodores are comparable to Virginia and Tennessee right now. And it's not Ohio State's fault that Cal is going through transition. Could Ohio State have done a little more with scheduling? Perhaps. But the bigger problem for the Buckeyes is the Big Ten's lousy perception, something Georgia and Oregon don't have to worry about.
---
Dan from Watercooler writes:
True or false: Bo [Pelini's] long-term outlook with the Huskers should be more based on what he does this and maybe next season, vs. what happened last season. Reasoning: Bo's defense last season had all sorts of seniors, effectively meaning he had a cap on what he could draw from them talent-wise. We've seen glimpses of what the defense is capable of (see: first half UCLA, parts of Illinois) and can see the talent there, but it needs time to build. Counterpoint: Last year's defense consisted largely of talent he developed; he should have been able to recognize gaps in the defense and find ways to correct them.I'd give him the benefit of a doubt and say, with the seemingly more athletic players he has coming up, he should be judged more on what happens from here.
Adam Rittenberg:
A nice breakdown from the water cooler, Dan. Nebraska's defense might be both younger and more talented this season. Pelini has alluded to it throughout the offseason, and I already see signs of more difference-makers with the Huskers D, especially in the front seven. That said, Pelini shouldn't get a pass for the struggles on defense last season because he brought in all of those players. Although Nebraska's move to the Big Ten probably didn't help a defense that had been shaped for the Big 12, the breakdowns in big games were inexcusable. This year's defense has had and will continue to have some growing pains, but if the unit isn't better in November than now, it falls on Pelini and the staff.
---
Matt from Baltimore writes:
I was looking at
this map of AAU schools
, and I was trying to guess where the next Big Ten expansion could be. Assuming that any schools in the ACC, SEC, or Pac-12 will stay put, it looks like the most appealing school from a state bordering a Big Ten state is Kansas (a distant second is Iowa State). What do you think the odds are of a Big Ten land grab into Big 12 territory in the near future?
Adam Rittenberg:
Ah, Matt, we must be overdue for an expansion question. Keep in mind that the Big 12 also
has a grant of rights agreement
, just like the ACC does, which makes it very difficult for schools to leave the league. The Big 12 also has great leadership now with Bob Bowlsby as commissioner. Although Texas could still send things into flux, I'd be surprised if more Big 12 schools jumped ship. The one league the Big Ten could look to, believe it or not, is the SEC, which amazingly doesn't have a grant of rights agreement. Anyone else think Missouri is a much better fit in the Big Ten than the SEC? Still, Mizzou would be giving up a lot, and I don't think the Big Ten wants to expand West when it has talked so much about being bi-regional and trying to bring in the northeast corridor. Problem is, there aren't any great candidates on the East Coast.
---
Matt from Iowa writes:
Who will be the last to surrender a rushing touchdown, Iowa or Michigan?
Adam Rittenberg:
I'm going with Michigan, especially since Iowa is off this week and the Wolverines face a Penn State team that, while lagging in rushing offense, has 11 rushing touchdowns through the first five games. I have
Akeel Lynch
scoring the game-winning touchdown for Penn State on Saturday, so I think the Wolverines' run of zero rush touchdowns ends.
---
Mike from Minneapolis writes:
Thoughts on the selection committee? As a Nebraska fan, I'm not all that thrilled to see that if they come into the playoff discussion Osborne/Alvarez will have to leave the room and their fate will be decided by a group of southerners.
Adam Rittenberg:
I'm glad you asked, Mike, as I didn't get much chance to address this last weekend. While I understand your concern about Nebraska and the ties that both Tom Osborne and Barry Alvarez have to the school, I couldn't be happier with these choices to represent the Big Ten on the committee. They're both home runs: smart football men who have served as administrations and have thick enough skin to handle the job after coaching major programs for a long time. Alvarez was the overwhelming choice among sitting athletic directors to represent the Big Ten when
we conducted a poll back in July
, and it would have been a close race between Alvarez and Osborne if Osborne still served as Nebraska's AD. Big Ten fans should be really pleased with these two.
---
Jon from Columbus writes:
Adam, Michigan has allowed seven offensive TDs in five games so far, and yet ... and yet ... you're calling for PSU to score 38 on them on Saturday? I just don't see your reasoning based on any sound football analysis. Listen, Penn State might beat Michigan this week. But if it happens, it very likely won't come in a fireworks-filled offensive shootout.
Adam Rittenberg:
Jon, maybe the score prediction is a little high, but Michigan has faced only one decent offense (Notre Dame) through the first five games -- the other four are ranked 106th or worse nationally -- and hasn't done much defensively to stand out aside from allowing no rushing touchdowns.
Tommy Rees
made plays against Michigan's secondary but couldn't avoid the turnover.
Christian Hackenberg
has more natural ability than Rees and poses a bigger challenge for the Wolverines, who still don't have any standouts on defense (
Jake Ryan
comes back soon). This is a great chance for Michigan's defense to stand out against a good quarterback in a tough road setting. But I expect to see quite a few points scored at Beaver Stadium.
January, 8, 2013
1/08/13
10:08
AM ET
Alabama and Notre Dame put a bow on the 2012 college football season Monday night. Most of the Big Ten would just as soon douse it with gasoline and light a match.
But before a largely forgettable 2012 Big Ten season goes up in flames, let's take one final look at the power rankings following the bowls. Ohio State not surprisingly remains on top, and the bottom three teams stay the same as well. There's a bit of shuffling among the seven bowl teams after varying performances. As has been the case most of the season, very little separates Nos. 2-6.
Here's a look at the
pre-bowl power rankings
.
Let's get to it ...
1. Ohio State (12-0; previously: 1):
The Buckeyes will occupy this spot until they lose a game, which might be a while under coach Urban Meyer. After recording just the sixth unbeaten, untied season in team history, Ohio State sets its sights on even bigger goals as it emerges from NCAA sanctions. The Buckeyes showed major strides on offense behind sophomore quarterback
Braxton Miller
and improved on both lines as the season went on. Meyer exceeded most expectations in Year 1, but they'll be much higher in 2013.
2. Northwestern (10-3; previously: 5):
Pat Fitzgerald's team moves up three spots after claiming its first bowl victory in 64 years. There was surprisingly little drama as Northwestern capitalized on Mississippi State's errors and won the TaxSlayer.com Gator Bowl by two touchdowns. The Wildcats recorded just the third 10-win season in team history and easily could have won another game or two despite a young roster. Things are headed in the right direction in Evanston.
3. Michigan (8-5; previously: 2):
The Wolverines were one defensive stop away from recording the most impressive win in the Big Ten's bowl season and in the Brady Hoke era. They paced a very talented South Carolina team in the Outback Bowl and received big performances from wideout
Jeremy Gallon
, running back
Denard Robinson
and quarterback
Devin Gardner
. Unfortunately for Michigan, an elite pass defense couldn't get it done in the end. Four of Michigan's five losses came against top-10 teams, but an 8-5 record isn't what Hoke or his players had in mind this fall.
4. Penn State (8-4; previously: 3):
Penn State and Michigan are similar in that both teams have "good" losses on their résumés (Michigan a few more than Penn State). Both teams rallied to beat Northwestern at home, while Penn State has another quality win against Wisconsin. The Lions and Wolverines didn't play one another, and we'll never know how Penn State would have fared against a team like South Carolina. Michigan gets the slight edge here, but Penn State had a terrific season behind a dramatically improved offense and a defense led by senior stars
Michael Mauti
,
Jordan Hill
and
Gerald Hodges
.
5. Nebraska (10-4; previously: 4):
The Huskers beat the three teams ahead of them in the rankings, but the power rankings place more weight on recent results, and Nebraska finished the season with a thud. Bo Pelini's team surrendered 105 points in its last two games -- losses to Wisconsin in the Big Ten championship game and to Georgia in the Capital One Bowl. Nebraska showed it could move the ball and score against anyone, despite being turnover-prone. But the defense was abysmal in the four losses and raises serious concerns for Pelini's program going forward.
6. Wisconsin (8-6; previously: 6):
The Barry Alvarez-led Badgers showed they could hang with Stanford, but they couldn't take advantage of the unique opportunity to play in the Rose Bowl Presented by Vizio despite finishing third in the Leaders Division. The inconsistent offensive execution that plagued Wisconsin throughout the season surfaced once again against a tough and talented Stanford defense. Wisconsin just didn't have enough firepower to get over the hump, which was really the story of its season.
7. Michigan State (7-6; previously: 7):
A come-from-behind win against TCU in the Buffalo Wild Wings Bowl takes the sting off of a season that didn't go according to plan for Michigan State. The Spartans leaned on their defense and received just enough offense from backup quarterback
Connor Cook
and Co. to get past a young Horned Frogs team in Tempe, Ariz. Michigan State posted its second straight bowl win under coach Mark Dantonio and said goodbye to three juniors -- running back
Le'Veon Bell
, tight end
Dion Sims
and defensive end
William Gholston
-- in the days following the game.
8. Minnesota (6-7; previously: 9):
Minnesota appeared poised to give the Big Ten a surprising 1-0 start to the bowl season. The Gophers made strides on offense between the end of the regular season and the Meineke Car Care Bowl of Texas, as young quarterback
Philip Nelson
and the offensive line looked a lot better against Texas Tech. But Minnesota still doesn't know how to finish and suffered breakdowns down the stretch in a tough loss to the Red Raiders. The team still doubled its win total in Jerry Kill's second season and could make some noise in a tough Legends Division next fall.
9. Purdue (6-7; previously: 8):
The Boilermakers and Minnesota swap places after Minnesota performed much better in its bowl game than Purdue did. A mismatch on paper turned into a total whitewash on the field as Oklahoma State, which had no business being in the Heart of Dallas Bowl, outclassed Purdue from the get-go. Purdue's once-promising season ended with a thud as a veteran-laden Boilers team that kept pace with both Notre Dame and Ohio State struggled mightily against most of the good-to-great teams it faced this season.
10. Indiana (4-8; previously: 10):
After going 1-11 in Kevin Wilson's first year, Indiana could only get better, and took some important steps this season. The Hoosiers showed they can score points on just about every defense in the Big Ten, and their group of skill players is among the league's best. IU's defense still isn't at a Big Ten level, and improving the talent and depth on that side of the ball is the chief challenge for Wilson and his staff entering the 2013 season.
11. Iowa (4-8; previously: 11):
A bowl appearance looked like a guarantee before the season as the schedule set up favorably for eight or more wins. But the offense took a giant step backward, and injuries hurt the unit throughout the season. Iowa's defense kept it in quite a few games but also let down against better offenses like Northwestern and Michigan. The Hawkeyes will look for more cohesion on offense and more playmakers to emerge. The Legends Division seems to be getting only tougher.
12. Illinois (2-10; previously: 12):
No team and no coach wants to turn the page on 2012 more than Illinois and Tim Beckman. Almost nothing went right in Beckman's first season, as the offense stalled and the defense struggled against spread offenses. The Illini dropped all eight of their Big Ten contests and lost by fewer than 14 points just once. Perhaps new offensive coordinator Bill Cubit can get the offense on track. The defense, meanwhile, must fill holes up front and in the secondary. At least Illinois gets a fresh start in 2013.
July, 10, 2012
7/10/12
3:25
PM ET
Our week-long series on college football coaches continues with a look at the best jobs in the country.
What makes a job great? Tradition, administrative/fan support, facilities, recruiting location, championship expectations, recent track record, college town and brand name all play key parts. Most Big Ten schools can be viewed as destination jobs for certain coaches, but only a select few are destination jobs for most coaches around the country.

In ranking the Big Ten's coaching jobs, I placed the most emphasis on the following four factors: tradition, facilities, recruiting location and recent track record. As a reminder, this isn't a ranking of Big Ten coaches, but of the jobs they occupy.
Here's the rundown ...
1. Ohio State:
There's a reason Ohio State can go through a year like 2011 and then hire a coach like Urban Meyer. Most programs would have been in big trouble. From winning tradition to tremendous facilities to a location in the Big Ten's most fertile recruiting state, Ohio State has it all. It is one of the sport's best brands.
Did Ohio State Cheap Out On Championship Rings?
BIG TEN SCOREBOARD
Thursday, 9/3
Friday, 9/4
Saturday, 9/5
Sunday, 9/6
Monday, 9/7