Ohio State Buckeyes:

Archie Griffin
October, 3, 2013
10/03/13
11:30
AM ET
EVANSTON, Ill. -- Northwestern's rise from national doormat to national darling to consistent winner is impossible to deny, even for farsighted skeptics who still discuss the program as if it were 1983, not 2013.
A team once best known for owning college football's longest losing streak can point to Big Ten titles in 1995, 1996 and 2000, five consecutive bowl appearances, and, finally, a bowl victory this past Jan. 1. But there's a scarlet and gray asterisk next to Northwestern's name. Of all the hurdles -- real or perceived -- the Wildcats have cleared since 1995, one opponent consistently trips them up and leaves them lying flat on their faces.
Ohio State hasn't merely dominated the all-time series against Northwestern, holding a 59-14-1 edge, including wins in the past four meetings and 28 of the past 29. Most of the matchups haven't even been competitive, beginning with the first, a 58-0 Buckeyes win a century ago.
Since a 60-0 win in 1973 at Ohio Stadium, the Buckeyes own 13 victories against Northwestern by 40 points or more and 21 victories by 20 points or more. Single-digit losses to Ohio State are almost as uncommon as wins for Northwestern. Even the Wildcats' championship seasons in 1995, 1996 and 2000 occurred without Ohio State on the schedule.
The dark days are over at Northwestern. No reasonable person could dispute that. But Ohio State remains a dark cloud hovering around the program. Saturday night, the fourth-ranked Buckeyes storm into Ryan Field for the most-anticipated regular-season Northwestern game in recent memory. The forecast, by the way, calls for showers.
[+] Enlarge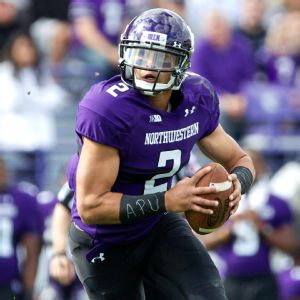 John Gress/Getty ImagesKain Colter and the Wildcats hope to end Ohio State's dominance with a win Saturday night.
Will Northwestern's big-stage appearance be a washout, or will the purple reign?
"It's going to be a big measuring stick for us, to see where we're at," Northwestern quarterback
Kain Colter
said Monday.
Nine years earlier, Noah Herron sat in the same room as Colter, discussing Northwestern's upcoming home game against an Ohio State team ranked No. 7 nationally. Herron, the Wildcats' running back at the time, and several of his teammates made comments that were true then and are true to this day but that still created a stir in Buckeye Country. Wide receiver Mark Philmore described the Buckeyes as "kids just like you out there."
"It was along the lines of, 'They're just Ohio State. They're the same guys that we are, playing for their school. They're no different than us,'" Herron recalled in a phone interview with ESPN.com this week. "It became poster-board stuff for their locker room, which is not what it was intended to be, but it was supposed to look at it from our approach. We're not playing their tradition, we're playing them. We're playing the current roster for 2004, not Archie Griffin and all these other great names that they've had."
Brett Basanez, the Wildcats' quarterback at the time, had a similar feeling. Despite playing with a separated throwing shoulder suffered the previous week, Basanez passed for 278 yards and two touchdowns and added 53 rushing yards, including a 21-yard dash to set up Herron's eventual winning TD.
Basanez had watched Ohio State's game against NC State and saw similarities between NC State's offense and Northwestern's.
"You're not playing Eddie George," Basanez said. "You're playing normal guys. Just play your game and win. We knew if we came out and played, we could score with them, we could score more than them. And that came to fruition as the game started."
Herron might have violated Big Ten etiquette by not paying homage to the Buckeyes. Ohio State came to Ryan Field eager to put Northwestern in its place.
Instead, the Wildcats won 33-27 in overtime. Herron scored the winning touchdown in what
one Northwestern fan website
calls the "33 game" -- Herron wore No. 33, scored the team's 33rd point on his 33rd carry and helped snap a 33-year losing streak to the Buckeyes.
"We weren't intimidated by them from the very beginning," Herron said. "Offense, defense, special teams, everybody played with that same kind of swagger, that, 'Hey, we're playing this team right now, nobody else.' Sometimes you catch a little heat for saying some things, but nevertheless they're true and they prove to be true. They're college kids just like us.
"Just because they're Ohio State, they don't get a free pass."
The current Northwestern players had nothing inflammatory to say this week about Ohio State. Colter praised the Buckeyes' coaches and said Ohio State has "athletes all over the board."
But the Wildcats also aren't in awe of Ohio State, which might have been a problem for Northwestern teams of the past.
"If you grow up watching college football, you hear about tradition, you hear about the successes that programs have had," Herron said. "You can be enamored by it. You can even be intimidated by it."
Herron acknowledges that, from top to bottom, Ohio State had more talent than Northwestern in 2004 and still does today. Wildcats coach Pat Fitzgerald agrees, saying Monday, "I think there's a talent gap between anybody in the top five and everybody else, including us. ... But we're pretty darn talented."
The talent gap has narrowed for Northwestern, as recruiting is on the rise under Fitzgerald. The are-you-kidding-me losses that used to plague Northwestern, particularly in nonleague play, have gone away. The Wildcats actually can stay ranked for more than a week.
But there are steps to legitimizing a program, and beating the Big Ten's most talented and visible program is one Northwestern eventually has to take, especially if it intends to return to the Rose Bowl.
Saturday night's opportunity, Basanez said, is more about Northwestern's future than its past.
"If you're judging your football program in the Big Ten, especially with [Buckeyes coach] Urban Meyer, with the tradition that [Jim] Tressel and other guys have had there, yeah, that's a measuring stick," he said. "It's very important to beat Ohio State because they're a Big Ten foe, but it's just as important to beat Michigan or Iowa. Everyone just thinks of Ohio State, but you beat them, arguably right now you're the best in the Big Ten."
Herron, who played five NFL seasons with four teams, calls the touchdown run in overtime against Ohio State his best moment on a football field. Personal achievement played a small role, as the win resonated for a team and a school still trying to escape its putrid past on the gridiron. The Ohio State win turned out to be the high point for the 2004 Wildcats, who went 6-6 and missed a bowl, thanks to a 1-3 mark in nonleague play.
The program since has been elevated. So have the stakes Saturday night.
"It is a measuring stick because it's the main stage, and it's seemingly been a team that Northwestern has had a hard time beating," Herron said. "Two ranked teams, game of the week, 'GameDay' is going to be there.
"What more can you ask for, not only for that team but for the program?"
August, 15, 2013
8/15/13
4:00
PM ET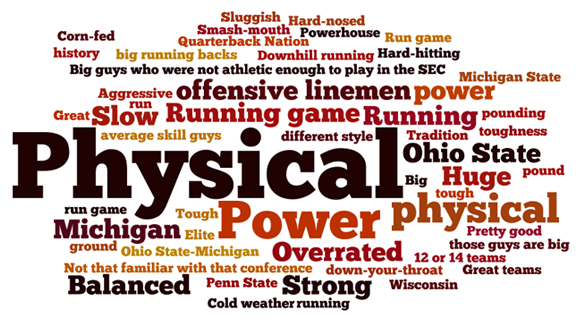 ESPN.comPhysical and sluggish. Overrated and strong. Its a mixed bag of insults and compliments when it comes to the national perception of Big Ten football.
Physical and sluggish. Overrated and strong. It's a mixed bag of insults and compliments when it comes to the national perception of Big Ten football.
During various media days, ESPN.com spoke with players from each conference to get their perceptions of the ACC, Big 12, Big Ten, Pac 12, and SEC from other BCS conferences. And those mixed feelings were quite clear.
Here are a few words that jumped out or, noticeably, didn't:
July, 25, 2013
7/25/13
1:20
PM ET
CHICAGO -- For a day, maybe two, something like the Silver Football trophy can stay with
Braxton Miller
.
But that's as long as the Ohio State quarterback will allow any hardware for his various individual accomplishments to sit around his place before shipping them off to his parents.
Rather than dwell on what he's already done and the possibility of getting wrapped up in his own glory with things like the shiny ball that he was given last season as the Big Ten's best player, Miller is intent on keeping his focus on the future -- and maybe a much more recognizable statue.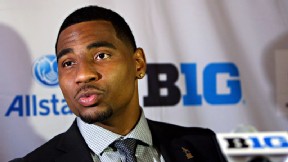 Jerry Lai/USA TODAY SportsBraxton Miller can't help but be aware of being a candidate for major awards, but he says he's keeping his focus on improving.
"I see [Heisman Trophy polls], I hear it, but I really don't pay too much attention to it," Miller said Thursday at Big Ten media days. "If you pay too much attention to it, you lose focus about what's important for your team and yourself.
"I see it on ESPN sometimes. I'll hear it and I'm like, 'Wow.' But I just have to get better to achieve that goal."
Miller didn't actually mention the Heisman by name, but a year after finishing fifth in the voting, even acknowledging the race for the most famous award in college football marks a noted change from a year ago.
The team remains the top priority for the junior, and his humility is still mentioned by his teammates and his coach as often as his dynamic athleticism. But Miller has clearly set his sights on claiming an award that has turned a handful of Buckeyes into legends already, and he's certainly aware of what that would mean for his own legacy.
"It was just a blessing to be there, to be in the same type of talk as Archie [Griffin] and Eddie [George] and Troy [Smith]," Miller said. "It's unbelievable where I was, where I was in high school, where I am now.
"I'm just blessed to be where I'm at now and to get better."
And for all the attention, awards and gaudy statistics he piled up as a sophomore, there is still undoubtedly room for that improvement Miller is chasing.
Almost from the moment Ohio State clinched an undefeated record in Miller's first full season as the starter, he has been working to clean up footwork that has been spotty in the past, trying to develop his communication skills in an effort to become a better leader, and working to improve his knowledge of Urban Meyer's spread offense going into his second season leading it.
The benefits are most likely to show up in the passing game for the Buckeyes, an area where Miller has been effective at times in the past but wasn't anywhere near as dangerous as Meyer would like. And until the evidence starts showing on the field in a meaningful setting, Miller is right back where he was for most of last season in Meyer's eyes -- not yet a Heisman candidate with an endorsement from his coach.
"At the time I was asked about Braxton Miller, he wasn't playing like a Heisman Trophy winner," Meyer said Thursday. "I love Braxton, and if it was all about like and feel-good and all that, I would have said, 'Yeah, give him the Heisman.'
"If I had to do it again, I would probably kind of stay away from that answer, but I just get asked things and I'm honest. If it's time, this year I will say Braxton Miller is a Heisman candidate. At this time, I can't say that."
That won't stop the rest of the country from putting him on the short list of favorites going into the season, and the crush of attention on the face of Ohio State's program isn't likely to slow down anytime soon.
How Miller handles the spotlight will be crucial for the Buckeyes, given just how large a role he plays in the spread attack. And if things go according to plan, his parents might need to clear out a new space in the trophy case.
"There's a lot of Little League stuff in there," Miller said. "Growing up with basketball, there's AAU, middle school, high school, now college [trophies]. There's a lot of stuff.
"Lot of room for more."
July, 10, 2013
7/10/13
12:02
PM ET
After looking at my team in our
All-Time Draft
and seeing some obvious holes -- defense? running back? -- I immediately tried to rectify my decision by heading over to Ohio State to try and pilfer one of their players from one of their all-time rosters.
[+] Enlarge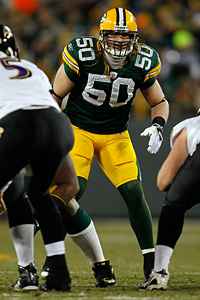 Jonathan Daniel/Getty ImagesFormer Ohio State linebacker A.J.Hawk is an instinctive playmaker who would bolster any defensive lineup.
While the obvious choice for a steal would be two-time Heisman Trophy winner Archie Griffin, I feel decent enough about my running back/flex combination of Butch Woolfolk and Denard Robinson that I can try to bolster my defense. So the guy I would try to steal is linebacker A.J. Hawk.
Hawk might not have been the best linebacker in Ohio State history -- that was Chris Spielman -- but the former first-team All-American and 2005 Lombardi Award winner would fit well in the defensive scheme my coaches would devise. And the hair. You have to appreciate the hair.
In all seriousness, though, having covered Hawk during the 2006 Tostitos Fiesta Bowl, when he played against his future brother-in-law Brady Quinn and Notre Dame, I saw first-hand what Hawk was able to do to an opposing offense. He sacked Quinn twice that day and changed much of what Notre Dame had tried to do.
His 394 tackles are fifth in school history, and his 41 tackles for loss are eighth. His 15 sacks are 13th. He led Ohio State in tackles for three consecutive years.
The final piece is that Hawk is a high-character guy. He is an intelligent playmaker with good instincts and can make plays from sideline-to-sideline. He would be the one player from Ohio State I'd steal.
July, 8, 2013
7/08/13
11:00
AM ET
COLUMBUS, Ohio -- Picking
one
all-time team for a program as rich in history as Ohio State is no small feat on its own. A simple glimpse at the Heisman trophies on display in the Woody Hayes Athletic Center instantly makes it clear that no shortage of talent has walked through those doors.

But those squads have been selected for years and the degree of difficulty is still too low for BuckeyeNation. So along with a handful of other sites across ESPN.com, we (with the help of a former Ohio State standout) are drafting four of them to see who can come up with the best roster once the stiff-arm winners and repeat All-Americans start coming off the board.
The full lineups will be unveiled Tuesday, the result of a snake draft with beat writer Austin Ward, recruiting writer Brad Bournival, editor Scott Kendrick and former Ohio State wide receiver Bam Childress.
There will be plenty of room for debate along the way, both among the "coaches" recruiting their dream teams and during the feedback from fans weighing in after the final selection, offering up their top picks, biggest omissions and, most important, helping choose the best overall team.
Before we get started this week, a couple key questions to think about prior to the clock starting.
[+] Enlarge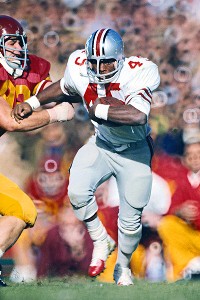 George Long/Getty ImagesArchie Griffin was a three-time All-America selection for the Buckeyes.
Alone at the top?
There's still just one man with a pair of Heismans on his résumé, and Archie Griffin's career continues to stand up as one of the best in the history of college football. By default, that would put him at the top of the list for the Buckeyes as well -- but does that mean the seemingly unstoppable running back will actually go No. 1 in the four-team draft? The Buckeyes boast plenty of historical depth in the backfield, and a guy like Eddie George or Keith Byars would obviously provide a nice consolation prize at running back for any team that misses out on Griffin. This could be where strategy in composing a team first shows up, because the talent disparity at a position like defensive tackle behind Dan Wilkinson could conceivably be wider than Griffin's edge over George. On the other hand, though, two Heismans.
Picking a style
All four rosters are going to feature at least one workhorse running back, and depending on how the flex position is used, a team might end up with two of them. Drafters will have the option of taking a fullback, a second tight end, a third wide receiver or a second tailback with that wildcard spot on offense. How that's used will certainly help determine what kind of system suits the personnel. But the choice at quarterback will go even further to sort that out, with a nice mix of multi-purpose, athletic quarterbacks on the table along with more traditional, pocket-passing options. A team that doesn't mind turning its signal-caller loose as a rushing option might even be tempted to snag Braxton Miller after just two seasons with the Buckeyes, maybe setting itself up to look even better with two years of hindsight assuming he continues his steady improvement as a passer.
Rush or cover?
There's less flexibility in putting together the defensive unit, which will be locked into a 4-3 alignment for every team. But the preference in style of play should still be evident based on which talented position group is targeted first. The Buckeyes have a long, proud tradition at linebacker, and it's pretty likely some productive, All-Big Ten performers will wind up looking for a free agent deal when the draft is over. Ohio State isn't hurting on the line or the secondary, either, but the choice between chasing a pass-rushing superstar like Mike Vrabel or a dynamic defensive back like Antoine Winfield will be significant in shaping the unit, and it will have a trickle-down effect on the rest of the selections.
Freshman Quarterbacks A Growing Trend?
BIG TEN SCOREBOARD
Thursday, 9/3
Friday, 9/4
Saturday, 9/5
Sunday, 9/6
Monday, 9/7