Ohio State Buckeyes:

Adolphus Washington
December, 11, 2013
Dec 11
5:00
PM ET
The weather outside is frightful. But your emails are so delightful. Well, except for the guy who sent me repeated missives in all caps about how
Braxton Miller
should have been suspended for the Big Ten championship game. Dude, give it a rest.

Anyway, on to the mailbag:
Scott M. from Charlotte, N.C., writes:
Will we ever know why Ohio State felt two carries were plenty for
Carlos Hyde
in the fourth quarter? The game turned in the third quarter because of the bruiser. Braxton Miller is the driver of the car but those two calls late in the game were just awful. How anyone can say I have third-and-three for the game and my 230 pound, 7-yards-a-rush running back will not touch the ball really needs to look at themselves in the mirror.
Brian Bennett:
Should Carlos Hyde have gotten more than 18 carries against Michigan State? Probably. But don't forget that the Spartans defense specializes in loading the box and daring teams to throw deep. Plus, Miller was the more effective runner of the two most of the night and finished with more yards and yards per carry than Hyde.
The fourth quarter began with an Ohio State punt. Then Michigan State drove for a field goal. On Ohio State's first real possession of the fourth, Hyde ran for four yards on second-and-10, setting up a passing situation on third down. Miller then threw an incomplete pass. The series you're talking about started with 7:36 left. The Buckeyes had Miller run it on third and fourth down, and he was stuffed both times. Urban Meyer said it was his call to give the ball to Miller on fourth-and-2.
And it's hard to fault him for that. We're talking about the two-time Big Ten offensive player of the year who ran for 142 yards vs. Michigan State. A running quarterback is one way to counter the Spartans defense. It didn't work out, mostly because Pat Narduzzi called the right blitz and
Denicos Allen
made a great play. After that, Michigan State scored a touchdown to go up by 10 points, and the the time to run the ball was over for Ohio State.
Bottom line is you have to be successful passing the ball to beat the Spartans. And Ohio State went 8-for-21 for 101 yards through the air.
Tommy B. from Savannah, Ga., writes:
Brian, as a Buckeye fan it's crazy for me to think that after the 2011 6-7 disaster that I'd be so disappointed after the team would go 24-1 under Urban Meyer so far. I'd almost forgot what it felt like to lose on a Saturday (emphasis on almost, it felt terrible in case you were wondering). The problem has obviously been complete inconsistency with the defense. They have big name veteran stars with gaudy numbers and at times (including in the B1G title game) they've been dominant. But in the Michigan game and for some big game-changing plays against MSU they've had complete breakdowns. They have the talent to be better than they are. In your opinion, what's the problem? Fickell? Key injuries (Bryant)? Fickell? Youth in key positions? Fickell?
Brian Bennett:
It's a good question. The place we thought Ohio State's defense might be vulnerable to start the year was up front because of all the youth there. Yet that was arguably the strength of the defense, with guys like
Michael Bennett
,
Joey Bosa
,
Noah Spence
and
Adolphus Washington
. The problem really seemed to be at the linebacker positions other than
Ryan Shazier
and at safety, especially when
Christian Bryant
got injured. Michigan State exposed the Buckeyes' safeties early on last Saturday.
It's kind of hard to believe that Ohio State would find itself so thin at linebacker. The Buckeyes recruited some highly-regarded defensive backs last year, but guys like
Vonn Bell
didn't have much of an impact this season. They're still young, so that's to be expected, but it was disappointing that some of the more veteran players didn't have great seasons (relatively speaking, because Ohio State did go 12-0).
The Buckeyes' defensive coaches all have strong track records, so I have a hard time believing it's simply a coaching issue. But Ohio State clearly needs to develop better depth in its back seven, especially if Shazier decides to leave for the NFL.
Randy from Waukesha, Wis., writes
: I just learned that Wisconsin's
Jared Abbrederis
won an award for the national best walk-on player-of the-year in CF! Did I miss your guys' article on this? If not please tell us more..... B1G can use all the kudos it can get, especially at this time of the year!
Brian Bennett:
Yes,
Abbrederis won the Burlsworth Trophy
, which is award to the best player who started his career as a walk-on. We didn't write a post about it, mainly because there are seemingly thousands of college football awards now, but we did tweet it. Abbrederis was a slam-dunk choice for that award, and it's hard to believe he ever was a walk-on. He'll be on an NFL roster next fall.
King from Los Angeles writes:
I agreed with you about the silliness of the coaches' poll. I am a Huskers fan and I do not believe we deserved a top 25 ranking even though Bo thinks so. I think they should change the way coaches vote by making a rule that you cannot vote for your own team. That could take away all the biases. What do you think?
Brian Bennett:
That would only solve part of the problem, as there still would be inherent conflicts of interest involving teams in a coach's own conference, his opponents, friends, etc. The good news is it won't matter at all as part of the national championship provess next year, so the coaches can be as silly as they want to be. And given how little most coaches want to deal with the hassle, I'm not sure why there should even be a coaches' poll next year.
Greg from Lansing, Mich., writes:
In giving conferences more power on selecting bowl match-ups should we just assume Ohio State/Michigan will always occupy the better bowl games? (If they aren't already in the play-off).
Brian Bennett:
I can understand why there's a feeling in some quarters that Ohio State and Michigan get preferential treatment from the league office. But the truth is that the biggest brand-name schools already get preferential treatment from bowls. Is there any reason why Michigan at 7-5, should be in the Big Ten's No. 3 non-BCS bowl this year? Or why Ohio State went to the Gator at 6-6 in 2011? Only one: drawing power.
What the new system will basically do is allow the leagues more input on the process so as to avoid teams going to the same destination over and over again and to create better matchups. Had it been in place this year, however, I doubt we'd see Nebraska going back to Florida for a rematch with Georgia. Bowls are always going to want big-name teams as long as they are businesses. But better matchups and fresher destinations should help fans.
Greg from Atlanta writes:
As an Iowa fan living in Georgia, I'm wondering how an 8-4 Georgia team gets ranked and an 8-4 Iowa team doesn't? Now, I'm not saying Iowa deserves a ranking, because 4 wins shouldn't get you in the top 25. But, Georgia lost to Vandy and needed double OT to beat Ga Tech. They also struggled with teams they should have throttled and fell far below expectations. Iowa played two teams tough that will both play in BCS bowls. Is this just more bias against the Big Ten? If so, will that bias ever go away?
Brian Bennett:
I don't think this is a case of anti-Big Ten bias as much as it is probably pro-SEC sentiment. Iowa is a tough case and a team I debated putting in my final Top 25 for a while before ultimately deciding against it. Barely. The Hawkeyes' four losses are all highly respectable -- Michigan State, Ohio State, Wisconsin and Northern Illinois. But you shouldn't get credit for just losing to good teams. Iowa's best wins are over Minnesota, Michigan and Nebraska, with two of those on the road. Very solid, but not spectacular.
Georgia's in a similar boat in terms of "good" losses, including Clemson and Missouri. The Dawgs also lost on the road to Auburn thanks to a miracle play at the end. They have also beaten South Carolina and LSU, two wins better than anything Iowa can claim, and the team was decimated by injuries this season.
I think the Hawkeyes are good, and they have some nice momentum after winning their final three games. That's why I'm really looking forward to seeing how they play against LSU. Iowa definitely ends the season in the Top 25 with a win over the Tigers in the Outback. And given the wide-open nature of next year's West Division, at least on paper, Iowa could emerge as one of the preseason favorites in that division in 2014.
October, 19, 2013
Oct 19
7:00
AM ET
COLUMBUS, Ohio -- Critical areas and key players to watch as No. 4 Ohio State and Iowa return from bye weeks and dive back into the Big Ten season on Saturday at the Horseshoe (3:30 p.m. ET, ABC/ESPN2).


Something has got to give:
In a classic strength-against-strength showdown, there can only be one winner. Iowa has had one the stoutest rush defenses in the nation so far this season, and it has put up a brick wall in front of the end zone through six games, refusing to allow a single touchdown on the ground. The Buckeyes are averaging more than 280 yards per game running the football, and
Carlos Hyde
is as close to a sure bet to score in the red zone as there is in the country. Ohio State is well aware of the job the Hawkeyes did in slowing offenses down in the first half of the year, and it has taken it as a personal challenge to break that scoring streak that the Hawkeyes are bringing with them on the road.
Better Braxton:
Both uncharacteristically hesitant as a rusher and careless with the football,
Braxton Miller
had two items at the top of his bye-week checklist after a rocky outing in a victory over Northwestern -- make sure his knee is totally healthy and keep a vice grip on the ball. Miller admitted that he wasn't quite feeling "like his old self" entering the off date, and the extra time to rehab and rest his left knee following two physical outings since returning from his early-season sprain should provide a boost for the Buckeyes. As for the pair of fumbles, Ohio State coaches went so far as to have him keep a football in his hands during stretching to emphasize ball security moving forward, and Miller should have plenty of opportunities to prove that lesson has been learned.
[+] Enlarge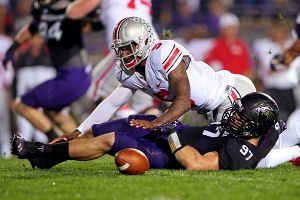 Jerry Lai/USA TODAY SportsBraxton Miller is taking steps to be more protective of the ball after two fumbles at Northwestern.
On the line:
For all the attention the Hawkeyes have received for their work against the rush, the Buckeyes have actually been even better as their rebuilt defensive line has zipped through the development process and anchored a unit that currently ranks sixth in the nation, allowing 86.2 yards per game. With defensive tackle
Tommy Schutt
returning from a broken foot to play his first game of the season on Saturday and end
Adolphus Washington
getting healthier after groin and ankle injuries, Ohio State might actually get even stingier with more depth and talent on the defensive line. Iowa's rushing attack hasn't been nearly as productive as Ohio State's, but establishing a presence on the ground will be a priority as Iowa will try to set up play-action passes and attack an inconsistent secondary.
Island living:
The draft stock
Bradley Roby
came back to improve this season hasn't exactly suffered during the first half of the season, but it also hasn't soared yet. The redshirt junior cornerback hasn't been as consistent in locking down receivers in one-on-one situations as he was a year ago during his breakout campaign, but when he's on his game, few in the country are more capable of shutting down a side of the field and refusing to allow a target room to operate. Through five games since returning from suspension, Roby has 28 tackles and two interceptions and came up with a crucial blocked punt for a touchdown against Northwestern. But both he and Ohio State are still looking for more, and he'll likely again be in position to heavily influence the outcome as the defense leaves him isolated in the secondary as the Buckeyes try to stuff the run.
One at a time:
A winning streak that stands at 18 games and the increasing volume about the national title chase as the season crosses the midway point could be distractions for the Buckeyes, and Meyer has hinted that the pressure might be starting to build for the Buckeyes. But throughout their unbeaten run since he took over last year, the constant each week has been an uncanny ability to focus on the next opponent, tune out the noise and go to work regardless of whether an opponent is ranked or not. That approach is going to be tested regularly now that the toughest stretch on the schedule is over, and Iowa is more than capable of taking advantage if the Buckeyes let their guard down.
October, 2, 2013
Oct 2
3:00
PM ET
COLUMBUS, Ohio --
Michael Bennett
wasn't evaluating his own potential as much as simply looking at the scale.
Heading into the offseason the Ohio State junior was weighing about 280 pounds, a size that would potentially allow him to play either inside or outside. But with
Adolphus Washington
checking in at just more than 300 pounds, it certainly seemed logical that the sophomore could slide to tackle and allow Bennett to return to end.
The No. 4 Buckeyes had other ideas, though, doing just the opposite of what might have been expected on paper. And now a month into the season and coming off one of the finest outings of his career, it's safe to assume they knew what they were doing when they evaluated more than just Bennett's frame and plugged him into the middle of a surging defense.
"I talked to [defensive line coach Mike] Vrabel about it," Bennett said. "I was thinking I was going to play end and [Washington] was going to play tackle. But as soon as he said we're going to put [Washington] on the outside, I was like, 'All right, well, guess I've got to get good at defensive tackle.'
"I've got the technique down a little bit better, so I recognize myself more as a defensive tackle than an end now."
[+] Enlarge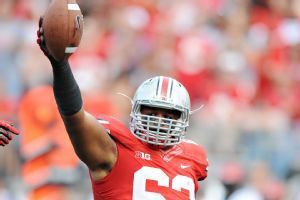 David Dermer/Diamond Images/Getty ImagesOhio State coaches say Michael Bennett is playing like an all-conference selection.
Bennett might still have some room to grow to look like a prototypical tackle, and he's quick to point out another offseason to tack on more mass would be a boost. But he's doing just fine without it for now, thriving in a critical position for a unit that has been completely rebuilt from last season.
Had a groin injury not slowed him down early in his sophomore year, the overhaul might not have required finding new starters at every position since Bennett was drawing high praise from the coaching staff and was a strong candidate to use his pass-rushing skills as a regular in the rotation up front. Instead, Bennett never seemed to get completely healthy, became something of an afterthought and finished the season with just 11 tackles, a sack, forced fumble and a recovery.
Through just four games after sitting out the blowout over Florida A&M with a stinger, Bennett has surpassed those numbers in every category but tackles, making three plays behind the line of scrimmage, chipping in 1.5 sacks and forcing and recovering a pair of fumbles -- all while doing the sometimes thankless work that comes with his new life on the interior without complaint.
"He's a perfect example of hard work because this time last year, he was nonexistent," Buckeyes coach Urban Meyer said. "When he went in, he was a liability.
"Last year he was a no-name guy we were just kind of disappointed in. This year he's become a very good leader. He's become a vocal leader, but his leadership all summer and in training camp was by his actions, his work ethic, his 4-to-6 seconds of effort. So, I mean, if he's succeeded my expectations, then he's performing like an All-Big Ten player."
Following his week off to prepare for Wisconsin, Bennett certainly delivered an all-conference type of performance to help shut down one of the most dangerous rushing offenses in the country in a critical win to open Big Ten play.
Bennett took on double teams in the middle to eat up blockers and allow Ohio State's linebackers to flow to the football in holding the Badgers to just 104 rushing yards. He made 4 tackles himself, and he also showed he hasn't lost the ability to get after the quarterback with an athletic sack, forcing a fumble in the process.
And in case there was any doubt, another productive outing offered more evidence that Bennett is a perfect fit at tackle -- even if the scale is still on his mind.
"I think I've developed that tackle mentality," Bennett said. "Tough-nosed, understanding you are going to have to take on double teams and beat them and you're probably not going to be making as many plays as the ends or linebackers.
"I've got to get a lot bigger. I'm only about 285 [pounds], so I can put on a lot more muscle and try to change some of the fat to muscle. That's very important to do in this offseason coming up."
Until then, his current weight is holding up just fine.
September, 29, 2013
Sep 29
10:00
AM ET
COLUMBUS, Ohio -- Lessons from No. 4 Ohio State's
31-24 win
over No. 23 Wisconsin to open Big Ten play on Saturday night at the Horseshoe.

Miller's arm is better than ever.
The Buckeyes needed his legs to be functioning fully again before putting
Braxton Miller
back on the field. But once that was out of the way, the junior quarterback quickly reminded everybody why the coaching staff had been raving about his improvements as a passer before his knee injury robbed him of three games outside of the league to prove it. Miller's back-shoulder throw to
Devin Smith
for a 26-yard touchdown was a pass he probably couldn't have made a year ago, and it was delivered with the perfect accuracy and strength -- only Smith could have made a play on it. Miller also was willing to step up in the pocket and wait for routes to develop on a couple crucial third downs, and while his decision-making still isn't perfect, he's becoming even more well rounded and dangerous.
The front seven passed the test.
There's plenty of football left, but it might be safe at this point to consider the rebuilding project on defense a success in the trenches.
Adolphus Washington
returned from a groin injury to wreak some havoc in the backfield with
Michael Bennett
and
Noah Spence
, generating an effective pass rush and largely shutting down Wisconsin's powerful rushing attack. Bennett was credited with the only sack among the linemen, but Washington forced an errant throw that was intercepted by
Bradley Roby
and Spence was a real pain for the Badgers off the edge at times. Another tough examination is coming up on Saturday at Northwestern, but the Buckeyes appear to be well equipped for it.
The secondary is going to need some attention.
Roby snagged an interception and broke up three passes at cornerback, but he and the defensive backs had more communication issues pop up against the Badgers that looked similar to a few they had against California a couple weeks ago. Giving up 295 passing yards to a run-first team with only one real target at wide receiver won't make the defensive coaching staff all that happy, and losing senior safety
Christian Bryant
to a fractured ankle only complicates matters for a unit that was expected to be the strength of the defense. The Buckeyes did execute a game plan that limited Wisconsin's effectiveness on the ground, and that obviously had to be a priority against
Melvin Gordon
and
James White
. But there are some kinks to be worked out against the pass that will be more difficult to do without Bryant's skill and experience.
September, 28, 2013
Sep 28
7:00
AM ET
COLUMBUS, Ohio -- The race for the Big Ten championship kicks into high gear at the Horseshoe with No. 4 Ohio State hosting No. 23 Wisconsin (8 p.m., ABC) a game with so much intrigue, even the sideline will be worth watching.


Braxton's back:
The brightest spotlight of all be on Ohio State's star quarterback, with
Braxton Miller
expected to be back in the starting lineup after missing the last two games and nearly all of a third with a sprained knee.
Kenny Guiton
has been nothing short of spectacular in his place, but Miller is the centerpiece of Urban Meyer's spread offense and should finally allow the Buckeyes to open up their attack after keeping it largely buttoned up leading into Big Ten play. Meyer has considered playing both Miller and Guiton and has experience managing two quarterbacks, dating to his days with Chris Leak and Tim Tebow at Florida. But if his starter is fully healthy, he's not likely to come off the field.
Key returners on defense, too:
Miller commands the most attention, but the Buckeyes should also be as close to full strength on defense as they've been so far this season. Defensive end
Adolphus Washington
is expected to return from a nagging groin injury that has kept him on the shelf for the last two games, and tackle
Michael Bennett
also has been cleared after sitting out last week's blowout over Florida A&M with a stinger. Getting those starters back up front should be invaluable for the Buckeyes as they face what could be their stiffest test of the season: Wisconsin's power rushing attack.
Horsepower:
There might not be a better collection of rushing talent on one field all season than what Wisconsin and Ohio State can put on display for a prime-time, national audience.
James White
and
Melvin Gordon
have been the more productive combo so far this season leading the Badgers, and the explosive ability of Gordon will certainly provide a test for the Buckeyes in the front seven. But with
Carlos Hyde
back after his three-game suspension, his partnership with
Jordan Hall
could provide a one-two punch that figures to be every bit as effective as White and Gordon, and there could be some bragging rights on the line in a head-to-head fight to determine the best backfield.
Bright lights, big stage:
Bradley Roby
has made it no secret that playing in big games in front of huge crowds, under the lights and with televisions tuned in to watch the Buckeyes, was a significant factor in his decision to return for another season. Opportunities for the redshirt junior cornerback to show his stuff don't get much much better than this, and Roby showed last year with two interceptions in similar circumstances at night against Nebraska that he doesn't shrink from the moment. When the Badgers turn to their passing game, Roby no doubtwill be looking to make something happen for the Buckeyes.
Pulling out the stops:
As if an expected crowd of around 106,000 fans encouraged to "Scarlet Out the 'Shoe," the choice to wear rivalry uniforms or Meyer's praise of budding rivals Wisconsin as the "king" of the Big Ten didn't make it obvious how seriously the Buckeyes are taking this weekend as a showcase for the program, they pushed it over the top by confirming Friday that one of the most recognizable athletes in the world would be cheering them on from the sideline. LeBron James added yet another layer of hype to this critical division clash, and it also figures to impress a swarm of recruits on hand to experience what should be a wild atmosphere.
September, 26, 2013
Sep 26
11:00
AM ET
COLUMBUS, Ohio -- The clues started popping up in the form of ferocious pass-rushing ends who were dominating spring practice.
By the time training camp and the start of the season rolled around, a couple new bodies were added into the rotation, and Ohio State was starting to show signs that what was thought to be a potential problem was about to be solved.
[+] Enlarge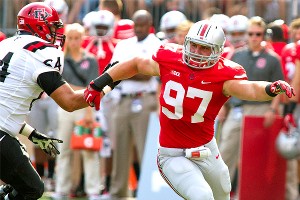 Jason Mowry/Icon SMITrue freshman Joey Bosa has been pressed into action and has performed admirably.
Now with four games under their belt, the Buckeyes are reasonably certain that an entirely rebuilt defensive line has gone from possible weakness to legitimate strength.
But even with all the information they've compiled -- dating to the end of last season and through an impressive start outside of Big Ten play -- all No. 4 Ohio State really has at this point is a hypothesis. The true test is coming Saturday, with No. 23 Wisconsin and its powerful rushing game visiting Ohio Stadium to provide a more concrete answer about just how good the Buckeyes are up front.
"They have not received the challenge yet like this one," Ohio State coach Urban Meyer said. "This will be the biggest challenge to this point, maybe the rest of the year, for our defensive front seven.
"I know we've had conversations about this outfit before, because the run game is real. You can get embarrassed real fast if you're not gap-sound and handling your business."
The Buckeyes went about their nonconference business with ruthless efficiency and relative ease, relaxing some of the concerns about filling the void left by three graduated seniors and a junior who left early for the NFL draft. But given the level of competition a largely inexperienced unit has faced compared to what it will encounter in the trenches against the Badgers, it's difficult to reach much of a conclusion until after this weekend's prime-time matchup.
Ohio State hasn't been at full strength on the line yet either, with
Adolphus Washington
missing two games due to a groin injury that has kept him from forming what appears to be a terrific tandem with fellow sophomore
Noah Spence
. Defensive tackle
Michael Bennett
was held out of last week's blowout over Florida A&M, and Ohio State has yet to get a snap out of
Tommy Schutt
at the position this season due to a preseason foot injury. Those issues have pressed a true freshman into an expanded role at end, where
Joey Bosa
has shined, and it also forced Meyer to move offensive lineman
Chase Farris
back over to defense to provide more depth and talent on the interior alongside veteran
Joel Hale
.
But even with those limitations, the way the Buckeyes have played might give them a bit of extra credit, considering they still rank No. 9 in the nation against the rush and No. 13 in total defense, which also represents marked improvement from some early struggles a year ago in Meyer's first season with the program. But those numbers haven't come against teams that can block as physically or run as dangerously as the Badgers, and the nation's third-ranked rushing attack is the measuring stick that counts for a defense looking to live up to the proud tradition of the Silver Bullets.
"I know people are going to say that it's going to come down to making tackles and stopping big plays and things like that," defensive coordinator Luke Fickell said. "But if we do a great job up front, we'll be in good shape. If we don't do a great job up front, we'll have a tough time.
"That doesn't mean the back seven don't have to play well. The linebackers and [secondary] are every bit a part of stopping and fitting that run and being a part of that effort as the front seven. But those guys up front are where the game is won and lost."
Testing a hypothesis doesn't get much easier than that.
September, 22, 2013
Sep 22
10:00
AM ET
COLUMBUS, Ohio -- New developments for Ohio State coming out of an easy, tune-up win over Florida A&M,
a 76-0 rout
on Saturday afternoon at Ohio Stadium.

Man on fire:
Braxton Miller
is eventually going to come back and reclaim his starting job, but
Kenny Guiton
has more than kept the seat warm. The redshirt senior has been a record-setting inferno, throwing the football in the last two victories while Miller has rested his sprained knee. Guiton etched his name in Ohio State lore again with six touchdown passes -- the most in school history for a single game, a record that only took him two quarters to accomplish. The Buckeyes were already confident in their backup before the last two weeks, but their depth at quarterback has proven to be a luxury few teams in the country can match.
The defensive line is only getting better:
Even with two starters out with injury, the Buckeyes still were able to deliver consistent pressure. The defensive line continues to silence any doubts about a rebuilt unit up front.
Adolphus Washington
(groin) and
Michael Bennett
(stinger) were held out to get them ready for next week's physical test against Wisconsin, and backups
Steve Miller
and
Chase Farris
each chipped in sacks to offer some evidence there is improving depth to go along with the top-end talent in the normal first-team lineup.
The offense has weapons to spare:
The Rattlers were hopelessly overmatched from the start, so much of Ohio State's frighteningly efficient offensive outing must be taken with a grain of salt. But the Buckeyes have more than just a capable backup at quarterback -- they've got dynamic, young playmakers waiting for touches at running back and wide receiver as well.
Ezekiel Elliott
came off the bench in the second half to rush for 162 yards and two touchdowns,
Warren Ball
added 49 more rushing yards and Guiton completed passes to 10 receivers. Ohio State is putting up points in bunches now, and the future looks just as bright.
September, 19, 2013
Sep 19
12:00
PM ET
Unlike in Cleveland, there are no white flags waving here in September.
September, 13, 2013
Sep 13
9:30
AM ET
COLUMBUS, Ohio -- A closer look at players and positions that will be critical for No. 4 Ohio State as it tries to extend its winning streak under Urban Meyer to 15 games on Saturday at California.
Kenny Guiton
[+] Enlarge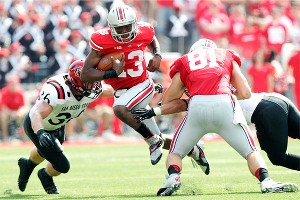 AP Photo/Jay LaPreteWith Braxton Miller's status still uncertain, Kenny Guiton could be in line for more work Saturday.
The health of
Braxton Miller
has been under the microscope all week long since he left on the opening drive of Ohio State's easy win last week, and while his sprained knee has responded well and the junior will be on the plane heading west, it's a safe bet his backup once again will be seeing some action.
The Buckeyes might not know exactly how much they'll need Guiton until shortly before kickoff, but even if Miller is in solid enough shape to start, Meyer might well play it safe and get his reliable reliever off the bench to share the load at times anyway -- particularly if the spread attack is able to get an early lead against a suspect Cal defense.
Joey Bosa
Perhaps overlooked with the spotlight shining so brightly on Miller's knee is the fact Ohio State is dealing with another injury concern on the other side of the ball, and the groin problem for defensive end
Adolphus Washington
actually might be a more pressing issue. Considering the youth in the front seven for the Buckeyes and Cal's uptempo, aggressive style with the football, removing Washington from the lineup could be a significant blow up front.
True freshman
Joey Bosa
has played himself into position for a potential start and has drawn rave reviews for his athleticism and smooth transition to life in major college football, and the Buckeyes might wind up counting on him to back up all that talk in a pressurized situation.
Corey Linsley
The senior center expected to go the distance last week on his surgically repaired foot, but the lopsided scoreboard instead influenced Ohio State to err on the side of caution once again and take it slow with Linsley. He's certainly ready for a full workload against Cal, and the Buckeyes clearly have been more effective when they have their anchor on the field. The 17 early snaps and 23 points in the opener provide obvious evidence when compared with the 17 points Ohio State scored in the rest of the game without him. To help take some of the strain off the defense as it deals with a Cal squad looking to snap the ball close to 100 times, the Ohio State offensive line often will be called on to dominate as run-blockers and help work on the clock with the ground game, and Linsley can set that tone right in the middle of it all.
Cornerbacks
Designating official starters at cornerback was all the rage last week, but it truly won't matter at Cal. All three of Ohio State's top cornerbacks are going to see plenty of action, and after a somewhat inconsistent outing in place of
Bradley Roby
in the opener, the defensive staff surely felt better about what it got out of
Armani Reeves
in the win over San Diego State. Along with
Doran Grant
, safeties
C.J. Barnett
and
Christian Bryant
and nickelback
Tyvis Powell
, the secondary will be facing one of its toughest tests of the season against a pass-happy offense that will try to attack with a barrage of throws all over the field. The Buckeyes consider themselves one of the deepest, most talented units in the nation, and this will be a huge opportunity to prove it with no shortage of plays to be made.
September, 12, 2013
Sep 12
8:00
AM ET
COLUMBUS, Ohio -- The personnel on his own team looks dramatically different from this time a year ago.
The coaching staff on the opposite sideline has undergone its own massive overhaul.

So while Urban Meyer might have watched Ohio State's closer-than-expected win over California a few times for various reasons since the programs met last season, the tape of that game doesn't exactly provide much use in planning for the rematch Saturday in Berkeley.
"I think last year's game will have no impact at all," Meyer said. "Really, defensively, it's a completely different story.
"This right now, I would say with a new staff, they shot their gun against Northwestern -- that was a big game, so there won't be a new defense [this week]."
The changes on offense are even more significant with Sonny Dykes taking over and installing his pass-happy, up-tempo style, forcing the Buckeyes to spend some time breaking down his former teams at Louisiana Tech in addition to the two games he's called so far at Cal.
Given the way Meyer's staff prepares for its nonconference schedule by putting together a "summary report" on each of the first three opponents, much of that work had already been handled before this week. And while Cal defensive coordinator Andy Buh has notably changed the scheme and shifted the Bears into a more traditional 4-3 alignment, the Buckeyes are already familiar with him as well given his stint helping lead the Wisconsin defense last season.
But of those changes, the new philosophy on offense figures to be the more pressing concern. For starters, the Buckeyes are still early in the rebuilding process with all the new faces in the front seven, and they could be without starting defensive end
Adolphus Washington
if an injured groin forces him out of the lineup. And across the line of scrimmage, despite breaking in a new quarterback in true freshman
Jared Goff
, the Bears have thrown for more yards than any team in the country through two games while running an eye-popping 194 plays -- numbers that make looking at Cal's old approach to offense almost completely irrelevant.
"This offense is totally different than last year's offense," co-defensive coordinator Everett Withers said. "I think Coach Dykes is more of the fast-paced, get-the-ball-out, quick-type offense, so we have to have a little bit different plan than last year's plan. Early this summer, this spring, we looked at a lot of Louisiana Tech tape, exclusively [at that point] because there was no [Cal] game tape. As you look at what they're doing now, it's on par with what they did at Louisiana Tech.
"I don't think we even looked at last year's tape [against Cal]."
Other than the result, there probably wasn't ever much the Buckeyes enjoyed about watching it. And they clearly have little use for doing it now.
September, 8, 2013
Sep 8
10:00
AM ET
COLUMBUS, Ohio -- Taking a look at the lessons coming out of
Ohio State's 42-7 romp over San Diego State
on Saturday at Ohio Stadium.

Dontre Wilson is ready for more
: The package is already starting to expand for the touted freshman, and the Buckeyes are only going to keep adding to Wilson's plate as he gets more comfortable in the offense. Wilson put his speed on full display as a rusher, turning five touches into 51 yards and a touchdown as he worked the perimeter in the option game. His 3 catches didn't yield much, accounting for just 6 yards, but he's displayed some sure hands that should allow coach Urban Meyer to throw his way more often and put him in position to explode down the field. Wilson has only scratched the surface, but he's already starting to live up to the hype.
The defensive line is going to be fine
:
Adolphus Washington
was hampered with a groin injury, but even without the sophomore available to lead the pass rush as the Buckeyes have planned, the unit up front appears to be ahead of schedule in the rebuilding effort.
Noah Spence
showed up in the backfield to harass the quarterback for the second straight week,
Steve Miller
came off the bench to chip in an athletic sack and
Michael Bennett
is finally becoming the force in the trenches he has long been expected to be for the Buckeyes. In all, the unit tallied 3 sacks, forced two fumbles and recovered them both during a performance that should ease some concerns about the lack of experience going into the season.
Corners opposite Bradley Roby will be busy
: Technically, Roby didn't get the starting nod as he returned from his one-game suspension. But he was only on the bench for two plays before getting plugged back in the rotation, and once he was there, San Diego State seemed to have little interest in throwing his way. On the rare occasion the Aztecs looked at his side of the field, Roby was blitzing and still was able to break up the pass by leaping up to get a hand on it with his incredible athleticism. Most teams are likely to take the same approach to avoiding one of the nation's best cover guys, which will leave plenty of opportunities for
Doran Grant
or
Armani Reeves
to make plays in the secondary -- and both came up with interceptions as the defensive backs held the Aztecs to 216 yards while completing 22 of their 41 attempts.
September, 3, 2013
Sep 3
3:00
PM ET
Every Monday or Tuesday, I'll take a look back at our Big Ten predictions and poke fun at Brian, our guest picker and myself. Unfortunately, Brian is the big winner after Week 1, going a perfect 12-0 in picks to lead me by a game.
To review, the
Week 1 predictions
made by the reporters and guest picker
Ryan Stitt of Litchfield, Ill.
WEEK 1/SEASON RECORD
Brian Bennett: 12-0 (1.000)
Adam Rittenberg: 11-1 (.917)
It's rewind time …
Indiana State at Indiana
Bennett's pick: Indiana 38, Indiana State 14
Rittenberg's pick: Indiana 42, Indiana State 20
Actual score: Indiana 73, Indiana State 35
20-20 hindsight: We both underestimated the prowess of Indiana's offense, which set a stadium record for points scored. Bennett correctly pegged Tre Roberson to start at quarterback for the Hoosiers and Nate Sudfeld to take over and play plenty. My prediction of three combined rush touchdowns for Tevin Coleman and Stephen Houston fell one score short.
UNLV at Minnesota
Bennett's pick: Minnesota 31, UNLV 16
Rittenberg's pick: Minnesota 27, UNLV 14
Actual score: Minnesota 51, UNLV 23
20-20 hindsight: Again, we didn't expect such a scoring explosion from the Big Ten team. I correctly predicted Minnesota would record several takeaways (it had two). Bennett's pick to click, Gophers running back Donnell Kirkwood, had his night cut short by an ankle injury.
Western Michigan at Michigan State
Bennett's pick: Michigan State 28, Western Michigan 6
Rittenberg's pick: Michigan State 31, Western Michigan 10
Actual score: Michigan State 26, Western Michigan 13
20-20 hindsight: Both of us correctly pegged the Spartan Dawgs defense for a big night, although their pick-six came from a safety (Kurtis Drummond), not a cornerback, as I predicted. Bennett had the better forecast on the offense, writing that the quarterback competition wouldn't be settled in Week 1.
Buffalo at Ohio State
Bennett's pick: Ohio State 42, Buffalo 14
Rittenberg's pick: Ohio State 49, Buffalo 13
Actual score: Ohio State 40, Buffalo 20
20-20 hindsight: Bennett came closer on the score prediction, but we both had the wrong Buckeyes going for long touchdowns as running back Jordan Hall and wide receiver Devin Smith did their thing. Defensive end Noah Spence had a sack, but neither Adolphus Washington nor Ryan Shazier recorded one, as I had predicted.
Massachusetts at Wisconsin
Bennett's pick: Wisconsin 38, UMass 7
Rittenberg's pick: Wisconsin 48, UMass 10
Actual score: Wisconsin 45, UMass 0
20-20 hindsight: This was one of our easier and better predictions of Week 1. Bennett's combined yards prediction of 275 for James White and Melvin Gordon came extremely close -- they had 287 -- and I correctly pegged Badgers quarterback Joel Stave to twice find Jared Abbrederis for touchdowns.
Southern Illinois at Illinois
Bennett's pick: Illinois 31, Southern Illinois 13
Rittenberg's pick: Illinois 27, Southern Illinois 17
Actual score: Illinois 42, Southern Illinois 34
20-20 hindsight: Sense a theme? We both undervalued the offenses of several second-division Big Ten squads in Week 1. Brian came close with his predictions of 35 pass attempts (Illinois had 37) and three Nathan Scheelhaase touchdown passes (he had two).
Purdue at Cincinnati
Bennett's pick: Cincinnati 28, Purdue 27
Rittenberg's pick: Cincinnati 27, Purdue 24
Actual score: Cincinnati 42, Purdue 7
20-20 hindsight: We both expected much more from Purdue in coach Darrell Hazell's debut. Cincinnati quarterback Munchie Legaux made big plays early, not late, as Brian predicted. I had Purdue quarterback Rob Henry committing a key fourth-quarter turnover, but he threw picks in the first and third quarters in a poor performance.
Central Michigan at Michigan
Bennett's pick: Michigan 35, Central Michigan 17
Rittenberg's pick: Michigan 38, Central Michigan 14
Actual score: Michigan 59, Central Michigan 9
20-20 hindsight: We had similar score predictions and both turned out to be way off, at least when it comes to Michigan's offensive output. Michigan receiver Jeremy Gallon had one touchdown catch, not two as I had predicted. Wolverines running back Fitzgerald Toussaint had 57 rush yards, falling short of Brian's prediction (95).
Penn State vs. Syracuse
Bennett's pick: Penn State 27, Syracuse 23
Rittenberg's pick: Penn State 24, Syracuse 21
Actual score: Penn State 23, Syracuse 17
20-20 hindsight: One of our better score predictions, as we both expected a fairly low scoring close game and got one. Penn State had zero rushing touchdowns, not the two I had predicted.
Northern Illinois at Iowa
Bennett's pick: Northern Illinois 23, Iowa 21
Rittenberg's pick: Iowa 24, Northern Illinois 23
Actual score: Northern Illinois 30, Iowa 27
20-20 hindsight: Our lone disagreement of Week 1 went Bennett's way, even though I was in good shape for most of the second half. Iowa running back Mark Weisman (100 rush yards) came 50 yards and two touchdowns shy of my prediction. NIU got a big lift late in the fourth quarter from a Jordan Lynch touchdown pass, not a Lynch scoring run, which was Bennett's forecast.
Wyoming at Nebraska
Bennett's pick: Nebraska 49, Wyoming 21
Rittenberg's pick: Nebraska 52, Wyoming 17
Actual score: Nebraska 37, Wyoming 34
20-20 hindsight: We both expected a stress-free night for the Huskers and a much better performance from the young Nebraska defense. Neither happened. I correctly pegged Nebraska quarterback Taylor Martinez to find Quincy Enunwa for two touchdown passes. Brian's prediction of five combined touchdowns for Martinez and Ameer Abdullah came up short as Imani Cross had Nebraska's two rushing touchdowns.
Northwestern at California
Bennett's pick: Northwestern 30, Cal 24
Rittenberg's pick: Northwestern 33, Cal 24
Actual score: Northwestern 44, Cal 30
20-20 hindsight: We both came up short with our score predictions, although Bennett's forecast of Northwestern recording two timely interceptions proved spot on as linebacker Collin Ellis had a pair of pick-sixes in the second half. Injuries prevented the big night I predicted for Northwestern quarterback Kain Colter and running back Venric Mark.
And now for our guest picker …
Indiana 21, Indiana State 13
UNLV 21, Minnesota 17
Michigan State 28, Western Michigan 17
Ohio State 45, Buffalo 13
Wisconsin 38, UMass 14
Southern Illinois 20, Illinois 17
Cincinnati 27, Purdue 21
Michigan 28, Central Michigan 17
Penn State 28, Syracuse 23
Iowa 24, Northern Illinois 13
Nebraska 27, Wyoming 16
Northwestern 24, California 21
Record:
9-3
Assessment:
Not too shabby, Ryan, although you've clearly lived in Big Ten country too long with some of those low score predictions. You came close with Michigan State-Western Michigan but, like the two of us, underestimated the offensive prowess of teams like Michigan, Northwestern, Indiana, Minnesota and Illinois. That UNLV pick doesn't look too good, but not a terrible first effort.
Who's next?
August, 29, 2013
Aug 29
9:00
AM ET
COLUMBUS, Ohio -- Breaking down the positions and players who have the most to prove as No. 2 Ohio State opens the season on Saturday against Buffalo (TV: ESPN2, noon).
FIRST DOWN: Defensive tackles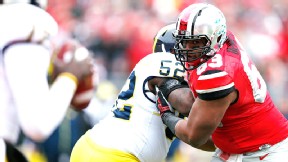 Joe Robbins/Getty ImagesThe Buckeyes feel good about their DEs, but Michael Bennett and the rest of the Ohio State DTs have something to prove.
The broken bone in
Tommy Schutt
's foot has thrown another wrench in the rebuilding project for the Buckeyes up front, and they reacted to it swiftly by shuffling
Chase Farris
back over to defense from the offensive line.
Schutt wasn't listed as a starter on the depth chart for the opener, but the sophomore impressed in limited action last season and had turned in a productive training camp before the injury bug bit him again on Monday. The Buckeyes know what life is like without Schutt after ankle issues limited him throughout spring, but for a unit that is replacing all four starters, having everybody healthy and ready to contribute was obviously important.
Ohio State has no shortage of confidence in
Noah Spence
and
Adolphus Washington
at end, but in some respects
Joel Hale
and
Michael Bennett
are still unknown quantities despite having been in the program for a couple years. Now with Schutt out and Farris moving to fill the void, the pressure is ramped up for a newcomer such as
Michael Hill
or sophomore
Chris Carter
.
SECOND DOWN: Freshmen skill players
The Buckeyes have no shortage of pieces returning from the Big Ten's best offense a season ago, but it's the fresh additions that figure to allow Urban Meyer to truly unleash his spread attack this fall.
They still have to prove themselves in a game though, and
Dontre Wilson
,
Ezekiel Elliott
and
Jalin Marshall
are all likely to touch the ball a few times as the Buckeyes evaluate what they have in what is shaping up to be an offensive class capable of making an early impact.
Wilson, in particular, could get his hands on the football right away with Ohio State trotting him out to return kickoffs. His electric speed could be put on display early, but the Buckeyes will really be watching him closely in the H-back role as they try to add more diversity to the playbook.
THIRD DOWN: Cornerbacks
The starting job
Armani Reeves
is filling this week is only temporary, and the sophomore is well aware of that. But he's got a huge opportunity to impress with
Bradley Roby
sitting out his one-game suspension, and potentially down the road it might help him make a push for the other first-team job at cornerback.
Doran Grant
has something to prove himself after playing minimally in reserve of Roby and Travis Howard a year ago, so the junior bears monitoring as well as he transitions into the starting lineup. There hasn't been any question about the pecking order since spring -- with Roby and Grant leading the way for a talented, deep secondary -- but only one career start separates Grant from Reeves. Both would benefit from making a strong first impression against the Bulls.
FOURTH DOWN: Braxton Miller's arm
The reviews have been overwhelmingly positive for the junior's development as a passer, and he publicly lobbied after practice to air the ball out at least 25 times -- then joked that he would call his own plays to get to 30.
If Miller is eager to show off the improvements he's made mechanically both in terms of accuracy and his footwork, the Buckeyes would certainly like to get a gauge of how far he's come in a meaningful setting as well.
There's been little doubt since a productive spring game that Miller is sharper and more confident delivering the football, and he's only had more time to fine tune his arm since then. The Buckeyes were far from a balanced offense last season, rushing twice as often as they passed, with Miller's skills as a runner helping drive up the margin.
But if his arm has managed to make up some ground with his feet, the offense could be unpredictable with what it could do on any down, making it a nightmare to try to defend.
August, 21, 2013
Aug 21
11:00
AM ET
Breaking down the Ohio State roster as training camp winds down and the program turns its attention to the opener on Aug. 31 against Buffalo.
DEFENSIVE LINE
Top of the depth chart:
Adolphus Washington
and
Noah Spence
at end with
Michael Bennett
and
Joel Hale
on the interior
Next in line:
Ankle injuries in spring practice kept
Tommy Schutt
from making it a three-man rotation in the middle, but he is healthy now and pushing for work at tackle along with the more veteran starters.
Chris Carter
isn't exactly slim and probably never will be, but he has shed some weight and could be a valuable run-stopper when the situation is right.
Rashad Frazier
has emerged as a viable option at end, and the transition of
Jamal Marcus
from linebacker a year ago to pass-rushing threat on the edge has apparently been a success as he and
Steve Miller
offer two more useful bodies off the bench.
New faces:
For all of Urban Meyer's history on offense, he long has made an emphasis on stocking his team with athletes on the defensive line capable of wreaking havoc on opposing quarterbacks. After losing all four starters from the 2012 line, the Buckeyes were perhaps more intent than usual on stocking up for the future in the trenches, and freshmen such as
Joey Bosa
,
Michael Hill
,
Tracy Sprinkle
and
Tyquan Lewis
all could play a role in the rebuilding of the unit as early as this season.
Recruiting trail:
Even with all four projected starters set to return after this season, the focus on finding more potential game-changers up front hasn't changed at all for Meyer. The class of commits already includes a pair of linemen, including ESPN300 end Jalyn Holmes (Norfolk, Va./Lake Taylor), a versatile athlete who checks in at 6-foot-5 and has enough mobility to play on either side of the ball potentially.
Flexibility:
The plan heading into the season is to rotate through about eight guys up front, which wasn't something the Buckeyes ever could really do a year ago while still easing Spence and Washington into the mix during their first seasons on campus. Ohio State can't lean on a group of veterans to carry the load this time, though, and the development of the second unit could be critical as the season progresses. There's no real question about who the starters are, but for all the talent Spence and Washington bring to the lineup, this will still be their first full year in the Big Ten grind as regulars.
Notable numbers:
Despite his relatively limited role a year ago, Washington's three sacks represent the highest returning total among linemen. John Simon's nine takedowns led the team, and linebacker Ryan Shazier finished second with five -- so the Buckeyes are certainly looking for more individual production from the next wave up front.

Bennett appeared in only eight games and chipped in just 11 tackles due to a nagging groin injury, but before his health became a concern, the Buckeyes had big plans for him as a sophomore with Meyer labeling him as one of his top four linemen. Ohio State will need him to live up to that billing on the inside this fall.
Big question:
How good can the super sophomores be?
There may have been some uncertainty heading to spring practice as the Ohio State staff faced the daunting task of replacing six starters in the front seven -- including the entire defensive line. But it didn't take long for Spence and Washington to start easing some minds and allowing the coaches to get some sleep. The two are freakishly talented and perfect complements to each other, with Spence a speedy blur off the edge and Washington a powerful force capable of bulling over blockers on the way to the quarterback. Neither has been called on for regular work over a complete season at this level, though, so despite the high expectations, there's still plenty left to prove on the field. The way the two of them hold up physically as they tap into that enormous potential will be critical in determining just how much of a threat the Buckeyes can pose to opposing offenses this season.
August, 20, 2013
Aug 20
9:00
AM ET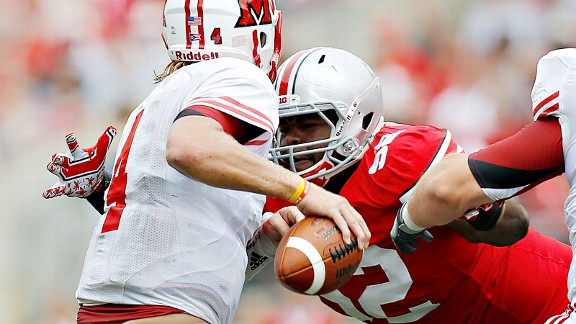 Kirk Irwin/Getty ImagesOhio State defensive lineman Adolphus Washington didn't make a huge impact as a freshman but expect much more production in 2013.
COLUMBUS, Ohio -- The brotherly bond, a seemingly perfect partnership didn't exactly happen instantaneously.
Before moving in together, before competing relentlessly against each other, before becoming potential cornerstones of a rebuilt Ohio State defense, the first thing
Adolphus Washington
had to do was figure out why exactly
Noah Spence
was trying to get in contact with him.
"It was like the day he committed, he hit me up on Facebook and I didn't really think it was Noah Spence," Washington said. "I was like, 'How does he know who I am?'
[+] Enlarge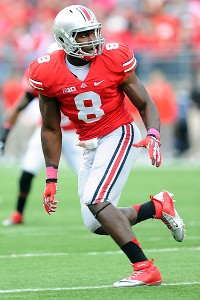 Jim Rinaldi/Icon SMIOhio State defensive end Noah Spence bulked up by around 25 pounds this offseason.
"But since that first day when he hit me up, we talked almost every day, at least every other day, about the future at Ohio State. Now, we're actually living out that dream."
In their new reality as starters and potential pass-rushing pillars of a team expected to follow up an unbeaten season by contending for a national title, Washington and Spence have only become closer as time has passed and expectations have soared since their initial introduction.
And while their names might not be that well known across the country yet, both players appear poised to help the nation get acquainted with them this fall thanks largely in part to all the pushing and prodding Spence and Washington demand of each other.
Dynamic athleticism obviously doesn't hurt their cause, either, and that was clearly why Ohio State chased them as centerpieces for Urban Meyer's first signing class with the program last year, ultimately playing matchmaker for future roommates.
"Since Day One when we got here, we've been like best friends and everything like that," Spence said. "We compete with each other, we try to make each other better every day. Basically in practice, I'm not going to let him get a sack without me getting one. We just make it a competition every day and it makes us both better.
"It's always a grind, so we try to push each other -- 'I'm going to be better than you, I'm going to get more tackles than you this year, I'm going to get more sacks.' "
Neither guy had many opportunities to pile up statistics a year ago, though both provided glimpses of what they might be capable of when given a chance to play.
Spence had the edge in tackles, chipping in 12 over 11 games and swinging field position with his only sack of the year, forcing a loss of 20 yards. Washington was able to get to the quarterback a couple more times than Spence, and he turned in one of the most memorable sacks of the season as he forced a critical fumble in the win over Michigan that clinched the perfect season.
But a veteran group of linemen that included three senior starters and another who declared early for the draft largely limited Spence and Washington to about eight snaps per game last year, according to defensive coordinator Luke Fickell. That total is about to go up dramatically with the deck cleared ahead of them, and the Buckeyes are expecting the rest of the numbers in the box score to soar as well.
"Those are two guys with high expectations," Fickell said. "They've got incredible talent, and they're really what's going to help make our defense. The game is won up front.
"We can say all this about these linebackers or the defensive backs and different things ... but the reality is the game is won up front."
It can also be won with productive training camps, and by all accounts Spence and Washington are having one, dueling for praise from the coaching staff during every rep.
The table is set in the offseason as well, where Spence bulked up by around 25 pounds from his lighter playing weight last season while Washington was letting him know how much he was lifting through gestures since strength coach Mickey Marotti "didn't like [them] talking to each other in the weight room."
Victories don't usually come from spring games, but they both had banner performances there as well as they combined for an eye-catching 7 sacks and completely controlled the line of scrimmage.
Washington had the edge that day, nudging ahead of Spence with 4 takedowns in the backfield. But bragging rights for a single afternoon, if they even happen to be mentioned at all, don't last long between the two.
There's always another chance to measure up against each other coming up soon.
"I didn't give him too much grief about that one," Washington said. "It was what it was, we both went out there and competed and I just happened to get that extra sack.
"But when we compete against each other, we both get better. I feel like when he gets a sack, the coaches tell him how good he does. So, I feel like I've got to go out and get one so they'll tell both of us how good we are."
The Buckeyes are counting on having those conversations regularly this fall. Washington and Spence have been planning on producing them since just after the first Facebook message was delivered.
30 for 30 Youngstown Boys -Clarett's First Game