Berger brings championship attitude
April, 8, 2013
4/08/13
4:41
PM ET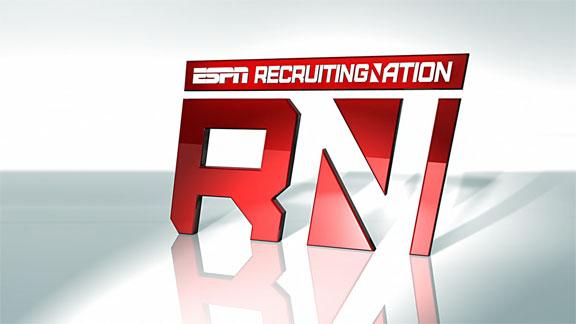 Ohio State always talks about winning the day.
On Monday, the Buckeyes certainly did that with the commitment of outside linebacker
Kyle Berger
(Cleveland/St. Ignatius).
To continue reading this article you must be an Insider
Insider
Meyer Depressed At Florida
Adam Rittenberg discusses Urban Meyer's comments about being depressed while coaching at Florida in 2009.
Meyer Depressed At Florida
VIDEO PLAYLIST
OSU FB RECRUITING SCORECARD
bucksinsider

Ohio State News


Maryland vs. Ohio State football game time, TV schedule announced: Terps and Buckeyes wi... http://t.co/yui8XV7jWN #buckeyes #ohiostate
2 minutes ago

ESPN_BigTen

ESPN BigTen


Recruits react to Michigan's woes http://t.co/F6y4jrQqH8
4 minutes ago

KyleRowland

Kyle Rowland


"They have as good a receiving corps that we'll face this year" -IU DC Brian Knorr on Maryland. Raving about Stefon Diggs.
4 minutes ago

KyleRowland

Kyle Rowland


IU offensive coordinator Kevin Johns says Maryland's Will Likely is the best perimeter player Indiana will face to this point.
16 minutes ago

TimShoemaker

Tim Shoemaker


I wonder if Kerry Coombs knows Cincinnati is actually in Kentucky and not Ohio.
21 minutes ago

KyleRowland

Kyle Rowland


Wilson and Sudfeld had heated exchange in fourth quarter. Asked about confrontation, Wilson smile and called it "family love."
24 minutes ago

KyleRowland

Kyle Rowland


Wilson chides media saying Sudfeld played good for QB who can't win on the road. "You guys wrote that, right?"
26 minutes ago

KyleRowland

Kyle Rowland


IU coaches already moving past Missouri win. Wilson said Sunday was spent watching Maryland film, not the previous day's win at Mizzou.
29 minutes ago

KyleRowland

Kyle Rowland


Wilson says difference between 4-8 and 8-4 is a few plays. On Saturday, Indiana finally made the positive plays down the stretch.
30 minutes ago

KyleRowland

Kyle Rowland


Wilson says Indiana OL should get more credit for how much time they give Nate Sudfeld, not just opening running lanes for Tevin Coleman.
34 minutes ago

11W

Eleven Warriors


Presser Bullets: Urban Meyer talks Cincinnati's powerful offense, Noah Spence's status, the overhauled pass defense. http://t.co/8aD4oqdGz9
35 minutes ago

KyleRowland

Kyle Rowland


It's important how you prepare, Wilson says. A lot will be learned of IU this week. How do they handle the success? It's about continuation.
38 minutes ago

KyleRowland

Kyle Rowland


Wilson understands how big Mizzou win was for IU program. But said he's most happy for seniors who've been working hard for 4 years.
39 minutes ago

KyleRowland

Kyle Rowland


Maryland QB CJ Brown is sixth-year senior. Wilson jokes that he took over after Boomer Esiason graduated.
43 minutes ago

KyleRowland

Kyle Rowland


Wilson urges students and fan base to be loud and proud Saturday. He said Hoosiers will need best week of prep to beat good Maryland team.
43 minutes ago

KyleRowland

Kyle Rowland


Wilson notes that all but one player who traveled to Missouri appeared in the game.
44 minutes ago

KyleRowland

Kyle Rowland


Luers grad Kenny Mullen suffered season-ending ACL injury at Mizzou, according to Wilson. Said he should be able to get a redshirt.
45 minutes ago

AWardESPN

Austin Ward


OSU TE coach Tim Hinton on Jeff Heuerman: "We expect him to be on the field and a lot healthier than he's been." Sat out Kent State game.
45 minutes ago

AWardESPN

Austin Ward


Urban on Spence situation: "To throw him to the street, I didn't feel that was appropriate just yet."
51 minutes ago

AWardESPN

Austin Ward


Urban Meyer on Noah Spence: "He's not going to practice now."
54 minutes ago

KyleRowland

Kyle Rowland


Ohio State-UC game will be very interesting. Especially since Bearcats have the better QB. Doesn't happen often against Buckeyes.
about an hour ago

KyleRowland

Kyle Rowland


Cody Zeller was so excited about IU win Saturday that when he texted a congrats message to WR Nick Stoner he wrote "happy birthday" instead.
about an hour ago

11W

Eleven Warriors


Ohio State opens Big Ten play next week at Maryland. It will be a noon kickoff. http://t.co/FOtJfZnwnK
about an hour ago

AWardESPN

Austin Ward


Buckeyes still haven't settled on a starting group on the offensive line for this week, and Meyer thinks they'll play at least six guys.
about an hour ago

AnthonyRothman

Anthony Rothman


Urban Meyer on @971thefan now. We'll follow it up with @chris_spielman on sports.
about an hour ago

AWardESPN

Austin Ward


Urban Meyer calls Cincy "exceptional" on offense. This will be a big test for Ohio State's reworked secondary.
about an hour ago

11W

Eleven Warriors


The future of Ohio State football is bright: 80% of 2014's points have been scored by freshmen or sophomores. http://t.co/IsgKeQRj2y
about an hour ago

BuckeyeNotes

Jerry Emig


Word out of the Big Ten Conference: The Ohio State/Maryland game will kick off at noon with a national ABC audience.
about an hour ago

KyleRowland

Kyle Rowland


RT @mcaldero74 Oct. 4 on BTN: North Texas at Indiana (2:30pm ET)
about an hour ago

KyleRowland

Kyle Rowland


Sun shining brightly on Memorial Stadium in Bloomington. http://t.co/bhZKvkeUEP
about an hour ago

ESPN_BigTen

ESPN BigTen


Nebraska could be Big Ten's best shot http://t.co/H68oapL9Zt
about an hour ago

KyleRowland

Kyle Rowland


Tip of the cap to Columbia, Missouri. Tremendous city. Mizzou campus also impressive.
about an hour ago

AWardESPN

Austin Ward


Maryland's Will Likely (D), Northwestern's Chris Gradone (ST)) and Indiana's Tegray Scales/Minnesota's Chris Streveler (Fr.) also honored.
about an hour ago

AWardESPN

Austin Ward


Let the trash talk between friend begin: Ameer Abdullah and Melvin Gordon are co-offensive players of the week in B1G.
about 2 hours ago

KyleRowland

Kyle Rowland


IU linebacker Tegray Scales named Big Ten co-freshman of the week after five tackles and one sack in Hoosiers' win at Mizzou.
about 2 hours ago

BoggsTJSports

Paul Boggs


See http://t.co/naICOUVhtB for information on Friday's Sept. 26 @chris_spielman Gridiron Classic Series football game involving Wellston HS.
about 2 hours ago

OhioStateTix

OSU Ticket Office


Package A student men's basketball tickets on sale at 4pm today online only
about 2 hours ago

11W

Eleven Warriors


Will the Cincinnati defense be up to the task of stopping the Buckeyes on Saturday? Let's head to the film room. http://t.co/t5iphS1IxP
about 2 hours ago

11W

Eleven Warriors


Recapping NFL Week Three: the League won't let Brian Hartline be himself. And former teammate Ted Ginn threw a pass. http://t.co/B8WqsokjYl
about 2 hours ago

ESPN_BigTen

ESPN BigTen


Weekend Rewind: Big Ten http://t.co/II4Rt9JgVC
about 2 hours ago

OhioState_MSOC

OhioStateMen\'sSoccer


UP NEXT: @ZipsMSoc at 7 p.m. ET Wednesday at JOMS. The home contest will be our Connor Senn Memorial Game. #GoBucks http://t.co/QJo3bXeAVu
about 2 hours ago

UofCFB

CFB Nation


Who has the better fan base? RT for #OhioStateFAV for #Alabama http://t.co/UuA6Zo2D6b
about 2 hours ago

joe11w

JoeSports


The Eater Columbus Heatmap: Where to Eat Right Now: http://t.co/oqTwW6qDii
about 3 hours ago

nickmangold

Nick Mangold


.@TideNFL The last thing I look at before I take the field every week. Makes me proud to wear #OurColors #Jets http://t.co/GIjZrPnAE2
about 3 hours ago

rustymillerap

Rusty Miller


Buryin' the lead ... RT @TeresaMWalker: RT @bradplumer: That's really quite the kicker: http://t.co/nUxdaKlhFc http://t.co/eh9wInBydb
about 3 hours ago

Brutus_Buckeye

Brutus Buckeye


Pretty sweet video from Buckeye fan Keith, a #FinishOn50 4-Miler runner yesterday:https://t.co/5kH5q2wYqZ#TheShoe #GoBucks
about 3 hours ago

bucksinsider

Ohio State News


Ohio State Buckeyes in the NFL: Carlos Hyde strikes again, tough night in Carolina: View... http://t.co/VT3EC5wVNg #buckeyes #ohiostate
about 3 hours ago

ESPN_BigTen

ESPN BigTen


B1G game day tweets: Week Four http://t.co/WOScVvVNij
about 3 hours ago

KyleRowland

Kyle Rowland


IU RB Tevin Coleman had season-low 132 yards Saturday, but still leads nation in rushing (189.7 ypg). UTEP's Aaron Jones is second (182).
about 4 hours ago

11W

Eleven Warriors


Why Urban Meyer issued a "call to arms" for Ohio State's pass defense against Cincinnati. http://t.co/pfliJNZott
about 4 hours ago

joe11w

JoeSports


Ohio State Buckeyes in the NFL: Carlos Hyde strikes again, tough night in Carolina: How did your favorite form... http://t.co/P8zeVoQwpm
about 4 hours ago

ESPN_BigTen

ESPN BigTen


Big Ten morning links http://t.co/W2dQmP7CWI
about 4 hours ago

joe11w

JoeSports


Ohio State recruiting: State Secrets, 9/22 - Alex Stump, Branden Bowen, Malcolm Askew offered: Get caught up w... http://t.co/OAfSQz9Y9E
about 6 hours ago

bucksinsider

Ohio State News


Ohio State recruiting: State Secrets, 9/22 – Alex Stump, Branden Bowen, Malcolm Askew off... http://t.co/JOX1rillQz #buckeyes #ohiostate
about 6 hours ago

11W

Eleven Warriors


Skull Session: Ohio State drops in coaches poll, Tommy Tuberville comin', Urban thought he was dying in 2009 & more. http://t.co/ZEhaOjohMA
about 6 hours ago

bucksinsider

Ohio State News


Ohio State Football: 3 Players Who Have Surprised Us in 2014: Jamie Sabau/Getty Images O... http://t.co/Nrofisb88I #buckeyes #ohiostate
about 13 hours ago

joe11w

JoeSports


Sorry but it looks like I jinxed him.
about 13 hours ago

joe11w

JoeSports


Philly Brown is having himself a day.
about 14 hours ago

joe11w

JoeSports


The Panthers are REALLY letting me down tonight.
about 14 hours ago

Buckeye_Nation

Buckeye Nation


#Michigan Signs Brady Hoke To New Seven-Year Contract // http://t.co/brOVCLkzOS
about 14 hours ago

MattMcCoyWTVN

Matt McCoy


Last 3 plays..Philly Brown catch..Shazier runs Newton out of bounds..Heyward hits Newton forcing incomplete pass. #Buckeyes
about 14 hours ago

OhioStFootball

Ohio State Football


A lot of Buckeyes in action tonight, notably two rookies @RyanShazier & undrafted rookie WR @phillybrown10
about 16 hours ago

Buckeye_Nation

Buckeye Nation


Ohio State 'still not sure' of best offensive line rotation // http://t.co/QRwvtEHJHf
about 16 hours ago

KyleRowland

Kyle Rowland


Hoosiers get No. 25 vote in AP poll from noted rogue voter @DougLesmerises.
about 16 hours ago

KyleRowland

Kyle Rowland


Indiana, fresh off biggest win in decades, is four-point favorite over visiting Maryland in Terps' first Big Ten game.
about 16 hours ago

TonyGrossi

Tony Grossi


Analysis: Are the #Browns being too creative on offense for their own good? http://t.co/IeD3yqk9vS
about 16 hours ago

OhioStAthletics

Ohio State Buckeyes


Scarlet & Gray Sunday! Hyde & Hartline go for six, Jenkins w/ big 4th-Q INT. #GoBucks @elguapo http://t.co/JUbbwrdc8a
about 16 hours ago

ESPN_BigTen

ESPN BigTen


Big Ten bowl projections: Week 4 http://t.co/0FatrYsyIe
about 16 hours ago

11W

Eleven Warriors


The Hurry Up: Corralling Matt Burrell Rumors and What Alex Stump Offer Means http://t.co/9ErrLwyKUb
about 16 hours ago

joe11w

JoeSports


The "Peyton is a choker" narrative is not going away anytime soon.
about 17 hours ago

joe11w

JoeSports


Denver's offensive coaches need to go back to the drawing board.
about 18 hours ago

joe11w

JoeSports


They just couldn't finish it off in the 4th quarter.
about 18 hours ago

joe11w

JoeSports


I missed the game but from the stats it looks like the Browns played a pretty good game.
about 18 hours ago

smshelton1

Susan Shelton


@Brutus_Buckeye thanks for cheering us on at the start! #finishonthe50 http://t.co/BpCYPRkoX4
about 18 hours ago

MiamiDolphins

Miami Dolphins


TOUCHDOWN @BrianHartline!!! #StrongerTogether #KCvsMIAhttps://t.co/KNJBmcDkht
about 18 hours ago

Brutus_Buckeye

Brutus Buckeye


Another Buckeye finds the end zone! @brianhartline for SIX! @MiamiDolphins #GoBucks
about 18 hours ago

ESPN_BigTen

ESPN BigTen


RB Paul James' injury huge blow to Rutgers http://t.co/TvesdXx3lk
about 18 hours ago

49ers

San Francisco 49ers


Carlos Hyde… What. A. Run. TOUCHDOWN #49ers.
about 19 hours ago

OhioStFootball

Ohio State Football


In the latest rankings: OSU moves up and down, up in the AP to #22 and down in the Coaches to #20
about 20 hours ago

Brutus_Buckeye

Brutus Buckeye


That's a Buckeye! RT @Eagles: Defensive leader @MalcolmJenkins grabs the INT for the second game in a row. #FlyEaglesFly // #GoBucks
about 20 hours ago

Brutus_Buckeye

Brutus Buckeye


OSKIE!!! @MalcolmJenkins @Eagles #GoBucks
about 20 hours ago

Brutus_Buckeye

Brutus Buckeye


An absolutely GORGEOUS day for the 2nd annual Ohio State 4Miler as 12,000 runners/walkers finished the… http://t.co/wIbS6K6DDA
about 21 hours ago

amandaJeberly

Amanda Eberly


Hey @Brutus_Buckeye thanks for the high five! #FinishOn50 #GoBucks #runchat http://t.co/mIgY2gR8tI
about 22 hours ago

ESPN_BigTen

ESPN BigTen


Big Ten Power Rankings: Week 4 http://t.co/ONuebucPNq
about 22 hours ago

Hlas

Mike Hlas


Hlas column: Hawkeyes have no reason to lightly dismiss Purdue this week. http://t.co/FipdWJJ60m #oniowa
about 23 hours ago

bucksinsider

Ohio State News


Ohio State recruiting: Elite '15 MVP, 9/18-9/20 – How OSU commits fared in high school fo... http://t.co/qxXWRWI2bt #buckeyes #ohiostate
about 23 hours ago

joe11w

JoeSports


College football rankings: Ohio State drops to 20 in Coaches Poll Top 25: More information means revisiting OS... http://t.co/dHog2i2UG5
1 day ago

KyleRowland

Kyle Rowland


Indiana Notebook: Hoosiers benefit from pass interference http://t.co/SERaRjEjR4
1 day ago

Brutus_Buckeye

Brutus Buckeye


Mascot approved! @rollerCD @DispatchAlerts @ProFootballHOF #GoBucks http://t.co/TuadtFWoU4
1 day ago

11W

Eleven Warriors


Ohio State commitments and targets were back on the field this weekend even though the Buckeyes had some time off. http://t.co/oZNZVzxAg0
1 day ago

joe11w

JoeSports


Ohio State recruiting: Elite '15 MVP, 9/18-9/20 - How OSU commits fared in high school football: It's time to ... http://t.co/c9B9XHcNxU
1 day ago

ESPN_BigTen

ESPN BigTen


Best of the visits: Big Ten http://t.co/GEUR8Pu8KH
1 day ago

765at33RPM

Eric D. Wygle


I just did it. #FinishOn50 http://t.co/qdhJVByt36
1 day ago

AndyMulz

A. Mull K He


#FinishOn50 http://t.co/tcHXPvZ33l
1 day ago

ZabonikAlex

Alex Zabonik


Proud of my love @amy_zabonik worked her tail off to finish 4 mile run today! #finishon50 http://t.co/cDAfT2ikog
1 day ago

kelsey_gaffney

Kelsey Gaffney


O.H.I.O! #finishon50 #gobucks #ohiostate4miler #finishonthe50 http://t.co/ldzFcFuSkG
1 day ago

ESPN_BigTen

ESPN BigTen


Meyer: 'I thought I was dying' in '09 http://t.co/A0M6KI6Ejl
1 day ago

joe11w

JoeSports


Big Ten football statistical review: Week 4: With the Buckeyes set to open Big Ten play in two weeks, how did ... http://t.co/G9rSG0Ud8g
1 day ago

pjkaler

Pamela


Hello to the best place in the world! #GoBucks #FinishOn50 http://t.co/1FOYhYT7rF
1 day ago

MattFinkes

Matt Finkes


Let's go #BuckeyeNation #FinishOn50 http://t.co/dkeqtpY3Ku
1 day ago
BLOG ARCHIVE:
CATEGORIES: