Ohio State 2014 Spotlight: WR Godwin
April, 9, 2013
4/09/13
1:15
PM ET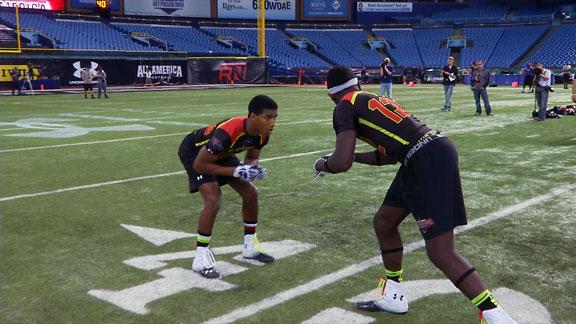 Throughout the next few months, BuckeyeNation will look further into those juniors offered by Ohio State. We'll give as much detail as we can and go behind the scenes to see why these Class of 2014 standouts are so attractive to the Buckeyes.
The next name in the land of wide receivers is Chris Godwin, who had nothing but great things to say after visiting Ohio State a week ago.
Vitals:
Godwin (Middletown, Del./Middletown) is 6-foot-2 and 197 pounds.
To continue reading this article you must be an Insider
Insider
Urban Meyer Pleased With Performance
Ohio State coach Urban Meyer was pleased with his team's performance, which will go a long way to helping his young quarterback improve.
Urban Meyer Pleased With Performance
VIDEO PLAYLIST
OSU FB RECRUITING SCORECARD
bucksinsider

Ohio State News


Ohio State recruiting: State Secrets, 9/15 – A.J. Alexander commits, Kendall Sheffield to... http://t.co/jj3Nj4Yi1z #buckeyes #ohiostate
3 minutes ago

11W

Eleven Warriors


Skull Session: Heuerman knows the best foot rehab, Cris Carter on child abuse, Mike Thomas his the big time, & more. http://t.co/CLXBWvQkR2
19 minutes ago

joe11w

JoeSports


Ohio State recruiting: State Secrets, 9/15 - A.J. Alexander commits, Kendall Sheffield to visit: Get caught up... http://t.co/vpOhtevTjJ
29 minutes ago

BruceFeldmanCFB

Bruce Feldman


#OhioSt is nation's only team that has yet to surrender a 20+ YD pass play.. #Buckeyes yielded 41 of em last yr: http://t.co/jr1Bf7t5LX
about 8 hours ago

OHSAASports

OHSAA Sports


ThisDateInOHSAAHistory: Sept. 14, 2012 - Kenton QB Grant Sherman was 47-56 for 682 yards (1st all-time) & 9 TDs (tied-1st) vs. Shawnee
about 8 hours ago

11W

Eleven Warriors


The Hurry Up: Looking back at a busy week in Buckeye recruiting including two new, ok one NEW, commitment. http://t.co/ZfAH9JGR2d
about 9 hours ago

AP_Top25

AP Top 25


#SEC with 5 teams in @AP top 10 and unprecedented 7 in top 15: http://t.co/rJi3Qcq6gt Poll: http://t.co/PRp9DCoyzY
about 10 hours ago

ESPN_BigTen

ESPN BigTen


Big Ten bowl projections: Week 3 http://t.co/5Rnf0k7co7
about 10 hours ago

11W

Eleven Warriors


Statagram: We ran "66-0" through Illustrator and this is what came out. http://t.co/nhwuFdGqsx
about 11 hours ago

joe11w

JoeSports


Examining the uniform rules in NFL: We examine a section of the NFL rule book where the league is notoriously ... http://t.co/OE8p25KwIM
about 12 hours ago

Brutus_Buckeye

Brutus Buckeye


ONE WEEK OUT! Here's your UPDATED @OhioStAthletics 4Miler event guide: http://t.co/VYv1IOadj7 #FinishOn50 #GoBucks http://t.co/Qfaw9fg3EB
about 12 hours ago

rustymillerap

Rusty Miller


Can't make this stuff up V / New Mexico county struggling with stinky building (from @AP) http://t.co/3oAzZVCu0S
about 12 hours ago

rustymillerap

Rusty Miller


Can't make this stuff up IV / Police: Intruder caught cooking corn in home (from @AP) http://t.co/pFD9fHGSJh
about 12 hours ago

rustymillerap

Rusty Miller


Can't make this stuff up III / Cops: NY man hid drugs in anti-drug stuffed animal (from @AP) http://t.co/g0nuplc9iv
about 12 hours ago

rustymillerap

Rusty Miller


Can't make this stuff up II / Cops photograph alleged sleeping Florida burglar (from @AP) http://t.co/fHbwxinlUD
about 12 hours ago

rustymillerap

Rusty Miller


Can't make this stuff up / California nudist camp accused of stealing water (from @AP) http://t.co/fdpjsOWSvn
about 12 hours ago

joe11w

JoeSports


Watch Ohio State freshman Jae'Sean Tate rock the rim: Ohio State freshman forward Jae'Sean Tate returned to Co... http://t.co/rfKR1Tly1D
about 13 hours ago

OhioStFootball

Ohio State Football


In the latest Coaches poll, the #Buckeyes hold steady at #18. What do you think of Ohio State's ranking?
about 13 hours ago

joe11w

JoeSports


Intentional grounding?
about 14 hours ago

AZCardinals

Arizona Cardinals


.@TedGinnJr_19 TO THE HOUSE! 71yd punt return TOUCHDOWN for the #AZCardinals!AZ 19, Giants 14 with 10:10 left to play.#AZvsNYG
about 14 hours ago

OhioState_MSOC

OhioStateMen\'sSoccer


VIDEO: BTN recaps Ohio State's 2-0 victory over Northwestern Sunday at JOMS. #GoBucks http://t.co/2V1VijM08o
about 15 hours ago

OhioStFootball

Ohio State Football


In the new AP Poll, the Buckeyes dropped in the rankings to #23. 4 B10 Teams Total made the Top 25
about 15 hours ago

11W

Eleven Warriors


Ohio State falls one spot to No. 23 in AP Poll, hold steady at No. 18 in Coaches Poll. http://t.co/fhyeEthw2f
about 15 hours ago

joe11w

JoeSports


NFC South not doing well against the state of Ohio so far.
about 15 hours ago

ESPN_BigTen

ESPN BigTen


Best of the visits: Big Ten http://t.co/xkh0AM7y2J
about 15 hours ago

JMUCoachWithers

Everett Withers


Thank you to the more than 23,500 supporters who cheered loud in Bridgeforth yesterday! Best atmosphere in ball! http://t.co/RGq5JwvXuB
about 16 hours ago

KyleRowland

Kyle Rowland


AFC title game tickets have been purchased.
about 16 hours ago

ESPN_BigTen

ESPN BigTen


Big Ten Power Rankings: Week 3 http://t.co/ZN2w9iBjXp
about 16 hours ago

bucksinsider

Ohio State News


College football rankings: Ohio State still No. 18 in Amway Coaches Poll: View photo.The... http://t.co/5CUku1cnko #buckeyes #ohiostate
about 16 hours ago

joe11w

JoeSports


College football rankings: Ohio State still No. 18 in Amway Coaches Poll: The Buckeyes stays No. 18 in the lat... http://t.co/WL1t3WX1Mq
about 16 hours ago

11W

Eleven Warriors


Ohio native and Hoosier State four-star defensive end Auston Robertson talks Buckeyes and a potential offer. http://t.co/YJCchuT95M
about 17 hours ago

nickmangold

Nick Mangold


Great opportunity ahead of us, now we have to make the best of it! J! E! T! S! Jets! Jets! Jets! #JETS
about 17 hours ago

Brutus_Buckeye

Brutus Buckeye


🎶 I don't want to work - I want to bang on the drum all day 🎶 #SundayAnthem https://t.co/Zxd3jRkUFS
about 17 hours ago

Brutus_Buckeye

Brutus Buckeye


ICYMI: I led @TBDBITL during Saturday's game in #TheShoe #GoBucks http://t.co/Eq4mfR9311
about 17 hours ago

JMUCoachWithers

Everett Withers


A shot of the team getting hyped before leaving the locker room yesterday. A lot of bad dance moves on display. http://t.co/LTe8qiRHme
about 17 hours ago

11W

Eleven Warriors


Five Things from the complete annihilation of Kent State Saturday. http://t.co/NmqmUyR4gu
about 18 hours ago

joe11w

JoeSports


Ohio State recruiting: Elite '15 MVP, 9/11-9/13 - How OSU commits fared in high school football: Can anyone ta... http://t.co/FV7NFxOEmj
about 18 hours ago

11W

Eleven Warriors


Austin Mack, one of the best wide receivers in the 2016 class, visited Ohio State yesterday. He shared his thoughts. http://t.co/uZ6EFyTJSM
about 18 hours ago

Todd_Jones

Todd Jones


Same thing in some places: http://t.co/qpxpjQHhYR
about 18 hours ago

AP_Sports

AP Sports


Greg Norman recovering from chain-saw accident that nearly cost him a hand (@dougferguson405) http://t.co/iIw1mS6LCl
about 18 hours ago

11W

Eleven Warriors


The Prep Tracker highlights another ridiculous night for Damien Harris and Joe Burrow's amazing start to 2014. http://t.co/mMUBLToqgb
about 18 hours ago

Brutus_Buckeye

Brutus Buckeye


Barrett airs it out Silver Bullets stout Buckeyes win in routGo read all about > http://t.co/RDjYy3zdMC #GoBucks http://t.co/i3U7O5xvaG
about 19 hours ago

ESPN_BigTen

ESPN BigTen


Playoff picture: Week 3 http://t.co/hrIzsnQGxv
about 19 hours ago

joe11w

JoeSports


Ohio State vs. Kent State advanced stats recap: Catharsis: The third game of the season is in the rearview. Yo... http://t.co/fuzngoVTPO
about 19 hours ago

11W

Eleven Warriors


Kent State in a sentence: "You still have a sick feeling in your stomach about last week, but we're moving forward." http://t.co/r6fLlsDkqK
about 20 hours ago

KyleRowland

Kyle Rowland


Former Luers standout James Knapke, who had record-setting day for Bowling Green, makes the NY Times. http://t.co/u4ZmyIG608
about 20 hours ago

KyleRowland

Kyle Rowland


Purdue-Notre Dame is fourth-longest continuous rivalry, but Boilers and Irish are now on hiatus. http://t.co/0xKCJU4Uze
about 20 hours ago

KyleRowland

Kyle Rowland


Knapke: From unwanted, to unknown to star turn http://t.co/mZJ3Shr1t2
about 20 hours ago

11W

Eleven Warriors


KSU debriefing: Thomas's catch, Marshall's block, a punt block gone wrong and Jim Tressel's least favorite moment. http://t.co/GldRG66Hct
about 21 hours ago

ESPN_BigTen

ESPN BigTen


Big Ten helmet stickers: Week 3 http://t.co/XnqkH9xFAw
about 21 hours ago

11W

Eleven Warriors


Raekwon McMillan saw his first significant playing time yesterday and lived up to the hype. http://t.co/GzGivD38Gg http://t.co/XEu2vbzGFQ
about 21 hours ago

11W

Eleven Warriors


Ohio State and Twitter are like peas and carrots where sass against in-state rivals are concerned. http://t.co/Q3lJ92gdcL
about 21 hours ago

joe11w

JoeSports


Ohio State Stock Market Report: Kent State: Who's up and who's down, now that the Buckeyes have handled the Go... http://t.co/EUlZWRql3F
about 21 hours ago

11W

Eleven Warriors


Given a week to marinate in its failure, the Big Ten delivered an encore of awful football. http://t.co/FTYc5M6V9V
about 23 hours ago

11W

Eleven Warriors


Good morning! Here's @TBDBITL (and the Alumni Band) making awesome yesterday. http://t.co/vynF9n2kh5
about 23 hours ago

11W

Eleven Warriors


Kent State was bad and overmatched, but 66 is still 66. Here's why it's important. http://t.co/LIBnSQE5pX
1 day ago

ESPN_BigTen

ESPN BigTen


What we learned in the Big Ten: Week 3 http://t.co/kbKZK5h0HQ
1 day ago

ESPN_BigTen

ESPN BigTen


Penn State 13, Rutgers 10 http://t.co/2LWnp1g49r
1 day ago

ESPN_BigTen

ESPN BigTen


98 yards officially on that Nebraska drive.
1 day ago

ESPN_BigTen

ESPN BigTen


Nebraska is pouring it on. Imani Cross bursts for 62 to cap a 99-yard drive. Huskers lead Fresno 41-12.
1 day ago

ESPN_BigTen

ESPN BigTen


No. 11 Notre Dame 30, Purdue 14 http://t.co/fmKoFzvPEg
1 day ago

ESPN_BigTen

ESPN BigTen


Statement drive by the Huskers to open the second half. Cethan Carter TD catch puts Nebraska up 34-5 at Fresno State.
1 day ago

rustymillerap

Rusty Miller


Barrett's 6 TD passes lead No. 22 #Buckeyes, 66-0 (from @AP) http://t.co/0PGGJpWj9J
1 day ago

rustymillerap

Rusty Miller


#BowlingGreen shocks #Indiana 45-42 with late TD (from @AP) http://t.co/dEcLOCBkeY
1 day ago

ESPN_BigTen

ESPN BigTen


Solid first half by Nebraska. Took advantage of some obvious Fresno deficiencies and minimized self-inflicted problems. It's a 27-5 lead.
1 day ago

11W

Eleven Warriors


Here's an updated look at Ohio State's freshman class contributions this season: http://t.co/qkjvuZ58Tu http://t.co/CeUeTvvqzv
1 day ago

ESPN_BigTen

ESPN BigTen


Pierson-El is a punt-returning "zone" for Nebraska: Follows the 85-yarder with a 50-yard return.
1 day ago

ESPN_BigTen

ESPN BigTen


An 85-yard punt return TD by Nebraska true freshman DeMornay Pierson-El. Huskers starting to cruise over Fresno, 24-2.
1 day ago

ESPN_BigTen

ESPN BigTen


Huskers go up 17-2 on Brown field goal. Better offensive mix on that drive.
1 day ago

ESPN_BigTen

ESPN BigTen


Real pretty deep ball for 37 by Armstrong to Kenny Bell.
1 day ago

ESPN_BigTen

ESPN BigTen


Nebraska appears content to keep it on the ground and move the chains. Probably a good idea.
1 day ago

KyleRowland

Kyle Rowland


Oh, Kentucky.
1 day ago

ESPN_BigTen

ESPN BigTen


Tommy Armstrong has looked pretty out of sync with receivers since Nebraska's hot start.
1 day ago

KyleRowland

Kyle Rowland


Musberger pulls out boom goes the dynamite. Incredible.
1 day ago

ESPN_BigTen

ESPN BigTen


Drew Brown misses a 43-yard FG for Nebraska. Huskers probably had chance to bury Fresno in first quarter but have slowed. Still, it's 14-2.
1 day ago

JonSolomonCBS

Jon Solomon


Big Ten drops to 1-10 vs. Power 5 conference this season and 36-58 since 2010. http://t.co/6RKGJYgd7o
1 day ago

ESPN_BigTen

ESPN BigTen


Nebraska LB David Santos flagged for batting ball out of end zone on Fresno punt — a safety and Fresno ball. Big, big error.
1 day ago

11W

Eleven Warriors


In his first bout of substantial playing time, Raekwon McMillan lived up to the hype. http://t.co/GzGivD38Gg
1 day ago

ESPN_BigTen

ESPN BigTen


Nebraska looks intent not to follow the path of its previously unbeaten B1G friends. Abdullah goes 57 for the TD, and it's 14-0.
1 day ago

KyleRowland

Kyle Rowland


Ball State should have beat Iowa last week. Cardinals lost to mighty Indiana State this week.
1 day ago

ESPN_BigTen

ESPN BigTen


Armstrong to Jordan Westerkamp for 71-yard TD right off the bat for Nebraska. Huskers lead 7-0 at Fresno.
1 day ago

ESPN_BigTen

ESPN BigTen


Nebraska-Fresno State kicking off right now. Huskers on offense to start.
1 day ago

bucksinsider

Ohio State News


College Football Today: STARS-J.T. Barrett, Ohio State, matched a school record with six... http://t.co/Zgrx2AnLF1 #buckeyes #ohiostate
1 day ago

KyleRowland

Kyle Rowland


Back to the drawing board for IU defense http://t.co/XvEVoiOOns
1 day ago

ESPN_BigTen

ESPN BigTen


Washington 44, Illinois 19 http://t.co/PfbS18cYkw
1 day ago

ESPNStatsInfo

ESPN Stats & Info


The Big Ten fell to 1-9 against Power Five Conference opponents in 2014 including 0-4 so far Saturday. http://t.co/LDJREK4GOY
1 day ago

GoffOnIrish

Chris Goff


Does Purdue have some strange hex on Notre Dame? They're up 14-10 with 3 minutes left in the half.
1 day ago

ESPN_BigTen

ESPN BigTen


Video: TCU 30, Minnesota 7 http://t.co/MNjZX3apHu
1 day ago

11W

Eleven Warriors


Cool story: @ElGuapo gave the ball from his first professional touchdown to his grandma. http://t.co/fBS9PYJxBA
1 day ago

bigtenconf

Big Ten Conference


Tonight's #PSUvsRU matchup marks the earliest #B1GFootball contest since 1996, when #Illini traveled to Ann Arbor on Aug. 31.
1 day ago

KyleRowland

Kyle Rowland


Tevin Coleman has 437 yards on 47 carries. On Saturday, he gained nine yards on first nine carries, before gaining 181 on next 15 carries.
1 day ago

KyleRowland

Kyle Rowland


In two games, Indiana has totaled 1,184 yards of offense and scored 84 points.
1 day ago

B1Gfootball

Big Ten Football


Experience the inaugural conference game for @RFootball with a first-hand look at game day in Piscataway. #PSUvsRU http://t.co/RC3QnQvtFi
1 day ago

bucksinsider

Ohio State News


What Ohio State Fans Should Make of Virginia Tech's Loss to ECU: Fresh off of a 35-21 def... http://t.co/mNoJ5ZuePI #buckeyes #ohiostate
1 day ago

11W

Eleven Warriors


Seven more true freshmen saw action for Ohio State today and some are already contributing in big ways. http://t.co/eWbUpx0myF
1 day ago

ESPN_BigTen

ESPN BigTen


Video: Iowa State 20, Iowa 17 http://t.co/hgRsHpxnVe
1 day ago

jerret21

Jerret Martin


@chris_spielman Your analysis about Iowa was spot on the whole time and I am not happy about it.
1 day ago

ESPN_BigTen

ESPN BigTen


The Big Ten is 2-5 with three games left today. The good news? Guaranteed one more victory.
1 day ago

OhioStFootball

Ohio State Football


Who was your player of the game today? #OhioState #GoBucks
1 day ago
BLOG ARCHIVE:
CATEGORIES: