Ohio State outlook: Tight ends in 2014
March, 27, 2013
3/27/13
10:00
AM ET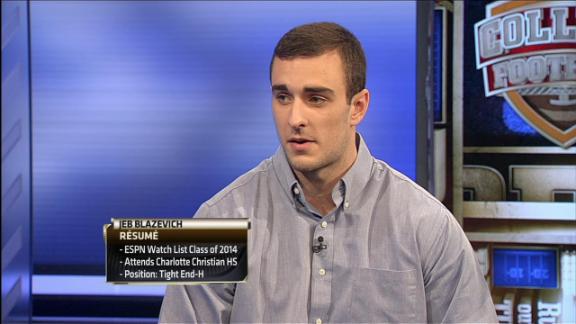 As the 2014 recruiting class comes more and more into focus following what was another strong national signing day for Urban Meyer, BuckeyeNation is taking a position-by-position look at the juniors.
Today, we examine the tight end position. Though it's still a fairly deep position on the depth chart, there are six offers out to juniors already.
Here are the six tight ends of 2014 not committed somewhere else who have an offer from Ohio State.
To continue reading this article you must be an Insider
Insider
Urban Meyer: A Lot To Fix After Win
Ohio State coach Urban Meyer discusses his team's double-overtime win against Penn State.
Urban Meyer: A Lot To Fix After Win
VIDEO PLAYLIST
OSU FB RECRUITING SCORECARD
Kevin_Noon

Kevin Noon


Joey Bosa told JT Barrett after the #buckeyes overtime win "You're welcome, *****"
10 minutes ago

maksimuspatrick

Patrick Maks


Flawed, but gutsy performance out of JT Barrett http://t.co/FzpeTjpRAZ
11 minutes ago

OhioStFootball

Ohio State Football


What did you think of the game? #OSUvsPSU
12 minutes ago

11W

Eleven Warriors


After blowing a 17-point halftime lead, Ohio State survived to beat Penn State in double overtime, 31-24. http://t.co/R4QgqbICTu
13 minutes ago

BTNStatsGuys

BTNStatsGuys


#OhioState has now won 11 consecutive road games, the longest active streak in the nation. #Buckeyes
14 minutes ago

11W

Eleven Warriors


Your game-winner. https://t.co/8n5eSFWeaY
14 minutes ago

Brutus_Buckeye

Brutus Buckeye


FINALtheohiostatefootball 31Penn State 24 #GoBucks #OSUvsPSU http://t.co/ImOyXDvKEF
14 minutes ago

ESPNJoshMoyer

Josh Moyer


That ended up as one heckuva game. Final score: Ohio State 31, Penn State 24 in 2OT. Getting a standing O from crowd http://t.co/Wl1CBQOtzr
14 minutes ago

foodsnorkel

Raza Khan


@11W that Bosa - Larry Johnson hug was quite telling
16 minutes ago

AWardESPN

Austin Ward


Urban Meyer on J.T. Barrett: "He's a tough nut, man."
17 minutes ago

11W

Eleven Warriors


Bosa – 2.5 sacks and 2.5 TFLs – played a monster of a game. Strong late showing from Barrett, too. Just win, baby.
18 minutes ago

joe11w

JoeSports


Check Hackenberg's ankle and knee. Looked bad the way he went down.
18 minutes ago

AWardESPN

Austin Ward


Letting Joey Bosa go free to be picked up by a back is a massive breakdown by that troubled Penn State offensive line.
18 minutes ago

KyleRowland

Kyle Rowland


Ohio State's season reminds me of 2007. Seems too good to be true and that Buckeyes will stumble (again) when it shouldn't.
18 minutes ago

bucksinsider

Ohio State News


Ohio State defeats Penn State in double overtime 31-24
20 minutes ago

OhioStFootball

Ohio State Football


Final: 31-24 in Double OT, the Buckeyes win! #OSUvsPSU
20 minutes ago

AWardESPN

Austin Ward


Fantastic outing by Penn State. The Nittany Lions are incredibly tough on defense, but Ohio State, J.T. Barrett survive for another day.
20 minutes ago

OhioStFootball

Ohio State Football


BOSA SEALS THE GAME!
20 minutes ago

Brutus_Buckeye

Brutus Buckeye


BOSA! Game over!! #GoBucks #OSUvsPSU
21 minutes ago

joe11w

JoeSports


Bosa'd!
21 minutes ago

AWardESPN

Austin Ward


Joey Bosa is an absolute monster. Penn State had no chance on the final play.
21 minutes ago

11W

Eleven Warriors


¯\_(ツ)_/¯
21 minutes ago

11W

Eleven Warriors


WE'LL TAKE IT
21 minutes ago

KyleRowland

Kyle Rowland


Pryor and Miller really good obviously. But Barrett has leadership, on-field awareness that makes him better in many ways, in my opinion.
22 minutes ago

might_win_some

Alvaro\'s Goggles


@11W I've seen ***** films with more reasonable plot lines than this.
23 minutes ago

joe11w

JoeSports


PSU must know that you can't win when OSU is up 31-24 in the 2nd OT. #suckitmiami
23 minutes ago

joe11w

JoeSports


Time for some more Hackenberg jump balls? Hopefully, we can play Bill Russell just once.
23 minutes ago

KyleRowland

Kyle Rowland


Anyone else reminded of Troy Smith when watching JT Barrett? Leadership, poise, style. He's the total package.
25 minutes ago

joe11w

JoeSports


Go out and get pizza during this review break. #zzZZzZzzZZz
26 minutes ago

rustymillerap

Rusty Miller


Keystone Refs.
26 minutes ago

joe11w

JoeSports


So much for 24 unanswered.
26 minutes ago

Brutus_Buckeye

Brutus Buckeye


TD JT!!!
26 minutes ago

AWardESPN

Austin Ward


J.T. Barrett has had some forgettable moments tonight. But his toughness, clutch plays have been remarkable for Buckeyes.
26 minutes ago

OhioStFootball

Ohio State Football


TOUCHDOWN! BUCKEYES TAKE THE LEAD!
26 minutes ago

11W

Eleven Warriors


Barrett again. Ohio State scores first on the second overtime.
26 minutes ago

11W

Eleven Warriors


Strike that – OSU gets the ball first on the second series.
28 minutes ago

OhioStFootball

Ohio State Football


Ohio State starts on the 12.5 yard line to begin Double OT
28 minutes ago

KyleRowland

Kyle Rowland


Are these Big Sky refs?
29 minutes ago

11W

Eleven Warriors


Wow. Huge personal foul call on PSU – enforced on their next possession of overtime.
30 minutes ago

OhioStFootball

Ohio State Football


Double OT in Happy Valley
30 minutes ago

joe11w

JoeSports


No doubt. RT @_EricaLen_: Lol.. Super easy for Ohio State there.. Couldn't have done that before OT?
30 minutes ago

Brutus_Buckeye

Brutus Buckeye


Let's play two!! 24-24 headed to 2ot in Happy Valley! #GoBucks #OSUvsPSU
30 minutes ago

AWardESPN

Austin Ward


Did the Buckeyes have a different J.T. Barrett on the field during the second half? Where was that guy?
31 minutes ago

OhioStFootball

Ohio State Football


TOUCHDOWN!! J.T. BARRETT!
31 minutes ago

11W

Eleven Warriors


J.T. Smooth answers for Ohio State. That was huge.
31 minutes ago

KyleRowland

Kyle Rowland


Go for two and the win.
31 minutes ago

11W

Eleven Warriors


At least they can approach every series as a four-down series.
32 minutes ago

OhioStFootball

Ohio State Football


Penn State punches it it for 1 yard. Goes up in overtime 24-17 #OSUvsPSU
35 minutes ago

joe11w

JoeSports


Over to you, Tom Herman.
35 minutes ago

rustymillerap

Rusty Miller


Sincere apology: Penn State does have an offense.
36 minutes ago

joe11w

JoeSports


When a guy just throws the ball up for grabs, you grab it.
36 minutes ago

joe11w

JoeSports


That should have been intercepted.
37 minutes ago

11W

Eleven Warriors


gulp
37 minutes ago

steakNstiffarms

Elika Sadeghi


I'll take the pick 6 now, thanks.
39 minutes ago

joe11w

JoeSports


Back up, boys in blue.
40 minutes ago

11W

Eleven Warriors


Only fitting that overtime would start with mass confusion between officials and captains. "Oh wait, they're playing defense?"
41 minutes ago

Brutus_Buckeye

Brutus Buckeye


1st Half us. 2nd half them. OT ... Us!!! #GoBucks
44 minutes ago

11W

Eleven Warriors


FREE BAD FOOTBALL (AND OFFICIATING) IN HAPPY VALLEY.
44 minutes ago

joe11w

JoeSports


Captain Obvious Blackledge.
44 minutes ago

OhioStFootball

Ohio State Football


This game is going into overtime #OSUvsPSU
45 minutes ago

joe11w

JoeSports


19 plays. That makes me ill.
46 minutes ago

OhioStFootball

Ohio State Football


Penn State ties the game with :09 on the clock #OSUvsPSU
47 minutes ago

joe11w

JoeSports


OSU is not ready for prime time, no matter how this turns out. Big games at night are not our thing. Yet.
47 minutes ago

AWardESPN

Austin Ward


Did a little amateur lip-reading: Urban didn't call timeout.
47 minutes ago

Johnny11W

Johnny


really excited for another half hour of this, the stupidest of all games
48 minutes ago

joe11w

JoeSports


Surely the refs can find a roughing call somewhere.
48 minutes ago

KyleRowland

Kyle Rowland


Uh, what?
50 minutes ago

joe11w

JoeSports


They want to lose, but we just won't let them!
51 minutes ago

AWardESPN

Austin Ward


Nightmares coming for Armani Reeves.
51 minutes ago

11W

Eleven Warriors


No, really. What have you done, Curtis Grant, because none of us know.
52 minutes ago

joe11w

JoeSports


No replay because they don't want to show how lame that call was.
53 minutes ago

11W

Eleven Warriors


What have you done, Curtis Grant?
53 minutes ago

joe11w

JoeSports


You must be joking me.
54 minutes ago

Brutus_Buckeye

Brutus Buckeye


BIGSACK@jbbigbear #GoBucks
54 minutes ago

BuckeyeEdge

THE Ohio State


http://t.co/Oue2H5sdRt
about an hour ago

rustymillerap

Rusty Miller


Big Ten officials just officiating up a storm out there.
about an hour ago

11W

Eleven Warriors


¯\_(ツ)_/¯
about an hour ago

AWardESPN

Austin Ward


If somebody was going to win it for the Buckeyes on defense, it was going to be Joey Bosa.
about an hour ago

11W

Eleven Warriors


Penn State fans are going to see shady men on grassy knolls forever after tonight.
about an hour ago

joe11w

JoeSports


I wonder if the coaching staff will regret the super-conservative calls on the last two drives.
about an hour ago

joe11w

JoeSports


Can't block. Can't tackle. Hard to win.
about an hour ago

11W

Eleven Warriors


CAN'T BREATHE
about an hour ago

SBNationCFB

SB?Nation CFB


Michigan student paper showed mercy on its followers: http://t.co/OzhPbUs5aL http://t.co/vNpdlz0wOW
about an hour ago

11W

Eleven Warriors


Penn State is moving, but they're eating clock.
about an hour ago

joe11w

JoeSports


NEED. INT. NOW.
about an hour ago

TomOrr4

Tom Orr


#PickSixUniversity hasn't made an appearance yet tonight. Just sayin'…
about an hour ago

YesImKayla

Kayla


Pick 6, where you at???
about an hour ago

joe11w

JoeSports


Still time for a pick six.
about an hour ago

rustymillerap

Rusty Miller


Best player for either team: Mike Hull. Last-place tie between everyone playing offense.
about an hour ago

joe11w

JoeSports


And we're apparently going to whimper back to the sidelines and let the defense try to hold them one more time.
about an hour ago

joe11w

JoeSports


Sigh. What an abysmal second half.
about an hour ago

AWardESPN

Austin Ward


J.T. Barrett grabbed right for his knee after that run. Might Illinois be seeing a lot of Cardale Jones next week?
about an hour ago

joe11w

JoeSports


Four down territory.
about an hour ago

joe11w

JoeSports


Offense looks impotent right now.
about an hour ago

joe11w

JoeSports


We have a bit of an advantage in the punting game.
about an hour ago

AWardESPN

Austin Ward


Adolphus Washington has really had himself an impressive night up front for the Buckeyes.
about an hour ago

joe11w

JoeSports


Hey refs, let's not bail them out again, ok?
about an hour ago

joe11w

JoeSports


That's a terrible call.
about an hour ago

11W

Eleven Warriors


So much angst on #BuckeyeTwitter. Sometimes other teams compete, you make bad calls or mistakes. That's football.
about an hour ago

YesImKayla

Kayla


Pick 6. It's time.
about an hour ago
BLOG ARCHIVE:
CATEGORIES: