Ohio State outlook: Tight ends in 2014
March, 27, 2013
3/27/13
10:00
AM ET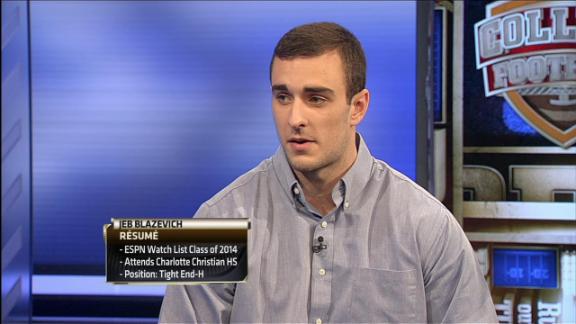 As the 2014 recruiting class comes more and more into focus following what was another strong national signing day for Urban Meyer, BuckeyeNation is taking a position-by-position look at the juniors.
Today, we examine the tight end position. Though it's still a fairly deep position on the depth chart, there are six offers out to juniors already.
Here are the six tight ends of 2014 not committed somewhere else who have an offer from Ohio State.
To continue reading this article you must be an Insider
Insider
College Football Top Plays: Week 8
Check out the top plays from Week 8 of college football.
College Football Top Plays: Week 8
VIDEO PLAYLIST
OSU FB RECRUITING SCORECARD
11W

Eleven Warriors


Cool SportsCenter cameo, @H_Grove!
about 4 hours ago

11W

Eleven Warriors


J.T. Barrett is on a roll. http://t.co/Ek0BbIpt7q
about 5 hours ago

maksimuspatrick

Patrick Maks


Against Rutgers, there's one play that might best embody the growth of Ohio State quarterback JT Barrett http://t.co/bTxNoqAkIQ
about 6 hours ago

Brutus_Buckeye

Brutus Buckeye


Fun night at @theschott @cavs win! See you next year! http://t.co/JKE8SXS1Zq
about 6 hours ago

cavs

Cleveland Cavaliers


A BIG Thank You to Columbus, @TheSchott & of course the fans for coming out tonight #AllForOhio #lifeincbus
about 6 hours ago

TimShoemaker

Tim Shoemaker


LeBron: "You could feel the love as soon as we stepped into the building."
about 6 hours ago

rustymillerap

Rusty Miller


RT @DarrellDawson: @DougLesmerises @RustyMillerAP Haha. Rusty, did you get a head full of powder? / No, a keyboard full.
about 6 hours ago

TheSchott

Schottenstein Center


"@cavs: FINAL: #Cavs defeat @chicagobulls 107-98. K. Irving (28pts), A. Varejao (22pts) & L. James (18pts) http://t.co/UvizM9juE4"
about 7 hours ago

H_Grove

Hayden Grove


The face of a child who just received the headband of LeBron James. #Cavs http://t.co/porYPjBFDO
about 7 hours ago

Brutus_Buckeye

Brutus Buckeye


#Repost from theohiostatefootball with repostapp---Great win !!! #Buckeyes#OnToTheNextOne… http://t.co/lDT7zXFKzZ
about 7 hours ago

rustymillerap

Rusty Miller


RT @BWilliamsBSB: @RustyMillerAP @jjboggs Rusty has no patience for those sorts of theatrics / Could have ended that after 'patience'
about 8 hours ago

OHSAASports

OHSAA Sports


This week's Associated Press @AP state football: http://t.co/uzmGfAbh7o ... Courtesy @RustyMillerAP. Computer points at 1 PM Tuesday
about 8 hours ago

rustymillerap

Rusty Miller


Avoided it. / RT @jjboggs: Wonder if LeBron spilled talc on @RustyMillerAP's laptop tonight. #PreseasonTradition http://t.co/iU5HHw3fcR
about 8 hours ago

tmeyeratplay

Thomas Meyer


@Brutus_Buckeye thanks a ton for making my son Camden's day on Saturday at #TheShoe http://t.co/cqcldoCBz5
about 8 hours ago

Brutus_Buckeye

Brutus Buckeye


.@LittleBruti Who is this guy?!
about 8 hours ago

apjoekay

Joe Kay


#Reds replacing third base coach Steve Smith. Rest of staff expected back.
about 8 hours ago

KyleRowland

Kyle Rowland


Good stuff from @GreggDoyelStar on IU tailback Tevin Coleman. http://t.co/FfabfDWpHA
about 8 hours ago

Brutus_Buckeye

Brutus Buckeye


#Repost from ohiostate_wlax with repostapp---Cavs vs. Bulls at the Schott-Ohio State hosting the… http://t.co/YMGcXHv6B3
about 8 hours ago

11W

Eleven Warriors


The Hurry Up: Buckeyes in final pair for Eichenberg, Carlton Davis to visit Miami and an update on Joe Burrow http://t.co/7GHtPJWwJg
about 9 hours ago

KyleRowland

Kyle Rowland


'Bleacher Report' claws toward respectability http://t.co/eZP5wJClvN
about 9 hours ago

AWardESPN

Austin Ward


Love this video of the B1G mascots dancing to "Shake it Off." Sparty steals the show for me. http://t.co/xj1vf4kVPY
about 9 hours ago

KyleRowland

Kyle Rowland


Purdue LB Sean Robinson out for season http://t.co/doERuREmkB
about 9 hours ago

TimShoemaker

Tim Shoemaker


The King: http://t.co/GTNGHVDASR
about 10 hours ago

rustymillerap

Rusty Miller


It's not Nov. 8 yet: #Buckeyes trying to focus on PSU, not MSU: https://t.co/QoLvKp2a9h
about 10 hours ago

bigtenconf

Big Ten Conference


#B1G mascots gonna play, play, play, play, play... http://t.co/pWWmfiKSKf
about 10 hours ago

rustymillerap

Rusty Miller


Here's latest AP Ohio prep fb poll: http://t.co/K10EWfDYHC
about 10 hours ago

rustymillerap

Rusty Miller


Mentor, Perrysburg, Hubbard, Alter, Canton CC, Kirtland, Marion Local No. 1s in latest AP Ohio prep fb poll.
about 10 hours ago

cavs

Cleveland Cavaliers


LeBron on having a locker @TheSchott: "It's very humbling..." #AllForOhio http://t.co/HpeH1FHEry
about 10 hours ago

cavs

Cleveland Cavaliers


"It's always great to come back here." - @KingJames on @OhioStateMore from CBus: http://t.co/KauMkyYsLj #AllForOhio http://t.co/SbT21Mj9EL
about 10 hours ago

joe11w

JoeSports


Why is this news?: Ohio State still in College Football Playoff picture, Aaron Craft on the bubble: All the bi... http://t.co/hKvBxqOQ6X
about 10 hours ago

bucksinsider

Ohio State News


Buckeyes trying hard not to look past next 2 games: COLUMBUS, Ohio (AP) — There's always... http://t.co/JtHX8XY3hG #buckeyes #ohiostate
about 10 hours ago

11W

Eleven Warriors


.@TimShoemaker has your live coverage of LeBron and the Cavs at @TheSchott tonight.
about 11 hours ago

Brutus_Buckeye

Brutus Buckeye


Ohio State Buckeyes Official Athletic Site - Football http://t.co/YTIX9GoTOp
about 11 hours ago

bucksinsider

Ohio State News


Ohio State Buckeyes vs. Penn State Nittany Lions Complete Game Preview: USA TODAY Sports... http://t.co/9CECCg4RWy #buckeyes #ohiostate
about 11 hours ago

TimShoemaker

Tim Shoemaker


Former Buckeye Lenzelle Smith in the house for tonight's Cavs game: http://t.co/VWlr1i52hD
about 11 hours ago

ESPN_BigTen

ESPN BigTen


ICYMI -- @GopherFootball gets some big love from @IGGYAZALEA and Eddie Vedder and @PearlJam this weekend. http://t.co/y4J3xHIsWC
about 11 hours ago

ESPN_BigTen

ESPN BigTen


Big Ten Monday mailbag http://t.co/Uh1Vm7mNk3
about 11 hours ago

Brutus_Buckeye

Brutus Buckeye


#HomecomingOSU #TheShoe Selfie with @MalcolmJenkins!! Thanks for the pic, big guy! http://t.co/PAZxpUYMjf #GoBucks http://t.co/y6wYMBXUpo
about 12 hours ago

Brutus_Buckeye

Brutus Buckeye


#HomecomingOSU #TheShoe Selfie with @MalcolmJenkins!! Thanks for the pic, big guy! http://t.co/PAZxpUYMjf #GoBucks http://t.co/g2lWhzzg14
about 12 hours ago

joe11w

JoeSports


Why J.T. Barrett for Heisman isn't such a stretch after all: Sure, the responsible thing to do here would be t... http://t.co/1ubi57PSHS
about 12 hours ago

ESPN_BigTen

ESPN BigTen


Video: Big Ten mascots 'Shake It Off' http://t.co/bRnqoLpsJT
about 12 hours ago

Brutus_Buckeye

Brutus Buckeye


OH YEAH! I like this headline ... http://t.co/eK4l2OuhPU #GoBucks http://t.co/IHlTuovGrt
about 12 hours ago

ESPN_BigTen

ESPN BigTen


Larry Johnson 'excited' for return to Penn State http://t.co/IHiX0rEAnH
about 12 hours ago

11W

Eleven Warriors


Entering a critical stretch of night bouts, a swelling Ohio State team intends to temper its own hype. http://t.co/QDI0KvdfUe
about 12 hours ago

11W

Eleven Warriors


Putting J.T. Barrett's recent play into perspective. http://t.co/KLupYriLw0
about 13 hours ago

11W

Eleven Warriors


Urban Meyer knows about the environment awaiting Saturday. "It's one of the top-5 atmospheres we've ever played in." http://t.co/ptbtqUIC3q
about 13 hours ago

Brutus_Buckeye

Brutus Buckeye


.@USATODAYsports @taylorswift13 🎤 cuz the playas gonna play, play, play, play, play 🎧 Thanks for the Shake It Off S/O! #GoBucks
about 13 hours ago

USATODAYsports

USA TODAY Sports


.@Brutus_Buckeye and other Big Ten mascots break it down to @taylorswift13's 'Shake It Off': http://t.co/zFjD5bOuRZ
about 13 hours ago

Brutus_Buckeye

Brutus Buckeye


#Repost from @cavs with repostapp --- LeBron on locker @theschott "It's very humbling. For Coach… http://t.co/V47NtQiMAd
about 13 hours ago

11W

Eleven Warriors


A look at how Ohio State might round out the offensive side of "Elite 15" with three months on the clock. http://t.co/qVWdA69d3e
about 13 hours ago

Brutus_Buckeye

Brutus Buckeye


#Repost from btnjourney with repostapp --- theohiostatefootball Michael Bennett hangs out with… http://t.co/bl53qAz2GM
about 13 hours ago

joe11w

JoeSports


Urban Meyer Penn State week press conference: Big Ten OPOTW J.T. Barrett not a champion: High expectations mea... http://t.co/rOGPOATh2U
about 13 hours ago

Brutus_Buckeye

Brutus Buckeye


.@BigTenNetwork @bigtenconf And you grabbed the BEST still frame! That's right! @MissOhio14 #GoBucks
about 13 hours ago

cavs

Cleveland Cavaliers


#Blatta RT @CavsJMike: @Cavs Head Coach David Blatt & @OhioStateHoops Head Coach Thad Matta share a coaching moment. http://t.co/V0oX3VXfjm
about 13 hours ago

ESPN_BigTen

ESPN BigTen


ICYMI from the weekend, a penalty call that has to be heard to be believed: http://t.co/fOL7TwkxPm
about 14 hours ago

chris_spielman

Chris Spielman


Good luck to @BuckeyeThon and OSU Students on their goal to raise $1 million for the kids! https://t.co/3TjAP36whk #oneteamonedream
about 14 hours ago

ESPN_BigTen

ESPN BigTen


Iggy Azalea, Eddie Vedder noticing Gophers http://t.co/QvedaqGBs1
about 14 hours ago

11W

Eleven Warriors


Alabama is back in the swing of things, but the Big XII may eliminate itself from the playoff. The week that was. http://t.co/IDUSOCtjPi
about 14 hours ago

DufresneLATimes

Chris Dufresne


Who wants to tell the Amway coaches that No.7 Oregon defeated No. 5 Mich State by 19?... I did it last time.
about 14 hours ago

AdamWidman

Adam Widman


@E_Spencer6 earns the No.1 spot on http://t.co/f6XUjp2hPs's top plays of the week: http://t.co/v3enzAJGM7 #GoBucks
about 14 hours ago

11W

Eleven Warriors


Are you a fan of Big Ten football and Taylor Swift? Then c'mon down and collect your prize: http://t.co/E53pVU08FN
about 14 hours ago

ESPN_BigTen

ESPN BigTen


B1G early look: Setting up Week 9 http://t.co/ce5MHpTMxW
about 14 hours ago

Brutus_Buckeye

Brutus Buckeye


SPIRIT WEEK: If you're wearing Scarlet today (you should be), hit me up on the Oval for some prizes. HURRY! #GoBucks http://t.co/xf4kLEELjS
about 15 hours ago

Brutus_Buckeye

Brutus Buckeye


.@Fadeley 😶
about 15 hours ago

bucksinsider

Ohio State News


2014 Ohio State Buckeyes top scoring football team in school history: CLEVELAND, Ohio – T... http://t.co/YLCcBVon4f #buckeyes #ohiostate
about 15 hours ago

EricSeger33

Eric Seger


Joshua Perry sporting a new "Silver Bullets" t-shirt. Said the team doesn't get them, but they have to earn them. http://t.co/6CMhmnrdOf
about 15 hours ago

11W

Eleven Warriors


Ohio State obliterated Rutgers, but Urban Meyer remains less than pleased: "We did not play great Saturday." http://t.co/qLUKt7snRQ
about 16 hours ago

WhatsTrending

What\'s Trending


The @OhioStAthletics marching band rocks you like a hurricane. http://t.co/dJunwrEEfe
about 16 hours ago

AWardESPN

Austin Ward


This weekend marks the first time Larry Johnson will have ever stepped foot in the visiting locker room at Penn State.
about 16 hours ago

TimShoemaker

Tim Shoemaker


Larry Johnson said he's never been in the visiting locker room at Penn State. "I've heard it's very small."
about 16 hours ago

ramzy

Ramzy Nasrallahween


101 points, 1118 yards. <3 Urban RT @TimShoemaker Meyer: "The last two weeks, we haven't played as good offensively up front as we expect."
about 16 hours ago

AWardESPN

Austin Ward


According to Urban Meyer, the B1G's offensive player of the week didn't even grade a champion. J.T. Barrett "could have played better."
about 16 hours ago

chris_spielman

Chris Spielman


Is This @McShay13 or Derek Zoolander http://t.co/CquJUFMM1f
about 16 hours ago

maksimuspatrick

Patrick Maks


Meyer on depth: "The one area of concern is defensive line ... I had a team meeting to address a few people who weren't doing their deal."
about 16 hours ago

AnthonyRothman

Anthony Rothman


Excited to talk w/@chris_spielman at Noon @971thefan #Buckeyes and his possible @DancingABC w/@McShay13 ?? #Ten ? http://t.co/WCFv7wAp3U
about 16 hours ago

chris_spielman

Chris Spielman


http://t.co/POCU7u2igM @McShay13 the more time we spend together on the road the closer we get
about 16 hours ago

AWardESPN

Austin Ward


Urban Meyer opens his press conference by thanking the fans for the big attendance numbers this year. http://t.co/IBVZsSfbDu
about 16 hours ago

bucksinsider

Ohio State News


Limited tickets still available as the Cavs & Bulls visit Ohio State tonight: http://t.co/bnqYXp8NdM
about 17 hours ago

AWardESPN

Austin Ward


Don't look now, but Ohio State is chipping away at Michigan State's voting lead in our latest B1G Power Rankings. http://t.co/QUmEJZBR3S
about 17 hours ago

Brutus_Buckeye

Brutus Buckeye


#Repost from @theschott with repostapp --- Warning up for tonight! #Repost from @cavs. --- Morning… http://t.co/q4Xzdjy01H
about 17 hours ago

OSUCoachMeyer

Urban Meyer


Congrats to QB JT Barrett on being named the B1G Offensive Player and Freshman of the Week. Go Bucks! http://t.co/ZyPPQ52SpB
about 17 hours ago

11W

Eleven Warriors


Film Study: How Nick Vannett terrorized the Rutgers defense Saturday. http://t.co/Br6MNvvti6 http://t.co/mP8Yq7z1wn
about 17 hours ago

OhioState_MTEN

Ohio State M Tennis


Torpegaard is the first Buckeye freshman to win an ITA Midwest Regional Singles title. http://t.co/dhEloOxcWa
about 17 hours ago

OhioState_MTEN

Ohio State M Tennis


Freshman Mikael Torpegaard is your ITA Midwest Regional Champion!! Wins the third set 6-4
about 17 hours ago

BuckeyeNotes

Jerry Emig


Outer market viewers can watch the Ohio State/Illinois game on ESPN GamePlan, ESPN3 or the WatchESPN app. Kickoff is approx. 8 p.m.
about 17 hours ago

BuckeyeNotes

Jerry Emig


The Ohio State/Illinois game Nov. 1 will be a split national telecast on ABC with a Big 12 game still to be determined, per the Big Ten.
about 17 hours ago

joe11w

JoeSports


Ohio State's J.T. Barrett named Big Ten offensive player and freshman of the week: After another eye-popping p... http://t.co/lvynEPh9AL
about 17 hours ago

AWardESPN

Austin Ward


Not ready to move on to Week 9? Relive the best (worst) of Saturday in the B1G with Weekend Rewind. http://t.co/ROv3ysOXFU
about 17 hours ago

ESPN_BigTen

ESPN BigTen


Beware: Big, bad Buckeyes are coming http://t.co/mscLVsfGgO
about 17 hours ago

OhioStAthletics

Ohio State Buckeyes


AWARDS! Barrett brings them in! @B1Gfootball POTW & @SugardaleFoods POG http://t.co/pJ5AHNDy1a#GoBucks http://t.co/uuSUryookZ
about 18 hours ago

AWardESPN

Austin Ward


A couple Gophers claimed the other awards this week: Cedric Thompson on defense and Ryan Santoso on special teams.
about 18 hours ago

AWardESPN

Austin Ward


No surprise, but J.T. Barrett is again the B1G freshman of the week. This time, he added offensive player of the week honors as well.
about 18 hours ago

Brutus_Buckeye

Brutus Buckeye


Hey @OhioStAthletics, I think we have a front-runner for the @facebook cover photo. Mascot, Front & Center! #GoBucks http://t.co/03FqEbvLpM
about 18 hours ago

11W

Eleven Warriors


J.T. Barrett, take a bow: OSU's QB named Big Ten Offensive Player of the Week, Freshman of the Week. http://t.co/K2a8JCBS3A
about 18 hours ago

11W

Eleven Warriors


Kurt Coleman's game-clinching interception highlighted Sunday's NFL action. Plus, Andrew Norwell was finally active. http://t.co/S5qlzn3o1H
about 18 hours ago

ESPN_BigTen

ESPN BigTen


Weekend rewind: Big Ten http://t.co/8orEPezTWC
about 18 hours ago

KyleRowland

Kyle Rowland


IPFW may be state of Indiana's best bet for NCAA tournament. I wrote about Mastodons' hopes. http://t.co/sH8WpS7b4y
about 19 hours ago

bucksinsider

Ohio State News


Ohio State Football: Position-by-Position Midseason Grades for the Buckeyes: The Ohio Sta... http://t.co/Spfm8OK0SD #buckeyes #ohiostate
about 19 hours ago

ESPN_BigTen

ESPN BigTen


You have questions. Well, today @ESPNJoshMoyer has the answers. Send your questions his way for today's Big Ten mailbag.
about 19 hours ago
BLOG ARCHIVE:
CATEGORIES: