RB Hood rethinking top group
March, 18, 2013
3/18/13
6:45
PM ET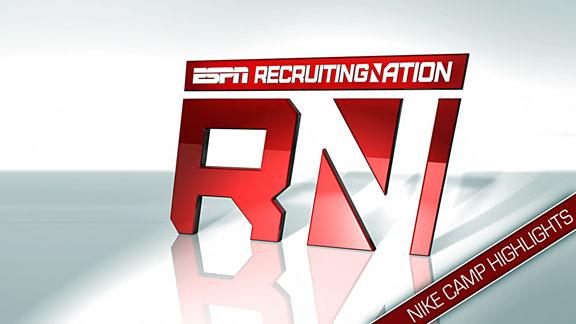 Running back
Elijah Hood
(Charlotte, N.C./Charlotte Catholic) had his list narrowed dow to Notre Dame, Michigan and Ohio State and seemed destined to head North. That changed recently, though, as Hood and his family have been talking about his future plans.
To continue reading this article you must be an Insider
Insider
Urban Meyer calls into Finebaum
Ohio State head coach Urban Meyer called into The Paul Finebaum Show to talk about the Buckeyes' matchup vs. Bama.
Urban Meyer calls into Finebaum
VIDEO PLAYLIST
OSU FB RECRUITING SCORECARD
joe11w

JoeSports


Ohio State recruiting: State Secrets, 12/19 - Jamel Dean signs, Ricky DeBerry, Nyheim Hines to announce: Ohio ... http://t.co/NndKHycEhc
about an hour ago

11W

Eleven Warriors


Skull Session: Ed Warinner honored, OSU moves the needle, the Cardale/Cordale conundrum cracked, and more. http://t.co/BlzCuEB4Dl
about an hour ago

rustymillerap

Rusty Miller


Jones leads #OhioState vs. #Alabama as 3rd stringer (from @AP) http://t.co/OgLVPHrXhS
about 7 hours ago

bucksinsider

Ohio State News


3 Ohio State Players Alabama Recruited Who Will Be Key in Sugar Bowl Matchup: Ohio State ... http://t.co/KZweYyE5Cz #buckeyes #ohiostate
about 7 hours ago

rustymillerap

Rusty Miller


#Capitals make sure game with #CBJ doesn't go to a shootout (from @AP) http://t.co/IV4EdBarQu
about 7 hours ago

B1GVolleyball

B1G Volleyball


.@PennStateVBALL advances to the championship! The Nittany Lions face BYU on Saturday for the national title. #B1GVolleyball
about 7 hours ago

PennStateVBALL

PennStateVolleyball


Stanford attack goes long again and #PSUVB wins, 3-1! PENN STATE IS HEADED TO THE NATIONAL FINALS!
about 7 hours ago

IDPotatoBowl

FamousIDPotatoBowl


Congrats to Zach Terrell on winning the Humanitarian award! #makeadifference @WMU_Football http://t.co/QTG95D4VVV
about 8 hours ago

Brutus_Buckeye

Brutus Buckeye


.@TheOregonDuck @QuackCave http://t.co/NmxsZFNV6K
about 8 hours ago

Brutus_Buckeye

Brutus Buckeye


.@OSUManagers 🍴🍮🍦🍨🍧🎂🍰🍪‼️I think that about covers it! Enjoy. I'm on the AdvoCare cleanse Ha!
about 9 hours ago

Brutus_Buckeye

Brutus Buckeye


.@OSUManagers Any nuts or legumes?
about 9 hours ago

CFBPlayoff

CFB Playoff


Download CFP Gameday, the official mobile app of the #CFBPlayoff. App Store: http://t.co/eYMdSLYuW5Google Play: http://t.co/IeOOJTMQM6
about 9 hours ago

rustymillerap

Rusty Miller


#Capitals 3-6 in OT, 1-3 in shootouts (including the epic 20-rounder on Tues night). #CBJ 5-2 in OT, 3-1 in SOs.
about 9 hours ago

SamAmicoFSO

Sam Amico


NBA execs increasingly intrigued with rookie G Aaron Craft of D-League's Santa Cruz Warriors. "He's locking cats down," says interested GM.
about 9 hours ago

rustymillerap

Rusty Miller


#CBJ headed beyond regulation for fifth game in a row and sixth in seven. All even at 4 with #Capitals.
about 9 hours ago

rustymillerap

Rusty Miller


Michael Chaput's first NHL goal, with 4:25 left puts #CBJ up 4-3.
about 9 hours ago

rustymillerap

Rusty Miller


Karl Alzner tucks shot under the catching arm of Bobrovsky and we're tied at 3 at 7:02 of 3rd.
about 10 hours ago

rustymillerap

Rusty Miller


Foligno backhands in a rebound off Jeremy Morin's shot on goal from left wing at :52 of 3rd. #CBJ lead 3-2.
about 10 hours ago

rustymillerap

Rusty Miller


Attendance at the 'Wide: 13,722. Actually seems (and sounds) like more.
about 10 hours ago

rustymillerap

Rusty Miller


Caps outshot #CBJ 15-4 1st period; ice tilted the other way 16-9 that period. 2-2 after 2.
about 10 hours ago

TheREALHerky

Herky the Hawk


#TBT to the summer with some of my Big Ten mascot friends in Chicago http://t.co/oXTIy1E21A
about 10 hours ago

rustymillerap

Rusty Miller


Didn't hear the alarm, but #CBJ have clearly awakened. 2 PP goals, then Prout pounds Tom Wilson and Boll and Latta dance.
about 10 hours ago

bucksinsider

Ohio State News


Ohio State quarterback Cardale Jones ready for challenge of College Football Playoff: COL... http://t.co/6O5hPtUqum #buckeyes #ohiostate
about 11 hours ago

rustymillerap

Rusty Miller


#CBJ tie it at 2-2 -- and are now 2 for 2 on PP -- as Foligno collects 100th goal on rebound of Connaughton shot from pt.
about 11 hours ago

Brutus_Buckeye

Brutus Buckeye


" I " still can't believe it ... former @AlabamaFTBL coach Gene Stallings doing O-H-I-O! 😆😆😆 #GoBucks #TBT http://t.co/OVsSC4Hzti
about 11 hours ago

rustymillerap

Rusty Miller


Jack Johnson goes forehand then backhand to beat Holtby 5 hole, #CBJ cut deficit to 2-1 at 8:48.
about 11 hours ago

rustymillerap

Rusty Miller


#MichiganState's Branden Dawson has non-displaced fracture of left wrist. Could be back for start of B1G season.
about 11 hours ago

BruceFeldmanCFB

Bruce Feldman


P.J. Fleck has signed a 6-year extension with WMU.
about 11 hours ago

rustymillerap

Rusty Miller


Pity Kia. It sponsors a "Shots On Bob" contest. Gonna cost a lot at this rate. #CBJ
about 11 hours ago

11W

Eleven Warriors


The Hurry Up: Banking on Briscoe, the 2016 tight end situation, Joe Burrow's next wave of athletic feats and more. http://t.co/fuaFzaxQ55
about 11 hours ago

rustymillerap

Rusty Miller


Jason Chimera has empty net after beauty of a blind pass from Michael Latta. #Caps lead 2-0 after 1.
about 11 hours ago

rustymillerap

Rusty Miller


Derisive cheers as #CBJ put 2nd shot on net.
about 11 hours ago

rustymillerap

Rusty Miller


Capitals now have 12-1 advantage in shots on goal. Also a 1-0 lead on the scoreboard. Excuse me, Dispatch Media Center.
about 11 hours ago

ralphDrussoAP

Ralph D. Russo


39 postseason games and a reason to watch every single one (plus picks): http://t.co/YOAI9yX9tk
about 11 hours ago

rustymillerap

Rusty Miller


Joel Ward's 10th goal, a wrister from the right dot, gives Caps a 1-0 lead midway thru 1st.
about 12 hours ago

rustymillerap

Rusty Miller


7 of first 8 shots on goal by Capitals. Bob has stopped all 7. Nothing to see here. Move along.
about 12 hours ago

bucksinsider

Ohio State News


Jones leads Ohio State vs. Alabama as 3rd stringer: COLUMBUS, Ohio (AP) Cardale Jones rea... http://t.co/7Yl6TqG7Ea #buckeyes #ohiostate
about 12 hours ago

rustymillerap

Rusty Miller


Full pressbox: 10 scouts not affiliated with #Caps or #CBJ. I might get dealt to UPI tonight.
about 12 hours ago

KyleRowland

Kyle Rowland


Spoke to Morgan Burke this P.M. about CFP selection committee. Said he'd be happy to serve, but isn't campaigning. http://t.co/Jsqs6kWEKV
about 12 hours ago

rustymillerap

Rusty Miller


Tonight, #Capitals (w/ 6-game pts streak) at #CBJ (w/ 7-game win streak). Something's gotta give.
about 12 hours ago

11W

Eleven Warriors


The Ohio State football video team released 11 minutes of highlights because it loves you. http://t.co/Meu6xmZdLW http://t.co/1WuUr4XDM1
about 12 hours ago

rustymillerap

Rusty Miller


Hate #OhioState? Hate #Alabama? Then tune into the Sugar Bowl. Somebody's got to lose: http://t.co/9eTPIpjVK4
about 12 hours ago

joe11w

JoeSports


Why is this news?: Jim Harbaugh to Michigan chatter heats up, Ohio State's D'Angelo Russell's early impact: Al... http://t.co/aMasGH3Z9X
about 12 hours ago

rustymillerap

Rusty Miller


Cardale Jones? You mean he's still playing college ball? Yes. Yes, he is. http://t.co/agT7gaiKO6 #Buckeyes
about 12 hours ago

KyleRowland

Kyle Rowland


Miami-South Carolina in the Independence Bowl. Has there ever been a bowl game with teams that'll be less enthused?
about 12 hours ago

rustymillerap

Rusty Miller


Mount Union, Wisconsin-Whitewater meet for title (from @AP) http://t.co/56fZ3lB3ta
about 13 hours ago

rustymillerap

Rusty Miller


Kasich: Football won't alter inauguration plans (from @AP) http://t.co/ajVzouJEaj
about 13 hours ago

FootballScoop

FootballScoop Staff


Please join me & @ProGrassTurf in congratulating Ohio State's Ed Warinner - Offensive Line Coach of the Year http://t.co/AeqlDEab4K
about 13 hours ago

11W

Eleven Warriors


Ohio State knows it will get the Crimson Tide's best shot, but the Buckeyes say they're ready give Alabama the same. http://t.co/vcbpE3MXob
about 14 hours ago

OSUADAthComm

Dan Wallenberg


No. 12 @OhioStateHoops travels to face No. 24 North Carolina at 1 p.m. Sat. in Chicago. News, notes, interviews at http://t.co/LsSfmY0jwb
about 14 hours ago

bucksinsider

Ohio State News


Ohio State Football: Joey Bosa's Crazy History with Nick Saban: COLUMBUS, Ohio — Joey Bos... http://t.co/1L5bzw354r #buckeyes #ohiostate
about 14 hours ago

AWardESPN

Austin Ward


Sugar Bowl is getting closer. @AlexS_ESPN and I picked X Factors for Bama and OSU on O: http://t.co/7OrNYNh9m9; D: http://t.co/tcLUqWhag6
about 14 hours ago

SIPeteThamel

Pete Thamel


Source: BCs Steve Addazio agrees to contract extension, he was Mich target (after Harbaugh). http://t.co/pCxwnaeXyH
about 15 hours ago

bucksinsider

Ohio State News


Urban Meyer Will Once Again Reload Ohio State Roster with Top-10 Class: Ohio State has be... http://t.co/Vn3NOh3emV #buckeyes #ohiostate
about 15 hours ago

11W

Eleven Warriors


Tom Herman's departure can shed light on the importance of Thad Matta's assistants, as well. http://t.co/U3LRzdivjv
about 15 hours ago

Brutus_Buckeye

Brutus Buckeye


I love L.A.!! @ESPNCFB @Disneyland #GoBucks @CFBPlayoff http://t.co/yUBLFzQPtR
about 15 hours ago

B1GVolleyball

B1G Volleyball


.@IlliniVBall's McMahon was named to the Dean's List 3 times & earned 2 consecutive Big Ten Distinguished Scholar awards. #B1GVolleyball
about 15 hours ago

B1GVolleyball

B1G Volleyball


.@IlliniVBall's McMahon is a 3-time Academic All-Big Ten honoree who garnered Academic All-District honors this fall. #B1GVolleyball
about 15 hours ago

B1GVolleyball

B1G Volleyball


Congrats to @IlliniVBall's Liz McMahon, the 2014 @SnrCLASSAward winner: http://t.co/AXWnBVXd5V #B1G #B1GVolleyball http://t.co/oBaVcGEJ37
about 15 hours ago

ESPN_BigTen

ESPN BigTen


Roundtable: Big Ten's biggest surprise http://t.co/6iAw21uFYN
about 15 hours ago

AWardESPN

Austin Ward


Buckeyes continue to be unamused by SEC questions. Ezekiel Elliott: "What exactly is SEC speed?" http://t.co/FRESfA7VsF
about 16 hours ago

AWardESPN

Austin Ward


Joshua Perry asked about SEC speed compared to OSU: "I hate that question. Just flip on the film." http://t.co/AzXtUY1gvQ
about 16 hours ago

joe11w

JoeSports


Urban Meyer Sugar Bowl press conference: Preparing for Alabama and life after Tom Herman: For the last time un... http://t.co/GZdRwNnb7z
about 16 hours ago

AWardESPN

Austin Ward


Chris Ash: "If Amari Cooper has a big game, it's going to be a long night for us." http://t.co/9IlICunhaO
about 16 hours ago

11W

Eleven Warriors


Can Ohio State compete with Alabama? "Absolutely," says Urban Meyer. "(We're) a good young team that matured." http://t.co/Vg39d4vml9
about 17 hours ago

11W

Eleven Warriors


Alabama's success starts with recruiting. Incredible, insanely good recruiting. http://t.co/bmnNBJGQCe
about 17 hours ago

AWardESPN

Austin Ward


Urban Meyer isn't worried about Tom Herman juggling two jobs right now, even though he looks like "he got hit by a bat."
about 17 hours ago

AWardESPN

Austin Ward


Urban Meyer said Dontre Wilson is "50-50 at best" for the Sugar Bowl. http://t.co/JVUhaiPuHX
about 17 hours ago

ESPN_BigTen

ESPN BigTen


Purdue Boilermakers season review http://t.co/UyM1zXB5Nf
about 17 hours ago

11W

Eleven Warriors


OSU's 19th outright Big Ten title is already being claimed in the Woody (via @TimShoemaker): http://t.co/MNoejPRAlP http://t.co/KDmQ0GjvK8
about 17 hours ago

Brutus_Buckeye

Brutus Buckeye


Hail! to the victors valiant #WorstDateIn5Words https://t.co/C1cYFqxB6d
about 17 hours ago

Brutus_Buckeye

Brutus Buckeye


Hail! to the victors valiant #WorstDateIn5Words https://t.co/6KCBFus4JS http://t.co/L2co8Xbl4K
about 17 hours ago

11W

Eleven Warriors


The first bowl games are on Saturday. FCS has its semifinals and D2 and D3 crown its champions. Your viewing guide: http://t.co/HIgQxpm49N
about 17 hours ago

ESPN_BigTen

ESPN BigTen


Sugar Bowl X factors: Defense http://t.co/w0Tj1KcUU8
about 18 hours ago

Brutus_Buckeye

Brutus Buckeye


.@GinnySnap @OSU_SpiritSquad Uhhh ... AWESOME! 👍😁 #GoBucks
about 18 hours ago

GinnySnap

Jessi M


brutus_buckeye @osu_spiritsquad #TBT to #OhioState flying cheerleaders! #GoBucks http://t.co/z8yofmKE6d
about 18 hours ago

NomaanMerchant

Nomaan Merchant


She started with Manson, she ends with Manson. Linda Deutsch, AP's legendary courts writer, to retire: http://t.co/cIWhXdqiCV
about 18 hours ago

joe11w

JoeSports


Ohio State recruiting: Breaking down Torrance Gibson's state championship performance: Torrance Gibson's Plant... http://t.co/am95sHKWY6
about 19 hours ago

ESPN_BigTen

ESPN BigTen


Penn State Nittany Lions season review http://t.co/UdDyqLx3cr
about 19 hours ago

AWardESPN

Austin Ward


.@AlexS_ESPN and I both highlighted Alabama and Ohio State wide receivers who could swing the Sugar Bowl. http://t.co/7OrNYNh9m9
about 19 hours ago

Brutus_Buckeye

Brutus Buckeye


This little nut is ready for the Holidays! #GoBucks (via @buckeyediva1) http://t.co/YycDfgRBKp
about 19 hours ago

ESPN_BigTen

ESPN BigTen


Sugar Bowl X factors: Offense http://t.co/FEfhCfER6p
about 20 hours ago

11W

Eleven Warriors


Here's former Alabama coach Gene Stallings doing an O-H-I-O cheer (via @Brutus_Buckeye): http://t.co/XGdzfArGNh http://t.co/al9rr7V226
about 20 hours ago

bucksinsider

Ohio State News


Ohio State Buckeyes season review: December, 18, 2014 The team-by-team look back at the ... http://t.co/8ljRB3XOjE #buckeyes #ohiostate
about 20 hours ago

11W

Eleven Warriors


Columbus city officials reportedly believe the city has nabbed Browns' training camp. http://t.co/551p6O76MX
about 20 hours ago

B1Gwbball

B1G Women\'s Hoops


.@pennstatewbb's Maggie Lucas holds the #B1G career three-point field goal record with 365 between 2010-14 #TBT http://t.co/jjZvMHwsYN
about 20 hours ago

Brutus_Buckeye

Brutus Buckeye


"I" can't believe this ... former @AlabamaFTBL coach Gene Stallings doing O-H-I-O 😧😱🙀 #TBT #GoBucks http://t.co/YLVYVwGq3e
about 20 hours ago

Brutus_Buckeye

Brutus Buckeye


.@ldbunnell4 we're fame! We're No. 1! We better get agents! #GoBucks
about 21 hours ago

Joshf45

Josh Frohnapfel


Kids had fun @OhioStateHoops @Brutus_Buckeye #GoBucks http://t.co/Af3nIjiqdc
about 21 hours ago

Brutus_Buckeye

Brutus Buckeye


.@brianhartline #truer http://t.co/W8VSOpfAOd
about 21 hours ago

ESPN_BigTen

ESPN BigTen


Ohio State Buckeyes season review http://t.co/G6MtGbvTBw
about 21 hours ago

ProFootballTalk

ProFootballTalk


For those who think Jim Harbaugh wouldn't use his alma mater as leverage, he already has http://t.co/YXXHKI3Vta
about 21 hours ago

ThayerEvansSI

Thayer Evans


Former Purdue coach Danny Hope is expected to be South Florida's new OL coach per a source.
about 21 hours ago

Brutus_Buckeye

Brutus Buckeye


Buy it (obviously not free) but ship it 🚚 FOR FREE‼️ TODAY ONLY at http://t.co/hdt6G6P4vF#GoBucks #HappyHolidays http://t.co/7qxHQ7mTBf
about 21 hours ago

bucksinsider

Ohio State News


'We still love Ohio' – Ohio State basketball still in V.J. King sweepstakes: Buckeyes rec... http://t.co/hfbzcq4xtE #buckeyes #ohiostate
about 21 hours ago

AP_Sports

AP Sports


Golf: Inverness Club to host US Junior Amateur in 2019: http://t.co/r4bfDYUZJ4
about 22 hours ago

PrayInFaith

Faith In God


Whatever is true, whatever is noble, right, pure, lovely, admirable, excellent or praiseworthy - think of such things. -Phil 4:8
about 22 hours ago

11W

Eleven Warriors


Amari Cooper is a special player. But Doran Grant welcomes the challenge of facing Alabama's star receiver. http://t.co/FMM0DzgCe3
about 22 hours ago

ESPN_BigTen

ESPN BigTen


Big Ten morning links http://t.co/GzZEMBVQpY
about 23 hours ago

joe11w

JoeSports


Ohio State recruiting: State Secrets, 12/18 - Rashod Berry update, Carter Coughlin names top three: Get caught... http://t.co/1Wc326HXIB
1 day ago
BIG TEN SCOREBOARD
Saturday, 12/20
Monday, 12/22
Tuesday, 12/23
Wednesday, 12/24
Friday, 12/26
Saturday, 12/27
Monday, 12/29
Tuesday, 12/30
Wednesday, 12/31
Thursday, 1/1
Friday, 1/2
Saturday, 1/3
Sunday, 1/4
Monday, 1/12
BLOG ARCHIVE:
CATEGORIES: