Ohio State having success 'Up North'
February, 11, 2013
2/11/13
10:05
AM ET
Former Ohio State coach John Cooper was famous for saying, "Put a fence around your border and recruit nationally."
If the early 2014 recruiting class is any indication, Urban Meyer has made sure to add the phrase "and invade the surrounding areas of that school up north as well."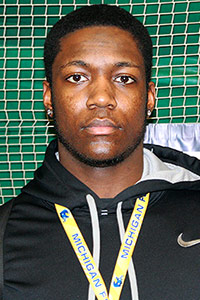 Chantel Jennings/ESPN.comLawrence Marshall is the second Michigander to commit to the Buckeyes in the Class of 2014.
So far, the Buckeyes have five junior commitments. Forty percent of those pledges come from just outside the shadows of Ann Arbor, Mich.
To continue reading this article you must be an Insider
Insider
Meyer Depressed At Florida
Adam Rittenberg discusses Urban Meyer's comments about being depressed while coaching at Florida in 2009.
Meyer Depressed At Florida
VIDEO PLAYLIST
OSU FB RECRUITING SCORECARD
bucksinsider

Ohio State News


Ohio State Football: Keys to a Buckeyes Victory over Cincinnati: After a week away from t... http://t.co/ehCq7pud2M #buckeyes #ohiostate
13 minutes ago

APSE_sportmedia

APSE


Kent State student newspaper editor asks if ESPN, MAC contract a secret? http://t.co/wI9u5J1hIe via @kentwired
about 2 hours ago

BeschlossDC

Michael Beschloss


Springsteen (65 today) with Dylan and Jagger 1988: #RRHF http://t.co/Ju0q3JOJRi
about 2 hours ago

rustymillerap

Rusty Miller


#CBJ make 42 saves in shutout of Penguins (from @AP) http://t.co/y6Yx1Ffl6p
about 2 hours ago

B1GHockey

Big Ten Hockey


Counting down to hockey? All-Session Ticket Packages for 2015 #B1GHockey Tournament go on sale tomorrow at 10 am ET. http://t.co/VikWFVZX3A
about 3 hours ago

Brutus_Buckeye

Brutus Buckeye


#TweetAtYourself10YearsAgo Keep an eye on this one. http://t.co/Lzz3tWNSyd
about 3 hours ago

11W

Eleven Warriors


Noah Spence is off Ohio State's weekly depth chart, but Chase Farris, Jalyn Holmes and others saw their stock rise. http://t.co/JEnep5n9bV
about 4 hours ago

Brutus_Buckeye

Brutus Buckeye


#Repost from theohiostatefootball with repostapp---1, 2, 3.. Showtime! #OSUvsUC Let's GO Bucks… http://t.co/hD8sTgPja4
about 4 hours ago

Brutus_Buckeye

Brutus Buckeye


#TweetAtYourself10YearsAgo Always keep your head on a swivel. ALWAYS. http://t.co/MiJvtXSvQq
about 4 hours ago

11W

Eleven Warriors


The Hurry Up: Arkansas commitment Kay Jay Hill prepares for Buckeyes' visit, Thiyo Lukusa update and more. http://t.co/8JqJlINstA
about 5 hours ago

joe11w

JoeSports


Why is this news?: More Ohio schools coming for Ohio State, Bearcats experienced on defense: All the big Ohio ... http://t.co/uCoev5oXf4
about 5 hours ago

bucksinsider

Ohio State News


Cincinnati-Ohio St. Preview: Though the Buckeyes have long been the top dog in the state... http://t.co/e3dxeh233i #buckeyes #ohiostate
about 5 hours ago

bucksinsider

Ohio State News


Why is this news?: More Ohio schools coming for Ohio State, Bearcats experienced on defen... http://t.co/8xK6PCZWNA #buckeyes #ohiostate
about 5 hours ago

bucksinsider

Ohio State News


Bearcats want to prove themselves vs No. 22 OSU: CINCINNATI (AP) — These chances don't c... http://t.co/BZgfaU2aqV #buckeyes #ohiostate
about 6 hours ago

Buckeye_Nation

Buckeye Nation


Cincy coach Tommy Tuberville and Nick Saban are the only two with winning records vs. Meyer. (min 2 games)
about 6 hours ago

rustymillerap

Rusty Miller


#Bearcats want to prove themselves vs No. 22 #Buckeyes @apjoekay (from @AP) http://t.co/o2hHFfkooq
about 6 hours ago

Buckeye_Nation

Buckeye Nation


#GoBucks!! O -- H!! @GrahamRahal
about 6 hours ago

Hot_For_Food

Melissa Pfeister


If you aren't watching THE Buckeyes game Saturday, I don't think we can be friends.
about 6 hours ago

mcarle1

Matt Carle


UC can put points up. I hope our defense is ready. #BeatCincy #BuckeyeNation #GoBucks #HereKittyKitty @Buckeye_Nation @OSUCoachMeyer
about 6 hours ago

Buckeye_Nation

Buckeye Nation


#OhioState Buckeyes open as 14 pt favorite over the #Bearcats // http://t.co/Y5u6TljZcX
about 6 hours ago

joe11w

JoeSports


Ohio State-Cincinnati 2014 depth chart: More offensive line shuffles: Ohio State has released the latest versi... http://t.co/4BcdS1TJ2C
about 6 hours ago

Brutus_Buckeye

Brutus Buckeye


.@mirrorlakejump Looks like @SBNation gave away my right thumb for free!!!
about 7 hours ago

bigtenconf

Big Ten Conference


Check out what your team's coach had to say at today's #B1GFootball Coach's Teleconference: http://t.co/QauGvUYNur http://t.co/cjQEnqAjOH
about 7 hours ago

AWardESPN

Austin Ward


Chris Ash was hired at OSU to fix its pass defense. The true test of the progress he's made is coming Saturday. http://t.co/uLs38N7lKW
about 7 hours ago

rustymillerap

Rusty Miller


Hail Mary: Before cluttered chaos, there's a plan (from @AP) http://t.co/7uYgWGISoX
about 7 hours ago

bucksinsider

Ohio State News


Ohio State Basketball: What to Expect from Transfer Anthony Lee: The Ohio State basketbal... http://t.co/HzDbPOf0G6 #buckeyes #ohiostate
about 7 hours ago

BraxtonMiller5

BRAXTON MILLER


Attacking this rehab hard daily! 💪
about 7 hours ago

bucksinsider

Ohio State News


Saturday's in-state battle with Cincy is the Buckeye's cheapest remaining game. Browse all ticket options here: http://t.co/f3HqPpRkdO
about 7 hours ago

11W

Eleven Warriors


Even during a bye week, Columbus turns out for college football. http://t.co/zQ65PhBd7O http://t.co/v23dEtiwmz
about 8 hours ago

ESPN_BigTen

ESPN BigTen


For McEvoy, actions louder than words http://t.co/RmhDQQS12V
about 8 hours ago

bucksinsider

Ohio State News


5 Takeaways from Urban Meyer's Appearance on HBO Real Sports with Bryant Gumbel: Urban Me... http://t.co/HsEYaa6zHe #buckeyes #ohiostate
about 8 hours ago

Brutus_Buckeye

Brutus Buckeye


.@OhioStAthletics @Ticketmaster That smile though. #Cheesin 😁😁😁
about 8 hours ago

rustymillerap

Rusty Miller


AP Ohio prep notebook: The homecoming game that wasn't at home: http://t.co/OXYlF6zTRV
about 8 hours ago

OhioStAthletics

Ohio State Buckeyes


#TriviaTuesday ANSWER: Nick Saban ... Find tix w/ @Ticketmaster TicketExchange: http://t.co/2qSonX0mgu #GoBucks http://t.co/3if9WySf3N
about 8 hours ago

ESPN_BigTen

ESPN BigTen


Spartans mixing it up at the start of practice https://t.co/qyQlcinSiM
about 8 hours ago

Brutus_Buckeye

Brutus Buckeye


Check out http://t.co/lQ04pK9gMo if you want to be in #TheShoe Sat. night for the battle of I-71. #GoBucks Beat UC! http://t.co/5qwTbzGfjd
about 9 hours ago

ConanOBrien

Conan O\'Brien


My wife is boycotting the NFL. Her boycott began in 1987.
about 9 hours ago

Esquiremag

Esquire Magazine


We have a new True Detective star confirmed: http://t.co/LibILJVftT
about 9 hours ago

Brutus_Buckeye

Brutus Buckeye


S/O to @Buckeyes04Life! Winner of 2 tix to #UCvsOSU. Check your DMs for more info. I'll see you Saturday night in #TheShoe! #GoBucks
about 9 hours ago

TeddyGreenstein

Teddy Greenstein


#MSU's Dantonio's a great coach, but he's loco if he thinks only conf champs shud make playoffs. SEC West has 4 teams that could win the B1G
about 9 hours ago

joe11w

JoeSports


Ohio State hockey: Goalie Michael Latorella commits to the Buckeyes: The Ohio State Men's Hockey team got anot... http://t.co/VAbQWlhbwB
about 9 hours ago

Brutus_Buckeye

Brutus Buckeye


Winner announced at 4pm TODAY! Retweet the embedded tweet and follow for a chance to WIN 2 TIX to #UCvsOSU. #GoBucks https://t.co/86Y67AaQMi
about 9 hours ago

ESPN_BigTen

ESPN BigTen


Iowa fan sure has some interesting tattoos http://t.co/mpk2n9ucad
about 9 hours ago

Buckeye_Nation

Buckeye Nation


I guess when your stadium is empty, you have to literally give away tickets // http://t.co/QMHrnOmJGA // http://t.co/OmyycvR2vc
about 9 hours ago

Brutus_Buckeye

Brutus Buckeye


.@B1GLLL @OhioStAthletics And being inducted into the @OSUMensVO athletics hall of game this weekend! Great #HBD Week!! #GoBucks
about 9 hours ago

bucksinsider

Ohio State News


Ohio State hockey: Goalie Michael Latorella commits to the Buckeyes: The Ohio State Men'... http://t.co/gHFmCvSIZd #buckeyes #ohiostate
about 9 hours ago

11W

Eleven Warriors


Let's look at aptly-named Cincinnati quarterback Gunner Kiel and his rocket launcher of a throwing arm. http://t.co/PqxGZ3pCqV
about 10 hours ago

Brutus_Buckeye

Brutus Buckeye


Still to time enter! RT embedded tweet for a chance to win 2 tix to #UCvsOSU football game Sat. #GoBucks https://t.co/86Y67AaQMi
about 10 hours ago

ESPN_BigTen

ESPN BigTen


Conference call: Best of the Big Ten http://t.co/d1jHM2kkMc
about 10 hours ago

APSE_sportmedia

APSE


Jeremy Fowler (@JFowlerCBS), who covers college football for CBS Sports, hired by ESPN to cover Cleveland Browns and other news.
about 10 hours ago

11W

Eleven Warriors


Urban Meyer addressed his HBO Real Sports special, OSU''s O-line and more on Tuesday's B1G coaches teleconference. http://t.co/NjQEpMHIgb
about 10 hours ago

ESPN_BigTen

ESPN BigTen


No quarterback decision at Michigan yet http://t.co/Oa3k2KXII8
about 10 hours ago

rustymillerap

Rusty Miller


Can't make this stuff up / Miami (Ohio) prez supports skunk safety after stuck-can case: http://t.co/TTIUkYVAVw #odd
about 10 hours ago

11W

Eleven Warriors


Recruiting Rewind: The Class of 2011 - Jim Tressel's final class - left some major holes at Ohio State. http://t.co/iRXQEzvXTx
about 10 hours ago

LukeMeredithAP

LukeMeredith


Kirk Ferentz on the dude who got a Kirk Ferentz tattoo. "He probably needs a hobby or two."
about 10 hours ago

Brutus_Buckeye

Brutus Buckeye


Separated by 50 yrs & about 50 votes so far...it's 1957 vs 2007 in latest #GoBucks125 match http://t.co/LGkrKVqfvc http://t.co/LWupaP6Ei8
about 10 hours ago

OhioStAthletics

Ohio State Buckeyes


#TriviaTuesday brought to you by @Ticketmaster TicketExchange: (QUESTION IN PHOTO) http://t.co/2qSonX0mgu #GoBucks http://t.co/omgVJrjto3
about 11 hours ago

BraxtonMiller5

BRAXTON MILLER


"@Ageorge7: @BraxtonMiller5 Hujambo muthafuka? Sawa sawa?" Haa sawa!
about 11 hours ago

B1Gfootball

Big Ten Football


Wilson: To me it's not one win. We've had some great environments at home. The key thing our fans need and our program needs is consistency.
about 11 hours ago

KyleRowland

Kyle Rowland


Purdue improved in all facets as Big Ten play looms, Hazell says http://t.co/jrQdeYpXLw
about 11 hours ago

KyleRowland

Kyle Rowland


Nice. RT @JFowlerCBS Some news to share: Joining ESPN as a Cleveland-based NFL reporter covering Browns and more.
about 11 hours ago

bigtenconf

Big Ten Conference


RT to wish #Wildcats good luck on their first official day of classes in Evanston. http://t.co/QNx3ZtzCxY
about 11 hours ago

OhioStAthletics

Ohio State Buckeyes


.@OhioState_MSOC gets the ball rolling w/ Connor Senn Memorial Match Wed. #GoBucks Live It! http://t.co/p62QAb19qz
about 11 hours ago

ESPN_BigTen

ESPN BigTen


College football's top 10 QBs http://t.co/F3N3IrIbkK
about 11 hours ago

Brutus_Buckeye

Brutus Buckeye


.@TheCincyBearcat #DingDing huh? We can do that around 9:30 or so Saturday night in #TheShoe https://t.co/XbpXXEOvCp #GoBucks Beat UC!
about 11 hours ago

KyleRowland

Kyle Rowland


Sign of the Apocalypse: Purdue will wear social media helmet Saturday with pictures of season ticket holders and students inside P logo.
about 11 hours ago

Brutus_Buckeye

Brutus Buckeye


Mike Nugent, Kevin Huber ready for Ohio State Buckeyes vs. Cincinnati Bearcats http://t.co/5yD3BnKlAT via @FoxSports
about 11 hours ago

Brutus_Buckeye

Brutus Buckeye


Don't miss your chance to WIN 2 TIX to #UCvsOSU - 6pm Sat in #TheShoe. Winner announced TODAY at 4pm. #GoBucks https://t.co/86Y67AaQMi
about 11 hours ago

AWardESPN

Austin Ward


There are signs of progress for Ohio State's revamped pass defense, but the real test is coming Saturday. http://t.co/uLs38N7lKW
about 12 hours ago

ESPN_BigTen

ESPN BigTen


True test coming for revamped OSU defense http://t.co/HnRJR6SRw2
about 12 hours ago

AWardESPN

Austin Ward


Mark Dantonio said he and Craig Bohl were both up for an assistant job at North Dakota State back in the day. Bohl got the nod.
about 12 hours ago

AWardESPN

Austin Ward


Dantonio: "Craig Bohl is an outstanding coach. His track record speaks for itself. There's no question he's building for the future."
about 12 hours ago

11W

Eleven Warriors


Tommy Tuberville sure doesn't seem concerned about noise in the Horseshoe on Saturday night. http://t.co/VWGE8K8wYK
about 12 hours ago

AWardESPN

Austin Ward


Gary Andersen praises the development of Tanner McEvoy every game, said it really came together last weekend.
about 12 hours ago

KyleRowland

Kyle Rowland


Purdue's struggled in third quarter this season, so Hazell said they'll simulate halftime during practice to try and correct issues.
about 12 hours ago

AWardESPN

Austin Ward


Is Brady Hoke considering making any changes on the offensive line? "We'll see how the week goes." Well, that settles that.
about 13 hours ago

KyleRowland

Kyle Rowland


Hazell says Big Ten games are a different level of football. Physical, four-quarter slugfest.
about 13 hours ago

KyleRowland

Kyle Rowland


Danny Etling's ankle was rolled on during the Southern Illinois game. Hazell said his movement will be evaluated at practice today.
about 13 hours ago

AWardESPN

Austin Ward


Brady Hoke isn't naming a starting quarterback yet. "We feel good about both guys." Both will get reps in practice.
about 13 hours ago

AWardESPN

Austin Ward


Brady Hoke: "We did some good things a week ago in the game. Obviously not enough of them."
about 13 hours ago

AWardESPN

Austin Ward


Lots of dead air during Pat Fitzgerald's stint on B1G teleconference: "That's what happens when you're 1-2, buddy."
about 13 hours ago

NicoleAuerbach

Nicole Auerbach


Ex-QB Michael Taylor rips Michigan: "A propaganda football team, telling people how great we are when we're mediocre" http://t.co/OcaXa3ipQu
about 13 hours ago

ESPN_BigTen

ESPN BigTen


Follow @AWardESPN, @mitchsherman @ESPNJoshMoyer and @DanMurphyESPN to stay on top of today's Big Ten teleconferences.
about 13 hours ago

KyleRowland

Kyle Rowland


Hazell says Saturday's game vs. Iowa is a big game for program for a lot of reasons. Purdue playing with confidence, can get signature win.
about 13 hours ago

KyleRowland

Kyle Rowland


Akeem Hunt will start at RB for Purdue this week. Raheem Mostert and Keyante Green will be backups. Hazell very high on Green's potential.
about 13 hours ago

KyleRowland

Kyle Rowland


Hazell says he's happy with how Purdue responded after loss to Notre Dame. Didn't come out flat against SIU, put them away early.
about 13 hours ago

bigtenconf

Big Ten Conference


.@NUFHCats and @OhioState_FH highlight #B1G Player of the Week honors #B1G | http://t.co/EsflZ1wqyG http://t.co/6aNOSPqfTf
about 13 hours ago

AWardESPN

Austin Ward


If you missed it, after an impressive weekend in the Big Ten, we set the table for Week 5. http://t.co/JaAIBkGzsa
about 13 hours ago

KyleRowland

Kyle Rowland


Great profile. RT @WSJSports A behind-the-scenes look at the life of tennis icon Caroline Wozniacki http://t.co/xjOfD2Po6r
about 13 hours ago

TheSchott

Schottenstein Center


Buckeye Country Superfest complete music lineup to be announced October 7! On Sale October 14! @buckeye_fest http://t.co/fBLH5V97x3
about 14 hours ago

ESPN_BigTen

ESPN BigTen


B1G RBs deserve place in Heisman chase http://t.co/arAOyQrtsN
about 14 hours ago

bigtenconf

Big Ten Conference


It is the 100th anniversary of the #B1G Cross Country Championships. @UWBadgers has a record 46 team titles. #B1G http://t.co/IVrSoE2ggD
about 14 hours ago

Buckeye_Nation

Buckeye Nation


Five-star quarterback Torrance Gibson will officially visit Ohio State for Cincinnati // http://t.co/FngXg3G4Ip
about 14 hours ago

Brutus_Buckeye

Brutus Buckeye


RT this week's Buckeye Best & follow for a chance to WIN 2 TIX to #UCvsOSU Sat. Winner announced 4pm today. https://t.co/z7hZim7Snv #GoBucks
about 14 hours ago

ESPN_BigTen

ESPN BigTen


Weekend recruiting wrap: Big Ten http://t.co/W5xw6Se9Z9
about 14 hours ago

KyleRowland

Kyle Rowland


Wilson: Indiana must back up Mizzou win http://t.co/ThYWsLzCjz
about 14 hours ago

KyleRowland

Kyle Rowland


Luers grad Mullen lost for year with ACL injury http://t.co/ymyER2Ase8
about 14 hours ago

KyleRowland

Kyle Rowland


The past eight times Indiana defeated a ranked opponent, Hoosiers lost next game. 1977 was last time they won after beating top-25 team.
about 15 hours ago

11W

Eleven Warriors


A breakdown the division of labor in Ohio State's running game and how it should change moving forward. http://t.co/HkcMcWF7hh
about 15 hours ago

KyleRowland

Kyle Rowland


Hoosiers get serious about sustaining success http://t.co/tO9B4Lnxx8
about 15 hours ago
BLOG ARCHIVE:
CATEGORIES: