Ohio State having success 'Up North'
February, 11, 2013
2/11/13
10:05
AM ET
Former Ohio State coach John Cooper was famous for saying, "Put a fence around your border and recruit nationally."
If the early 2014 recruiting class is any indication, Urban Meyer has made sure to add the phrase "and invade the surrounding areas of that school up north as well."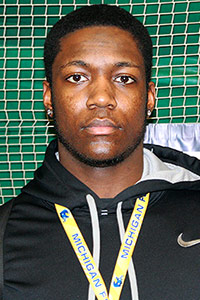 Chantel Jennings/ESPN.comLawrence Marshall is the second Michigander to commit to the Buckeyes in the Class of 2014.
So far, the Buckeyes have five junior commitments. Forty percent of those pledges come from just outside the shadows of Ann Arbor, Mich.
To continue reading this article you must be an Insider
Insider
College Football Top Plays: Week 13
Check out the top plays from Week 13 of college football.
College Football Top Plays: Week 13
VIDEO PLAYLIST
OSU FB RECRUITING SCORECARD
rustymillerap

Rusty Miller


Something to watch on Saturday: What if #Michigan players show up at Ohio Stadium wearing "BRADY" headbands?
2 minutes ago

TabbyHahn

Tabby Hahn


Thank you @OSU_SpiritSquad @Brutus_Buckeye http://t.co/HEXk8si5Gs
11 minutes ago

SkipMosic

Skip Mosic


Statewide coverage of @OhioStateHoops vs Sacred Heart begins at 6:30p. http://t.co/U4NLbDvUgk http://t.co/qUOUm2CnOr
11 minutes ago

BadgerFootball

Badger Football


If you took Melvin Gordon's rushing totals from just the first 3 quarters of games, he would still lead the country w/1,915 yards. #Badgers
15 minutes ago

KyleRowland

Kyle Rowland


Boilers arrive in Hawaii intent on improving http://t.co/L7VMtxoPen
29 minutes ago

rustymillerap

Rusty Miller


#OhioState football remains No. 7 in latest weekly AP Top 25.
49 minutes ago

bigtenconf

Big Ten Conference


.@MarylandMSoccer vs. UMBC is underway #B1GMSOC
50 minutes ago

11W

Eleven Warriors


The Hurry Up: A weekly rewind, Torrance Gibson's pursuit of Damien Harris and Cass Tech's next big thing. http://t.co/lrTbJjXLf2
53 minutes ago

rustymillerap

Rusty Miller


#Buckeyes playing #SacredHeart in men's hoops. Pioneers have an All-Name Team candidate: Cane Broome
54 minutes ago

joe11w

JoeSports


Ohio State opens as 20-point favorites over Michigan: The Buckeyes, as expected, are heavy favorites against t... http://t.co/Si7gHCuD0H
about an hour ago

FSOhioGirls

FOX Sports OH Girls


It is officially Michigan week. Let's goooo Bucks!!! -Bridget
about an hour ago

Buckeye_Nation

Buckeye Nation


Infamous Jameis should have been ejected, per the rule book: http://t.co/NOxODoyank // #Criminoles
about an hour ago

Buckeye_Nation

Buckeye Nation


With a loss in the #TheGame, Michigan will be a bowl-less 5-7. #BeatMichigan
about an hour ago

SamiMarie20

Sami.


"@Buckeye_Nation: #BeatMichigan"It's 3:03pm on Sunday, November 23rd & Michigan still sucks..
about an hour ago

KyleRowland

Kyle Rowland


All the way from Hawaii: Wow. #Browns
about an hour ago

KyleRowland

Kyle Rowland


Maui Invitational team capsules: http://t.co/YFqwa7LwNB
about an hour ago

Buckeye_Nation

Buckeye Nation


#Browns win on a last second FG! 26-24 over the Falcons.
about an hour ago

KyleRowland

Kyle Rowland


Honeymoon bliss: Watching the Boilers http://t.co/3X5G9gtioN
about an hour ago

bucksinsider

Ohio State News


Scullion will balance med school, return to court: By RUSTY MILLERAP Sports Writer COLUMB... http://t.co/mij993lg9x #buckeyes #ohiostate
about an hour ago

KyleRowland

Kyle Rowland


Purdue was 1 seed in 1988 and lost to Kansas State in Sweet 16 after beating them by 29 in regular season. The teams meet Monday in Maui.
about an hour ago

bigtenconf

Big Ten Conference


Ted Allen of @LifeAtPurdue is the host of "Chopped" on @FoodNetwork & contributes to @Esquiremag. #B1GAlumni http://t.co/NbRKBFyv9M
about an hour ago

KyleRowland

Kyle Rowland


The 1988 Midwest Regional semifinal still evokes heartbreak in West Lafayette. Even 26 years later. http://t.co/bLT6x6O1wf
about an hour ago

bigtenconf

Big Ten Conference


Congratulations to @PennStateMSOC for a great 2014 season #B1GMSOC
about an hour ago

KyleRowland

Kyle Rowland


Purdue won the 1978 Rainbow Classic and 1994 Big Island Invitational. They're 4-2 all-time in Maui (2-1 in both 1999 and 2006).
about an hour ago

KyleRowland

Kyle Rowland


Purdue in paradise: Boilermakers are 13-6 in Hawaii-based tournaments. http://t.co/xiW0fNsSgB
about an hour ago

KyleRowland

Kyle Rowland


Jay Bilas: With proliferation of pre-conference tournaments, it's a really competitive landscape. But Maui is still the premier tournament.
about an hour ago

KyleRowland

Kyle Rowland


Leis, layups and legacy: A history of the Maui Invitational http://t.co/ZK8wsZU4AO
about an hour ago

joe11w

JoeSports


Ohio State recruiting: Elite '15 MVP, 11/20-11/22 - How OSU commits fared in high school football: Joe Burrow ... http://t.co/J8clAMt2In
about 2 hours ago

OhioStFootball

Ohio State Football


The Bucks remain No.7 in both Sunday polls. What do you think of their spot? http://t.co/1Z3qKHGkiH
about 2 hours ago

bigtenconf

Big Ten Conference


Congratulations to @IUMensSoccer for a successful 2014 season #B1GMSOC
about 2 hours ago

bigtenconf

Big Ten Conference


.@PennStateWSOC defeats Virginia Tech, 2-1 to advance into the quarterfinals #B1GWSOC
about 2 hours ago

bigtenconf

Big Ten Conference


.@MSUmsoccer defeats Oakland, 1-0 to advance into the Third Round #B1GMSOC
about 2 hours ago

OhioState_WBB

OSU W Basketball


Also, @Brutus_Buckeye is the man. Bout to drain a half court shot at half
about 3 hours ago

bucksinsider

Ohio State News


Big Ten Power Rankings: Week 13: ');ad_counter++}; <!CDATA]> ');ad_counter++}; ');ad_cou... http://t.co/YnSjML0MMB #buckeyes #ohiostate
about 3 hours ago

11W

Eleven Warriors


Hello, Sunday night basketball. Ohio State welcomes Sacred Heart as part of the Buckeye Classic. A preview: http://t.co/kg0hzHsT79
about 3 hours ago

11W

Eleven Warriors


Polls: Ohio State remains at No. 7 in both the Coaches Poll and the AP Top 25. http://t.co/OsM8USrLQZ
about 3 hours ago

rustymillerap

Rusty Miller


Can't make this stuff up V / City's 'ugly' Christmas tree prompts public outcry (from @AP) http://t.co/2C0enz066g
about 3 hours ago

rustymillerap

Rusty Miller


Can't make this stuff up IV / UMaine fans fail to set world record for flannel (from @AP) http://t.co/UIFKubInCm
about 3 hours ago

rustymillerap

Rusty Miller


Can't make this stuff up III / Polish town opposes Pooh Bear for unclear gender (from @AP) http://t.co/zDptgv7A3l
about 3 hours ago

rustymillerap

Rusty Miller


Can't make this stuff up II / Cops: Naked suspect assaults man, 84, at airport (from @AP) http://t.co/JAlVmvKOzF
about 3 hours ago

bigtenconf

Big Ten Conference


.@PennStateMSOC vs. Syracuse has kicked off #B1GMSOC
about 3 hours ago

rustymillerap

Rusty Miller


Can't make this stuff up / Ex-state worker charged with stealing 610 helmets (from @AP) http://t.co/gKWHDg1om9
about 3 hours ago

OhioStFootball

Ohio State Football


Ohio State remains at #7 in the Coaches Poll, behind Miss St, TCU & Baylor
about 3 hours ago

ESPN_BigTen

ESPN BigTen


Big Ten Power Rankings: Week 13 http://t.co/McrTS00sBu
about 3 hours ago

SportSourceA

SportSourceAnalytics


Five FBS offenses with the fewest % of plays on third down: #ECU #OhioState #GT #Navy and #Oregon #CFB
about 3 hours ago

SportSourceA

SportSourceAnalytics


Conferences with highest cupcake % (FCS gms & gms vs non-conf, non-power 5 tms that are under .500): #SEC at 30%, #ACC at 28%, #B10 at 27%
about 3 hours ago

SportSourceA

SportSourceAnalytics


Conferences w/highest % of their wins against cupcakes: #SEC at 30%, #ACC at 28%, #B10 at 27%, #Pac12 at 25%, and #Big12 at 22% #CFB
about 3 hours ago

Hot_For_Food

Melissa Pfeister


The Browns are bad for my liver
about 4 hours ago

KyleRowland

Kyle Rowland


Surfboard photo ops are the best. http://t.co/OTg9DMom9o
about 4 hours ago

KyleRowland

Kyle Rowland


Painter: "We're looking forward to the challenge and a different level of competition. Hopefully we can be successful."
about 4 hours ago

KyleRowland

Kyle Rowland


Painter: "We have a young team, but I like our team. I think our guys have been unselfish."
about 4 hours ago

KyleRowland

Kyle Rowland


Aloha from Maui. http://t.co/DgfNusykOR
about 4 hours ago

11W

Eleven Warriors


Best of luck to @OhioState_MSOC, facing No. 1 seed Notre Dame at 7pm today in the 2nd round of the NCAA Tournament. http://t.co/qXv7owylGH
about 4 hours ago

bigtenconf

Big Ten Conference


.@IUMensSoccer vs. Xavier is underway #B1GMSOC
about 4 hours ago

bigtenconf

Big Ten Conference


.@MSUmsoccer vs. Oakland has kicked off #B1GMSOC
about 4 hours ago

11W

Eleven Warriors


AVENGE ME – Urban MT @ncaawrestling Matchup between No. 4 @wrestlingbucks and No. 10 @VT_Wrestling @ 2pm on ESPN3 http://t.co/JvtXeYf9B0
about 4 hours ago

bigtenconf

Big Ten Conference


.@PennStateWSOC vs. Virginia Tech is underway #B1GWSOC
about 4 hours ago

BenAxelrod

Ben Axelrod


Former Buckeye Boom Herron reportedly starting at running back for the Colts over Trent Richardson, which is incredible on a lot of levels.
about 4 hours ago

OhioStFootball

Ohio State Football


Where do you think Ohio State will be in today's polls? #GoBucks
about 5 hours ago

joe11w

JoeSports


College football rankings: Ohio State still No. 7 in Coaches Poll Top 25: The Bucks stay the same after a most... http://t.co/YDTwqSbtbK
about 5 hours ago

Buckeye_Nation

Buckeye Nation


#BeatMichigan
about 5 hours ago

bucksinsider

Ohio State News


Sacred Heart Pioneers at No. 20 Ohio State Buckeyes basketball preview box breakdown: Sac... http://t.co/6YkUexXzbl #buckeyes #ohiostate
about 5 hours ago

ramzy

Ramzy Nasrallah


SOON http://t.co/640LLyaXQU
about 5 hours ago

criscarter80

Cris Carter


So proud of your response to the criticism. This is just the beginning. Stay focused @JalinMarshall #BuckeyeNation
about 6 hours ago

11W

Eleven Warriors


Five Things surveys Ohio State's sloppy 42-27 victory over Indiana. http://t.co/akARKaHb98
about 6 hours ago

11W

Eleven Warriors


Prep Tracker: Burrow scores all the TDs, Benedictine rolls behind Baker and Denzel Ward leads Nordonia once again. http://t.co/yvK2zMXegN
about 6 hours ago

Brutus_Buckeye

Brutus Buckeye


.@ClarkKelloggCBS @OhioStateHoops @OhioState_WBB I see you Special K! #GoBucks http://t.co/PkJK0zXjI7
about 6 hours ago

bigtenconf

Big Ten Conference


Check out the football stat leaders with just 1 weekend remaining, beginning now @B1Gfootball.
about 6 hours ago

chiggs43

Chris Higgins


Let's be honest @Buckeye_Nation - this week is all about one thing - BEAT Michigan!! #GoBucks #BeatMichigan
about 6 hours ago

ESPN_BigTen

ESPN BigTen


Best of the visits: Big Ten http://t.co/V5r3llnawH
about 7 hours ago

joe11w

JoeSports


Ohio State-Indiana 2014 advanced stats review: Another down: The eleventh game of the season is in the rearvie... http://t.co/MwAXeSfIgG
about 7 hours ago

Buckeye_Nation

Buckeye Nation


Watch #TBDBITLs half-time show / http://t.co/tOGjPZHGXE
about 7 hours ago

ESPN_BigTen

ESPN BigTen


Playoff picture: Week 14 http://t.co/hcM6hyZ0sN
about 7 hours ago

OhioStAthletics

Ohio State Buckeyes


Let's Play Two! 🏀 @OhioState_WBB vs VCU 2pm🏀 @OhioStateHoops vs Sacred Heart 7pmToday/Tonight @TheSchott #GoBucks http://t.co/ymH8w9mLu5
about 7 hours ago

Buckeye_Nation

Buckeye Nation


West Carolina @CoachSpeir calls Kirk Herbstreit a QB from primadonna state.
about 7 hours ago

Brutus_Buckeye

Brutus Buckeye


GOOOOOD ❌ORNING! #GoBucks Beat Blue! http://t.co/8N9fVBHr2P
about 7 hours ago

11W

Eleven Warriors


Ohio State-Indiana explained by Urban Meyer: "Sometimes in college football, things don't go exactly as scripted." http://t.co/CsEHRXxJZe
about 7 hours ago

11W

Eleven Warriors


Per @Johnny_Detroit, the line for Ohio State-Michigan was hovering around OSU -18 prior to this weekend.
about 7 hours ago

bigtenconf

Big Ten Conference


Check out a rundown of yesterday's top performers on the football field, starting now @B1Gfootball.
about 8 hours ago

joe11w

JoeSports


How to watch Ohio State vs. Sacred Heart: Preview, game time, TV schedule: The Buckeyes play their first game ... http://t.co/WNJnLLgnlq
about 8 hours ago

11W

Eleven Warriors


Indiana Debriefing: Buckeyes ride The Marshall Plan, Cam Johnston's bomb and Jim Tressel's least favorite moment. http://t.co/QfLHo3MAbG
about 8 hours ago

11W

Eleven Warriors


Is Noah Spence's return imminent? When asked, Urban Meyer would only offer "I think there is an appeal." http://t.co/tzofwRBRaY
about 8 hours ago

ESPN_BigTen

ESPN BigTen


Big Ten helmet stickers: Week 13 http://t.co/bAOBjnNN1i
about 8 hours ago

11W

Eleven Warriors


Jalin Marshall runs roughshod over haters and we complain about Ohio Stadium's music in this week's Twitter recap! http://t.co/OjMDYKMDBT
about 9 hours ago

Brutus_Buckeye

Brutus Buckeye


🔊 ATTENTION SCARLET SHOPPERS!! 🔊---🔊ATTENTION SCARLET SHOPPERS!! 🔊3-Day BOGO at http://t.co/hdt6G6P4vF! #GoBucks http://t.co/N3HdiHQajb
about 9 hours ago

11W

Eleven Warriors


ICYMI: Photos from Saturday's 42–27 win over Indiana. http://t.co/Ymy7aqwYG7 http://t.co/wZEya9w32U
about 9 hours ago

11W

Eleven Warriors


How do you answer haters on Twitter? Become the first Buckeye to score four TDs in a half. http://t.co/PSt2RKl57s http://t.co/sXwvRsrbk9
about 9 hours ago

11W

Eleven Warriors


#BeatMichigan
about 10 hours ago

Inspire_Us

Inspirational Quotes


Worry is a down payment on a problem you may never have.
about 10 hours ago

11W

Eleven Warriors


Big Ten Recap: Wisconsin and Minnesota each pass tests, Michigan is in the dumps and Sparty caters to the big guys. http://t.co/NB5xqvdtgj
about 10 hours ago

joe11w

JoeSports


Ohio State Stock Market Report: Indiana: Who's up and who's down, now that this one is in the books. Woof. ... http://t.co/tzuQuuKRGc
about 11 hours ago

11W

Eleven Warriors


It's officially Michigan Week. Your game notebook looks ahead to The Game and examines OSU's run-stopping troubles. http://t.co/o7rbQcA64F
about 11 hours ago

Brutus_Buckeye

Brutus Buckeye


Officially THE GA_E week! Wear your SCARLET &GRAY all week! #GoBucks Beat Blue!! http://t.co/XPYFhlmDRz
about 16 hours ago

TomOrr4

To? Orr


Michigan football has five 6+ loss seasons since 2008.Ohio State football has four 6+ loss seasons since 1944.
about 17 hours ago

bucksinsider

Ohio State News


Out of control: FSU, OSU just win, baby: Skip to search. New User? Register Sign in Help... http://t.co/HugyaYCEuv #buckeyes #ohiostate
about 17 hours ago

BuckeyeHumor

FUCK MICHIGAN


#BeatMichigan , everyone else does.
about 17 hours ago

11W

Eleven Warriors


Another amazing Saturday of Twitter, but this may have been the best part of it. http://t.co/w4vUqhzWJH
about 17 hours ago

taylorstepp

Taylor Stepp


Amen http://t.co/ffoT4CrBHT
about 18 hours ago

MartineSaad

Martine Saad


@Brutus_Buckeye crowd surfing! @Buckeye_Nation #GoBucks 🏈⭕️🙌🙏⭕️ http://t.co/ChYVt4X25T
about 18 hours ago

JasonKirkSBN

Jason Kirk


Our Indiana site is already hanging banners http://t.co/L1FSHzRYdS
about 18 hours ago
BLOG ARCHIVE:
CATEGORIES: