Top Ohio State recruit misses
January, 22, 2013
1/22/13
10:05
AM ET
Recruiting rankings don't always correlate to production at the college level. BuckeyeNation went back to 2006 and scanned the recruiting classes for players that never made the impact that was expected. Here are five from the last seven years, in alphabetical order:
[+] Enlarge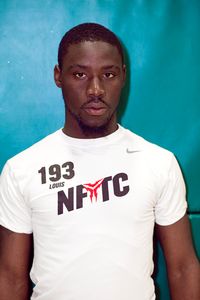 Tom Hauck for ESPN.comWide receiver James Louis was the No. 80 player in the 2010 ESPN 150, but never played in a game at Ohio State.
Darryl Baldwin (2010):
He was ranked the No. 13 defensive end in the nation and was 131st overall. The Buckeyes have moved him over to the offensive line. He made three tackles and registered one sack on defense in three seasons.
Duron Carter (2009):
Carter was the No. 18 wide receiver in the nation and was ranked No. 131 overall. He played in 12 games as a freshman, recording 13 receptions for 176 yards and a touchdown, but grades forced him to withdraw from Ohio State. Carter had stints with the Buckeyes, Alabama and Florida Atlantic. He has declared for this year's NFL draft.
To continue reading this article you must be an Insider
Insider
Easiest Path To The 2015 College Football Playoff
Heather Dinich takes a look at which schools have the easiest path to the 2015 College Football Playoffs.
Easiest Path To The 2015 College Football Playoff
VIDEO PLAYLIST
OSU FB RECRUITING SCORECARD
CJ12_

Cardale Jones


Wow, I'm almost 100 percent sure that these refs are footlocker employees #GoBucks
3 minutes ago

OSUADAthComm

Dan Wallenberg


Under 4 timeout, Buckeyes called for offensive foul, Purdue leads 30-22 on hot shooting from 3 (5-10). 1:40 left in the half.
3 minutes ago

rustymillerap

Rusty Miller


#Buckeyes 2 for last 12 FG. Fans less than enamored with officiating, but offense shooting blanks.
3 minutes ago

KyleRowland

Kyle Rowland


Purdue, on 16-5 run, with its biggest lead of the night 30-22. During spurt, Boilers have four 3s. 1:38 left in first half.
3 minutes ago

Brutus_Buckeye

Brutus Buckeye


3⃣'Angelo!!!! I feel a run coming on @BuckeyeNutHouse #GoBucks Beat Purdue http://t.co/sGeAEA4vyu
5 minutes ago

OSUADAthComm

Dan Wallenberg


Teams trade 3s, 28-22 Purdue.
6 minutes ago

OSUADAthComm

Dan Wallenberg


Thompson drives, fouled, makes 2 FTs, 23-19 Purdue.
8 minutes ago

KyleRowland

Kyle Rowland


Purdue with three consecutive 3s -- two from Rapheal Davis, one from Middletown, Ohio, native Vince Edwards.
10 minutes ago

OSUADAthComm

Dan Wallenberg


Purdue with back to back 3s, lead 20-17 with makes in 6 of last 8 shots from the field.
13 minutes ago

BTN_Ohio_State

Ohio State on BTN


Kam Williams @OhioStateHoops steal? Check! Kam Williams dunk? Check! #IntelGoesB1G http://t.co/2iJw03CXV7
15 minutes ago

OSUADAthComm

Dan Wallenberg


OSU 1-7 from distance, Purdue 1-5. Buckeyes 7 turnovers, Purdue 6. Buckeyes up 7-6 on pts off turnovers.
16 minutes ago

rustymillerap

Rusty Miller


Each team 6 of 16 FG. Get this: #Buckeyes leading due to prowess at FT line, where they're 4 for 5 to PU's 1 for 2.
16 minutes ago

OSUADAthComm

Dan Wallenberg


Under 8 timeout, after OSU block out of bounds, Buckeyes lead 17-14. Both teams shooting 6 of 16 (.375).
17 minutes ago

KyleRowland

Kyle Rowland


Buckeyes lead Purdue 17-14 at under-8 timeout. Both teams 6-16 from the field, and that's much better than opening minutes.
17 minutes ago

Brutus_Buckeye

Brutus Buckeye


.@3SScott says ... http://t.co/nuiI2LekdC
17 minutes ago

OSUADAthComm

Dan Wallenberg


Thompson breaks 14 all time with a bank from right of the lane, fouled, makes FT, 17-14 Buckeyes.
19 minutes ago

Brutus_Buckeye

Brutus Buckeye


Williams & Williams back to back Buckets!!! #GoBucks Beat Purdue!
21 minutes ago

OSUADAthComm

Dan Wallenberg


A. Williams spins baseline and scores over Haas, Kam Williams steals and scores, 14-11 Buckeyes.
21 minutes ago

OSUADAthComm

Dan Wallenberg


Buckeyes are 3-11 shooting, Purdue 4-12. Russell with 8 pts,, 2 rebs., one steal.
24 minutes ago

rustymillerap

Rusty Miller


#Buckeyes 2 of last 9 FG. Lead 10-9 at 11:20, with D'Angelo Russell scoring 8.
24 minutes ago

OSUADAthComm

Dan Wallenberg


Loving with the offensive rebound putback, 10-9 Buckeyes, under 12 timeout on another foul called on OSU on offensive rebound attempt.
25 minutes ago

KyleRowland

Kyle Rowland


Hey refs, it's a 7:30 Sunday night game, let's cool it on the fouls.
26 minutes ago

rustymillerap

Rusty Miller


Best Boilermaker name: Basil Smotherman or Isaac "Shaft" Haas. Discuss.
27 minutes ago

OSUADAthComm

Dan Wallenberg


Russell creates space in the paint and scores, he has all 8 OSU pts, Buckeyes up 8-7.
28 minutes ago

rustymillerap

Rusty Miller


These two teams are fighting for second or third place in the Big Ten. Wow.
32 minutes ago

KyleRowland

Kyle Rowland


Atrocious opening four minutes. OSU leads 5-2. Teams a combined 2 of 11 from the field with six turnovers.
35 minutes ago

OSUADAthComm

Dan Wallenberg


Under 16 timeout, OSU foul on offensive rebound attempt, Buckeyes lead 5-2. Purdue starts 1 of 7 from the field, OSU 1-4.
35 minutes ago

rustymillerap

Rusty Miller


#Buckeyes 7 possessions, 4 turnovers.
36 minutes ago

OSUADAthComm

Dan Wallenberg


Russell on the board first with a 3 for the Buckeyes.
40 minutes ago

Brutus_Buckeye

Brutus Buckeye


Amir ... #GoBucks http://t.co/RllCV3CEZQ
40 minutes ago

OSUADAthComm

Dan Wallenberg


Ohio State wins tip, here we go
43 minutes ago

KyleRowland

Kyle Rowland


Elida native Dakota Mathias with a warm ovation from the Value City Arena crowd.
46 minutes ago

Brutus_Buckeye

Brutus Buckeye


The Time is NOW! Go @ohiostatehoops Beat Purdue! #GoBucks https://t.co/cR4wDVvyrt
46 minutes ago

CFD22

Charles Davis


@Ivan_Maisel @LanceZierlein - Ivan, we're all praying for Max and your family...take care, let's keep the Maisel's in our thoughts/prayers
49 minutes ago

joe11w

JoeSports


Ohio State vs. Purdue 2015 live game updates: Time, TV schedule, and how to watch: All eyes will be on the Buc... http://t.co/R2QbjvZ7ii
50 minutes ago

B1Gwbball

B1G Women\'s Hoops


The full bracket for the 2014 #B1GWBBall Tournament: http://t.co/IZUqvl7ftM
50 minutes ago

rustymillerap

Rusty Miller


#Purdue 11-4 in Big Ten play coming in ... with no one in the top 29 in scoring. #Buckeyes
about an hour ago

rustymillerap

Rusty Miller


#Purdue says #Buckeyes only Big Ten team with winning record against it. But 6 wins vacated by NCAA, so Purdue still leads 84-82.
about an hour ago

bigtenconf

Big Ten Conference


The #Huskers and #Buckeyes are the 2015 Big Ten Men's & Women's Indoor Track & Field Champions. http://t.co/GThP6zwBd3
about an hour ago

OSUADAthComm

Dan Wallenberg


Ohio State starters: Scott, Thompson, A. Williams, Tate, Russell.
about an hour ago

OSUADAthComm

Dan Wallenberg


Purdue starters: Octeus, Smotherman, Hammons, Mathias, Davis
about an hour ago

Joshf45

Josh Frohnapfel


#GoBucks @Brutus_Buckeye http://t.co/YNTxw7Wczg
about an hour ago

mlenoelle

Emily Heskett


Got the hookup from @Brutus_Buckeye can't wait for game time 😁😁😁 http://t.co/TYDHL3HVE8
about an hour ago

OSUADAthComm

Dan Wallenberg


Officials for Purdue @OhioStateHoops: Mike Sanzere, Mike Eades, John Higgins
about an hour ago

OhioStAthletics

Ohio State Buckeyes


Buckeye Broadcast Bulletin • @OhioStateHoops vs. Purdue 7:30 p.m. on @BigTenNetwork & @971thefan #GoBucks http://t.co/sNG3UqiWhm
about an hour ago

KarenVanVleet1

Karen VanVleet


The girls are excited we finally were able to make snowmen! #GoBucks @OhioStAthletics http://t.co/GDQjC04nV9
about an hour ago

Brutus_Buckeye

Brutus Buckeye


The roads are clear ❄️ in Columbus, but the tracks are NOT! CHOO CHOO Beat Purdue! ❌🚂! #GoBucks http://t.co/OHFuSNXCgw
about an hour ago

rustymillerap

Rusty Miller


RT @BBaptistHoops: C Anthony Lee in uniform and warming up with #Buckeyes. Tip vs Purdue at 7:30.
about an hour ago

11W

Eleven Warriors


The Hurry Up: Prince Sammons update, Nike regionals in Miami, thoughts on Danny Clark's transfer and more. http://t.co/DEmyqGCYCR
about an hour ago

KyleRowland

Kyle Rowland


Bates-Diop is averaging 7.2 points, 3.6 rebounds, 1.6 blocks and 1.0 assist over the past five games.
about an hour ago

KyleRowland

Kyle Rowland


In past 5 games, Tate is averaging 13.8 points, 5.4 rebounds and 1.0 steal, and he scored a career-high 22 points on Thursday against Neb.
about an hour ago

KyleRowland

Kyle Rowland


In Purdue's 60-58 win Feb. 4, OSU's Marc Loving was serving a suspension and Jae'Sean Tate and Keita Bates-Diop had yet to come of age.
about an hour ago

joe11w

JoeSports


Ohio State baseball: Bucks leave UAB on high note: After dropping a double dip on Saturday, Buckeye baseball r... http://t.co/IlRWTiTTjg
about 2 hours ago

Brutus_Buckeye

Brutus Buckeye


Just drove the Mascot Mobile to @TheSchott & it was SMOOTH SAILING all the way... Get to the game! #GoBucks http://t.co/VUBBJ6tmnJ
about 2 hours ago

KyleRowland

Kyle Rowland


Back in old Columbus town. http://t.co/KNirwaNUVr
about 2 hours ago

Brutus_Buckeye

Brutus Buckeye


Just drove the Mascot Mobile to @TheSchott & it was SMOOTH SAILING all the way... Get to the game! #GoBucks http://t.co/VUBBJ6tmnJ
about 2 hours ago

Brutus_Buckeye

Brutus Buckeye


sNOw excuses! No awards shows 🎶🎬 tonight! Get to @TheSchott for some Sunday Night @OhioStateHoops vs Purdue! #GoBucks http://t.co/uJIlc0jxBA
about 2 hours ago

bigtenconf

Big Ten Conference


Congrats to @umichswimdive on claiming 2015 #B1GSD Championship - the Wolverines' 5th straight title & 39th overall. http://t.co/6ssnmHvKz2
about 3 hours ago

GArmasAP

Genaro C. Armas


A technical foul on Izzo leads to two more #Badgers FTs #Bucky in control, leading by 19 over #Spartans w/17 to go in game.
about 3 hours ago

bigtenconf

Big Ten Conference


Congrats to @umichswimdive on claiming 2015 #B1GSD Championship - the Wolverine's 5th straight title & 39th overall. http://t.co/aBotl09oP2
about 3 hours ago

recruitbp

Recruiting Blueprint


OSU great @chris_spielman nephew @jdspielman10 was just offered a scholarship to play football at Michigan. http://t.co/lEdTMdm53W
about 3 hours ago

journalgsports

JG Sports


Still smarting from Thursday's late-game letdown, scene is set for Purdue's redemption. @KyleRowland has the story. http://t.co/ahGnjkgELL
about 3 hours ago

Brutus_Buckeye

Brutus Buckeye


.@Eric10TV I've even got the weather peeps on my side! Get to THE GAME! #GoBucks Beat the Boilers!! http://t.co/SucrrbDM3J
about 3 hours ago

Brutus_Buckeye

Brutus Buckeye


sNOw excuses! Sunday Night @OhioStateHoops @TheSchott 🏀🏀🏀#Buckeyes vs Boilers 7:30pm http://t.co/9PBA5CR2Kd #GoBucks http://t.co/9TMYRNFhJ4
about 3 hours ago

ESPN_BigTen

ESPN BigTen


News and notes: Nike Football The Opening Orlando Regional http://t.co/4pW9qG2fUu
about 4 hours ago

AllenTrieu

Allen Trieu


#Michigan offers Eden Prairie (Minn.) 2016 WR JD Spielman: http://t.co/gglqeI7MGE
about 4 hours ago

recruitbp

Recruiting Blueprint


OSU great @chris_spielman nephew @jdspielman10 was just offered a scholarship to play football at Michigan. http://t.co/lEdTMdm53W
about 4 hours ago

DBriggsBlade

Dave Briggs


Wrote today on basketball's continued one-man boy band, fixing a "broken" jumper, and Aaron Craft's rise in the NBADL http://t.co/OojJ5mYvtQ
about 4 hours ago

OhioStAthletics

Ohio State Buckeyes


The Magic... The Emotion... The Intensity... The MADNESS Starts Today! #GoBucks Beat Purdue! 7:30. @OhioStateHoops http://t.co/RDEfzNrILH
about 4 hours ago

KaylinCharmaine

Kaylin


View from my window earlier ❄️❄️ http://t.co/FjFvpKMftA
about 4 hours ago

_youhadonejob

You had one job


Looks like it. http://t.co/jPfD8LHb4s
about 4 hours ago

bigtenconf

Big Ten Conference


Tom Verducci of @penn_state is a senior writer for @SInow & a regular contributor on @MLBNetwork. #B1GAlumni http://t.co/OmKw84kjHx
about 5 hours ago

KyleRowland

Kyle Rowland


The Buckeyes have outscored seven Big Ten opponents by an average of 15.6 points at home and are shooting better than 50 percent at Schott.
about 5 hours ago

KyleRowland

Kyle Rowland


Ohio State's won six consecutive home games by double figures and the last three have come by 20 points or more.
about 5 hours ago

KyleRowland

Kyle Rowland


Purdue beat Ohio State on Feb. 4. The team Boilermakers face tonight in Columbus is far different. http://t.co/Qrws8CHoDC
about 5 hours ago

bigtenconf

Big Ten Conference


.@umichswimdive's Evan White earns Co-Freshman of the Year honors #B1GSD http://t.co/9RWsaK32QP
about 5 hours ago

bigtenconf

Big Ten Conference


Blake Pieroni of @IUSwimAndDive is named Co-Freshman of the Year #B1GSD http://t.co/dsmCmy2udg
about 5 hours ago

bigtenconf

Big Ten Conference


James Connor of @IUSwimAndDive is named Diver of the Championships #B1GSD http://t.co/IgCv9sQZfF
about 5 hours ago

bigtenconf

Big Ten Conference


.@umichswimdive's Dylan Bosch earns Swimmer of the Championships honors #B1GSD http://t.co/zHeNZTx2Xf
about 5 hours ago

_youhadonejob

You had one job


It's like that dress again. http://t.co/7gIKT999px
about 5 hours ago

journalgsports

JG Sports


Good morning. Here's a look at today's sports front page: http://t.co/1ukpfrCbRJ
about 6 hours ago

Brutus_Buckeye

Brutus Buckeye


When I told him TODAY was the last $10 D.O.G. tix game of the season = Puppy Dog 👀 #GoBucks Beat Purdue! 7:30 tip. http://t.co/LsSxKzLLFD
about 6 hours ago

Brutus_Buckeye

Brutus Buckeye


When I told him TODAY was the last $10 D.O.G. tix game of the season = Puppy Dog 👀 #GoBucks Beat Purdue! 7:30 tip. http://t.co/LsSxKzLLFD
about 6 hours ago

KyleRowland

Kyle Rowland


Poor finish leaves Purdue boiling | Boilermakers know they can't let down tonight at Ohio State http://t.co/LbIAaLRfO9
about 6 hours ago

paitson

David Paitson


"The #Columbus #Hockey Scene" http://t.co/OEuPJHObAA via @Eric_StJohn @CBJcannon #ChillFactor
about 6 hours ago

ECHL

ECHL


Relive the days of the Columbus Chill. #ChillFactor by @paitson & @icer12 is now available for purchase on Amazon at http://t.co/aX2PFZrAZa
about 6 hours ago

11W

Eleven Warriors


Ohio celebrates its 212th "birthday" today. Let's sing the praises of THE greatest state in the country. http://t.co/CiUyxuBfEA
about 7 hours ago

IndianaWebSport

Brett R Rump


The Journal Gazette covered Senior Night...IPFW over WIU, 84-64. @KyleRowland game story HERE> http://t.co/qwap1nC5r8
about 7 hours ago

Brutus_Buckeye

Brutus Buckeye


AHHHHHHHHHH! #GoBucks Beat Purdue! 7:30pm at @TheSchott. @OhioStateHoops @Jared_Sully0 http://t.co/qNb4Vr65As
about 9 hours ago

11W

Eleven Warriors


Utah's Branden Bowen takes his turn in the 11W Community Interview chair and opens up with readers. http://t.co/cqM0j7r0aM
about 9 hours ago

OSU_SpiritSquad

OSU Cheerleading


See us on ESPN2 today at 11:00 am competing at the UCA Collegiate National Championship
about 9 hours ago

LovLikeJesus

Love Like Jesus


When the Bible says "watch and pray" it doesn't mean "watch and criticize," "watch and gossip" or "watch and judge."
about 9 hours ago

11W

Eleven Warriors


In a rematch against Purdue, Ohio State looks to neutralize A.J. Hammons, a 7-foot terror under the basket. http://t.co/kIaJjRa3kk
about 11 hours ago

11W

Eleven Warriors


Still hoping to land one of the Big Ten's top-four seeds, Ohio State hosts Purdue tonight. Your game preview: http://t.co/B4i1siN7oi
about 12 hours ago

11W

Eleven Warriors


The Buckeyes have the home advantage against Purdue today, which they need badly for Big Ten Tournament positioning. http://t.co/ucRvrrTDbi
about 13 hours ago

joe11w

JoeSports


How to watch Ohio State vs. Purdue: Preview, game time, and TV schedule: Ohio State looks to continue their re... http://t.co/0OG5NfngqV
about 13 hours ago

The_Gospels

The Gospel Daily


Good people bring out good things from the good stored in them. -Matthew 12:35
about 13 hours ago

Buckeye_Nation

Buckeye Nation


Ohio State University News Tips 2/27/15 / #OSUnews / http://t.co/DPrmkCW5IM
about 16 hours ago

OhioStAthletics

Ohio State Buckeyes


It's officially March and ...@OhioStateHoops vs Purdue • 7:30pm Sunday @TheSchott http://t.co/7kRXo2XHme #GoBucks http://t.co/3EX4TJaSh5
about 20 hours ago

OhioState

OhioState


Did you know @wexarts is 1 of few venues in the country that can showcase cinema past? Learn more in #BuckeyeVoices: http://t.co/vijGlnpT5n
about 20 hours ago
BIG TEN SCOREBOARD
Thursday, 9/3
Friday, 9/4
Saturday, 9/5
Sunday, 9/6
Monday, 9/7
BLOG ARCHIVE:
CATEGORIES: