Eight OSU commits hope to sway visitors
December, 5, 2012
12/05/12
10:00
AM ET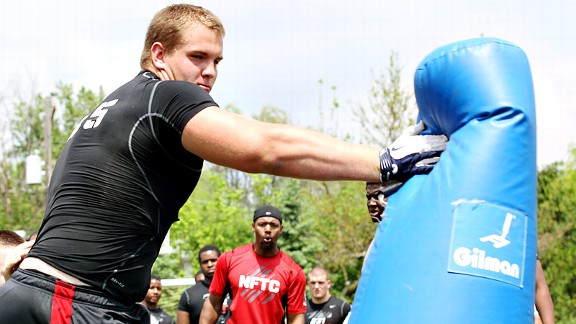 Tom Hauck for ESPN.comBilly Price will be among the Ohio State pledges in Columbus on official visits this weekend.
Ohio State coach Urban Meyer is looking for a little help from his friends, and not just his assistant coaches.
That's why the two-time national champion and first-year Buckeyes coach isn't resting on his resume this weekend.
To continue reading this article you must be an Insider
Insider
Buckeyes Thank The Fans
Ohio State quarterbacks Cardale Jones and Braxton Miller thanked Buckeyes fans for supporting the team throughout its journey to the national championship.
Buckeyes Thank The Fans
VIDEO PLAYLIST
OSU FB RECRUITING SCORECARD
11W

Eleven Warriors


The Hurry Up: Recapping Ohio State's mega weekend and breaking down the impact of two new huge commits. http://t.co/PNWUechrvS
4 minutes ago

JMUCoachWithers

Everett Withers


A little late but another BOOM from this weekend!!!! Big time players from all across the country want to be Dukes. #LookatusNow #JMUNewEra
44 minutes ago

rustymillerap

Rusty Miller


Marc-Andre Fleury has given up 5 goals on 10 shots in under a half of a period.
about an hour ago

KyleRowland

Kyle Rowland


I'm sure this puts you at ease. RT @jawsfort Patriots to be on way to Super Bowl before storm hits http://t.co/0rOqArFk5Y
about an hour ago

rustymillerap

Rusty Miller


NHL ASG record for total goals: 26 in 2001. Toews leads Foligno 9-6 (15 total) with 11:44 left in 2nd.
about an hour ago

rustymillerap

Rusty Miller


That's 5 goals in opening 4:08 of the 2nd period of NHL ASG. Team Toews now leads Team Foligno 7-6, but hold on ...
about an hour ago

KyleRowland

Kyle Rowland


Atlanta (or anyone else in the East) isn't beating Cleveland in a seven-game series.
about an hour ago

ESPN_BigTen

ESPN BigTen


Early Commit: TE Jake Hausmann to Ohio State http://t.co/ALXqBRfYVd
about an hour ago

11W

Eleven Warriors


Ohio State overcame Indiana's hot start, but more importantly picked up its first quality win of the season. http://t.co/RCmSyl8mwQ
about 2 hours ago

rustymillerap

Rusty Miller


Phil Kessel introduced. Has yet to be traded today, as far as we know.
about 2 hours ago

rustymillerap

Rusty Miller


Team Toews on ice, Team Foligno being introduced to capacity crowd. http://t.co/xZoY3Lct29
about 2 hours ago

rustymillerap

Rusty Miller


Rick Nash just introduced ... exceedingly loud boos.
about 2 hours ago

bucksinsider

Ohio State News


Russell helps Ohio State upset No. 23 Indiana 82-70: COLUMBUS, Ohio (AP) — After a tough... http://t.co/UDjwA2Agqb #buckeyes #ohiostate
about 2 hours ago

rustymillerap

Rusty Miller


Locksley, whose "The Whip" is played after #CBJ goals, now performing on ice. About time for intros
about 2 hours ago

BrettRybak

Brett Rybak


Recap, stats, notes and quotes from @OhioStateHoops 82-70 win over No. 23 Indiana http://t.co/kFCW6Z1f3l #GoBucks http://t.co/Xbfl6FNBJe
about 2 hours ago

Brutus_Buckeye

Brutus Buckeye


ICYMI: Here's video of @RyanJohansen19 wearing an OSU football jersey during Saturday's #NHLAllStarSkills http://t.co/mwlWZnPw0J #GoBucks
about 3 hours ago

Brutus_Buckeye

Brutus Buckeye


How cool was this! @BlueJacketsNHL #NHLAllStar @RyanJohansen19 trades in Union Blue (good choice) for OSU jersey #CBJ http://t.co/QO2UH68eTr
about 3 hours ago

rustymillerap

Rusty Miller


Team Foligno poses for a group picture 35 minutes before start of NHL ASG. http://t.co/WERcYi3ndV
about 3 hours ago

OSUADAthComm

Dan Wallenberg


D'Angelo Russell with @ClarkKelloggCBS after Ohio State 82-70 win over Indiana. http://t.co/kDFJDPgOtf
about 3 hours ago

OSUADAthComm

Dan Wallenberg


Final stats: Ohio State 82, Indiana 70. http://t.co/nt1vLSMzzD
about 3 hours ago

KyleRowland

Kyle Rowland


This Duke-St. John's game is classic example of knowing better team will make late run and win. Blown SJU lead has been inevitable.
about 3 hours ago

OhioStAthletics

Ohio State Buckeyes


Freshman front #Buckeyes past Hoosiers! Russell has double-double, Tate drops 20 in 82-70 win. http://t.co/dwwpirT2Av http://t.co/RTaTrnNEGi
about 3 hours ago

joe11w

JoeSports


Ohio State vs. Indiana final score: 3 things we learned from the Buckeyes' 82-70 win: Ohio State got another w... http://t.co/ttcQJ1jV6S
about 3 hours ago

Brutus_Buckeye

Brutus Buckeye


FINAL SCORE: @ohiostatehoops 82Indiana 70#GoBucks http://t.co/bMTl4eyEhA
about 3 hours ago

11W

Eleven Warriors


Powered by freshmen D'Angelo Russell and Jae'Sean Tate, Ohio State surged past Indiana, 82-70, Sunday afternoon. http://t.co/eB6l9pWeu9
about 3 hours ago

CgoffJG

Chris Goff


FINAL: Ohio State 82, Indiana 70. The 23rd-ranked Hoosiers drop to 15-5. They are at Purdue on Wednesday night. #iubb
about 4 hours ago

OhioStAthletics

Ohio State Buckeyes


FINAL SCORE:@OhioStateHoops 82Indiana 70#GoBucks
about 4 hours ago

KyleRowland

Kyle Rowland


Thad Matta and Tom Crean with a seven-second handshake. Longest ever between those two.
about 4 hours ago

OSUADAthComm

Dan Wallenberg


Tate career high 20 points on 9 of 10 shooting
about 4 hours ago

Brutus_Buckeye

Brutus Buckeye


FREE FRIES! #GoBucks
about 4 hours ago

11W

Eleven Warriors


Five-star 2017 offensive lineman Josh Myers becomes Ohio State's fourth 2017 commitment. #BOOM http://t.co/oKUmNetgCC
about 4 hours ago

OSUADAthComm

Dan Wallenberg


IU timeout after scramble, 2:40 to play. Ohio State up 75-65.
about 4 hours ago

Brutus_Buckeye

Brutus Buckeye


Let's finish @BuckeyeNutHouse @Mattaritaville #gobucks
about 4 hours ago

OSUADAthComm

Dan Wallenberg


Buckeyes lead is 10 after Scott FT. 2:58 to play
about 4 hours ago

OSUADAthComm

Dan Wallenberg


Both teams shooting well down the stretch, IU is 5 of last 6, OSU is 4 of last 5. Ohio State at 61 pct for the game 31-51.
about 4 hours ago

OSUADAthComm

Dan Wallenberg


Scott drives, scores and is fouled, under 4 timeout, Buckeyes lead 74-65.
about 4 hours ago

OSUADAthComm

Dan Wallenberg


The Buckeyes have 26 pts off 15 IU turnovers. OSU up 32-22 in paint points.
about 4 hours ago

OSUADAthComm

Dan Wallenberg


Under 8 timeout with 5:22 to play and the Buckeyes up 68-57.
about 4 hours ago

OSUADAthComm

Dan Wallenberg


Scott again, 68-57 Buckeyes.
about 4 hours ago

OSUADAthComm

Dan Wallenberg


Scott scores on the long jumper, timeout Buckeyes with 66-55 lead. OSU 4 of last 4 shooting. 60 pct for the game (27-45)
about 4 hours ago

OSUADAthComm

Dan Wallenberg


K Williams drives the paint and scores, 64-52 Buckeyes.
about 4 hours ago

OSUADAthComm

Dan Wallenberg


Russell for 3, he has 20 plus in six of last seven games, 22 today on 9 of 14 shooting.
about 4 hours ago

OSUADAthComm

Dan Wallenberg


Thompson with the skip pass to Russell for 3, 59-50 Buckeyes.
about 4 hours ago

OSUADAthComm

Dan Wallenberg


IU makes 6 of last 8 to cut OSU lead to 56-50.
about 4 hours ago

OSUADAthComm

Dan Wallenberg


Russell with career high 10th assist to K Williams for 3. Russell with double double 16 pts, 10 helpers
about 4 hours ago

OSUADAthComm

Dan Wallenberg


Under 12 timeout, Tate takes charge. Buckeyes lead 53-46. Russell 16, Tate 12, Loving 10.
about 4 hours ago

rustymillerap

Rusty Miller


Attendance for #Hoosiers-#Buckeyes men's hoops: 17,322. So more than 35,000 at 2 events w/i 4 miles of each other in C'bus today. #CBJ
about 4 hours ago

OSUADAthComm

Dan Wallenberg


Russell ties career high with 9 assists on Thompson inbounds Dunk, 53-43 Buckeyes.
about 4 hours ago

OSUADAthComm

Dan Wallenberg


Attendance: 17,322.
about 4 hours ago

OSUADAthComm

Dan Wallenberg


Loving for 3 from Russell, 51-38 Buckeyes.
about 4 hours ago

OSUADAthComm

Dan Wallenberg


Scott forces Ferrell to travel, under 16 timeout, Buckeyes lead 48-38.
about 4 hours ago

OSUADAthComm

Dan Wallenberg


Tate is 5 of 6 from the floor, 12 pts., he was 3 of 4 shooting at IU and made 6 FTs for 12 pts in Bloomington.
about 4 hours ago

KyleRowland

Kyle Rowland


On Rapheal Davis and Basil Smotherman giving Purdue a jolt of momentum for this week's showdown with archrival IU. http://t.co/zlarapEs5k
about 4 hours ago

Brutus_Buckeye

Brutus Buckeye


Now that's how you start a second half!! ROLLIN! #GoBucks Beat IU!
about 4 hours ago

OSUADAthComm

Dan Wallenberg


Russell finds Tate for the dunk, timeout Indiana, OSU leads 46-35. Russell 16 pts, 6 rebs, 7 assists.
about 4 hours ago

OSUADAthComm

Dan Wallenberg


Loving leaves for Tate, 43-32
about 4 hours ago

OSUADAthComm

Dan Wallenberg


Russell finds cutting Thompson for reverse dunk, 40-32 Buckeyes
about 4 hours ago

OSUADAthComm

Dan Wallenberg


Indiana starts with the ball to start second half, Buckeyes start Scott, Thompson, Tate, Russell and Loving.
about 4 hours ago

Brutus_Buckeye

Brutus Buckeye


HALTIME: #Buckeyes on top of No. 23 IU at the midway point. 2nd half coming up on CBS. @ohiostatehoops… http://t.co/AcEdEYJGYk
about 4 hours ago

CgoffJG

Chris Goff


HALFTIME: Ohio State 38, Indiana 32. Hoosiers shooting 55 percent, but 11 turnovers, and Buckeyes shooting 52 percent. #iubb
about 4 hours ago

Brutus_Buckeye

Brutus Buckeye


Halftime @theschott @ohiostatehoops 38Indiana 32#GoBucks Beat IU! http://t.co/bNVVhJEjtI
about 4 hours ago

OSUADAthComm

Dan Wallenberg


Buckeyes are just 1 of 9 from 3-pt range but 14 of 20 from 2 (.700). IU turned if over 11 times leading to 17 Ohio State pts.
about 5 hours ago

Mattaritaville

Mattaritaville


Hey, @Brutus_Buckeye, make sure you have some towels for that man in sweats pacing the sideline to dry up from his halftime workout!
about 5 hours ago

OSUADAthComm

Dan Wallenberg


Halftime stats: Ohio State 38, Indiana 32. http://t.co/KXVdtUS624
about 5 hours ago

OhioStAthletics

Ohio State Buckeyes


Halftime @TheSchott .@OhioStateHoops 38Indiana 32@D_Russ0 16pts 4 rebs 5ast #GoBucks Beat IU! http://t.co/4q3j92dLh4
about 5 hours ago

rustymillerap

Rusty Miller


... Not sure how you have any All-Star Game without anyone from Red Wings, Avalanche, and w/ several top players "mending injuries."
about 5 hours ago

OSUADAthComm

Dan Wallenberg


Buckeyes up 38-32 at the break. Russell leads with 16, 4 rebs and 5 assists. IU 12-22 (.545), OSU is 15-29 (.517).
about 5 hours ago

KyleRowland

Kyle Rowland


Fort Wayne. RT @JeffSvoboda 2016 WR Austin Mack comments on his weekend trip to #OhioState http://t.co/tSD9yJyzy4
about 5 hours ago

rustymillerap

Rusty Miller


1 guy's view: NHL ASG weekend is great for game, allows fans to see how talented/personable players are. Still ...
about 5 hours ago

OSUADAthComm

Dan Wallenberg


Russell scores and is fouled with 3.4 seconds left in the half, makes the FT 38-32 Buckeyes.
about 5 hours ago

OSUADAthComm

Dan Wallenberg


IU 7-0 run cuts OSU lead to 35-32 with 28 seconds left in 1st half. OSU ball, timeout Buckeyes.
about 5 hours ago

Brutus_Buckeye

Brutus Buckeye


.@FlyOSUBuckeye1 I'm a magician and a mascot
about 5 hours ago

menoridge

Walt Eckert


#GoBucks beat Hoosiers! @Brutus_Buckeye http://t.co/c5TDbOrkvt
about 5 hours ago

OhioStFootball

Ohio State Football


Jake Hausmann TE (Ohio) is the No. 3 TE in the nation
about 5 hours ago

OSUADAthComm

Dan Wallenberg


Buckeyes force IU timeout on inbounds, OSU run is 10-0 over last 1:29. IU is 2 of last 11. Ohio State bench up 10-1 on IU reserves.
about 5 hours ago

OSUADAthComm

Dan Wallenberg


Loving at the line for 1-1, makes 2 FTs, 35-25 Buckeyes.
about 5 hours ago

OSUADAthComm

Dan Wallenberg


JT makes FT, 33-25 Buckeyes.
about 5 hours ago

rustymillerap

Rusty Miller


On behalf of writers, Phil Kessel winning MVP would be great angle since Toews dealt him to Foligno in 1st-ever ASG trade.
about 5 hours ago

OSUADAthComm

Dan Wallenberg


Russell with 13 pts, 5 assists, 2 rebs, 2 stls, 6 of 10 shooting.
about 5 hours ago

Brutus_Buckeye

Brutus Buckeye


Gettin' after it today @BuckeyeNutHouse Gettin' after it today @Mattaritaville Let's KEEP IT UP!!! ROCK @TheSchott #GoBucks Beat IU!
about 5 hours ago

OSUADAthComm

Dan Wallenberg


Buckeyes 14 of 24 (58 pct), IU 10-17 (59 pct). IU 10 turnovers, OSU 14 pts off TOs. Buckeyes up 18-10 in paint points.
about 5 hours ago

rustymillerap

Rusty Miller


Note to #CBJ fans: Last player to win NHL ASG MVP on home ice was MTL's Alex Kovalev in 2009.
about 5 hours ago

OSUADAthComm

Dan Wallenberg


Tate scores inside from Russell, foul IU, under 4 timeout with JT at the line for 1. Buckeyes 32-25. IU 2 of last 9 shooting.
about 5 hours ago

rustymillerap

Rusty Miller


NHL ASG MVP selected via Twitter fan vote. Winner gets new Honda Accord, made in Ohio. Favorite? Ovechkin, b/c he wants one so badly.
about 5 hours ago

OSUADAthComm

Dan Wallenberg


Tate inside, K Williams outside, 30-25 Buckeyes.
about 5 hours ago

OSUADAthComm

Dan Wallenberg


Pair of IU 3s tie the game at 25
about 5 hours ago

rustymillerap

Rusty Miller


Fall Out Boy performs 1st intermission, O.A.R. during 2nd, with Locksley in action during player introductions. #NHLAllStar
about 5 hours ago

OSUADAthComm

Dan Wallenberg


Hoosiers 0 of last 5 with 5 turnovers in last 5:06. IU scoring drought is 4:18.
about 5 hours ago

OSUADAthComm

Dan Wallenberg


Under 8 timeout, OSU turnover on shot clock violation, Buckeyes lead 25-19. OSU on 10-0 run over last 4:04.
about 5 hours ago

OSUADAthComm

Dan Wallenberg


Indiana has 6 turnovers, Buckeyes have 12 points off those TOs.
about 5 hours ago

OSUADAthComm

Dan Wallenberg


Tate fouled, 2 shots, makes 1, 25-19 Buckeyes.
about 5 hours ago

OSUADAthComm

Dan Wallenberg


Ohio State run is 9-0 over last 1:52, Buckeyes are 5 of last 6 shooting from the field
about 5 hours ago

OSUADAthComm

Dan Wallenberg


Russell misses a 3, Loving rebounds, scores and is fouled, makes FT, 24-19 Buckeyes
about 5 hours ago

OhioStAthletics

Ohio State Buckeyes


.@D_Russ0 takes it coast to coast then @lovingthegame32 finishes in the lane to give @OhioStateHoops a 21-19 lead forcing an IU TO! #GoBucks
about 5 hours ago

OSUADAthComm

Dan Wallenberg


Russell is 6 of 9 shooting, 13 points, 3 assists, and a steal
about 5 hours ago

OSUADAthComm

Dan Wallenberg


IU is 0 of last 4 from the field, Buckeyes are 7 of last 9 and 4 of last 4, after Loving bucket puts Buckeyes up 21-19, timeout Indiana
about 5 hours ago

Brutus_Buckeye

Brutus Buckeye


Coast to Coast. Hoosiers can't keep up with Russell! All tied up at 19s! #GoBucks Beat IU!
about 5 hours ago

OSUADAthComm

Dan Wallenberg


Russell with the rebound and coast to coast bucket, 19 all
about 5 hours ago

OSUADAthComm

Dan Wallenberg


Russell with the fade away baseline jumper to cut IU lead to 19-17
about 5 hours ago

ovi8

Alex Ovechkin


I still need it!! I will pick u up after all star game ))))haha http://t.co/g6vBEpYi3M
about 5 hours ago
BLOG ARCHIVE:
CATEGORIES: