Ohio State commits to square off in finals
November, 29, 2012
11/29/12
10:00
AM ET
Ohio State commit
Cam Burrows
has no doubt heard the hype. Ditto for Buckeyes commit
Jayme Thompson
, Ohio State target
DeShone Kizer
and Michigan pledge
Mike McCray II
.
[+] Enlarge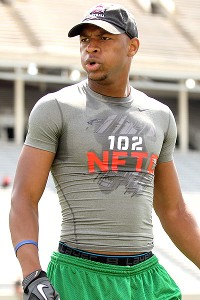 Tom Hauck/ESPNHSJayme Thompson will see some familiar faces on the field this weekend.
The quartet is becoming a huge storyline as the Division II state title game awaits Toledo (Ohio) Central Catholic and defending champ Trotwood-Madison on Friday.
Thompson and Kizer play for Central Catholic, while Burrows and McCray wear Trotwood-Madison colors.
To continue reading this article you must be an Insider
Insider
College Football Top Plays: Week 13
Check out the top plays from Week 13 of college football.
College Football Top Plays: Week 13
VIDEO PLAYLIST
OSU FB RECRUITING SCORECARD
Buckeye_Nation

Buckeye Nation


College Football Minute - ESPN / #OhioState / http://t.co/uAsV96x4cA
17 minutes ago

KyleRowland

Kyle Rowland


@BBaptistHoops Hey, you have a trip to Louisville coming up.
43 minutes ago

KyleRowland

Kyle Rowland


No caption needed. http://t.co/iGe5XVLlja
45 minutes ago

bucksinsider

Ohio State News


Ohio State basketball: Freshman guard D'Angelo Russell looks the part of Buckeyes' leadin... http://t.co/3WLIt7ZZ53 #buckeyes #ohiostate
51 minutes ago

OhioStAthletics

Ohio State Buckeyes


Hoops Wrap: @3SScott dishes out school record, Russell pours in 32@OhioStateHoops 106 - Sacred Heart 48 #GoBucks http://t.co/Cnf5rZwAxH
about an hour ago

Brutus_Buckeye

Brutus Buckeye


.@damdad62 WARDROBE!!
about an hour ago

Brutus_Buckeye

Brutus Buckeye


.@Mattaritaville @BuckeyeNutHouse Bosa pose ...Have to talk to the boss @OSU_AD on that one!
about an hour ago

jackiejmrj

j


My #Buckeyes showin' Sacred Heart how to play a little basketball. @OhioStateHoops #GoBucks @Brutus_Buckeye http://t.co/v2vHHPALqd
about an hour ago

Hohlbean

Ian Hohlbein


Best Buckeyes game yet for me and The Bean #Brutus #Win #OSU http://t.co/ctgRdZVrls
about an hour ago

Buckeye_Nation

Buckeye Nation


We don't give a damn for the whole state of Michigan, we're from Ohio // https://t.co/6glU4cMzCr
about an hour ago

KyleRowland

Kyle Rowland


Dusk in Maui. http://t.co/mXGCMSkdiv
about an hour ago

11W

Eleven Warriors


Shannon Scott handed out a school-record 16 dimes, most of which went to D'Angelo Russell. http://t.co/D5Q3B5ja7x http://t.co/FwCWpR517B
about an hour ago

BrettRybak

Brett Rybak


Recap, stats, highlights, notes and photos from @OhioStateHoops 106-48 win over SHU http://t.co/WM7MBRzMPc #GoBucks
about 2 hours ago

rustymillerap

Rusty Miller


Shannon Scott deals out assists, then cookies. D'Angelo Russell scores 32. #Buckeyes roll: https://t.co/3EfarP6dY2
about 2 hours ago

11W

Eleven Warriors


After going ham on Indiana, Jalin Marshall went ham on a set of drums. http://t.co/iU1cmergtB
about 2 hours ago

11W

Eleven Warriors


Here's what Germaine had to say when asked why he and Stanley Jackson were platooned. http://t.co/oeVE9KRjyZ http://t.co/OZLkUQIuPH
about 2 hours ago

ACraft4

Aaron Craft


Congrats to @OhioStateHoops on the big win tonight...Shoutout to @3SScott on the assist record! Well deserved! #TeamShannonScott #GoBucks
about 2 hours ago

JeffBoals

Jeff Boals


Great team win!! #kudos to @3SScott on the assist record!! Great contributions across the board. #GoBucks http://t.co/ZDtXD6dqgb
about 2 hours ago

11W

Eleven Warriors


For more on that '96 team, @11W_Michael talked to Joe Germaine earlier this summer. http://t.co/oeVE9KRjyZ
about 2 hours ago

joe11w

JoeSports


Ohio State vs. Sacred Heart 2014 final score: 3 things we learned from OSU's 106-48 win: Shannon Scott breaks ... http://t.co/OXXhvW1Ws7
about 2 hours ago

11W

Eleven Warriors


Oh, and we miss you, Keith Jackson.
about 2 hours ago

11W

Eleven Warriors


There's an entire generation of fans who have never really feared Michigan and that's weird as hell to process.
about 3 hours ago

11W

Eleven Warriors


96 was a team good enough to beat Penn State, the No. 4 team in the country 38–7, stomp a highly-ranked ND, yet still get Michigan'd.
about 3 hours ago

11W

Eleven Warriors


You should be watching BTN Elite '96 Ohio State for two reasons: a roster loaded w/ NFL talent and reminder of the heartbreak of 90s kids.
about 3 hours ago

bucksinsider

Ohio State News


Freshman D'Angelo Russell scores 32, Ohio State basketball routs Sacred Heart 106-48: Ins... http://t.co/UoGnkILFo8 #buckeyes #ohiostate
about 3 hours ago

OSUADAthComm

Dan Wallenberg


Final: Ohio State 106, Sacred Heart 48. http://t.co/AW8IJSPLD9
about 3 hours ago

11W

Eleven Warriors


This kind of sums up the start @3SScott is off to this season. http://t.co/03I6vatZbS http://t.co/BuMrNz6FzL
about 3 hours ago

bigtenconf

Big Ten Conference


Congratulations to @OhioState_MSOC for a successful 2014 season #B1GMSOC
about 3 hours ago

11W

Eleven Warriors


D'Angelo Russell drops 32, Shannon Scott sets school's assist record as Ohio State routs Sacred Heart, 106-48. http://t.co/03I6vatZbS
about 3 hours ago

TimShoemaker

Tim Shoemaker


Shannon Scott breaks the school record with 16 assists and "We Don't Give a Damn for the Whole State of Michigan" chants break out.
about 3 hours ago

OSUADAthComm

Dan Wallenberg


Scott now has Ohio State record with 16 assists after Bates-Diop makes a 3.
about 3 hours ago

11W

Eleven Warriors


16 for Scott now. 41 on the year through three games.
about 3 hours ago

11W

Eleven Warriors


There it is – Shannon Scott ties Aaron Craft's single game Ohio State record with 15 assists. Two and a half to play.
about 3 hours ago

Brutus_Buckeye

Brutus Buckeye


When @SNFonNBC edits out "University" from The Ohio State University ... http://t.co/S4ozOylxss
about 3 hours ago

OSUADAthComm

Dan Wallenberg


Scott has tied Ohio State record with 15 assists.
about 3 hours ago

rustymillerap

Rusty Miller


Now, if Sacred Heart had just gone to Cane Broome more ...
about 3 hours ago

OSUADAthComm

Dan Wallenberg


Scott has 14 assists for second consecutive game, ties career high. needs 2 for for Ohio State record, 1 to tie
about 3 hours ago

OSUCoachMeyer

Urban Meyer


A great tradition having TBDBITL join our team after practice to start off Rivalry Week http://t.co/JaYqeT2Z4Q
about 3 hours ago

joe11w

JoeSports


Branden Bowen to Ohio State: What it means: We take a look at Bowen's commitment, and what it means for OSU.I... http://t.co/AC74zmxhng
about 3 hours ago

OSUADAthComm

Dan Wallenberg


Scott has his second career double double with 11 pts and 13 assists.
about 3 hours ago

KyleRowland

Kyle Rowland


Painter shows off shooting stroke, provides flashback to early '90s http://t.co/BkbLdOLzjX
about 3 hours ago

OSUADAthComm

Dan Wallenberg


Trey McDonald with a career high 12 rebounds. Russell with 32 pts, 9 rebs, 5 assists. McDonald also with 8 pts.
about 4 hours ago

KyleRowland

Kyle Rowland


Trip to Hawaii not a vacation for Purdue http://t.co/Ugk4oCfCVB
about 4 hours ago

rustymillerap

Rusty Miller


This just in: D'Angelo Russell missed a shot.
about 4 hours ago

11W

Eleven Warriors


Mike Conley Jr. owns Ohio State's single season assist record with 238 in 2006-07 (39 games). Scott's doubling that pace through three.
about 4 hours ago

OSUADAthComm

Dan Wallenberg


attendance 12,941
about 4 hours ago

OSUADAthComm

Dan Wallenberg


Ohio State is 12-18 in the second half from the field, 5-8 from 3. Shooting 60 pct from the field for the game (34-57).
about 4 hours ago

11W

Eleven Warriors


Shannon Scott has – what – 38 assists in the first three games of the year? He's going to shatter the single season OSU dime record.
about 4 hours ago

OSUADAthComm

Dan Wallenberg


Scott gets a breather with 13 assists and 9 pts. Buckeyes 9 of 18 from 3. Under 12 timeout, Buckeyes leading 84-36.
about 4 hours ago

OSUADAthComm

Dan Wallenberg


My mistake, Jared Sullinger had 40 as a rookie vs. IUPUI 12-17 shooting and 16 made FTs.
about 4 hours ago

rustymillerap

Rusty Miller


If Ohio State scores 140, do the fans get TWO free orders of fries?
about 4 hours ago

TimShoemaker

Tim Shoemaker


At the under-16 timeout, Ohio State leads, 71-33. D'Angelo Russell with 30 points, Shannon Scott has 12 assists.
about 4 hours ago

rustymillerap

Rusty Miller


D'Angelo Russell: 30 pts, 7 rebs, 4 assts. Sacred Heart: 33 pts, 19 rebs, 6 assts. 14:45 left.
about 4 hours ago

OSUADAthComm

Dan Wallenberg


Russell is 12 of 20, 4 of 7 from 3. Also has 8 rebs. Under 16 timeout. Scott with 12 assists, 6 pts.
about 4 hours ago

OSUADAthComm

Dan Wallenberg


Redd has rookie record with 32 vs. Penn State 2-29-98.
about 4 hours ago

OSUADAthComm

Dan Wallenberg


Russell now has 30, tied for No. 2 all time in single game scoring by a freshman with Michael Redd vs. USC in 1997.
about 4 hours ago

rustymillerap

Rusty Miller


Russell has hit 3 consecutive 3s. #Buckeyes now up 71-33. Who would have guessed they could do this to Sacred Heart?
about 4 hours ago

rustymillerap

Rusty Miller


D'Angelo Russell with 27 pts, 7 rebs, 4 assts with 16:00 left. Buckeyes rolling, 68-33.
about 4 hours ago

OSUADAthComm

Dan Wallenberg


Make that 24 for Russell.
about 4 hours ago

OSUADAthComm

Dan Wallenberg


Russell with 21 pts on 9 of 17 shooting.
about 4 hours ago

OSUADAthComm

Dan Wallenberg


Scott has 35 assists on the year in three games, 10 tonight, so far.
about 4 hours ago

OSUADAthComm

Dan Wallenberg


Scott needs one assist for reach at least 10 for the third-consecutive game.
about 4 hours ago

rustymillerap

Rusty Miller


Ohio State had hit 13 of its last 17 before that last miss.
about 4 hours ago

OSUADAthComm

Dan Wallenberg


Ohio State starts with the ball in the second half.
about 4 hours ago

11W

Eleven Warriors


What does Branden Bowen gives Ohio State's future offensive line? Size and a whole lot of options. http://t.co/SXEM7snUPO
about 4 hours ago

Buckeye_Nation

Buckeye Nation


#GoAuburn #GoTexas #GoGators #GoOleMiss #GoBucks
about 4 hours ago

OSUADAthComm

Dan Wallenberg


For those asking, 3 triple doubles in OSU history. Dennis Hopson with 1, Evan Turner with 2, last 11-28-09 vs. Lipscomb (16pts/10reb/11ast)
about 4 hours ago

11W

Eleven Warriors


As @birm points out, Bowen joins 6-9/300 Kevin Feder, 6/5/300 Matt Burrell and 6-6/300 Grant Schmidt on the OL in OSU's '15 class.
about 4 hours ago

11W

Eleven Warriors


Bowen is a massive offensive lineman, already checking in at 6-7/330. And that's before Mickey Marotti gets ahold of him.
about 4 hours ago

OhioStAthletics

Ohio State Buckeyes


HALFTIME UPDATE: @OhioStateHoops 52Sacred Heart 27@D_Russ0 leads the way with 17 pts at the break. #GoBucks http://t.co/gvjPX7s89R
about 4 hours ago

Birm

Jeremy Birmingham


Bowen: "Really, everything at Ohio State is what sold me on Ohio State." - http://t.co/zDljfnrBdK
about 4 hours ago

joe11w

JoeSports


Ohio State vs. Sacred Heart 2014 live game updates: Time, TV schedule, and how to watch: The basketball Buckey... http://t.co/JwJTD3GFE0
about 4 hours ago

OSUADAthComm

Dan Wallenberg


Halftime: Ohio State 52, Sacred Heart 27. http://t.co/V3BqbE9RSU
about 4 hours ago

11W

Eleven Warriors


OL Branden Bowen commits to Ohio State, becoming the 22nd member of the class of 2015. #boom http://t.co/5YJ87Y9Nsi http://t.co/6QL502Qv0S
about 4 hours ago

BTN_Ohio_State

Ohio State on BTN


Sam Thompson closes the half with a thunderous slam dunk for @OhioStateHoops against Sacred Heart! http://t.co/XcVpjQK8mt
about 4 hours ago

TimShoemaker

Tim Shoemaker


Just an observation, but it appears every player on OSU's team is wearing the new LeBron 12s donated to the program: http://t.co/5F0h8ZvPjo
about 4 hours ago

OSUADAthComm

Dan Wallenberg


Russell with 17, Thompson 12, Loving 10. Scott 8 assists. Russell 7 rebs, McDonald 6. Ohio State shot 56 pct (22-39). SHU 9-29 (.310)
about 4 hours ago

JMUCoachWithers

Everett Withers


Students. We need you back in the stands for a home field advantage this weekend. Black Out Bridgeforth!! http://t.co/Q2ILhpsZKL
about 4 hours ago

rustymillerap

Rusty Miller


Half: No. 20 Ohio State 52, Sacred Heart 27. Sam Thompson's had, like, 20 dunks, it seems.
about 4 hours ago

Brutus_Buckeye

Brutus Buckeye


"Thompson has been a highlight show all night long!" #GoBucks http://t.co/tSukbYcyL1
about 4 hours ago

OSUADAthComm

Dan Wallenberg


Russell finds Thompson for the halftime buzzer beating alley opp. Ohio State 52-27.
about 4 hours ago

OSUADAthComm

Dan Wallenberg


Ohio State made 10 consecutive FGs before last miss. Buckeyes lead 48-23 after Thompson Bucket
about 4 hours ago

rustymillerap

Rusty Miller


New career high for D'Angelo Russell (17). Since this is his 3rd game that means absolutely zippo.
about 4 hours ago

rustymillerap

Rusty Miller


The good Marc Loving has shown up tonight.
about 4 hours ago

Buckeye_Nation

Buckeye Nation


RT to vote! #HeismanVote Barrett
about 4 hours ago

TimShoemaker

Tim Shoemaker


D'Angelo Russell with 15 points and six rebounds with 4:05 remaining in the first half. Buckeyes lead by 20.
about 4 hours ago

OSUADAthComm

Dan Wallenberg


Under 4 timeout, Buckeyes with the ball under its hoop. Russell with 15 pts, 6 rebs, 2 assists. Scott has 6 assists.
about 4 hours ago

OSUADAthComm

Dan Wallenberg


Russell with the theft and layup. Buckeyes 41-21, timeout SHU after 12-2 Ohio State run. Buckeyes have made last 8 FGs, now shooting 57 pct
about 4 hours ago

rustymillerap

Rusty Miller


D'Angelo Russell 15 pts, 6 rebs; Shannon Scott 6 assists. #Buckeyes up 41-21 at 4:05.
about 4 hours ago

OSUADAthComm

Dan Wallenberg


Russell leads the break, no look pass to Thompson for the layup.
about 4 hours ago

OSUADAthComm

Dan Wallenberg


Back to back 3s by Russell and Loving, both from Scott passes, gives OSU 35-19 lead. Scott has 5 helpers so far
about 4 hours ago

rustymillerap

Rusty Miller


Cane Broome just swept one in from the baseline on a three-point play.
about 4 hours ago

BigTenNetwork

Big Ten Network


Truth: @OhioStateHoops' Sam Thompson had two alley-oops before Sacred Heart scored a point. http://t.co/4jc9gJFVfp
about 4 hours ago

rustymillerap

Rusty Miller


Just flashed a Kentucky hoops score on board: 72-17. That's just GOT to impress Condoleeza and the CFP.
about 4 hours ago

OSUADAthComm

Dan Wallenberg


under 8 timeout, Ohio State 27-14, SHU at the line for 2 FTs. Pioneers 0-9 inside 3-pt arc, 4 of 8 beyond.
about 4 hours ago

OSUADAthComm

Dan Wallenberg


Tate drives, scores and is fouled, makes FT, Ohio State 27-14
about 5 hours ago

rustymillerap

Rusty Miller


Sacred Heart has yet to hit shot inside arc. 4 of 8 on 3s, 0 for 9 on 2s. Still, only down 24-14 at 8:53.
about 5 hours ago

OSUADAthComm

Dan Wallenberg


Ohio State is in the bonus with 10:24 left in the first half. Loving makes one of two FTs, Ohio State 21-11.
about 5 hours ago

rustymillerap

Rusty Miller


#Buckeyes 20, Sacred Heart Pioneers 11 at 10:24. Not an upset special.
about 5 hours ago

OSUADAthComm

Dan Wallenberg


under 12 timeout, Ohio State 20-11. Russell with 10 pts, 5 rebs. Thompson 6 pts, 4 rebs.
about 5 hours ago
BLOG ARCHIVE:
CATEGORIES: