OSU, UM evaluating 2014 DT Enoch Smith
October, 8, 2012
10/08/12
7:14
PM ET
Eight offers are already in for ESPN Watch List defensive tackle
Enoch Smith
(Chicago/Mount Carmel), but that number will not remain at eight very long.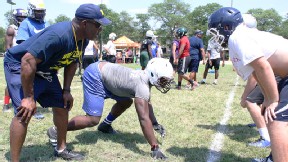 Chantel Jennings/ESPN.com2014 Watch List defensive tackle Enoch Smith already has eight offers.
The 6-foot-2, 256-pound lineman said several big-time BCS programs are at least showing early interest. Among them, Smith named Florida State, Michigan, Michigan State, Ohio State, Nebraska, Oklahoma, Stanford, USC and Virginia Tech.
As for who could be his next offer, Smith said he would guess Georgia Tech, Michigan, Michigan State or Ohio State would be offer No. 9.
To continue reading this article you must be an Insider
Insider
Buckeyes Thank The Fans
Ohio State quarterbacks Cardale Jones and Braxton Miller thanked Buckeyes fans for supporting the team throughout its journey to the national championship.
Buckeyes Thank The Fans
VIDEO PLAYLIST
OSU FB RECRUITING SCORECARD
Brutus_Buckeye

Brutus Buckeye


.@FlyOSUBuckeye1 I'm a magician and a mascot
about a minute ago

menoridge

Walt Eckert


#GoBucks beat Hoosiers! @Brutus_Buckeye http://t.co/c5TDbOrkvt
about a minute ago

OhioStFootball

Ohio State Football


Jake Hausmann TE (Ohio) is the No. 3 TE in the nation
about a minute ago

OSUADAthComm

Dan Wallenberg


Buckeyes force IU timeout on inbounds, OSU run is 10-0 over last 1:29. IU is 2 of last 11. Ohio State bench up 10-1 on IU reserves.
about a minute ago

OSUADAthComm

Dan Wallenberg


Loving at the line for 1-1, makes 2 FTs, 35-25 Buckeyes.
2 minutes ago

OSUADAthComm

Dan Wallenberg


JT makes FT, 33-25 Buckeyes.
4 minutes ago

rustymillerap

Rusty Miller


On behalf of writers, Phil Kessel winning MVP would be great angle since Toews dealt him to Foligno in 1st-ever ASG trade.
4 minutes ago

OSUADAthComm

Dan Wallenberg


Russell with 13 pts, 5 assists, 2 rebs, 2 stls, 6 of 10 shooting.
5 minutes ago

Brutus_Buckeye

Brutus Buckeye


Gettin' after it today @BuckeyeNutHouse Gettin' after it today @Mattaritaville Let's KEEP IT UP!!! ROCK @TheSchott #GoBucks Beat IU!
5 minutes ago

OSUADAthComm

Dan Wallenberg


Buckeyes 14 of 24 (58 pct), IU 10-17 (59 pct). IU 10 turnovers, OSU 14 pts off TOs. Buckeyes up 18-10 in paint points.
5 minutes ago

rustymillerap

Rusty Miller


Note to #CBJ fans: Last player to win NHL ASG MVP on home ice was MTL's Alex Kovalev in 2009.
6 minutes ago

OSUADAthComm

Dan Wallenberg


Tate scores inside from Russell, foul IU, under 4 timeout with JT at the line for 1. Buckeyes 32-25. IU 2 of last 9 shooting.
6 minutes ago

rustymillerap

Rusty Miller


NHL ASG MVP selected via Twitter fan vote. Winner gets new Honda Accord, made in Ohio. Favorite? Ovechkin, b/c he wants one so badly.
7 minutes ago

OSUADAthComm

Dan Wallenberg


Tate inside, K Williams outside, 30-25 Buckeyes.
8 minutes ago

OSUADAthComm

Dan Wallenberg


Pair of IU 3s tie the game at 25
10 minutes ago

rustymillerap

Rusty Miller


Fall Out Boy performs 1st intermission, O.A.R. during 2nd, with Locksley in action during player introductions. #NHLAllStar
12 minutes ago

OSUADAthComm

Dan Wallenberg


Hoosiers 0 of last 5 with 5 turnovers in last 5:06. IU scoring drought is 4:18.
15 minutes ago

OSUADAthComm

Dan Wallenberg


Under 8 timeout, OSU turnover on shot clock violation, Buckeyes lead 25-19. OSU on 10-0 run over last 4:04.
16 minutes ago

OSUADAthComm

Dan Wallenberg


Indiana has 6 turnovers, Buckeyes have 12 points off those TOs.
19 minutes ago

OSUADAthComm

Dan Wallenberg


Tate fouled, 2 shots, makes 1, 25-19 Buckeyes.
20 minutes ago

OSUADAthComm

Dan Wallenberg


Ohio State run is 9-0 over last 1:52, Buckeyes are 5 of last 6 shooting from the field
21 minutes ago

OSUADAthComm

Dan Wallenberg


Russell misses a 3, Loving rebounds, scores and is fouled, makes FT, 24-19 Buckeyes
22 minutes ago

OhioStAthletics

Ohio State Buckeyes


.@D_Russ0 takes it coast to coast then @lovingthegame32 finishes in the lane to give @OhioStateHoops a 21-19 lead forcing an IU TO! #GoBucks
23 minutes ago

OSUADAthComm

Dan Wallenberg


Russell is 6 of 9 shooting, 13 points, 3 assists, and a steal
23 minutes ago

OSUADAthComm

Dan Wallenberg


IU is 0 of last 4 from the field, Buckeyes are 7 of last 9 and 4 of last 4, after Loving bucket puts Buckeyes up 21-19, timeout Indiana
24 minutes ago

Brutus_Buckeye

Brutus Buckeye


Coast to Coast. Hoosiers can't keep up with Russell! All tied up at 19s! #GoBucks Beat IU!
25 minutes ago

OSUADAthComm

Dan Wallenberg


Russell with the rebound and coast to coast bucket, 19 all
25 minutes ago

OSUADAthComm

Dan Wallenberg


Russell with the fade away baseline jumper to cut IU lead to 19-17
26 minutes ago

ovi8

Alex Ovechkin


I still need it!! I will pick u up after all star game ))))haha http://t.co/g6vBEpYi3M
26 minutes ago

Brutus_Buckeye

Brutus Buckeye


.@Browns S/O to @DonteWhitner #ProBowl2015
27 minutes ago

OSUADAthComm

Dan Wallenberg


Under 12 timeout, Tate called for the foul, IU at the line with the 18-15 lead.
29 minutes ago

dj_kelley

DJ Kelley


Go Bucks! #BeatIU #GoBucks http://t.co/07Vkf4iMOc
31 minutes ago

OSUADAthComm

Dan Wallenberg


Hoosiers 8 of 10 shooting, OSU 7-13. 3-point lead for Hoosiers. Russell has 9 pts, 2 asts.
31 minutes ago

OSUADAthComm

Dan Wallenberg


Russell drives, scores and is fouled, make the FT, IU leads 18-15.
31 minutes ago

OSUADAthComm

Dan Wallenberg


Back to back turnovers by IU lead to a pair o Thompson buckets, 14-10 IU
34 minutes ago

Brutus_Buckeye

Brutus Buckeye


#Repost buckeyenuthouse with repostapp.⁰・・・⁰It's a great day to #CreamTomCrean #GoBucks http://t.co/iUT4vihIbg
35 minutes ago

OSUADAthComm

Dan Wallenberg


Under 16 timeout, 14-6 Indiana, IU is 6-6 from the floor, OSU is 3-6.
38 minutes ago

Brutus_Buckeye

Brutus Buckeye


.@Mattaritaville @BuckeyeNutHouse "Do you know where the weight room is?"#GoBucks Beat IU! http://t.co/PsTqXUFv6L
39 minutes ago

Brutus_Buckeye

Brutus Buckeye


WHAM WITH THE LEFT HAND!! #GoBucks Beat IU!
40 minutes ago

OSUADAthComm

Dan Wallenberg


IU with the hot start with 5-5 shooting, Russell dunks to make it 12-6 IU.
40 minutes ago

OSUADAthComm

Dan Wallenberg


Russell scores on the break from Tate outlet, 9-4 Hoosiers
41 minutes ago

joe11w

JoeSports


Jake Hausmann commits to Ohio State: BOOOOM!Hosting a small army of prospects today on campus for Junior day,... http://t.co/aOW6KHaeM5
41 minutes ago

Brutus_Buckeye

Brutus Buckeye


Hey @BuckeyeNutHouse @Mattaritaville is that guy in the glasses walking around the IU bench going jogging? #GoBucks Beat IU!
43 minutes ago

rustymillerap

Rusty Miller


Long line at sledding "hill" on Nationwide Blvd. today. http://t.co/O44ICvH3cv
43 minutes ago

OSUADAthComm

Dan Wallenberg


Ohio State wins tip, here we go
44 minutes ago

Mattaritaville

Mattaritaville


GAMETIME! Let's Go Bucks! #BeatIndiana #CreamTomCrean
48 minutes ago

Brutus_Buckeye

Brutus Buckeye


.@CBSSportsCBB @CBSSports @IndianaMBB I THINK NOT! #GoBucks Beat IU!
48 minutes ago

11W

Eleven Warriors


Ohio State just got another 2016 commit, and it's a big in-state fish. http://t.co/rJJ5IiOiRm
48 minutes ago

Brutus_Buckeye

Brutus Buckeye


#Repost @ohiostatehoops with repostapp.⁰・・・⁰Game day in @TheSchott at 1:30pm ET on @cbs_. Time to… http://t.co/gTsTAUEqH3
49 minutes ago

CBSSportsCBB

CBS Sports CBB


.@OhioStateHoops is ready to defend home court. Retweet if you're picking the Buckeyes to beat Indiana. http://t.co/SRDXnsEzEk
51 minutes ago

OhioStAthletics

Ohio State Buckeyes


Coming up in just minutes on @CBSSports @OhioStateHoops vs Indiana#GoBucks Beat IU! http://t.co/liPUKSMC8e
52 minutes ago

Brutus_Buckeye

Brutus Buckeye


He Nailed It @BuckeyeNutHouse @Mattaritaville !!! 🏀‼️
about an hour ago

Brutus_Buckeye

Brutus Buckeye


Time to ROLL Indiana! #GoBucks Beat IU http://t.co/Ik7GgfMfM1
about an hour ago

OSUADAthComm

Dan Wallenberg


Indiana starters: Blackmon Jr., Johnson, Williams, Ferrell, Hartman.
about an hour ago

OSUADAthComm

Dan Wallenberg


Ohio State starters: Scott, Thompson, Russell, Lee, Tate.
about an hour ago

Mattaritaville

Mattaritaville


Hey people, there's a game today! Get here! #GoBucks
about an hour ago

Brutus_Buckeye

Brutus Buckeye


.@BuckeyeNutHouse #GoBucks Beat IU! http://t.co/pZBJ2SOiJK
about an hour ago

OSUADAthComm

Dan Wallenberg


Officials for Indiana at Ohio State: Mike Sanzere, DJ Carstensen, Terry Oglesby
about an hour ago

TheSchott

Schottenstein Center


Another B1G battle today! Check out these #BuckeyeNutHouse notes to help cheer @ohiostatehoops to victory! #GoBucks http://t.co/lLn4HP2HNS
about an hour ago

ESPN_BigTen

ESPN BigTen


Best of the visits: Big Ten http://t.co/peseA8LfwY
about 2 hours ago

bigtenconf

Big Ten Conference


Catch 6 #B1GWrestling squads live in action today in 3 conference matchups on @BigTenNetwork. http://t.co/NJcLgEIDtG http://t.co/fjbXrkORTK
about 2 hours ago

Buckeye_Nation

Buckeye Nation


#OhioAgainstTheWorld
about 2 hours ago

11W

Eleven Warriors


Inked: Jamel Dean was the second commitment in "Elite '15" and one of four early enrollees at Ohio State. http://t.co/1nQXdB2FyA
about 3 hours ago

Brutus_Buckeye

Brutus Buckeye


DOUBLE DOG DARE: @OhioStateHoops vs IU! $10 DOG seats on sale 12:30 & $1 @SugardaleFoods hot dogs all game! #GoBucks http://t.co/BUCt8En0R7
about 3 hours ago

tate_cj

Catharine Jade?


My favorite little baby got to be on the field yesterday😍 #GoBucks @Brutus_Buckeye http://t.co/OQbySK8OXm
about 3 hours ago

KyleRowland

Kyle Rowland


Smotherman, bench show up at right time for Boilers http://t.co/SM2X4rYAb9
about 4 hours ago

KyleRowland

Kyle Rowland


Matt Painter on Basil Smotherman: "I thought it was the best game of his career. He made some winning plays down the stretch."
about 4 hours ago

KyleRowland

Kyle Rowland


Before his career-high 13 points in Purdue's win over Iowa, Basil Smotherman had one point in six Big Ten games this season.
about 4 hours ago

KyleRowland

Kyle Rowland


Purdue rediscovers grit http://t.co/zlarapEs5k
about 4 hours ago

OhioStAthletics

Ohio State Buckeyes


Rise & SHINE! Check out 🏈Scenes from the Celebration🏆 in #TheShoe 🎉http://t.co/EFZZH356bV#GoBucks http://t.co/yMahCHrt1I
about 4 hours ago

ChipotleTweets

Chipotle


Order tofu Sofritas on 1/26, bring receipt back 1/27-2/28 for a FREE burrito: http://t.co/sFnI954m6I -Joe http://t.co/o6HJdfuIrY
about 4 hours ago

GG_40

Gigi Meyer


☝️ http://t.co/aWimZhR38I
about 4 hours ago

joe11w

JoeSports


Ohio State hockey swept in weekend series at Michigan State: The Ohio State Men's hockey team was swept in bac... http://t.co/yITXkWeHvq
about 5 hours ago

11W

Eleven Warriors


Back in the spotlight during Ohio State's national title celebration Saturday, Braxton Miller hints at a return. http://t.co/yR8EbOag7j
about 5 hours ago

coachcoffman

Jon Coffman


Sold out win at Gates! Great effort & great energy-team & crowd!@IPFWBlueCrew @IPFWBasketball @IPFW @VisitFortWayne http://t.co/Wd0SSoWJKi
about 5 hours ago

LovLikeJesus

Love Like Jesus


Freedom consists not in doing what we like, but in having the right to do what we ought. -Pope John Paul II
about 6 hours ago

11W

Eleven Warriors


Another chance for a quality win and redemption today for Ohio State when it takes on Indiana. Your game preview: http://t.co/LwFgVhE90O
about 6 hours ago

11W

Eleven Warriors


Ohio State's championship celebrations in 2003 and 2015 represented a proud community spirit. http://t.co/Zrob76ErkT
about 7 hours ago

joe11w

JoeSports


How to watch Ohio State vs. Indiana: Preview, Game time, and TV schedule: Indiana invades the Schottenstein Ce... http://t.co/VcNW5X6Jtt
about 7 hours ago

bucksinsider

Ohio State News


Ohio State celebrates College Football Playoff championship win: Head coach Urban Meyer w... http://t.co/fCOPohIcJV #buckeyes #ohiostate
about 8 hours ago

bucksinsider

Ohio State News


Ohio State Celebration 2015: Twitter Reaction, Photos, Videos and More: Ohio State entere... http://t.co/H6mXX0NIfS #buckeyes #ohiostate
about 8 hours ago

rustymillerap

Rusty Miller


Nashville's Weber, #CBJ's Johansen capture NHL skills events: http://t.co/mDzISmmEde
about 15 hours ago

11W

Eleven Warriors


Men's hockey was locked in another tight game with MSU tonight but couldn't solve Spartan goalie Jake Hildebrand. http://t.co/7qBdCsqOZX
about 15 hours ago

cg15OH

Courtney


@Brutus_Buckeye Trophy Selfie!! #GoBucks 2014 National Champs! Loved it at the Shoe! http://t.co/oHIDr33K5i
about 16 hours ago

CobeyGibson

Cobey Gibson


Great day at the "shoe!" Hope to do it again next year! @Brutus_Buckeye @OhioStFootball @OhioStAthletics @ http://t.co/AqY7zffXgk
about 16 hours ago

OhioStAthletics

Ohio State Buckeyes


Very, VERY cool of @BlueJacketsNHL star @RyanJohansen19 to wear OSU jersey during #NHLAllStarSkills tonight. Thx for the S/O! #GoBucks #CBJ
about 16 hours ago

rustymillerap

Rusty Miller


#CBJ Ryan Johansen, #Predators Shea Weber grab headlines at NHL All-Stars skills competition: http://t.co/vCu0fLNEhJ
about 16 hours ago

StudentLifeOSU

OhioStateStudentLife


Special THANK YOU to @OSUCoachMeyer @Brutus_Buckeye @OSUBlockO @ohiounion @TBDBITL and the football players! http://t.co/NyBofUhdKU
about 17 hours ago

11W

Eleven Warriors


Ryan Johansen wore a Braxton Miller jersey during the NHL Skills Competition and scored. He'll go far in this town. http://t.co/yhP9bMnYCq
about 17 hours ago

ESPN_BigTen

ESPN BigTen


Jim Harbaugh lands first commitment at Michigan http://t.co/70hqLHxHEW
about 17 hours ago

smitchcd

Shawn Mitchell


Team Foligno up 6-0. Fire Laviolette.
about 18 hours ago

Buckeye_Nation

Buckeye Nation


#OhioAgainstTheWorld
about 18 hours ago

11W

Eleven Warriors


Ryan Johansen of the Columbus Blue Jackets honors Braxton Miller at the NHL skills competition at Nationwide. http://t.co/bPXFMOf2bK
about 18 hours ago

JMUCoachWithers

Everett Withers


Boom!!!!!! Let's Go Dukes! This family keeps growing. Watch out on the field this year! #GoDukes
about 18 hours ago

rustymillerap

Rusty Miller


#CBJ's Johansen also pulled the trainer's kid out of the stands to score a goal and then swooped in behind a Star-laden "V"
about 18 hours ago

rustymillerap

Rusty Miller


Ryan Johansen endears himself to #Buckeyes fans by wearing a Braxton Miller jersey on his first shot in breakaway event.
about 18 hours ago

BraxtonMiller5

BRAXTON MILLER


I see you @RyanJohansen19 http://t.co/8vpBvh3fqu
about 18 hours ago

Brutus_Buckeye

Brutus Buckeye


HE GETS MY VOTE! @RyanJohansen19 sporting the Scarlet & Gray! #NHLBreakawayJohansen @BlueJacketsNHL https://t.co/7dfqAlzXeG
about 18 hours ago

11W

Eleven Warriors


99 problems, but a quarterback ain't one. http://t.co/z4sdCm4kOo http://t.co/zXbdhofNdL
about 18 hours ago

rustymillerap

Rusty Miller


1st upset of skills comp: Kessel edges Seguin in fastest skater.
about 18 hours ago
BLOG ARCHIVE:
CATEGORIES: