OSU, UM evaluating 2014 DT Enoch Smith
October, 8, 2012
10/08/12
7:14
PM ET
Eight offers are already in for ESPN Watch List defensive tackle
Enoch Smith
(Chicago/Mount Carmel), but that number will not remain at eight very long.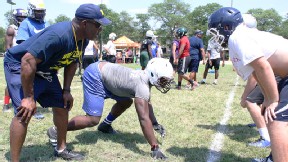 Chantel Jennings/ESPN.com2014 Watch List defensive tackle Enoch Smith already has eight offers.
The 6-foot-2, 256-pound lineman said several big-time BCS programs are at least showing early interest. Among them, Smith named Florida State, Michigan, Michigan State, Ohio State, Nebraska, Oklahoma, Stanford, USC and Virginia Tech.
As for who could be his next offer, Smith said he would guess Georgia Tech, Michigan, Michigan State or Ohio State would be offer No. 9.
To continue reading this article you must be an Insider
Insider
Easiest Path To The 2015 College Football Playoff
Heather Dinich takes a look at which schools have the easiest path to the 2015 College Football Playoffs.
Easiest Path To The 2015 College Football Playoff
VIDEO PLAYLIST
OSU FB RECRUITING SCORECARD
KyleRowland

Kyle Rowland


Dakota Mathias playing great at both ends of the court. Lots of hustle on D, much improved. Just hit 3, but cut sends him to locker room.
3 minutes ago

Brutus_Buckeye

Brutus Buckeye


What'd I tell y'all ... 2ND-HALF SQUAD! Next Up: #WhiteOutWisconsin #GoBucks https://t.co/oEysnjyLLn
7 minutes ago

OhioStAthletics

Ohio State Buckeyes


FINAL: #Buckeyes earn road victory behind Russell's 19-point 2H // http://t.co/85zLFndSNK #GoBucks #WhiteOutWisconsin http://t.co/7VAbO9PKo9
10 minutes ago

alexgraff21

Alex Graff


@D_Russ0 right now😂🔥 @Brutus_Buckeye http://t.co/nYxc51KzSR
11 minutes ago

11W

Eleven Warriors


After trailing early, Ohio State overpowered Penn State, 77-67, Wednesday night in State College. http://t.co/DA7rxZbhxX
14 minutes ago

Brutus_Buckeye

Brutus Buckeye


ICYMI @OhioStateHoops game vs Penn St has gone final. #Buckeyes 77Lions 67 #GoBucks
14 minutes ago

AP_Sports

AP Sports


New Blue Jacket Clarkson to miss 4-6 weeks with torn muscle: http://t.co/prznmXErj2
14 minutes ago

Brutus_Buckeye

Brutus Buckeye


Ummmm. What just happened to my 📺⁉️
18 minutes ago

KyleRowland

Kyle Rowland


5-4 Purdue at under-16 timeout. Both Michigan State baskets have come off turnovers. Boilers 2-7 from field.
19 minutes ago

OSUADAthComm

Dan Wallenberg


PSU layup and timeout, OSU leads 71-62. 1:54 left. PSU 1 timeout left, OSU 3. Lions have the arrow.
26 minutes ago

KyleRowland

Kyle Rowland


Valentine just smacked Sparty on the rear as he walked by. That guy is incredible.
27 minutes ago

KyleRowland

Kyle Rowland


Ted Valentine is in the Breslin Center wearing a black and white striped shirt.
28 minutes ago

OSUADAthComm

Dan Wallenberg


Under 4 timeout, Buckeyes lead 70-58, 2:52 to play
33 minutes ago

OSUADAthComm

Dan Wallenberg


K Williams connects again, PSU hits a 3, turnover Buckeyes, 68-54 Buckeyes, 5:13 left.
38 minutes ago

OSUADAthComm

Dan Wallenberg


Russell rebounds outlets to K Williams for the layup, 64-49 Buckeyes.
41 minutes ago

TimShoemaker

Tim Shoemaker


You guys have 7:34 left to delete your "Fire Thad Matta" posts from the first half out of the @11W Open Thread.
43 minutes ago

OSUADAthComm

Dan Wallenberg


Russell with 26 pts., 5 rebs, 2 asts, 3 stls. Tate 13 pts, 5 rebs. Scott 11 pts, 6 asts.
43 minutes ago

OSUADAthComm

Dan Wallenberg


Buckeyes with 33 pts this half, 29 in first, 7:34 to play. OSU shooting 20-46 (.435), 6 of 16 from 3 (.375), 16-24 at the line (.667).
44 minutes ago

OSUADAthComm

Dan Wallenberg


Scott with 2 FTs, Thompson with a jumper, under 8 timeout after Scott foul, Buckeyes lead 62-46.
45 minutes ago

Brutus_Buckeye

Brutus Buckeye


⚡️⚡️SURGING!!!! @OhioStateHoops SURGING!!! ⚡️⚡️ #GoBucks http://t.co/0kQZgJyQ0g
48 minutes ago

OSUADAthComm

Dan Wallenberg


Russell with another 3, 58-44, he has 26 pts.
49 minutes ago

OSUADAthComm

Dan Wallenberg


Shannon Scott for 3, 55-44 Buckeyes, timeout PSU. Ohio State in double bonus rest of game (9:41). OSU 4-6 from 3 this half.
50 minutes ago

OSUADAthComm

Dan Wallenberg


After pair of PSU FTs, A. Williams fouled, makes 2 FTs, 52-44 Buckeyes
52 minutes ago

OSUADAthComm

Dan Wallenberg


Russell steals takes it the distance, scores and is fouled, makes FT, 50-42.
about an hour ago

OSUADAthComm

Dan Wallenberg


McDonald makes 1 FT, 47-42 Buckeyes.
about an hour ago

OSUADAthComm

Dan Wallenberg


Russell with the nice find on a rim-running McDonald, foul PSU, Under 12 timeout with OSU leading 46-42.
about an hour ago

Brutus_Buckeye

Brutus Buckeye


Yes. I think he's starting to FEEL IT!! @D_Russ0 with trifecta of trifectas! #GoBucks
about an hour ago

OSUADAthComm

Dan Wallenberg


3 ball for Russell, timeout PSU 46-42 Buckeyes. Russell has 20, 11 this half.
about an hour ago

OSUADAthComm

Dan Wallenberg


Russell for 3, 43-42 Buckeyes.
about an hour ago

OSUADAthComm

Dan Wallenberg


Tied at 40 on 2 Newbill FTs
about an hour ago

Brutus_Buckeye

Brutus Buckeye


3⃣'Angelo!! And that's a lead. This is a bit of a second half team! #GoBucks
about an hour ago

OSUADAthComm

Dan Wallenberg


Russell 3 puts OSU up 40-38.
about an hour ago

KyleRowland

Kyle Rowland


Greetings from the banks of the Red Cedar. Breslin Center by far best basketball venue in Big Ten. http://t.co/0UpEMereO0
about an hour ago

OSUADAthComm

Dan Wallenberg


Russell makes 2 FTS, 38-37 Lions.
about an hour ago

OSUADAthComm

Dan Wallenberg


Teams working inside, PSU leads 22-20 in paint pts. SOU 1-8, PSU 1-11 from 3 range. Buckeyes up 23-20 on the boards.
about an hour ago

OSUADAthComm

Dan Wallenberg


Under 16 timeout, Russell fouled on the drive, 2 shots, PSU up 38-35. Tate leads with 13 pts. Tate, Russell and Scott each with 5 rebs.
about an hour ago

OSUADAthComm

Dan Wallenberg


Tate scores on the run out, 38-33 Lions, OSU ball after PSU foul. Tate drives and scores, fouled, misses, 38-35 Lions
about an hour ago

OSUADAthComm

Dan Wallenberg


Scott gets OSU on the board in the second half with 2 FTs, PSU leads 38-31
about an hour ago

bigtenconf

Big Ten Conference


#B1G programs have appeared as the nation's top-ranked team in 9 sports so far in 2014-15. http://t.co/CqVmUOM3B3
about an hour ago

OSUADAthComm

Dan Wallenberg


PSU opens with 3 buckets, timeout OSU down 36-29.
about an hour ago

OSUADAthComm

Dan Wallenberg


Ohio State will start the 2nd half with the ball down 30-29.
about an hour ago

OSUADAthComm

Dan Wallenberg


Halftime stats: PSU 30, Ohio State 29. http://t.co/okUaM4l6tv
about an hour ago

Brutus_Buckeye

Brutus Buckeye


Let's keep the run going. We're a 💪 2nd-half team. #GoBucks @ohiostatehoops https://t.co/VNelFck3cY
about an hour ago

OhioStAthletics

Ohio State Buckeyes


AT THE BREAK: #Buckeye end half on 9-1 run, Tate and Russell lead @OhioStateHoops w/ 9 points a piece #GoBucks http://t.co/oqzgZx50Ww
about an hour ago

BTNSean

Sean Merriman


@OhioStAthletics @Brutus_Buckeye @BTN_Ohio_State As you wish! http://t.co/mvTqmKXoRK
about an hour ago

OSUADAthComm

Dan Wallenberg


PSU leads 30-29 at the break. Tate and Russell have 9 pts each, Buckeyes shooting 11-31/.355. PSU 11-25/.440. OSU up 20-16 on the boards.
about an hour ago

OSUADAthComm

Dan Wallenberg


Russell back at the line for 2 shots, makes one, 29 all.
about an hour ago

11W

Eleven Warriors


The Hurry Up: 2017 Virginia stars happy with Buckeye offers, Kareem Walker impressing with leadership and more. http://t.co/3tA04RT7HY
about an hour ago

OSUADAthComm

Dan Wallenberg


McDonald rebounds Loving missed 3 and scores, 29-28 PSU
about an hour ago

OSUADAthComm

Dan Wallenberg


Thompson deflects inbounds pass in the basket, 2 pts Buckeyes, 29-25, Russell steals, McDonald fouled, makes 1 FT, 29-26 PSU
about an hour ago

Brutus_Buckeye

Brutus Buckeye


That was the most amazing two point-play I've EVER 👀‼️‼️‼️‼️#GoBucks http://t.co/Z2lgbuiDSd
about an hour ago

OSUADAthComm

Dan Wallenberg


After PSU turnover, Russell drives and is fouled, makes one FT, 29-23 PSU
about an hour ago

OSUADAthComm

Dan Wallenberg


Loving cuts and is fouled, makes both FTs, 29-22 PSU.
about an hour ago

OSUADAthComm

Dan Wallenberg


Under 4 timeout, PSU ball under its hoop with the 26-20 lead. Buckeyes 9-27/.333 shooting. PSU 10-22.455. Both teams 1-7 from 3.
about an hour ago

OSUADAthComm

Dan Wallenberg


PSU takes 26-20 lead on a pair of FTs,
about an hour ago

OSUADAthComm

Dan Wallenberg


Under 8 timeout, foul PSU on Tate, JT goes to the line for the 1-1 with Buckeyes down 19-17. OSU shooting 8 of 21/.381/ PSU 8-15/.533.
about 2 hours ago

OSUADAthComm

Dan Wallenberg


PSU 3 gives Lions at 19-17 lead at 7:51
about 2 hours ago

maddie_mae8

Maddie Spielman


Check out our newest episode of Chalk Talk where we discuss OSU's recent feats in hoops, hockey & gymnastics. #ctosuhttps://t.co/jk4ZzrHduR
about 2 hours ago

OSUADAthComm

Dan Wallenberg


Scott ends bit of an OSU scoring drought, 17-14 Buckeyes.
about 2 hours ago

rustymillerap

Rusty Miller


Even ex-#CBJ getting hurt / "@AP_Sports: Ducks' Tim Jackman out 4-6 weeks with lower-body injury: http://t.co/EkII4il7ci"
about 2 hours ago

OSUADAthComm

Dan Wallenberg


Under 12 timeout, Buckeyes foul on PSU drive, 2 shots for Lions down 15-10. Earlier OSU foul was not a shooting foul for PSU.
about 2 hours ago

Brutus_Buckeye

Brutus Buckeye


"Slither?" for @d_russ0 nickname? MmmmmmmmmmLet's keep the suggestion box open ... #GoBucks http://t.co/iPUsVPv6HR
about 2 hours ago

BSsportsTheFan

BS Sports


Tonight 7-9 we talk to @KyleRowland on #Purdue & #B1G at 7, @JimboBrighters on the #NBA at 7:30, & @blakesebring at 8 on @FWKomets & MORE!!!
about 2 hours ago

OSUADAthComm

Dan Wallenberg


Under 16 timeout, OSU foul, PSU at the line for 2 down 13-8.
about 2 hours ago

OSUADAthComm

Dan Wallenberg


Tate with the long jumper, timeout PSU, Buckeyes lead 13-8, Tate has 8 pts. on 4-4 shooting. Buckeyes are 6-12 from the field.
about 2 hours ago

BTN_Ohio_State

Ohio State on BTN


Jae'Sean Tate rises for early dunk to get @OhioStateHoops on the board. #MarchOnBTN #IntelGoesB1G http://t.co/XedEXTXeKG
about 2 hours ago

joe11w

JoeSports


Ohio State vs. Penn State 2015 live game updates: Time, TV schedule, and how to watch: Beat Penn State.A year... http://t.co/41PDrFf5YW
about 2 hours ago

OSUADAthComm

Dan Wallenberg


Russell connects for 3, 11-8 Buckeyes.
about 2 hours ago

OSUADAthComm

Dan Wallenberg


Tate drives and scores, he has 6 of OSU's 8 pts, Buckeyes up 2
about 2 hours ago

OSUADAthComm

Dan Wallenberg


Teams trading buckets, Scott and Tate for OSU, 6 all.
about 2 hours ago

Brutus_Buckeye

Brutus Buckeye


Happy Hour Hoops in Happy Valley! #GoBucks Beat Penn State https://t.co/YkrPIPt6nS
about 2 hours ago

OSUADAthComm

Dan Wallenberg


Tate dunks from Scott to tie game at 2
about 2 hours ago

OSUADAthComm

Dan Wallenberg


Ohio State wins tip, here we go
about 2 hours ago

OhioStAthletics

Ohio State Buckeyes


Happy Hour Hoops in Happy Valley coming up on @BigTenNetwork! #GoBucks 🏀 Beat Penn State http://t.co/E9PDN3aug8
about 2 hours ago

kgamble73

Kyle Gamble


Tip time for the #buckeyes #GoBucks @Brutus_Buckeye http://t.co/0R0LkpTPHI
about 2 hours ago

bucksinsider

Ohio State News


Why Jim Tressel Is Wrong About Jim Harbaugh and the Ohio State-Michigan Rivalry: COLUMBUS... http://t.co/oVv1ljYInw #buckeyes #ohiostate
about 2 hours ago

bucksinsider

Ohio State News


Jim Tressel: Michigan isn't close to being as good as Ohio State: Updated MAR 04, 2015 1... http://t.co/TW1Q0a7CFK #buckeyes #ohiostate
about 2 hours ago

OSUADAthComm

Dan Wallenberg


Penn State starters: Newbill, Thorpe, Montminy, Wisniewski, Travis.
about 2 hours ago

OSUADAthComm

Dan Wallenberg


Ohio State starters: Scott, Thompson, A. Williams, Tate, Russell.
about 2 hours ago

OSUADAthComm

Dan Wallenberg


Russell also could become just the fifth OSU freshman to make 100+ foul shots with 5 more made FTs. Mike Conley is No. 4 on list with 100.
about 2 hours ago

OSUADAthComm

Dan Wallenberg


D'Angelo Russell (189 fgm) could pass No. 5 Jim Jackson (194/1990) and No. 4 Herb Williams (196/1978) in FGs made on OSU FR season list.
about 2 hours ago

OSUADAthComm

Dan Wallenberg


Entering today, Sam Thompson (140 gp), Shannon Scott (137 gp) and Amir Williams (128 gp) will end OSU careers among Top 10 in games played.
about 2 hours ago

Brutus_Buckeye

Brutus Buckeye


If you haven't left work, HURRY UP! #Buckeyes n "hill kittens" comin up at 6pm on @BigTenNetwork #GoBucks http://t.co/2wsMklAlii
about 2 hours ago

OSUADAthComm

Dan Wallenberg


Amir Williams (183) needs 4 blocks to tie Brad Sellers (187/1985, '86) for the No. 4 spot in career blocks at Ohio State.
about 2 hours ago

OSUADAthComm

Dan Wallenberg


Scott needs 8 assists to reach 500 for his career...only 3 OSU players have done so previously, two in Matta era (Craft/Jamar Butler)
about 2 hours ago

OSUADAthComm

Dan Wallenberg


Shannon Scott enters PSU game with 171 assists this year, with 2 helpers he'll pass Aaron Craft (172/2013) for No. 8 spot in an OSU season
about 2 hours ago

OSUADAthComm

Dan Wallenberg


Thad Matta is 51-44 on the road in Big Ten Conference regular season play over his 11 years, second only to Wisconsin (53-41).
about 2 hours ago

OSUADAthComm

Dan Wallenberg


Thad Matta has 296 career wins at Ohio State. Fred Taylor (1959-76) owns the Buckeyes' career wins record with 297.
about 3 hours ago

rustymillerap

Rusty Miller


Join the club: #CBJ Clarkson out 4-6 weeks with -- surprise-- injury: http://t.co/pF0qNxj266
about 3 hours ago

rustymillerap

Rusty Miller


Do NOT say that to anyone with the #CBJ! RT @UCTaillights: Would like to watch my boy @LeoWelsh in "Marriage of Figaro." Break a leg!!!
about 3 hours ago

OSUADAthComm

Dan Wallenberg


Officials for @OhioStateHoops at Penn State: D.J. Carstensen, Chris Beaver, Donnie Eppley
about 3 hours ago

OhioStAthletics

Ohio State Buckeyes


TIP ⌚️ TWEET! @OhioStateHoops at Penn State 6PM tonight on @BigTenNetwork. Listen on @971thefan. #GoBucks http://t.co/DvyFphEKDs
about 3 hours ago

rustymillerap

Rusty Miller


Welcome to #CBJ: New right wing David Clarkson out 4-6 weeks with torn muscle.
about 3 hours ago

NicoleAuerbach

Nicole Auerbach


OSU's D'Angelo Russell: Candid, thoughtful and funny (and a heck of a basketball player) -- http://t.co/gEVkcIkKO5
about 4 hours ago

ESPN_BigTen

ESPN BigTen


Big Ten mailbag http://t.co/WSCCjHDrfS
about 4 hours ago

byDavidGardner

David Gardner


Wooden Watch! D'Angelo Russell, the country's second best freshman, takes center stage:http://t.co/gtdk0ebaPx http://t.co/j72K8LCJlw
about 4 hours ago

NicoleAuerbach

Nicole Auerbach


"We're used to expecting the spectacular play." Story on D'Angelo Russell & those amazing passes: http://t.co/gEVkcIkKO5
about 4 hours ago

OSUADAthComm

Dan Wallenberg


Wooden Watch: At long last, spotlight shining on D'Angelo Russell http://t.co/Ox5wISVd2R
about 4 hours ago

bucksinsider

Ohio State News


Ohio State will be dangerous in NCAA tournament: (Photo by Kirk Irwin/Getty Images) Sele... http://t.co/Z5HJ7lZW45 #buckeyes #ohiostate
about 4 hours ago

BoilerBall

Purdue Basketball


Great comments by D'Angelo Russell on Rapheal Davis... We think a lock on the #B1G All-Defensive Team. #BoilerUp http://t.co/VU70uHqfCc
about 5 hours ago
BIG TEN SCOREBOARD
Thursday, 9/3
Friday, 9/4
Saturday, 9/5
Sunday, 9/6
Monday, 9/7
BLOG ARCHIVE:
CATEGORIES: